This no bake granola bar recipe is super easy to make and full of flavor.
Not only are these granola bars gluten free, but they're packed full of healthy ingredients!
These days, it seems to be more and more difficult to find the time to prepare healthy snacks.
For example, usually, on my way out the door, I'll grab a banana and a snack bar.
However, eating the same store-bought granola bars every morning gets boring.
As a matter of fact, I truly prefer eating homemade granola bars over processed foods any day!
No Bake Granola Bar Recipe
So, when I found this easy recipe for no bake granola bars in my All You Magazine, it looked SO delicious that I had to make them!
Not only does making this recipe result in delicious, chewy granola bars, but also, they have whole grains and healthy fats which are a great thing to have in a snack!
No Bake Granola Bar Recipe Ingredients
In this case, you can swap and substitute ingredients based on your preferences.
However, the below ingredients are what I used in order to keep them gluten free:
Unsweetened Shredded Coconut
Slivered Almonds
Popcorn (popped)
Rolled Oats (not quick oats or instant oats)
Regular Chocolate Chips or Mini Chocolate Chips or Dark Chocolate Chips
Honey
Light Brown Sugar
Salt
How to Make No Bake Granola Bars
Step 1: Toast Coconut & Almonds in the Oven
First, toast your shredded coconut and sliced almonds by spreading them separately into two rimmed baking pans.
Yes, I realize this step involves baking, so you don't have to toast your coconut and almonds if you don't want to involve your oven, but it really does make it taste so good!
Bake at 350 degrees Fahrenheit for 5 to 10 minutes until they are lightly toasted.
Also, be sure to flip the coconut and almonds after 5 minutes so they are evenly toasted.
Step 2: Combine Popcorn, Oats, Coconut, Almonds, & Chocolate Chips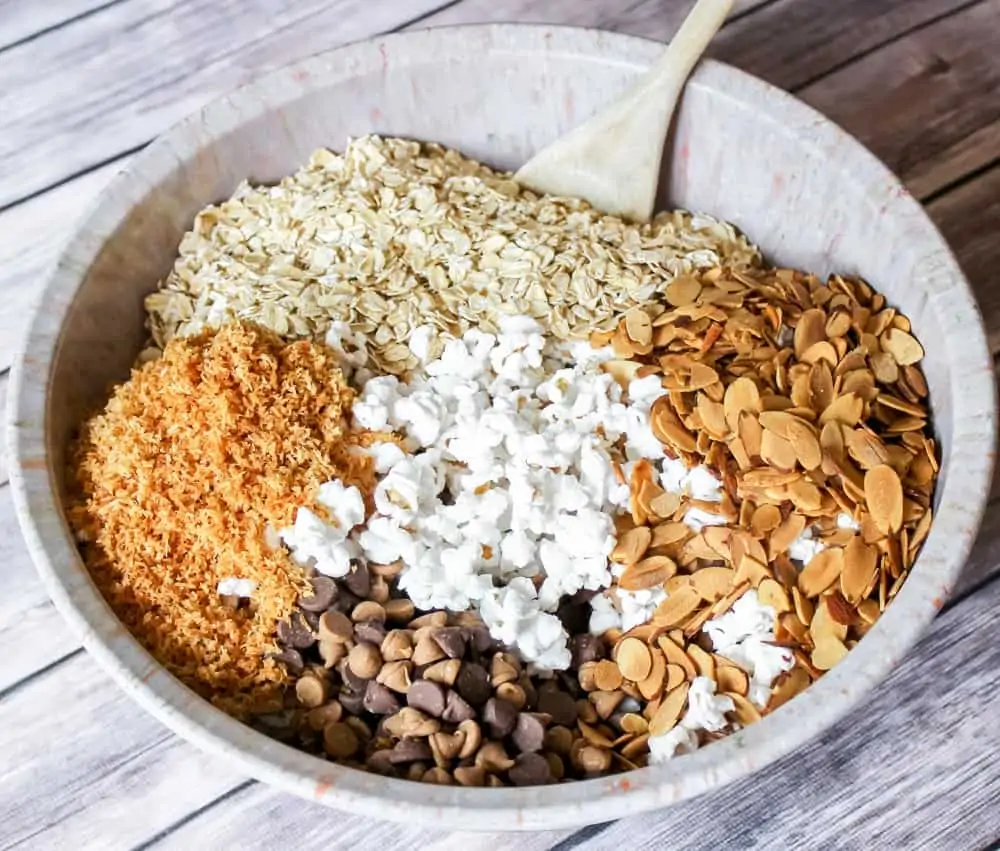 In a large mixing bowl, combine cooled coconut & almonds (bring to room temperature first) with popcorn, oats, & chocolate chips.
Then, mix all of your dry ingredients thoroughly.
Step 3: Heat Honey, Brown Sugar, & Salt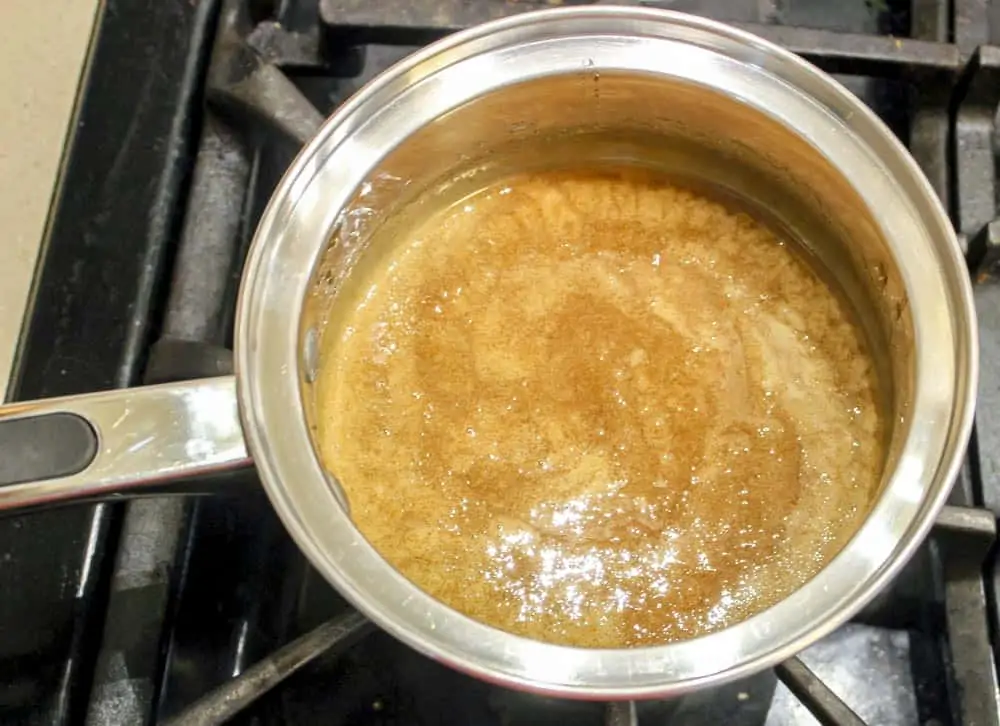 Add honey, brown sugar & salt to a saucepan and heat over low heat.
Stir your wet ingredients constantly for approximately 5 minutes until the brown sugar has dissolved.
Then, add the honey mixture to the popcorn mixture & mix thoroughly.
Step 4: Transfer Mixture to Baking Dish, Press, & Refrigerate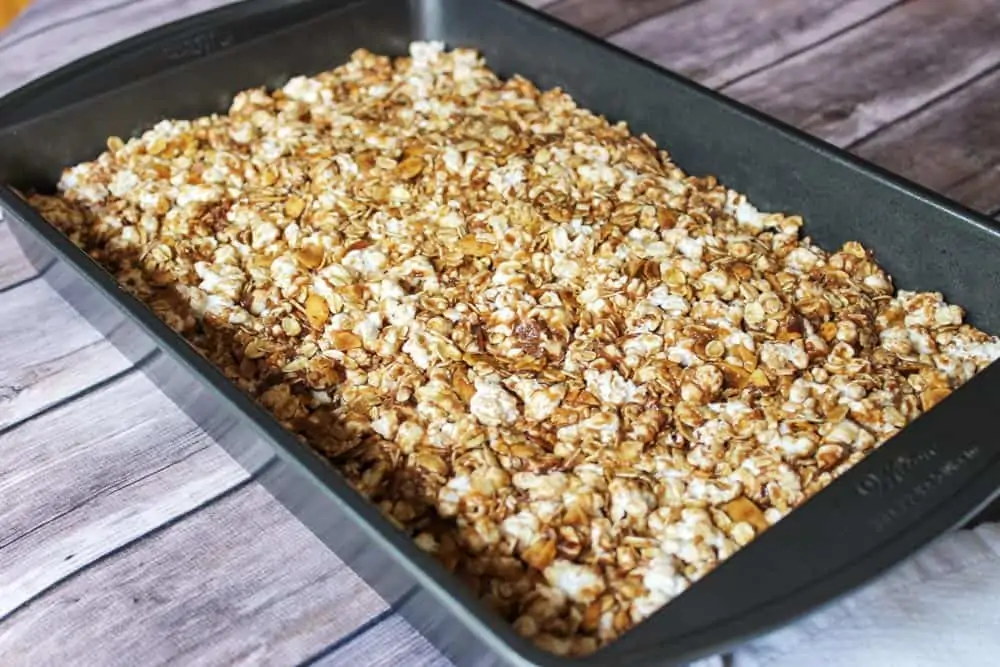 Transfer your healthy granola bar recipe into a greased 9″ x 13″ baking dish.
Using lightly moistened palms, press the mixture down firmly.
After that, refrigerate for at least 30 minutes before using a sharp knife to cut them into bars.
Substitutions, Tips & Tricks
You can decide on your own favorite add-ins (easily found in your local grocery store) based on your personal preferences:
Raisins
Dried Fruit
Maple syrup or brown rice syrup in place of honey
Coconut Flakes
Sunflower Seeds
Chia Seeds
Pumpkin Seeds
Hemp Seeds
Sliced Almonds
Coconut Oil
Vanilla Extract
Regular Chocolate Chips, Mini Chocolate Chips, Dark Chocolate Chips or Cacao Nibs instead of peanut butter/chocolate chips
Any type of nut or seed butter:

Natural Nut Butter
Seed Butter
Creamy Peanut Butter
Almond Butter
Sunflower Butter

Rice Krispies Cereal
Trail Mix
Using your 'syrup' (make sure it's still warm) is key to 'gluing' the rest of the ingredients together into a bar form, so don't skip this step.
This Tescoma mold for energy bars, granola bar press (Amazon) is very compact and doesn't require cutting up the bars. It also saves a ton of room in the refrigerator.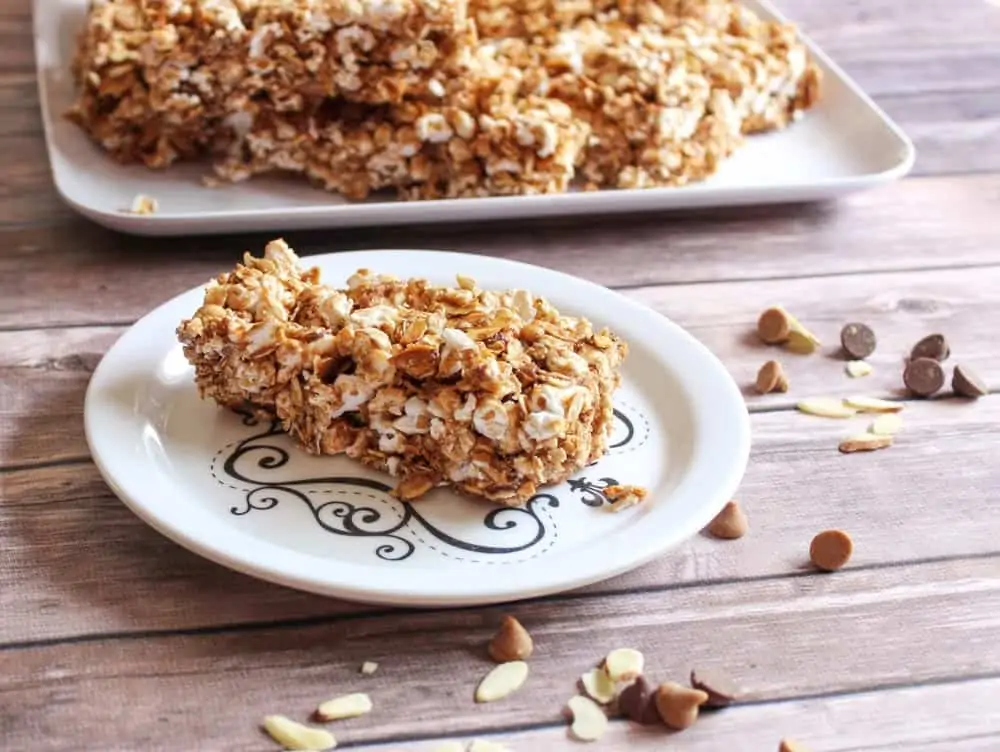 Storing No Bake Granola Bars
To store your no bake granola bars, first cut them into bars and then either place them into Ziplock baggies or a good airtight container
Then, you've got yourself a guilt-free, on-the-go, great snack bar!
And they're the perfect snack for:
Road trips
School lunches
A quick breakfast
The end of the day
A good old-fashioned sweet tooth
No Bake Granola Bar Recipe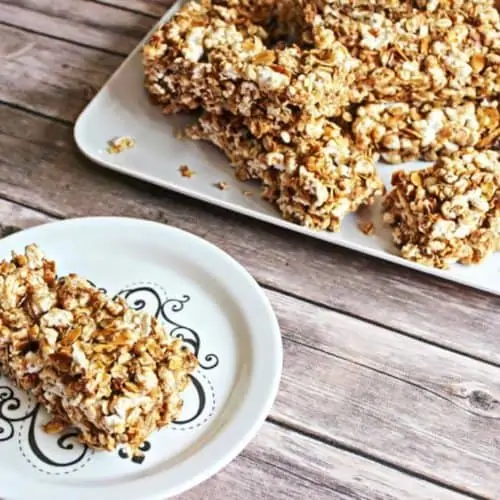 No Bake Granola Bar Recipe
This no bake granola bar recipe is incredibly delicious & healthy! Made with popcorn, oats, almonds, coconut, & chocolate chips.
Ingredients
½

cup

Unsweetened shredded coconut

¾

cup

Almonds

,

chopped (I used slivered)

8

cups

Plain popped popcorn

,

I used Healthy Pop microwave popcorn

2

cups

Rolled oats

,

do not use instant

1

cup

Chocolate chips

,

I used Nestle Peanut Butter & Milk Chocolate Morsels

¾

cup

Honey

¾

cup

Packed light brown sugar

¼

tsp

Salt
Instructions
Preheat oven to 350 degrees. Spread coconut on an ungreased rimmed baking sheet and bake until lightly toasted, stirring once or twice, about 5 to 10 minutes. Transfer to a bowl to cool. Wipe off baking sheet and spread almonds on it. Bake until golden brown and fragrant, 5 to 7 minutes, stirring once or twice. Transfer to bowl with coconut to cool.

Mist a 9"x13" baking dish with cooking spray. In a large bowl, combine popped popcorn, oats, coconut, almonds, & chocolate chips; stir well.

In a small pan over low heat, combine honey, brown sugar & salt. Cook, stirring, until sugar dissolves, approximately 5 minutes. Pour honey mixture over popcorn mixture; stir until all ingredients are well coated. Transfer mixture to baking dish. Using lightly moistened palms, firmly press mixture into baking dish. Refrigerate for at least 30 minutes before cutting into bars.
Notes
Gluten Free
5 WW SmartPoints
Calories 128
Fat 3 g
Saturated fat 1 g
Protein 2 g
Carbohydrates 26 g
Fiber 2 g
Cholesterol 0 mg
Sodium 26 mg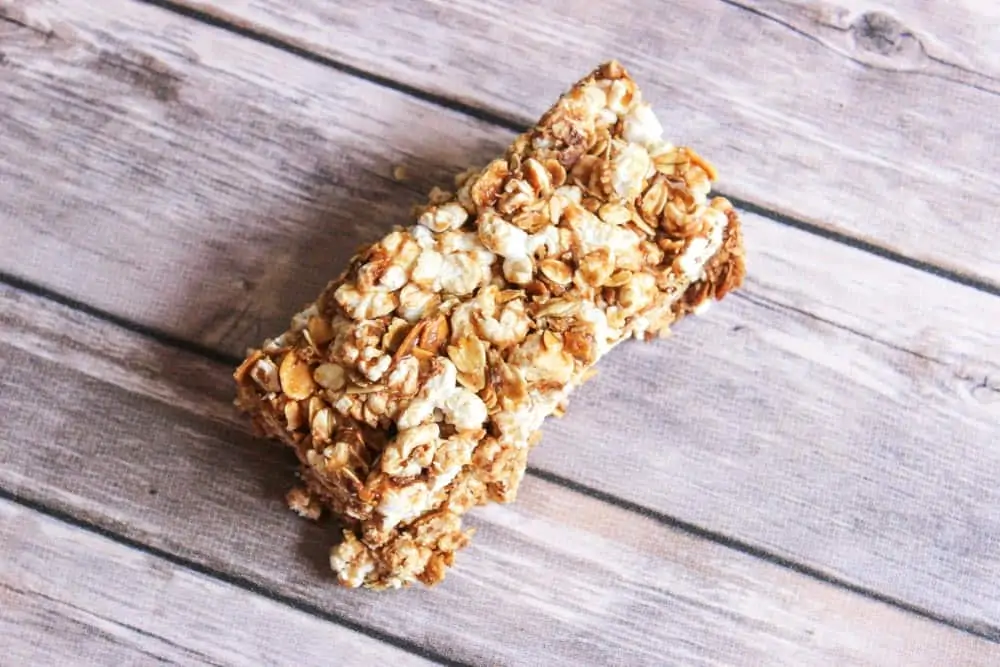 Lastly, for more healthy recipes on our blog, check out:
Weight Watchers No Bake Chocolate Marshmallow Cookies – 4 SmartPoints
Chocolate Root Beer Float – 4 Weight Watcher's PPV