This Weight Watchers White Chicken Chili will keep your belly AND your bathroom scale very happy!
I'm always down for making something warm and hearty this time of year that the whole family can enjoy!
In addition, the fact that it's healthy (Zero WW SmartPoints) makes this delicious recipe a great choice as a hearty but guilt-free meal!
Weight Watchers White Chicken Chili
However, traditional chili with red beans, tomato sauce and ground beef has never been my favorite way to eat chili.
It's just not totally my thing.
Therefore, I opted to make this easy white chicken chili recipe instead.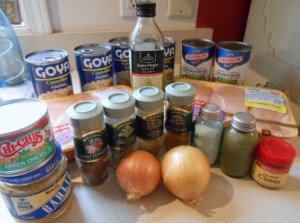 So I dug through my recipe box to see if I already had any white chicken chili recipes on hand.
Lo and behold, I found a great recipe for this healthy chili recipe from an old issue of Prevention Magazine.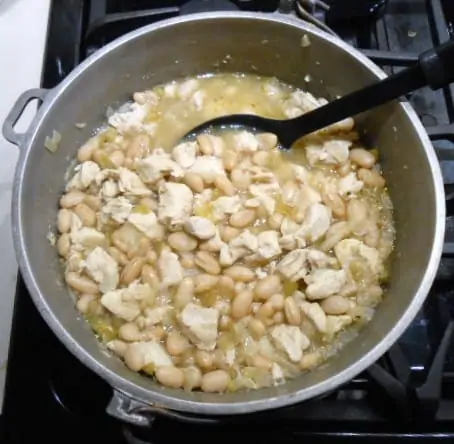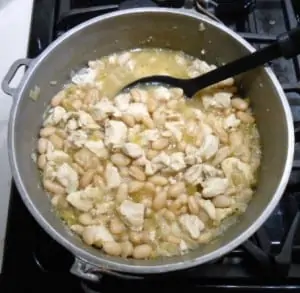 Items You'll Need To Make WW White Chicken Chili
To make this delicious dinner recipe, you'll need:
Zero Points on Weight Watchers Plan
Without a doubt, the beauty of this white chili recipe is that is a whopping zero points!!
Needless to say, it's the perfect dish for staying on plan!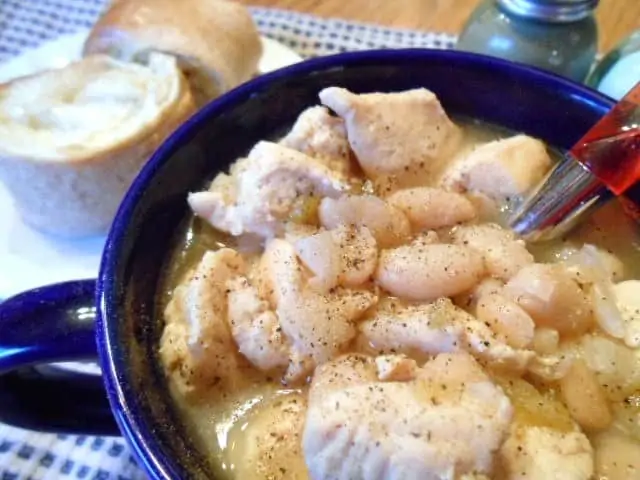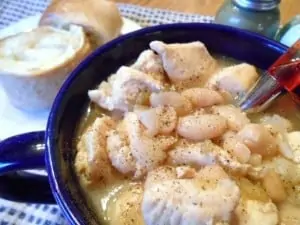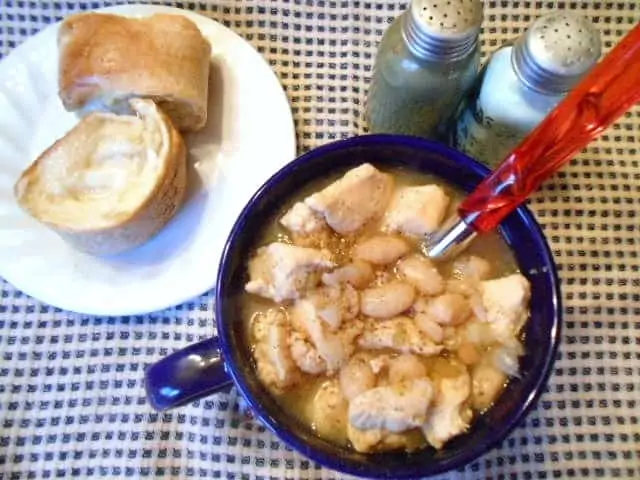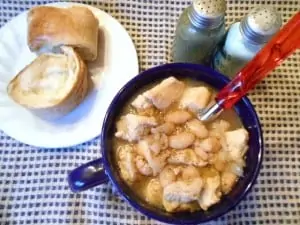 White Chicken Chili Ingredients
Here are the ingredients you'll need to make this delicious White Chicken Chili:
Onions
Garlic
Olive Oil
Boneless Skinless Chicken Breasts – You can also use rotisserie chicken
White Beans – I used Cannellini Beans or you can use Great Northern Beans or Navy Beans
Chicken Broth
Green Chili Peppers
Salt
Cumin
Oregano
Chili Powder
Ground Black Pepper
Ground Cloves
Red Pepper
How To Make White Chicken Chili
Here are the incredibly easy steps for making this heart warming recipe.
Step 1: Sauté Onions & Garlic
In a large soup pot, stockpot or Dutch oven, sauté your chopped onion and minced garlic in olive oil over medium heat until onions are transparent.
Step 2: Add Chicken
Then add your chicken pieces and brown them for approximately 5 minutes.
Step 3: Add Remaining Ingredients
After that, stir in all of your remaining ingredients and stir well.
Step 4: Cover and Simmer
Then, just cover your large pot or Dutch oven and keep chili at a simmer on your stove top for approximately 45 minutes.
What To Serve With White Chicken Chili
Some of my favorite chili toppings are:
Sour Cream or Plain Greek Yogurt
Fresh Jalapenos
Tortilla Chips
Fresh Cilantro
Green Salsa
Fresh Squeezed Lime Juice
Chopped Green Onion
Another way to prepare this recipe, which I might do next time, is to slow cook it all day.
The Prevention Magazine (Amazon) recipe instructed to transfer everything to a slow cooker or crock pot (Amazon) and cook it on low for 4 to 6 hours.
Then, uncover it and cook it for an additional hour.
Because I was short on cook time, I just covered it and simmered it on the stove for about 40 minutes or so.
How To Store White Chicken Chili
To store your leftovers, allow your chili to cool to room temperature.
Then, pour it into an airtight container with an airtight lid.
After that, place it in your refrigerator for up to 5 days.
The Verdict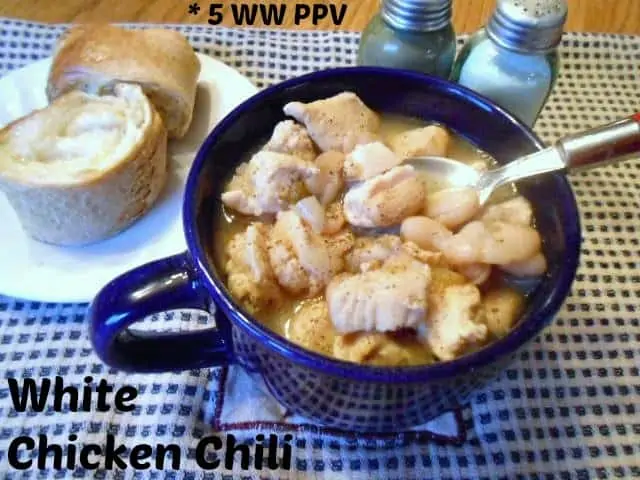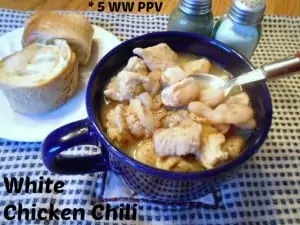 It was delicious!
Happily, my husband loves it.
Also, since my son is uber picky, I just place some chunks of chicken on a sectioned plate and serve it to him with a side of broccoli and noodles.
Thankfully, he eats it up!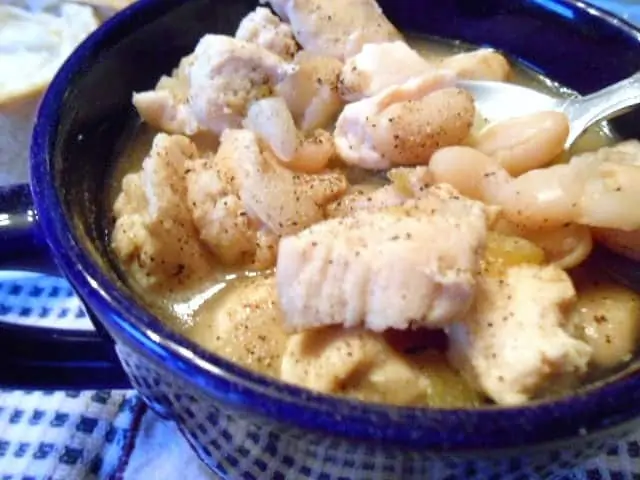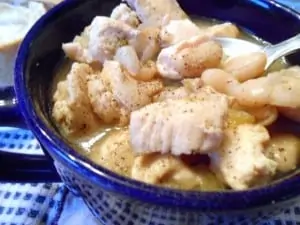 The aroma smelled up the entire house.
That, along with some hot French bread, is exactly what our home needs on a cold, wet, football Sunday.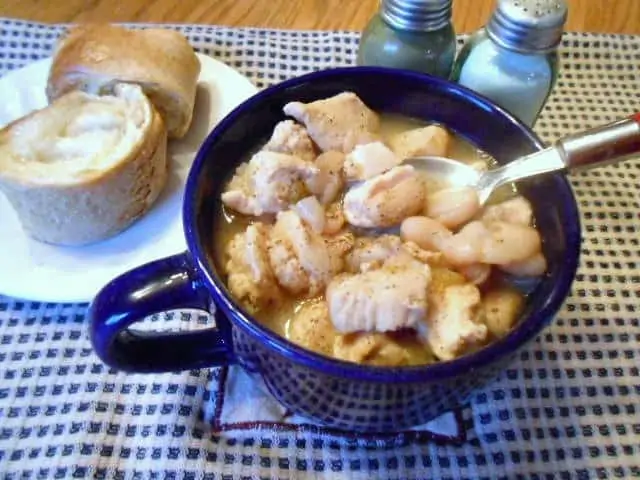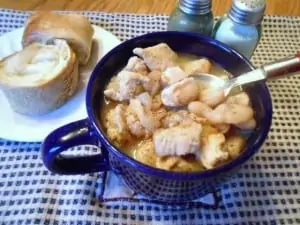 Now, if the Washington Football Team could get their act together and start winning some games, our Sundays would be just right and I'd be a happy cook!
Lastly, for more comfort food recipes click on over to:
Weight Watchers White Chicken Chili Recipe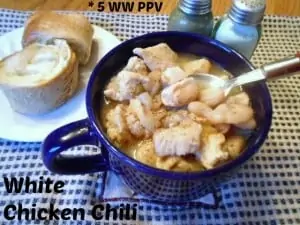 Weight Watchers White Chicken Chili – Zero Points
Weight Watchers White Chicken Chili – Zero Points. Delicious and healthy!
Ingredients
2

Onions, chopped

2

cloves

Garlic, minced

1

tbsp

Olive Oil

3

lbs

Chicken Breasts, boneless/skinless, cut into bite-size chunks

4

cans

Cannellini Beans, 15.5 oz each, rinsed and drained

2

cans

Chicken Broth, 14 oz each, fat-free, reduced-sodium

1

can

Green Chile Peppers, 4.5 oz, chopped

1

tsp

Salt

1

tsp

Cumin

¾

tsp

Oregano, dried

½

tsp

Chili Powder

½

tsp

Ground Black Pepper

⅛

tsp

Ground Cloves

⅛

tsp

Ground Red Pepper
Instructions
Saute onions and garlic in oil in large pot over medium-high heat. Add chicken and brown 5 minutes. Stir in remaining ingredients and cover.

Let simmer for about 45 minutes.
Notes
0 WW SmartPoints Blue & Purple Plan
5 WW SmartPoints Green Plan