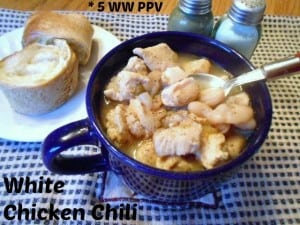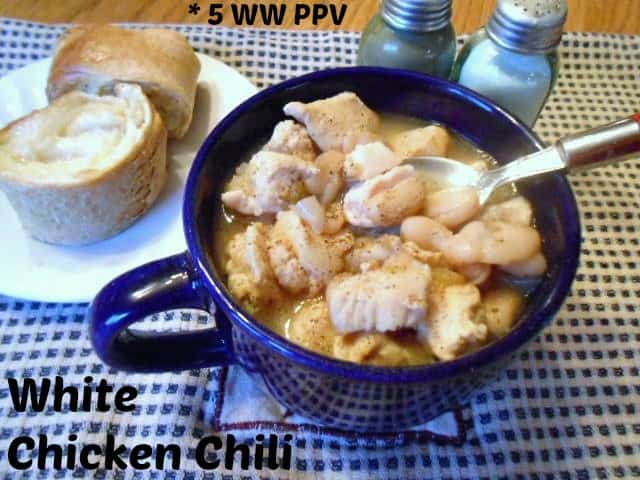 This Weight Watchers White Chicken Chili will keep your belly AND your bathroom scale happy! 
I'm always down for eating something warm and hearty.
In addition, the fact that it's healthy too makes this delicious recipe all the more alluring!
Weight Watchers White Chicken Chili – 5 Points Plus Value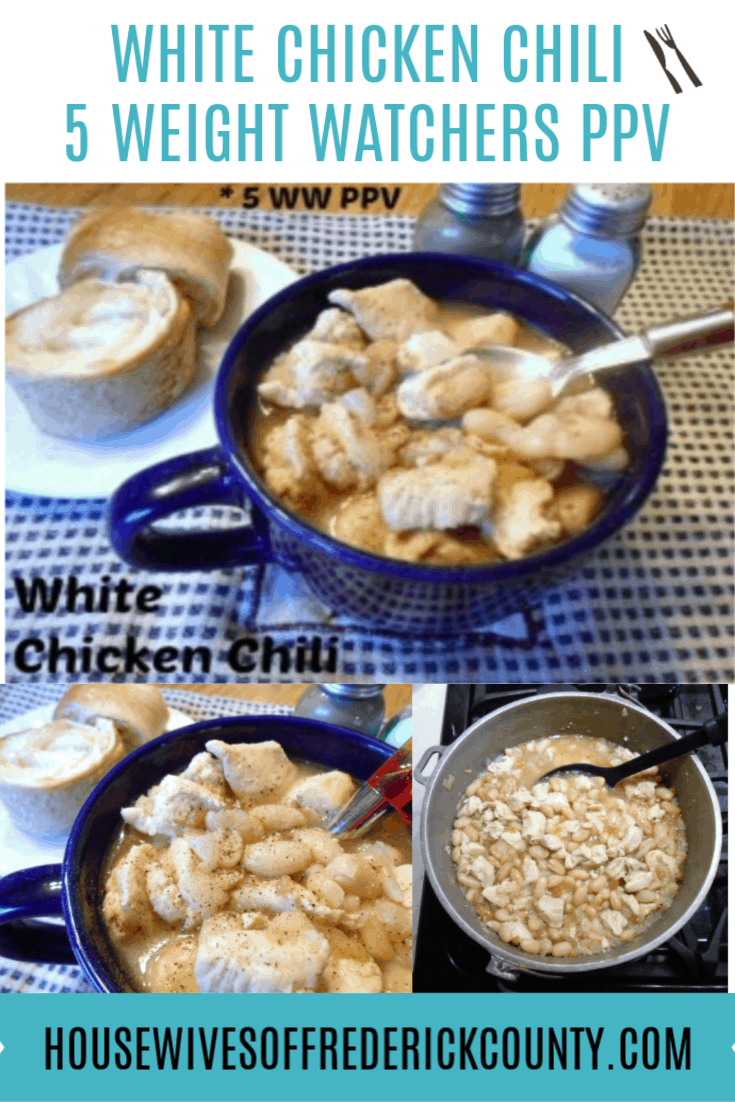 However, I'm just not a big fan of the traditional chili with red beans, tomato sauce and ground beef.
It's just not totally my thing.
Therefore, I opted to make white chicken chili instead.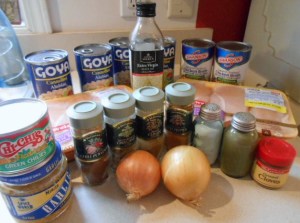 So I dug through my recipe box to see if I already had any white chicken chili recipes on hand.  
Lo and behold, I found one that I had ripped out of a November 2008 issue of Prevention Magazine.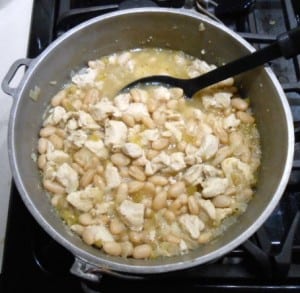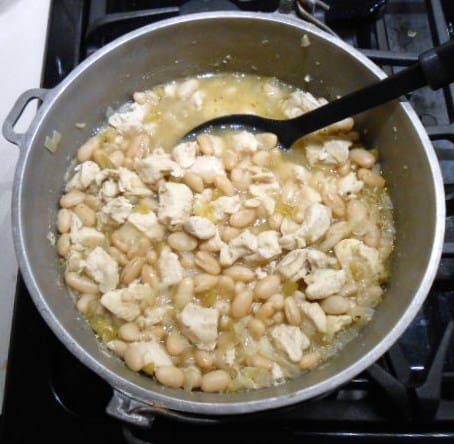 Note: This post contains affiliate links. That means if you click on a link and make a purchase we may receive a small commission. Thank you!
Find a Good Stockpot
To make this Weight Watchers White Chicken Chili, you'll need a good quality stockpot.
Naturally, I went to Amazon and found a really nice Cuisinart stockpot.
Based on 576 reviews as of this update, this pot has 4 1/2 stars: Cuisinart 766-26 Chef's Classic 12-Quart Stockpot with Cover
Only 5 Weight Watchers Points Plus Value
Based on the nutritional information listed on the recipe, a good size bowl or mug will only set you back a 5 Points Plus Value.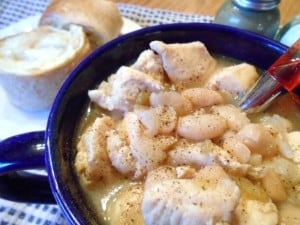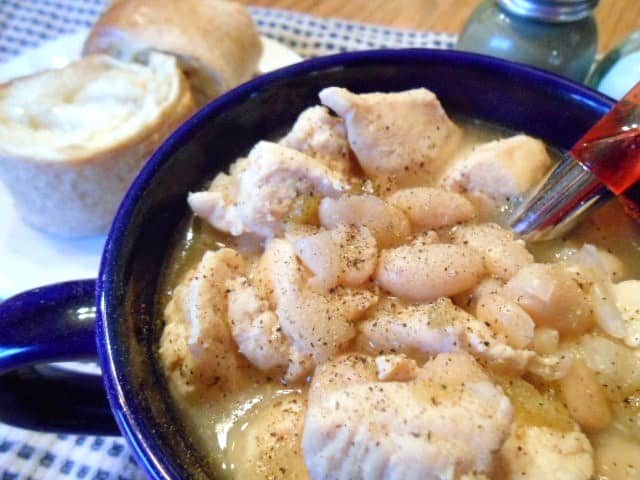 Weight Watchers White Chicken Chili Recipe
So, without further ado, here is the recipe for Weight Watchers White Chicken Chili: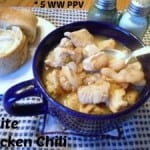 Print Recipe
Weight Watchers White Chicken Chili – 5 Points Plus Value
Weight Watchers White Chicken Chili – 5 Points Plus Value. Delicious and healthy!
Ingredients
- 2 onions

chopped

- 2 cloves garlic

minced

- 1 Tbsp olive oil

- 3 lbs boneless

skinless chicken breasts, cut into bite-size chunks

- 4 cans

15.5 oz each cannellini beans, rinsed and drained

- 2 cans

14 oz each fat-free, reduced-sodium chicken broth

- 1 can

4.5 oz chopped green chile peppers

- 1 tsp each salt and cumin

- 3/4 tsp dried oregano

- 1/2 tsp each chili powder and ground black pepper

- 1/8 tsp ground cloves

- 1/8 tsp ground red pepper
Instructions
Saute onions and garlic in oil in large pot over medium-high heat. Add chicken and brown 5 minutes. Stir in remaining ingredients and cover.

Let simmer for about 45 minutes.
Notes
5 Weight Watchers Points Plus Value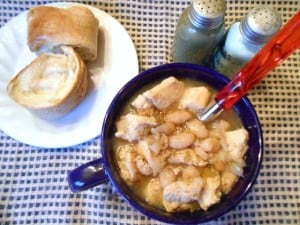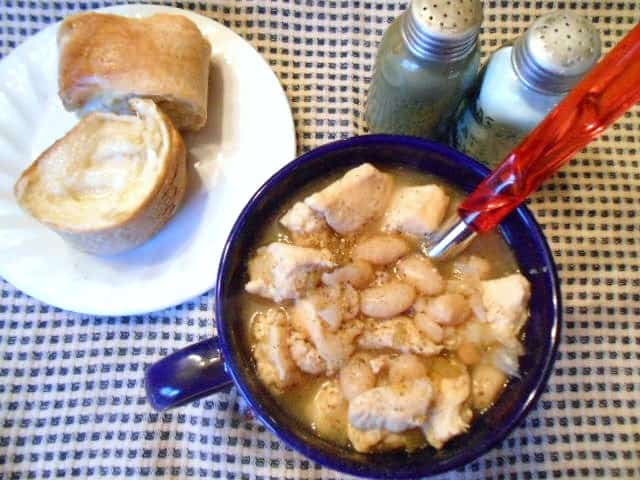 Although the Prevention Magazine recipe instructed to transfer everything to a slow cooker and cook it on low for 4 to 6 hours and then uncover it and cook it for an additional hour, I didn't do that.
Because I was short on time, I just covered it and simmered it for about 40 minutes or so.  
The Verdict
It was delicious.  
Happily, my husband loved it.  
Since my son is uber picky, I picked out some chunks of chicken for him and served him the chicken with a side of broccoli and noodles, on a sectioned plate.  
Thankfully, he ate it up.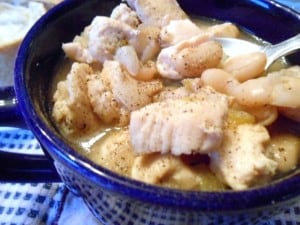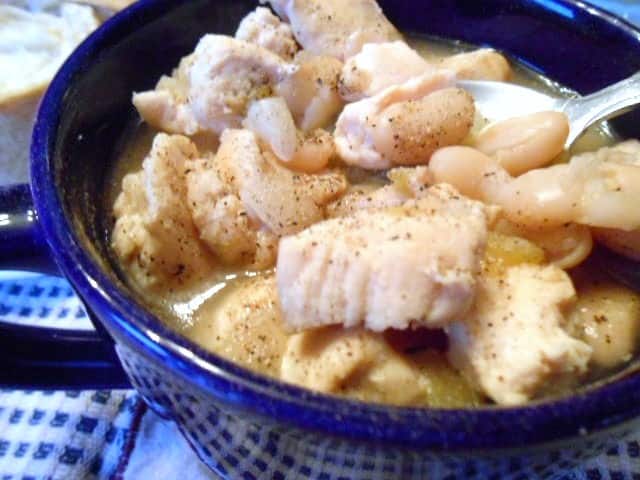 The aroma smelled up the entire house.  
That, along with some hot french bread, was exactly what our home needed on a cold, wet, football Sunday.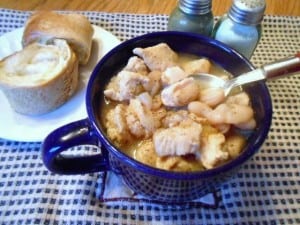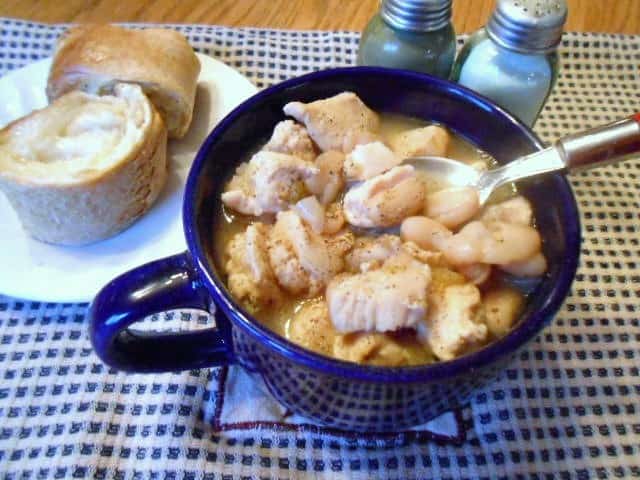 Now if the Redskins could get their act together and start winning some football games, our Sundays would be just right and I'd be a happy cook!
For more comfort food recipes check out our Hearty Slow Cooker Beef Stew and our very popular Simple Chicken & Dumplings  – 9 Weight Watchers Points Plus Value .
Enjoy!

Pam is married and has 1 son – a middle-schooler in his teen years. She followed Terri to Frederick in 1999. She absolutely loves going to yard sales and estate sales and finding hidden treasures.
read more...