This recipe for Hearty Slow Cooker Beef Stew is super easy to prepare and absolutely delicious!
It will warm you up and fill your belly after a long, busy day!
Hearty Slow Cooker Beef Stew
I'm very fortunate to have so many great memories growing up as a child.
And several of those memories are of my Mom cooking meals for her four kids.
One of the meals my Mom would make was a nice big pot of beef stew.
There's no replacement for a home cooked meal
These days, there are so many restaurant eat-in & delivery options, as well as fast food.
It makes it so easy to skip making a meal and just have someone else do all the work.
But there's just nothing like being home, smelling the comforting aroma of a good meal cooking, made by your Momma.
Slow Cooker Beef Stew is So Easy to Prepare
And it's so easy to prepare and throw into your slow cooker!
Then you can move on to whatever you have to do for the day ahead of you.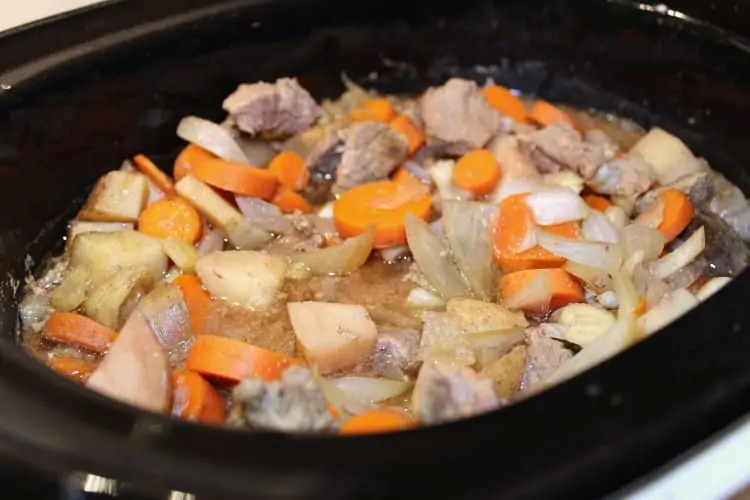 Come Home to a Prepared Meal
Then, later on, when you get home, you'll most likely make a bee line to your slow cooker.
You'll smell the wonderful smell of 'homemade' and lift the slow cooker lid to see the raw ingredients transformed into a big pot of comfort-food goodness!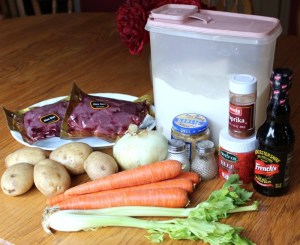 Slow Cooker Beef Stew Recipe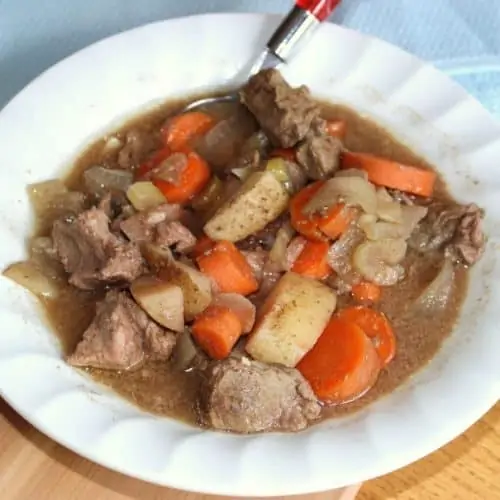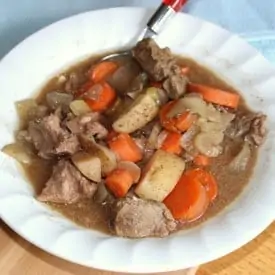 Hearty Slow Cooker Beef Stew
A hearty, warm, delicious recipe for beef stew.
Ingredients
2

lbs

Beef stew meat, cut into 1 inch cubes

¼

cup

All-purpose flour

½

tsp

Salt

½

tsp

Ground black pepper

1

clove

Minced garlic

1

Bay leaf (optional)

1

tsp

Paprika

1

tsp

Worcestershire sauce

1

Onion, chopped

1 ½

cups

Beef broth

3

Potatoes, diced into bite size pieces

4

Carrots, thinly sliced

1

stalk

Celery, chopped
Instructions
Place meat in slow cooker.

In a small bowl, mix together the flour, salt and pepper; pour over meat, and stir to coat meat with flour mixture.

Stir in the garlic, bay leaf (optional), paprika, Worcestershire sauce, onion, beef broth, potatoes, carrots, and celery.

Cover and cook on low setting for 10 to 12 hours or on high setting for 4 to 6 hours.
Notes
Make sure the carrots and potatoes are cut into small pieces to ensure that they cook through.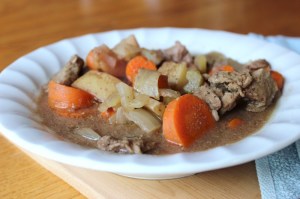 Serve with Hot French Bread
Whenever I make this recipe, I serve it along with some steaming hot french bread.
It's so stick-to-your ribs good and you can guarantee that your family will be going back for seconds.
And if you're looking for a nice set of sturdy bowls to serve your stew in, this set of porcelain fluted bowls (Amazon) is perfect for hot stews, cereal, ice cream, and more.
They come in all white or assorted colors.
I bought a set of 6 for myself and a set of 6 for my nephew who is living off-campus down in Clemson.
We both love them!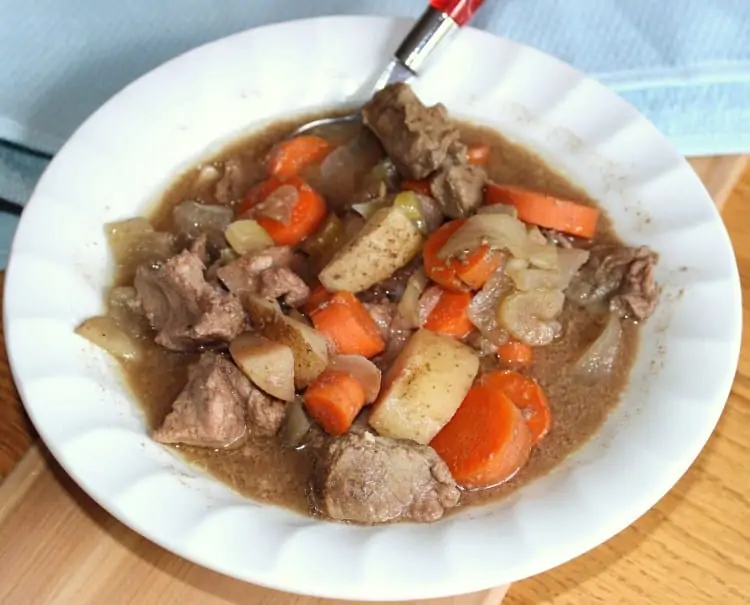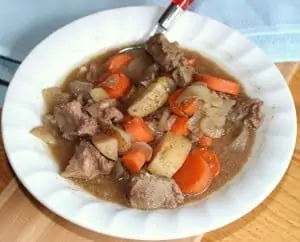 Tips on Ingredients
As is noted in the recipe, make sure that you slice your carrots very thin and dice your potatoes small.
This will ensure that they are cooked through.
You would think that after cooking for 4 to 6 hours, the carrots and potatoes would be well cooked through.
However, for some reason slow cookers are different than cooking on your stove top.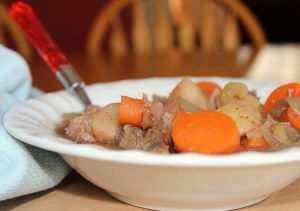 I used white potatoes and I omitted the bay leaf.
I'm just not a fan of bay leaves.
In addition, white potatoes tend to cook better than baking potatoes in a slow cooker.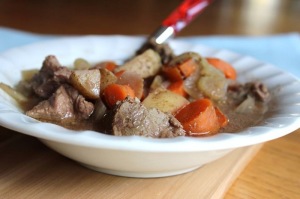 With colder days approaching, this Hearty Slow Cooker Beef Stew will hit the spot for you and your family.
For more posts on recipes that will warm you up, click on the below links:
Weight Watchers White Chicken Chili – 5 Points Plus Value
Simple Chicken & Dumplings – 9 Weight Watchers Points Plus Value