Making s'mores in the oven only requires 3 ingredients and 4 seriously easy steps to make!
And the beauty of this method is that it doesn't matter what the weather is outside or whether or not you have a good campfire going!
S'mores in the Oven
I don't know what it is about s'mores!
Whether it's the perfectly toasted marshmallow, the melted chocolate, or the crispy graham crackers.
But there's just something so special about them!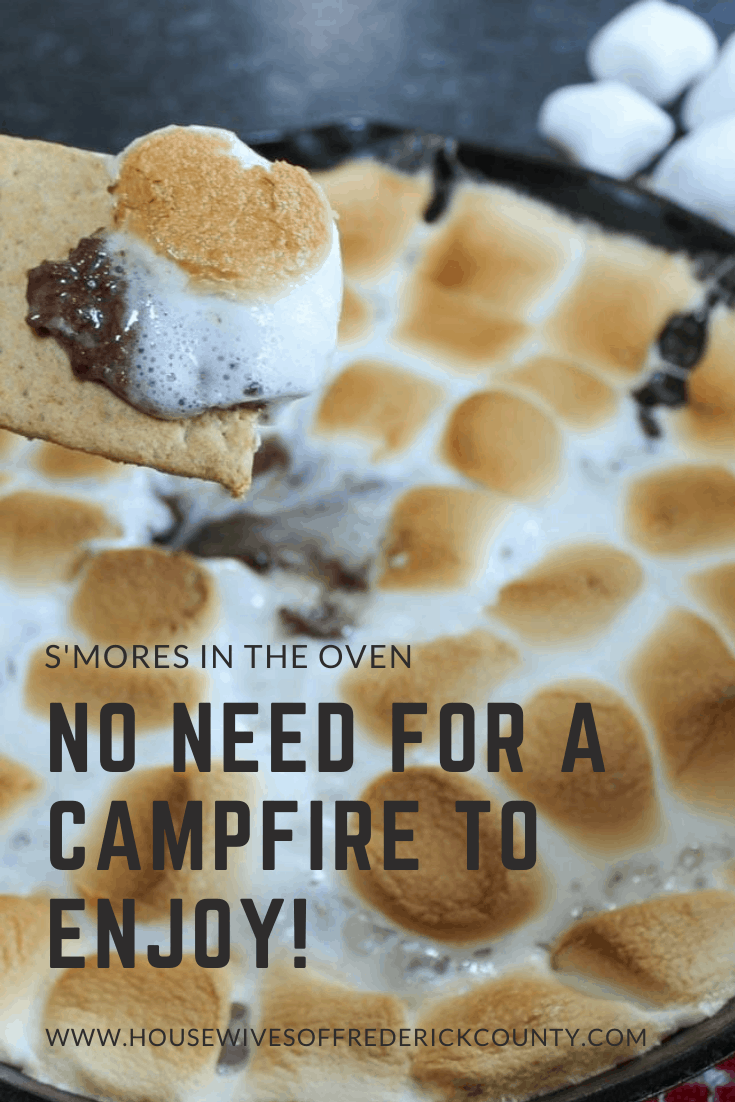 Why Are S'mores Called S'mores?
But first, why are s'mores called s'mores?
Well, if you've never had them, just try to eat one!
After you eat your first one, you're absolutely going to want some more!
Get it? S'more is slang for "some more"!
And because you're most definitely going to eat more than one, the plural form of the word is used: S'mores.
Traditional S'mores
There are multiple ways you can make s'mores.
However, the traditional way is to get a long stick and put a marshmallow on the end of it.
Roast the marshmallow over a campfire until it gets nice and toasty on the outside and warm and gooey on the inside.
It is at that moment that you:
Get a square of chocolate
Place the chocolate on top of a graham cracker.
Sandwich the toasted marshmallow (while still on the stick) between the chocolate and a 2nd graham cracker.
While squeezing your 'sandwich' carefully pull the stick out of the marshmallow.
Enjoy your toasted, melted marshmallow & melted chocolate, graham cracker sandwich!
See, s'mores is a WAY easier name for it!
S'mores in the Oven with a Cast Iron Skillet
As the years have gone by, people have gotten very creative with making s'mores.
It's no longer necessary to have a campfire at the ready under a moonlit, starry sky.
As a matter of fact, with this s'mores in the oven recipe, you can make them any time you like: day or night, rain or shine!
It's so darn easy, that it only requires 4 extremely simple steps!
Step 1: Grease your cast iron skillet
I used spray Pam (no, it's not because my name is Pam), but, instead I'd highly recommend using melted butter in your skillet.
Although I sprayed my cast iron skillet generously, there was still some melted marshmallow that stuck to the pan.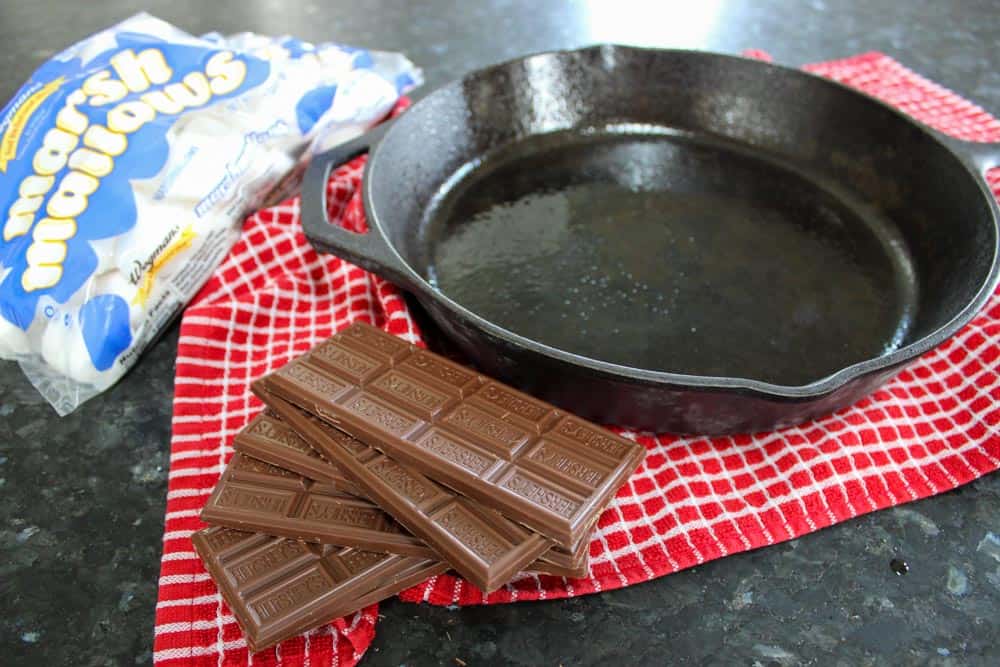 Step 2: Break up the chocolate bar into small pieces and spread in an even layer in your skillet
This step is very self-explanatory and super easy.
As a matter of fact, involve your kids in this step.
Just make sure they're not sneaking a square or two in their mouths during the process!
Well, heck, that's part of the fun of it, so go ahead and let them!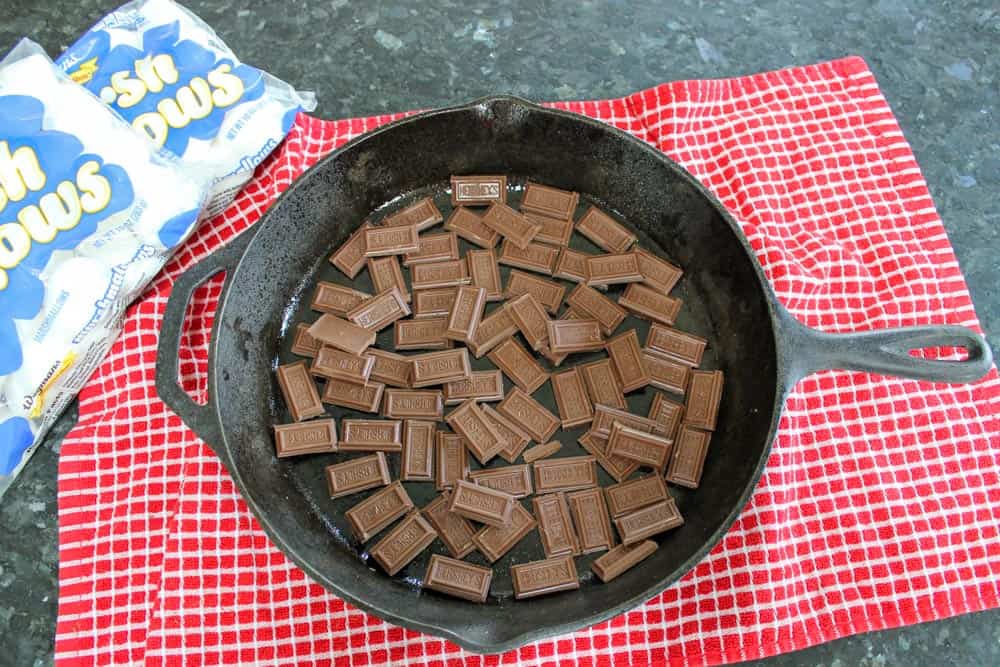 Step 3: Layer your marshmallows to fully cover the chocolate
Again, it's self-explanatory and a super easy step that the kiddos can handle.
And, popping a marshmallow or two in their mouths while they're doing this step isn't going to hurt anyone!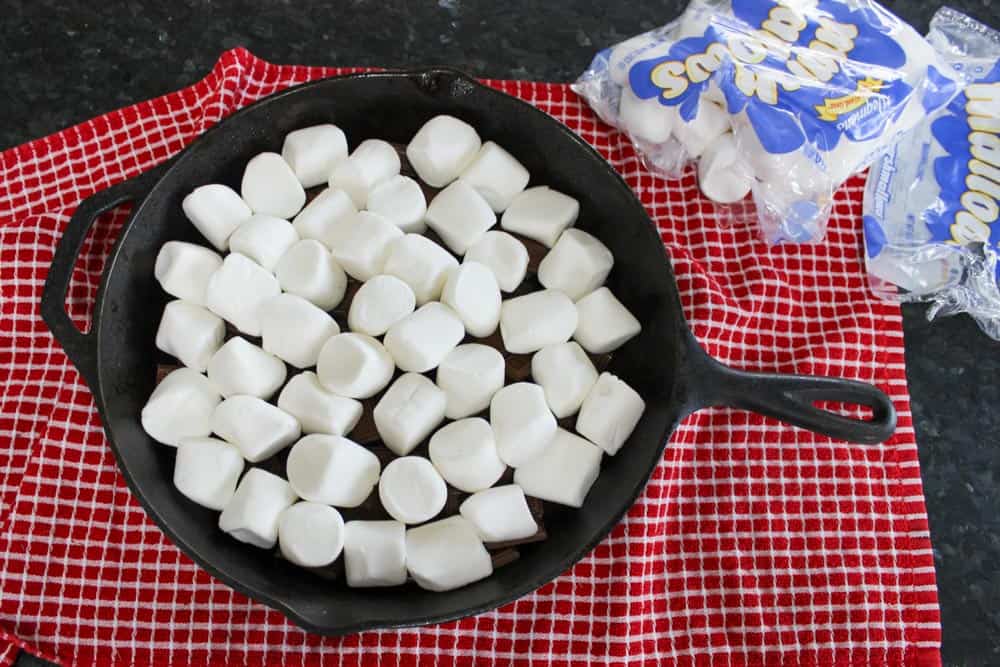 Step 4: Place in a 400 degree oven and bake for 10 to 15 minutes
This is where you come in!
We don't recommend that the kids place a heavy cast iron pan inside of a hot 400 degree oven.
In addition, be sure to keep an eye on the marshmallows while the s'mores are baking in the oven.
Depending on your oven, it can heat up and even burn the top of the marshmallows quicker than you'd expect.
With my oven, it took approximately 14 minutes for the top of the marshmallows to get that nice toasted brown top!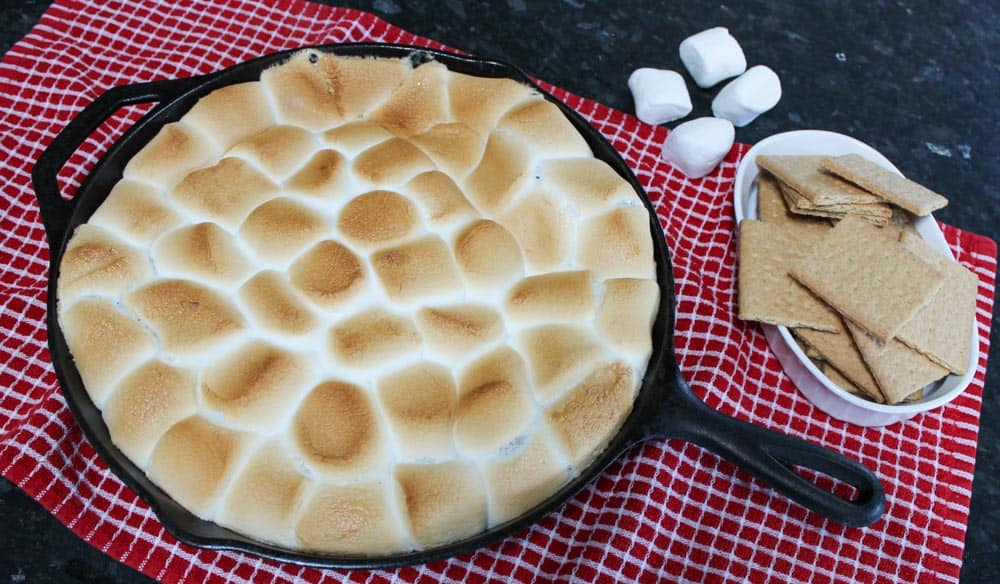 Using oven mitts, very carefully remove the skillet from the oven and place onto a trivet, a thick potholder, or your stove top to cool for 5 minutes.
After the 5 minute wait, you may then serve it up!
Just be careful, because you might get knocked over and pushed aside as everybody grabs their graham cracker and begins digging in!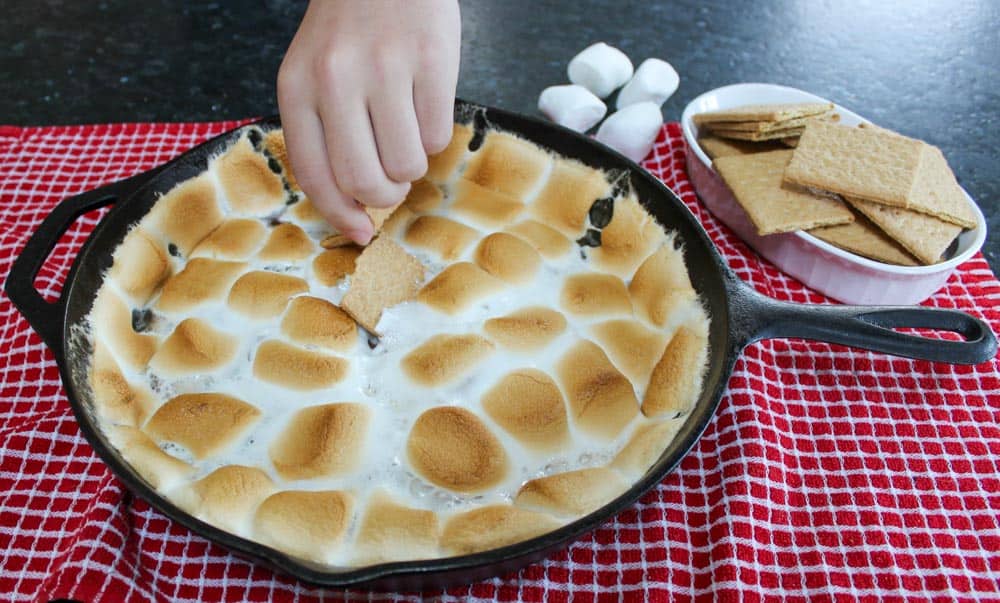 As you can see, you can't get a more perfectly toasted marshmallow atop a beautifully melted hunk of chocolate.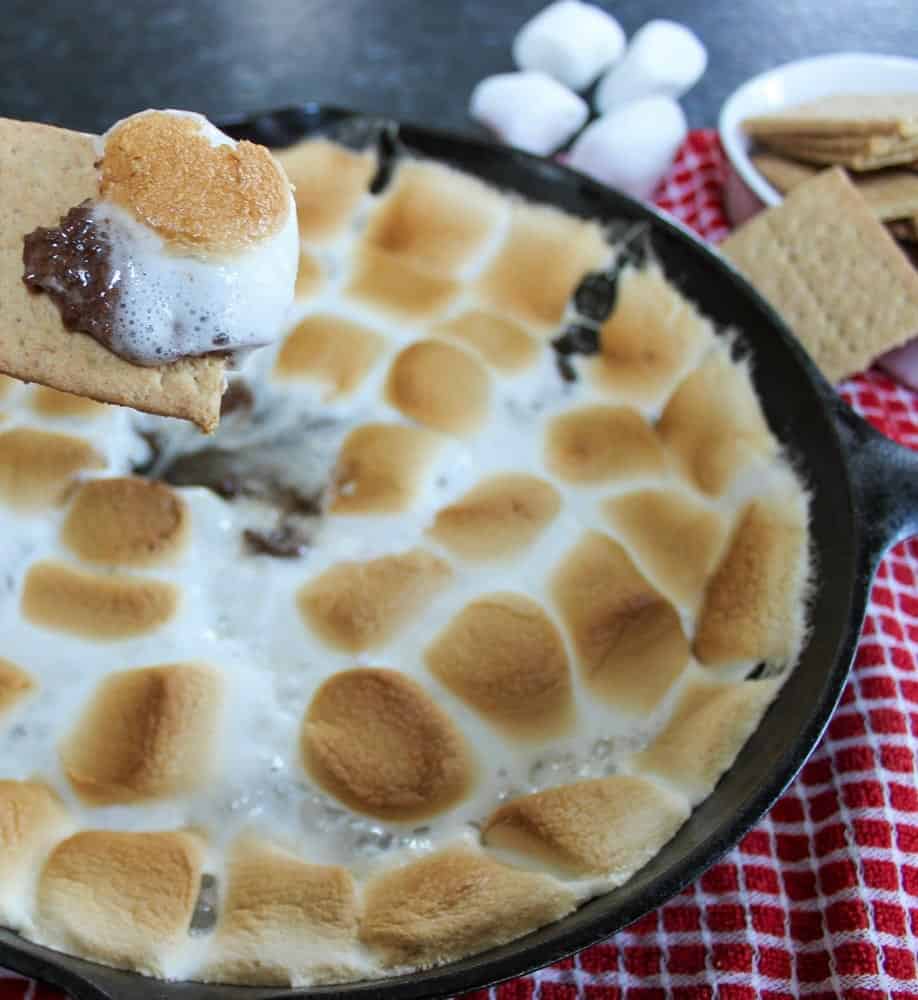 S'mores in the oven Pro Tips
I baked my s'mores in the oven at 400 degrees fahrenheit.
However, the chocolate can still be a little bit thick, which makes it hard to dip the graham crackers into the dip without breaking them.
So, next time I might try to bake it in the oven at 425 degrees fahrenheit to see if this solves the problem.
OR just use a spoon to scoop up your portion and place it on your graham cracker.
You can also use chocolate chips in place of the chocolate bars.
This may make it easier for dipping your graham crackers without them breaking.
S'mores in the Oven Recipe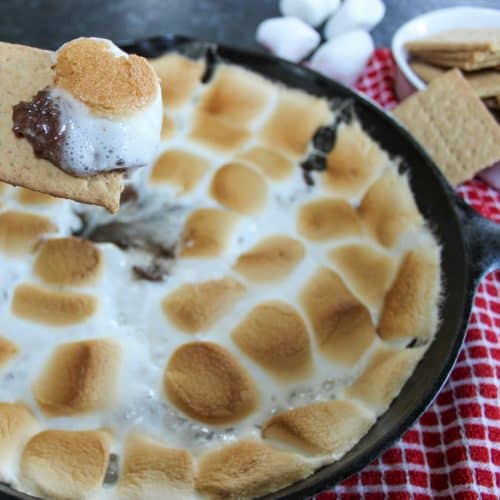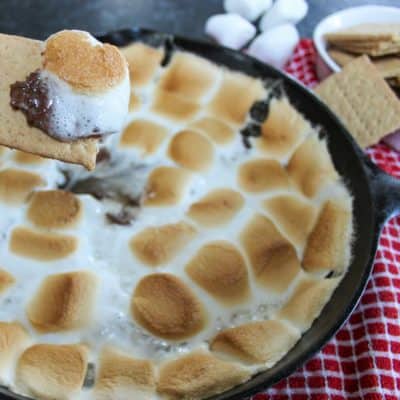 S'mores in the Oven Recipe
You no longer need a campfire to make s'mores! Just get out your cast iron skillet and you'll have delicious s'mores in a matter of 15 minutes!
Ingredients
1

tbsp

Butter, melted

6

Chocolate Bars (1.55 ounces each bar)

1

bag

Marshmallows, Large
Instructions
Preheat oven to 400 degrees fahrenheit.

Melt butter and use it to generously coat a large cast iron skillet on the bottom and sides.

Break up chocolate bars into small pieces and place in a single layer along the bottom of your cast iron skillet.

Top the chocolate and cover completely with a single layer of marshmallows.

Place cast iron skillet in your preheated oven and bake until the marshmallows are golden brown. This should take between 10 and 15 minutes. Keep an eye on it because the marshmallows can quickly go from golden brown to black.

Carefully remove skillet from oven and allow to cool for 5 minutes.

Serve with graham crackers and enjoy!
For more fun and delicious dessert recipes, click on over to:
Cherry Pineapple Dump Cake: As Easy As It Sounds
No Bake Chocolate Marshmallow Cookies
Chocolate Chip Cookie Recipe with Peanut Butter & Pretzels