In this post I'm going to give you the recipe for this deliciously healthy Weight Watchers Cookies recipe.
And what's even better is that they're only 4 Smart Points per large cookie.
Weight Watchers Cookies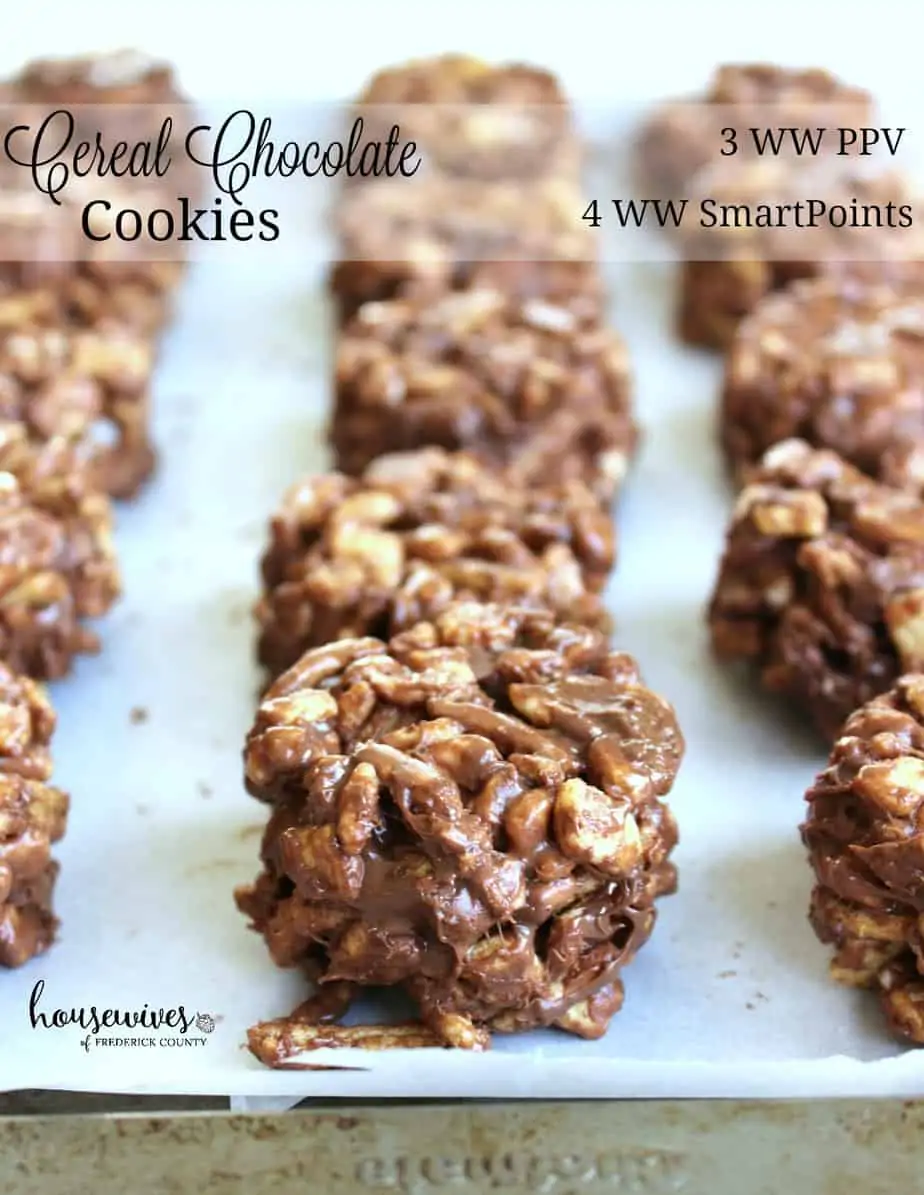 When you're looking for a sweet treat but don't want to go hog wild and blow your Weight Watchers plan out of the water, these cookies will totally do the trick!
In addition, they're just so darn easy to make!
Thankfully there are SO many Weight Watchers cookie recipes out in Google land to satisfy my sweet tooth!
For example, these Weight Watchers Peanut Butter Chocolate Chip Cookies from KellyStilwell.com look amazing and they're only 2 WW points each!
But because I've always loved anything sweet, salty, and crunchy, these no bake cereal chocolate cookies totally fit the bill for me!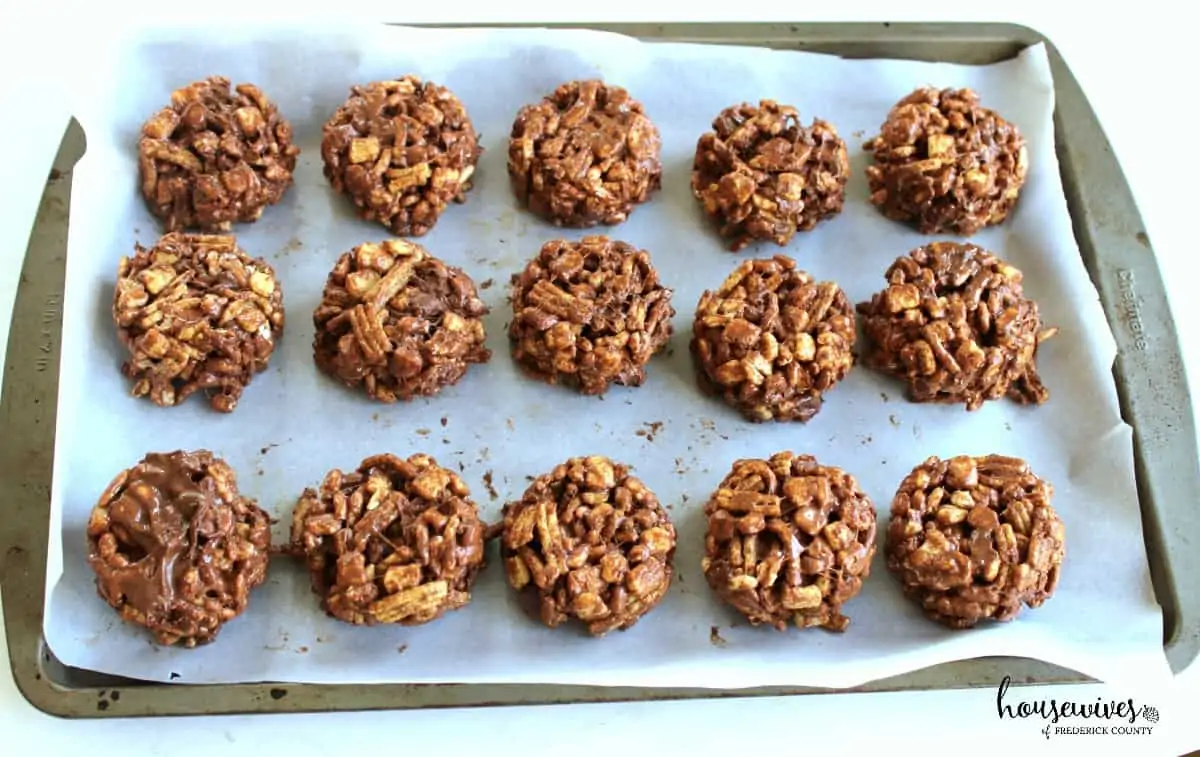 No Bake Cookie Ingredients
Here are the simple ingredients for this delicious recipe:
Unsalted Butter
Unsweetened Cocoa Powder
Vanilla Extract
Salt
Cooking Spray
Whole-Grain Cereal (I used Kashi Go Original)
Semisweet Chocolate Chips
Another thing I really love about this recipe is that there is no sugar substitute, flour, or oil included in the list of ingredients.
How to Make Weight Watchers Cookies
These tasty cookies are so ridiculously easy to make that you can whip them up in no time!
As a matter of fact, the prep time is pretty much nonexistent.
No need for an electric mixer or even an oven!
Keep them on-hand as a tasty treat for when you have that sweet craving and just need something sinful, without the guilt.
Step by Step Instructions
Step 1. Combine First 5 Ingredients & Microwave
First, combine marshmallows, butter, cocoa, vanilla and salt in a large mixing bowl (microwave-safe).
Then, microwave on high for 1 minute.
Remove the bowl from the microwave and mix well with a large rubber spatula (coated with cooking spray to keep the batter from sticking).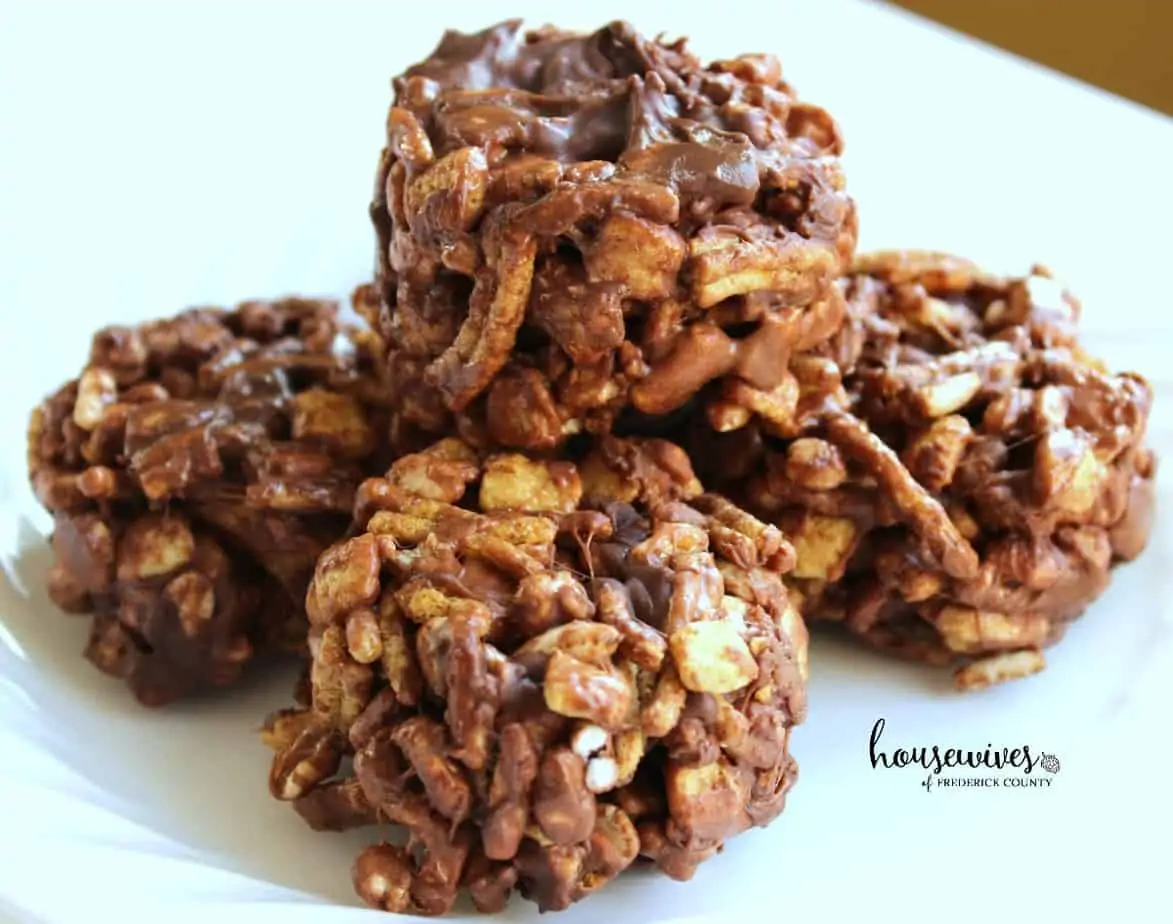 Step 2. Add Cereal & Chocolate Chips
Second, add your cereal and chocolate chips to the large bowl.
Then blend well with the microwaved mixture.
Step 3. Drop Cookies Onto Cookie Sheet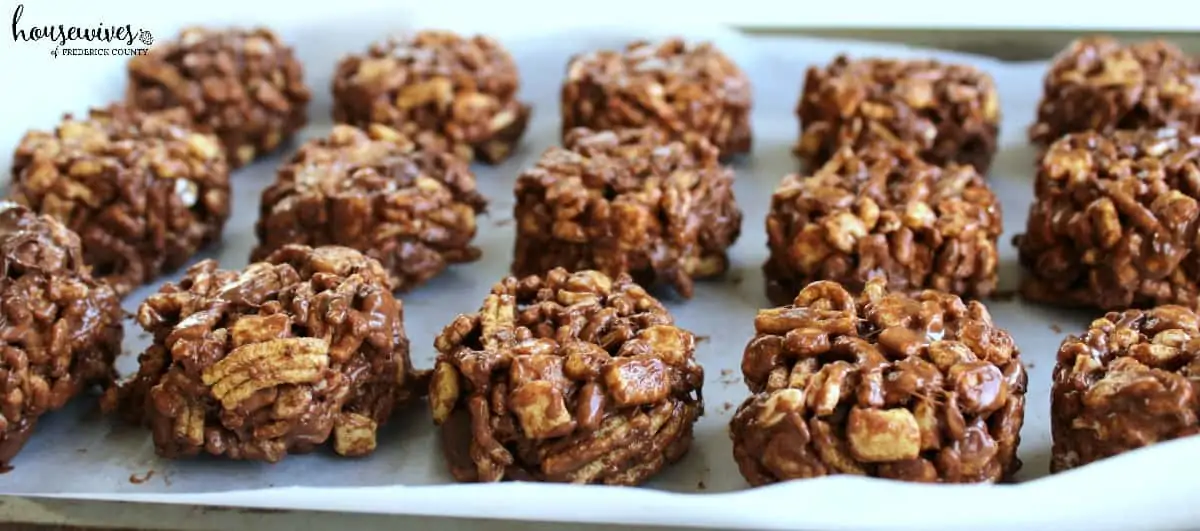 Third, press the batter into a 1/4 cup measuring cup (Amazon) (make sure it's been sprayed with cooking spray so it doesn't stick).
Then, turn the measuring cup upside down to drop the cookies onto a parchment paper (or wax paper) lined cookie sheet.
Note: You can use a cookie scoop instead of the 1/4 cup measuring cup, but I like the fun little hockey puck shape the measuring cup creates for the cookies.
In addition, the measuring cup is great for portion control.
Hence, you know exactly how much you're eating.
Step 4. Freeze for 8 Minutes
Once you've dropped all of the 1/4 cup size cookies onto the cookie sheet, place them into the freezer for 8 minutes.
This will help to firm up the cookies.
As I tried the first cookie, I was amazed at how much of a great taste they have!
They're a soft cookie but also a crispy cookie because of the cereal in them.
And the flavor combinations of the cereal mixed in with the marshmallows and the chocolate chips is divine!
Approved by my picky eater
Then I tested them out on my picky son.
He LOVED them!
I didn't tell him that they are WW friendly.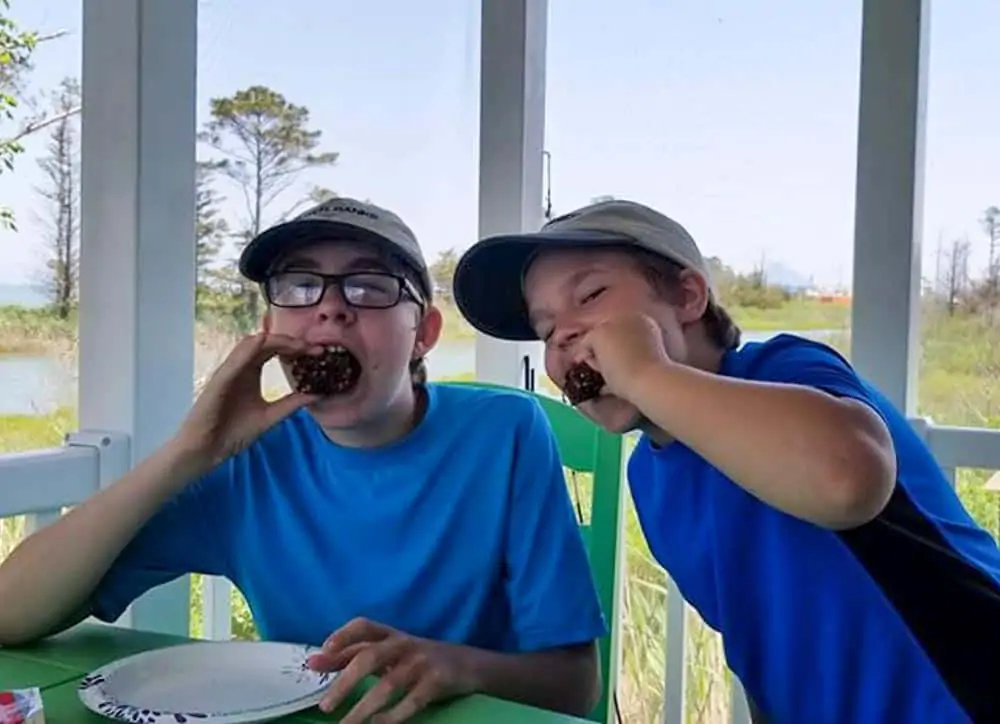 Obviously, we love it when our readers share their love of our recipes with us!
Not only did they share a pic of their boys eating these cookies, but also they were enjoying them at one of our favorite spots: Masseys Landing!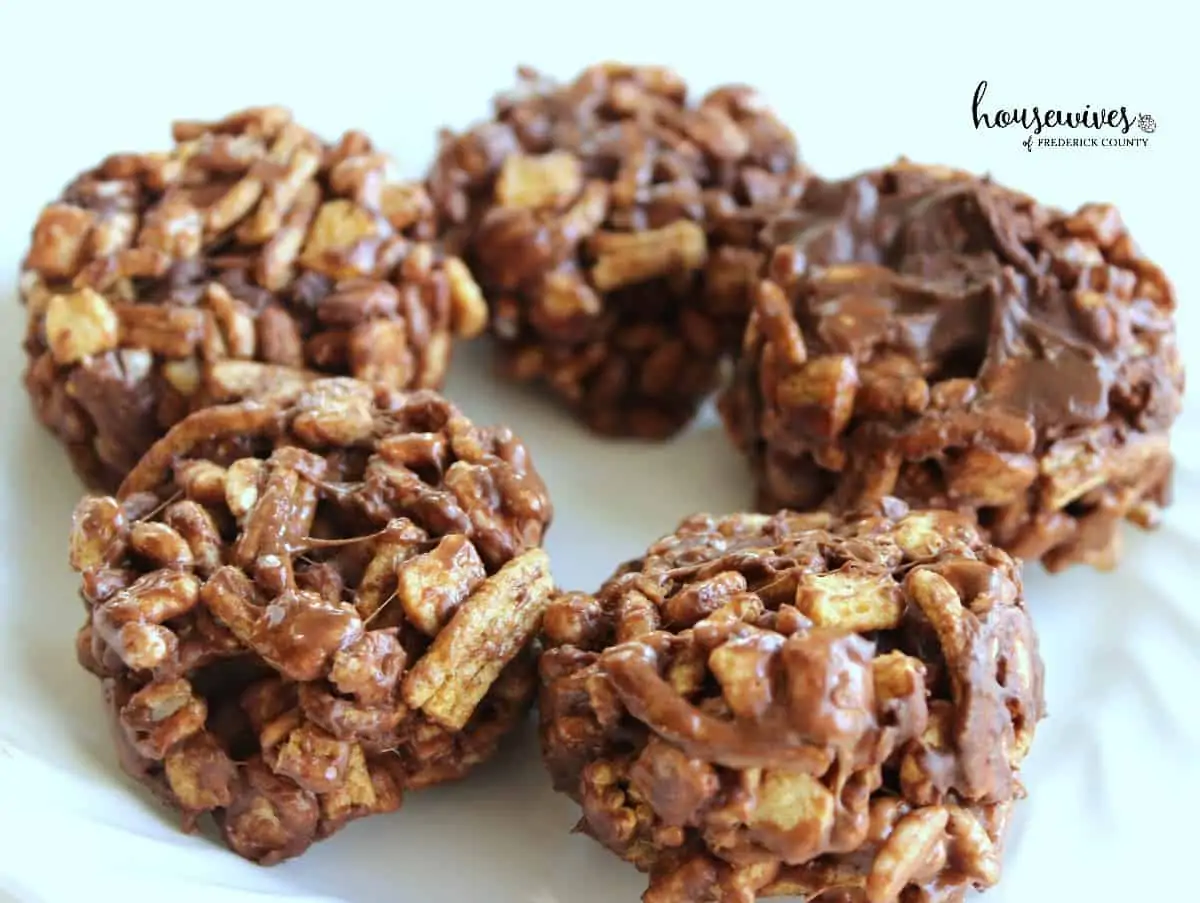 This recipe, which I got from my Cooking Light Magazine, says that it makes 15 cookies.
Mine made more like 18 cookies.
But if I had packed each 1/4 cup serving more tightly, it might have ended up being 15.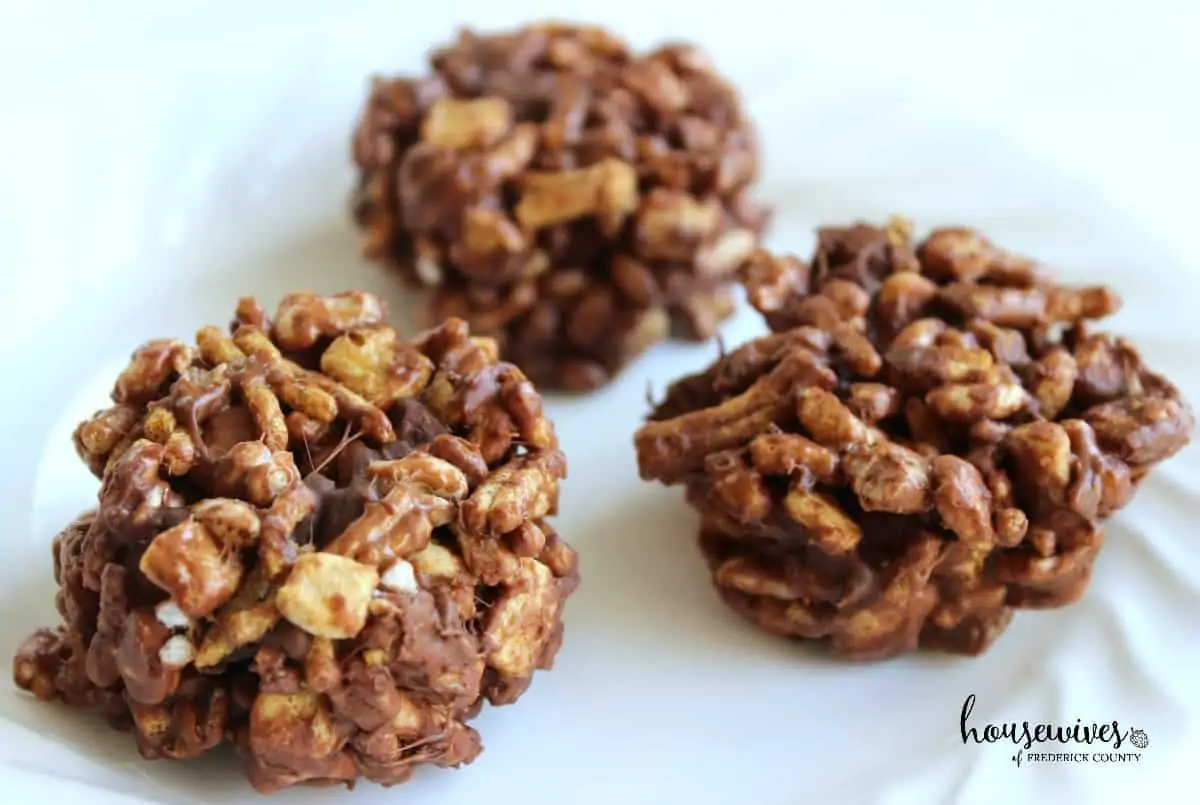 Tips & Substitutions
When measuring out each cookie, spray a quick spray of cooking spray into the 1/4-cup measuring cup each time you pack in the cereal mixture so it doesn't stick.
You can substitute another whole-grain cereal instead of using Kashi Go Original cereal.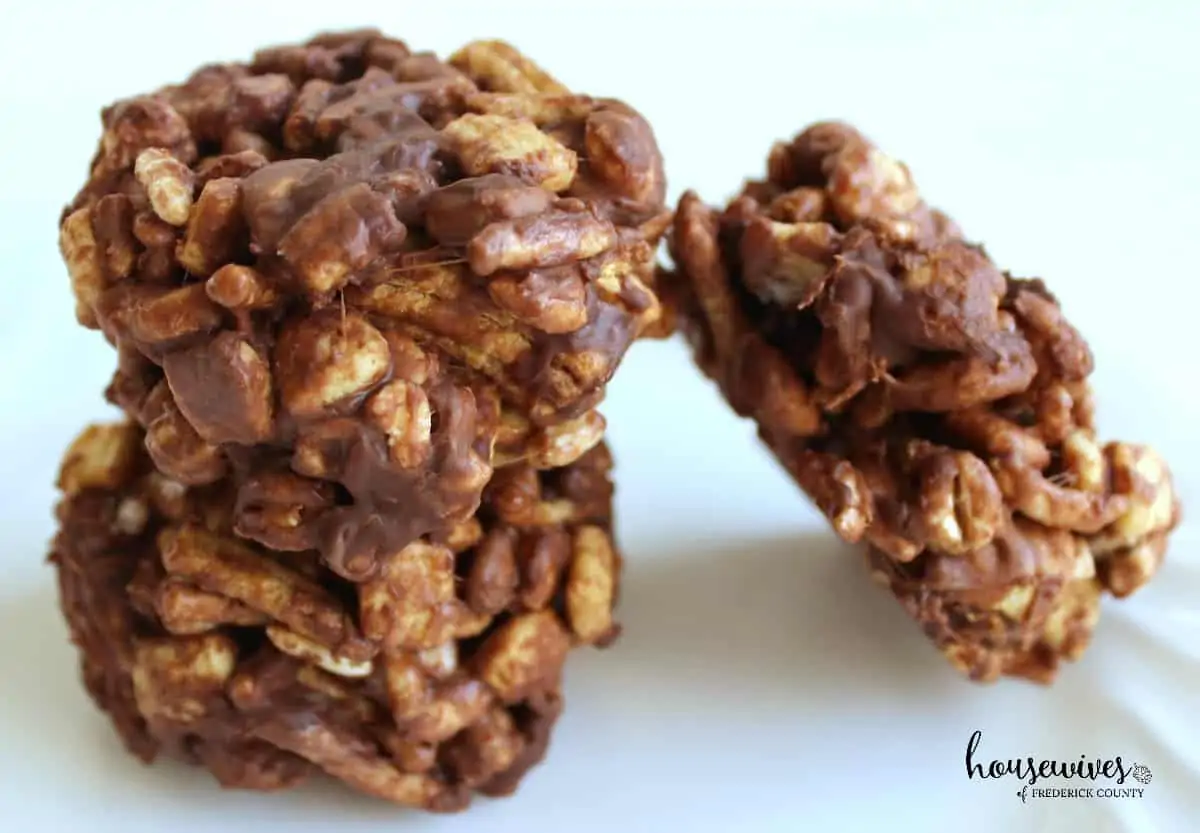 They Taste Like Chocolate Covered Pretzels
I can compare the taste of these cookies to chocolate covered pretzels.
They are seriously heaven in your mouth!
Items you'll need to make these cookies:
Weight Watchers Cookies Recipe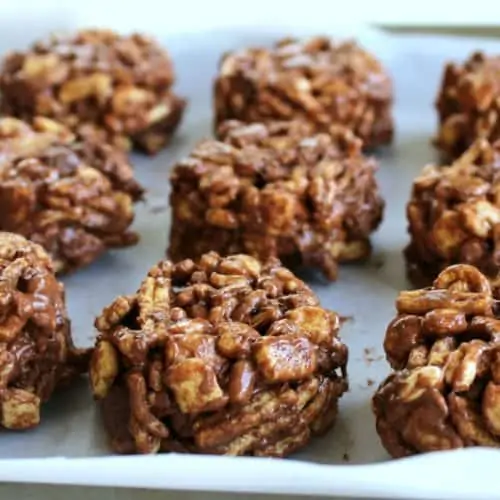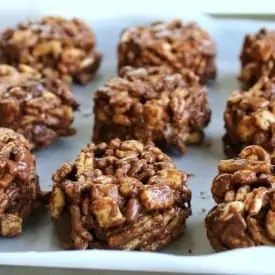 Weight Watchers Cookies: 4 Smart Points
These delicious Weight Watchers cookies are super easy to make and healthy! These no bake chocolate cookies are made with Kashi Go cereal, cocoa, marshmallows, and chocolate chips.
Ingredients
2

cups

Miniature Marshmallows

2

tbsp

Unsalted Butter

1

tbsp

Unsweetened Cocoa

¼

tsp

Vanilla Extract

⅛

tsp

Salt

Cooking Spray

3

cups

Whole-Grain Cereal (I used Kashi Go Original)

½

cup

Semisweet Chocolate Chips
Instructions
Combine first 5 ingredients (through salt) in a large microwave-safe bowl.

Microwave at HIGH for 1 minute.

Remove bowl from microwave; stir with a large rubber spatula coated with cooking spray until smooth.

Stir in cereal and chocolate chips.

Coat 1/4-cup dry measuring cup with cooking spray.

Lightly pack measuring cup with cereal mixture.

Drop onto a parchment paper-lined baking sheet.

Freeze for 8 minutes or until firm.
Notes
Nutrition Information:
92 calories
3.5 g fat
2 g saturated fat
3 g protein
15 g carbohydrates
2 g fiber
8 g sugar
4 WW Smart Points
What recipes with cereal do you like to make?
We'd love to hear from you in the comments!
For more healthy treats, click on over to:
Popcorn Snack Bars – 4 Weight Watchers Points Plus Value
Lemon Squares – 3 Weight Watchers PPV
Weight Watchers Zucchini Muffins – Bite Size Mini Quiches