This Chocolate Chip Cookie Recipe With Peanut Butter And Pretzels will wake up your taste buds in a delicious way!
I don't know about you, but I've always loved the sweet and salty combination.
For example, if we have vanilla ice-cream in the house, I'll add salty pretzels and chocolate syrup on top.
Yum!
Chocolate Chip Cookie Recipe
Therefore, I went on a mission to find a great chocolate chip cookie recipe with the sweet and salty theme to bring to an upcoming holiday cookie exchange.
Naturally, my first stop was to browse Pinterest only to find a ton of salted caramel cookies and bars.
However, this particular Chocolate Chip Cookie Recipe really caught my eye.
Sarah from Sugar Cooking shares this recipe on her amazing blog.
Bakery Boxes
Incidentally, if you're going to a cookie exchange, or just making cookies to give to friends, family, or that new neighbor whose house you really want to check out, you need to present these cookies in an inviting way!
I found this set of 20 bakery boxes with windows on the top on Amazon.
They are the perfect vessel for the amazing cookies you'll be placing inside.
Of course presentation is everything!
As an Amazon Associate I earn from qualifying purchases.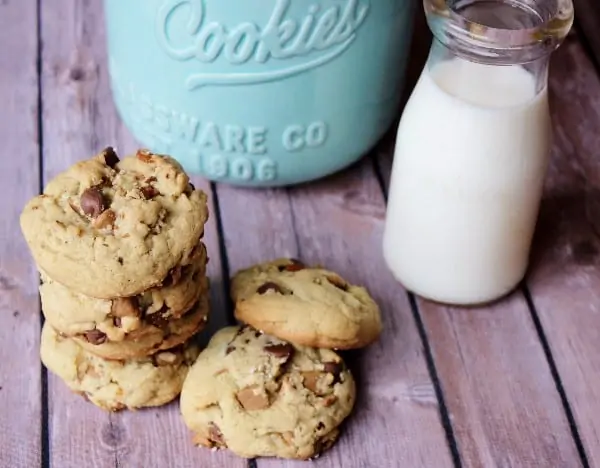 Vintage-Inspired Cookie Jar
In the event that you have cookies leftover, the blue ceramic mason cookie jar in the above picture (you can find it on Amazon) looks so inviting on any countertop!
I absolutely love the vintage look of it and it coordinates perfectly in my vintage/farmhouse style kitchen!
Finally, you can finish off the vintage theme with these vintage inspired glass milk bottles from Amazon.
They're so much fun and will hold the perfect amount of milk for that sought after milk-to-cookie ratio!!
Chocolate Chip Cookie Recipe With Peanut Butter And Pretzels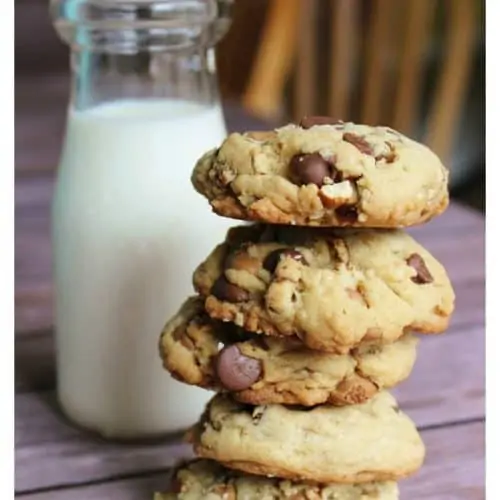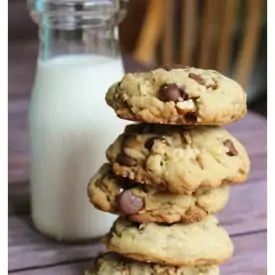 Chocolate Chip Cookie Recipe With Peanut Butter And Pretzels
Ingredients
•1 1/2 cups of all purpose flour

•1/2 tsp. of salt

•1/4 tsp. of baking soda

•1/2 cup of butter at room temperature

•1/2 cup of tightly packed light brown sugar

•1/3 cup of granulated sugar

•1 egg

,

beaten

•1 tsp vanilla extract

•1 cup milk chocolate chips

•1/2 cup peanut butter chips

•1/2 cup broken up pretzel pieces

•Preztel Salt or Sea Salt
Instructions
In a medium bowl, sift together the flour, baking soda, and salt. Set aside.

In a larger bowl, beat the butter and sugars together on medium speed until light and fluffy (about 2-3 minutes). On low speed, slowly add the beaten egg and vanilla extract. Beat to combine, scrape down the sides of the bowl.

Add the flour mixture and beat just until there are no more streaks of flour. Stir in the chocolate chips, peanut butter chips, and preztels. Cover and refrigerate for an hour.

Preheat the oven to 350F. Line baking sheets with parchment paper. Scoop out well rounded tablespoonfuls of the dough and sprinkle with pretzel salt. Leave about 2 inches between each ball. Bake for 10 minutes. If you prefer crispier cookies increase the baking time by 1-2 minutes. Allow the cookies to cool on the baking sheet for a few minutes before removing.
Surprisingly, this chocolate chip cookie recipe is super easy to make.
Not only is each cookie is pretty substantial, but also you really don't need to eat too many to satisfy that sweet & salty cookie craving.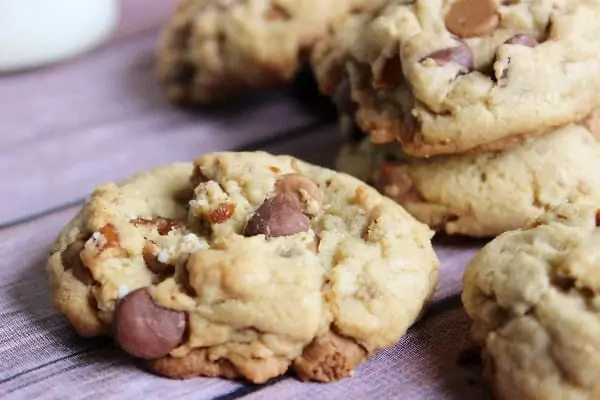 These turned out really delicious.
Instead of using find peanut butter chips separately (because I couldn't find them at the store), I used a bag of the combination chocolate and peanut butter chips.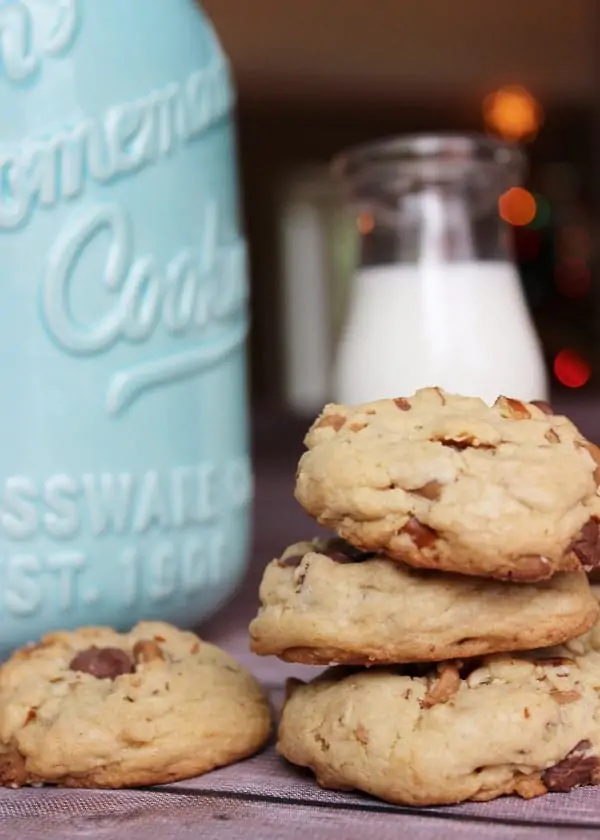 To add that salty touch to the top of each cookie, empty all of the pretzels out of the bag and use the salt from the bottom of the bag.
Just sprinkle a little bit of pretzel salt on top of each cookie.
There is already salt in the cookie mix from the crushed pretzels, so you don't need too much.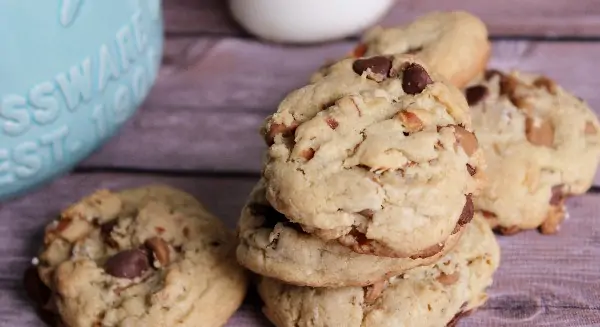 I doubled the recipe and baked each batch for 15 minutes.
My personal preference is a puffy cookie, so I didn't press down the cookies before baking, leaving them in the balls from my cookie scoop.
Keep in mind that my cookie scoop was probably 2 tablespoons of cookie dough per scoop and that's why I had to bake them a little bit longer than what the recipe states.
If you want to make good cookies, you need to start with a good stainless steel cookie scoop.
They turned out great.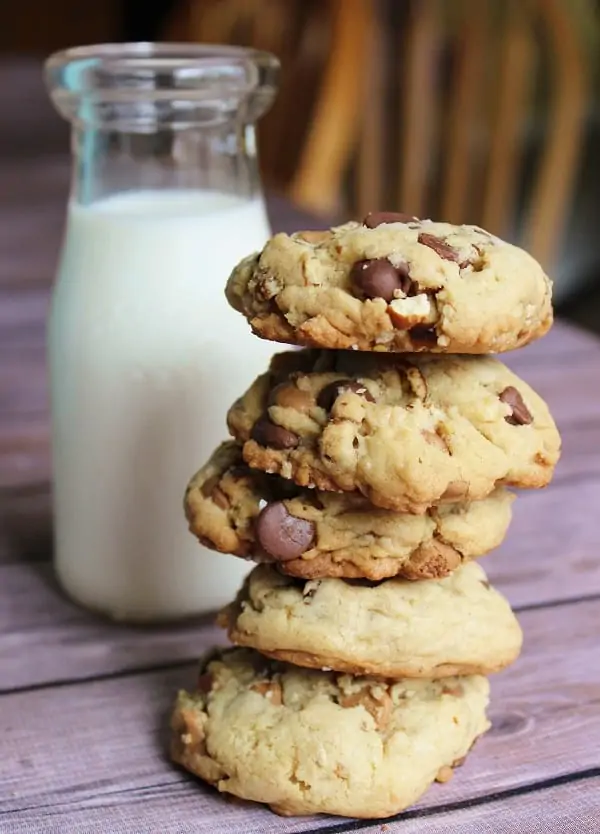 These cookies were a hit at home and a hit at the holiday cookie exchange!
I will definitely be making these again.
For more chocolate chip recipes, check out our posts on:
Easy Walnut Chocolate Chip Muffins