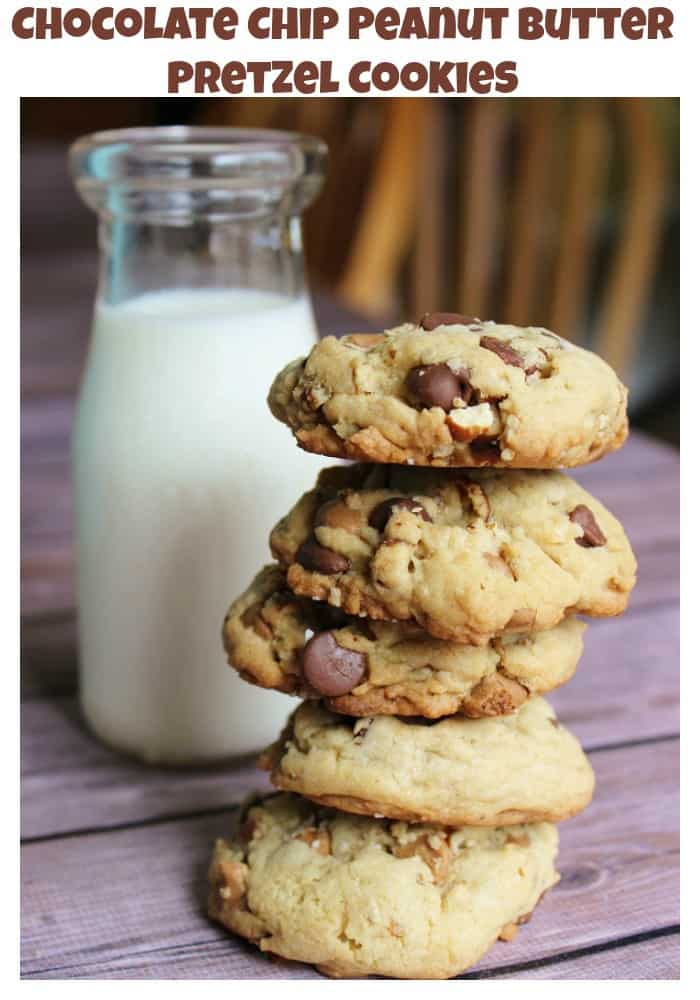 I don't know about you, but I've always loved the sweet and salty combination.
If we have plain vanilla ice-cream in the house, I will crumble salty pretzels and chocolate syrup on top.
Yum!
So when I found out I was invited to a holiday cookie exchange, I knew I wanted to find a good cookie recipe with the sweet and salty theme.
I perused Pinterest and found a ton of salted caramel cookies and bars.
But this Chocolate Chip Peanut Butter Pretzel Cookie Recipe really caught my eye.
Sarah from Sugar Cooking shares this recipe on her amazing blog.
And, by the way, if you're going to a cookie exchange, you have to have festive boxes to put your cookies in!
Amazon has some really cute ones!
Note: This post contains affiliate links. That means if you click on a link and make a purchase we may receive a small commission. Thank you!
Chocolate Chip Peanut Butter Pretzel Cookie Recipe
They're super easy to make.
Plus, each cookie is pretty substantial so you don't need to eat too many to satisfy that sweet & salty cookie craving.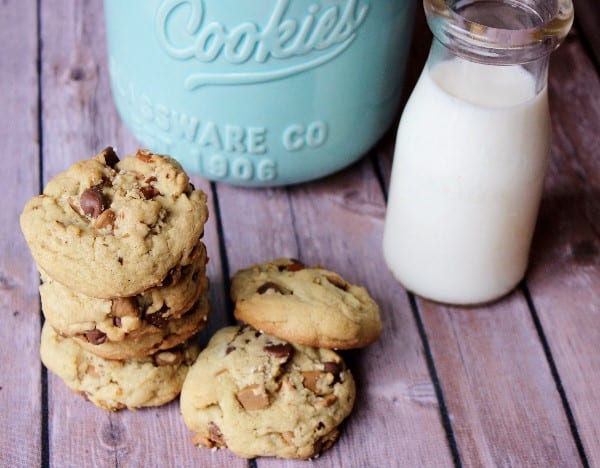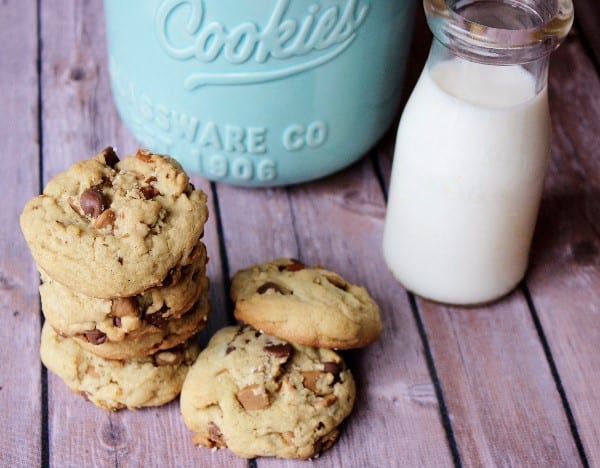 Here's my cookie jar in case you want one like it:
And these vintage milk bottles are so fun!!
Here is the printable version for the Chocolate Chip Peanut Butter Pretzel Cookie Recipe: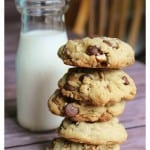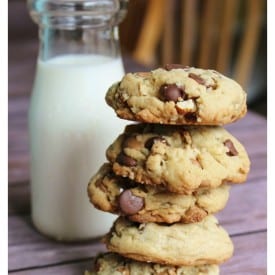 Print Recipe
Chocolate Chip Peanut Butter Pretzel Cookie Recipe
Ingredients
•1 1/2 cups of all purpose flour

•1/2 tsp. of salt

•1/4 tsp. of baking soda

•1/2 cup of butter at room temperature

•1/2 cup of tightly packed light brown sugar

•1/3 cup of granulated sugar

•1 egg

beaten

•1 tsp vanilla extract

•1 cup milk chocolate chips

•1/2 cup peanut butter chips

•1/2 cup broken up pretzel pieces

•Preztel Salt or Sea Salt
Instructions
In a medium bowl, sift together the flour, baking soda, and salt. Set aside.

In a larger bowl, beat the butter and sugars together on medium speed until light and fluffy (about 2-3 minutes). On low speed, slowly add the beaten egg and vanilla extract. Beat to combine, scrape down the sides of the bowl.

Add the flour mixture and beat just until there are no more streaks of flour. Stir in the chocolate chips, peanut butter chips, and preztels. Cover and refrigerate for an hour.

Preheat the oven to 350F. Line baking sheets with parchment paper. Scoop out well rounded tablespoonfuls of the dough and sprinkle with pretzel salt. Leave about 2 inches between each ball. Bake for 10 minutes. If you prefer crispier cookies increase the baking time by 1-2 minutes. Allow the cookies to cool on the baking sheet for a few minutes before removing.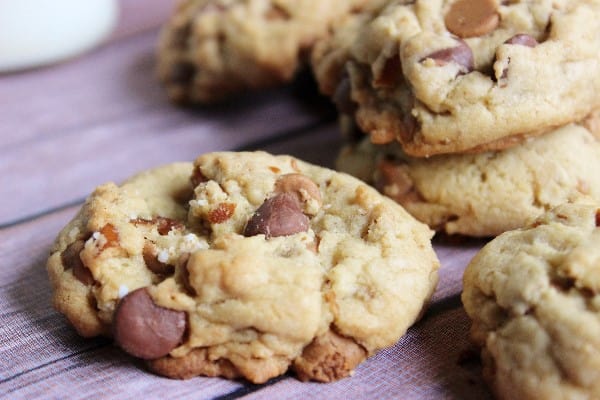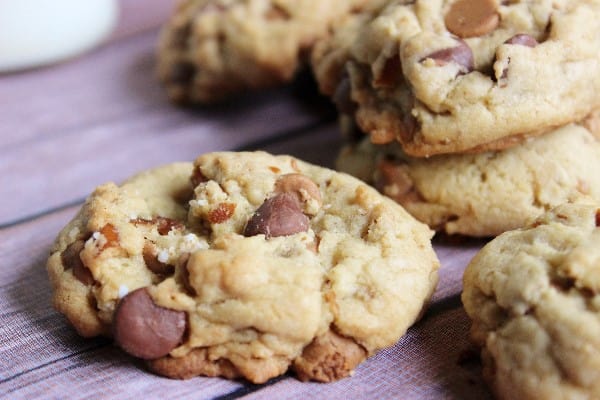 These turned out really delicious.
Because I couldn't find peanut butter chips separately, I used a bag of the combination chocolate and peanut butter chips.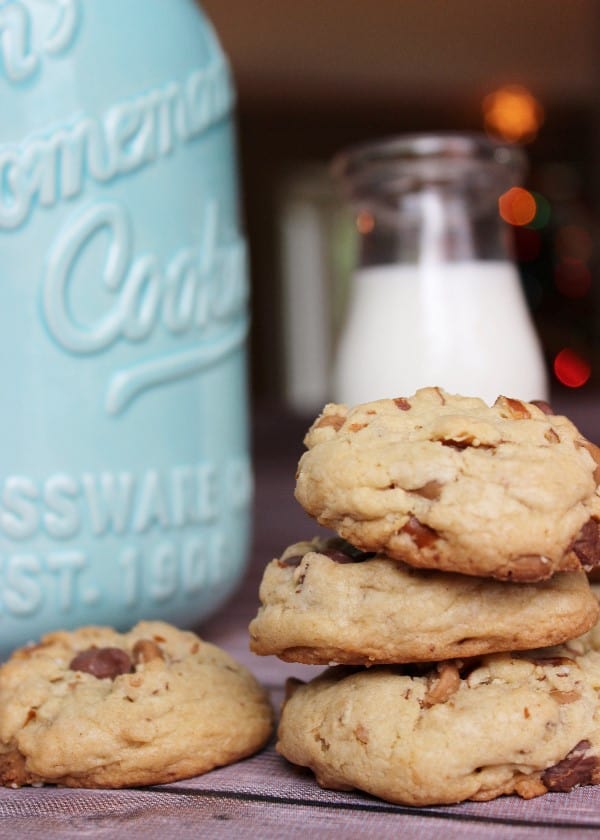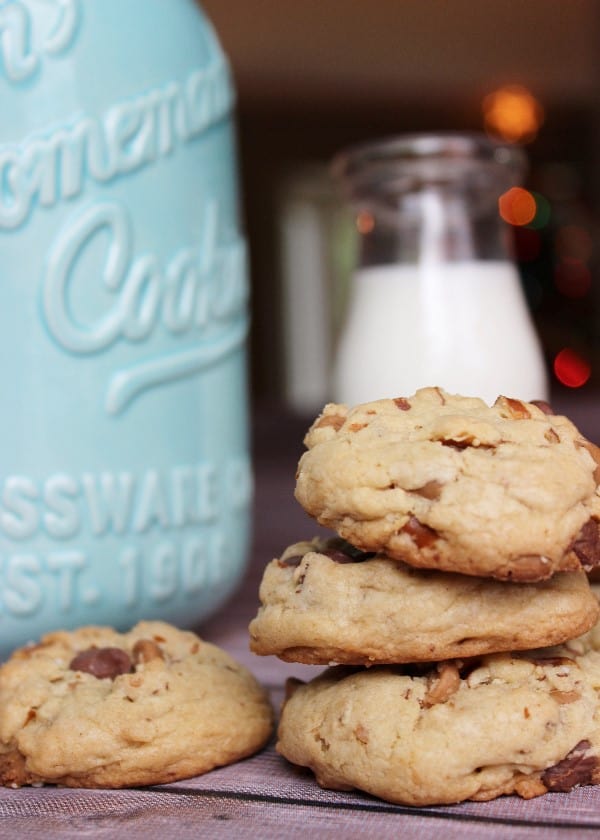 To add that salty touch to the top of each cookie, I emptied all of the pretzels out of my bag of pretzels and used the salt that was in the bottom of the bag.
Just sprinkle a little bit of pretzel salt on top of each cookie.
There is already salt in the cookie mix from the crushed pretzels, so you don't need too much.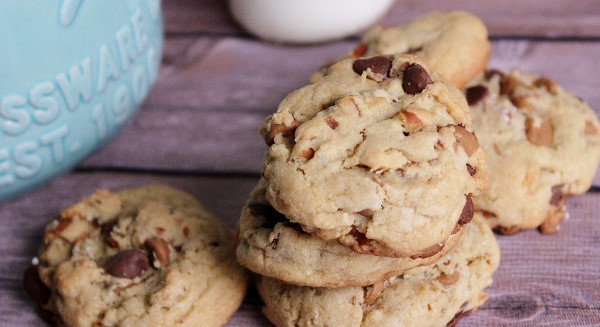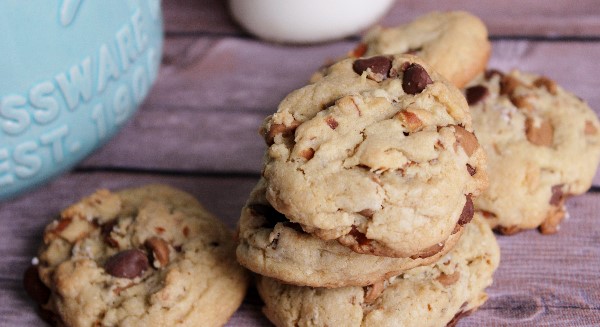 I doubled the recipe and baked each batch for 15 minutes.
My personal preference is a puffy cookie, so I didn't press down the cookies before baking, leaving them in the balls from my cookie scoop.
Keep in mind that my cookie scoop was probably 2 tablespoons of cookie dough per scoop and that's why I had to bake them a little bit longer than what the recipe states.
Here's a good cookie scoop:
They turned out great.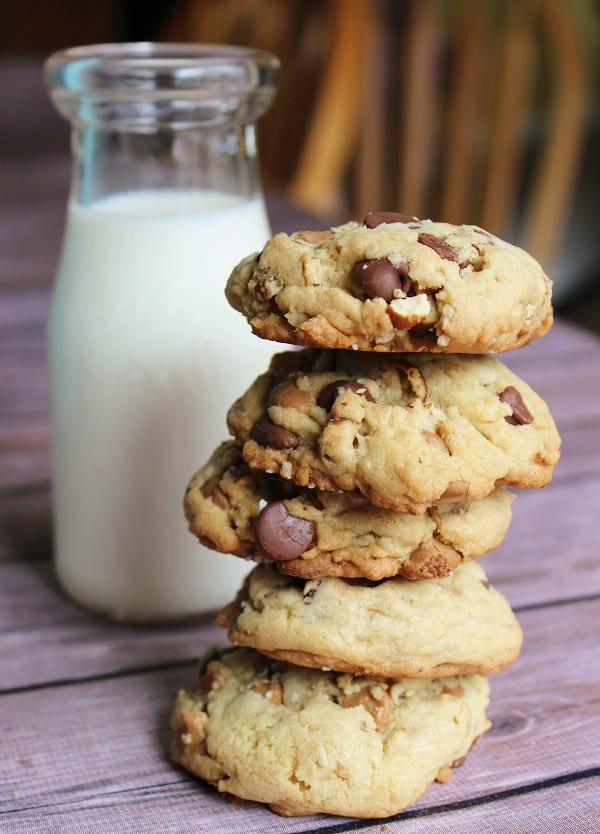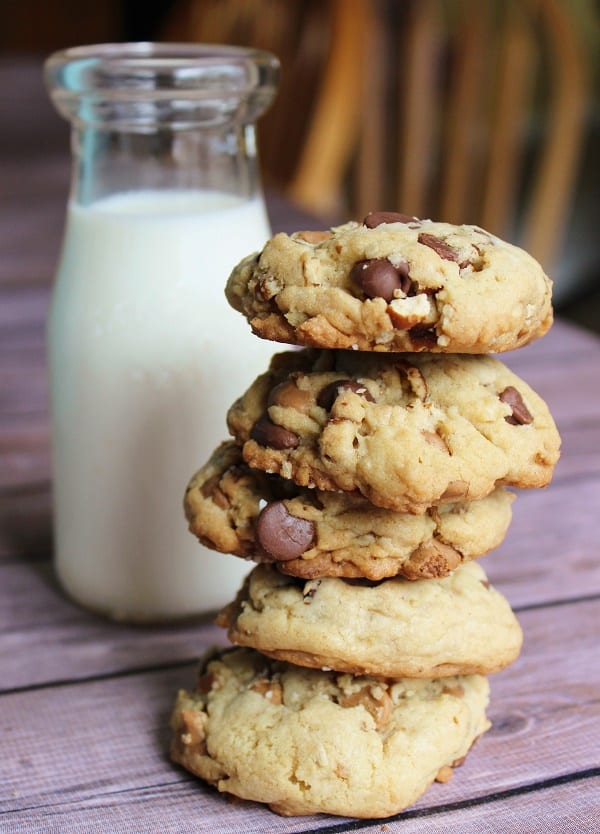 These cookies were a hit at home and a hit at the holiday cookie exchange!
I will definitely be making these again.
Enjoy!

Pam is married and has 1 son – a middle-schooler in his teen years. She followed Terri to Frederick in 1999. She absolutely loves going to yard sales and estate sales and finding hidden treasures.
read more...