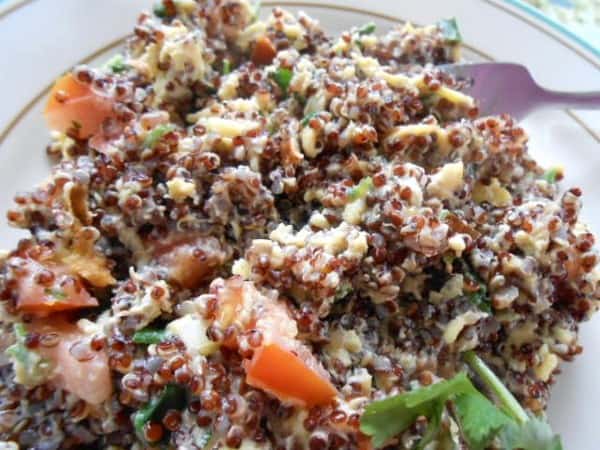 In this post I'm going to give you a scrumptious breakfast recipe using Quinoa.  
What is quinoa?   
Here is a definition of what quinoa is, taken from a wonderful site called Cooking Quinoa:
"Quinoa is often referred to as an ancient grain, but it is not actually a grain at all. It is a seed that is a relative to spinach and chard.
It is gluten free and considered to be an ideal food for those who have food allergies.  
A one cup serving of quinoa has 220 calories, 5 grams of fiber and 8 grams of protein. The carbohydrate content is low-glycemic making it an ideal food for diabetics and anyone trying to stay away from high-glycemic white carbohydrates.
It has all of the amino acids needed for health. It is not often that you find a complete protein in a plant based food! According to the World Health Organization, the quality of protein in quinoa is equal to that found in dehydrated whole milk.
A great source of antioxidants, vitamins and minerals, quinoa is a super food that you should try!"
So, after trying it for the first time and seeing how healthy it is for you, I am now officially on a quinoa kick!
Recently, I tried a spring herb quinoa patty recipe that was absolutely amazing.  
With a huge bowl of cooked quinoa leftover, I decided to look up more quinoa recipes.
Quinoa Breakfast Scramble Recipe – 12 Weight Watchers Points Plus Value 
Please note that I calculated the points based on the fact that I prefer larger servings.
However, I've heard from fellow Weight Watchers members that 1/2 of this recipe is plenty as 1 serving.
Therefore, the Points Plus Value would be 6 PPV per serving.
And the Smart Points Value would be 5.5 SP per serving.
I discovered this particular Quinoa Breakfast Scramble recipe on a site called Fine Cooks.
Because I didn't have all of the ingredients on hand, such as feta cheese and basil, I tweaked the recipe a little bit using what I already had at home.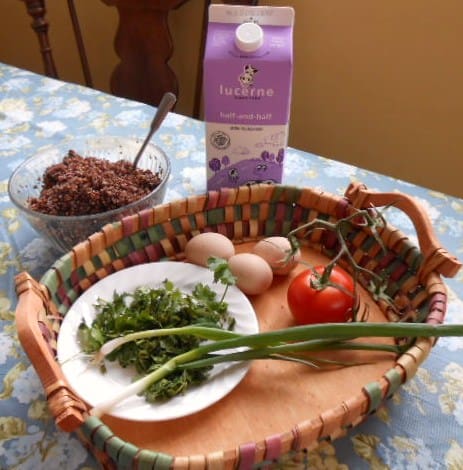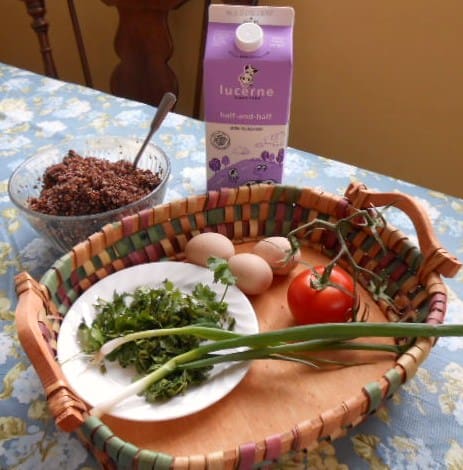 In addition, I used eggs brought to us by my sister-in-law, who lives in Cape Cod and whose husband raises chickens.  
Can't get any better than that!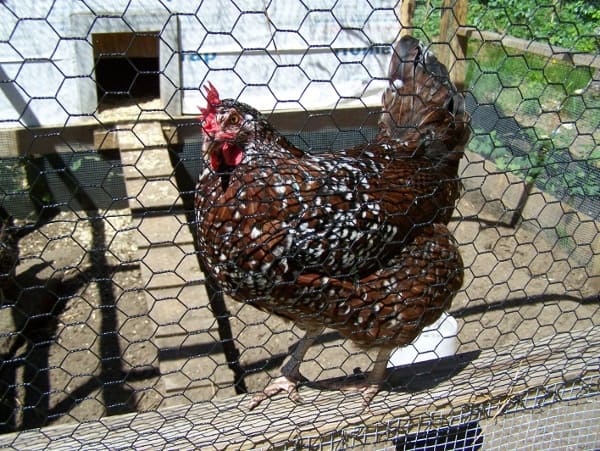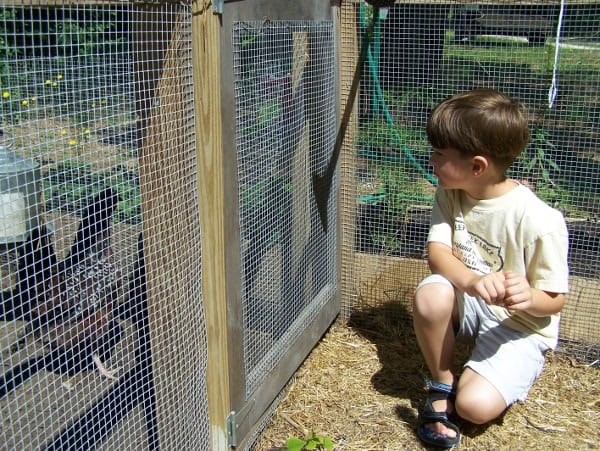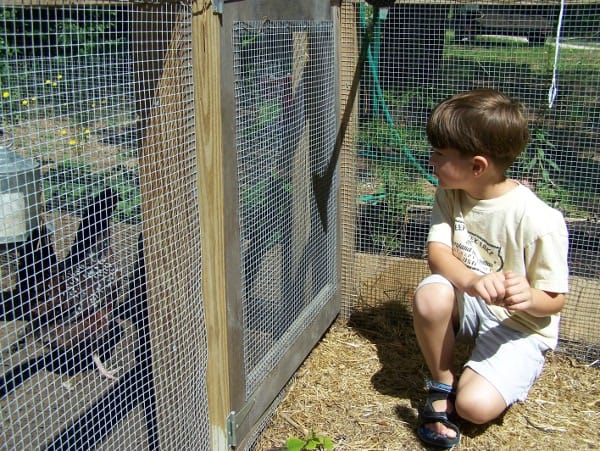 Quinoa Breakfast Scramble Recipe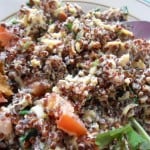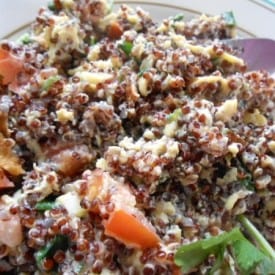 Print Recipe
Quinoa Breakfast Scramble Recipe – 12 Weight Watchers Points Plus Values
Ingredients
- 1 cup cooked quinoa

I used red quinoa, but you can also use white or black quinoa

- 3 eggs

- 2 t. half & half

- 1/4 c. freshly chopped cilantro

- 1/4 c. chopped tomato

- 1/4 c. sliced spring onions

- salt & pepper to taste
Instructions
In a small bowl, whisk the eggs and the half and half together.

In a skillet over low/medium heat, add the eggs and begin to scramble as they cook.

Add the other ingredients.

Continue to gently scramble until eggs are cooked through and ingredients are mixed together.
Notes
Entire recipe equals 12 Weight Watchers Points Plus Value AND 11 Smart Points Value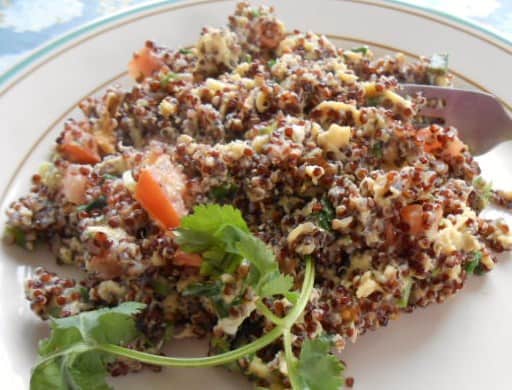 It isn't the prettiest dish in the world, and when I make this again I will most likely use the white quinoa so that it blends in with the color of the eggs.  
Because I used small eggs I felt like the egg/quinoa ratio wasn't exactly how I would have preferred.
So next time will use larger eggs or more than 3.  
But oh my goodness, this is one tasty breakfast and also very satisfying.
If I had the feta cheese on hand, I would have added that too.  
I didn't add the cinnamon, allspice or butter.  
The butter I just plain forgot and the cinnamon and allspice I don't know if I would like in an omelet.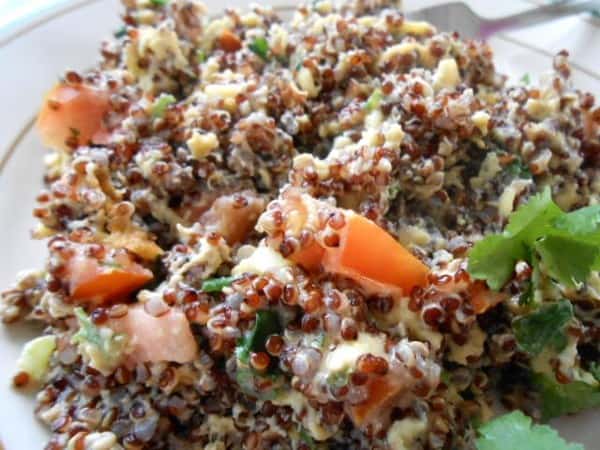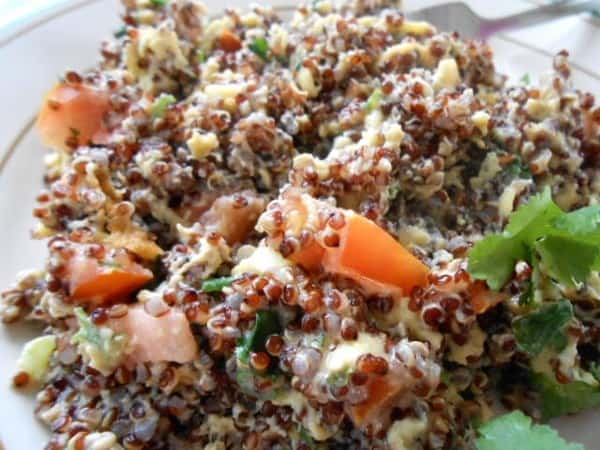 If you have never tried quinoa, you must.  
It's healthy, it's tasty, and it's satisfying.  
Yesterday I added cooked quinoa to a cowboy caviar recipe I had made over the weekend, which has beans, avocado, italian dressing, etc.  
It was so good!  
Pretty soon I'm going to be making quinoa cakes, smoothies, and whatever else I can do with it!
That's how much I love this stuff!
I would love to add more tried and true quinoa recipes to my arsenal.  
So if you know of any, please let us know!
Bon appetit!
This post is in Fine Craft Guild's Link Party


Pam is married and has 1 son – a middle-schooler in his teen years. She followed Terri to Frederick in 1999. She absolutely loves going to yard sales and estate sales and finding hidden treasures.
read more...