So last week my husband said in passing that he'd love some ham potato soup.  A lot of times he drops these little hints, knowing that I will most likely run out to the grocery store and get whatever is needed to make the recipe.  Sometimes I just tell him if he wants it, make it himself.  But I was feeling like the caring wife and wanted to do something special for him.  He's been working really hard lately and for him, food equals love, so I wanted to show him how much I appreciate and love him.
I went to my favorite recipe site these days, Pinterest, and put in the search bar "ham potato soup".  There were a ton of recipes.  I tend to go for the recipes that have the highest amount of 'pins'.  This particular recipe currently has 739 pins.  I was impressed.  I clicked on the picture in Pinterest and it redirected me to a blog named The Girl Who Ate Everything.  Super cute blog with a bunch of really good looking recipes.  Here is the link to the soup recipe.  She actually got it from AllRecipes.com, another one of my favorite, go-to recipe websites.  This recipe on AllRecipes.com has 6,942 5-star reviews!
So without further ado (yes, that is the correct spelling of this phrase – I've always said it but never typed it), here is the recipe.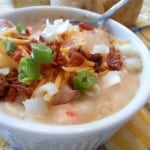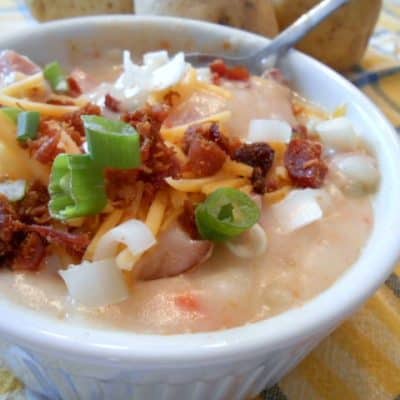 Print Recipe
The Best Ham Potato Soup
Ingredients
- 3 1/2 cups peeled and diced potatoes

- 1/3 cup diced celery

- 1/3 cup finely chopped onion

- 1/2 cup carrot

diced (optional)

- 1 cup diced cooked ham

buy a ham steak in the deli section

- 3 1/4 cups chicken broth

- 1/2 teaspoon salt

or to taste

- 1 teaspoon ground white or black pepper

or to taste

- 5 tablespoons butter

- 5 tablespoons all-purpose flour

- 2 cups milk

- Shredded cheddar cheese

- Chives or spring onions

diced

- Crumbled bacon
Instructions
Combine the potatoes, celery, onion, carrot, ham and chicken broth in a stockpot. Bring to a boil, then cook over medium heat until potatoes are tender, about 10 to 15 minutes. Stir in the salt and pepper.

In a separate saucepan, melt butter over medium-low heat. Whisk in flour with a fork, and cook, stirring constantly until thick, about 1 minute. Slowly stir in milk so that lumps don't form and until all of the milk has been added. Continue stirring over medium-low heat until thick, 4 to 5 minutes.

Stir the milk mixture into the stockpot, and cook soup until heated through.

Top with cheddar cheese, chives, and bacon if desired. Serve immediately.
My husband absolutely loved it and so did I.  With the chopped spring onions, shredded cheddar cheese and crumbled bacon on top, it tasted like a nice warm, hearty, bowl of a loaded baked potato.  Yum!!
As you can see from my pictures, the soup is in a small bowl.  That is because the rest of the soup was eaten before I had a chance to actually take pictures.
The beauty of this recipe is that I actually had most of the ingredients at home.  I only needed to pick up a few more items to make the recipe.  It was also very easy considering I bought thick ham slices from the deli and just had to cut them into bite size pieces.  I also bought a bag of crumbled bacon instead of making the bacon myself. I whipped this up in no time.
Right now with these cold weather months, this soup is perfect for a stay-at-home, warm, comfy-cozy kinda meal.
Bon Appetit!

Pam is married and has 1 son – a middle-schooler in his teen years. She followed Terri to Frederick in 1999. She absolutely loves going to yard sales and estate sales and finding hidden treasures.
read more...