This Ham and Potato Soup recipe is undeniably the best potato soup recipe you will find!
With it's creaminess, tender chunky potatoes, soft bites of ham, and garnishes of bacon, spring onions, & shredded cheese, this recipe is heaven in a bowl!
Ham and potato soup is comfort food in a bowl
There's always certain times where I just want some comfort food.
You know, those times when you're:
Down in the dumps.
Stressed to the max.
It's cold outside.
You just need something that's delicious and warm going down.
In other words, this soup recipe is perfect for when you feel the need to be comforted.
So last week my husband must have needed some comfort food.
In passing, he told me he'd love some ham and potato soup to appear on our stove top.
A lot of times he drops these little hints, knowing that I will most likely run out to the grocery store to get whatever is needed to make the recipe.
Other times I just tell him if he wants it, make it himself.
Comfort food equals love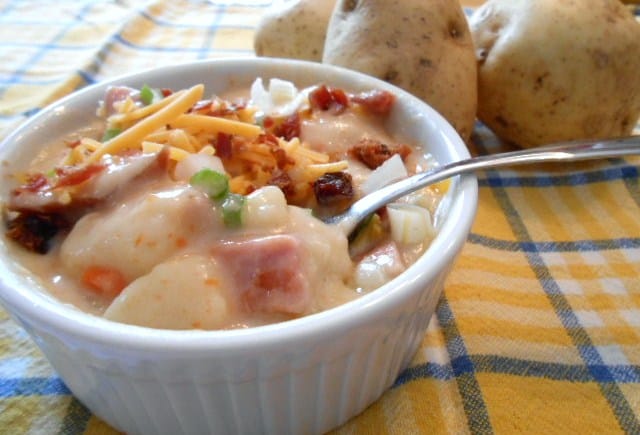 But I truly am a caring wife and I enjoy doing special things for him.
Needless to say, he works really hard!
In addition, for him, food equals love.
Therefore, I like to show him how much I appreciate and love him.
The Best ham and Potato Soup Recipe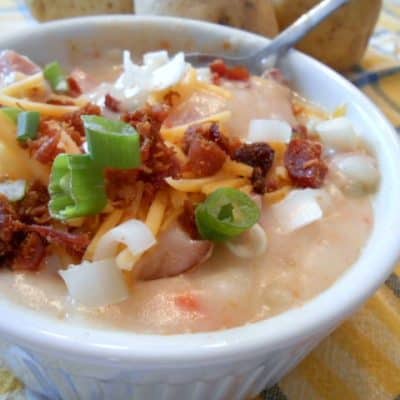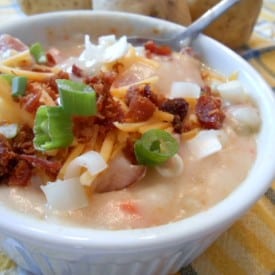 Best Ham and Potato Soup Recipe
The perfect comfort food soup made with a creamy base of tender potatoes, chunks of ham, & garnished with bacon, spring onions & shredded cheese.
Ingredients
- 3 1/2 cups peeled and diced potatoes

- 1/3 cup diced celery

- 1/3 cup finely chopped onion

- 1/2 cup carrot

,

diced (optional)

- 1 cup diced cooked ham

,

buy a ham steak in the deli section

- 3 1/4 cups chicken broth

- 1/2 teaspoon salt

,

or to taste

- 1 teaspoon ground white or black pepper

,

or to taste

- 5 tablespoons butter

- 5 tablespoons all-purpose flour

- 2 cups milk

- Shredded cheddar cheese

- Chives or spring onions

,

diced

- Crumbled bacon
Instructions
Combine the potatoes, celery, onion, carrot, ham and chicken broth in a stockpot. Bring to a boil, then cook over medium heat until potatoes are tender, about 10 to 15 minutes. Stir in the salt and pepper.

In a separate saucepan, melt butter over medium-low heat. Whisk in flour with a fork, and cook, stirring constantly until thick, about 1 minute. Slowly stir in milk so that lumps don't form and until all of the milk has been added. Continue stirring over medium-low heat until thick, 4 to 5 minutes.

Stir the milk mixture into the stockpot, and cook soup until heated through.

Top with cheddar cheese, chives, and bacon if desired. Serve immediately.
How do you thicken ham and potato soup?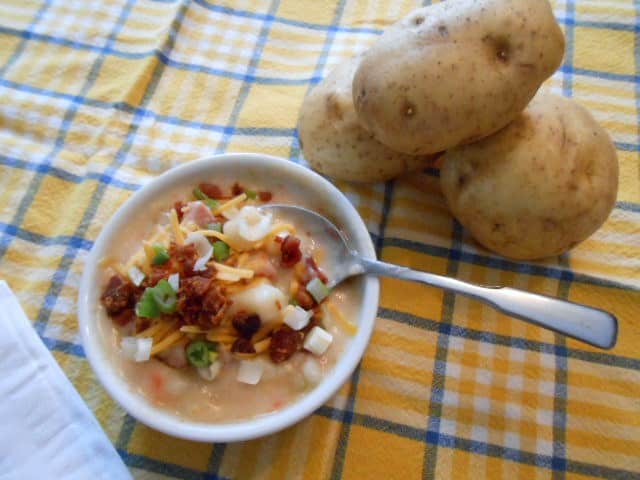 First, in order to thicken the soup, I melted butter in a saucepan and then whisked in flour with a fork, stirring constantly until thick, for about 1 minute.
Second, I added the milk slowly while stirring to prevent lumps from forming.
Third, just continue to stir over medium-low heat until the mixture thickens.
This takes about 4 to 5 minutes.
After this, you can add the mixture to the soup and it will thicken it as it heats through.
How good is this ham and potato soup?
My husband absolutely loved it and so did I!
With the chopped spring onions, shredded cheddar cheese and crumbled bacon on top, it tasted like a nice warm, hearty bowl of a loaded baked potato.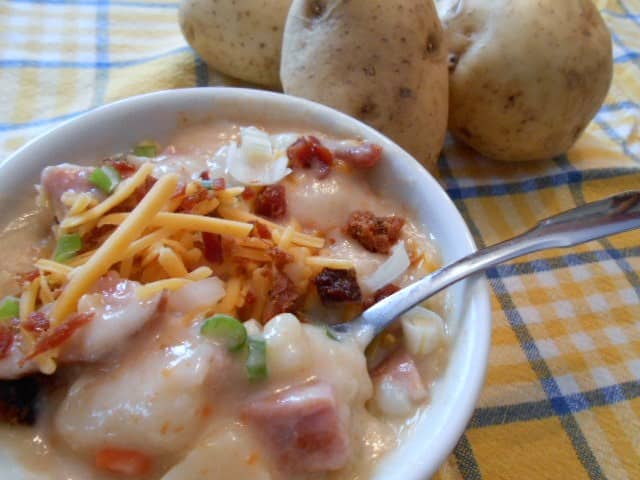 As you can see from my pictures, the soup is in a small bowl.
Well, that's because the rest of the soup was eaten before I had a chance to take my pictures!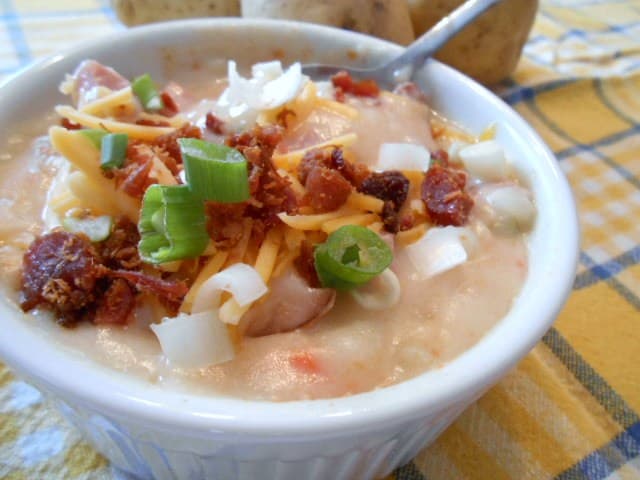 Ham and Potato soup time savers
The beauty of this recipe is that I actually had most of the ingredients at home.
I only needed to pick up a few more items to make the recipe.
It was also very easy considering I bought thick ham slices from the deli and just had to cut them into bite size pieces.
I also bought a package of crumbled bacon instead of making the bacon myself.
Therefore, I was able to whip up this recipe in no time!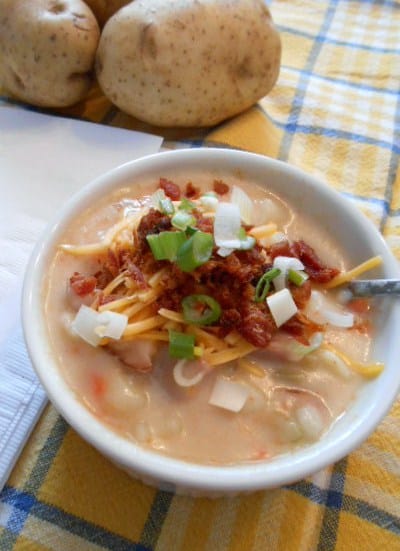 This is the perfect meal for a let's-stay-home, warm, comfy-cozy kind of day!
What You'll Need To Thoroughly Enjoy This Recipe
Lastly, here are some links to make sure you're fully supplied with everything you need in the kitchen to make this recipe:
Lastly, for more delicious soup recipes, click on over to:
Cream of Crab Soup: Maryland's Grand Prize Recipe
Asparagus Orzo Soup – 2 Weight Watchers Points Plus Value
Traditional Gazpacho Recipe with a Kick