We sorted through hundreds of projects for DIY Christmas ornaments until we found our top 10 favorites!
Not only are these DIY Christmas ornaments beautiful, but also, they're super easy and inexpensive to make.
Top 10 DIY Christmas Ornaments
DIY (Do it Yourself) Christmas ornaments are so much fun!
What's fun about DIY?
Firstly, it gives the person who is making it so much satisfaction and a feeling of accomplishment.
Hence, the reason why DIY projects have become increasingly more and more popular.
The Tradition of Placing Christmas Ornaments On Our Tree
During the holidays, I love when my family gets out our Christmas ornaments and we begin hanging them on our tree.
Needless to say, there's just nothing like this tradition to force us to stop and really reflect on the years gone by.
Indeed, each and every Christmas ornament has a special meaning and a memory!
In addition, the process of unwrapping each one and hanging it carefully on the tree in just that right spot is so meaningful.
With Christmas music playing in the background, it really makes me think of how very important this tradition is to us.
And, it forces us to stop going 80 miles per hour through life and to slow down.
Therefore, it makes me realize how truly special life can be and what really matters most.
Making DIY Christmas Ornaments
I've always loved making something to give as gifts for Christmas.
So it got me thinking about DIY Christmas ornaments and finding ideas online.
10 Online Tutorials for DIY Christmas Ornaments
After scouring Pinterest, I found 10 of my favorite online tutorials for handmade DIY Christmas ornaments.
Being that I'm all over anything that's easy and inexpensive, this list of tutorials is perfect for my DIY-challenged needs.
I also found a couple of books on Amazon for DIY Christmas Ornaments:
For the below tutorials, just click on the links to get the directions.
1. Cable Knit Ornament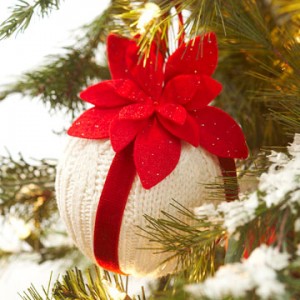 First, is this cable knit ornament from a site called Interior Design Room.
Seriously, how cute is this?
Note: We can't find this particular tutorial online anymore, so I found this one from Reese Dixon that will help you get the same look.
Just cover a styrofoam ball with a cable knit sweater and it'll give you that comfy cozy feel.
Because this project is very simple and inexpensive to make, you could make a bunch of these and use the same colors as the them for your tree.
Here's a pack of 24 foam balls on Amazon to get your started!
2. Rag Ball Ornament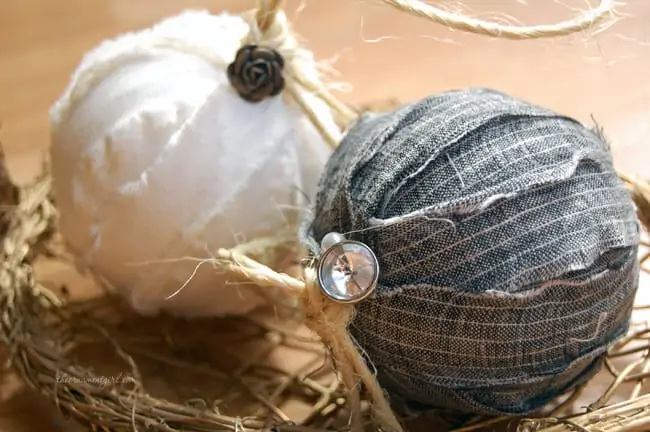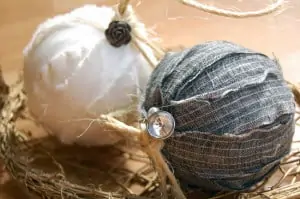 Second, is a DIY ornament tutorial from The Ornament Girl Blog.
These DIY Christmas ornaments are made from rags of fabric.
Therefore, they are aptly called Rag Ball Christmas Ornaments.
I've always loved the vintage look and I love handmade, so this tutorial totally fits the bill for me.
And the only materials you need is fabric, a styrofoam ball, and a few other very inexpensive items to make these shabby chic ornaments.
3. Recycled Christmas Card Ornament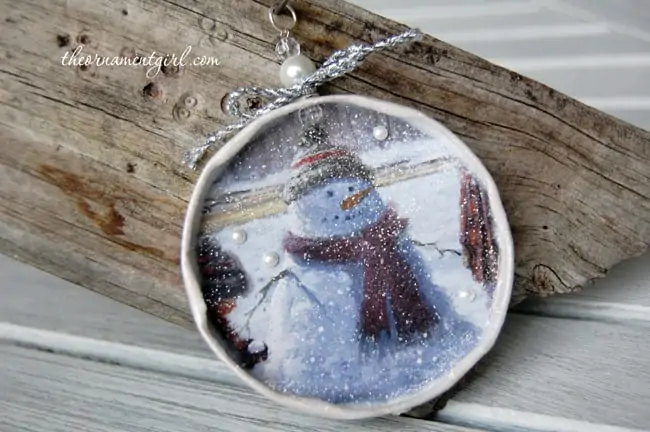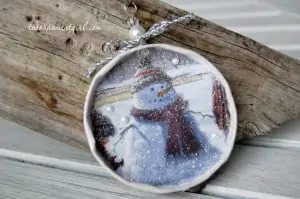 Third, a tutorial, again, from The Ornament Girl Blog.
This one is called a Recycled Christmas Card Ornament.
I love the idea of using something that already exists and recycling it.
Or as some call it, upcycling it into something new.
Not only does she recycle old Christmas cards for this ornament, but also, she uses jar lids taken from jars of salsa, pickles, or whatever you have used up from the pantry or fridge.
So far you've spent no money.
In addition to these items, you'll need a little bit of:
I especially like this tutorial because I tend to save Christmas cards every year and have a ton of them stored in a box.
Clearly, this is a great way to add new life to them!
4. Vintage Mason Jar Lid Ornament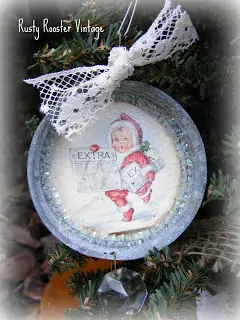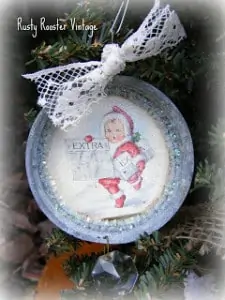 These vintage mason jar lid ornaments are seriously clever and oh so cute!
This Vintage Mason Jar Lid Ornament tutorial comes from a blog called Rusty Rooster Vintage.
This tutorial uses photos and edits the photos with editing software.
For example, you can also use old Christmas cards, post cards or whatever image you like.
Just too cute, right?
5. Decoupage DIY Christmas Ornaments
Decoupage Ornaments
My 5th how-to DIY ornament for Christmas comes from a blog called The Budget Diet.
Gotta love that title!
These ornaments are called Decoupage Ornaments.
Everything you need for this handmade ornament, you can find at Michaels, AC Moore, JoAnn Fabrics, or Hobby Lobby.
There are so many different ways you can make these ornaments.
Clearly, you just need to let your imagination go wild.
6. Mod Podge Fabric DIY Christmas Ornaments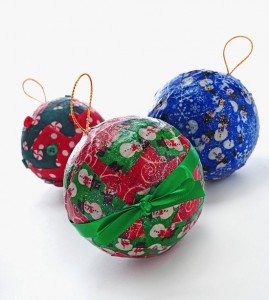 Number 6 comes from a blog named Mod Podge Rocks.
How clever to do a blog totally on Mod Podge?
Now that's a narrow niche and a target audience!
These ornaments are called Mod Podge Fabric Ornaments.
I really love these because they are so colorful, bright and cheery.
The tutorial for these ornaments is very similar to the tutorial for the decoupage ornaments above.
However, this one just uses a different style of decorating.
I love them both!
7. Vintage Inspired DIY Christmas Ornaments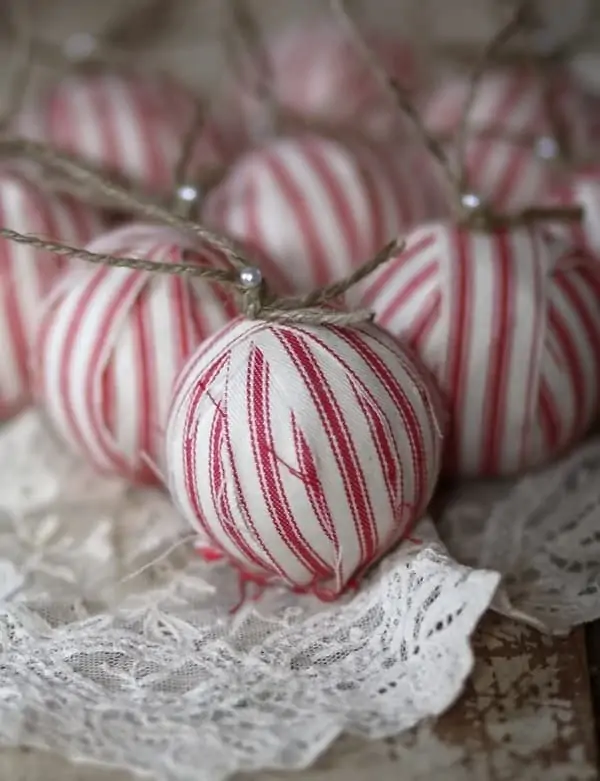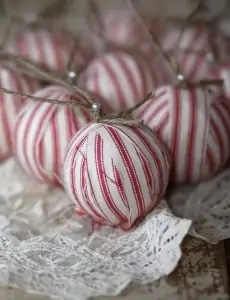 These Vintage Ideas for Christmas Ornaments are featured in a gallery of photos on a site called My Desired Home.
I just love the red and white striped look with the twine used as a hanger and the little pearl embellishments like these on Amazon.
8. Cookie Cutter Ornament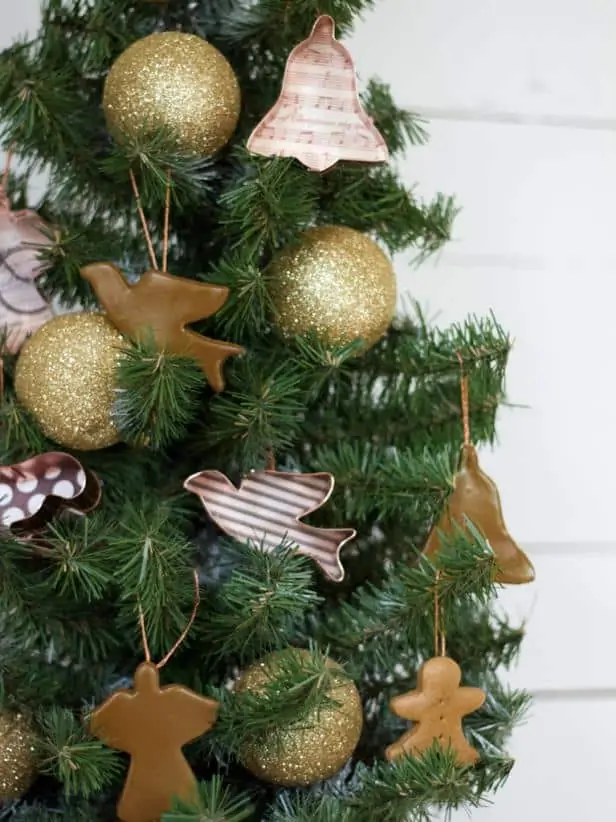 Number 8 comes from HGTV.
These are called Cookie Cutter Ornaments.
How do people come up with such clever ideas?
I wish I was half as creative and imaginative as some people.
These are very inexpensive to make.
To demonstrate, here are 18 Christmas Cookie Cutters from Amazon for around .60 cents per cookie cutter.
I love this idea because it incorporates a common symbol at Christmas time – the cookie cutter.
Also, it includes your own personal touch by using your favorite scrapbook design, like this paper from Amazon, or even a personalized photo.
9. Glitter Snowflake Ornament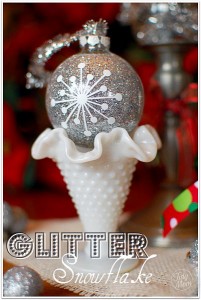 My 2nd to last DIY ornament comes from a site called Tidy Mom.
The ornament is called a Glitter Snowflake Ornament.
I had to add something really glittery to my collection.
How pretty would this look hanging on the tree in front of the lights?
You use clear glass ball ornaments like these from Amazon.
And you only need 3 other items to complete the tutorial.
10. Christmas Ornament Sphere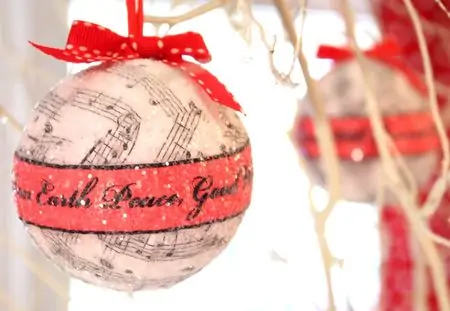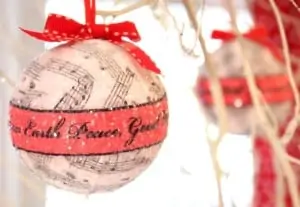 Last but not least, is # 10, which I believe I like the most!
They're called Christmas Ornament Spheres from a site called 7 Layer Studio.
These are just so pretty and have a very classy look to them.
The materials used in this project are:
So, there's my collection of my top 10 DIY Christmas ornaments.
I hope you try one or two of them and comment back to me to let me know how they turned out.
And remember, it doesn't have to be perfect.
Most importantly, it came from you, made with your own two hands especially for somebody you care about.
Undoubtedly, that person will always remember that when they pull out their box of ornaments next year and find the ornament you made for them.
They will cherish it for years to come.
Merry Christmas From Housewives of Frederick County!
Pam and I would like to take this opportunity to formally wish our readers a very, Merry Christmas and Happy Holidays!
A few years ago, Terri's son had a great idea!
He wanted to create a video with Terri and me as a video holiday greeting to our readers!
At first, we thought he was kidding.
We were a little hesitant to try to pull it off.
However, if you know Terri's son, you know that whatever he puts his mind to he achieves it!
And, he always does an amazing job!
We are so thankful for you, because without you, there would be no purpose for Housewives of Frederick County!
Terri and I celebrate Christmas, so there is a definite Christmas flavor to this video, but please know that we sincerely wish the best of holidays to you, no matter what you celebrate!
Oh! And ya gotta watch the video to the very end – there are bloopers at the end of the video!
So, without further ado, we give you our video holiday greeting to you, our readers!
Please note: "All I Want for Christmas Is You" is a song written and produced by American singer and songwriter Mariah Carey and composer Walter Afanasieff. The video we created is strictly for entertainment purposes and we will not receive any financial rewards from our video.
Finally, for more of our posts relating to Christmas, click here:
10 Christmas Shopping Strategies – Save A Lot of Money & Stress
Christmas Morning Breakfast Ideas
6 Must-Try Desserts For The Holidays