This Dirty Rice with Shrimp recipe is inspired by the traditional Cajun dirty rice dish that originated in the Creole regions of southern Louisiana.
However, I lightened up the traditional version which is just as good but way healthier!
Healthy Dirty Rice REcipe
If you know me, you know that I'm a rice fanatic!
I could eat rice all day every day.
So add shrimp, another food that I could eat all day every day, to my rice?
Well, let's just say that's heaven on a dish for me!
Dirty Rice with Shrimp: Zero Weight Watchers Points
The new WW (Weight Watchers) SmartPoints plan gives you 3 plan options: Green, Blue, & Purple.
Based on whichever plan you are following, you will have a different zero point food list.
So you'll need to adjust the points for this recipe according to your color plan.
Here are this recipe's points per serving for each color plan:
Green Plan = 6 points per serving
Blue Plan = 2 points per serving
Purple Plan = 0 points per serving
Dirty Rice with Shrimp: Simple Ingredients and Easy to Make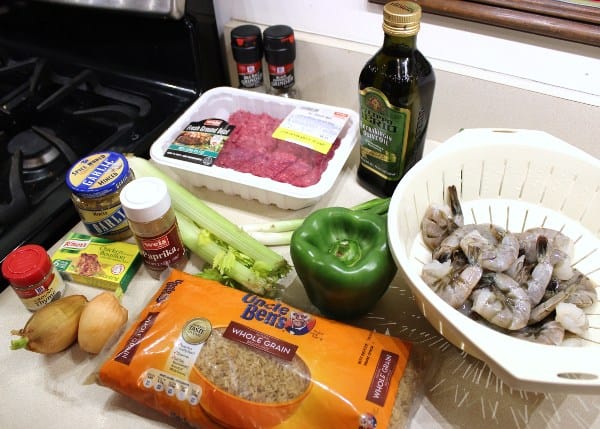 When I made this recipe, I used ground beef.
But because ground beef is higher in Weight Watchers points, I changed the recipe to use ground turkey.
Using ground turkey, will in no way jeopardize the taste and enjoyment of this dish!
However, no matter which meat you use, the ingredients are very basic and take very little time to prepare.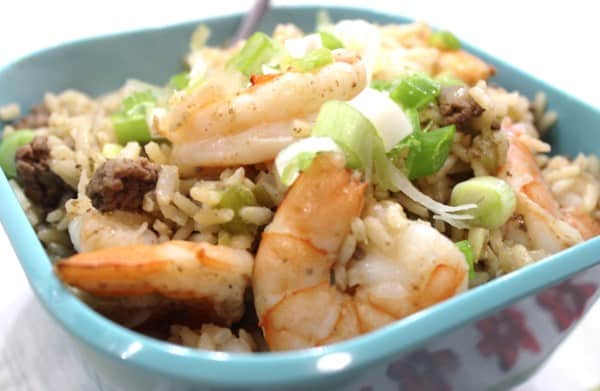 And the end result is absolutely delectable!
Ca c'est bon!
After tasting it you will want to say 'Laissez les bon temps rouler', which is Cajun for Let the Good Times Roll!
Dirty Rice with Shrimp Recipe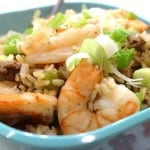 Print Recipe
Dirty Rice with Shrimp - Zero Weight Watchers Points
A delicious, lightened up version of the traditional Dirty Rice with Shrimp recipe. Zero WW points.
Ingredients
- 1 1/2 cups uncooked brown rice

- chicken bouillon cube

Knorr

- 2 bay leaves

divided

- 1/8 + 1/4 tsp cayenne

divided

- 1/8 + 1/2 tsp paprika

- 1/8 + 1/2 tsp thyme

- 1 tsp oil

- 1 onion

diced

- 2 celery stalks

diced

- 1 green pepper

diced

- 1 clove garlic

minced

- 1/2 lb 98% fat free ground turkey

- salt & pepper to taste

- 1 lb medium shrimp

peeled and deveined

- 2 scallions

chopped
Instructions
Cook brown rice according to package directions in water along with a chicken bouillon, 1 bay leaf and 1/4 tsp salt and 1/8 each of cayenne, paprika and thyme.

When the rice is almost done cooking, heat a large heavy saucepan on medium-low heat.

Add the oil, onions, green pepper, celery, bay leaf, and garlic.

Saute on medium-low heat until soft, about 5 minutes.

Add ground turkey, salt, black pepper, remaining paprika, thyme and cayenne pepper.

Saute until browned, about 10 to 15 minutes.

Add shrimp and cover. Cook 5 more minutes.

When the rice is done, toss with turkey and shrimp and combine well.

Top with scallions and serve.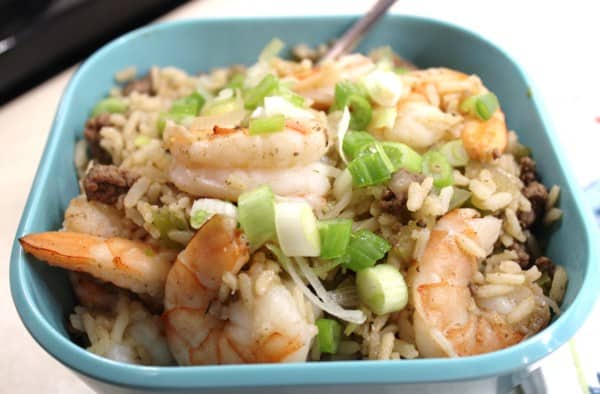 Dirty Rice with Shrimp Can Be Spicy or Mild
You can choose whether to lighten up the cayenne or not add it at all.
My hubby likes a little spice, but I typically do not.
So, I didn't add the cayenne.
However, I got out our bottle of Cholula Hot Sauce so each of us could spice it up as much as we wanted to.
It was a yummy addition to the dish!
Also, I did not use the bay leaves because I'm just not a bay leaf fan.
Beware: It Won't Last Long
This dinner was so delicious!
My husband and I could not get enough of it.
As a matter of fact, he ate 2 huge bowls of it and then took the leftovers to work for lunch the next day.
I was so bummed when I opened up the refrigerator the next day to heat some up for lunch and it was all gone!
But, I guess that's a good sign!
It will definitely be on my list of recipes to make again and again!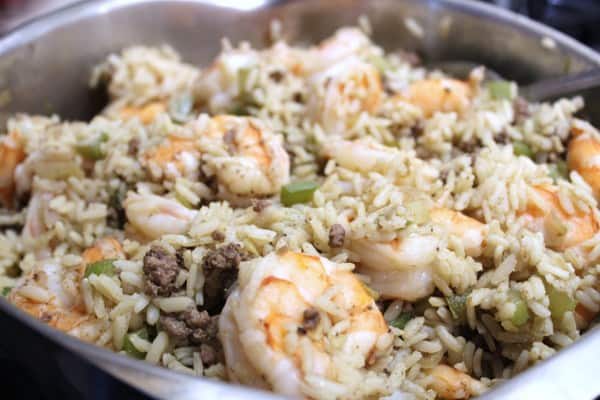 For more Weight Watchers friendly rice recipes, check out our posts on:
Crockpot Buffalo Chicken & Rice: Full of Flavor & No Guilt
Healthy Veggie Fried Rice: 3 WW Points
Weight Watchers Mashed Cauliflower