These spring sugar cookie bars are sure to bring 100% satisfaction to any sweet tooth!
Especially around Easter when sweets, in a basket or in the form of a chocolate rabbit, are very much in the forefront of the minds of little ones.
Spring Sugar Cookie Bars
There are so many things I love about Easter!
What I love about Easter
First off, it represents for Christians the day that Jesus Christ rose from the dead.
Being a Christian myself, that's a big deal.
We go to church and celebrate the risen Christ.
It's a wonderful day of renewal.
The magic of Easter for kids
I also love Easter because I can see the excitement in my son's eyes when he wakes up on Easter morning and finds all of his goodies that the Easter Bunny left for him.
Then there's the dying of Easter eggs!
With all of those eggs, we make deviled eggs, egg salad, or just crack an egg open, pour a little salt and pepper over it and eat it.
Easter dinner brings family together
Lastly, there's Easter dinner with family.
I don't typically make a dessert for Easter because I know there's going to be jelly beans and a big chocolate bunny hanging around all day in my son's Easter basket.
However, this year I really wanted to make a sweet Easter dessert.
So I opted to make a batch of these spring sugar cookie bars.
I searched Pinterest and found so many great Easter dessert ideas.
But this particular recipe for Spring Confetti Bars from Chelsea's Messy Apron looked too good to pass up.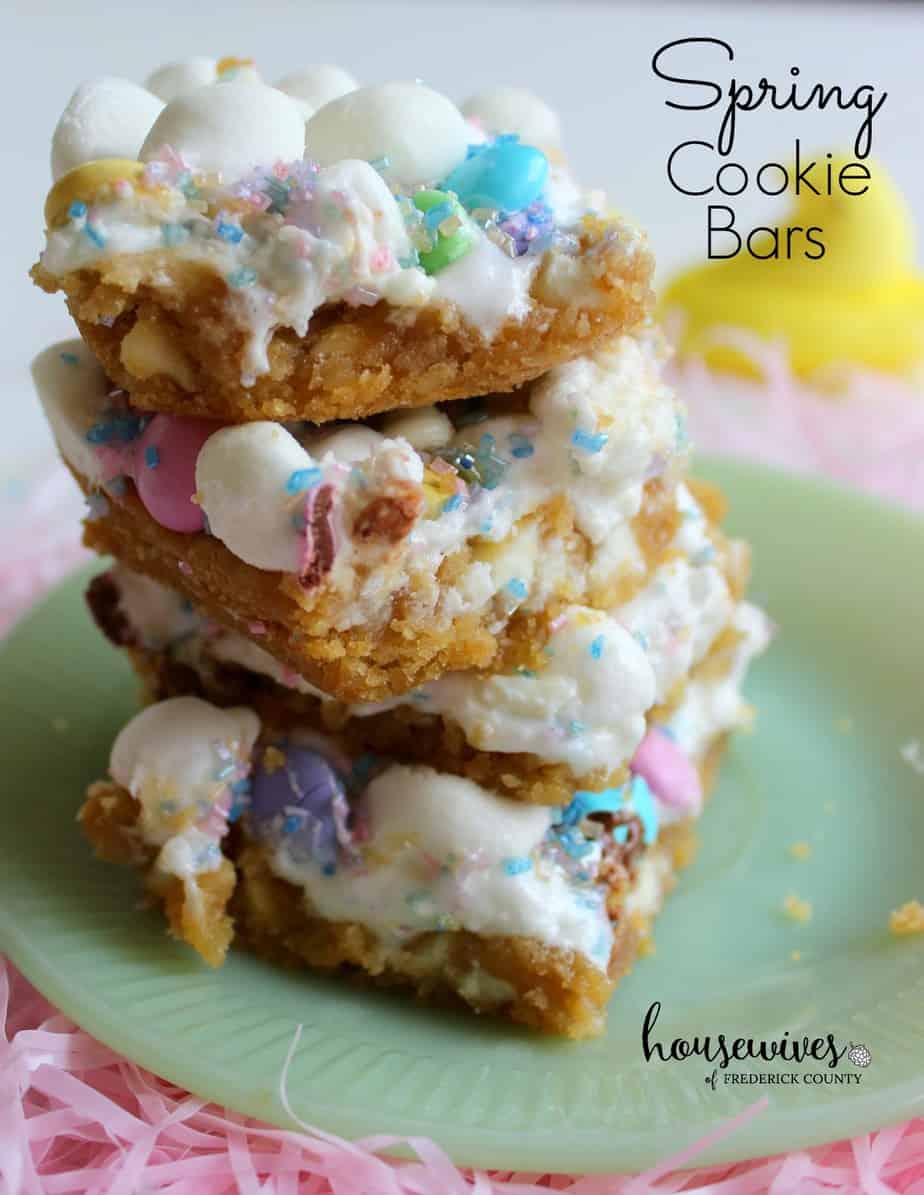 I changed the recipe up ever so slightly to make it my own, so I changed the name to Spring Sugar Cookie Bars.
How the Spring Sugar Cookie Bars Turned Out
These bars are seriously SWEET!
I wanted to make them sort of as a trial run before Easter.
So, I brought them over to my sister's house, who had friends over for the Daytona 500 NASCAR race.
These spring sugar cookie bars were a total hit, especially with the kids!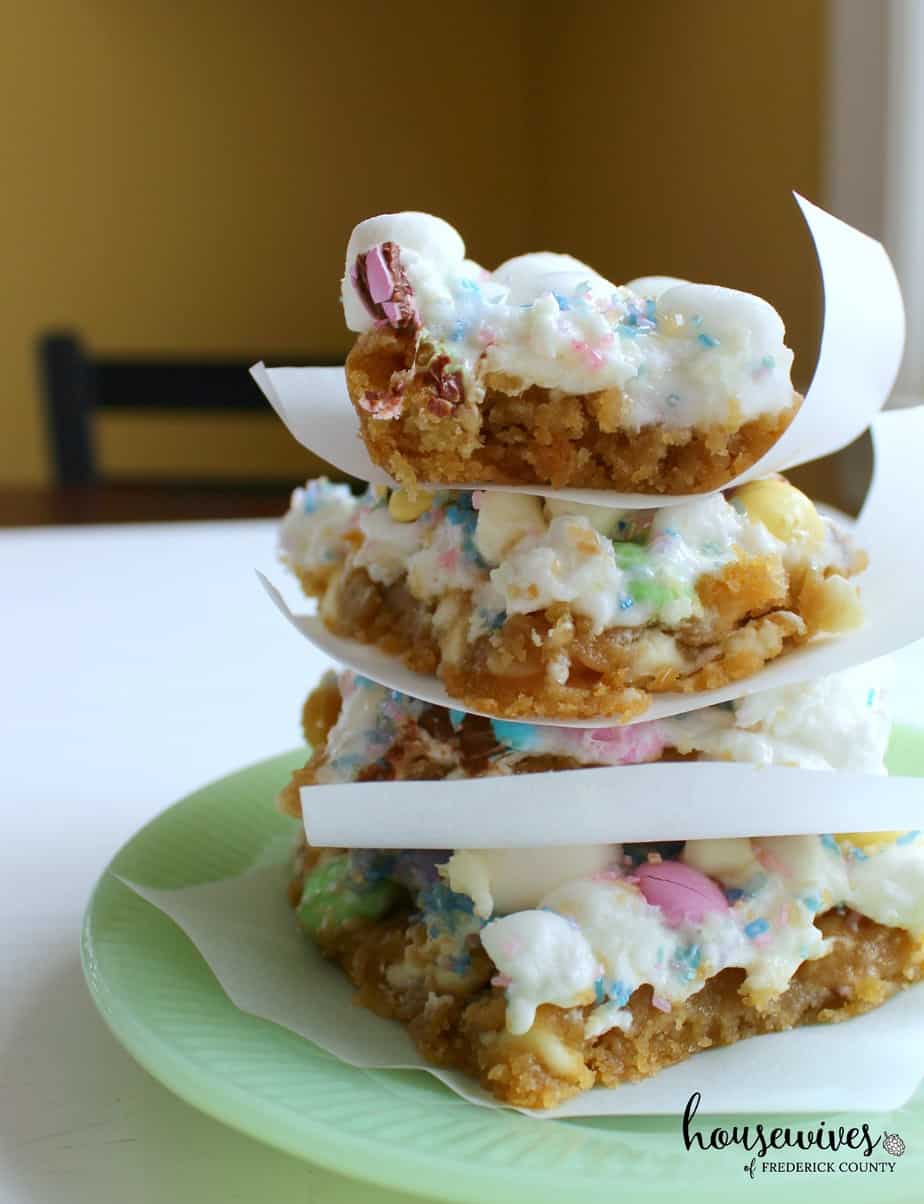 Because of the pink and blue spring colors, you can also make these for a baby shower or a gender reveal party too.
These spring sugar cookie bars will fit in great at any spring related event.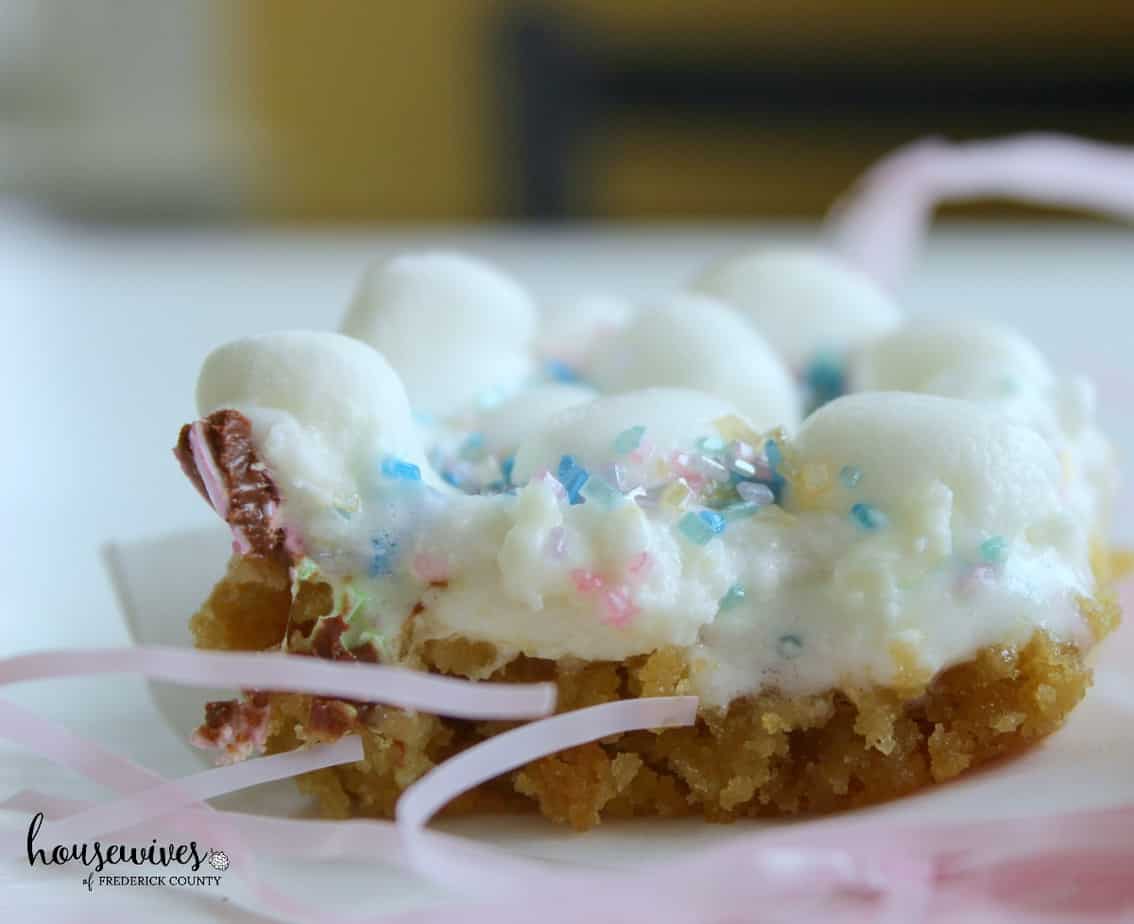 Spring Sugar Cookie Bars Recipe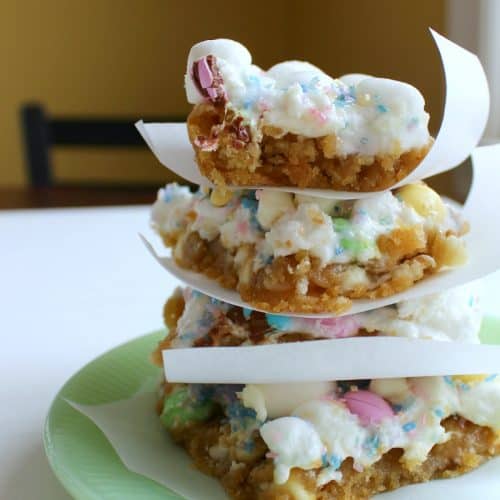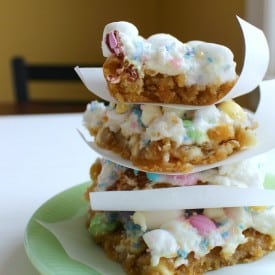 Spring Sugar Cookie Bars
If you can imagine a unicorn in the form of a cookie dessert bar, this recipe would be that! These sweet cookie bars are great for Easter, 1st communion, gender reveal parties, or any get-together you have in the spring.
Ingredients
- 1/2 cup butter

,

stored at room temperature

- 1/2 cup white sugar

- 1/4 cup + 1 tablespoon brown sugar

- 1 large egg

,

stored at room temperature

- 1 teaspoon vanilla extract

- 1 1/2 cups flour

- 1/2 teaspoon baking soda

- 1 teaspoon baking powder

- 1/2 teaspoon cornstarch

- 1/4 teaspoon salt

- 1 1/4 cup white chocolate chips

- 3 cups miniature marshmallows

- 3/4 cup Spring M&M's

- 3 tablespoons cupcake sugar sprinkles

,

spring colors
Instructions
Preheat oven to 350 degrees.

Combine butter, sugar, and brown sugar in mixing bowl and use stand mixer to blend ingredients well.

Mix in the egg & vanilla.

In a separate bowl, combine flour, baking soda, baking powder, cornstarch, & salt.

Add dry ingredients slowly to mixing bowl and use stand mixer to blend well.

Stir one cup of white chocolate chips into batter.

Press batter into a non-stick sprayed 9x13 pan, using a butter knife to spread batter evenly in pan.

Bake cookie dough for 13 minutes.

Remove from oven and sprinkle marshmallows and M&M's on top.

Return to oven for approximately 4 minutes.

Remove and place onto cooling rack.

Sprinkle remaining white chocolate chips and sugar sprinkles on top of the bars.

Cool completely before cutting into bars.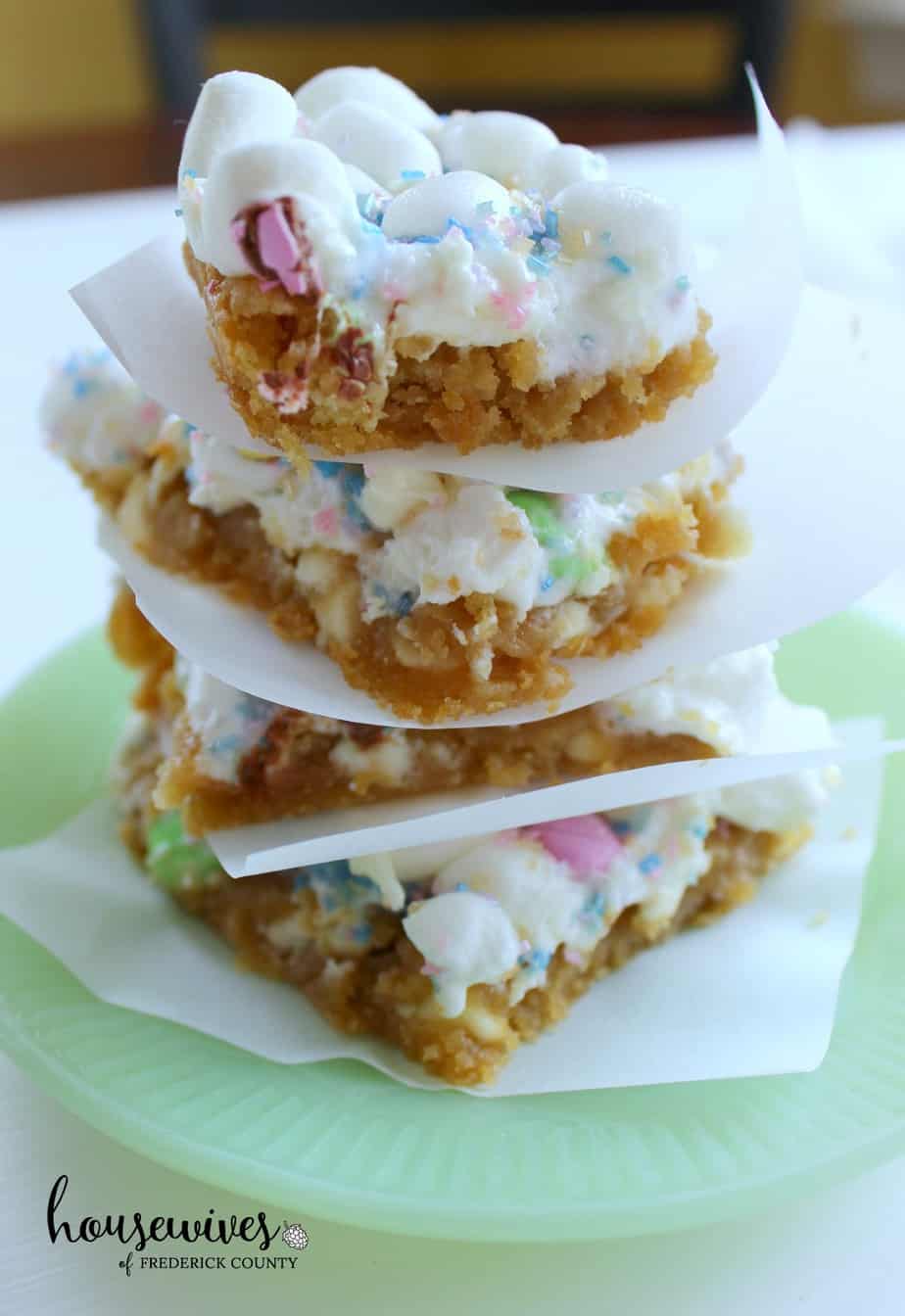 Suggested Tweaks to the recipe
WARNING: Did I mention that these bars are SUPER sweet?
If you prefer something a little less sugary, I would recommend you cut the following ingredients in half: white chocolate chips, marshmallows, & Spring M&M's.
I also think using 3/4 of a stick of butter as opposed to a full stick of butter would work just fine.
For more delicious spring themed recipes, click on over to:
Easter Bunny Cake Recipe Like Mom Used to Make
Patty's Lime Poke Cake with Jello
Pineapple Coconut Cake Bars with Crumb Topping