These Easter blondies are sure to bring 100% satisfaction to any sweet tooth!
Especially around Easter and springtime when the grass is getting greener, the sky is bluer and flowers are blooming, this recipe is the perfect way to celebrate the season's renewal.
Easter Blondies
Easter blondies are pretty much the same exact recipe as the easy blondie recipe we all know and love.
The only difference is that you add marshmallows and Easter M&M's to this recipe to make them extra festive!
And what better reason to make these than to be able to use up that leftover Easter candy!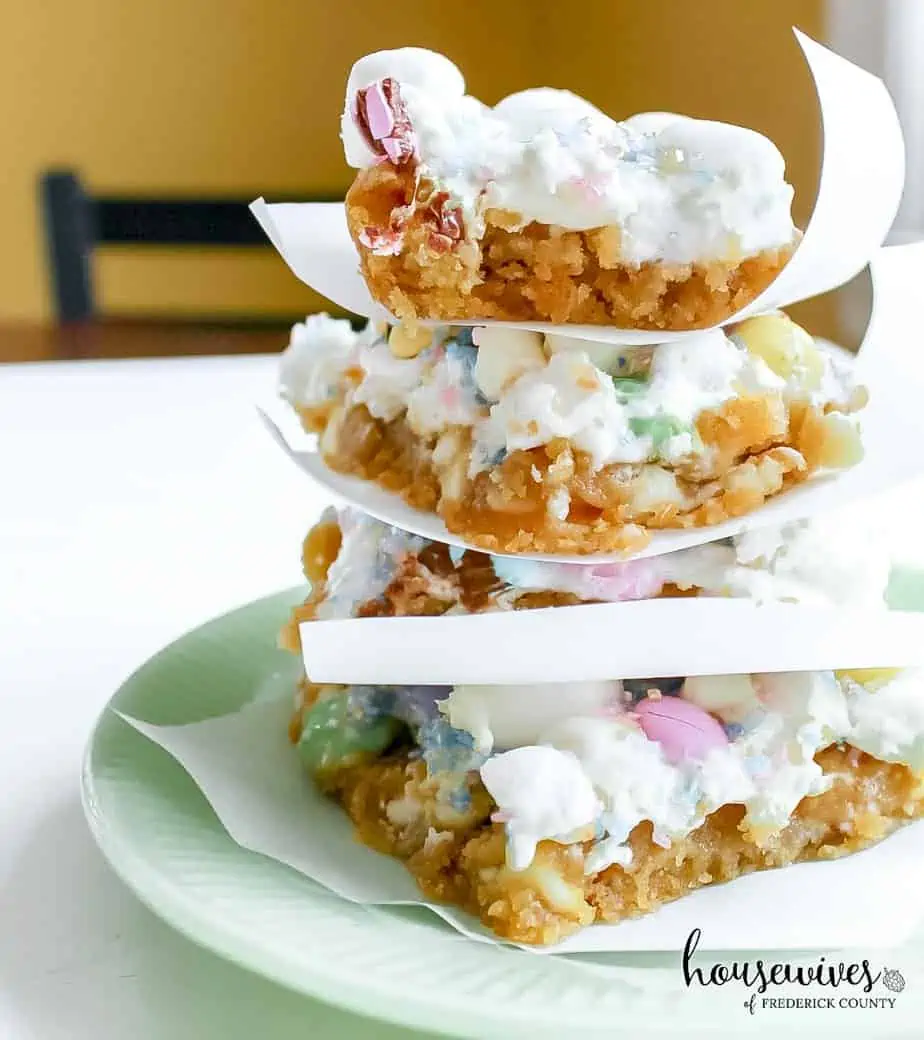 Easter Dessert
Typically, I don't make a dessert for Easter because I know there's going to be jelly beans and a big chocolate bunny hanging around in my son's basket.
However, this year I really wanted to make something decadent for dessert.
Obviously, this recipe did not disappoint!
How To Make Easter Blondies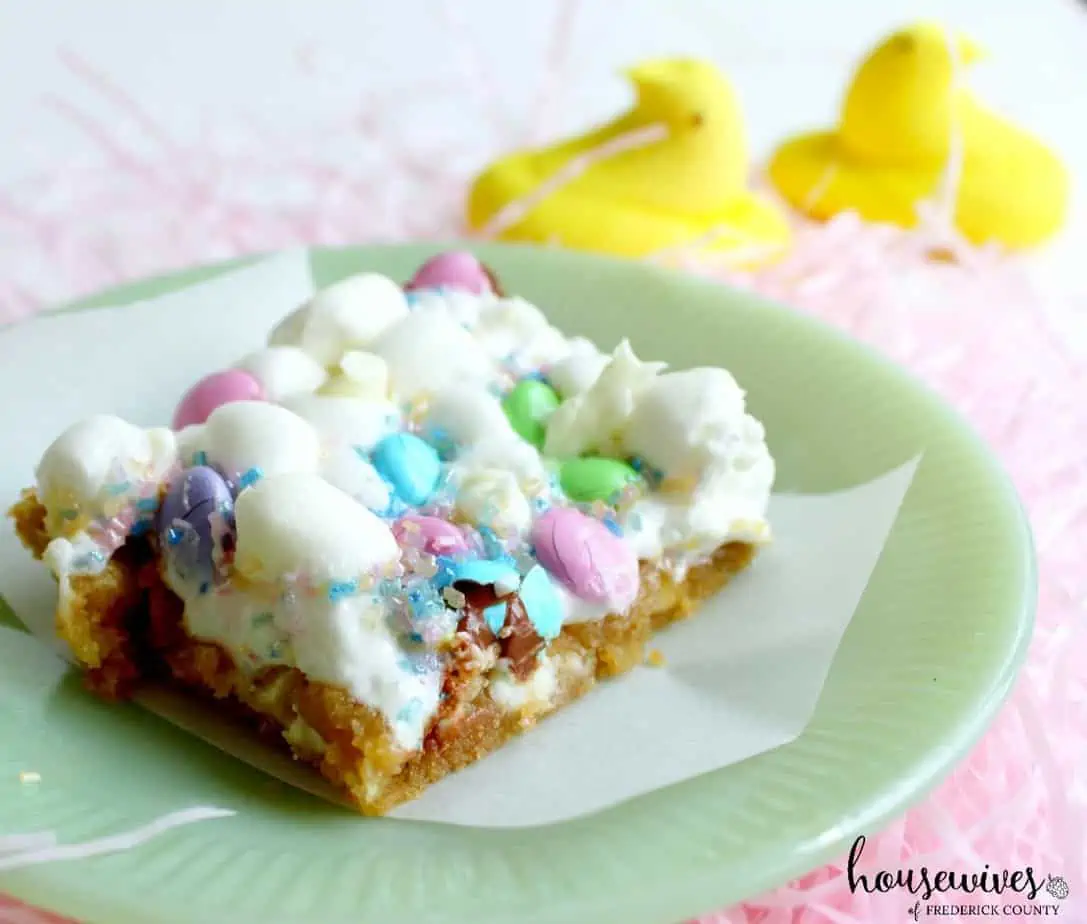 Making Easter Blondies is super easy, especially if you have a stand mixer.
Needless to say, using a stand mixer (Amazon) (I have a KitchenAid and love it!) will totally save your arm muscles and will mix up the batter in no time!
Once your batter is mixed, all you have to do is add in the dry ingredients, blend well, fold in the white chocolate chips and then press it all into a 9×13 baking pan.
Then, during the last 4 minutes of baking, sprinkle the Easter M&M's (Amazon) and mini marshmallows on top.
Oh my goodness! So good!
Ingredients
Here is the list of ingredients you'll need:
Butter
Sugar
Brown Sugar
Egg
Vanilla Extract
Flour
Baking Soda
Baking Powder
Corn Starch
Salt
White Chocolate Chips
Miniature Marshmallows
Spring M&M's
Sugar Sprinkles – These are optional but will make your blondies extra festive!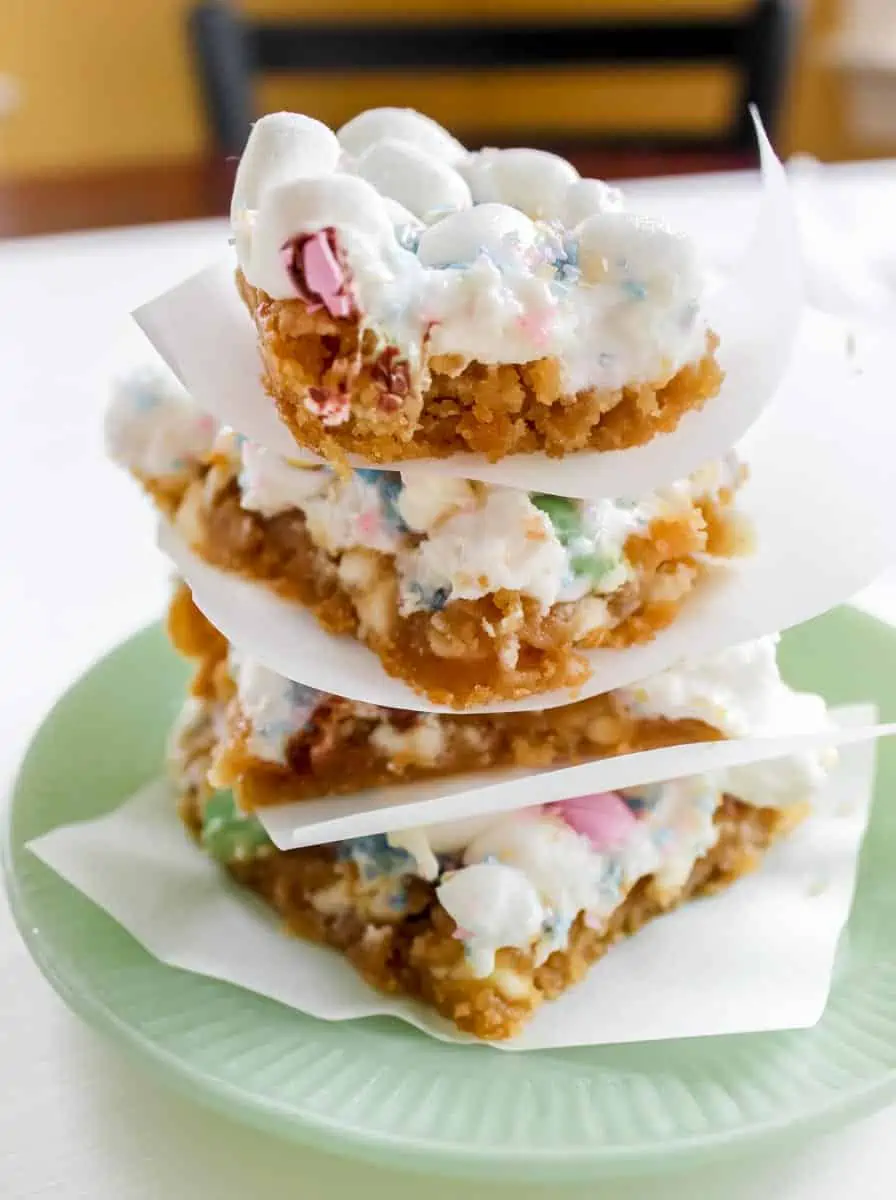 How the Easter Blondies Turned Out
Clearly, based on the list of ingredients, these bars are seriously SWEET!
I wanted to make them sort of as a trial run before Easter.
So, I brought them over to my sister's house, who had friends over for the Daytona 500 NASCAR race.
Undoubtedly, these Easter Blondies were a total hit, especially with the kids!
Not to mention, this recipe is very versatile!
Because of the pink and blue spring colors, you can also make these for a baby shower or a gender reveal party.
Without a doubt, this dessert will fit in great at any spring related event.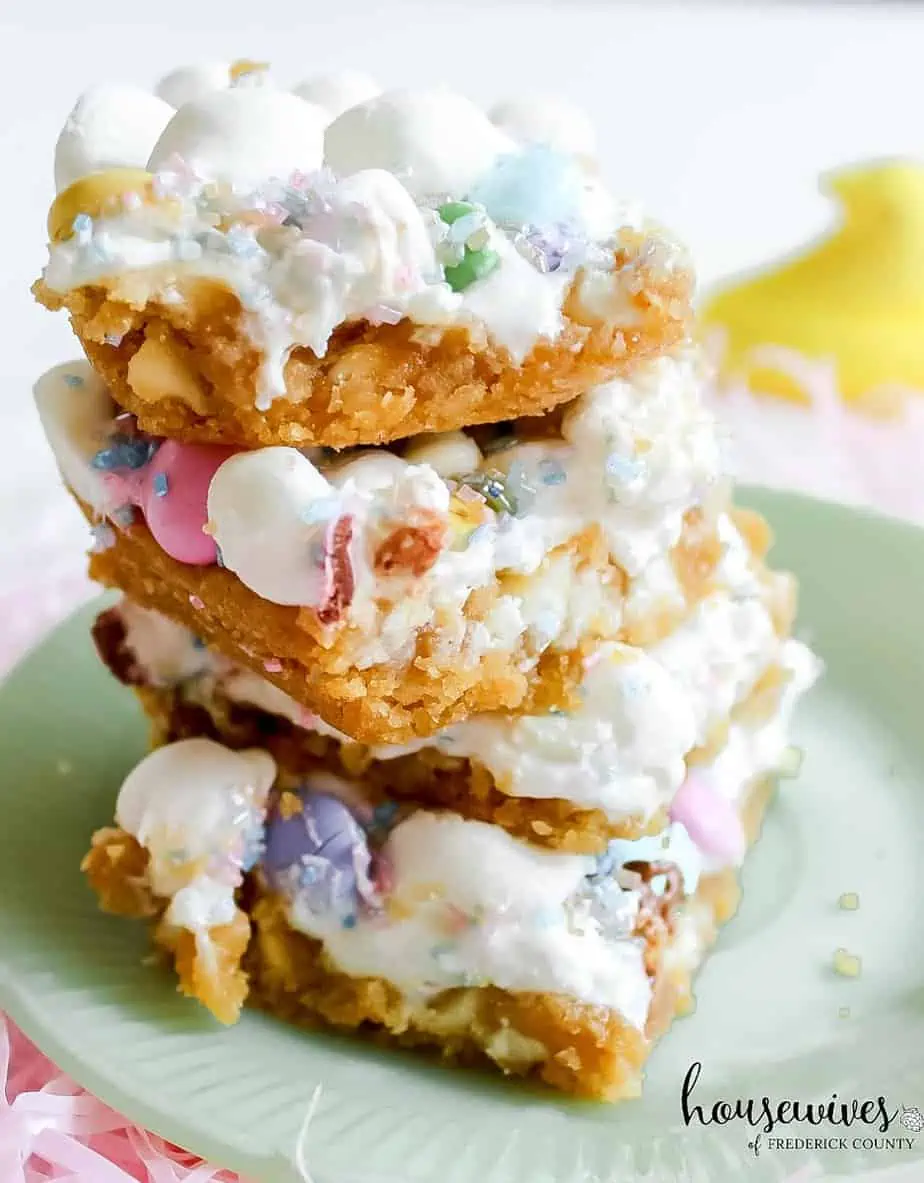 Tips, Tricks, & Substitutions
These bars are SUPER sweet! If you prefer something a little less sugary, I would recommend you cut the following ingredients in half:

White Chocolate Chips
Marshmallows
Spring M&M's

I also think using 3/4 of a stick of butter as opposed to a full stick of butter would work just fine.
If you're not really into marshmallows, you can omit them from the recipe.
Substitute Easter M&M's for any other color of M&M's to suit your theme. For example:
You can also substitute Cadbury Mini Eggs (Amazon), those mini chocolate eggs, for the M&M's.
OR substitute all those leftover jelly beans instead of M&M's.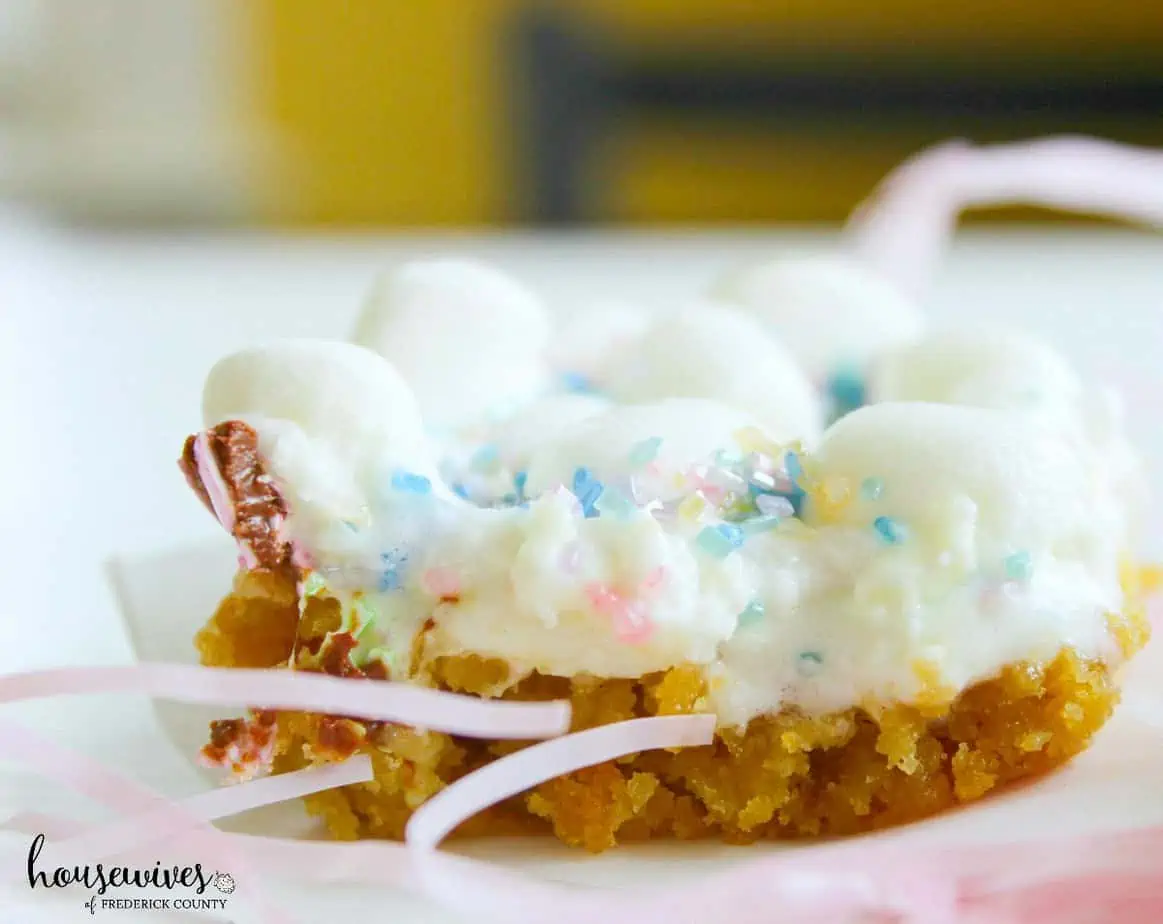 Easter Blondies Recipe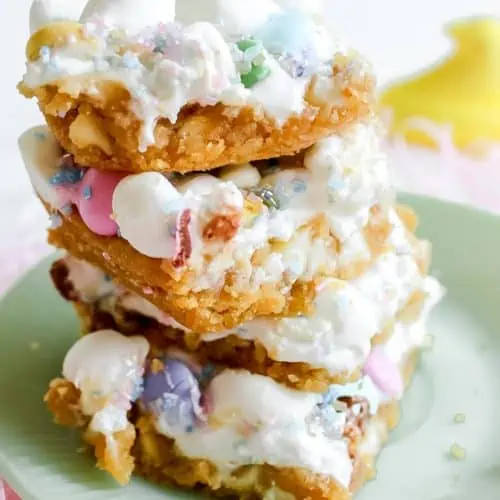 Easter Blondies
If you can imagine a unicorn in the form of a cookie dessert bar, these Easter Blondies would be that! Not only great for Easter, but also 1st communion, gender reveal parties, unicorn parties, or any spring get-together.
Ingredients
½

cup

Butter

,

stored at room temperature

½

cup

White Sugar

¼

cup

Brown Sugar

1

tbsp

Brown Sugar

1

Large Egg

,

stored at room temperature

1

tsp

Vanilla Extract

1 ½

cups

Flour

½

tsp

Baking Soda

1

tsp

Baking Powder

½

tsp

Corn Starch

¼

tsp

Salt

1 ¼

cups

White Chocolate Chips

3

cups

Miniature Marshmallows

¾

cup

Spring M&M's

3

tbsp

Sugar Sprinkles

,

spring colors
Instructions
Preheat oven to 350 degrees.

Combine butter, sugar, and brown sugar in mixing bowl and use stand mixer to blend ingredients well.

Mix in the egg & vanilla.

In a separate bowl, combine flour, baking soda, baking powder, corn starch, & salt.

Add dry ingredients slowly to mixing bowl and use stand mixer to blend well.

Stir one cup of white chocolate chips into batter.

Press batter into a non-stick sprayed 9x13 pan, using a butter knife to spread batter evenly in pan.

Bake cookie dough for 13 minutes.

Remove from oven and sprinkle marshmallows and M&M's on top.

Return to oven for approximately 4 minutes.

Remove and place onto cooling rack.

Sprinkle remaining white chocolate chips and sugar sprinkles on top of the bars.

Cool completely before cutting into bars.
For more delicious spring themed recipes, click on over to:
Easter Bunny Cake Recipe Like Mom Used to Make
Patty's Lime Poke Cake with Jello
Pineapple Coconut Cake Bars with Crumb Topping