This seriously easy, delicious recipe for Imitation Crab Ceviche (Ceviche de Jaiva) is absolutely refreshing and delicious!
Using imitation crab (jaiva), fresh lime juice (or lemon juice), avocado, olive oil, fresh veggies & cilantro, this tasty ceviche will seriously be one of your go-to appetizer recipes!
Imitation Crab Ceviche
First of all, what is ceviche?
According to Wikipedia, ceviche, which is also spelled cebiche, seviche, or sebiche, is a seafood dish originating from modern day Peru.
Typically, it is made using fresh, raw white fish that has been cured in fresh citrus juice like lemon, lime or the juice from a bitter orange.
However, in this case, I won't be using fresh, raw fish.
Instead, I will be using imitation crab, which is made from Surimi, containing pollock fish, the fish that is most commonly used to make fish sticks, breaded fish, and sushi.
Here's a full explanation of what imitation crab is and how to eat it!
I love the versatility and affordability of imitation crab meat so much that I recently made another recipe, Imitation Crab Dip with Old Bay Seasoning.
Mmm! So good! AND a very budget-friendly ceviche.
This Mexican Crab Ceviche recipe is also called Ceviche de Jaiba (Jaiba Ceviche) and you will see a lot of people refer to it by this name.
Interestingly, imitation crab ceviche is called Ceviche de Jaiva.
As a rule, ceviche is a spicy dish, using serrano peppers, which are a type of chili peppers.
Being that serrano peppers are 5 times hotter than jalapeno peppers, I wasn't brave enough to include them in my recipe.
BUT, if you're a spicy person and you really want to wake up those taste buds, go ahead and add them.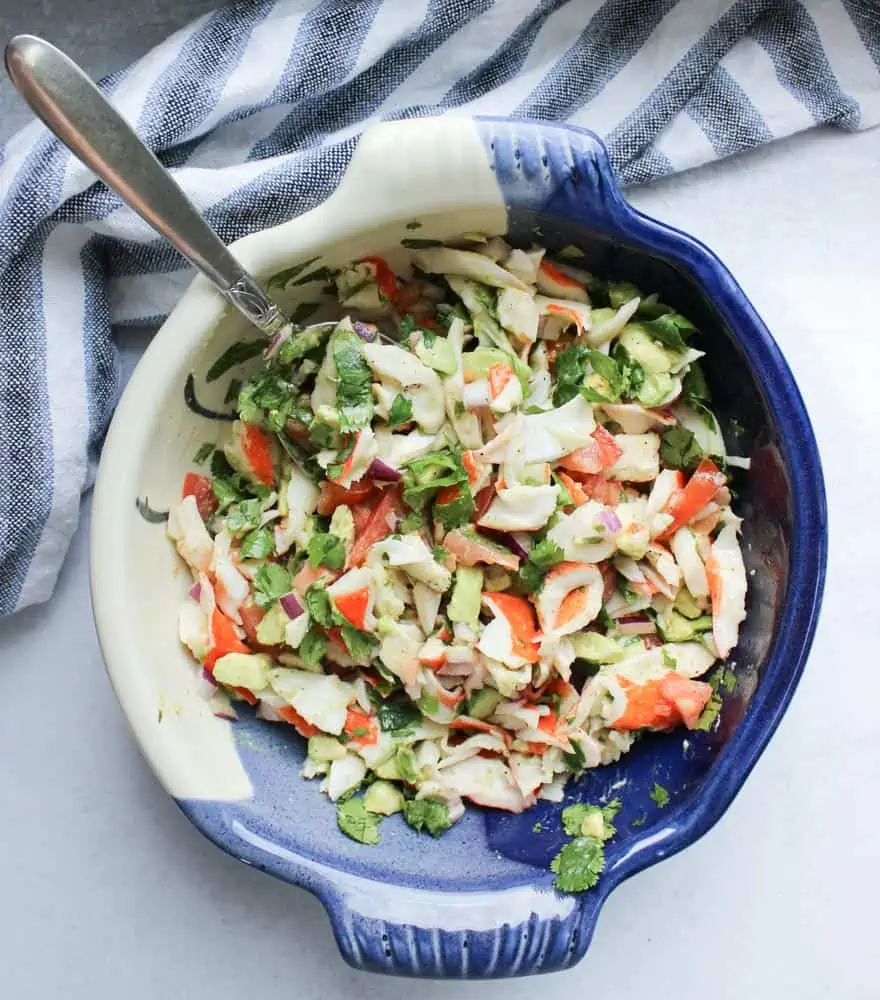 How Many Calories Are In Imitation Crab Ceviche?
Because this is an appetizer recipe, the serving size is 1/2 cup.
Per serving, imitation crab ceviche is only 85 calories and 5 grams of protein!
In addition, it is very low in fat.
How To Make Imitation Crab Ceviche (Ceviche de Jaiba)
So, how do you make this easy crab ceviche recipe?
Needless to say, it's extremely simple to do with amazing results!
First, I'll give you the list of ingredients.
Ingredients
Package Imitation Crab – Based on my research, imitation crab sticks have a better taste and texture than imitation crab flakes or shredded imitation crab. Also, the best brands I've found are Osaki, Kanikama, TransOcean, or Louis Kemp Crab Delights. You can find imitation crab in most grocery stores.
Roma Tomatoes – Tomatoes and South American food just go together so beautifully! This ceviche is no exception. Some ceviche recipes use cherry tomatoes. Other recipes use diced large tomatoes. Whereas others use a combo of tomato juice or Clamato and fresh tomatoes.
Small Red Onion – There's nothing like just the right amount of red onion to really enhance the flavor of a seafood salad. Just be careful not to add too much red onion or it will overpower the other flavors. Some recipes use yellow onions, sweet onions or white onion but I prefer red.
Avocado – I love fresh avocado in so many dishes! It really adds to the color, texture, and flavor of this ceviche recipe.
Cilantro – Fresh cilantro is a must for this recipe. It really takes the flavor to the next level.
Lime – The juice of fresh limes seriously flavors this dish so nicely! Do yourself a favor and get a lemon/lime squeezer (Amazon). All you do is cut the lime in half, place it in the squeezer and squeeze that wonderful juice into a bowl.
Olive Oil – The olive oil combines with the lime juice to create a wonderful, refreshing ceviche dressing.
Salt & Pepper – Just the right amount of salt and pepper compliments this dish perfectly.
Serrano Peppers (Optional) – Like I said before, serrano peppers are 5 times hotter than jalapenos. So if you like it hot, include them in this dish.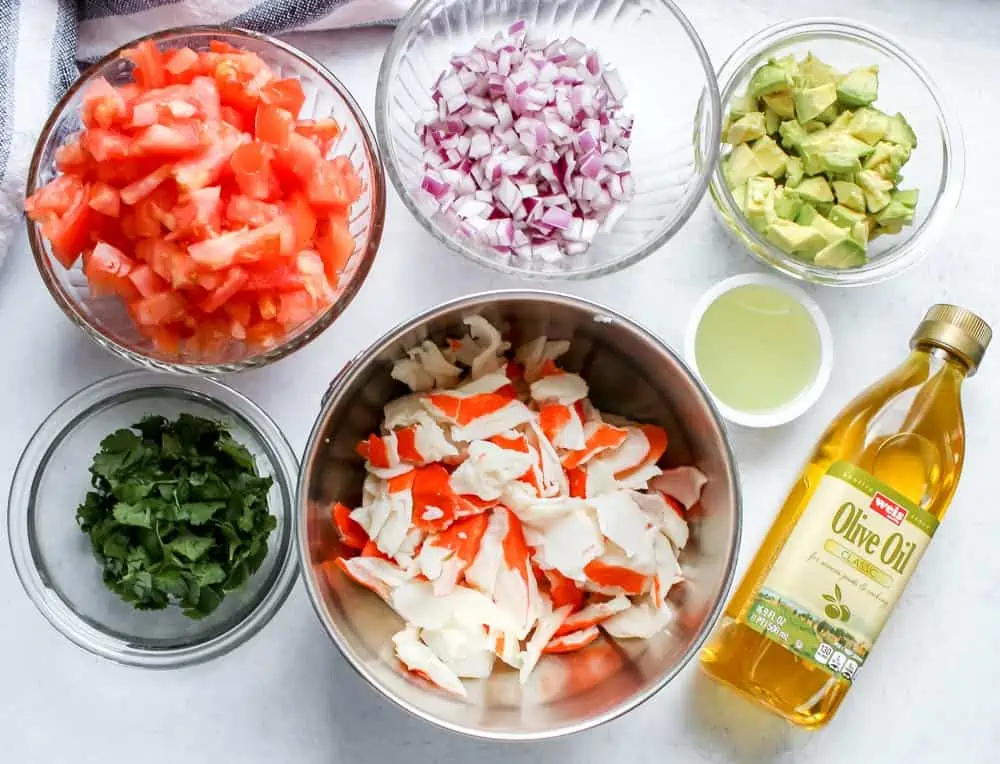 Step-By-Step Instructions
Step 1: Shred Imitation Crab & Place Into Large Bowl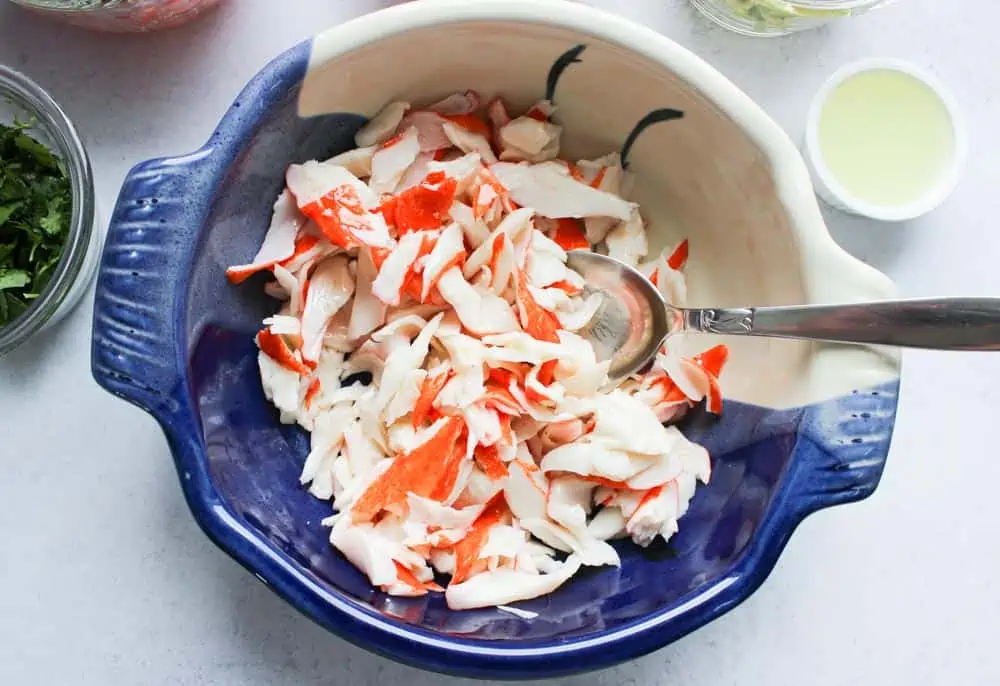 Because I couldn't find the imitation crab sticks at the particular grocery store I shopped at, I used the flake style and just broke it up into smaller pieces using my hands.
Step 2: Stir Olive Oil Into Imitation Crab & Then Add Cilantro, Onion, Tomato, Avocado & Peppers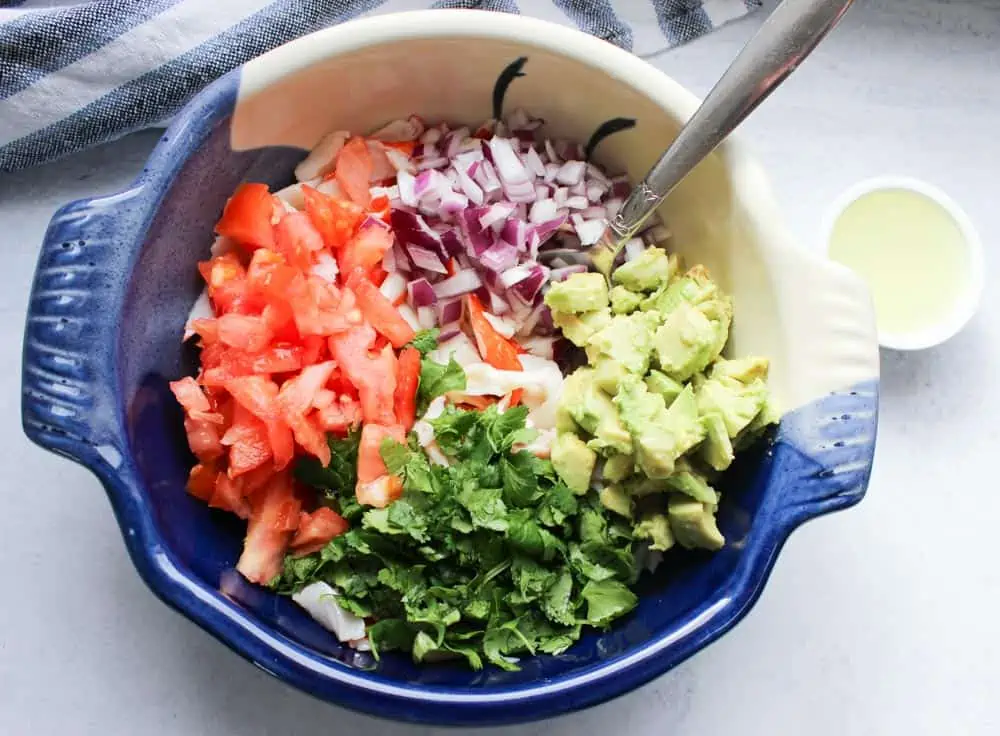 In your large bowl blend crab meat with olive oil and gently mix until it is evenly coated.
Then, add in chopped cilantro, diced onion, diced tomato, diced avocado, and finely chopped peppers (if you're using peppers).
After that, mix well.
Step 3: Pour Lime Juice Over Ceviche, Mix Well, & Add Salt & Pepper To Taste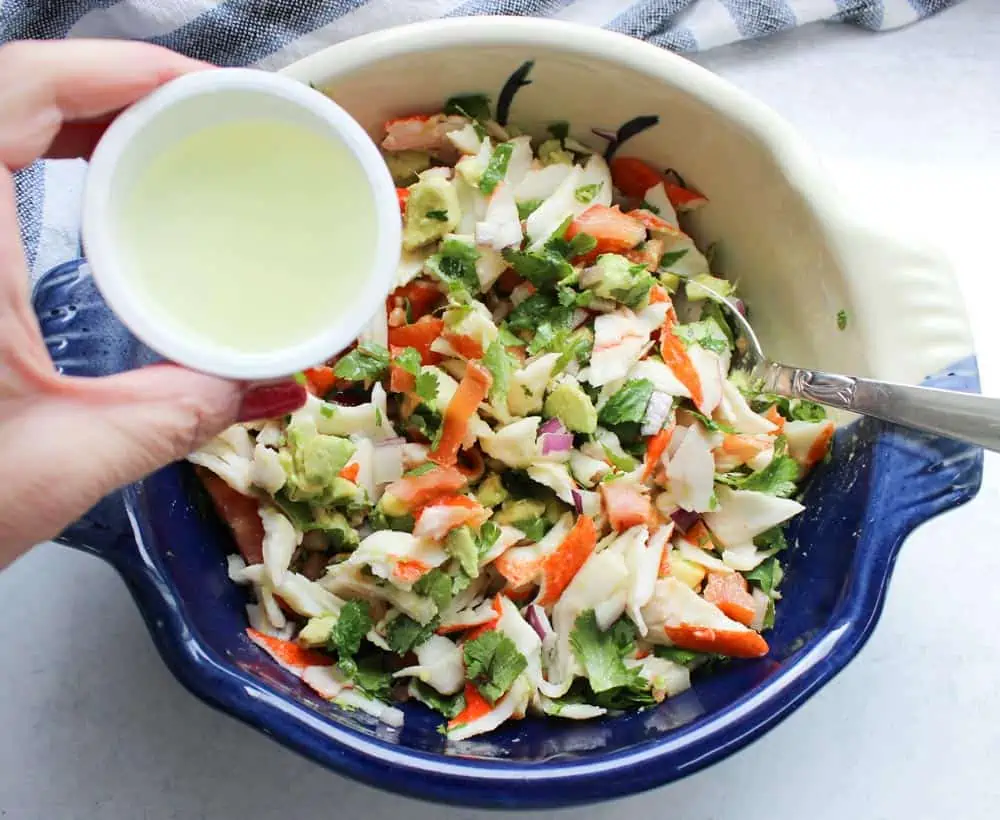 Now, your final steps are to mix in your fresh lime juice and season with salt & black pepper.
Then, the hardest part of this recipe is to place your ceviche in the refrigerator and wait for about an hour to get it nice and chilled and ready to serve.
Ah, the anticipation!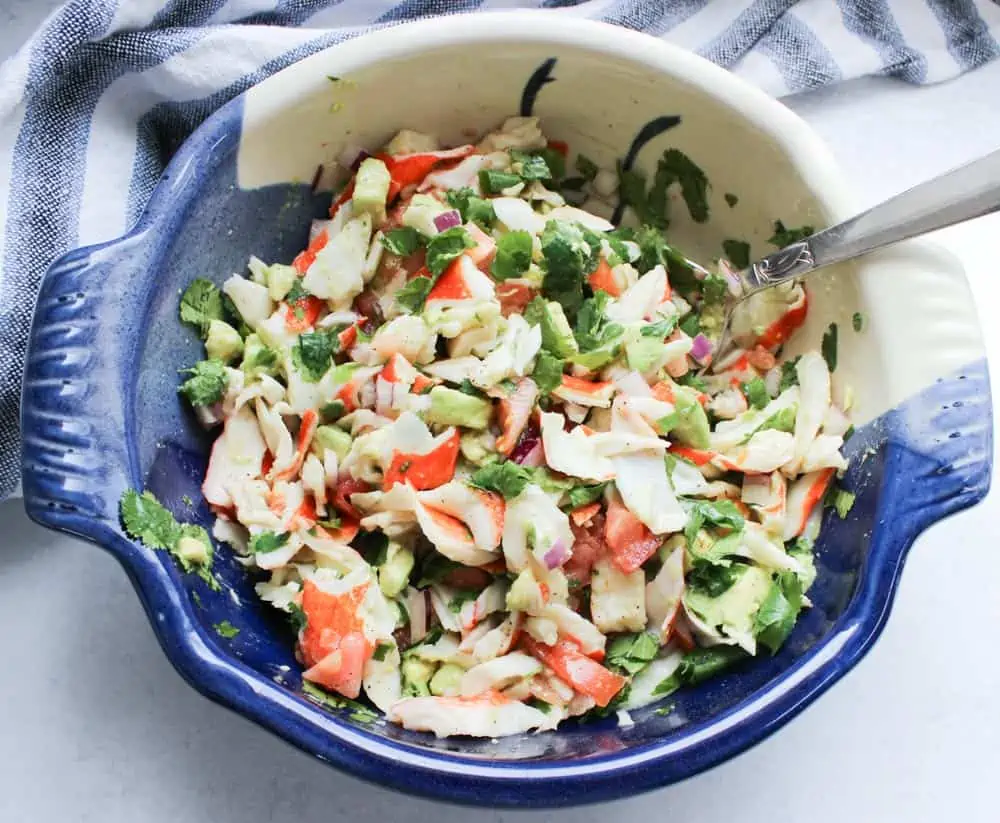 How To Serve Ceviche
Because this is a crab ceviche appetizer recipe, the serving size is 1/2 cup.
But, I have a strong feeling you're going to eat more than 1/2 cup, but that's just me!
Normally, ceviche is served in a large bowl along with a small bowl of tortilla chips on the side.
However, there are multiple ways you can eat Imitation Crab Ceviche:
In lettuce wraps
Nestled in mini tostada bowls
As crab ceviche tacos
Typically this recipe is eaten during the summer months, but why wait until summer?
It's so darn good, any time is the perfect time of the year to make it!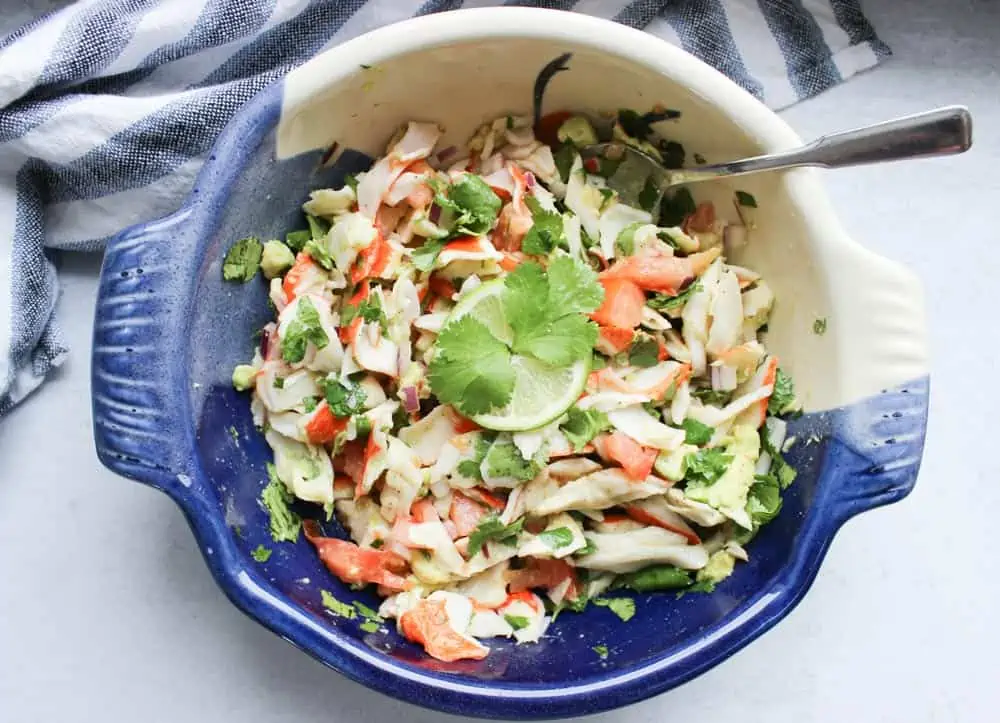 How to Shred Imitation Crab For Ceviche
If you get the imitation crab sticks, the easiest way to shred it is to use a hand mixer.
It's way less time consuming and shreds it up perfectly, making it as close to real crab meat as possible.
But, if you don't have a hand mixer, you can use a large knife and press it down on top of the crab stick sideways.
Then slide it down the length of the crab stick in one direction to shred it.
This is more time consuming because you have to shred one imitation crab stick at at time, but it does the trick!
How Long is Imitation Crab Ceviche Good For?
As long as you store the leftovers in an airtight container and place it in the refrigerator, your imitation crab ceviche will be good for 3 to 5 days.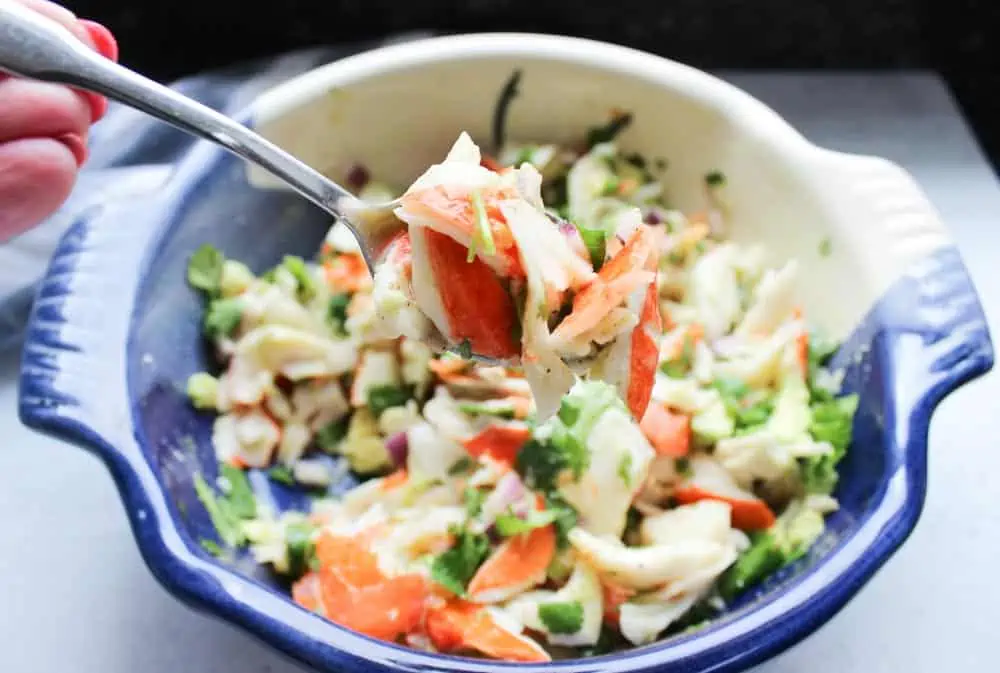 Tips, Tricks, & Substitutions
You can absolutely substitute other types of fish, shrimp, or real crab meat for the imitation crab. Next time I may make a shrimp crab ceviche recipe! Mmmm!
Serrano peppers are optional. However, if you still want some sort of spiciness, you can substitute jalapeno peppers.
Imitation Crab Ceviche Recipe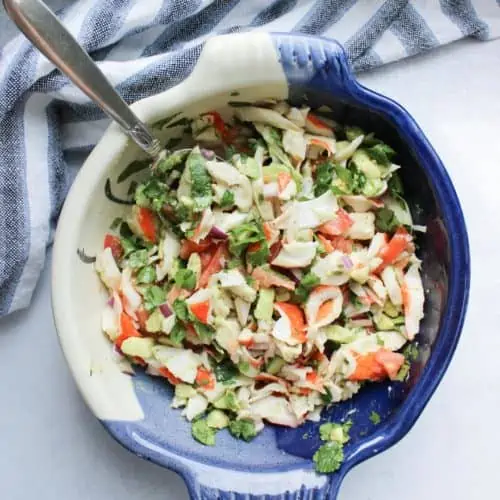 Imitation Crab Ceviche
Imitation Crab Ceviche is a chilled, refreshing seafood salad dressed with lime juice, olive oil, onions, cilantro, & tomatoes.
Ingredients
8

ounces

Imitation Crab, shredded

1

Tomato, diced

½

Red Onion, diced

½

bunch

Cilantro, chopped

2

Avocados, diced

2

Limes, juiced

1

tbsp

Olive Oil

Salt & Pepper, To Taste

3

Serrano Peppers, finely chopped

,

Optional
Instructions
Place imitation crab into a large bowl.

Stir in olive oil until imitation crab is well coated.

Then add tomatoes, onion, cilantro, avocadoes, and peppers (optional) and mix well.

Pour lime juice over ceviche and mix well.

Add salt and pepper to taste.

Chill in refrigerator for about an hour and serve immediately.

Serve with tortilla chips, in a small tostada bowl or as lettuce wraps.
For more seafood recipes, click on over to:
Crab Stuffed Cucumber Cups with Old Bay Seasoning
Maryland Deviled Eggs with Crab & Old Bay Seasoning