This super fresh, healthy and delicious Mediterranean Diet salad recipe is made with chickpeas, feta cheese and the freshest ingredients!
Whenever I make this recipe it makes me so happy and brings a smile to my face!
Needless to say, I've always loved chickpeas for their taste!
In addition, I really love chickpeas for their health benefits too.
To demonstrate, check out this Medical News Today article, What Are The Benefits of Chickpeas?
Specifically, eating chickpeas can help with:
Diabetes
Bone health
Blood pressure
Heart health
Cancer
Cholesterol
Inflammation
Digestion
Regularity
Weight management
Satiety
Irritable Bowel Syndrome
Mediterranean Diet Salad Recipe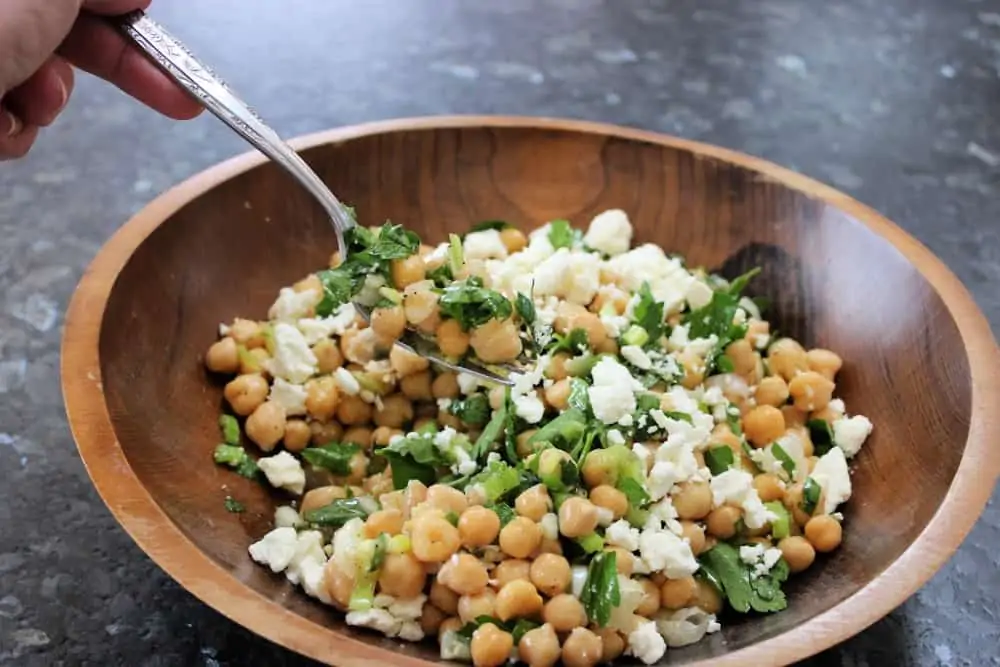 Above all, here are 4 reasons this Mediterranean salad recipe will make you happy.
1. Easy to Make Mediterranean Diet Salad
First, because it is super easy to make – Only 4 simple steps and a handful of ingredients.
For the most part, you just have to get together all of your ingredients and do a little chopping and whisking.
The total time to make this salad is 20 minutes at most.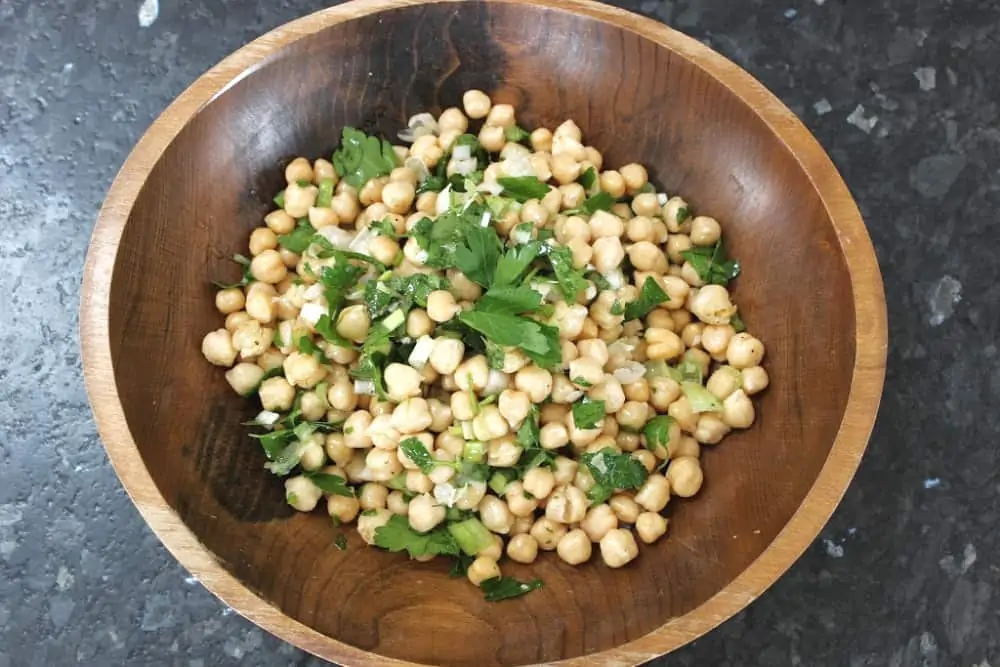 2. Satisfying & Filling
Second, because this is one of those hearty salads that's so satisfying and filling!
For one thing, chickpeas are a great source of extra proteins and a good source of fiber.
Additionally, along with the feta cheese, this recipe packs 5 grams of fiber and 8 grams of protein per serving.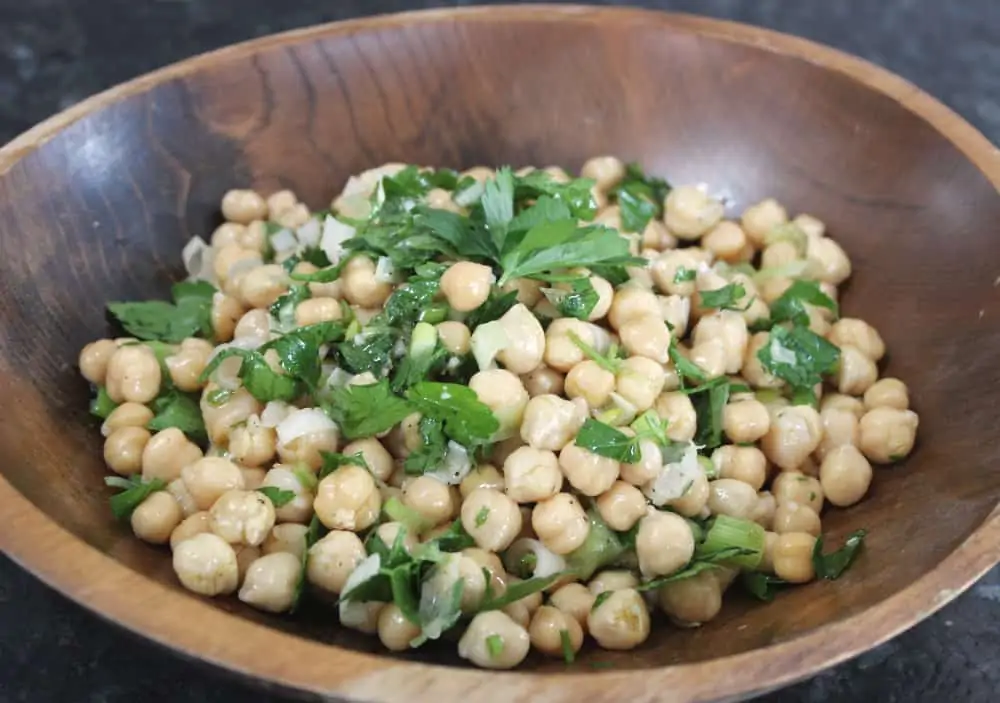 3. Maintain Your Mediterranean Diet Lifestyle
In short, you'll have zero guilt while eating this salad recipe since it fits right in with your Mediterranean Diet lifestyle.
Clearly, this recipe is a fantastic dinner side dish to make on Meatless Mondays!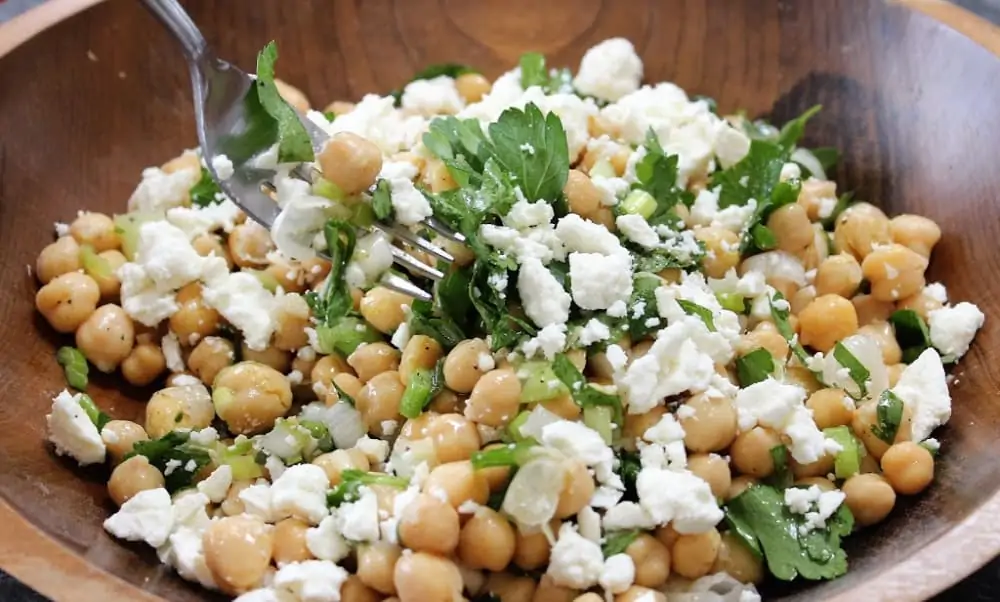 4. Delicious
And, four, this Mediterranean chickpea salad with tangy feta cheese is absolutely delicious!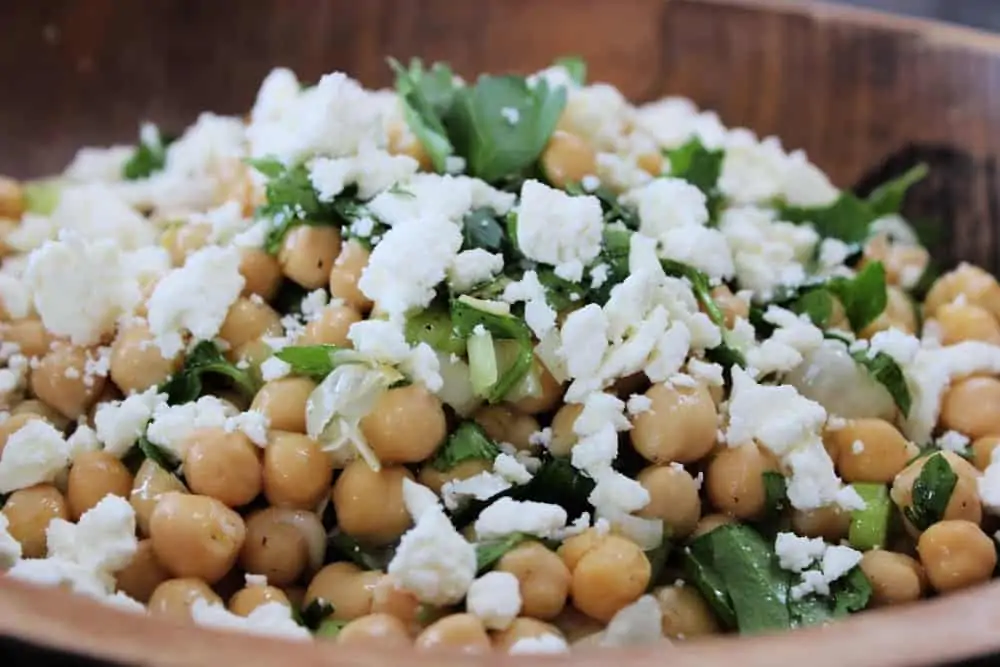 In this case, the dressing is homemade using fresh squeezed lemon juice, olive oil, minced garlic, salt, pepper, and ground cumin.
Hence, the freshness of this delicious dressing makes it so much better than store-bought dressings.
Therefore, it's the perfect accompaniment to the feta cheese, spring onions, and Italian parsley.
Ingredients
Here are the simple, fresh ingredients that you'll easily find at your grocery store:
Fresh Lemon Juice
Extra Virgin Olive Oil (EVOO)
Garlic
Sea Salt or Kosher Salt
Cumin
Black Pepper
Chickpeas (Garbanzo Beans)
Spring Onions
Fresh Italian Parsley
Step-By-Step Instructions
Step 1: Prepare Homemade Mediterranean Salad Dressing
First, in a large mixing bowl whisk together your lemon juice, olive oil, minced garlic, salt, pepper, and cumin.
Step 2: Stir in Chickpeas, Spring Onions & Parsley
Now, mix in your drained (if canned) chickpeas, sliced spring onions, and chopped Italian parsley.
Step 3: Let Stand At Room Temperature for 15 Minutes
Then, leave your salad at room temperature for 15 minutes.
This will allow the olive oil, seasonings, and fresh herbs to soak in their Mediterranean flavors.
Step 4: Add Feta Cheese and Serve
Lastly, add your crumbled feta cheese, mix in gently and serve!
Substitutions and Additions
Here are some ingredients that you can substitute or add in to your Mediterranean Diet Salad Recipe:
Red Onion
Cherry Tomatoes
Red Peppers
Kalamata Olives or Black Olives
Red Wine Vinegar or Balsamic Vinegar
English Cucumber
Substitute White Beans, Kidney Beans, and/or Back Beans vs. Chickpeas
Artichoke Hearts
Red Bell Pepper
Sun-dried Tomatoes
Romaine Lettuce and/or Leafy Greens
Fresh Oregano
Lime Juice
Fresh Mint
How To Store This Mediterranean Diet Salad Recipe
To store any leftovers, place your salad in an airtight container with a tight lid and place in the refrigerator for up to 5 days.
You can freeze your chickpea salad as well, as long as you place it in a freezer-safe container or bag.
This salad can be frozen for up to 3 months.
Then, when you're ready to serve it, remove it from the freezer and place it in the refrigerator overnight until it is completely thawed.
Mediterranean Diet Salad Recipe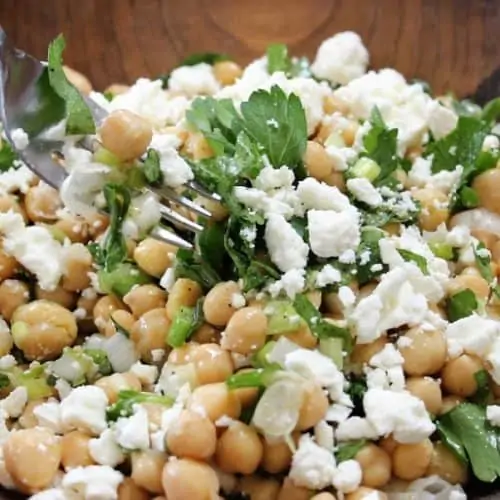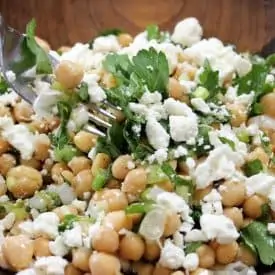 Mediterranean Diet Salad Recipe
Delicious and super easy to make, this chickpea Mediterranean Diet salad recipe will wake up your taste buds, fill you up, and keep you on your healthy eating lifestyle.
Ingredients
¼

cup

Lemon Juice, fresh squeezed

¼

cup

Olive Oil, Extra Virgin EVOO

2

cloves

Garlic, minced

½

tsp

Kosher or Sea Salt

½

tsp

Ground Cumin

¼

tsp

Ground Black Pepper

2

15 oz cans

Chickpeas (Garbanzo Beans), rinsed & drained

4

Spring Onions, thinly sliced

½

cup

Fresh Italian Parsley, chopped

½

cup

Feta Cheese, crumbled
Instructions
In a large bowl, whisk together lemon juice, olive oil, minced garlic, salt, pepper, and cumin.

Stir in chickpeas, spring onions, and parsley.

Let stand at room temperature for 15 minutes.

Add feta cheese and enjoy!
Finally, for other healthy and delicious salad recipes, click on over to:
Chicken Cabbage Salad with Almond Dressing,