A green bean salad recipe mixed in with lots of fresh summer produce and tossed with feta cheese and slivered almonds is my idea of delicious!
The summer season is always a prime opportunity to try out new recipes using homegrown produce from your own backyard.
Green Bean Salad Recipe
I recently posted a picture on Facebook of my sliced up cucumbers and tomatoes that I had just picked out of my garden.
After seeing my picture, one of my friends asked to swap a couple of my cucumbers for a batch of her green beans.
There's nothing better than sharing the fruits of your labor with a friend or neighbor OR a neighbor who's also a friend!
I wanted to switch up the tried-and-true steamed green beans for something different and refreshing.
That's when I came up with this Green Bean Salad Recipe.
In addition, it's only 3 Weight Watchers Points Plus Value per serving and so healthy!
Everything in this recipe screams my favorite ingredients!
It has slivered almonds, feta cheese, cucumbers, red onions, olive oil, fresh basil, tomatoes, and of course freshly picked green beans!
Green Bean Salad Recipe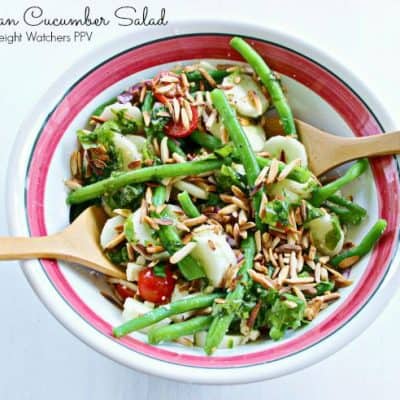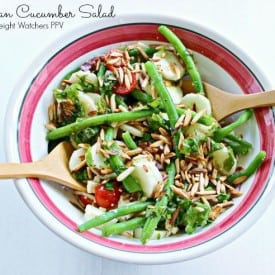 Green Bean Salad Recipe – 3 Weight Watchers PPV
A delicious, crunchy and satisfying green bean salad recipe that's only 3 WW points.
Ingredients
- 1 pound green beans

,

ends trimmed

- 1 cup feta cheese crumbles

- 1 cup cherry tomatoes

,

sliced in half

- 2 tablespoons chopped red onion

- 1 large cucumber

,

sliced

- 1/2 cup slivered almonds

- 3 tablespoons olive oil

- 2 tablespoons red wine vinegar

- 2 tablespoons chopped fresh basil

- 1 large clove garlic

,

minced

- Salt & Pepper to taste
Instructions
Boil a large pot of salted water. Add the green beans and cook until tender crisp, 1 to 2 minutes.

Rinse green beans in cold water in strainer.

Pat dry green beans and place in a large bowl.

Combine green beans with feta cheese, tomatoes, red onions, & cucumbers.

Toast the almonds in a small skillet, 2 to 3 minutes. Remove to a plate.

Whisk together the olive oil, red wine vinegar, basil, garlic and some salt & pepper.

Pour the dressing over the green beans and sprinkle with the toasted almonds.

Marinate in the refrigerator for 1 hour before serving.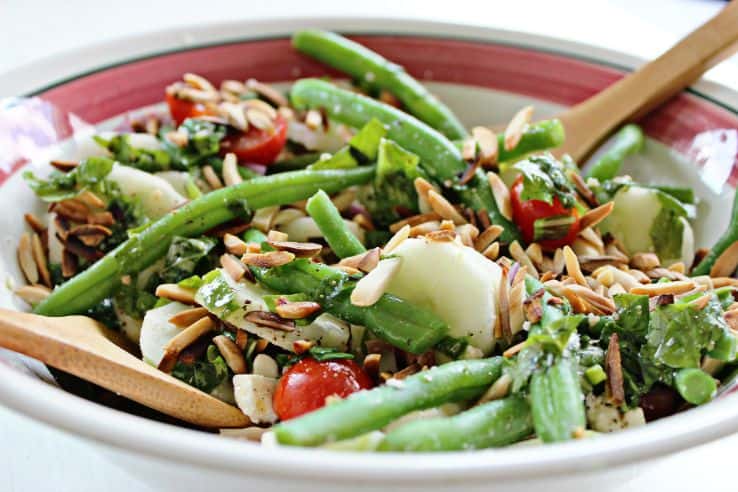 It Turned Out Delicious!
I couldn't wait to try out this salad.
Turns out, it was delicious!
I brought it over to our neighbor's house for dinner that night and everybody loved it.
And if you're looking for a really nice presentation for your salad, this beautiful, large Acacia Wave Bowl and matching Acacia Oblong Salad Servers (Amazon) will 'serve' you well for years to come.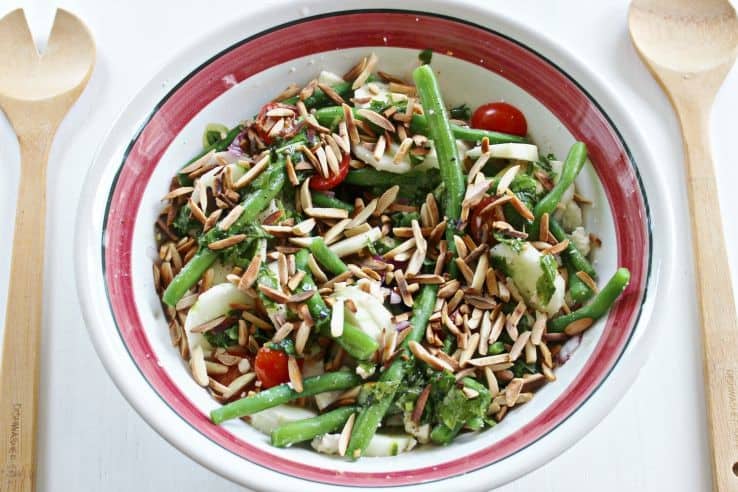 Sliced Vs. Slivered Almonds
The toasted almonds really add a nice flavor to the salad.
But if you prefer a more subtle nutty taste to your salad, you can opt for sliced almonds instead of slivered almonds.
Benefits of This Green Bean Salad Recipe Vs. Traditional Salad
Making this type of salad is wonderful in so many ways!
Firstly, it lasts much longer in the refrigerator than the basic garden salad.
Obviously, if you have a good salad keeper, any salad leftovers will last longer.
I have this particular salad keeper and love it!
It has an adjustable air vent and water reservoir so that it can also be used for storing fresh fruits.
Secondly, green bean salad is way more interesting with all of the different combined flavors and textures.
Lastly, it's much healthier than just some lettuce with a few veggies thrown in.
Notably, check out this Almanac.com article Green Beans: So Good For You.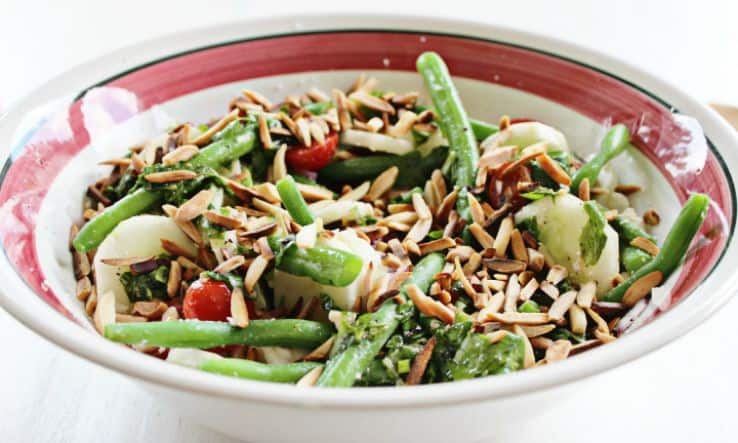 The red wine vinegar, basil, garlic, and olive oil combo provide the perfect flavoring to the salad.
Yet another reason why I love summer and all it has to offer!
What types of salads do you make during the summer months?
Let us know in the comments.
And for more delicious salad recipes, check out our posts on:
Chicken Cabbage Salad with Almond Dressing
Asian Chicken Salad – 6 Weight Watchers Points Plus Value
Bon Appetit!