This chestnut cake recipe is so moist, rich and decadent that you'll feel like you need a special occasion to make it.
But, who needs special occasions anymore?
Live in the moment and make the cake!
Chocolate Chestnut Cake Recipe
There are so many versions of chestnut cake out in the universe that are absolutely delicious!
However, knowing my family and how much they love pretty much anything involving chocolate, I knew making a chocolate chestnut cake would be a huge hit!
Being that I love any kind of chestnut, whether it's the tree nut variety or water chestnuts, in my book, you can't go wrong with any of them.
But I've tried cooking with chestnuts in the past, like my Pan Fried Brussels Sprouts with Chestnuts recipe, and it can be a challenge to roast and peel them.
So when I happened to see a jar of already roasted and peeled chestnuts at my local Lidl, I had to snag them.
I didn't even know what I was going to make with them at the time, but I had to make something!
That's when I went to Pinterest and searched for chestnut recipes.
As soon as I saw this Chocolate and Chestnut Cake recipe from Chef Laura Frankel, my search was over.
This recipe is also called Torta Al Cioccolato E Le Castagne.
Although many versions of this recipe use chestnut puree, this particular recipe keeps the whole chestnuts intact and places them on top of the cake.
I feel like it adds to the visual appeal and really enhances the texture!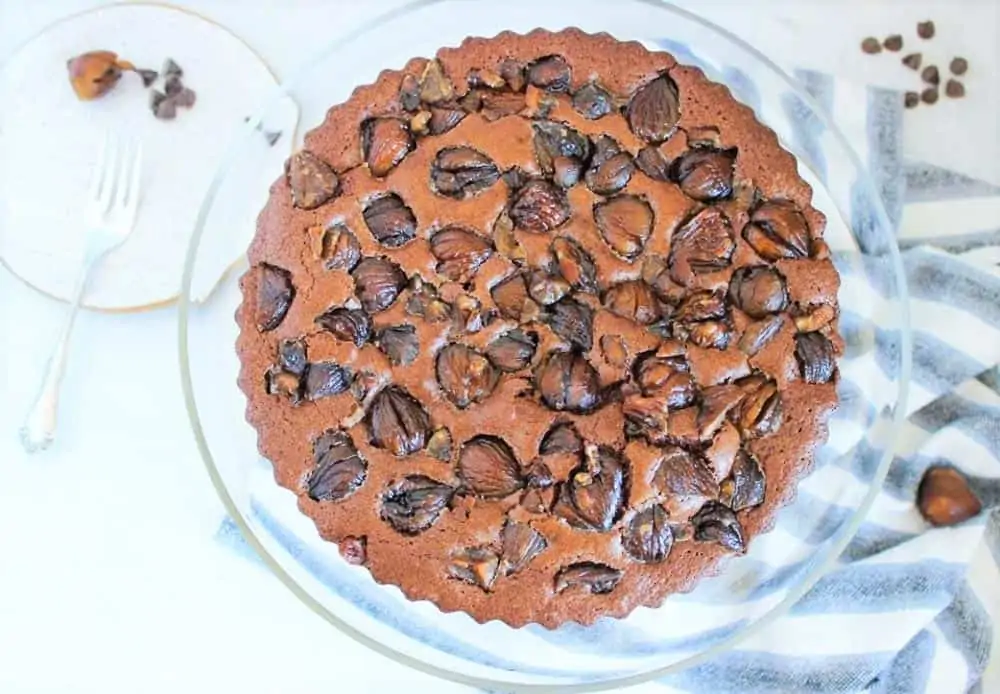 Isn't it purty?
What Do Chestnuts Taste Like?
First of all, I wouldn't recommend eating chestnuts in their raw form because they are crunchy and bitter and can cause stomach upset.
But, roasted chestnuts are where it's at!
They're not the typical crunchy nut when you roast them.
Instead, they are a soft consistency, like a potato, and have a sweet, buttery taste to them.
How To Make Chestnut Cake
There are SO many variations of chestnut cakes:
Japanese Chestnut Cake (Mont Blanc)
Chestnut Roll Cake
Layered Chocolate Cake with Chestnut Ganache
Chestnut Cream Cake
Pear and Chestnut Cake
Mini Chestnut Cakes
And the list goes on.
Without a doubt, I'm sure every variation is delicious.
However, I'm going to show you how to make this incredible chocolate chestnut cake, which to be honest, is more like a rich, to-die-for, big ole brownie with a super moist inside and a crisp outside.
Chocolate Chestnut Cake Ingredients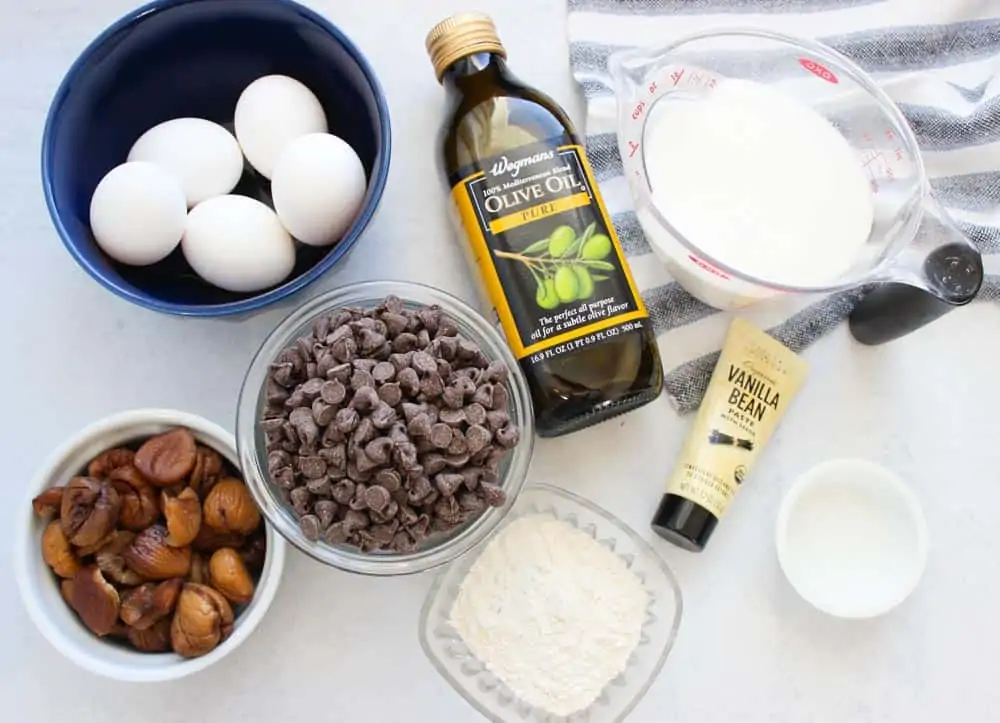 Chocolate Chestnut Cake ingredients are:
Roasted, peeled (shelled & skinned) chestnuts – I got mine already roasted and peeled from Lidl, but if you don't have a Lidl nearby or don't feel like going on a wild goose chase, they sell organic, roasted, shelled & ready to eat chestnuts on Amazon.
Granulated White Sugar
Vanilla bean – Chef Laura's recipe calls for an actual vanilla bean (Amazon) cut in half lengthwise. I couldn't find vanilla bean locally (to be honest, I didn't look that hard) So, instead, I got vanilla bean paste from Wegmans. You can find vanilla bean paste on Amazon. If you can't find either, by all means use vanilla extract instead.
Pinch of Salt, preferably Sea Salt (Amazon)
Extra Virgin Olive Oil
Bittersweet chocolate (Amazon) – I used a bag of semi-sweet chocolate chips from Aldi. Turns out that semi-sweet chocolate can be used as a substitution for bittersweet chocolate. However, semi-sweet chocolate has 10% less cacao and more sugar than bittersweet chocolate. Also, bittersweet chocolate has a deeper flavor. So if you can find bittersweet chocolate, it's preferred.
Eggs
All Purpose Flour – Although this is not technically a flourless chocolate cake, there is much less flour used in this cake compared to other cake recipes.
Use A Spring Form Pan with a Removable Bottom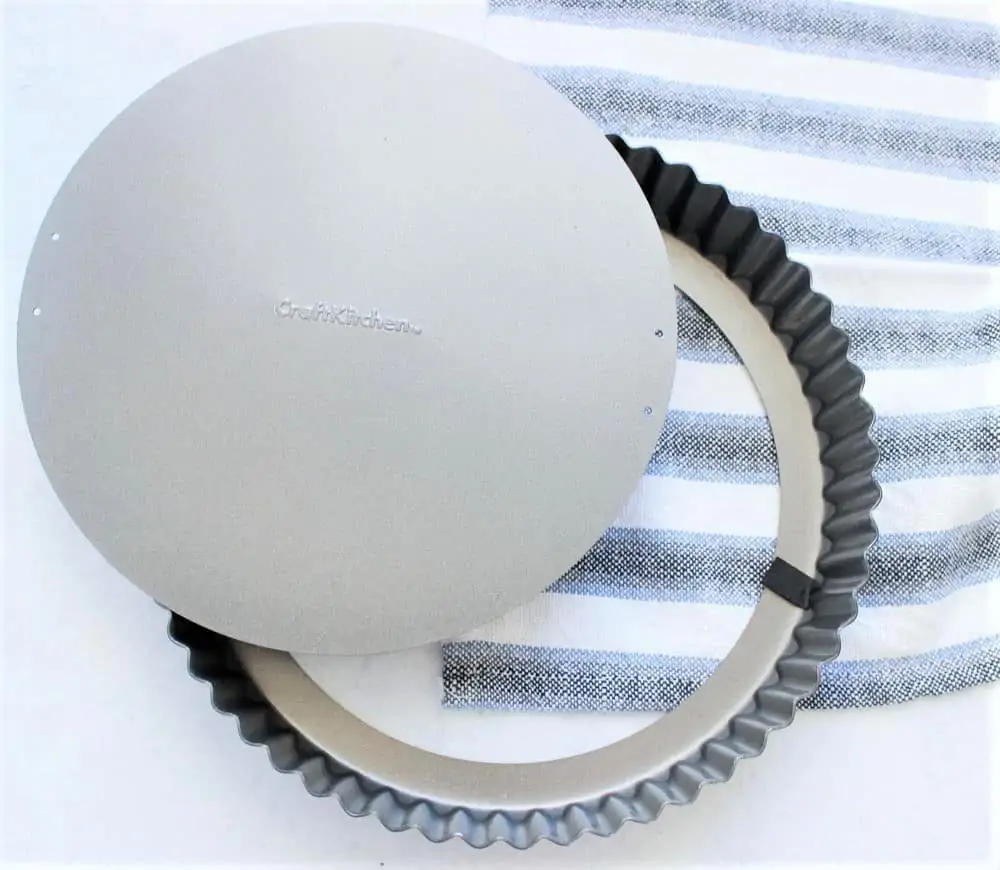 Whether your springform cake tin is round or a tart/quiche shape pan (Amazon), just be sure it has a removable bottom.
It will really help with removing the cake from the pan and keeping it intact.
Step 1: Simmer Chestnuts, Sugar, Vanilla Bean & Sea Salt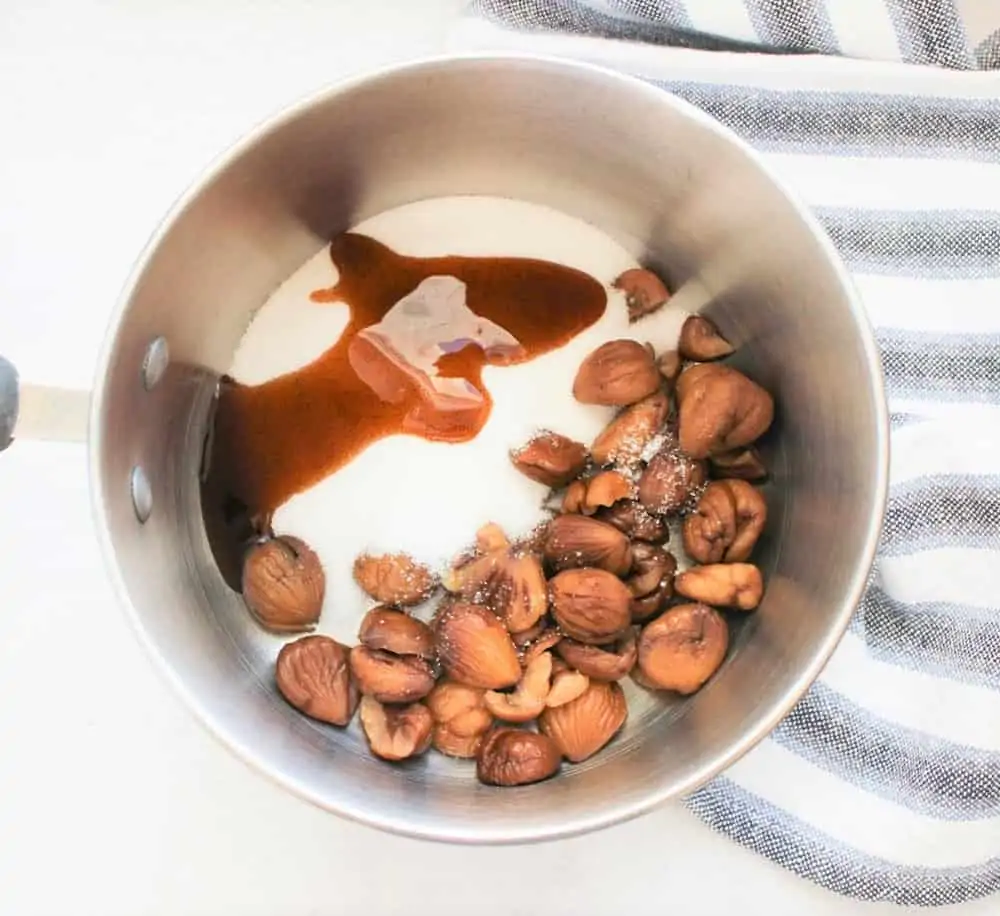 First, in a large saucepan, combine chestnuts, 3/4 cup of sugar, vanilla bean (or vanilla bean paste) and sea salt.
Then, cover with 2 inches of water.
Bring water to a boil and then reduce it to a simmer.
While stirring occasionally, simmer the chestnut mixture over a medium-high heat for 45 minutes.
Then, remove from heat and allow to your candied chestnuts to cool.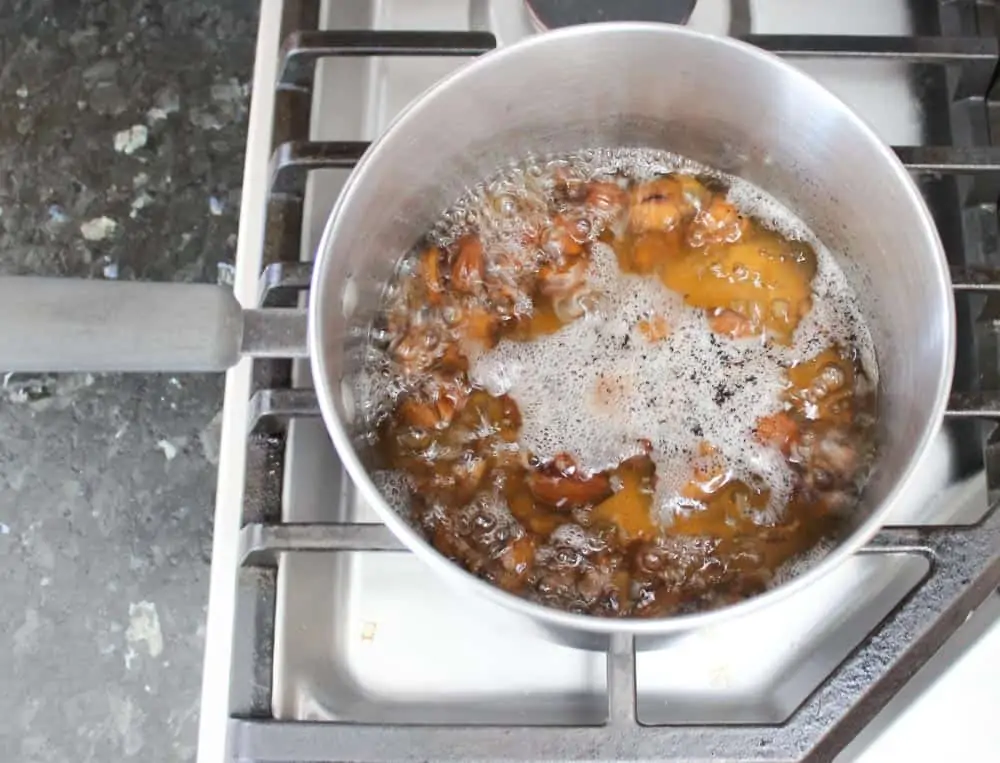 Step 2: Melt Chocolate, Sugar & Olive Oil
Second, in a metal bowl, combine bittersweet or semi-sweet chocolate with another 3/4 cup of sugar and olive oil.
If you happen to have a double boiler (Amazon), you can use this instead of a separate saucepan and metal bowl.
Place the large bowl over a saucepan of water that has just barely been simmering.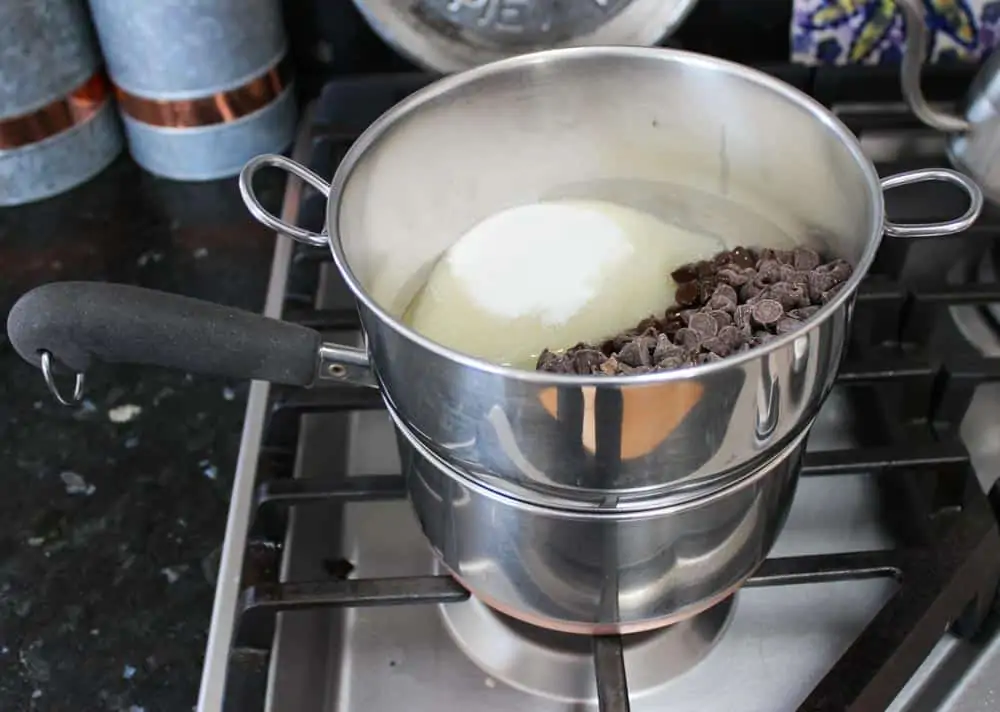 Continuously mix with a large spoon until the all of the chocolate has melted and has become a syrup consistency.
Be sure to keep a close eye on your chocolate because you absolutely don't want to burn this heavenly concoction!
Remove metal bowl from heat and continue to mix until the chocolate has cooled to lukewarm to room temperature.
By the way, it's okay, you can stick your (clean) finger in it to 'check it'. Mmm!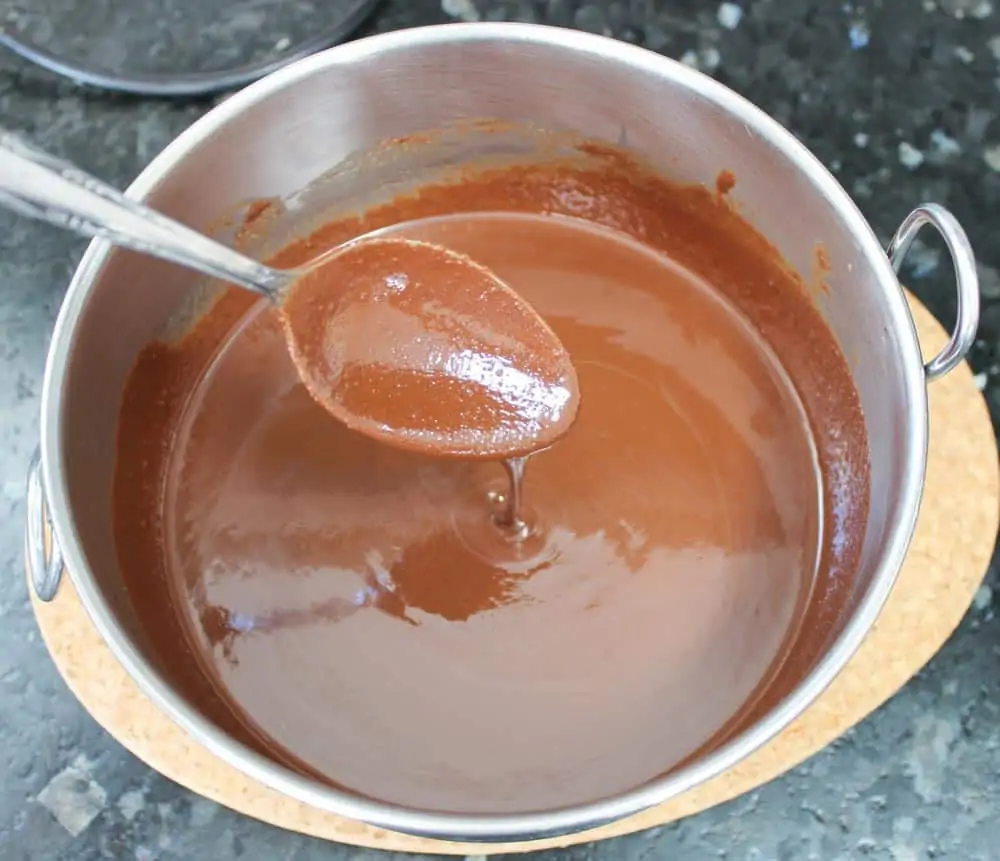 Step 3: Whisk in Egg Yolks & Flour
Third, thoroughly mix in egg yolks and flour until the chocolate mixture is completely blended.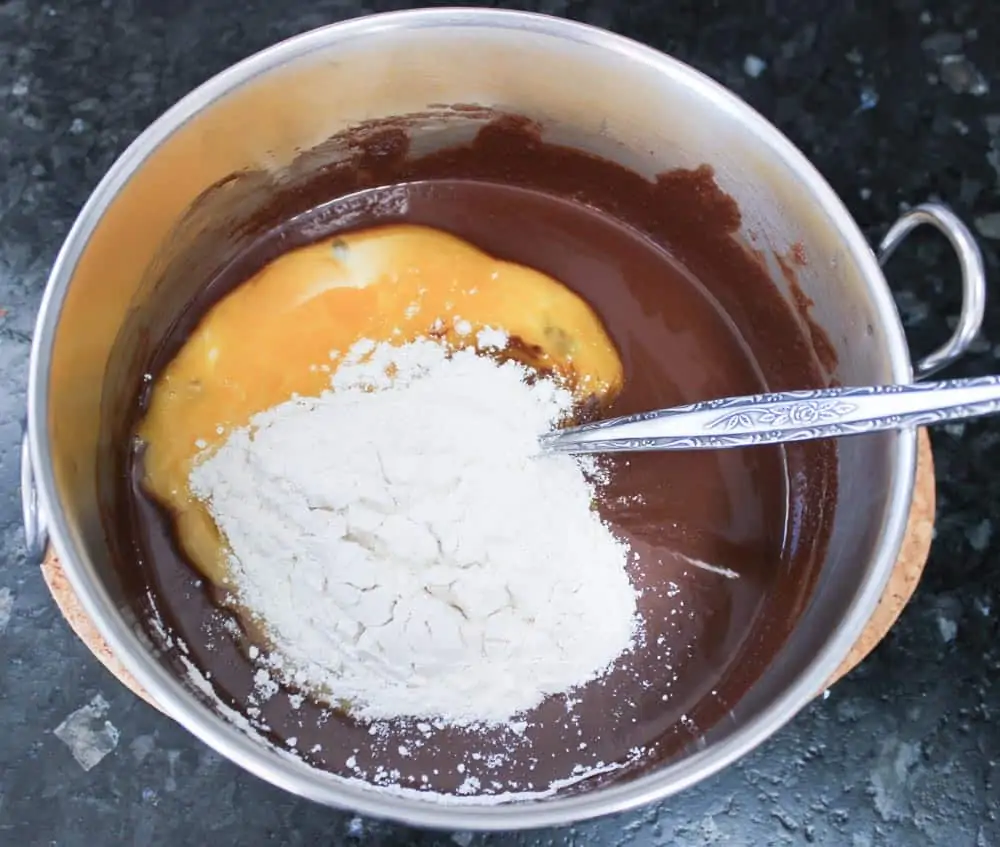 Step 4: Fold in Beaten Egg Whites
Now, fold in egg whites that have been beaten until stiff, not dry.
By the way, if you prefer, you can use an electric mixer (stand mixer or hand mixer) with the whisk attachment for this part.
As a matter of fact, 'folding' the egg whites in, involved me REALLY having to put in some elbow grease in order to achieve a well-blended batter.
Step 5: Pour Chocolate Chestnut Cake Batter into Greased Spring Form Pan
Now, the fruits of your labor are getting closer to being realized!
Pour the batter into your greased (I used Pam Cooking Spray) spring form pan.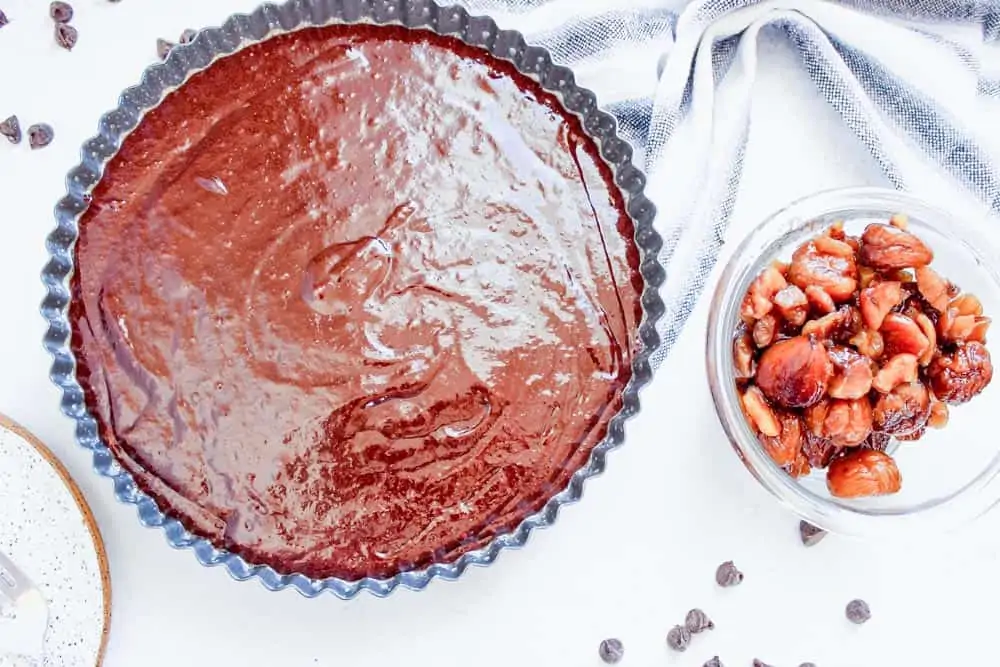 Step 6: Top Batter with Drained Chestnuts & Bake
Pour your cooled chestnuts into a strainer to drain the liquid.
Then gently place them on top of the batter.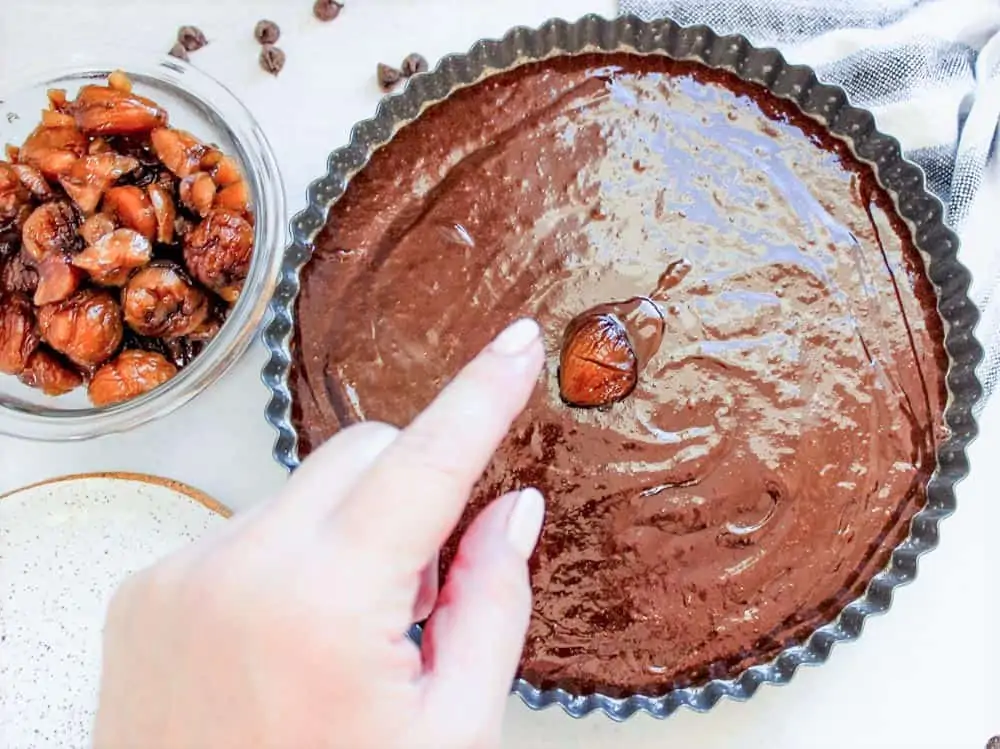 As you can see, this results in a beautiful, visually appealing, textured presentation.
Not all the chestnuts will remain intact, so be creative with your presentation and spread out your crumbly bits of chestnut evenly across your cake.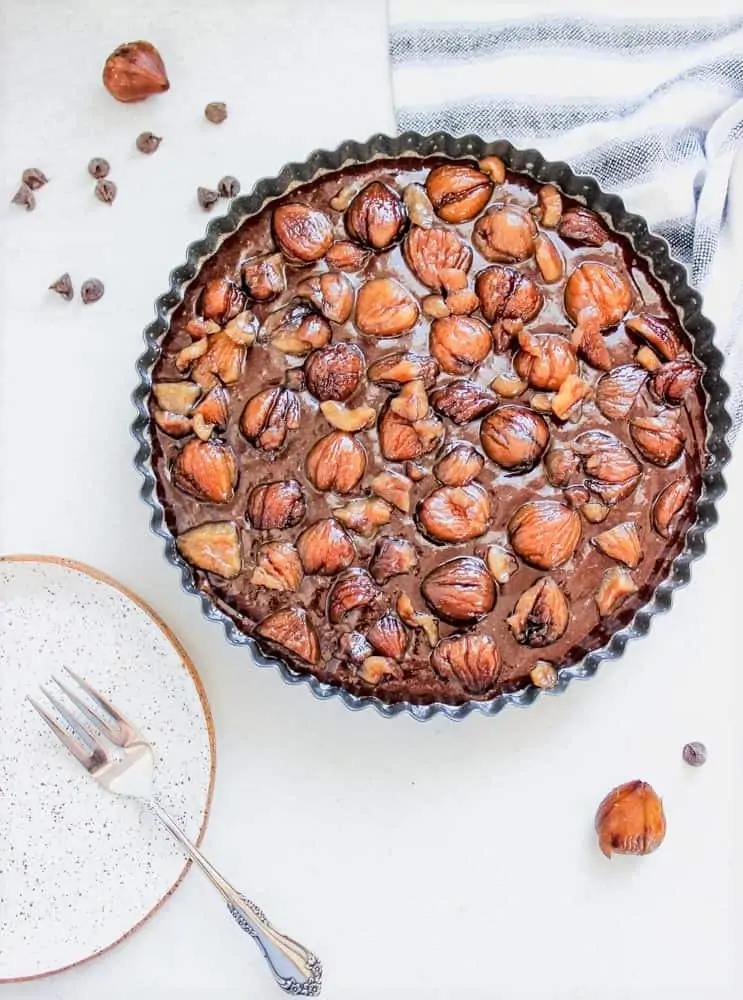 Now, bake in a preheated 350 degrees Fahrenheit oven for approximately 45 minutes or until a toothpick inserted in the center comes out clean.
Cool your cake in the pan on top of a cooling rack for 5 minutes.
Then remove the cake from the pan (if you leave it in the pan until it's completely cooled it can stick to the pan) and allow cake to completely cool.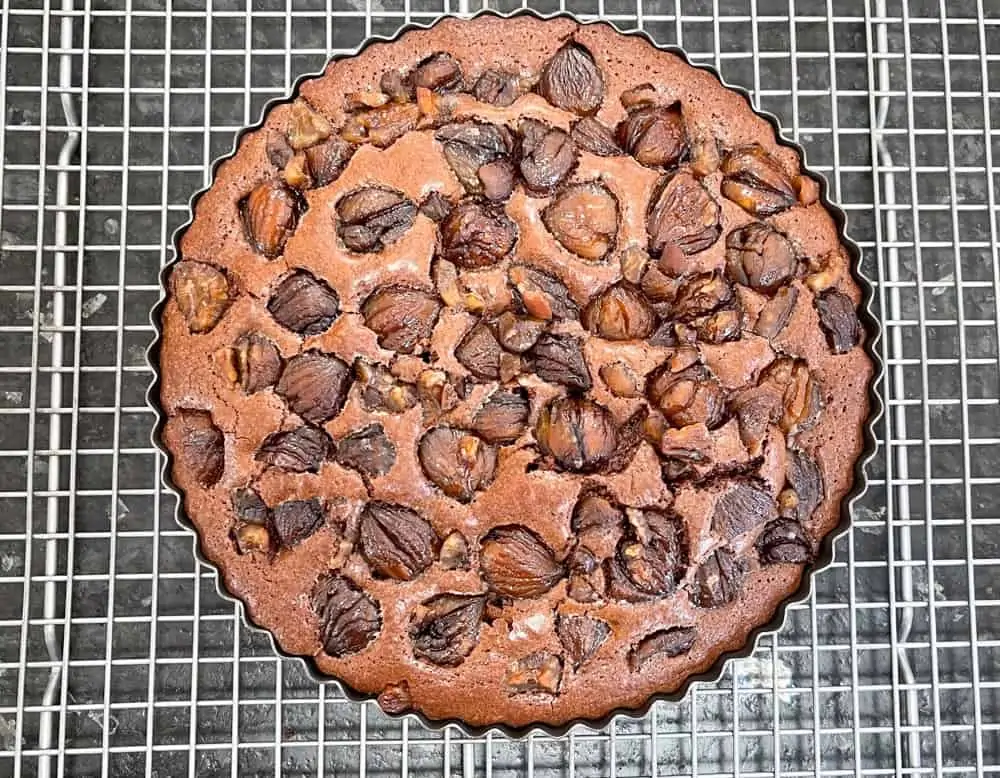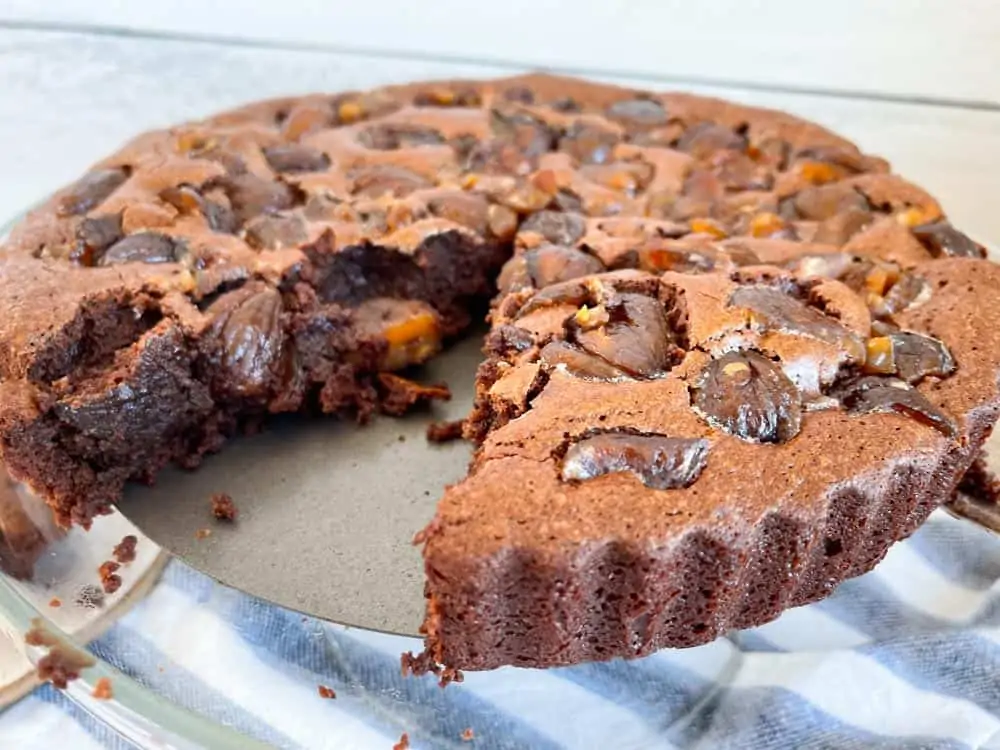 You guys!
This delicious chestnut cake turned out even better than I expected!
As you can see from the photos of the finished product, it is absolutely gorgeous!
I love how the sides of the cake have crispy ridges.
If you're into a super rich, fudgy cake that's a brownie consistency, you're going to love this cake!
And the chestnuts on top really add something extra special, not only nutrient wise but texture and taste wise as well.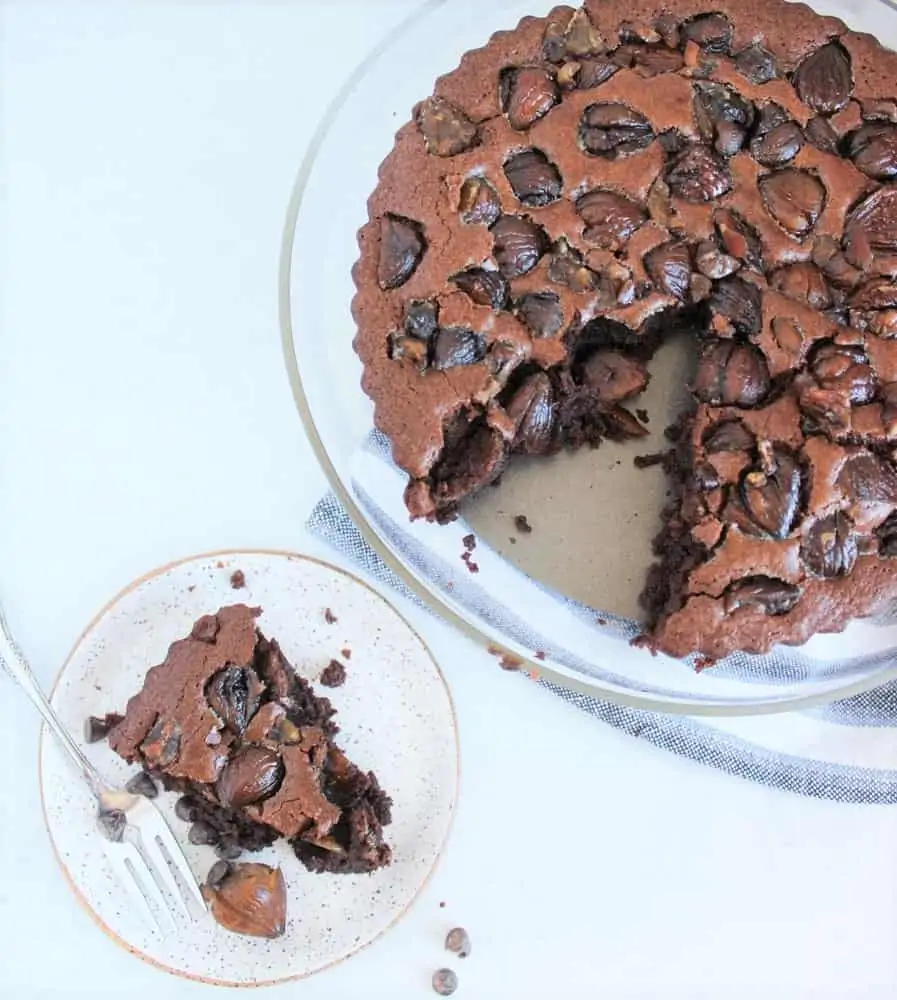 Tips, Tricks and Substitutions
Here is a summary of some tips and tricks for making this chocolate chestnut cake:
Use a spring form pan with a removable bottom in order to keep your cake intact after baking.
You can substitute semi-sweet chocolate for bittersweet chocolate
Buy your chestnuts already roasted and peeled. This will save you a ton of time! You will thank me!
Slice the cake into small pieces because it is super rich! You can always go back for seconds.
Toppings:

Powdered sugar
Cocoa powder
Dollop of Whipped cream
Vanilla ice cream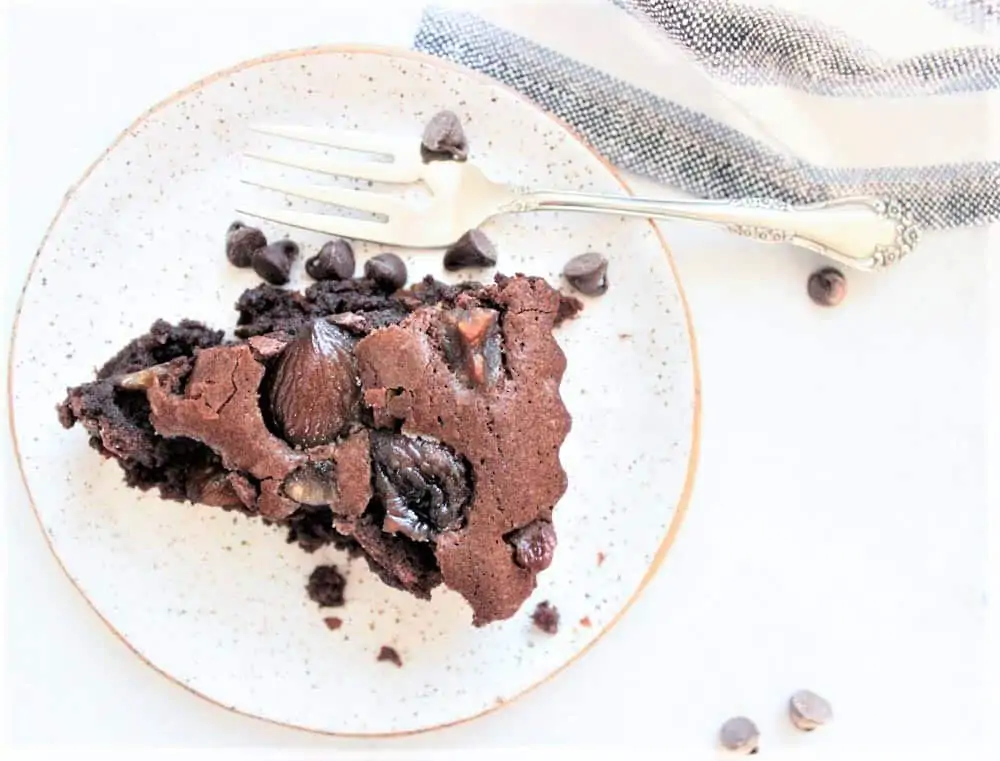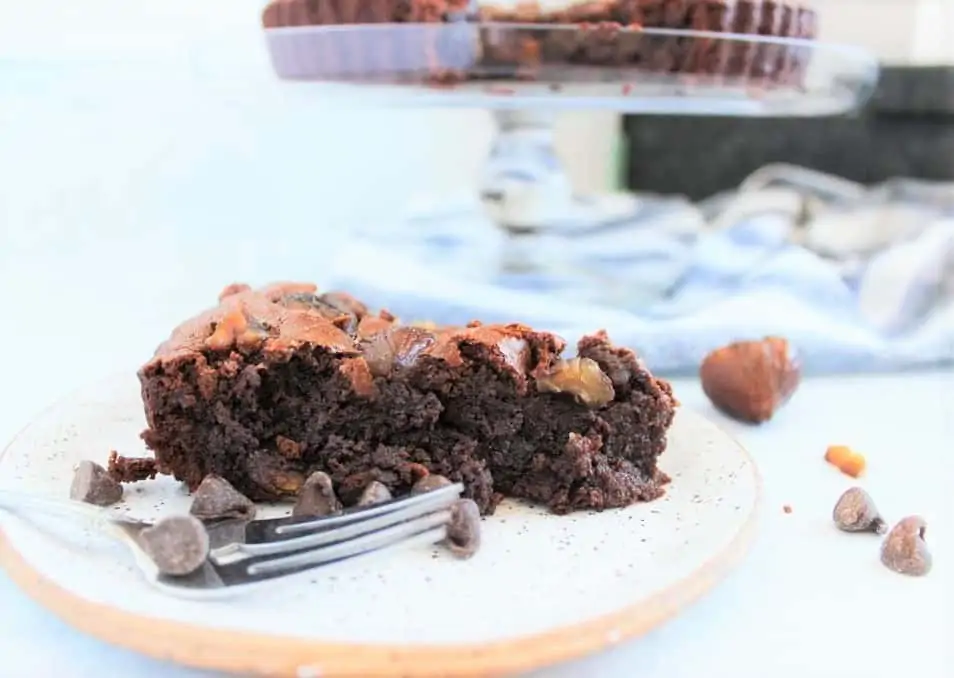 Chocolate Chestnut Cake Recipe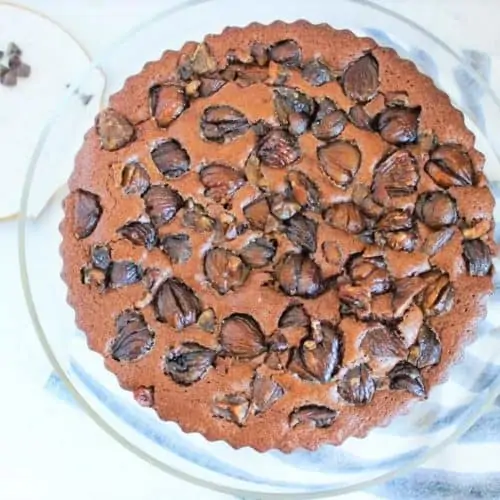 Chocolate Chestnut Cake
A rich & fudgy, brownie like cake with roasted chestnuts on top.
Ingredients
1

cup

Chestnuts, roasted & peeled

1 ½

cups

Sugar

1

tbsp

Vanilla Bean Paste or 1 Vanilla Bean

¼

tsp

Sea Salt

½

cup

Olive Oil

11 ¼

ounces

Bittersweet or Semi-Sweet Chocolate

6

Eggs, separated

3

tbsp

Flour
Instructions
Combine chestnuts, 3/4 cup of sugar, vanilla bean paste, and sea salt in a saucepan and cover with 2 inches of water.

Bring water to a boil and then turn down to a simmer. Simmer for 45 minutes, stirring occasionally.

Remove chestnuts from heat and allow to cool.

In a metal bowl combine chocolate, 3/4 cup of sugar, and olive oil. Place metal bowl on top of a pan with water that is just barely simmering.

Continuously mix the chocolate mixture until the chocolate is completely melted.

Remove metal bowl from heat and allow chocolate mixture to cool to a luke warm temperature.

Then mix in egg yolks and flour until well combined.

After that, mix in egg whites that have been beaten stiffly. Mix well.

Pour batter into a greased spring form pan with removable bottom.

Drain chestnuts and gently place them across the top of the cake.

Bake cake on the center rack of a preheated 350 degrees Fahrenheit oven for approximately 45 minutes or until a toothpick inserted into the center of the cake comes out clean.

Cool cake on cooling rack for 5 minutes and then remove it from the spring form pan. Cool cake for an additional 20 minutes. Slice and serve.
Notes
Tips, Tricks and Substitutions:
Use a spring form pan with a removable bottom in order to keep your cake intact after baking.
You can substitute semi-sweet chocolate for bittersweet chocolate
Buy your chestnuts already roasted and peeled. 
Slice the cake into small pieces because it is super rich! 
Toppings:

Powdered sugar,
Cocoa powder,
Whipped cream,
Vanilla ice cream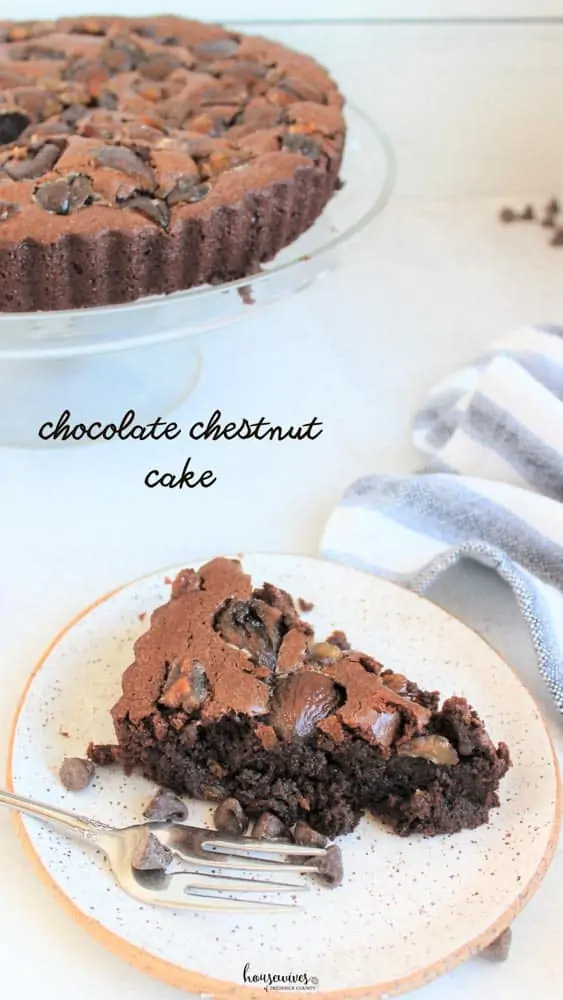 For more decadent dessert recipes, click on over to:
Oven S'mores: No Campfire Needed