This Chocolate Root Beer Float will make you never miss drinking the traditional root beer float again!
Chocolate Root Beer Float
Did you know that June 10th is National Black Cow Day?
Yup, sure is!
These days there seems to be a National Day for everything.
This National Day Wall Calendar will keep up to date on all the National Days throughout the year.
A Black Cow is another term for a root beer float.
And who doesn't love a root beer float served in a nice frosty mug?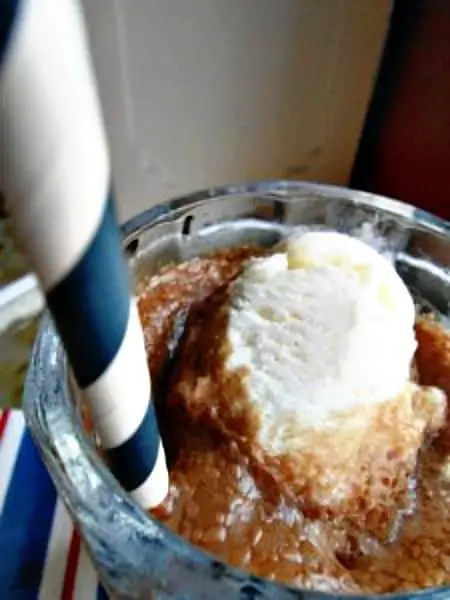 Weight Watchers Friendly
But, if you're a Weight Watchers Points Plus counter, a regular root beer float will set you back between 9 and 17 points in one fell swoop, depending on where you get it.
However, as anybody on Weight Watchers knows, there is always an alternative to the fattening version of what we love and what we don't want to have to give up.
So, here, I present you, the Weight Watchers Chocolate Root Beer Float at only a 4 Points Plus Value.
Chocolate Root Beer Float Recipe: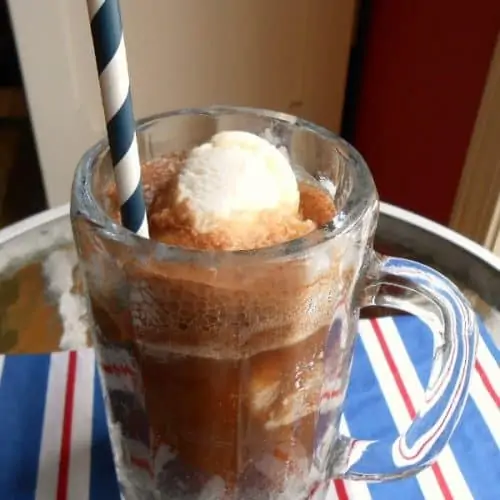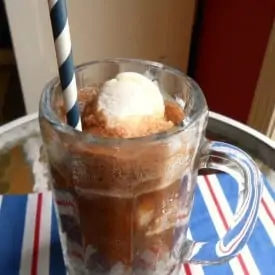 Chocolate Root Beer Float – 4 Weight Watchers Points Plus Value
Ingredients
– 12 fl oz diet root beer

– 2 T chocolate syrup

– 1 c fat free vanilla frozen yogurt
Instructions
Divide soda between 2 glasses.

Add a tablespoon of chocolate syrup to each and stir.

Put 1/2 cup frozen yogurt into each glass and serve immediately.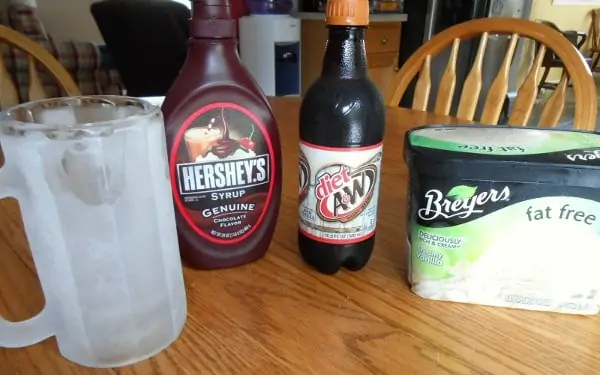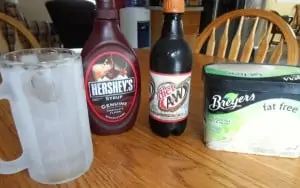 History of the Root Beer Float
Do you know the history of the root beer float?
I didn't know either until I stumbled upon this website, Yum Sugar.
According to them, "Root beer was manufactured, bottled, and sold starting in 1880, and legend has it that thirteen years later, the root beer float, which is sometimes referred to as a black cow, was first invented.
After glancing out the window late one night, Frank Wisner of Cripple Creek, Colorado, was inspired to float a scoop of vanilla ice cream on top of his glass of root beer.
The illumination of the full moon allowed him to glimpse the snow on top of nearby Cow Mountain.
The tasty treat was tremendously popular among the town's children, who then called it a "black cow."
How interesting!
I never knew it was also called a Black Cow.
Ya learn something every day.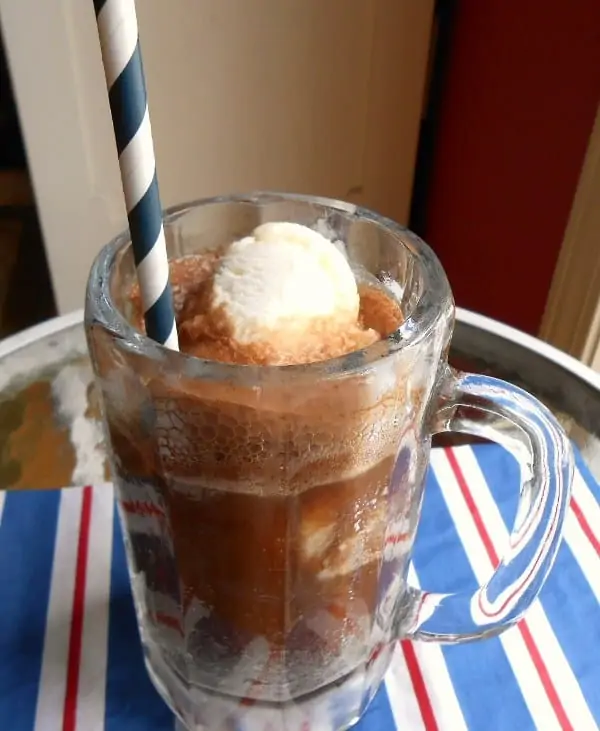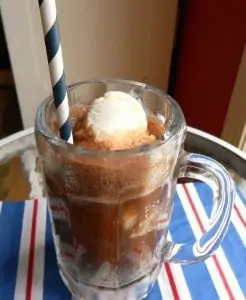 Very Easy to Make
It was super simple to make.
I used fat free vanilla ice cream instead of frozen yogurt.
The chocolate added to the root beer, along with the creamy ice cream, made it taste like a chocolate soda.
It really was good.
My son drank one too.
Shhhh, I didn't tell him it was diet root beer and fat free ice cream!!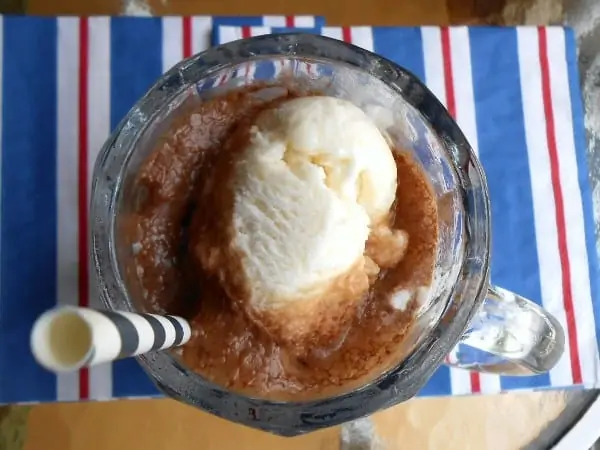 The recipe makes 2 root beer floats, but if you're just making it for yourself, just know that you will have a little bit of root beer leftover in your bottle.
The notes on the recipe also state that you can change the soda and ice cream flavors to your liking.
Chocolate-cherry and banana-fudge would also be delicious.
And don't forget the straws!
This recipe would be great to make for a kids birthday party or a fun pool party!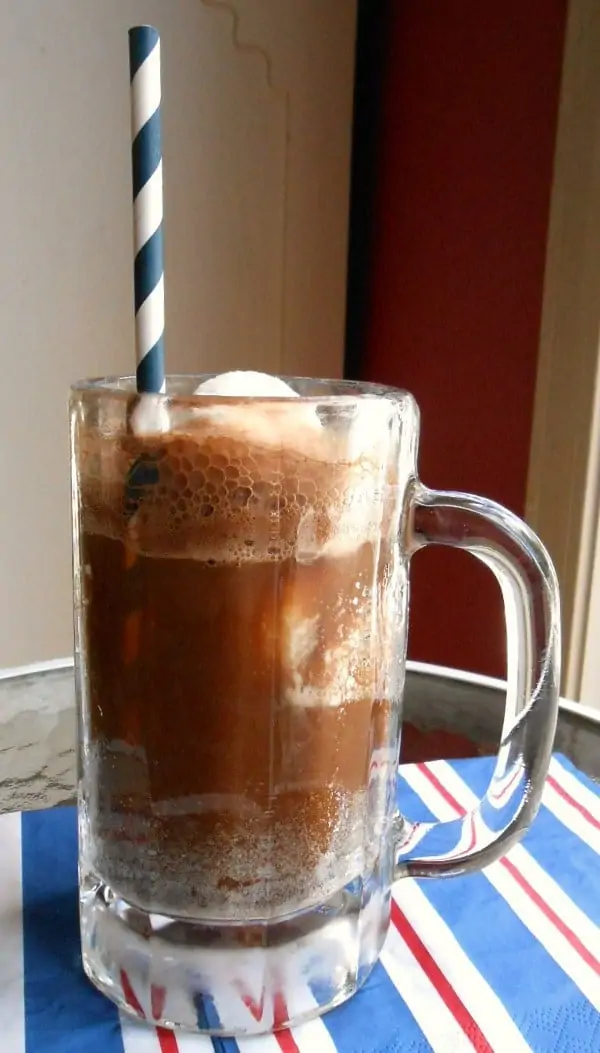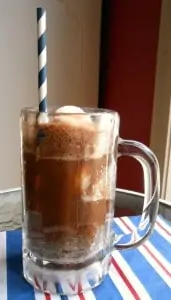 So next time you have a hankerin' for a refreshing, frothy treat, try out this recipe.
I know you'll love it as much as I did.
And by all means, mark your calendar to drink a root beer float, or Black Cow on June 10th!
Cheers! Clink!