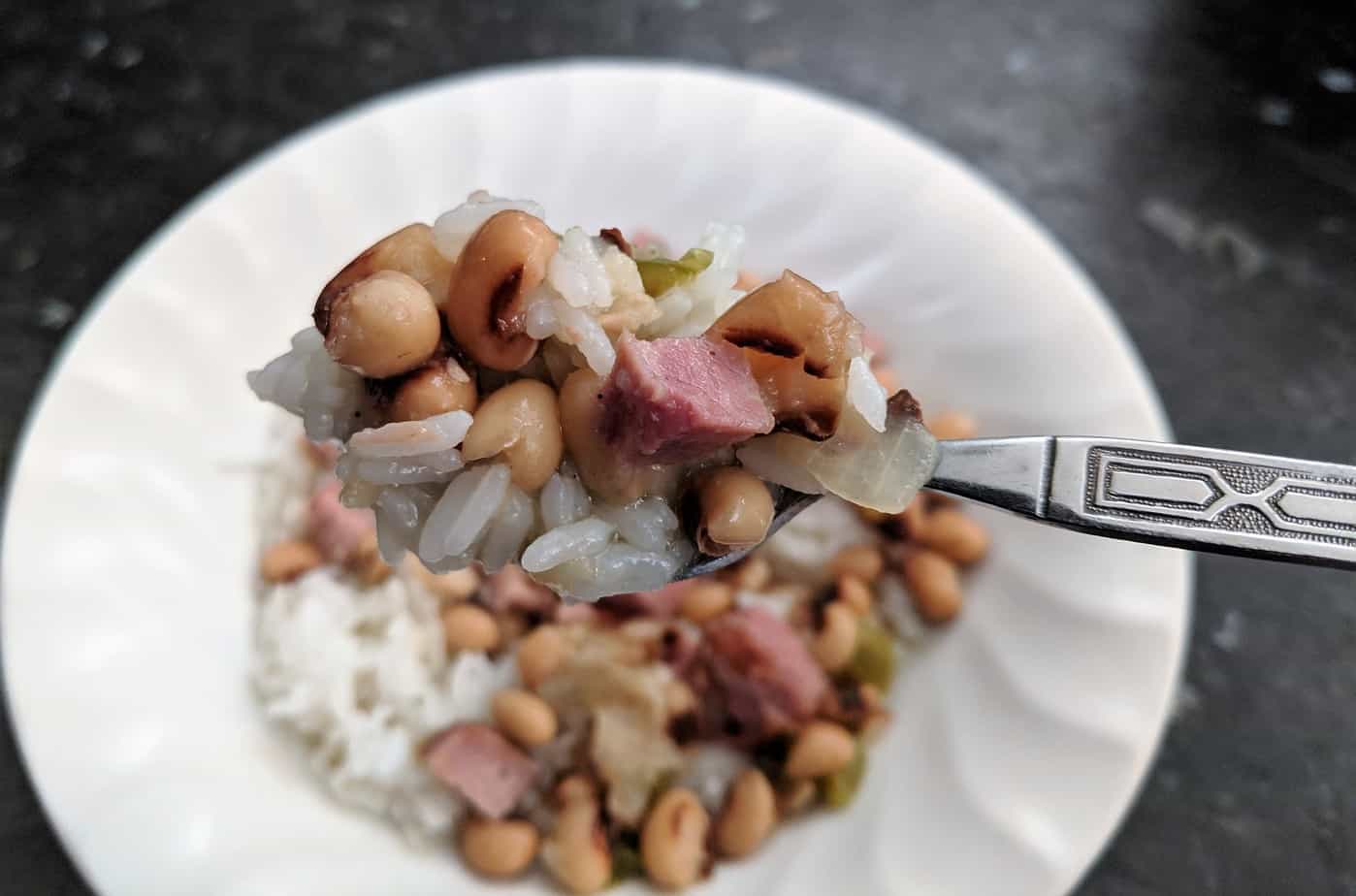 This easy Hoppin' John Recipe is the perfect way to try your hand at cooking soul food!
There are 2 reasons why I absolutely LOVE Hoppin' John!
One reason is how stick-to-your-ribs delicious this dish is!
The 2nd reason is that it is also believed to bring good luck to those who eat it on New Year's Day.
Why?
Well, because two of the main ingredients, black eyed peas and pork, symbolize wealth and prosperity. 
Easy Recipe For Hoppin John
Some consider Hoppin' John to be a side dish, but you can also serve it as your main entree.
Cook a side of greens and some cornbread to go with it and you'll bring yourself even more good luck!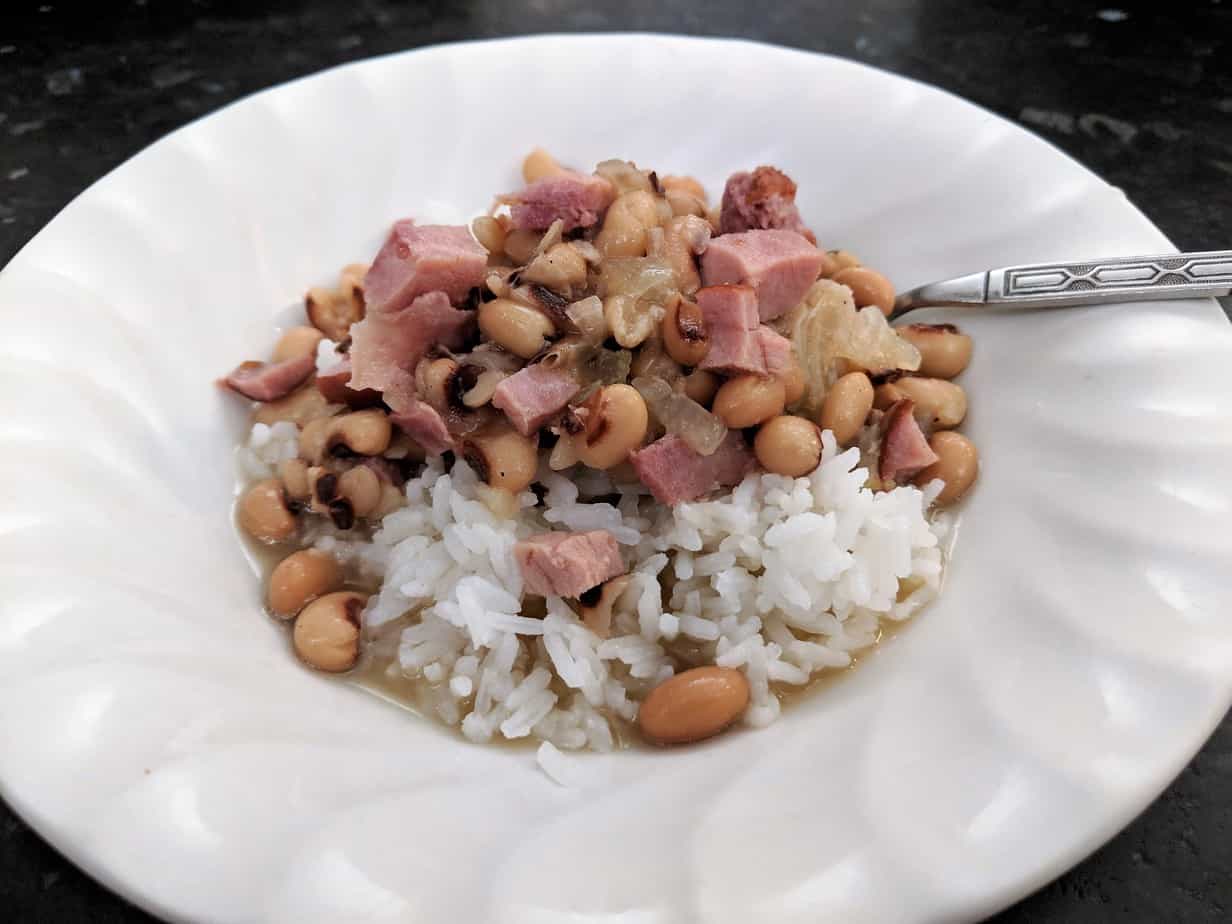 Variations
You can vary this recipe based on your personal preferences.
Some people prefer bacon over ham.
I used a ham hock to give this Hoppin' John recipe a nice hearty, seasoned taste.
Once everything was cooked and ready, I then cut up the ham hock and removed any fatty pieces.
Then, I added it back into the Hoppin' John.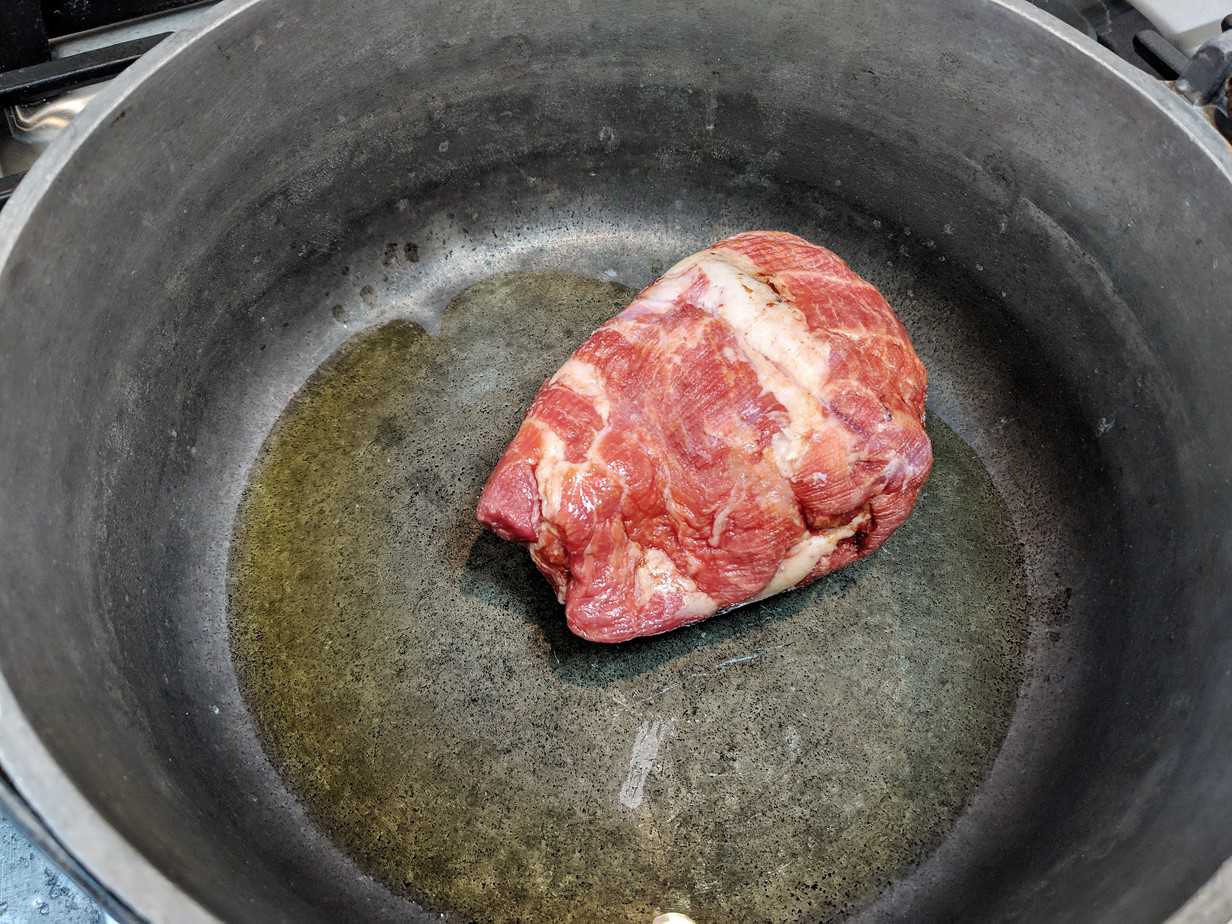 Easy to Make
This recipe is so easy to make and is great on a cold, lazy day, like New Year's Day usually is.
As you can see from the pictures, all of the ingredients are super easy to find and inexpensive.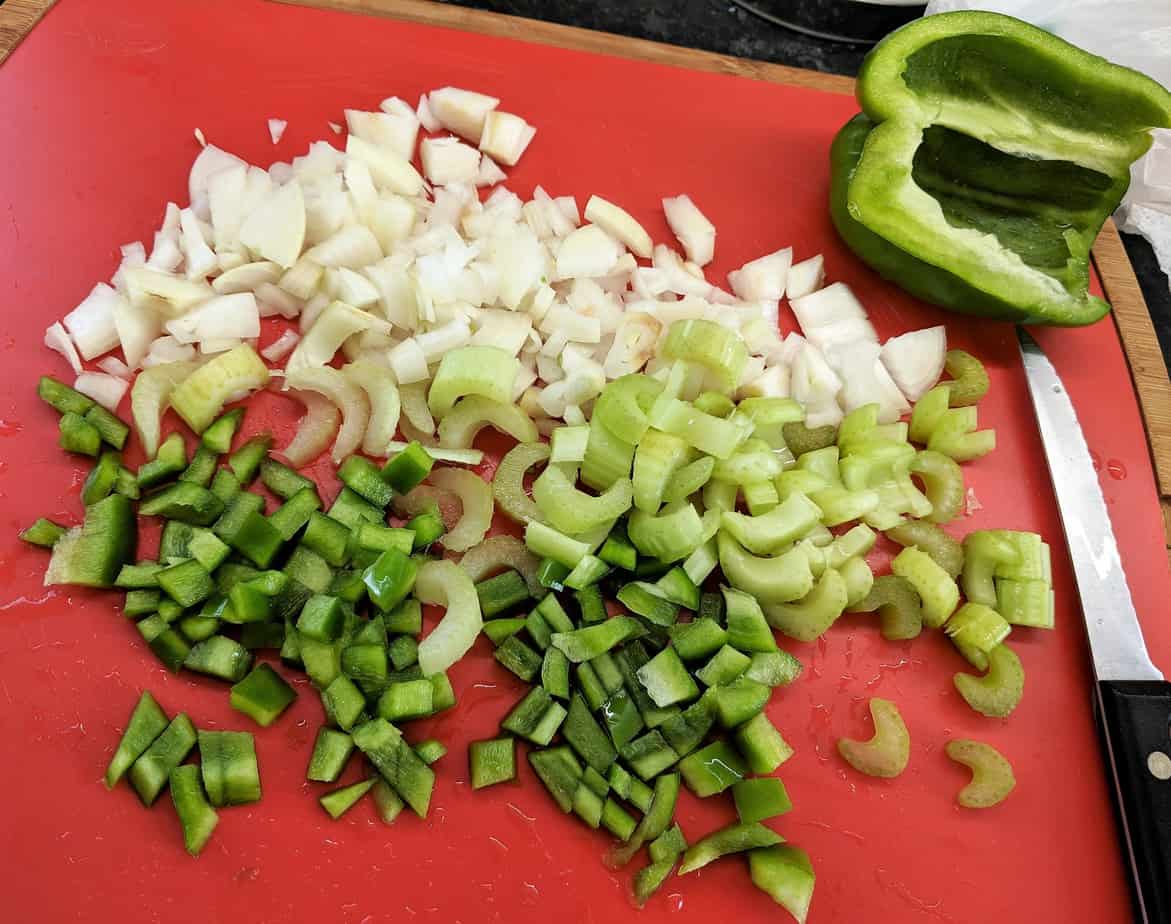 All you need to do is sear the ham hock on all sides in heated olive oil.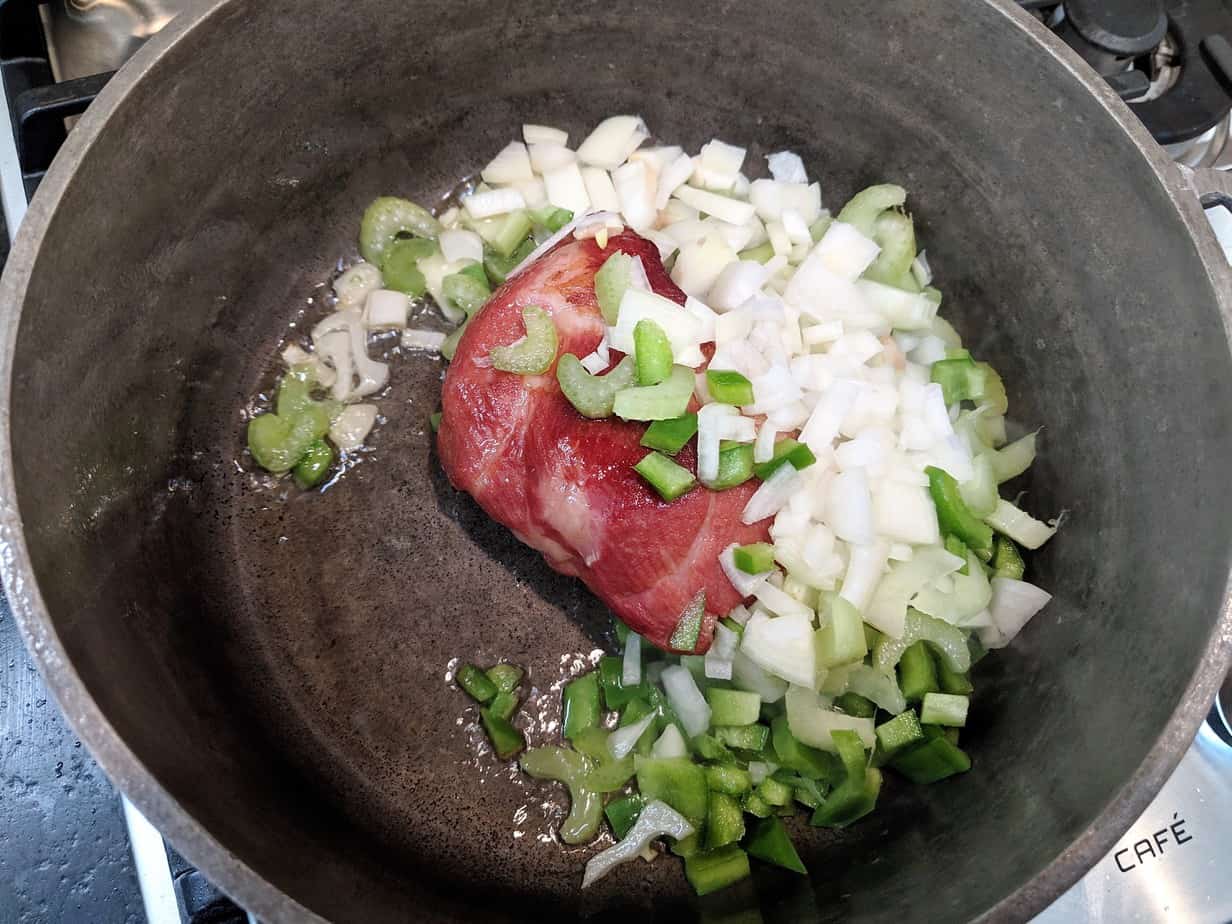 Then add chopped onion, green pepper, and celery.
Let that cook for a few minutes and then add minced garlic.
I then added canned black eyed peas.
Using canned black eyed peas saves the step of cooking dry black eyed peas.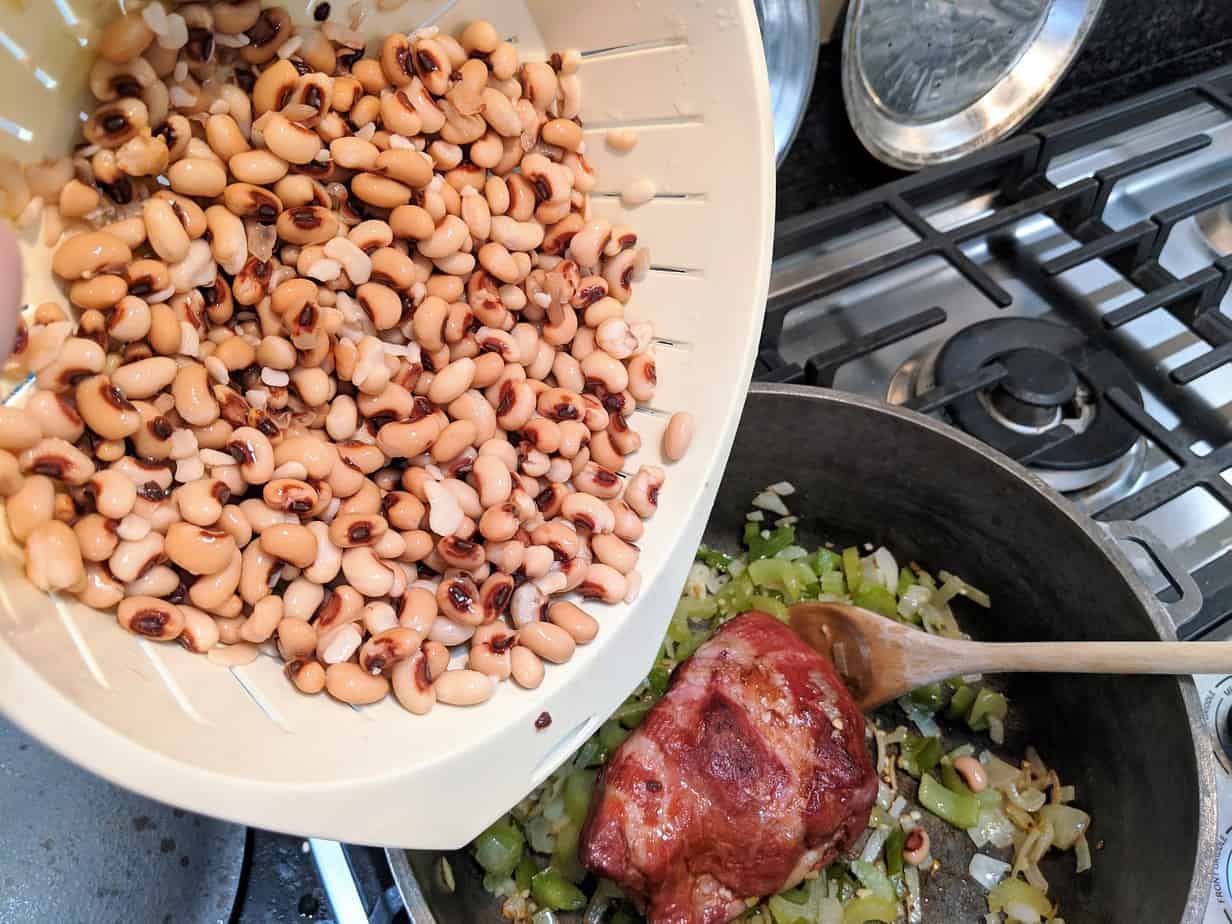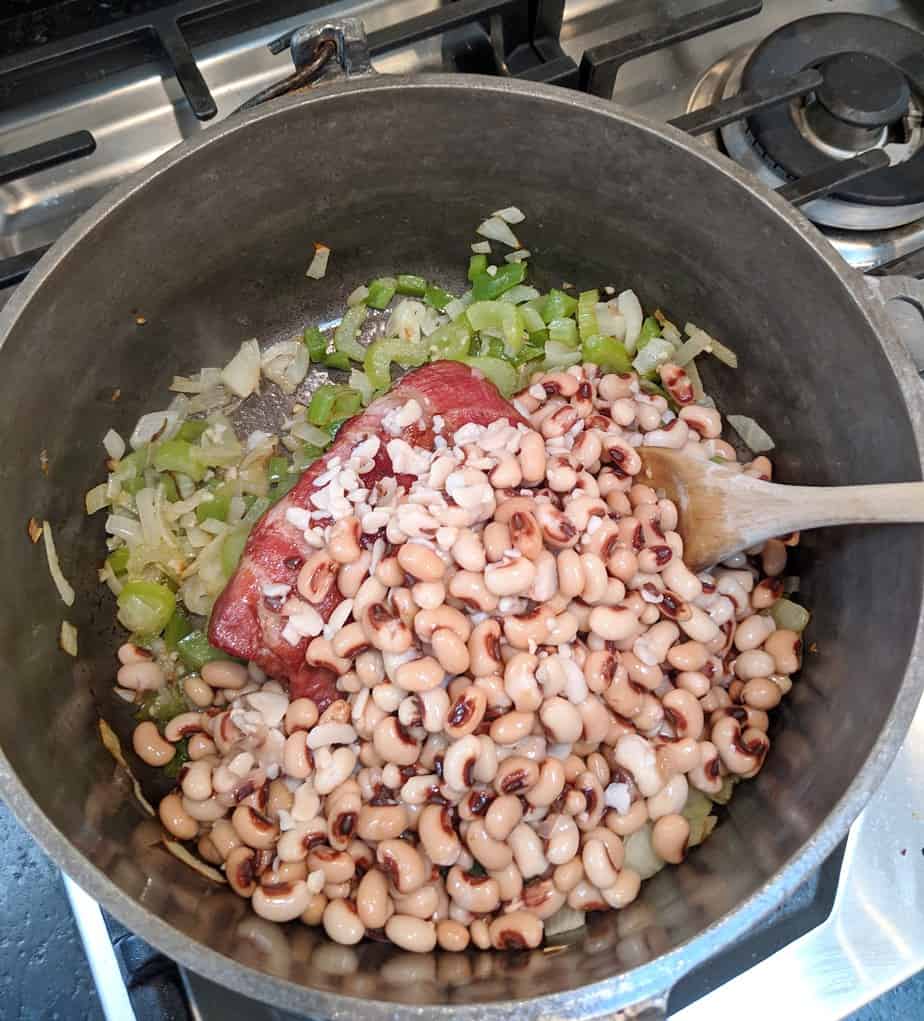 Pour in the chicken broth and let it simmer for a while.
Easy Hoppin' John Recipe
Here's the recipe for you to print out.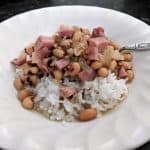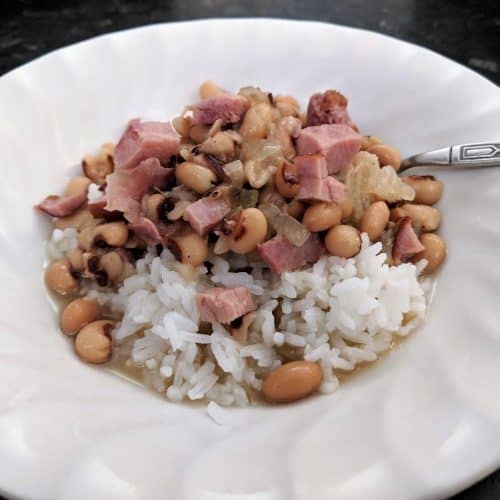 Print Recipe
Easy Hoppin' John Recipe
Delicious, stick-to-your-ribs meal that is also believed to bring good luck to the new year!
Ingredients
1

tbsp

olive oil

1

large ham hock

1

cup

chopped yellow onion

1/2

cup

chopped celery

1/2

cup

chopped green pepper

3

cloves

garlic, finely chopped

I used minced garlic

1

lb

black eyed peas, soaked overnight & rinsed

I used (2) 15.5 oz cans

1

quart

chicken stock

I used (2) 32 oz boxes

1

bay leaf

optional

1 1/2

tsp

dried thyme

To taste

sea salt, pepper, cayenne pepper

As needed

water

1/4

cup

finely chopped green onion

4

cups

cooked white or brown rice

5

thick slices

cooked ham, chopped into bite size pieces
Instructions
Heat olive oil in large stock pot over medium-high heat.

Add ham hock & sear on all sides until nicely browned; a couple of minutes per side.

Add the chopped onion, celery, & green pepper.

Cook for about 4 to 5 minutes until softened.

Stir in the garlic & continue to cook until garlic is fragrant, about 2 minutes.


Add black eyed peas, chicken stock, and spices.

Bring to a boil.

Reduce the heat and simmer for 40 minutes until the peas are creamy & tender, stirring occasionally; adding additional water or chicken stock if necessary.

Remove ham hock and cut into bite size pieces, removing the fatty parts. Then add it back into the stock pot.

Add cooked ham.

Heat through for another 15 minutes.

Stir in the green onions and serve warm over rice.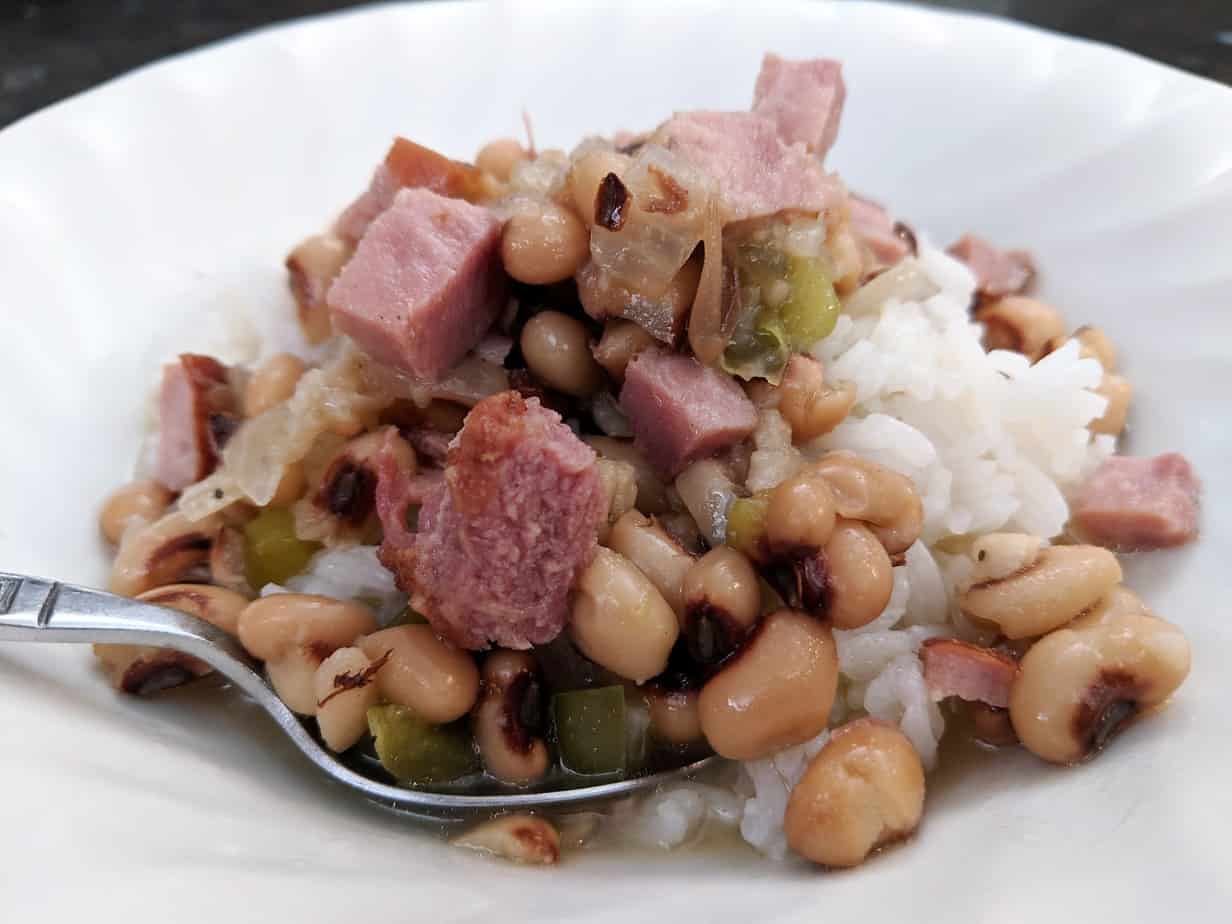 This is the perfect comfort food type dish!
BUT, why save it for just one day out of the entire year?
This dish is so yummy, I'm going to keep it in my recipe circulation for us to eat more often.
Terri's family happened to come over right when it was ready to eat.
So, naturally I offered them a bowl. 
Between the 7 of us, we polished it off except for one bowl's worth, which I'm getting ready to go eat now for lunch!
And, by the way, according to folklore, eating leftover Hoppin' John is called Skippin' Jenny, and that's considered to be good luck as well!
Who knew?
Check out some of our other comfort food recipes, like our Slow Cooker Pork, Carrot, & Chickpea Stew, Hearty Slow Cooker Beef Stew, White Chicken Chili, & Chicken & Dumplings.
Have you ever made Hoppin' John before?
Tell us in the comments how you make it!

Pam is married and has 1 son – a middle-schooler in his teen years. She followed Terri to Frederick in 1999. She absolutely loves going to yard sales and estate sales and finding hidden treasures.
read more...