In our house, whenever the holidays roll around, we get out all of our favorite recipes, including a long-time, through-the-years, family favorite: Nuts and Bolts Recipe.
If you're not familiar with the nuts and bolts recipe, you most likely know it as Chex Mix.
However, our recipe is SO much better than buying a box of Chex Mix.
As a matter of fact, you'll never buy Chex Mix again after eating nuts and bolts.
Nuts and Bolts Recipe
As you can see from the above picture, we make a LOT of nuts and bolts!
Double or even triple it if you're having a large gathering.
This stuff gets eaten quickly, especially right after it's taken out of the oven and it's still warm.
We always keep this in bowls on our island and our coffee table for family members to snack on before dinner is served.
Warning: You will have a hard time walking away from the bowl!
You will notice family members hanging around the bowls, acting as if they're in a trance, continually eating it.
But don't worry, this is normal!
Variations to the Recipe
Something I love about this recipe is that you can change up the ingredients.
If you're not crazy about pretzel sticks, use pretzel pinwheels.
Or, don't use pretzels at all.
Hey! It's your prerogative!
Don't like cashews and absolutely LOVE almonds?
Then just use almonds and don't use mixed nuts.
I've seen others use goldfish crackers and/or cheese-its in the recipe.
Do you love the pieces that soak up the Beau Monde seasoning?
Here's a secret: Not sure why, but the Wheat Chex absorbs this seasoning the most, so add more Wheat Chex and less of the other cereals.
There's so much you can do with this recipe to make it exactly how you like it!
And don't just save it for the holidays.
This stuff is great for football games, on-the-go snacks, and any gathering you're invited to where you're asked to bring a dish.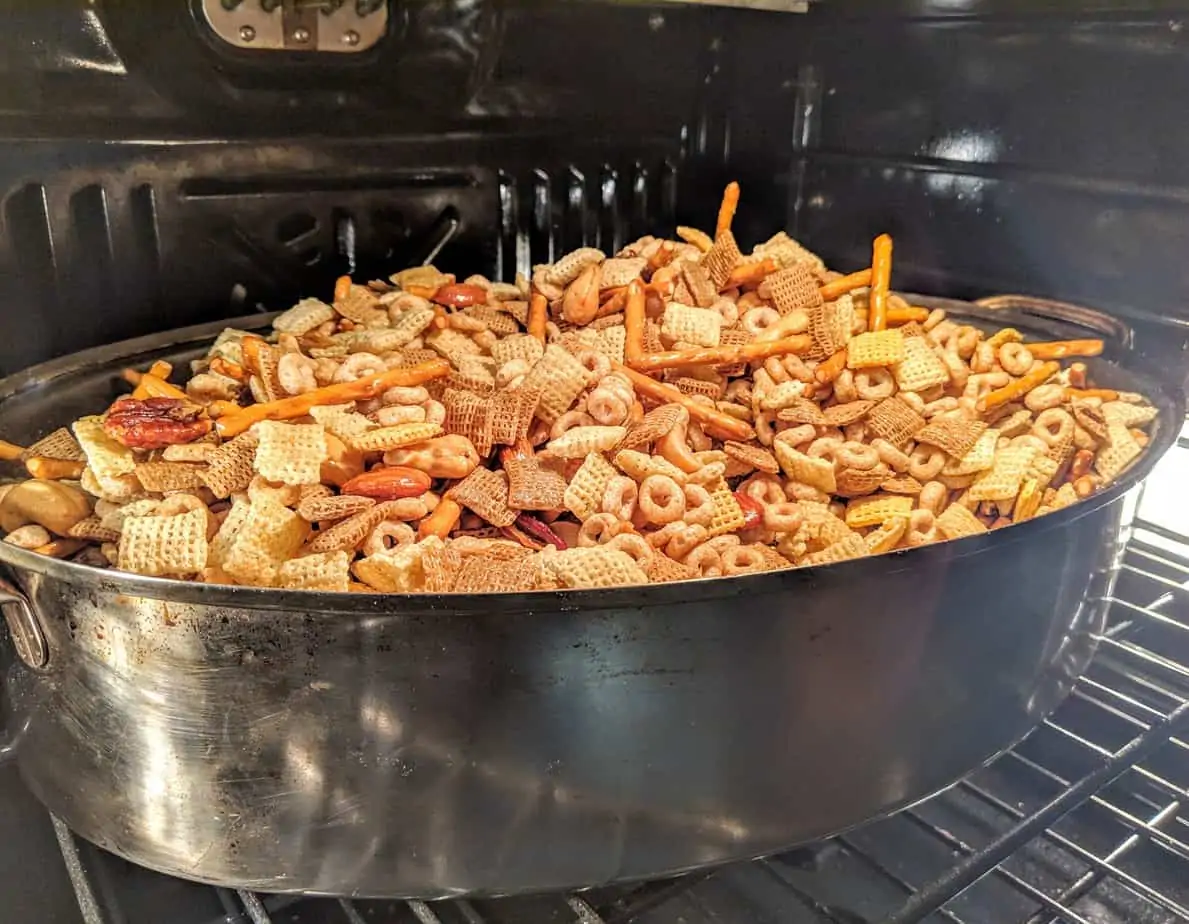 I'll give you one last tip: Save a secret batch for yourself!
You'll thank me later!
What is your family's tried-and-true, go-to snack recipe for the holidays?
Tell us in the comments!
The Recipe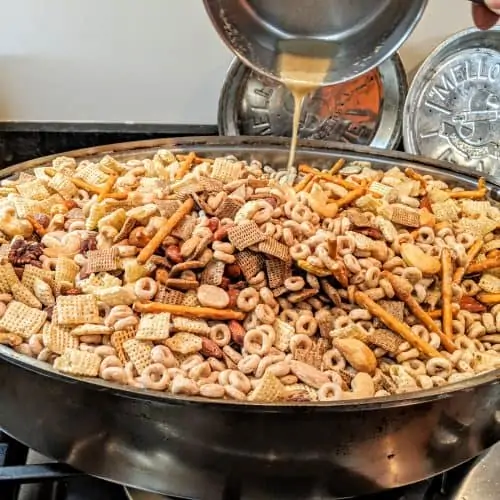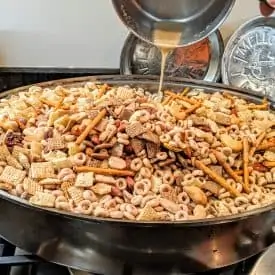 Nuts and Bolts Recipe
A homemade, better version of Chex Mix. Eat it warm right out of the oven and serve it throughout the holidays. Your guests will keep asking for more!
Ingredients
½

box Cheerios

½

box Wheat Chex

½

box Rice Chex

½

box Pretzels

1 to 1 1//2

cups

Mixed Nuts

3

teaspoons

Beau Monde Seasoning

¼

lb

butter (1/4 lb = 1 stick)

½

cup

peanut oil
Instructions
Combine Cheerios, Wheat Chex, Rice Chex, Pretzels, and Mixed Nuts in a large roasting pan.

Mix well.

In a separate bowl, blend Beau Monde Seasoning with melted butter and peanut oil.

Pour seasoning blend over dry mix and blend well with a large plastic spoon.

Bake at 200 degrees F for 1 1/2 hours, mixing occasionally.

Enjoy!
For other crowd pleasers in my circle of family and friends, check out my
Bacon, Cheese & Mushroom Chick-Fil-A Chicken Nuggets
Stuffed Mushrooms, Jimmy Dean Style.