Simple Chicken & Dumplings – 9 Weight Watchers Points Plus Value
Chicken & Dumplings happens to be one of my husband's favorite dishes.  
For some reason, I don't think to make it very often.  
I guess I've always thought that it was too time consuming and complicated, especially when making the dumplings.  
I was wrong.
The Perfect Comfort Food
This particular recipe is very simple to make and the epitome of comfort food.
My initial reason for making chicken & dumplings was not only because I hadn't made it in a while and my husband loves it, but also because we had some thawed out chicken breasts in the refrigerator for a couple of days.
If I didn't do anything with them on this particular day, I would have had to throw them out.  
I thought, I could make some sort of soup, or stew……..oh yeah! Chicken & Dumplings!  
And I happened to have all of the ingredients on hand.  
I made it and my husband fell in love with me all over again.  
The way to a man's heart TRULY is through his stomach!
A Great Go-To Recipe
I decided to make this recipe again about a week later because I thought it would be a great dish to bring to a very sick friend whose family is in my prayers and in need of some help with meals.
Simple Chicken & Dumplings Recipe
So, here is the recipe for Simple Chicken & Dumplings: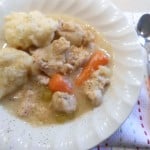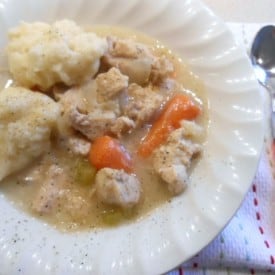 Print Recipe
Simple Chicken & Dumplings – 9 Weight Watchers Points Plus Value
9 Weight Watchers Points Plus Value
Ingredients
- 1

32 ounce container chicken broth

- 4 skinless

boneless chicken breast halves, cubed, or more as needed

- 1 onion

chopped

- 1/2

16 ounce package baby carrots

- 2 stalks celery

chopped

- 1 bay leaf

I omitted this, but if you like bay leaves, go for it

- Salt & ground black pepper to taste

- 1 1/2 cups all-purpose flour

- 3 t. baking powder

- 1 1/2 t. white sugar

- 3/4 t. salt

- 1 1/2 T. butter

- 3/4 cup milk
Instructions
Combine chicken broth, chicken breast cubes, onion, carrots, celery, bay leaf (optional), salt, and pepper in a large pot; bring to a boil. Reduce heat, cover pot, and simmer until chicken is no longer pink in the center and the vegetables are tender, 20 to 25 minutes.

Stir together flour, baking powder, sugar, and salt in medium size bowl. Cut in butter until crumbly. Stir in milk to make a soft dough.

Drop the dough by spoonfuls into simmering stew. Cover and simmer 15 minutes without lifting lid.

Enjoy!
Notes
9 Weight Watchers Points Plus Value per serving
Note: This post contains affiliate links. That means if you click on a link and make a purchase we may receive a small commission. Thank you!
Get a Good Quality Stockpot
If you're looking for a good quality stockpot, Cuisinart makes a really nice one.
Based on 576 reviews as of this update, this pot has 4 1/2 stars: Cuisinart 766-26 Chef's Classic 12-Quart Stockpot with Cover
To read in writing that this recipe was very good, totally does it an injustice.  
You seriously have to try it yourself to really know how good it is.  
It's so simple, it's almost ridiculous, but it creates heaven in a bowl.  
I couldn't wait to eat the leftovers the next day for lunch.
Only 9 Weight Watchers Points Plus Value
Another great thing that I realized after calculating the Weight Watchers Points Plus Value, is that each serving totals up to only 9 points.
That is pretty darn good for a nice size bowl of Chicken & Dumplings.  
I just figured that it would be too fattening.
But the only fattening part of this dish is the dumplings, which is probably the bulk of the 9 points per serving.
Inexpensive to Make
An added bonus to making this dish is that it's relatively inexpensive too.  
I know, nothing is cheap these days and grocery store prices are skyrocketing, but in the big scheme of things, this meal is so much cheaper to make than other meals you could make.
AND, if it makes your husband so happy that he gazes at you adoringly after he eats it, then all the better!

Pam is married and has 1 son – a middle-schooler in his teen years. She followed Terri to Frederick in 1999. She absolutely loves going to yard sales and estate sales and finding hidden treasures.
read more...