This recipe for easy Chicken and Dumplings just happens to be my husband's and son's favorite dish!
Whenever I tell them I'm making it for dinner they both say 'Oooooh, yes!'
And being that it's WW friendly, 3 WW SmartPoints (Blue Plan & Purple Plan) & 5 WW SmartPoints (Green Plan), ya just can't lose with this healthy dinner recipe!
Easy Chicken and Dumplings
I don't know why, but for some reason I just don't make this dish often enough.
I guess I've always thought that it was too time consuming and complicated, especially when making the dumplings.
However, that is so far from the truth!
All it takes is some pre-cooking of the chicken, chopping it up into bite size pieces, and then adding the other ingredients.
The dumplings are the very last step of the process and they're super easy to whip together!
The Perfect Comfort Food: Easy Chicken and Dumplings – 3 WW SmartPoints
This particular recipe is very easy to make and is the epitome of comfort food.
This article, 5 Reasons Why We Crave Comfort Foods, explains "There is a strong link between scents and emotional memory. The smell of foods can evoke vivid and detailed emotional memories of our past. Our learning history predisposes us to enjoy certain foods."
Bingo! That's exactly why chicken and dumplings is a comfort food for me and my husband.
Both of our mothers used to make it when we were kids.
We fondly remember it as a meal that brought our families together to the dinner table for a good, hot, stick-to-your-ribs meal.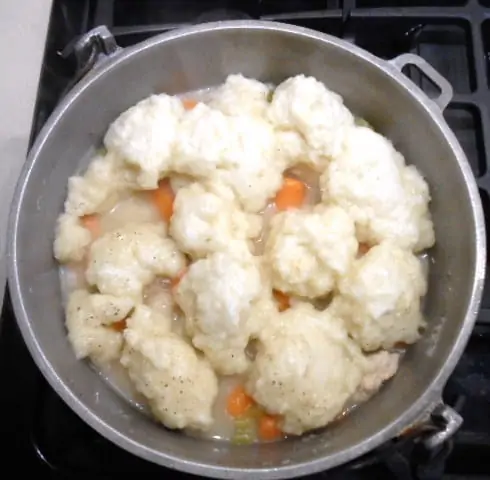 Are Chicken and Dumplings Healthy?
Yes, chicken and dumplings are totally healthy!
That is, as long as you're not eating more dumplings than the chicken & veggies!
As long as you keep your chicken-veggie-dumpling ratio to be 3/4 chicken & veggies and 1/4 dumplings, you're eating a good and healthy meal!
Ingredients that you most likely already have at home
Not only was I making chicken and dumplings because I hadn't made it in a while and my family loves it, but also we had some thawed out chicken breasts in the refrigerator for a couple of days.
Therefore, If I didn't do anything with them on this particular day, I would have had to throw them out.
So, I thought, hmmm, I could make some sort of soup, or stew…Oh yeah! Chicken and Dumplings!
In addition, I just happened to have all of the ingredients on hand.
I made it and my husband magically fell in love with me all over again.
That old saying that the way to a man's heart is through his stomach really does ring true!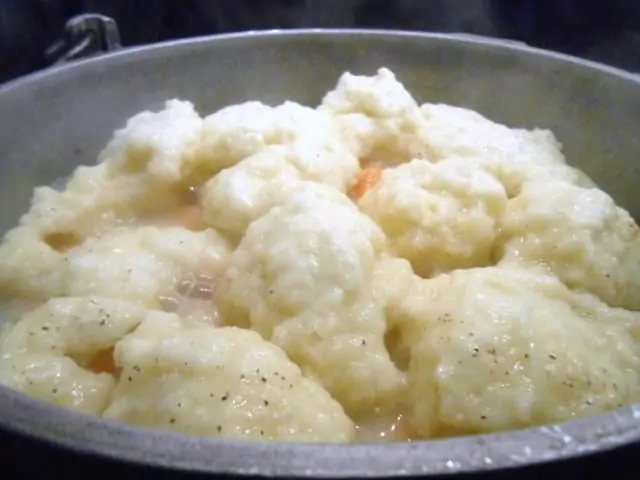 How To Make Easy Chicken and Dumplings
I decided to make this recipe again about a week later.
I thought it would be a great dish to bring to a very sick friend whose family is in my prayers and in need of some help with meals.
It was very much appreciated by my friend and made me feel really good that I could help them out in this way.
Ingredients
As you can see from the below list of ingredients, this recipe calls for most, if not all, items you already have in your pantry and refrigerator.
Chicken Broth
Chicken
Onion
Carrots
Celery
Salt
Pepper
Flour
Baking Powder
Sugar
Butter
Milk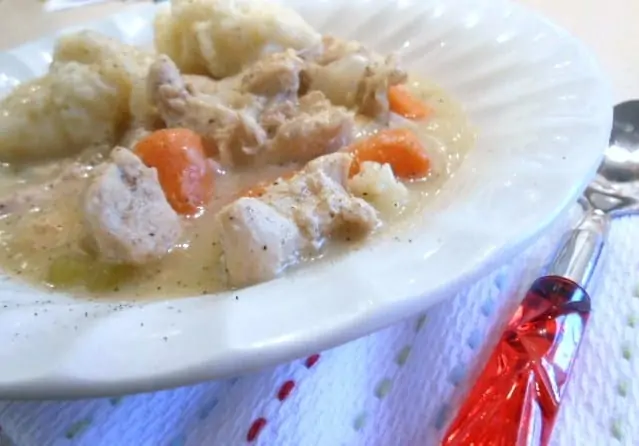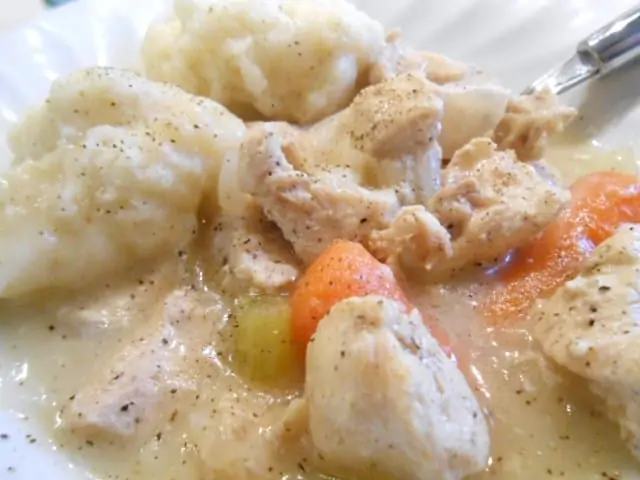 Get a Good Quality Stockpot
You'll need a good quality stockpot to make this recipe.
In addition, stockpots are great to have on hand whenever you want to boil corn on the cob, steam crabs, or make a nice big pot of soup or stew.
So, if you're looking for a good quality stockpot, Cuisinart makes a really nice one.
Based on 576 reviews as of this update, this pot has 4 1/2 stars: Cuisinart 766-26 Chef's Classic 12-Quart Stockpot with Cover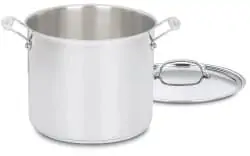 Delicious Chicken and Dumplings Recipe
This recipe is absolutely delicious!
You seriously have to try it yourself to really know how good it is.
It's so simple, it's almost ridiculous, but it creates heaven in a bowl.
I couldn't wait to eat the leftovers the next day for lunch.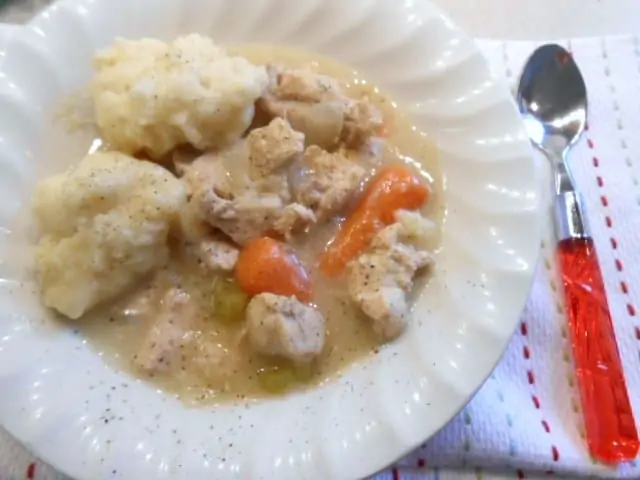 Only 3 WW SmartPoints
Another great thing that I realized after calculating the WW SmartPoints, is that each serving totals up to only 3 WW SmartPoints for the Blue & Purple Plan & 5 WW SmartPoints for the Green Plan.
That is pretty darn good for a nice size bowl of chicken and dumplings.
I just figured that it would be too fattening.
But the only fattening part of this dish is the dumplings, which is probably the bulk of the WW SmartPoints per serving.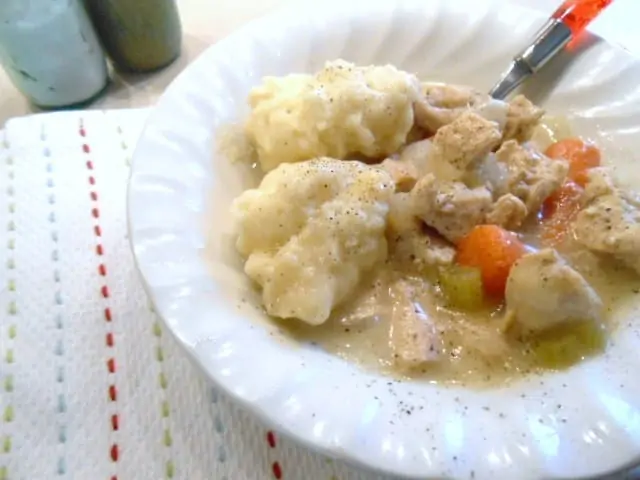 Easy Chicken and Dumplings Recipe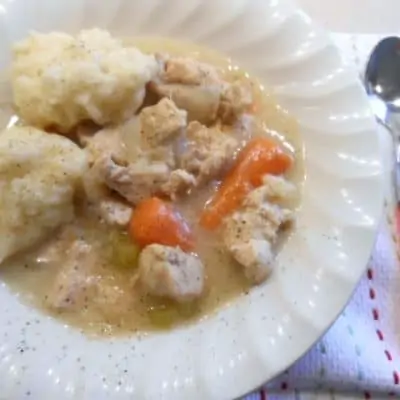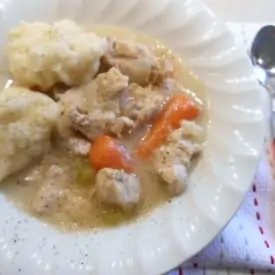 Easy Chicken and Dumplings – 3 WW SmartPoints
This stick-to-your-ribs, comfort food in a bowl is not only delicious but also only 3 WW SmartPoints (Blue Plan & Purple Plan) & 5 WW SmartPoints (Green Plan)
Ingredients
32

ounces

Chicken Broth

4

Skinless boneless chicken breast halves, cubed, or more as needed

1

Onion, chopped

8

ounces

Baby carrots

2

stalks

Celery, chopped

1

Bay leaf, optional

Salt & Pepper to taste

1 ½

cups

All-purpose flour

3

tsp

Baking powder

1 ½

tsp

White sugar

¾

tsp

Salt

1 ½

tbsp

Butter

¾

cup

Milk
Instructions
Combine chicken broth, chicken breast cubes, onion, carrots, celery, bay leaf (optional), salt, and pepper in a large pot; bring to a boil. Reduce heat, cover pot, and simmer until chicken is no longer pink in the center and the vegetables are tender, 20 to 25 minutes.

Stir together flour, baking powder, sugar, and salt in medium size bowl. Cut in butter until crumbly. Stir in milk to make a soft dough.

Drop the dough by spoonfuls into simmering stew. Cover and simmer 15 minutes without lifting lid.

Enjoy!
Notes
3 WW SmartPoints (Blue Plan & Purple Plan)
5 WW SmartPoints (Green Plan)
Inexpensive to Make
Lastly, an added bonus to making this dish is that it's relatively inexpensive.
I know, nothing is cheap these days and grocery store prices are skyrocketing.
But in the big scheme of things, this meal is so much cheaper to make than other meals you could make.
AND, if it makes your husband so happy that he gazes at you adoringly after he eats it, then all the better!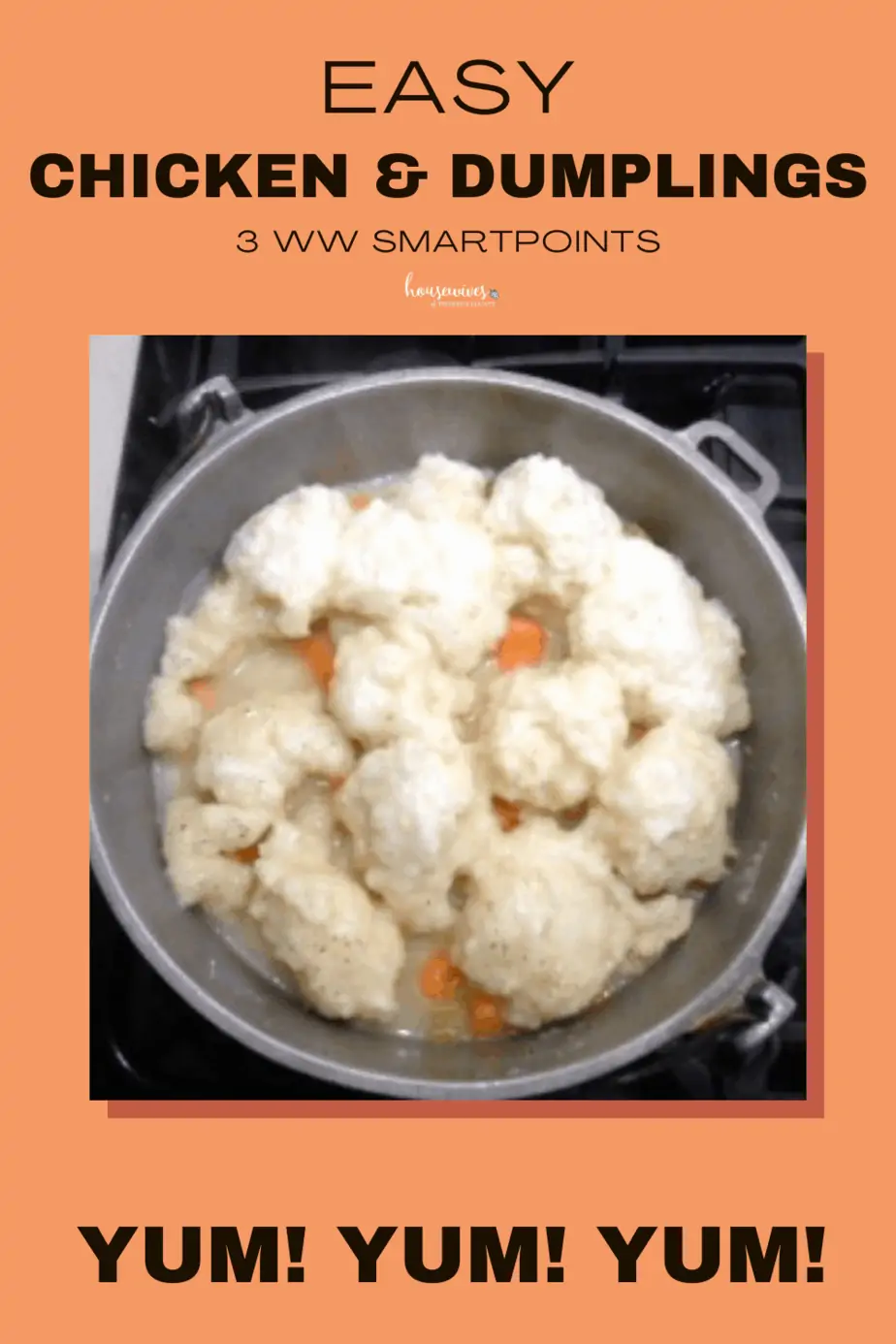 If you're looking for more delicious, easy to make comfort food recipes, check out our posts on: