These cauliflower fritters will totally satisfy your craving for a tasty, breaded treat!
What's even better is that using almond flour and cauliflower in place of white flour and corn will save you a ton of carbs!
Cauliflower Fritters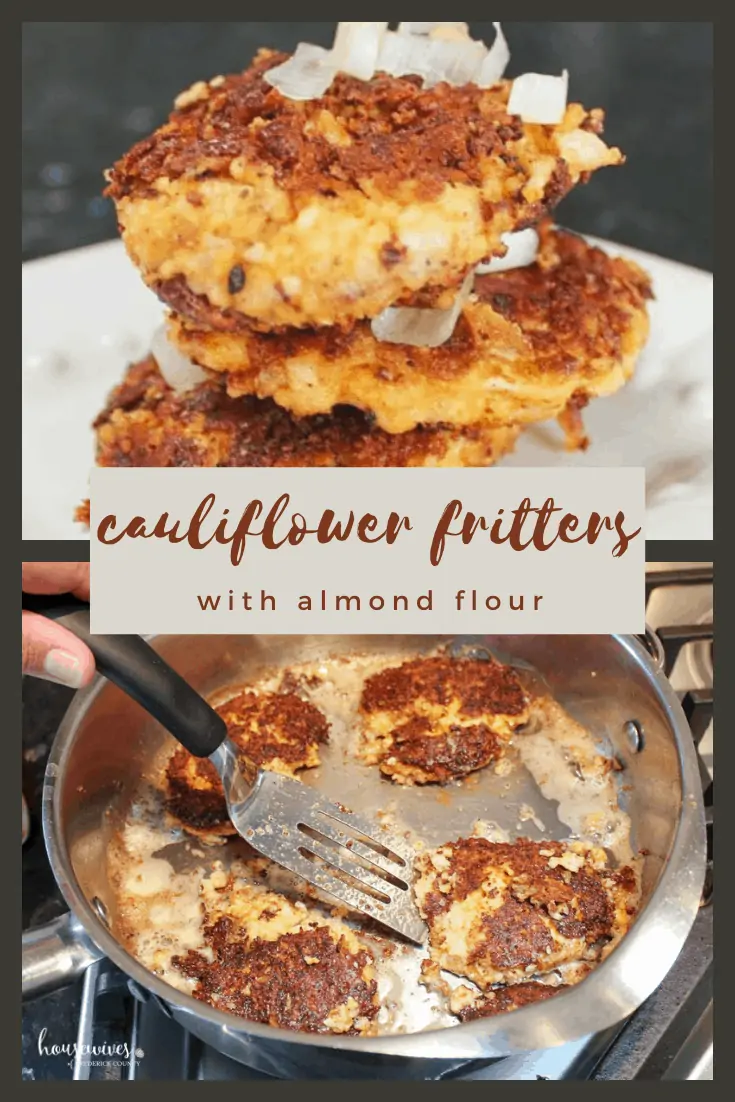 So I've had roasted cauliflower steaks, cauliflower rice, loaded mashed cauliflower, and just plain old steamed cauliflower with some butter and salt & pepper.
However, I've never had cauliflower fritters until now!
And do you know why I love cauliflower so much?
Well, it's because I'm on a 'don't-you-dare-eat-starches-or-carbs' diet.
I crave rice and fried things like nobody's business and I thank the good Lord above for cauliflower!!
So when I found this recipe on a site called The Keto God, the photos alone made me drool!
I needed these fritters in my life!
Ingredients
It's getting easier and easier these days to find almond flour in most grocery stores because of the popularity of low carb and keto recipes.
That along with a head of cauliflower, shredded cheddar cheese, eggs, scallions, butter, salt, & pepper, you can whip these fritters up in no time.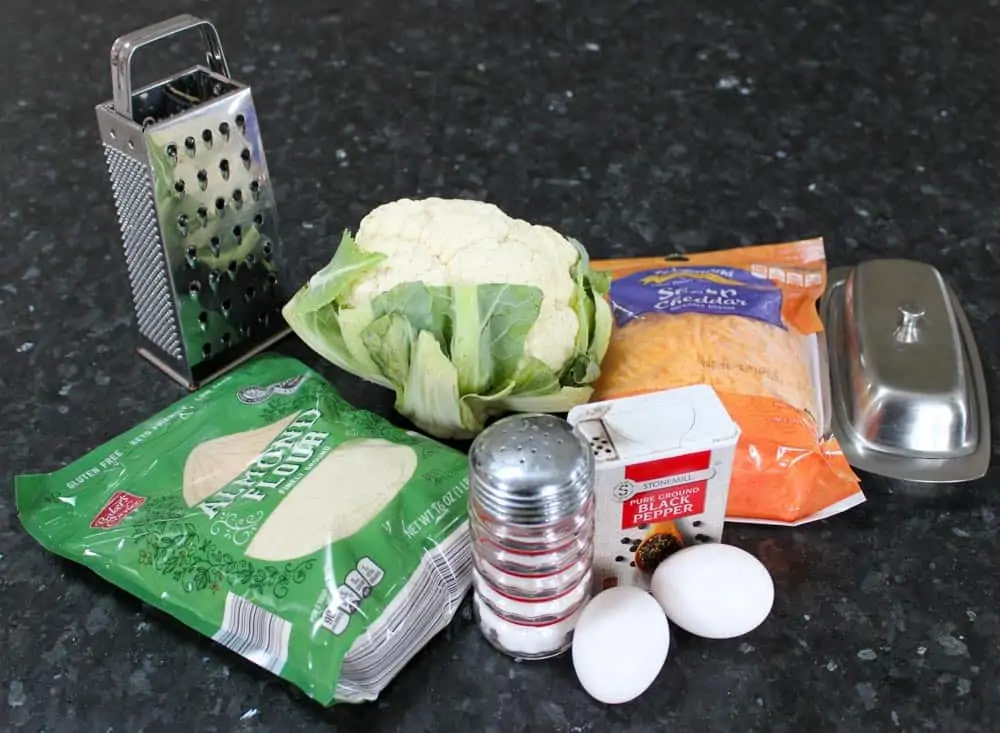 How To Make Cauliflower Fritters
I followed The Keto God's recipe exactly because I wanted mine to taste as good as hers look in her photos.
However, the next time I make these, I will most likely buy the already riced cauliflower.
It's just a little time saver that I honestly don't think will negatively affect the recipe in any way.
Step 1. Riced Cauliflower
But if you would prefer to rice your own cauliflower, you can either use a box shredder (Amazon) like the one pictured below or a food processor.
After ricing the cauliflower, you'll need to use a nut milk bag (Amazon) or cheese cloth (Amazon) to squeeze the moisture from the grated cauliflower.
The reason you don't want the excess moisture is because your fritters won't stick together.
Gotta be honest, I had to put in some elbow grease to shred the cauliflower.
I think I need to lift some weights. Jeesh!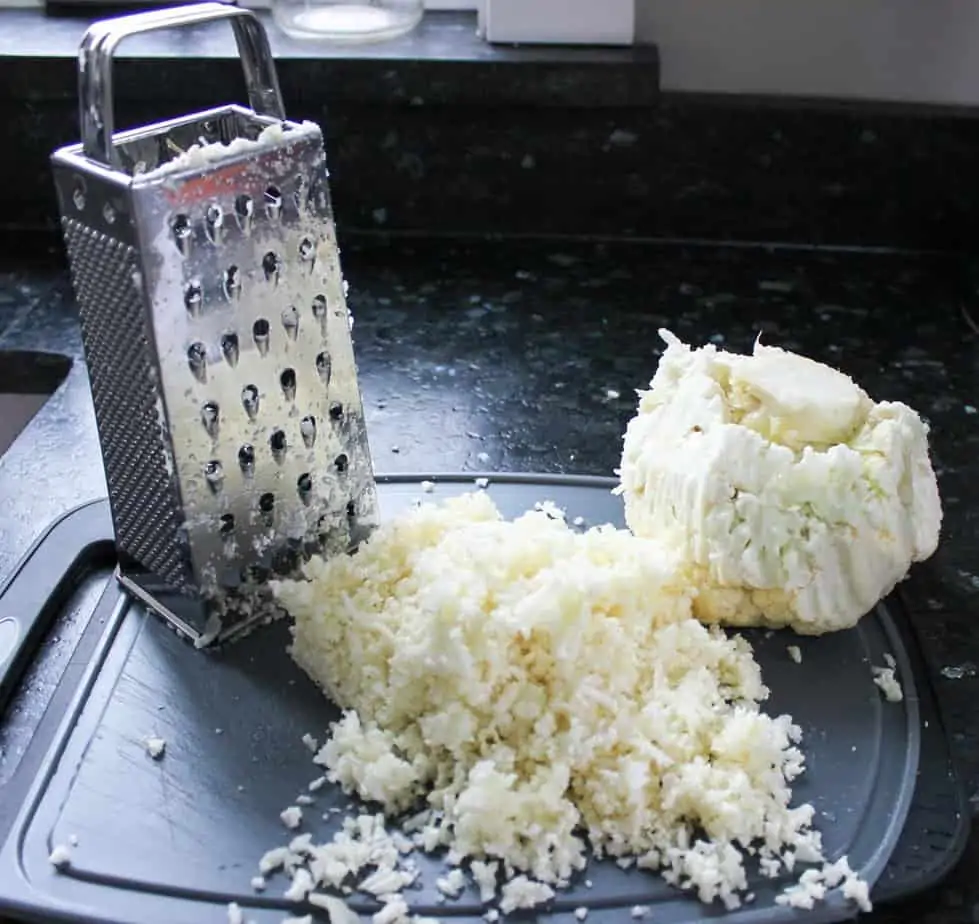 I didn't have a cheese cloth or nut milk bag (didn't even know what that was until I looked it up on Amazon).
So, I used one of my thin dish cloths and pressed it onto the riced cauliflower in my mesh stainless steel strainer.
Again, next time I think I'll skip these steps and buy already riced cauliflower.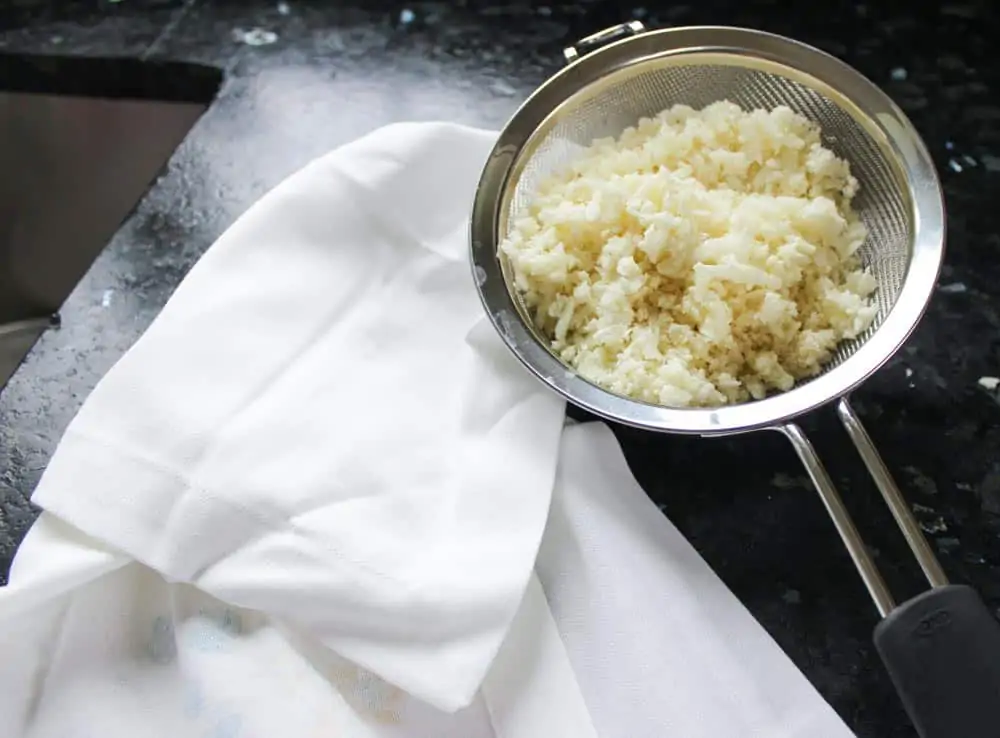 Step 2: Combine All Ingredients
This part is super easy.
Just get a large bowl and combine your riced cauliflower, cheese, almond flour, eggs, salt, & pepper.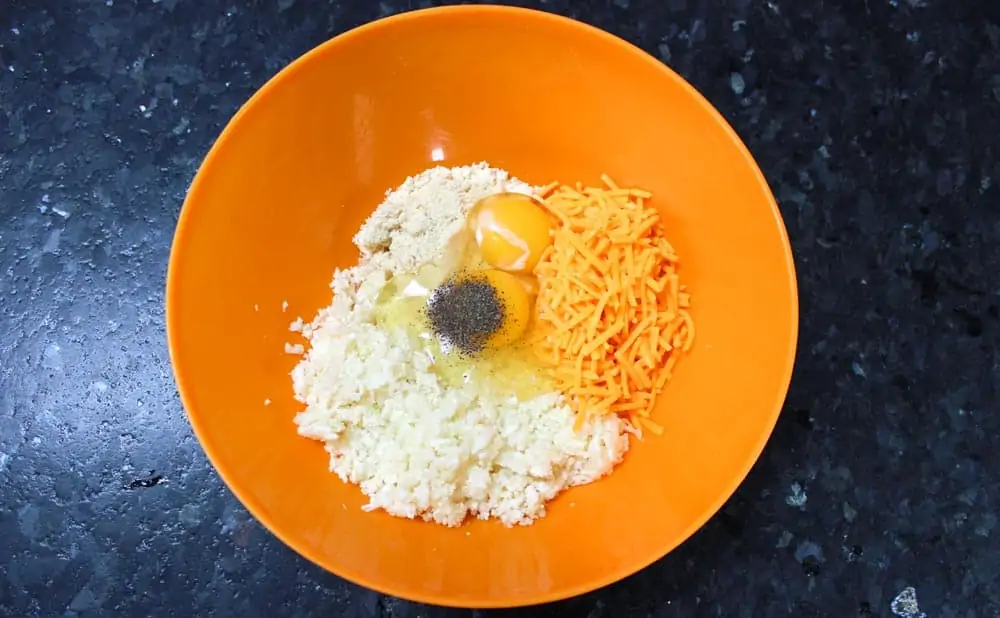 Mix well until everything is blended together.
Step 3: Heat Frying Pan & Scoop 1/4 Cup Size Portions
Add your butter to the fying pan and allow to melt gradually over medium heat.
When the butter is melted, measure out 1/4 cup portions using a stainless steel measuring cup (Amazon) like the one pictured.
Plop your 1/4 cup portions into the frying pan and gently flatten with a spatula.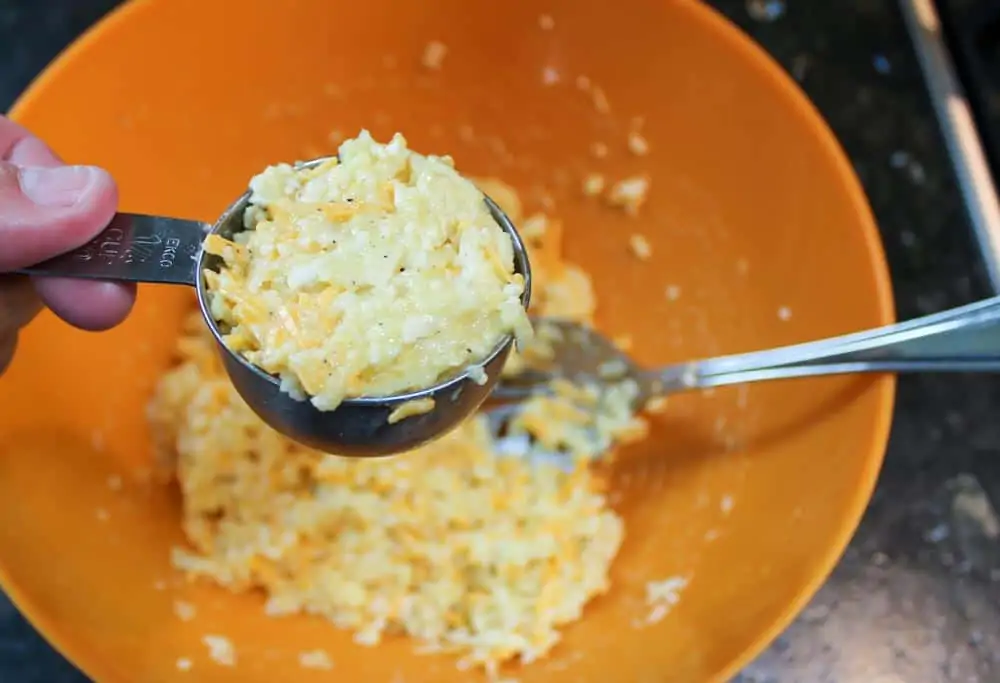 Step 4: Cook Cauliflower Fritters
Okay, so here's a really important tip that you need to know!
You'll be cooking your cauliflower fritters for approximately 5 minutes on each side.
Important: use a small stainless steel turner (Amazon) to gently slide underneath each fritter constantly while they're cooking.
If you don't do this, the cheese will stick to your pan like glue, even with the melted butter.
I know this because I did it.
I let the fritters cook for the entire 5 minutes and went to flip them over and they were seriously stuck in the pan.
Luckily, I was able to salvage them and flip them over.
Another pro tip: place the fritters in the center of the frying pan so it's easier to get under them with your turner.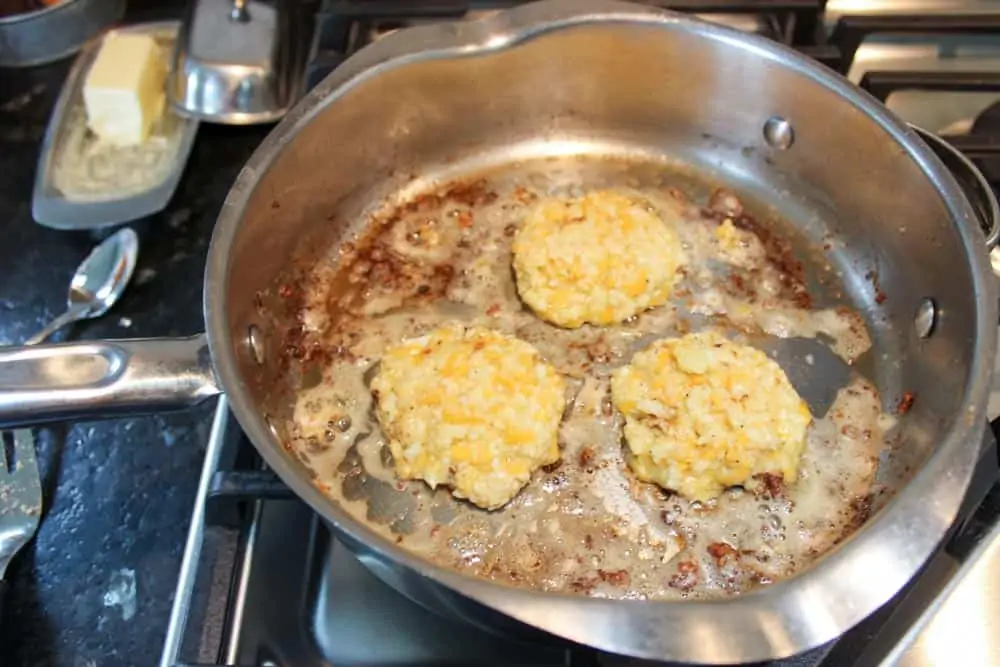 As you can see in the photo below, I learned my lesson and kept an eagle eye on the fritters, using the turner to keep them from sticking to the pan.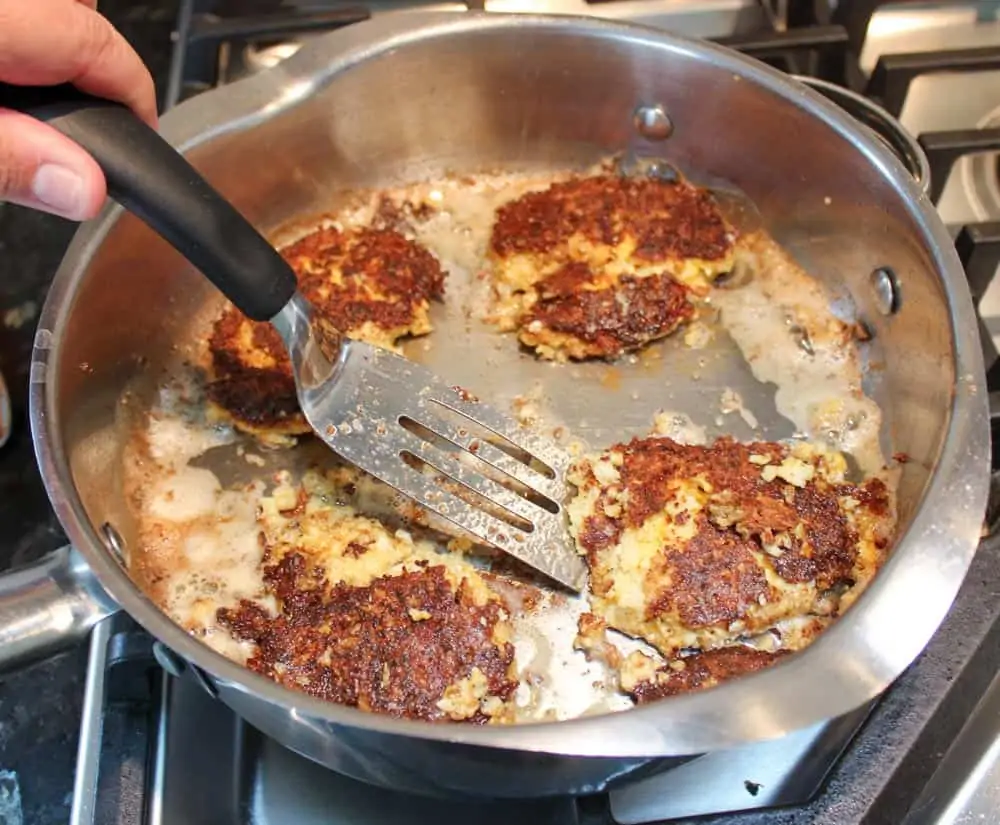 Step 5: Place Cooked Cauliflower Fritters On Paper Towels
This will get rid of the excess grease while keeping your fritters nice and crispy!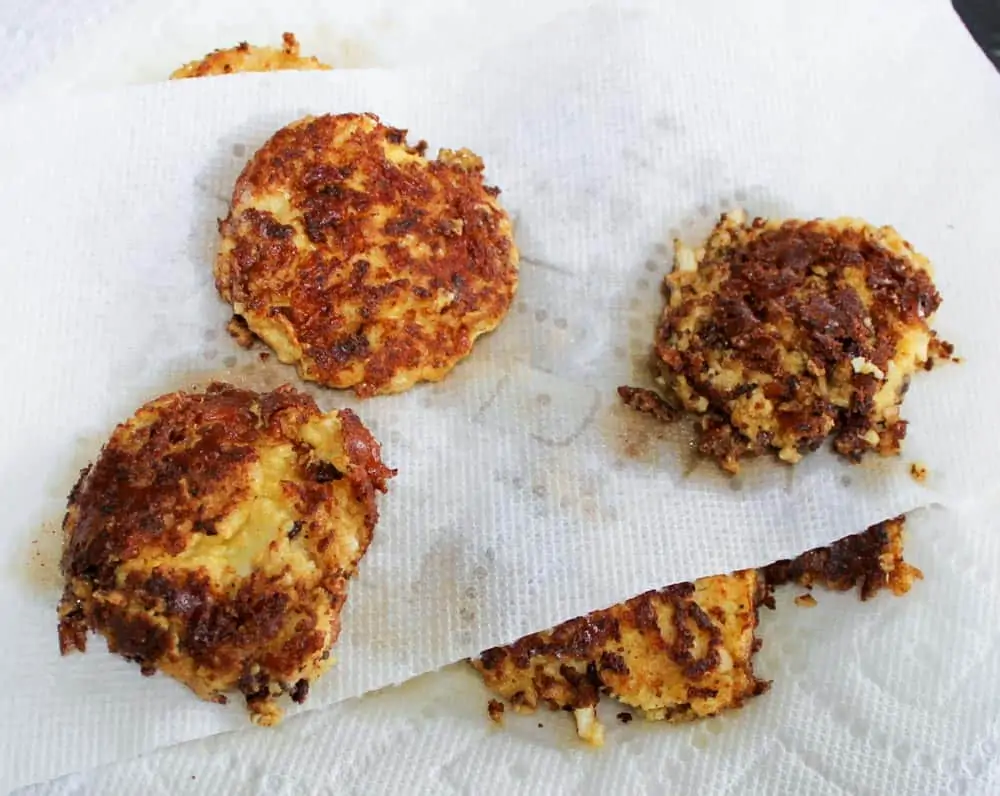 And voila! Your cauliflower fritters are ready to eat!
Just slice up some scallions to throw on top and you're good to go!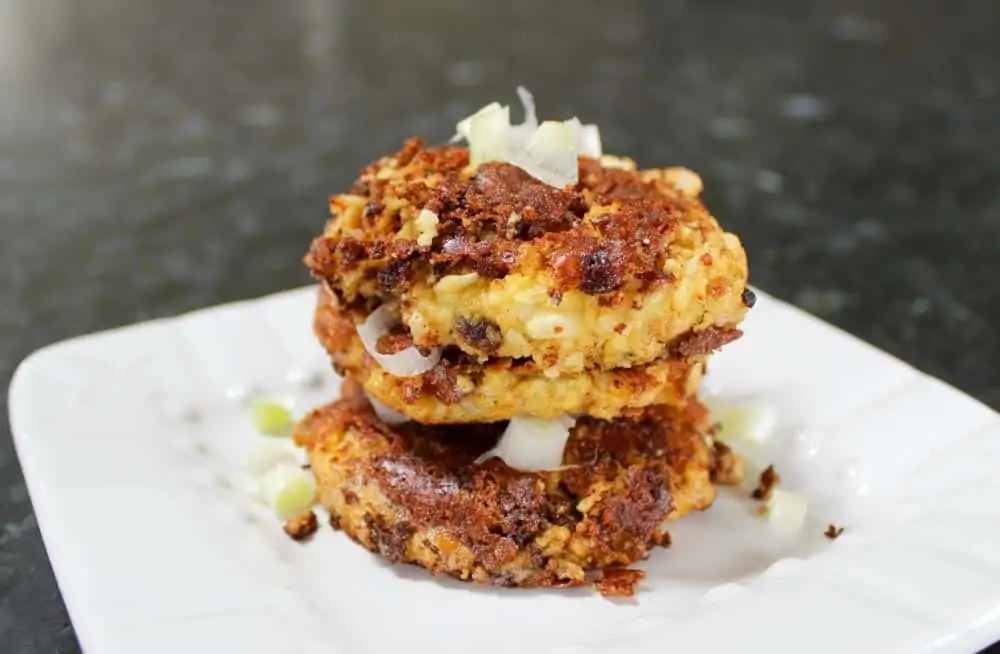 Oh my gosh, this recipe makes some delicious fritters!
I actually love that they're not spicy.
However, if you're into more of a kick, you can add your favorite spices to the fritter mixture before frying them.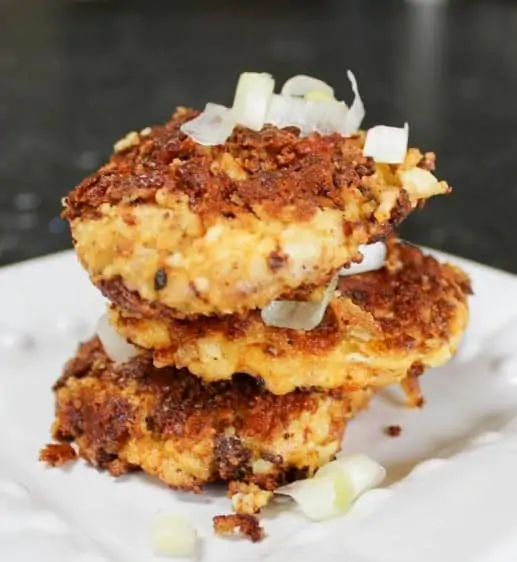 These cauliflower fritters are great as an appetizer or a side dish at dinner.
They'd also be great with a dipping sauce, like some sour cream or my homemade tzatziki sauce. Mmm!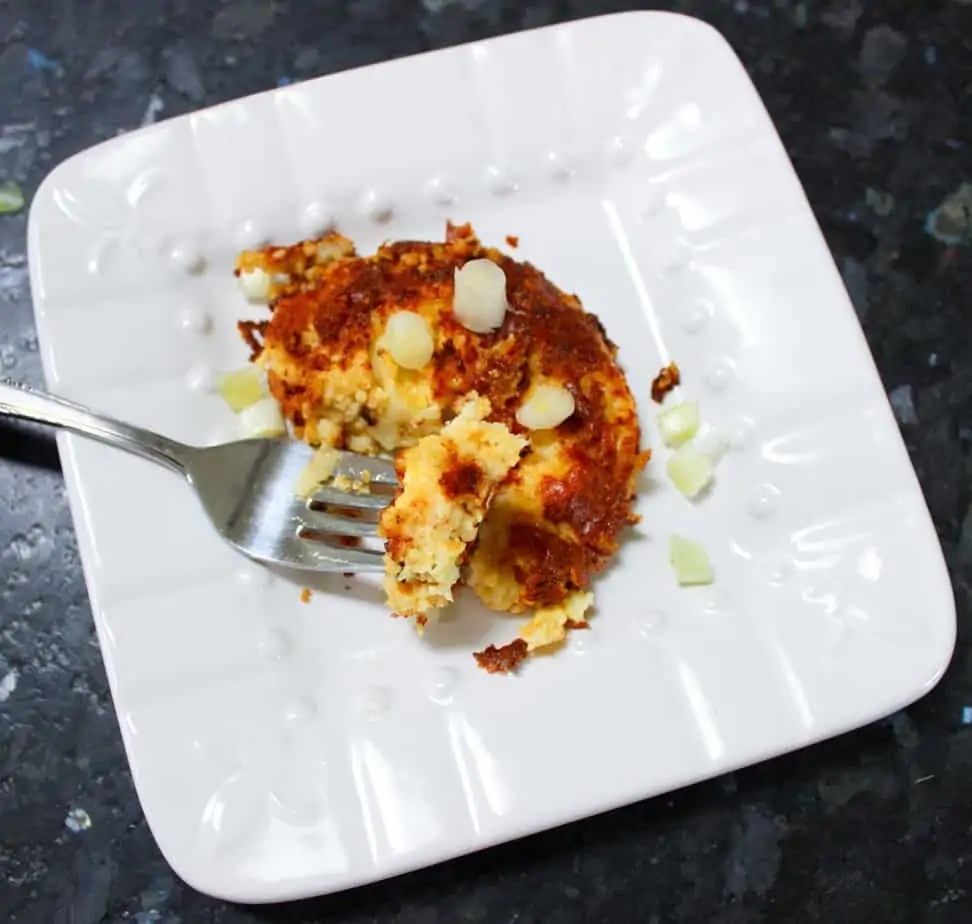 This recipe made about 7 fritters.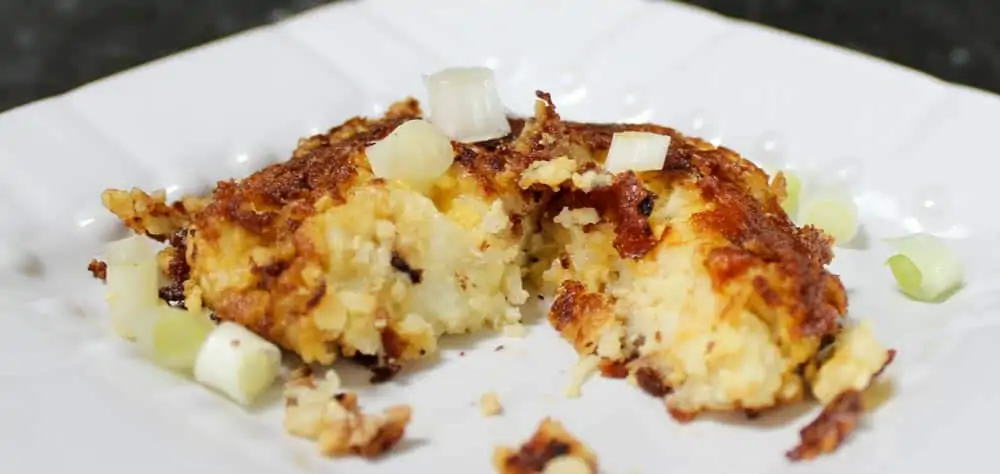 Cauliflower Fritters with Almond Flour Recipe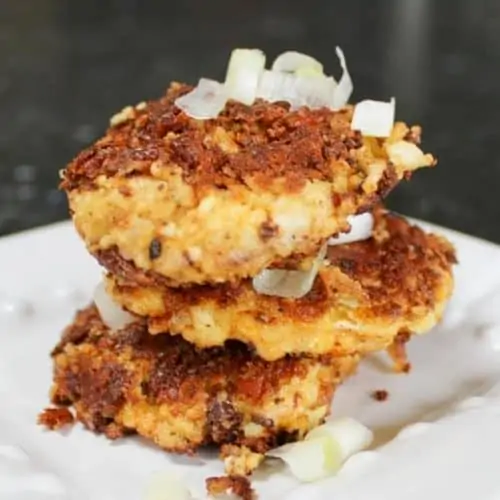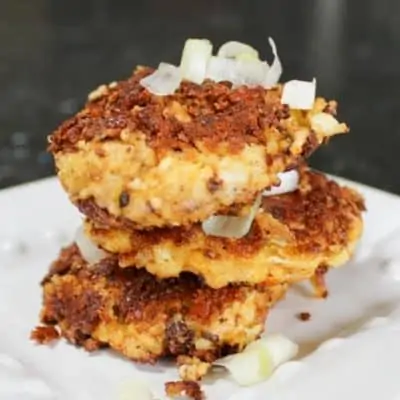 Cauliflower Fritters with Almond Flour Recipe
Make these delicious cauliflower fritters instead of corn fritters to save the carbs!
Ingredients
10

ounces

Cauliflower, Riced & Drained

⅔

cup

Cheddar Cheese, Shredded

¼

cup

Almond Flour, Blanched

2

Eggs, Large

1

Scallion, Thinly Sliced

2

tbsp

Butter

½

tsp

Salt

¼

tsp

Black Pepper
Instructions
Rice your cauliflower with a box shredder or food processor OR use already riced cauliflower.

Drain cauliflower rice of excess moisture using a nut milk bag or cheese cloth.

In a large bowl, combine cauliflower, cheese, almond flour, eggs, salt, & pepper.

Heat frying pan over medium heat and add butter until it's melted.

Measure cauliflower mixture into 1/4 cup portions and add to heated pan.

Flatten fritters gently with a spatula.

Cook fritters for 5 minutes (or until golden brown) while continuously lifting underneath the edges of the fritters with a small turner to prevent them from sticking to the pan.

Gently flip fritters and cook for another 5 minutes (or until golden brown), again while continuously lifting underneath the edges of the fritters to prevent them from sticking to the pan.

Transfer cooked fritters to a paper towel lined plate in order to remove any excess grease.

Once all fritters are cooked, serve immediately with sliced scallions.
Notes
Per serving:
220 calories
18 grams fat
5 grams carbs
11 grams protein
For more delicious low carb recipes, click on over to:
Keto Mug Cake with Sugar Free Chocolate Chips
Baba Ganoush Recipe: A Healthy, Low Carb Mediterranean Spread
Almond Flour Banana Bread with Walnuts