These sugar free peanut butter cookies are a super easy-to-make, quick recipe for delicious, golden brown, healthy cookies.
Not only does it require just 5 ingredients, a large bowl, a cookie sheet and 8 minutes in the oven, but also, there's only 2 net carbs and 4 grams of protein per cookie!
And, because this recipe uses peanut butter with no added sugar, as well as a no sugar sweetener, it's perfect for anyone who wants to indulge in a sweet treat without the guilt!
Low Carb Peanut Butter Cookies
As with most worthwhile things in life, following a low sugar and low carb/keto diet (ketogenic) has it's pros and cons.
Yes, keeping your sugar intake to a minimum is a very effective way to lose weight and keep it off.
However, living a keto lifestyle can, at times, be extremely difficult to maintain day in and day out.
Needless to say, I've been doing this for over 3 years now and I still crave rice, fries, crackers, and chips.
Additionally, because I have a sweet tooth, I truly miss sweet desserts.
Particularly, I miss traditional peanut butter cookies!
I mean, seriously, everybody deserves a sweet treat once in a while, right?
So when I saw that there is such a thing as keto friendly, flourless, sugar-free peanut butter cookies, I jumped for joy!
How To Make Sugar Free Peanut Butter Cookies
Keep in mind, this keto cookie recipe makes soft peanut butter cookies.
Unlike some classic peanut butter cookies, these keto cookies aren't at all dry or hard to bite into.
On the contrary, they have a soft and chewy texture and almost melt in your mouth, they're so moist and yummy!
Without a doubt, for a low carb recipe, this one is amazing!
I have to admit that the first cookies I made, I hoarded them and was very territorial!
However, the 2nd time I made them, I decided to share this wonderful cookie recipe with my non-keto following husband and son.
Needless to say, because they are peanut butter lovers too, they absolutely loved them!
I also LOVE the fact that there is no coconut oil in sight in this recipe.
Don't get me wrong, I'm happy about the fact that there are a lot of keto and low carb options out there these days.
But I get tired of tasting coconut in everything.
For this reason, this recipe is a refreshing change from that.
And now, without further ado, here are the simple ingredients and super easy steps for making these sugar free peanut butter cookies.
Basic Ingredients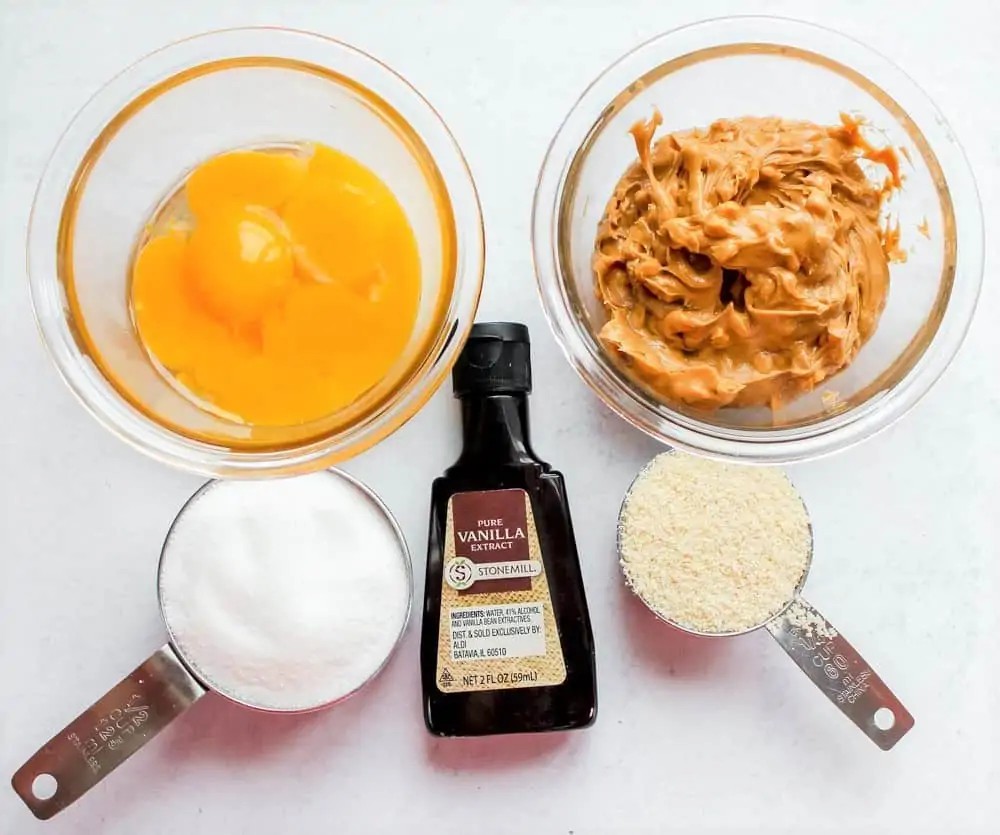 Egg Yolks

– yes you need to figure out how to separate eggs OR use an egg separator (Amazon). You don't need the egg whites in this recipe.

2/3 Cup Peanut Butter

– to keep the net carbs down, use a no added sugar peanut butter: Crazy Richard's All Natural Peanut Butter (Amazon) or Peanut Butter & Co (Amazon) are the best peanut butter choices for this recipe. Personally, I prefer crunchy peanut butter and I believe both of these brands make no sugar added crunchy natural peanut butter as well.

No-Sugar Sweetener

– I did some research and Lakanto Golden Monk Fruit Sweetener (Amazon) (8g of sugar alcohols per serving) gets a lot of accolades for being the best sugar substitute that's all natural. It's also great for cooking and baking. In addition, it is safe for most people and can help manage blood sugar levels. *Important Note: I used Truvia Baking Blend in my recipe photos because I already had it in my pantry. Truvia Baking Blend does not measure up 1:1 with regular sugar measurements. However, I have adjusted the recipe to use a sugar-free sweetener that has a 1:1 ratio with real sugar.
Almond Flour – I prefer almond flour vs. coconut flour mainly because I just don't want to taste coconut in my peanut butter cookies. Blue Diamond Finely Sifted Almond Flour (Amazon) only has 2 net carbs per serving and is a popular brand to use.
Vanilla Extract – because everything is better with vanilla extract.
Keto Peanut Butter Cookie Step by Step Instructions
Step 1: Mix Together Wet and Dry Ingredients
Very self-explanatory!
You don't need an electric mixer, stand mixer or a food processor.
Just use a good, sturdy large spoon and mix the ingredients in a mixing bowl until completely combined.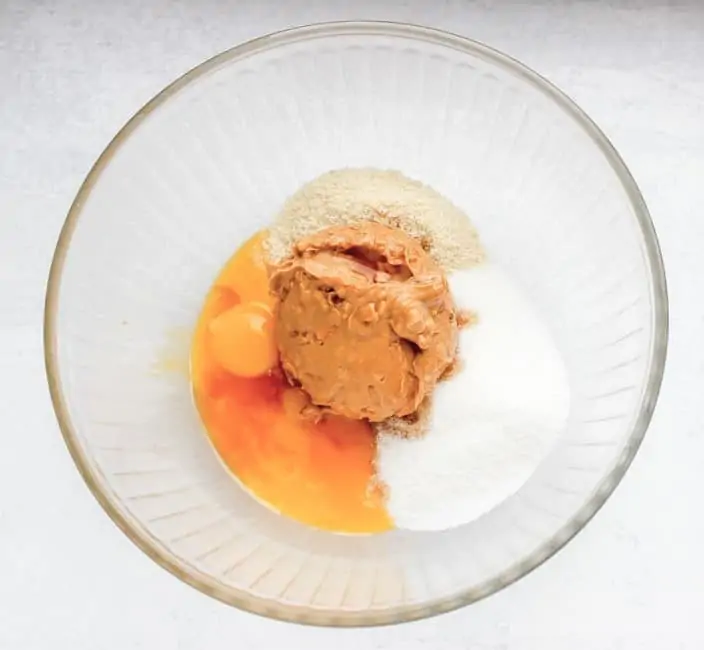 The mixed batter will look like the picture below.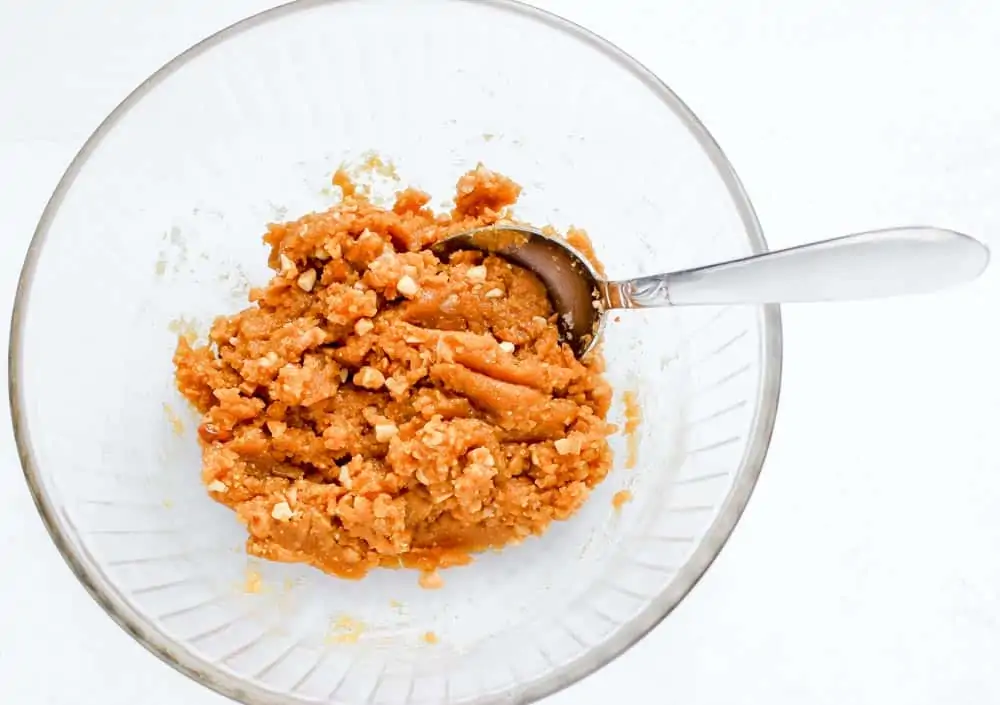 Step 2: Drop By Tablespoon Size Amounts Onto Prepared Baking Sheet
Use a tablespoon or a small cookie scoop to measure out the batter into one inch balls of dough.
Then, drop each cookie dough ball onto a lightly sprayed (with cooking spray) cookie sheet.
Or, you can skip the cooking spray and instead line the cookie sheet with parchment paper (Amazon).
One batch of this recipe makes approximately 15 cookies.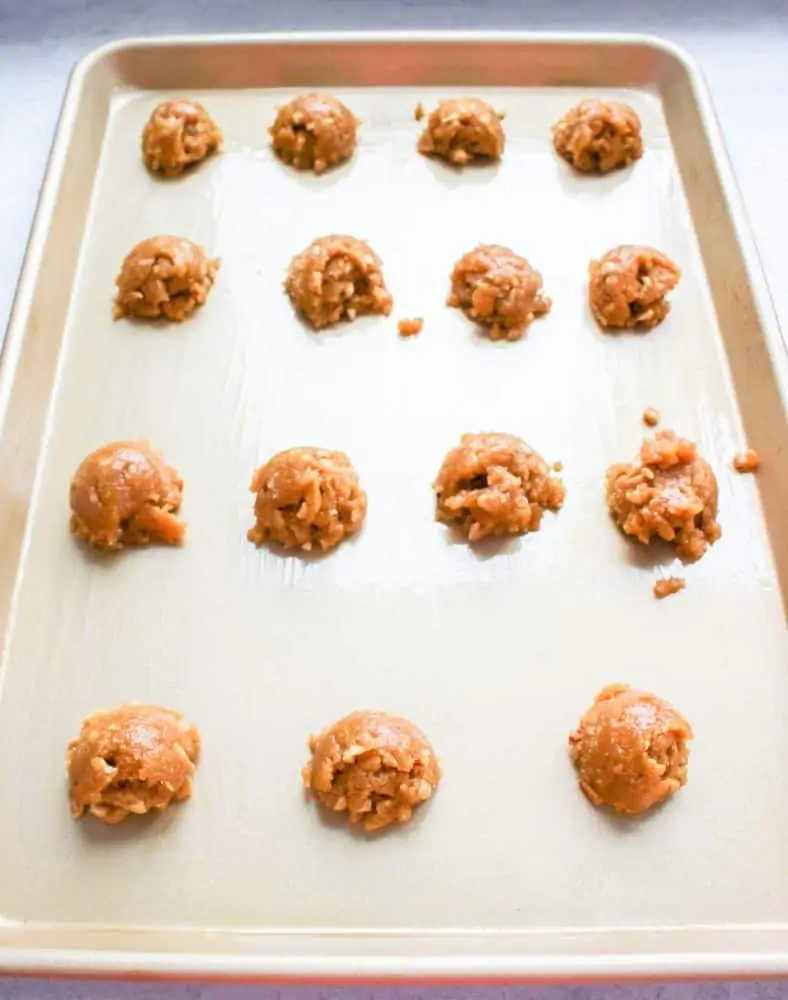 Step 3: Use a Fork To Form a Crisscross Pattern on Each Cookie
This recipe requires just a little bit of extra TLC to make the fork marks with the back of a fork.
Because the batter is a tad stickier than traditional cookie batter, just be gentle when lifting up the fork after pressing down into each cookie.
To help with this, spray the back of the fork with cooking spray so it doesn't stick as easily into the batter.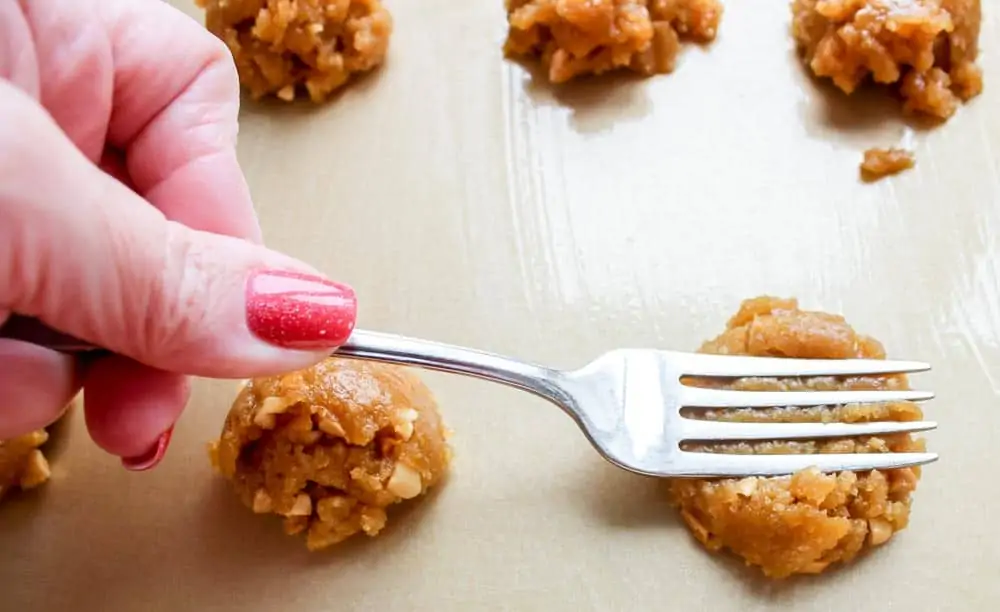 As you can see, these easy sugar free cookies aren't the perfect round shape, but in the end, who cares?
The asymmetry gives them more character, which somehow makes them taste even better!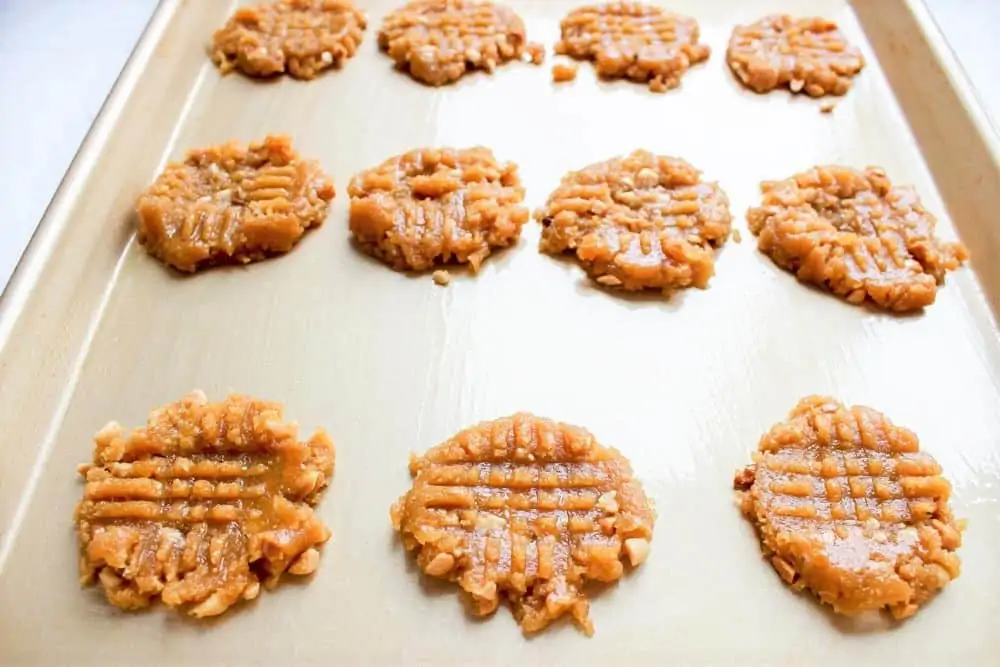 Step 4: Bake in the Oven For 8 Minutes
Yes, it only takes 8 minutes to bake these delectable beauties once you've preheated your oven temperature to 350 degrees Fahrenheit.
Once you remove the cookie sheet from the oven, allow the baked cookies to cool to room temperature.
In this case, it's best not to try to place the hot cookies onto a cooling rack or wire rack before they've completely cooled.
In other words, be sure to give them time to harden a little bit and they will be easier to lift up off of the pan using a cookie spatula (Amazon).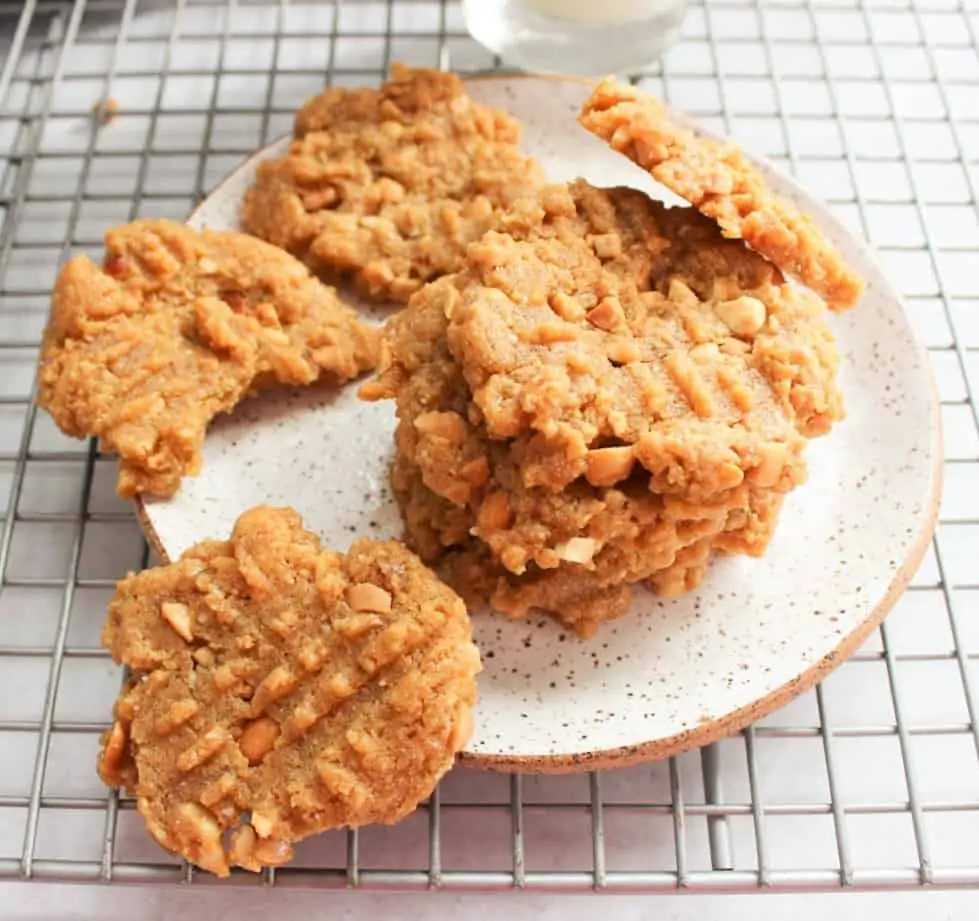 How Many Cookies Can I Eat?
So the big question is, how many keto peanut butter cookies can I eat?
Well, that's a loaded question because the number of these flourless cookies I CAN eat are different than the number of cookies I SHOULD eat.
Let's just say because these happen to be the best keto peanut butter cookies, in my opinion, these bad boys went quickly.
However, for moderation purposes, I'd say to eat a max of 3 cookies at a time.
The recipe makes around 15 cookies and they were gone in 2 days.
Keep in mind, my husband and son had at least a few of that 15, but I have to admit that I ate most of them.
BUT, because they're low carb peanut butter cookies, I didn't feel the least bit guilty!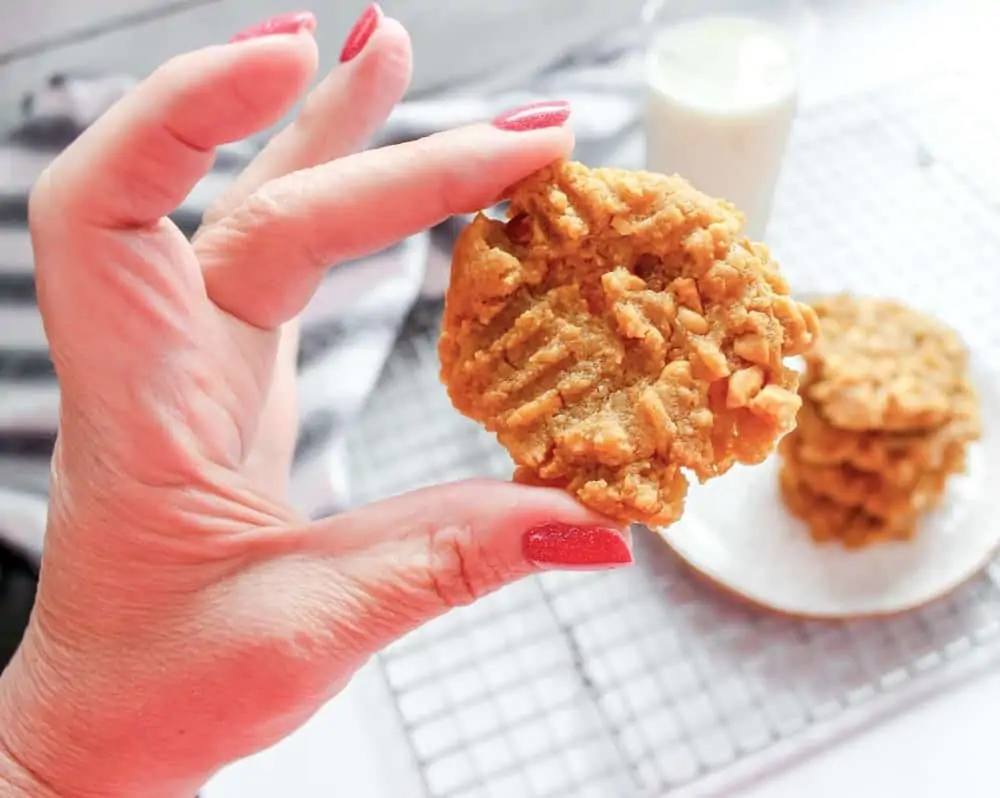 Can You Freeze Sugar Free Peanut Butter Cookies?
Yes, you can absolutely freeze these cookies.
That is, if you have any leftover to freeze!
As a matter of fact, just make 2 to 3 batches at a time so you can have extras to freeze for when you've got a hankerin' for more cookies!
Just put whatever you're not going to eat in an airtight container or freezer bag and store in the freezer for up to 4 months.
Then, when you're ready to eat some, just remove them from the freezer and allow them to thaw either in the refrigerator or on your kitchen counter.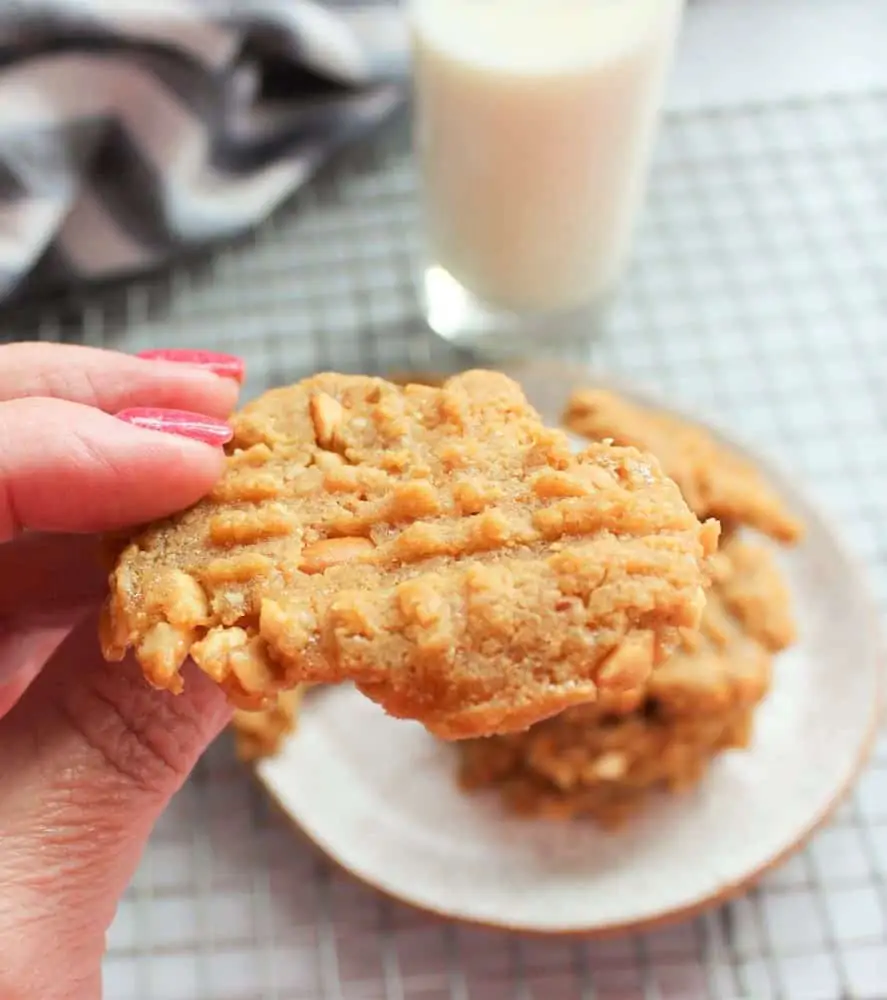 Tips, Tricks, & Substitutions
You can substitute creamy peanut butter, almond butter or any other nut butter for crunchy peanut butter based on your preference.
For the crisscross pattern, spray the back of the fork with cooking spray to prevent the batter from pulling up with the fork.
Use parchment paper or lightly spray your cookie sheet before placing the cookies on the pan.
Make multiple batches and freeze some so you can enjoy them over a longer period of time.
For an amazing 1:1 sugar replacement rundown (including brown sugar), bookmark this article from WhatSugar Blog.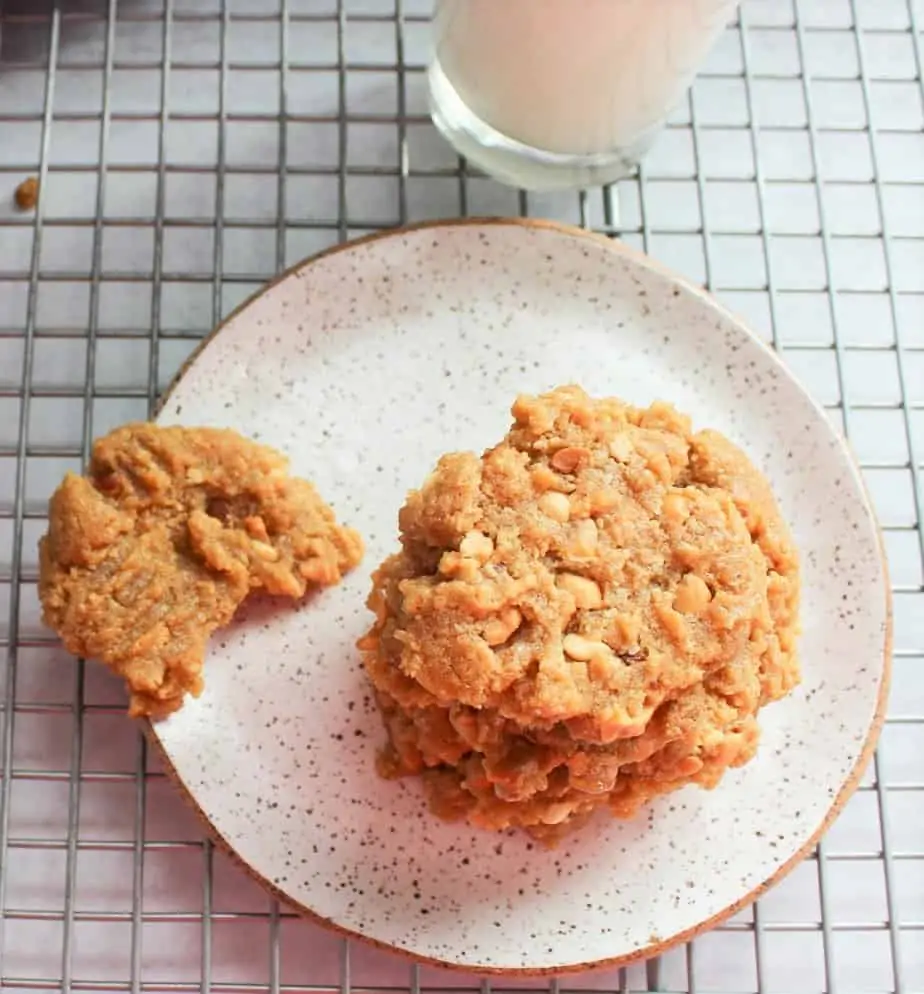 Sugar Free Peanut Butter Cookies Recipe Card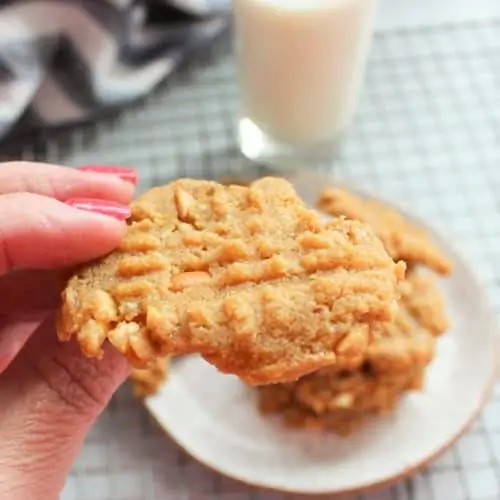 Sugar Free Peanut Butter Cookies
Quick, easy, delicious keto, low carb, sugar free peanut butter cookies that only take 8 minutes to bake.
Ingredients
4

Egg Yolks

⅔

cup

Peanut Butter

,

Use a no added sugar peanut butter like Crazy Richard's or Peanut Butter & Co.

9

tbsp

No Sugar Sweetener

,

Use a no sugar sweetener that has a 1:1 ratio to real sugar such as Lakanto Golden Monk Fruit Sweetener

¼

cup

Almond Flour

1

tsp

Vanilla Extract
Instructions
Combine all ingredients in a large bowl and mix well with a large sturdy spoon until well combined.

Drop by tablespoon full onto cookie sheet that's been lightly sprayed with cooking spray or is lined with parchment paper.

Use a fork to press a criss-cross pattern into each cookie. Be sure to spray the back of the fork with cooking spray to prevent the batter from pulling up with the fork.

Bake cookies in a 350 degrees Fahrenheit oven for 8 minutes.

Remove from oven and allow to cool completely.
Notes
Serving Size = 1 cookie
2 net carbs & 4 grams of protein per serving
For more keto recipes, click on over to:
Almond Four Mug Cake with Sugar Free Chocolate Chips – like chocolate chip cookies in a mug!
Keto Orange Creamsicle Jello Mousse
Almond Flour Banana Bread with Walnuts