This imitation crab dip is a whip-it-up-in-no-time, perfect appetizer that will get scarfed up quickly!
With the main ingredient being imitation crab meat, go ahead and buy two packages since it's WAY less expensive than real crab meat.
Don't get me wrong, I ADORE real, fresh crab meat.
As a matter of fact, I have a TON of real crab meat recipes on this site, like my super popular Maryland hot crab dip recipe and this incredible cream of crab soup recipe made with jumbo lump crab meat.
Being born and raised here in Maryland where my first solid food was blue crabs, nothing even comes close to comparing to the real deal.
However, these days buying the real thing can get downright pricey!
So I figure, why not throw in an imitation crab recipe to my 'good eats' rotation every once in a while? Right?
Honestly, it's a delicious recipe that makes for a great appetizer!
Imitation Crab Dip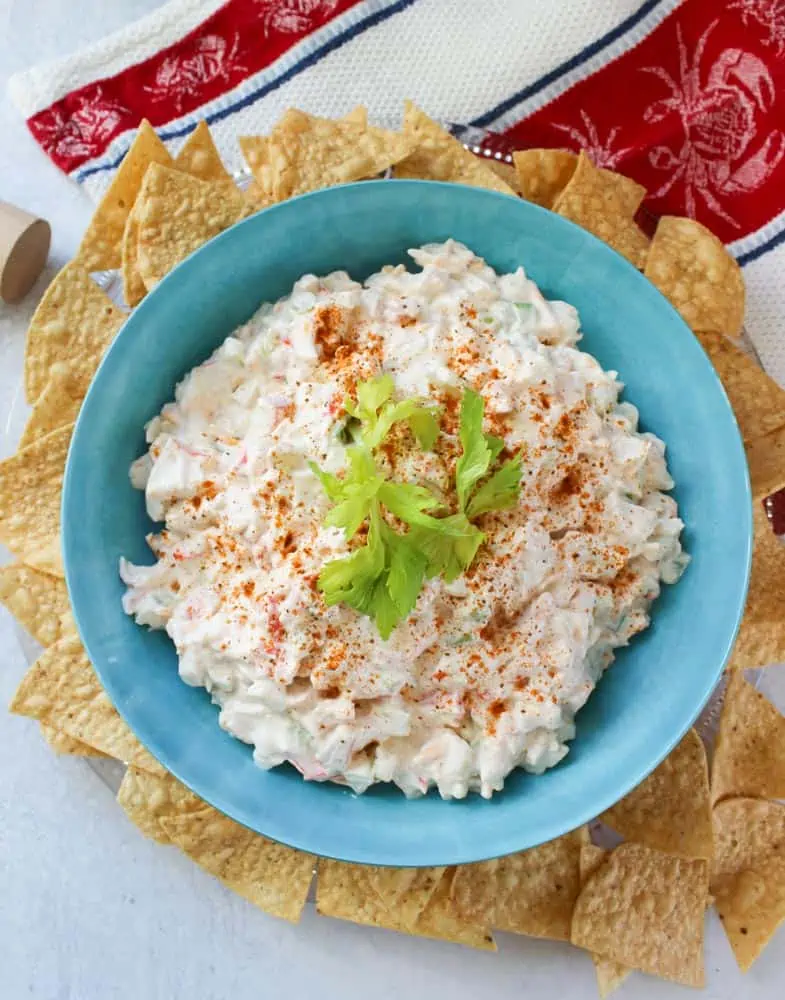 What Is Imitation Crab Made Out Of?
Firstly, what is imitation crab made out of?
Obviously, this would be something you would want to know before you include it in a recipe.
Somehow, all these years I've been eating it, I didn't completely know the answer to this question.
So I Googled it and found this answer on WebMD: "It is made using surimi, which is a paste made of fish and a few other ingredients. Surimi is often made with pollock, which is also used to make fish sticks and breaded fish products."
In addition, surimi is frequently used when making sushi, particularly California rolls.
Here's a full explanation of what imitation crab is and how to eat it!
So, this confirms to me what I pretty much already knew, that it IS indeed seafood!
Clearly, if I had my druthers, I'd prefer real crab meat over imitation crab any day.
But let me tell you, this imitation crab dip is ah-mazing!!
How To Make Imitation Crab Dip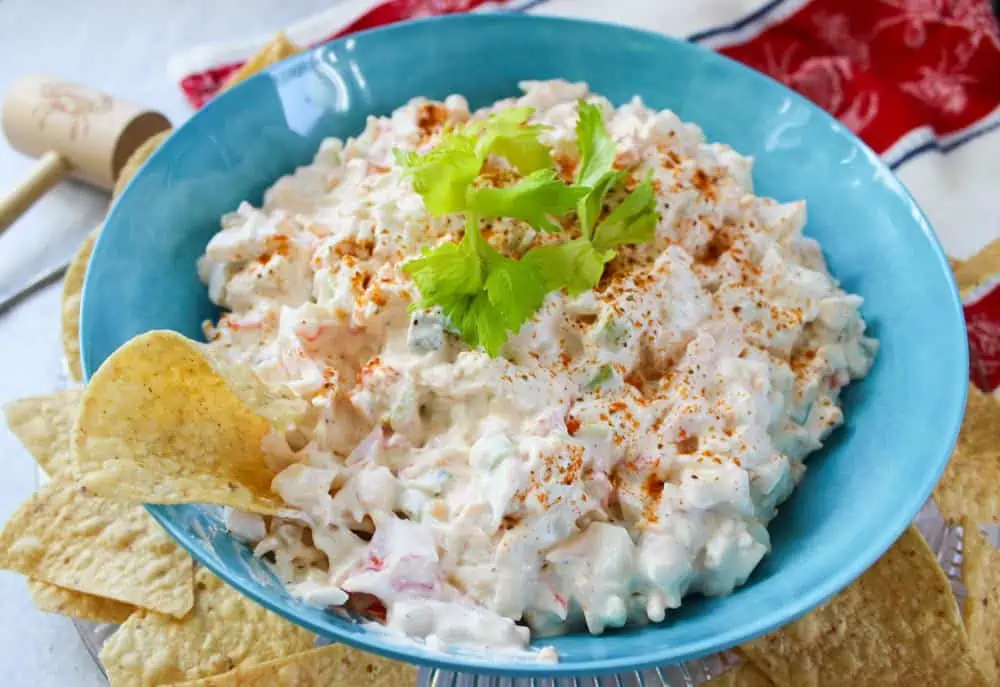 One of the beauties of this easy crab dip recipe is the fact that once you get all of your ingredients together, just mix them all together and it's done!
Needless to say, it's one of those perfect, easy recipes for game days when you want something good to dip into!
And, the only part that requires a little bit of time is to chill the imitation crab dip before serving it.
Simple Ingredients
Cream Cheese – Kraft Philadelphia Cream Cheese is my go-to brand. Cream cheese is great for making dips, desserts, and even spreading on a piece of toast with some jelly. Mmm!
Sour Cream – Cream cheese and sour cream seem to go hand in hand when it comes to dip recipes. This recipe is no exception. There's just something about this combination that really works!
Celery – Celery is such an underrated veggie isn't it? It's great for cutting into sticks and using as a 'dipper' or slicing it up and adding texture and crunch to your recipe.
Green Onions – Green onions (or scallions) are another veggie that I love to add to my recipes. It adds a little extra spicy flavor without it being too overpowering. The amount of green onions depends on your personal preference.
Lemon Juice – I have a confession: When I use lemon juice in my recipes, 9 times out of 10 I use the bottled ReaLemon Lemon Juice. It's a great time saver!
Cheddar Cheese – Cheddar cheese is the perfect cheese to add to this imitation crab dip. Go ahead and get the extra sharp variety!
Imitation Crab – You can find imitation crab at most grocery stores.
Hot Pepper Sauce – I like to use Franks RedHot Original Hot Sauce (Amazon)
Old Bay Seasoning – And you cannot make a good Maryland seafood recipe without this secret (or not-so-secret anymore) ingredient: Old Bay Seasoning (Amazon)!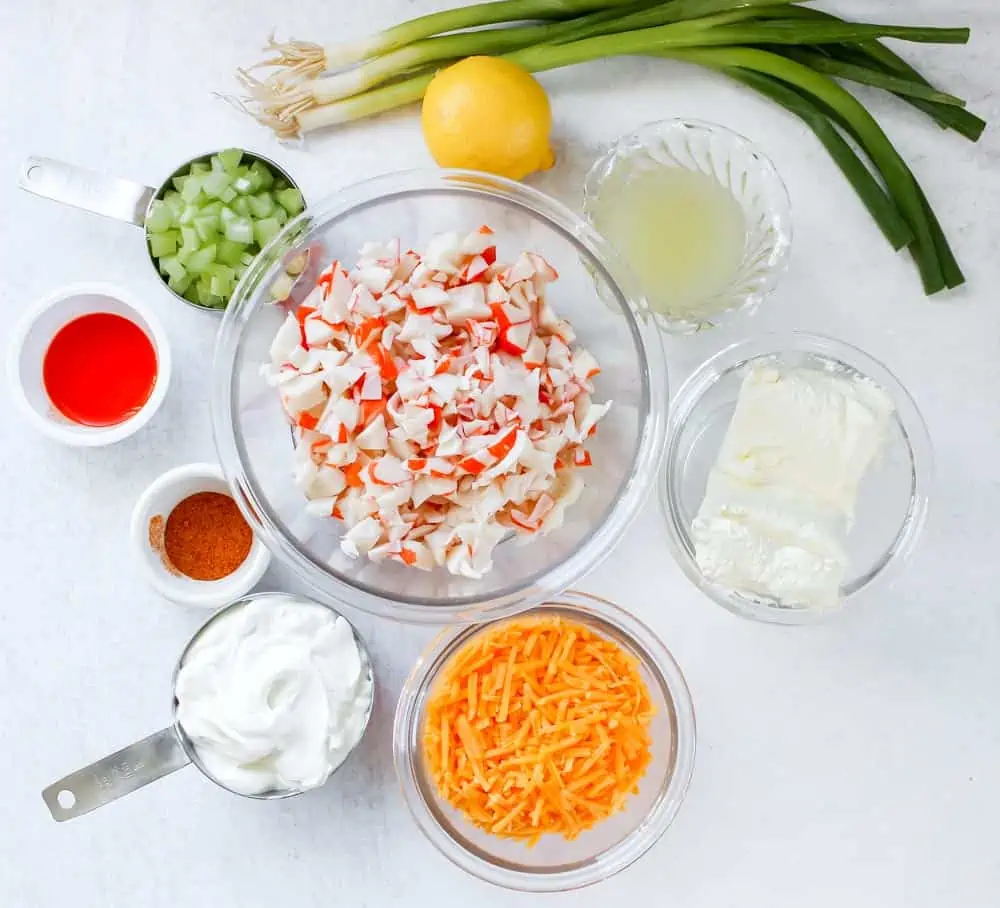 How To Make Imitation Crab Dip
So, now that you have your ingredients together, the steps to making this imitation crab dip recipe are ridiculously easy!
As a matter of fact, it only requires 2 steps!
Actually, 3 steps if you include chilling the dip in the refrigerator.
Step 1: Mix Cream Cheese & Sour Cream
First, using an electric mixer like this stand mixer, (Amazon) (believe me when I say, this will make your life so much easier and totally save your arm strength!) mix the cream cheese and sour cream until well combined.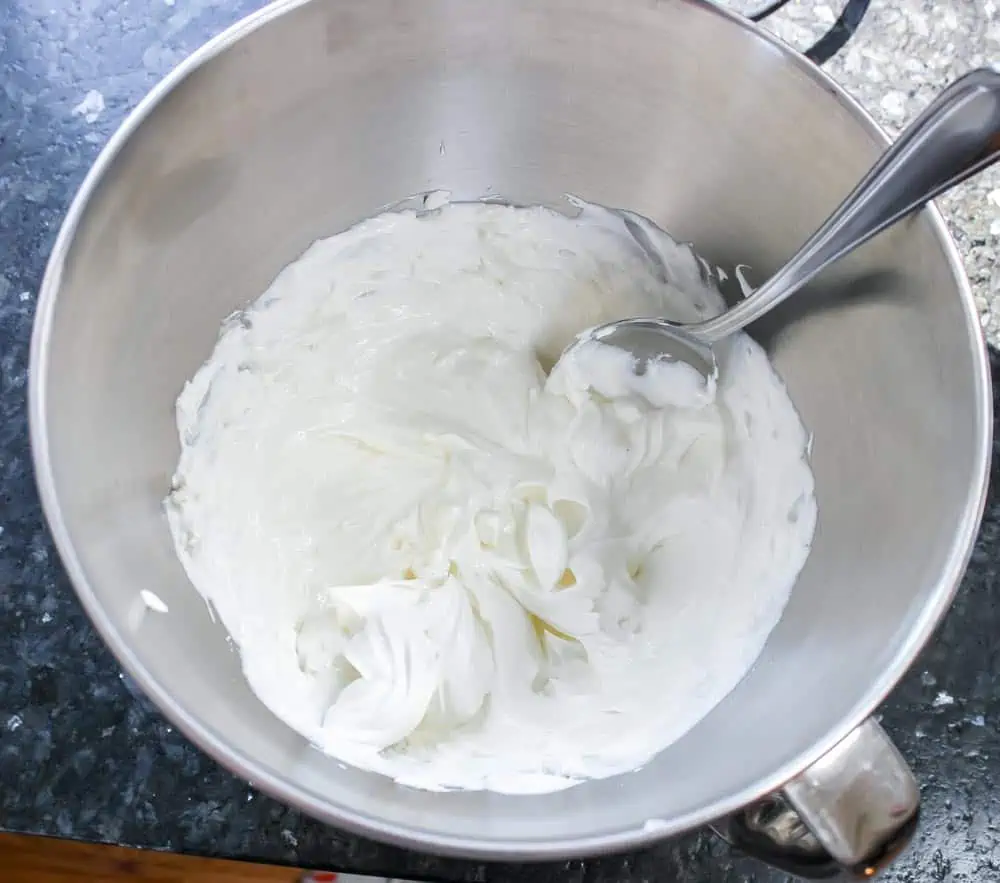 Step 2: Mix in Remaining Ingredients
Second, add the rest of your ingredients to the mixer bowl and mix thoroughly with a large spoon.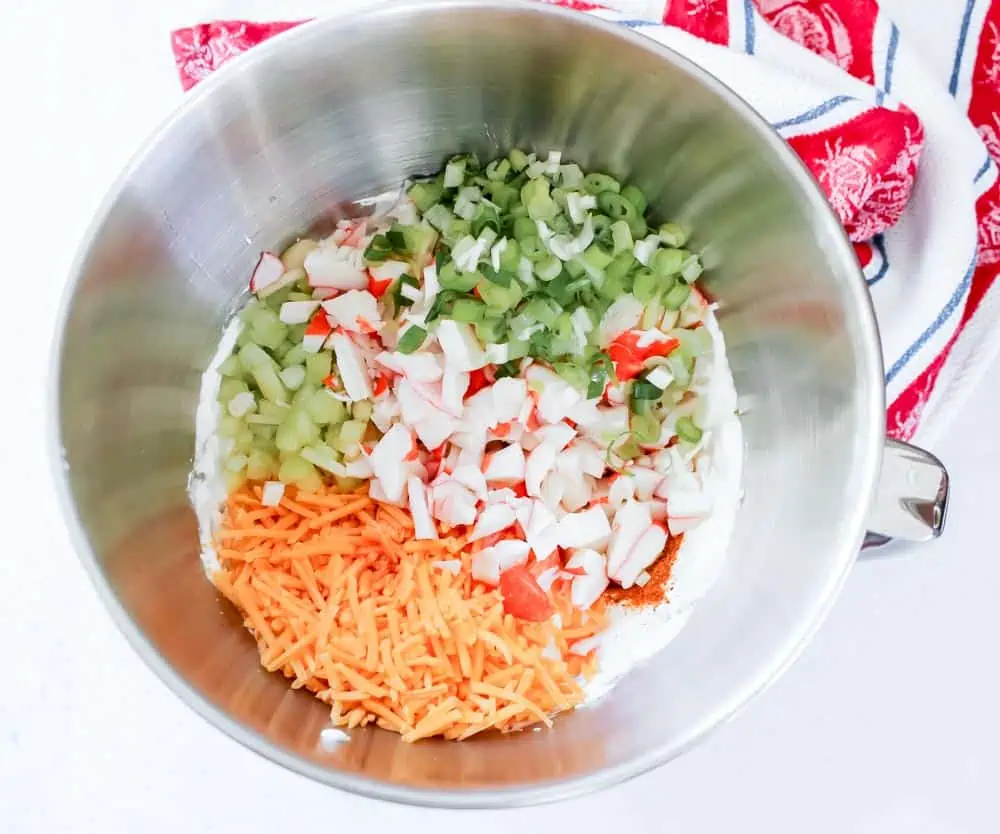 Step 3: Chill Imitation Crab Dip in the Refrigerator
Then transfer your imitation crab dip into a large bowl and place in the refrigerator for 30 minutes to an hour to get it nice and chilled.
This dip tastes better chilled as opposed to being room temperature.
And now, your creamy crab dip is ready to dig into with some Ritz crackers (or whatever your favorite crackers are), tortilla chips, pita chips or even fresh veggies!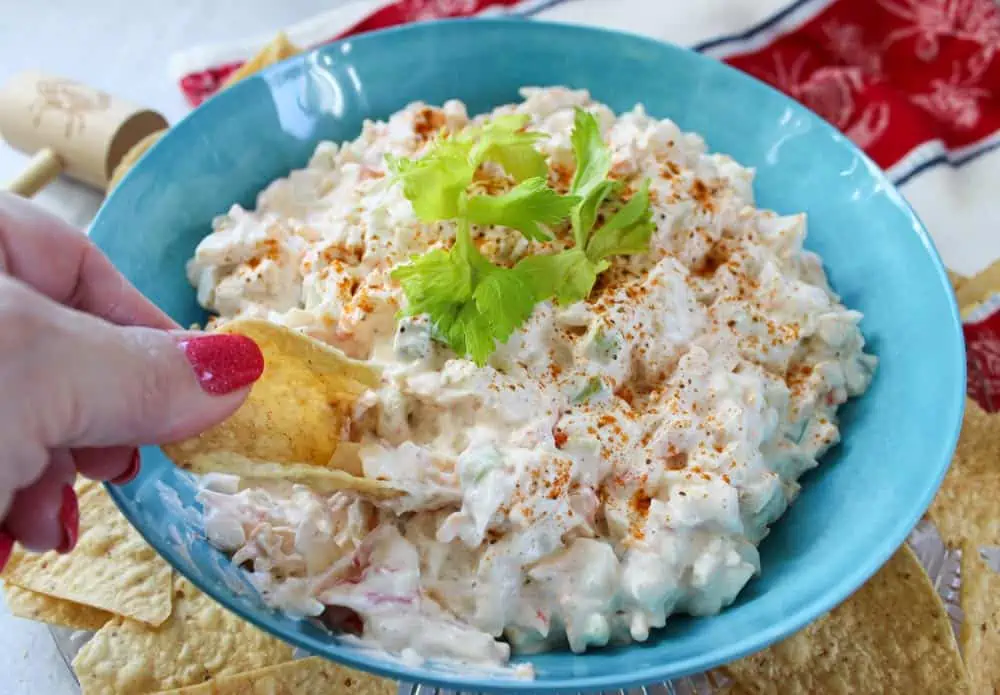 How Long Does Imitation Crab Dip Last?
Well, in my house, not very long!
Maybe 30 minutes?
BUT if you mean how long will it last in the refrigerator, stored in an airtight container, it will last up to 5 days.
What is the Best Imitation Crab?
Being that I typically do not eat imitation crab, I had to do a little bit of research to find out which brands are the best.
Through my research I found that imitation crab comes in 3 different forms:
Imitation Crab Flakes

– good for dips, spreads, salads, casseroles, & chowders

Shredded Imitation Crab

– good for fish tacos, salad toppings, lettuce wraps

Imitation Crab Sticks

– good as an appetizer, in sushi, and in tortilla wraps
Apparently the consensus is that the texture of crab sticks is less dense and closest to that of real crab legs.
Whereas the imitation crab flakes are tougher and chewier and not as realistic as real crab legs.
The following brands have good reviews:
Osaki
Kanikama
TransOcean – this is the brand I use, which I buy at my local Wegmans
Louis Kemp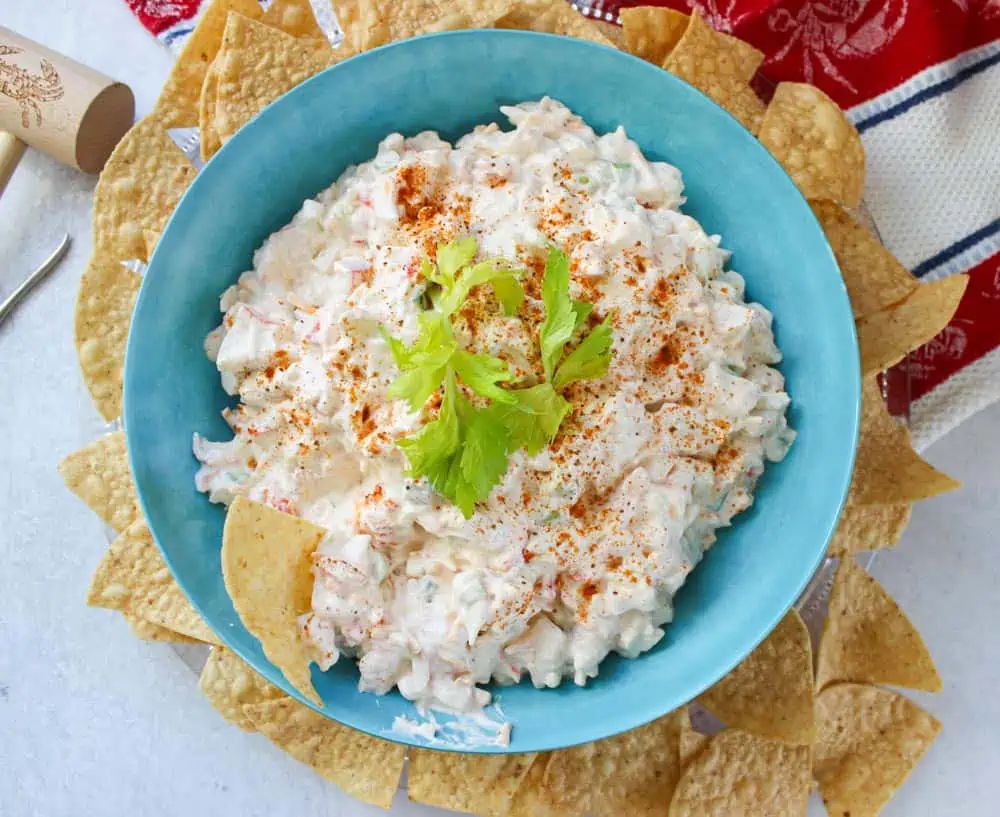 Tips, Tricks, & Substitutions
Here are some good swaps for this delicious dip recipe:
Obviously, you can substitute real crab meat for the imitation crab.
I used the flake style imitation crab, but next time I'm going to try the imitation crab sticks and cut them up since the texture is closer to real crab legs.
If you prefer a less creamy dip, use less sour cream and cream cheese.
To give your dip more of a bite, substitute red onion for the spring onions & add some cayenne pepper.
If you prefer lime juice over lemon juice, it's perfectly fine to substitute it.
Don't add extra salt to the recipe if you're using Old Bay Seasoning since this already has plenty of salt in it.
Add or subtract the amount of hot sauce based on your personal preference.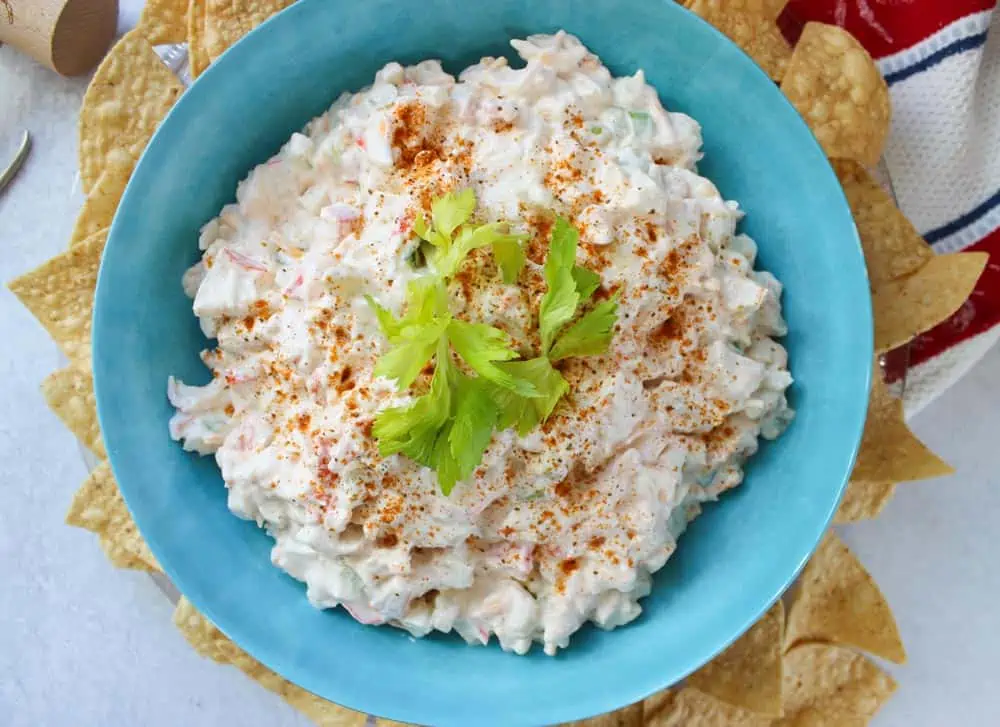 Imitation Crab Dip Recipe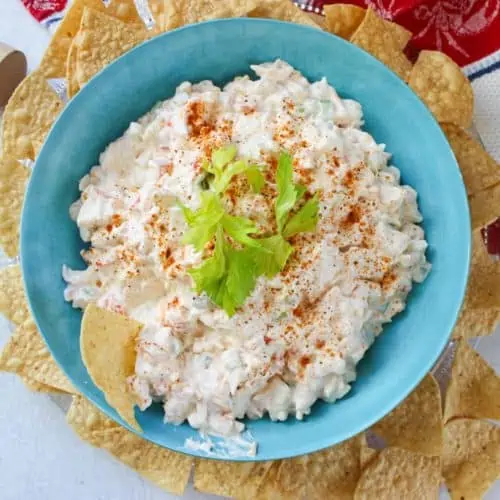 Imitation Crab Dip with Old Bay Seasoning
This imitation crab dip recipe is super easy to make and great served with tortilla chips, crackers or raw veggies! Imitation crab is a great alternative to real crab meat for making dips and salads.
Ingredients
8

ounces

Cream Cheese, softened

8

ounces

Sour Cream

½

cup

Celery, diced

3

Green Onions, diced

4

tbsp

Lemon Juice

1

cup

Cheddar Cheese, shredded

10

ounces

Imitation Crab, flaked or sticks cut into bite size pieces

1

tbsp

Hot Pepper Sauce

1

tsp

Old Bay Seasoning
Instructions
In a stand mixer bowl, add cream cheese and sour cream. Mix until thoroughly blended.

Add celery, green onions, lemon juice, cheddar cheese, imitation crab, hot pepper sauce, and Old Bay Seasoning. Mix with a large spoon until well combined.

Place in the refrigerator for 30 minutes to 1 hour to chill. Serve chilled.
For more simple recipes with imitation crab, click on over to:
Imitation Crab Ceviche (Imitation Crab Salad Recipe)
Roundup of 13 Healthy Imitation Crab Recipes