If you've never been to Folly Beach, or you just need more great reasons to go again, read on.
I promise you will thank me for this!
Folly Beach is a great family Summer Vacation destination
You know how during the "dog days of summer", you start seeing Halloween stuff out in the stores?
And in your head you're thinking, "um, no."
Well, if you do a search on beach condos and houses for next summer, you'll already notice that some rentals are starting to book up.
Especially, if you have specific criteria like beachfront, pet-friendly, a pool, etc.
My family's vacay this summer was to Folly Beach, South Carolina.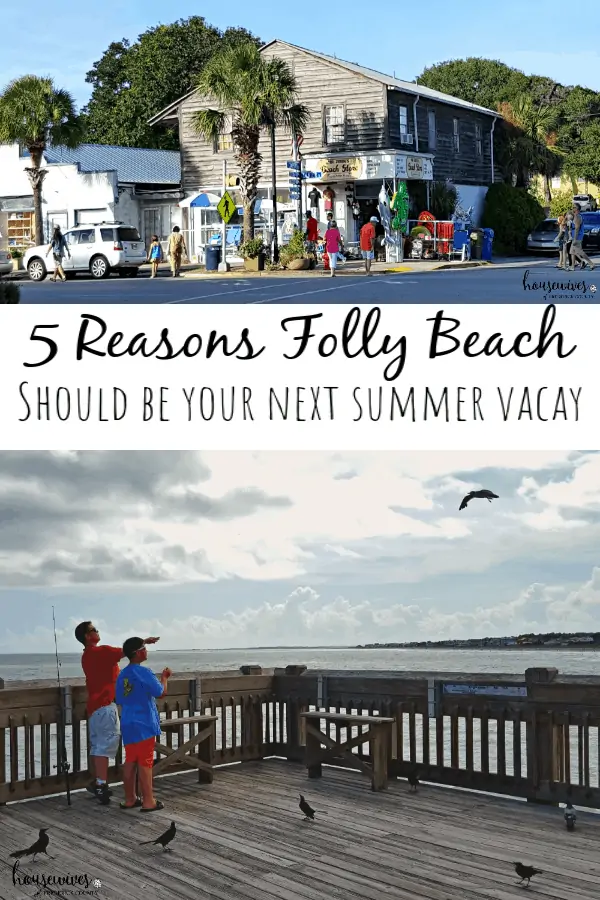 Evidence of a great place to stay at the beach is when there are countless books, fiction and non-fiction, written about that destination.
Amazon has pages and pages of book listings about Folly Beach.
Just to name a few, there's:
Same Beach, Next Year: A Novel
The Pier: A Folly Beach Mystery
Sullivan's Island: A Low Country Tale
There's also:
Life is Better At Folly Beach: A Coloring Book For All Ages
Be sure to get one or two of these books before you head down to Folly Beach for some good beach reads!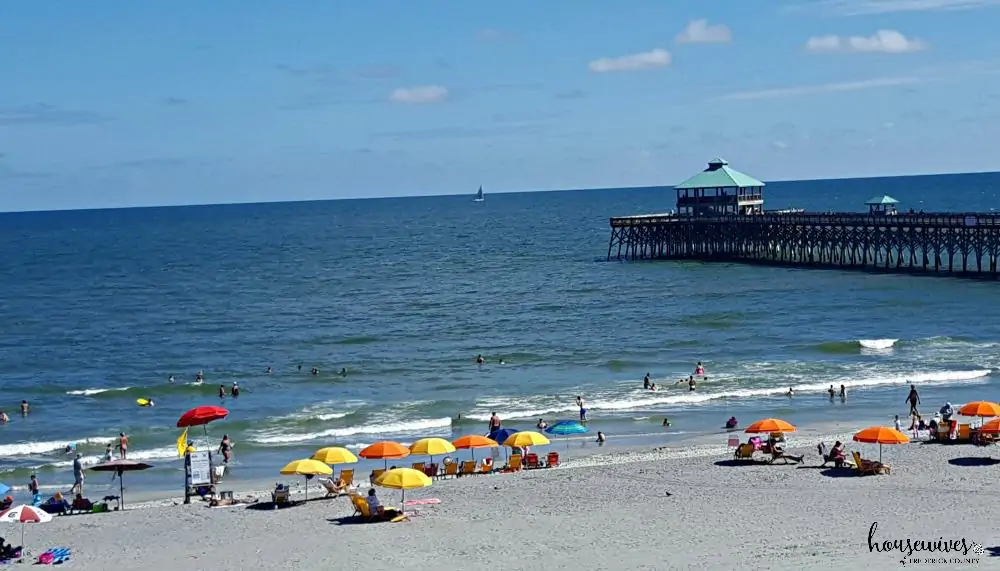 Ready for a Beach Vacation
Over the last few years, we have spent our week-long vacation only 2 hours away from home in gorgeous Deep Creek Lake, Maryland.
So, this year we were ready for a beach vacation!
We had never been to Folly Beach but had heard that it was really nice.
Although I despise long drives, I LOVE to explore new places.
So, Folly Beach won my vote (and when I say it won my vote, that meant my husband and my kids' votes too – ha!)!
We ended up finding an oceanfront condo that met our criteria (clean, well-kept, good size, pet-friendly) through Folly's Best Rentals.
I must say that the rental process was very easy and pleasant.
Folly's Best Rentals was extremely accommodating and we had everything we wanted and needed for our vacation.
I'd totally rent through them again!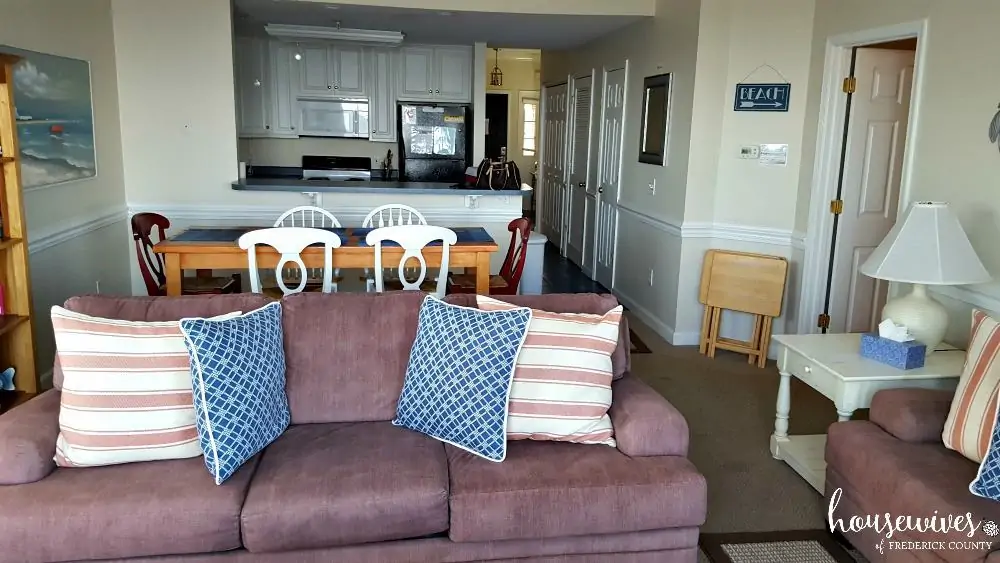 We all absolutely loved our Folly Beach vacation!
Here are 5 reasons Folly Beach should be YOUR next summer vacay!
#1 It's in the South!
When you travel to a different part of the country, you get a taste of a different culture.
Here's what I LOVE about the South:
Palm trees!!

The type of Palm tree on the coast of South Carolina is called the Palmetto tree. I mean, nothing says beach like a Palm tree, in my opinion!

White beaches!

Once you stay at a SC beach, you may not enjoy other beaches. I've been so spoiled by the sand in SC beaches (we've vacationed in Hilton Head, SC several times), that I don't enjoy the beaches closer-to-home as much. The sand is also pretty packed down on SC beaches, which makes for easier walking and biking right on the beach!

Southern Hospitality!

Everybody is so nice. Seriously. You know that saying, "Y'all come back now, ya hear?" Well, they mean it!

Slower pace!

It's such a breath of fresh air to experience a way of life that is more laid-back and less "rat race".
#2 The Folly Beach Fishing Pier
The Folly Beach Fishing Pier is like a

one-stop shop!

You can rent fishing rods and buy bait right there at the Gangplank Gift and Tackle Shop! There is also a restaurant (Locklear's Beach City Grill), bathrooms, showers and beach access.

Exercise!

A great place to do some walking while taking in the sea air and the gorgeous views of the ocean and beach!

Bird-watching!

Don't miss out on seeing some amazing Folly Beach birds! I found these Folding High Powered Binoculars on Amazon.

Play Pokemon Go!

My sons soon discovered that there were Pokemon to be caught on the pier!
#3 Center Street
Shopping!

Surf shops and Beach stores – it's reminiscent of walking on a boardwalk.

Restaurants and bars!

Woody's Pizza, The Crab Shack, Taco Boy and Rita's Seaside Grille – just to name a few!

Walking and People-Watching!

Bring your dog!

Folly Beach LOVES dogs! This is one of the things that attracted me to this beach area. You'll see people driving golf carts with their dogs riding along – it's a dog-lover's dream! And, our Chesapeake Bay Retriever, Stella, loved our Folly Beach trip!
We found these amazing dog beach essentials on Amazon:
Elevated Dog Cot with Canopy Shade: Perfect for keeping your dog from overheating while at the beach!
Paw Protection Wax: This stuff is great for keeping your dog's feet from burning or getting cut on seashells.
Collapsible Dog Bowls: Great for food and water. They fold up and fit easily in your beach bag.
Live music!

If you're on Center Street, or near it (our condo was 2 blocks from Center Street), you will get to hear live music coming from several different restaurants and bars. I fondly remember sitting in our parked golf cart while waiting for my husband, and enjoying reggae music from a nearby restaurant. Love it!
#4 Charleston is So Close!
The Old South! I highly recommend going to the downtown area of Charleston and taking a horse-drawn carriage tour! This was one of the highlights of our vacation for me. Absolutely gorgeous homes, architecture and landscaping. And, you get a history lesson from your guide!

Great restaurants!

The day we went to Charleston, we started out at The Daily for a delicious coffee. After walking through the market and going on our carriage tour, we decided to do lunch at Bubba Gump Shrimp Co. Restaurant. Two words – Seafood Hushpups. THE best ever! UPDATE: Unfortunately, as of 2021, this restaurant is now closed 🙁

Historic King Street Shopping!

CharlestonsFinest.Com is a great resource to learn about the "antiques, art galleries, book stores, children's clothing, chocolate, cosmetics, gifts, handbags, lingerie, home decor, lighting, women's and men's fashions, stationery, restaurants, and lodging — each with its own sense of style and flavor" on King Street.
#5 The Vibe!
Bohemian!

The definition of bohemian is having informal and unconventional social habits. Folly Beach is most definitely informal (and I love that), and if being unconventional (drinking a "Pain Killer" at lunch, soaking in the sun after breakfast, walking around town barefooted) is wrong, I just don't care to be right!

The people!

My experience is that the majority of the people I came across in Folly Beach had a happy, laid-back, beach bum, life-is-good kind of vibe.

The shops and restaurants!

The establishments in Folly definitely have a surfer, Caribbean vibe. It helps that there are Palm trees and reggae music playing too! My kind of place!

Nature!

The beach, the salt air, the Spanish moss, the Oak trees, the Palm trees, the sounds of seagulls, watching the Pelicans dive into the ocean – all of this contribute to the very peaceful vibe you get at Folly Beach.
So, while you're surfing the internet on your phone, be sure to search for Folly Beach rentals for your next summer vacay.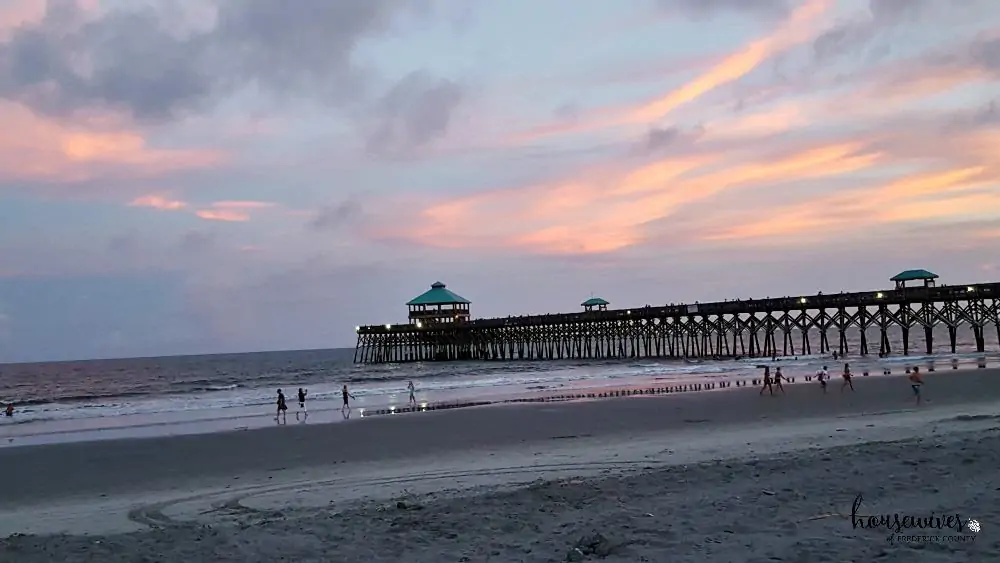 You won't be sorry!
Lastly, for more destination posts, read up on:
Massey's Landing: 10 Reasons To Stay At This Luxury Campground
Kings Dominion Soak City: 10 Tips Before You Go