These pineapple coconut cake bars with crumb topping will put you right in the mood for summer picnics and pool parties!
Just display them nicely on a dessert tray (Amazon) and you'll be the hit of the party!
With summer here, I'm always looking for something refreshing and new to make for all of the upcoming gatherings and hangouts on the porch!
And speaking of party, why end it when the sun goes down?
For this reason, I've been wanting these really cool waterproof outdoor string lights (Amazon) for a long time!
These lights will give your outdoor gatherings so much ambiance and will keep the party going into the nighttime hours.
Pineapple Coconut Cake Bars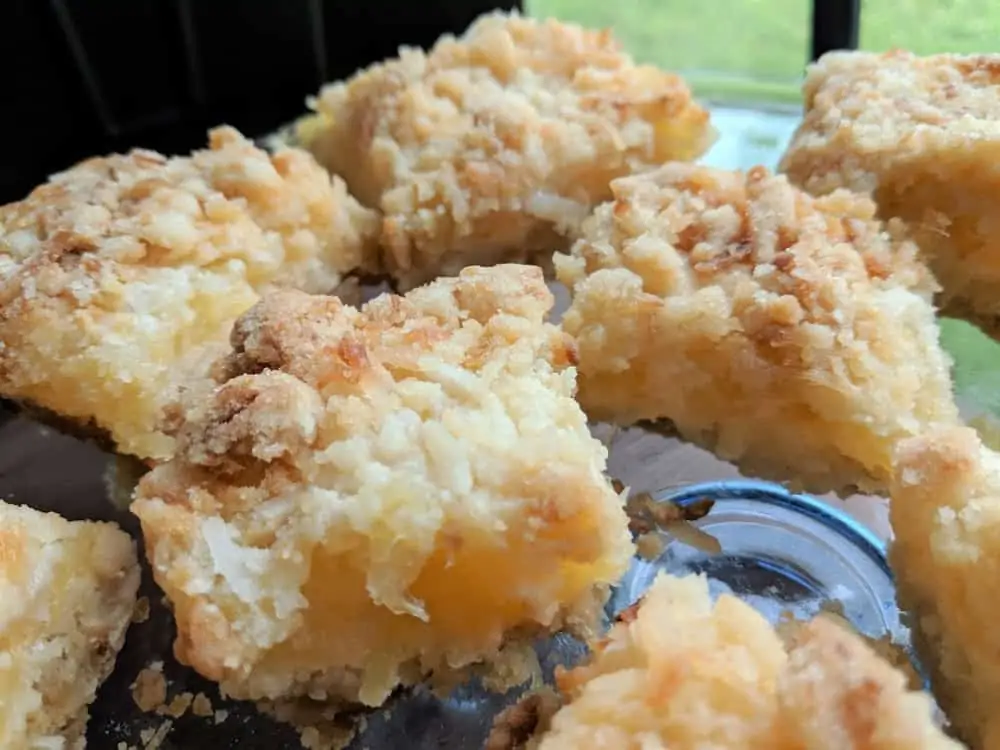 These pineapple coconut cake bars are kinda like a pina colada in a dessert bar – minus the rum of course!
Pineapple's Popularity
Seems like lately pineapple is the star of the show when it comes to fruits!
Maybe it's because it's yellow, juicy, so refreshing and just epitomizes a tropical good time.
Parade Magazine recently published an article on 12 Creative Ways To Utilize Summer's Favorite Fruit: Pineapple.
Whatever the reason for pineapple's popularity, the combination of pineapple and coconut is always a great idea for a tropical dessert.
Shopping At Aldi
Because I'm an Aldi fanatic, I decided that I'd like to start posting recipes using all Aldi ingredients.
We here in Frederick are lucky enough to have not just one, but two Aldi's!
So, imagine my excitement when I found this 'I Love Aldi' quarter holder keychain!
It has already saved me multiple trips back to the parking lot to get a quarter out of my car's cup holder.
And I'm guaranteed to always have a quarter on me when I need to grab a shopping cart!
In my opinion, there's just no excuse not to take advantage of Aldi's amazing prices and top quality items.
Sometimes I will take the opportunity to use Instacart to have my Aldi groceries delivered to my home.
Some weeks are SO action packed, that it saves me a ton of time to get my Aldi groceries delivered!
Instacart is a great service – accurate orders, nicely packed groceries, produce looks great, and friendly delivery drivers.
Try Instacart Express for 2 weeks for free and get free delivery on all orders over $35.
Using Aldi Ingredients In Pineapple Coconut cake Bars Recipe
For this recipe, I used flour, coconut flakes, butter, and crushed pineapple from Aldi.
I already had granulated sugar, baking soda, baking powder, salt, and cornstarch on hand from another grocery store (gasp!).
But you can be sure that when I run out of these ingredients, I will be restocking my pantry with these items from Aldi.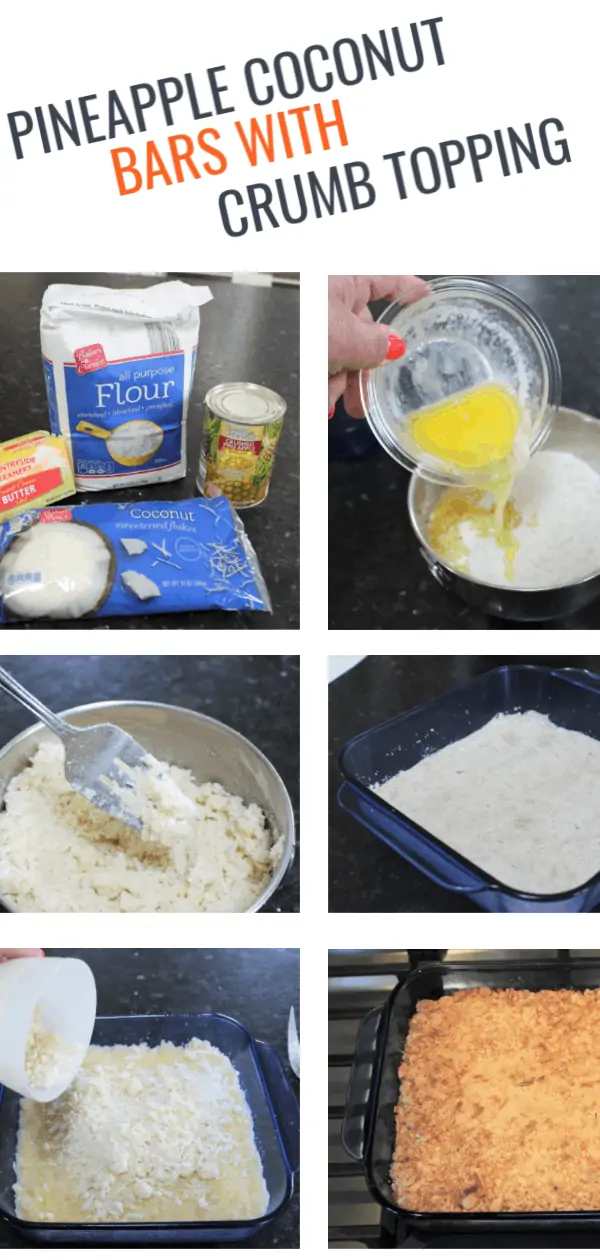 Easy & Inexpensive
I like to choose recipes that are easy to make, inexpensive, and don't require a ton of ingredients.
These pineapple coconut cake bars are no exception.
They're super easy to make and you'll definitely get that bang for your buck.
In addition, if you love any type of easy-to-make dessert in bar form, this book, "Brownies, Blondies, & Bars" (Amazon) has got you covered.
All in all, the cost (in-store) of the Aldi ingredients I used for my pineapple coconut cake bars was $1.15 for the bag of flour, $1.29 for the bag of coconut flakes, .75 cents for the can of crushed pineapple, and $2.56 for a 4-stick pack of butter.
Pineapple Coconut Cake Bars Recipe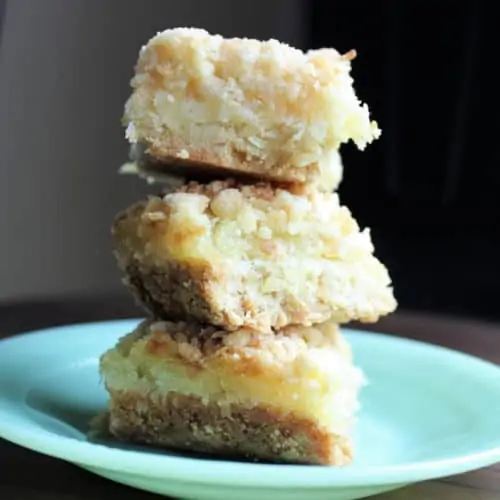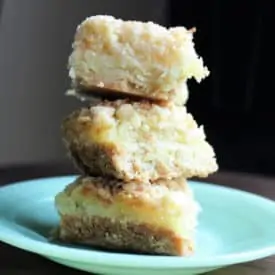 Pineapple Coconut Cake Bars Recipe
Dessert bars made from crushed pineapple, coconut flakes with a flaky crust and crumb topping.
Ingredients
1 ½

cups

All-Purpose Flour

1

cup

Coconut Flakes (can be toasted if preferred)

½

cup

Granulated Sugar

½

tsp

Baking Soda

½

tsp

Baking Powder

¼

tsp

Salt

½

cup

Butter (melted & cooled)

1

20 oz can

Crushed Pineapple (drained)

3

tbsp

Granulated Sugar

2

tbsp

Cornstarch
Instructions
Preheat oven to 375 degrees F.

Spray an 8" square baking dish with cooking spray

In a medium bowl, mix flour, coconut flakes, sugar, baking powder, baking soda, & salt.

Melt butter and then set aside to cool for 5 minutes; then place in the refrigerator for 4 minutes to ensure that it is cool enough to add to the flour mixture.

Add cooled butter to flour mixture and press with a large, sturdy fork until well blended and the mixture resembles coarse crumbs.

Reserve one cup of the flour mixture and set aside.

Press the remaining flour mixture into the bottom of the glass baking dish to form the bottom crust.

In a separate bowl, combine the drained crushed pineapple, sugar, and cornstarch.

Pour mixture over the pressed crust and spread evenly.

Sprinkle remaining 1 cup of flour mixture on top of the pineapple filling.

Bake bars on center rack of oven for 30 minutes or until topping is golden. My oven took 35 minutes.

Cool bars completely before cutting.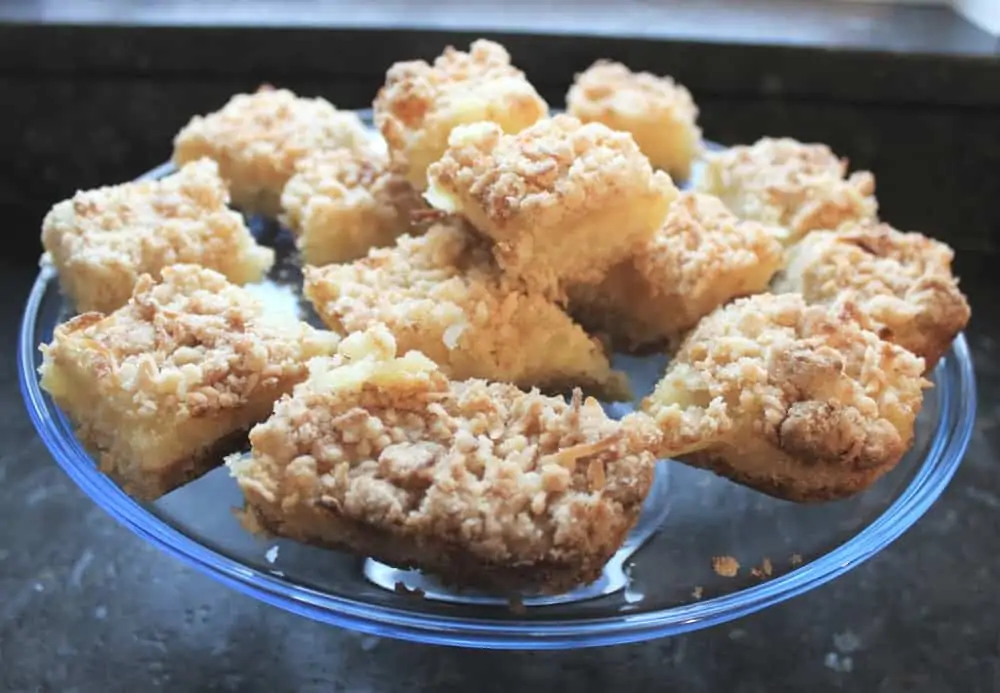 Our pineapple coconut cake bars didn't last long after I made them!
The crumbly topping and flaky crust were the perfect combination with the pineapple coconut filling.
Next time I make them, I will toast the coconut flakes in the oven on a cookie sheet before I add them to the mix.
Toasted coconut will add more flavor to the bars.
For more delicious dessert recipes, click on our posts on:
Lemon Squares – 3 Weight Watchers PPV