I found this yummy recipe in the Relish magazine insert in this past Sunday's (10/7/12) Frederick News Post. I've been wanting to try something that is kid friendly but yet has more nutrients packed in what is normally a not-so-healthy dish.
This recipe makes approximately 8 (1 cup) servings. Per serving, it has 411 calories, 19g fat, 59mg cholesterol, 21g protein, 38g carbs, 2g fiber, 302mg sodium.
Here are the ingredients:
3 cups uncooked mostaccioli or penne pasta (I used the mini penne pasta)

2 T unsalted butter (I used salted)

2 T flour

2 cups 2 percent reduced-fat milk (I used skim)

3/4 cup canned or fresh pumpkin puree

1 cup (4 oz) shredded Monterey Jack cheese (I used Mozzarella – don't know how I confused Mozzarella with Monterey Jack, but it still tasted good)

1 cup (4 oz) shredded Comte or Gruyere cheese (I used Gruyere)

1/2 cup (2 oz) grated Parmesan cheese

1/4 t salt

1/8 t nutmeg (optional)

1/8 t black pepper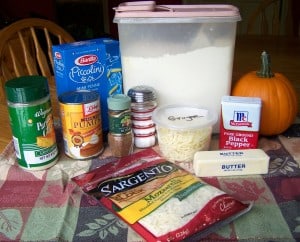 Directions:
Preheat oven to 375F. Grease a 13 x 9-inch baking pan. I chose to use 4 ramekins and sprayed them with non-stick cooking spray.

Cook pasta in salted water according to package directions. Drain.

Melt butter in saucepan over medium heat. Whisk in flour. Slowly whisk in milk; cook until thick. Add pumpkin puree and mix well. Remove from heat. Add cheeses, salt, nutmeg, if using, and black pepper.

Combine sauce with pasta. Pour into baking pan (or ramekins). Bake uncovered 25 to 30 minutes, until golden and bubbly.
This was a very easy recipe to make. I bought all of the ingredients (that I didn't already have on hand) at Wegmans Grocery Store in Frederick, MD. They have an amazing cheese selection. The one thing that really made me want to make this recipe was the Gruyere cheese. I was first introduced to Gruyere cheese in Gruyeres, Switzerland and let me tell you, it is good!! I was actually sitting in a cafe in the little town of Gruyeres listening to the cows mooing as I was eating Gruyere cheese served fondue style with grilled potatoes and onions. Mmmmmmm……….. Okay, I digress. Back to reality – my kitchen in Frederick. Anyway, I knew I'd like this recipe. The big question was, would my picky husband and even pickier son like it?
Well, I was one for two. My husband really liked it. I really liked it too, so I guess I was two for three. My son, in all honesty, will not even try something that he is unfamiliar with. He will only eat macaroni and cheese that looks like the Kraft box variety. So, if he had tried it, who knows. But I would definitely recommend this for you and your family, especially this time of year.
Bon Appetit!

Pam is married and has 1 son – a middle-schooler in his teen years. She followed Terri to Frederick in 1999. She absolutely loves going to yard sales and estate sales and finding hidden treasures.
read more...