These roasted cauliflower steaks have opened up my how-else-can-I-make-cauliflower world!
Being on a low carb, no starch diet, this recipe makes me so happy!
With the parmesan cheese and balsamic vinegar, these cauliflower steaks are a substantial side dish!
And if you're counting Weight Watchers points, each serving equals 5 SmartPoints.
Roasted Cauliflower Steaks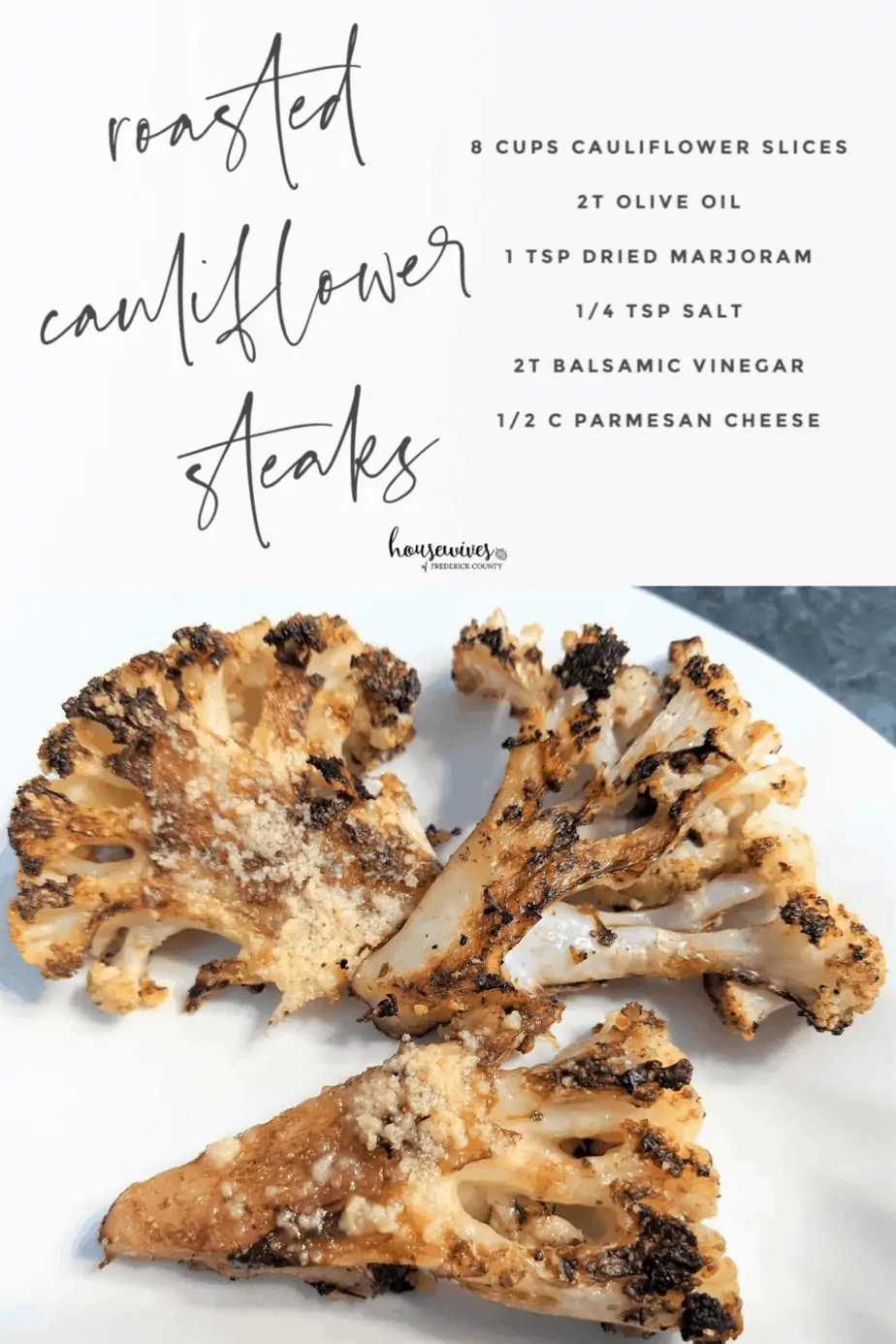 I found this recipe on the Eating Well website.
I love searching for recipes on this site because they're all healthy versions of recipes we think we can't eat, but we really can!
What Are Cauliflower Steaks?
They're called cauliflower steaks because of the way you cut a whole head of cauliflower.
Instead of cutting the stems and letting the smaller florets fall off the head, you slice the head into thick slices.
Yes, I know, it goes against the way you've cut cauliflower all your life!
It feels so "against the grain" but at the same time, it's freeing!
Items You'll Need To Make Roasted Cauliflower Steaks
Step 1: How To Cut Cauliflower Steaks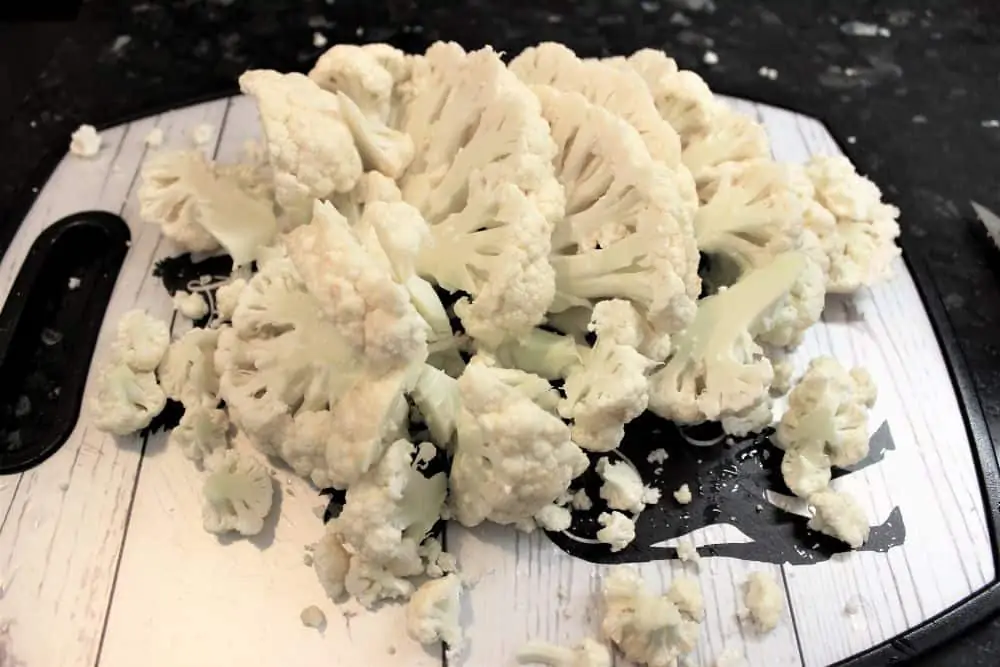 So, specifically, how do you cut cauliflower steaks?
Here are the very easy steps:
It's easier to cut cauliflower 'steaks' from a large head vs. a small head. So start with a large head of cauliflower.
Remove all of the outer leaves and cut off the end of the stem.
Position the head of cauliflower with the stem end flat on a cutting board.
Use a good chef's knife to cut the head in half, right down the center.
Then cut each half into 3/4 inch slices.
Depending on your preference, you can cut your steaks smaller or keep them large enough so that one steak or two steaks equals one serving.
Don't worry if they're not perfect slices or maybe a floret or two are among the steaks.
Each time you make this recipe, you'll get better at it.
Here's a great YouTube video showing how to cut cauliflower steaks:
Step 2: Toss Cauliflower With Oil, Marjoram, Salt & Pepper
After cutting the cauliflower steaks, place them in a bowl.
Then mix in the olive oil, marjoram, salt & pepper.
Gently mix well so that all of the cauliflower is coated.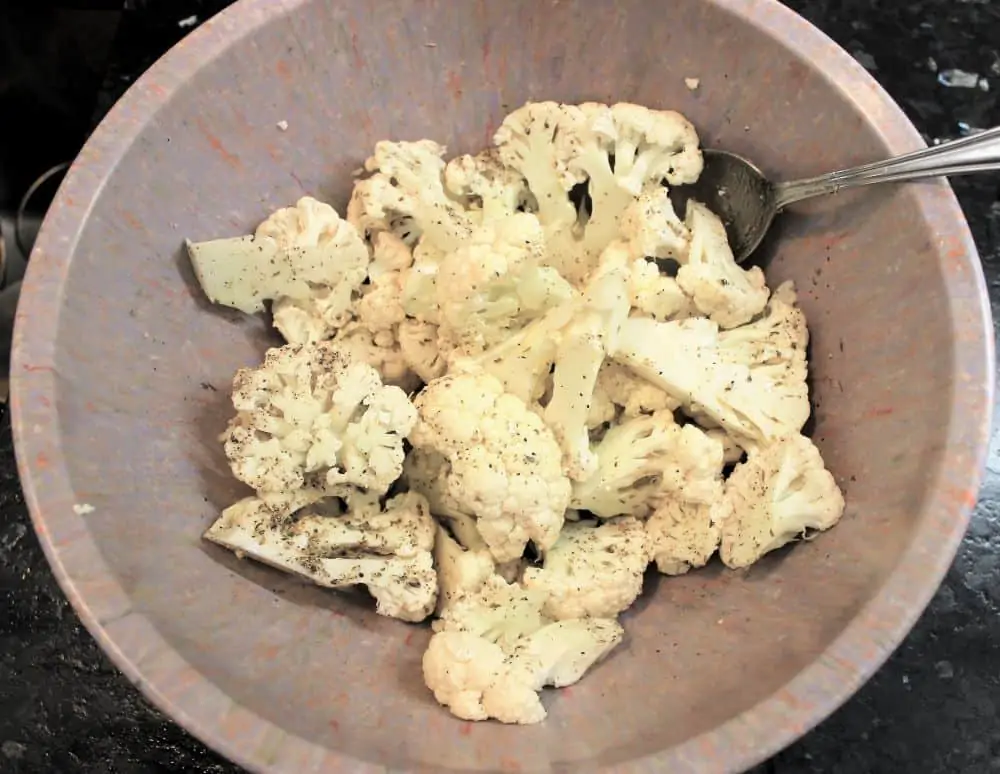 Step 3: Place Cauliflower Steaks On Baking Sheet
Now just arrange your cauliflower steaks in a single layer onto a rimmed baking sheet.
Place them in the oven at 450 degrees F and roast until the cauliflower begins to soften and brown on the bottom.
This should take around 15 to 20 minutes.
As you can see, some of the steaks look more like florets.
It's okay, don't panic!
I cut mine smaller, but next time I probably will keep them larger so that a larger flat surface of each steak browns more evenly.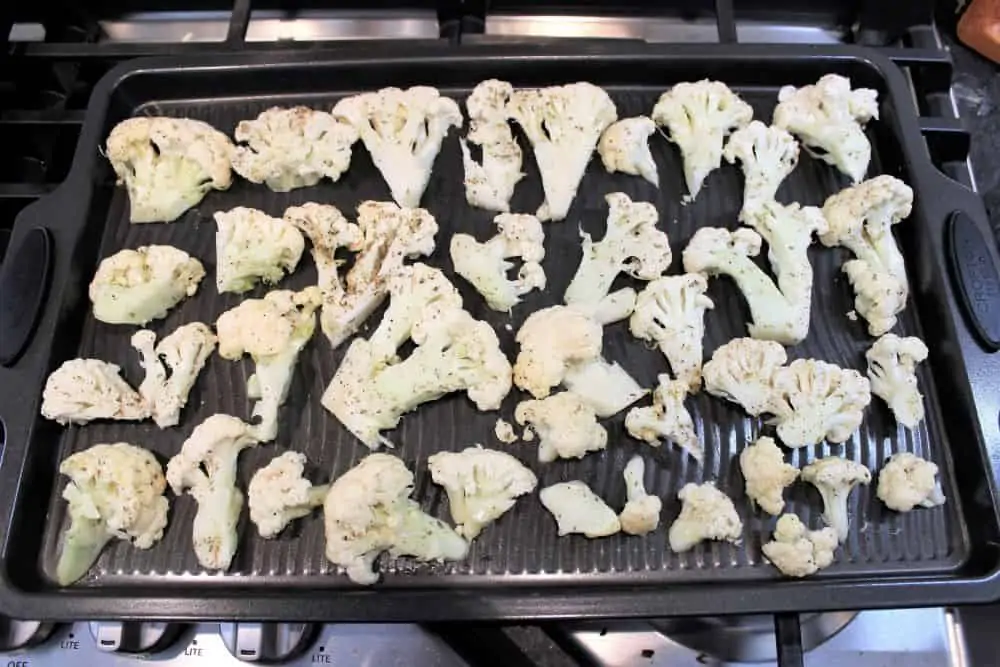 Step 4: Toss Cauliflower With Balsamic Vinegar & Sprinkle With Parmesan Cheese
This step is kind of awkward because you have to remove the baking sheet from the hot oven and place the cooked cauliflower back into the large mixing bowl.
Then add the balsamic vinegar and the parmesan cheese and mix well without accidentally breaking apart the cauliflower steaks.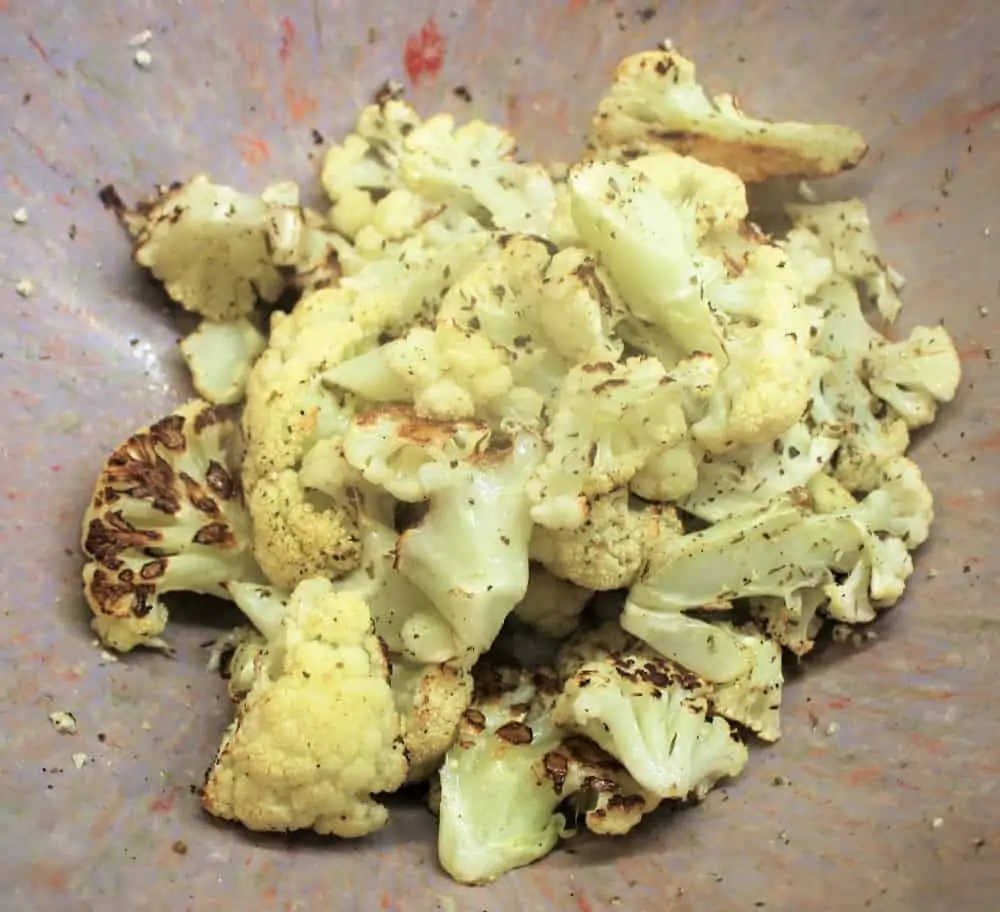 After this, place the cauliflower back in a single layer onto the baking sheet and roast until the cheese is melted.
This should take approximately 5 to 10 minutes.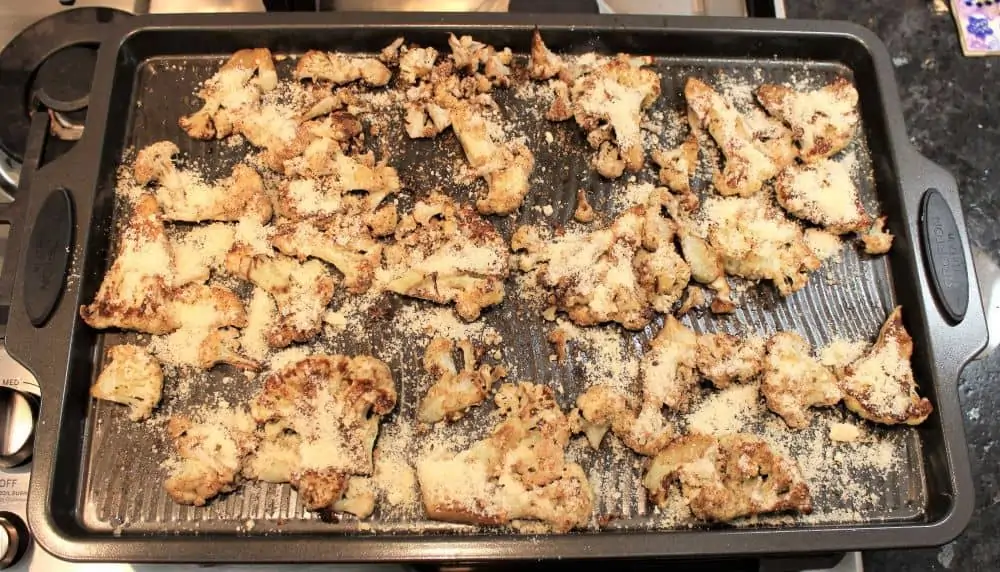 And the photos below show the final result!
The cauliflower is cooked through perfectly with delicious browned, crispy, cheesy edges.
Mmmm! These are so good you might not want to make cauliflower any other way from now on!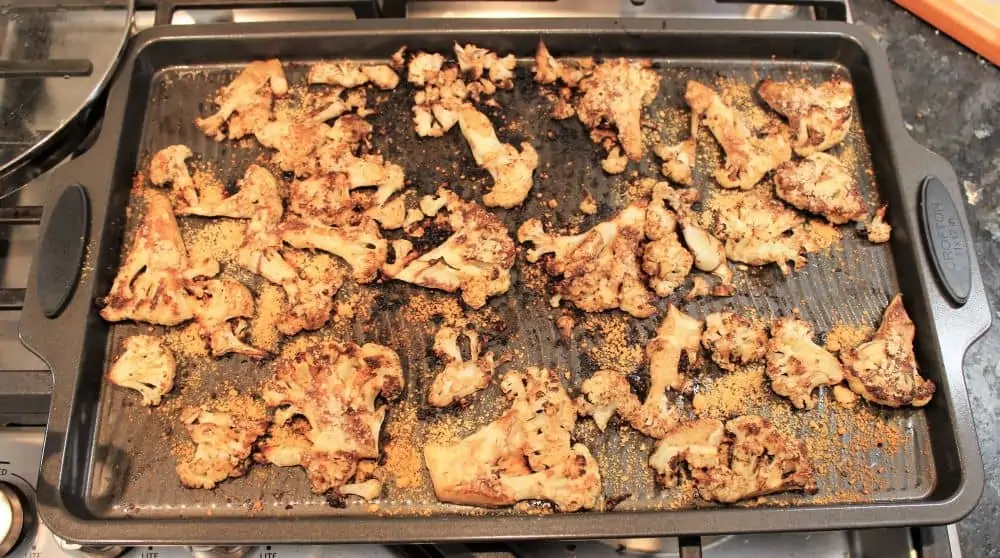 You might notice that some of the edges look almost burnt but the darkness is from the the dark color of the balsamic vinegar.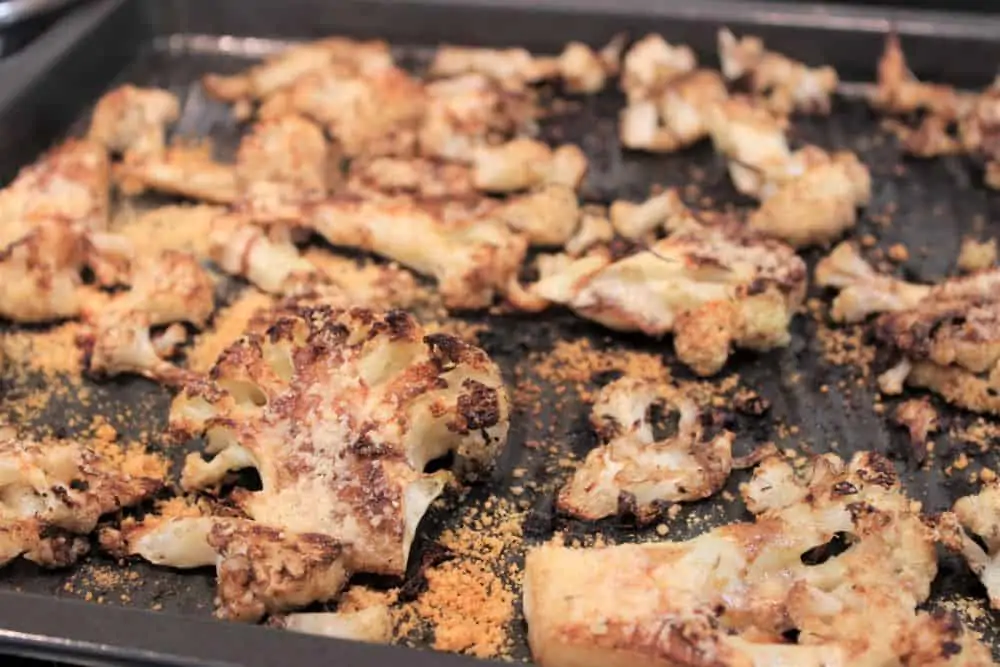 Roasted Cauliflower Steaks with Parmesan Cheese & Balsamic Vinegar Recipe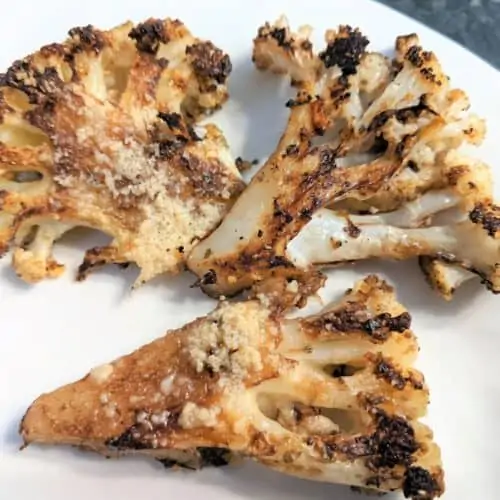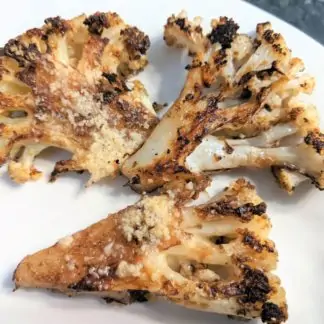 Roasted Cauliflower Steaks with Parmesan Cheese & Balsamic Vinegar
A delicious new way to enjoy cauliflower is to roast it! Create the perfect browned and crispy edges with balsamic vinegar and parmesan cheese!
Ingredients
1

head

Cauliflower - large head

2

tbsp

Extra-virgin olive oil

1

tsp

Dried marjoram

¼

tsp

Salt

¼

tsp

Pepper (or more based on taste)

2

tbsp

Balsamic vinegar

½

cup

Parmesan Cheese, finely shredded
Instructions
Preheat oven to 450 degrees F.

Cut cauliflower into 3/4 inch steaks. (See instructions in blog post)

In a large mixing bowl, toss cauliflower steaks with oil, marjoram, salt & pepper.

Spread cauliflower steaks onto rimmed baking sheet in a single layer.

Roast in oven approximately 15 to 20 minutes or until cauliflower is softened & brown on the bottoms.

Remove from oven and put cauliflower back into the large mixing bowl and gently mix with balsamic vinegar and parmesan cheese.

Place cauliflower back onto the baking sheet in a single layer and return to oven.

Roast for approximately 5 to 10 minutes or until cheese is melted.
Notes
Per serving:
152 calories, 10.2 g total fat, 2.9 g saturated fat, 10.2 g carbohydrates, 3.2 g fiber, 5 g sugar, 6.8 g protein
5 Weight Watchers SmartPoints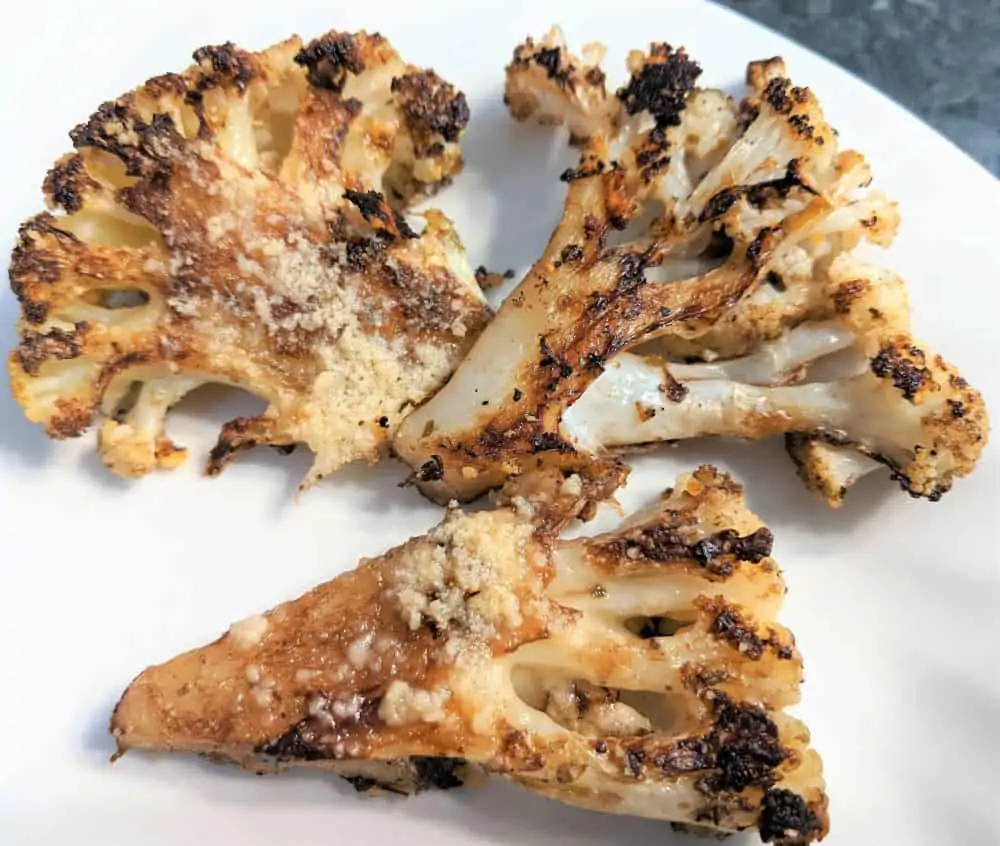 For more delicious side dish recipes, click on over to:
Weight Watchers Mashed Cauliflower: Deliciously Healthy
How To Cook Brussels Sprouts in a Foil Packet
Squash Casserole Recipe: 3 Weight Watchers Points