Loaded Mashed Cauliflower – 3 Weight Watchers Points Plus Value
I'm always looking for dishes to eat that will fill me up, be healthy, and be satisfying and tasty. If anybody knows that eating fresh fruits and vegetables, along with lean proteins and dairy is the healthiest way to eat, it's me. However, I LOVE to eat! And I LOVE hearty, stick-to-your-ribs food. I go through periods of time (and to all of my female readers, I mean periods in two different ways), where I just want to literally stuff my face with something other than an apple or steamed broccoli. Here's a side dish that fits the bill for me health-wise, as well as stuff-my-face-wise. Loaded Mashed Cauliflower.
I've seen mashed cauliflower on menus in restaurants and also in recipes online but I have never tried it for some reason until now. I perused some online recipes and modified them to find the right recipe for me. And to make it even better, it's only a 3 Weight Watchers Points plus value!
Note: This post contains affiliate links. That means if you click on a link and make a purchase we may receive a small commission. Thank you!
Oh! And if you need a good hand masher, check this Orblue Potato Masher out from Amazon.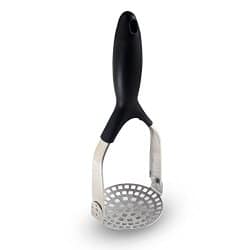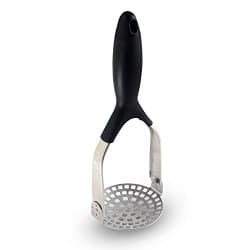 As of the date of this update, it's gotten 306 5-star customer reviews!
Here's MY recipe. Yes, I said mine! I don't have to credit anybody for this one except for me. Yay!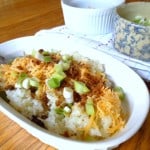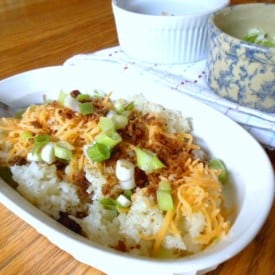 Print Recipe
Loaded Mashed Cauliflower – 3 Weight Watchers Points Plus Value
3 Weight Watchers Points Plus Value
Ingredients
- 1 head cauliflower cut up into florets

- 1 package reduced fat shredded cheddar cheese

- 1 package bacon bits

I used Hormel

- 1 can fat free chicken broth

- 3 spring onions

- Salt & Pepper to taste
Instructions
Steam cauliflower florets with the can of chicken broth in a large covered pot.

Check with a fork until cauliflower is soft enough to cut with a fork.

Remove cauliflower from chicken broth and add to a large bowl.

Mash cooked cauliflower with a hand masher.

Add your toppings and enjoy!
As you can see, this recipe is super easy to make. You can also add a tablespoon of fat free sour cream as a topping, which will add only an additional 1/2 point to your Points Plus Value.
It really is good and fulfills that hearty craving. Versus a baked potato, cauliflower is much less in calories, sodium, and carbs.
So try this recipe out and see for yourself if it's something that you could use as a substitution for a loaded baked potato. It definitely gets my stamp of approval!
Enjoy!

Pam is married and has 1 son – a middle-schooler in his teen years. She followed Terri to Frederick in 1999. She absolutely loves going to yard sales and estate sales and finding hidden treasures.
read more...