This Weight Watchers Mashed Cauliflower recipe is the perfect side dish that you can load up with some good fixins and still feel good about what you're eating!
Not only am I always looking for a side dish that will fill me up and is good for me, but also it needs to taste good.
Of course, I know just as much as anybody else that eating fresh fruit, vegetables, lean proteins, and dairy is the healthiest way to eat.
Weight Watchers Mashed Cauliflower
Clearly, I LOVE to eat!
Admittedly, I sometimes LOVE to eat bad-for-you foods!
However, as long as I have a good arsenal of good-for-you recipes that also taste amazing, I don't feel like I'm sacrificing.
Hearty, Stick-To-Your-Ribs Food
Typically, I go for hearty, stick-to-your-ribs food choices.
Sometimes, I go through periods of time (and to all of my female readers, I mean periods in two different ways), where I just want to literally stuff my face with something other than an apple or streamed broccoli.
Can I get an amen?
Healthy Side Dish
Indeed, I found a side dish that totally fits the bill for me health-wise, as well as stuff-my-face wise: Weight Watchers Mashed Cauliflower.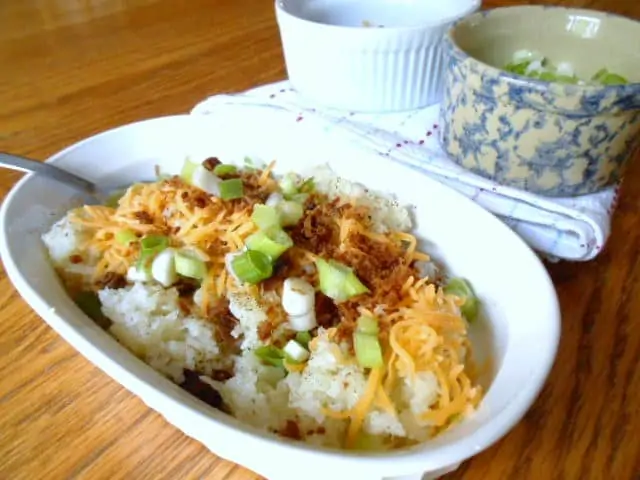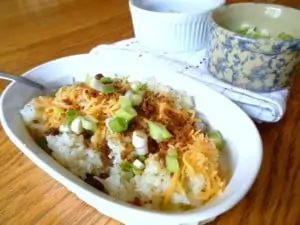 Weight Watchers Mashed Cauliflower
I've seen mashed cauliflower on restaurant menus and also in recipes online.
However, I've never tried making it at home until now.
In this case, I browsed some online recipes and modified them to find the right recipe for me.
In addition, the best part of this recipe is that it's only 3 Weight Watchers Points Plus Value!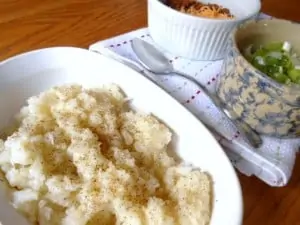 As an Amazon Associate I earn from qualifying purchases.
Hand Potato Masher
We really like this KitchenAid Gourmet Stainless Steel Wire Masher on Amazon.
It'll make mashing your cauliflower extremely easy to do!
It's also great for mashing root vegetables, avocadoes, apples, and nuts.
And it's dishwasher safe!
Weight Watchers Mashed Cauliflower Recipe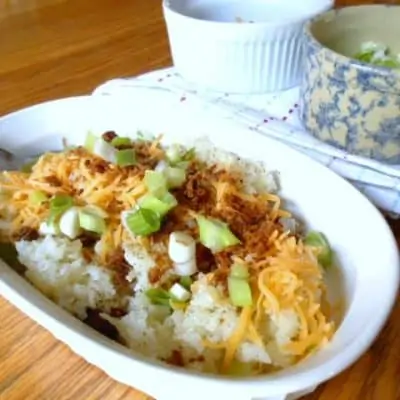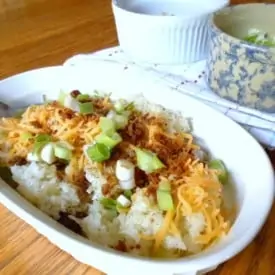 Weight Watchers Mashed Cauliflower
3 Weight Watchers Points Plus Value
Ingredients
- 1 head cauliflower cut up into florets

- 1 package reduced fat shredded cheddar cheese

- 1 package bacon bits

,

I used Hormel

- 1 can fat free chicken broth

- 3 spring onions

- Salt & Pepper to taste
Instructions
Steam cauliflower florets with the can of chicken broth in a large covered pot.

Check with a fork until cauliflower is soft enough to cut with a fork.

Remove cauliflower from chicken broth and add to a large bowl.

Mash cooked cauliflower with a hand masher.

Add your toppings and enjoy!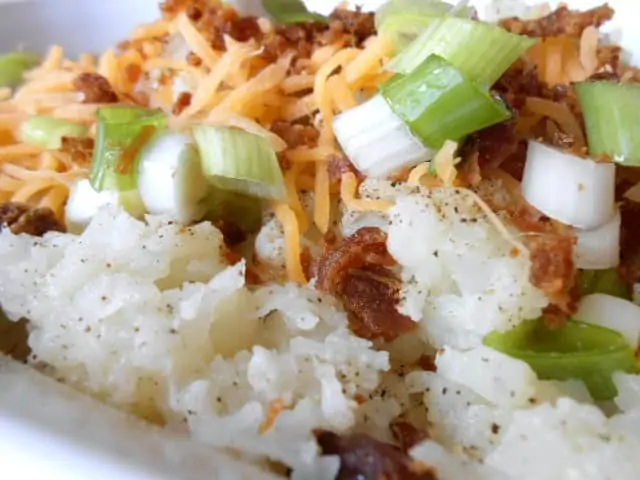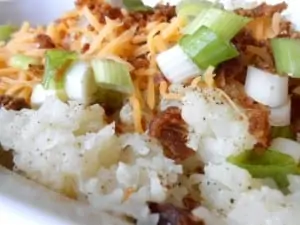 Super Easy To Make
As you can see from the recipe instructions, Weight Watchers Mashed Cauliflower is super easy to make!
Additionally, to add more ooomph to this wonderful side dish, you can add a tablespoon of fat free sour cream as a topping.
As a result, this only adds an extra 1/2 point to your Points Plus Value.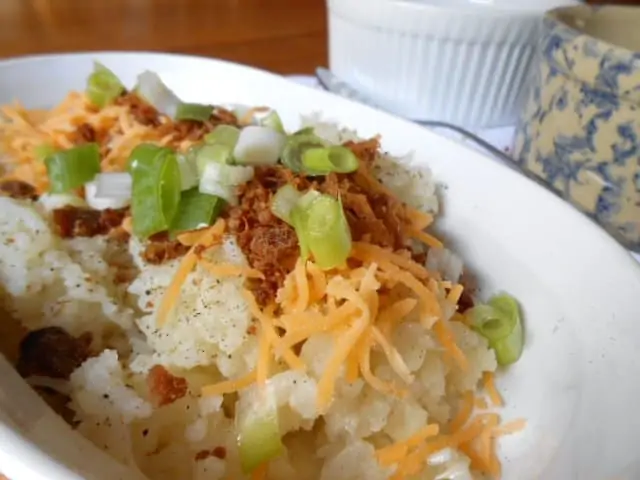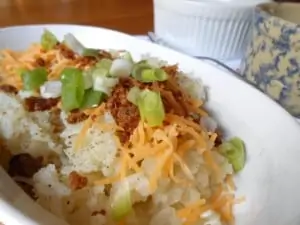 It really is delicious and fulfills that hearty craving.
Less Calories, Sodium and Carbohydrates
Comparable to the taste and consistency of a baked potato, mashed cauliflower is much lower in calories, sodium and carbohydrates.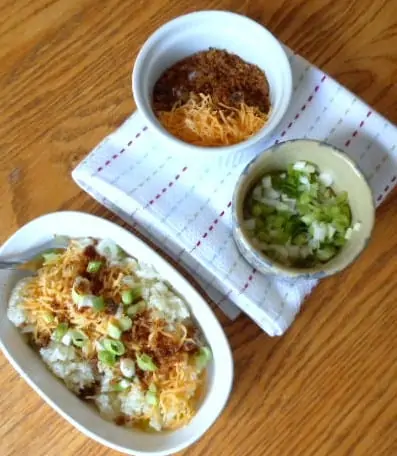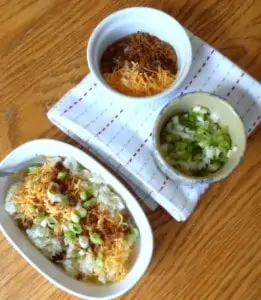 Finally, try out this recipe and see for yourself if it's something that you could use as a substitution for a loaded baked potato.
Obviously, it gets my stamp of approval!
Lastly, these days it's so easy to stay on track and eat healthy.
For example, we found these WW S'mores Mini Bars on Amazon.
They're only 2 SmartPoints per bar.
Each bar has 3 grams of fiber and contains no artificial flavors, colors, or preservatives.
Looking for more Weight Watchers recipes?
We like this Weight Watchers One Pot Cookbook.
This cookbook has 300 Weight Watchers one-dish recipes that are healthy and easy to make.
For more Weight Watchers side dishes, check out our posts on:
Quinoa, Zucchini, & Corn in Lemon Butter
Brussels Sprouts & Potatoes Foil Pack
Roasted Oregano Lemon Baby Potatoes
Butter Pecan Mashed Sweet Potatoes