I was given a complimentary personalized lasagna dish from Personal Creations in exchange for this blog post. All opinions are my own.
Did you know that there is a National Lasagna Day?
Well, let's get ready to celebrate with our delicious spinach artichoke lasagna recipe.
It is the perfect comfort food and a great dinner idea the whole family will love.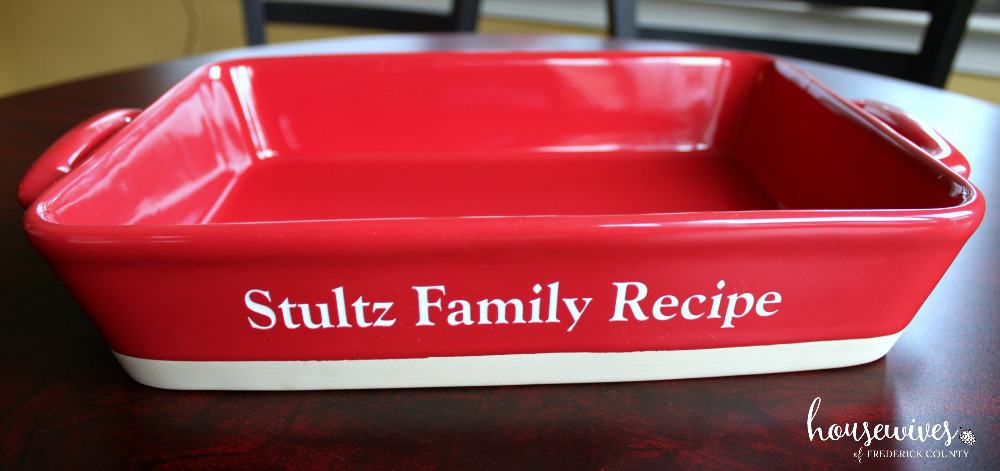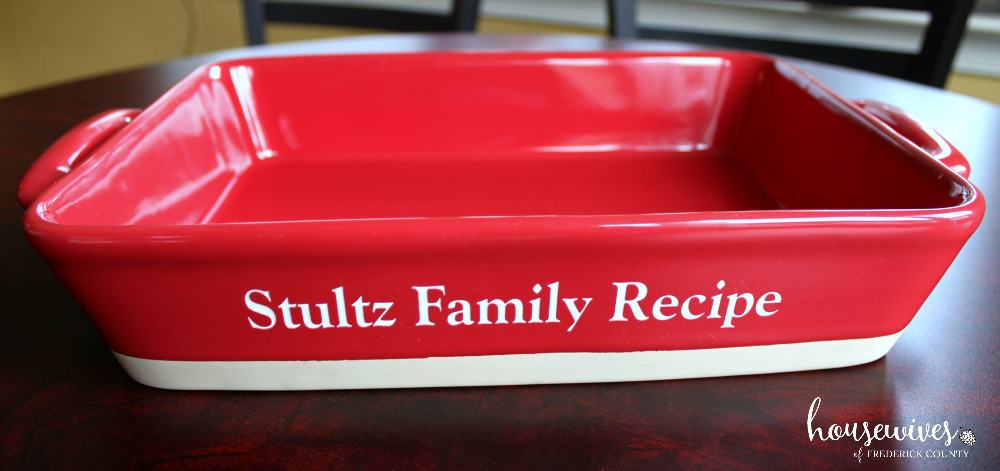 Spinach Artichoke Lasagna
I love the conventional lasagna recipe just as much as the next guy.
BUT, I wanted to create a recipe that was a little bit different this time since I had a brand new dish to make it in.
This version is meatless but doesn't in any way take away from the satiety that the meat-filled version provides.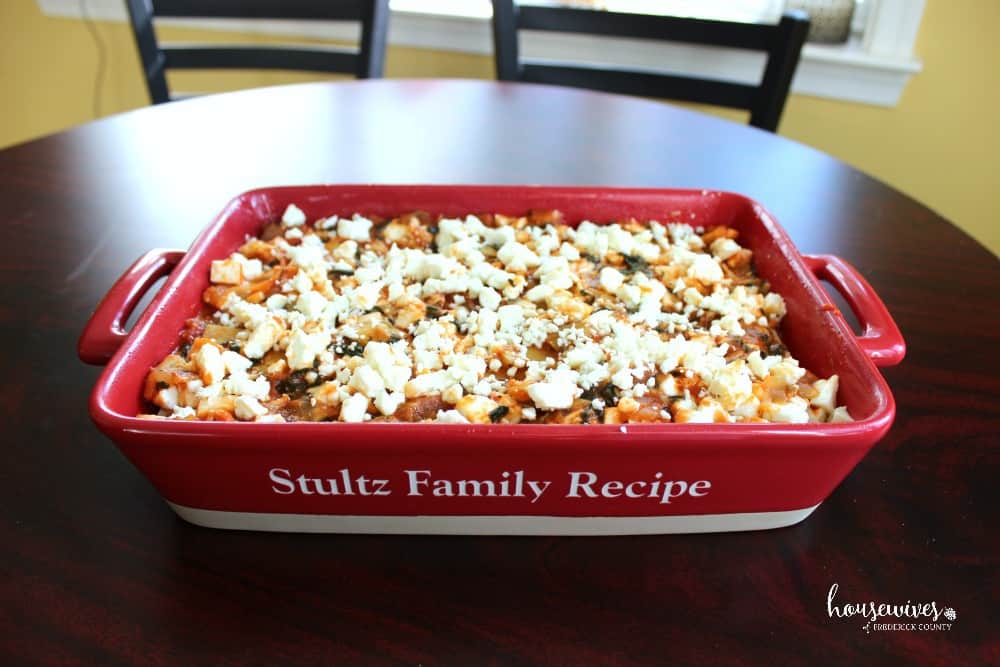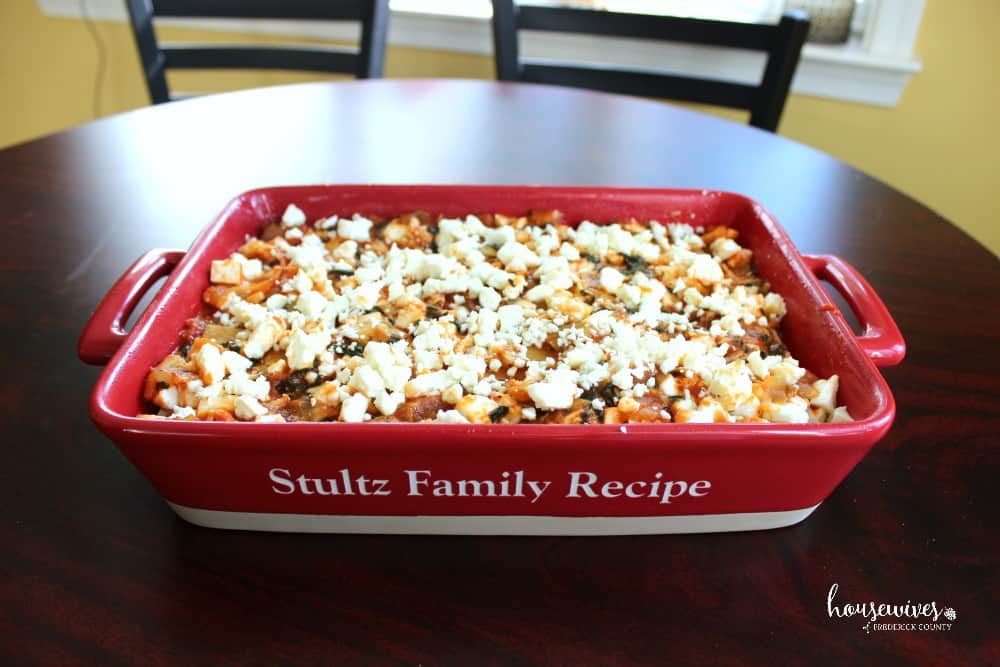 Ingredients:
1 box, 9 oz No-boil lasagna noodles
1 large onion, chopped
4 cloves minced garlic
1 3/4 cups vegetable broth
1 Tbsp fresh rosemary, chopped
14 oz artichoke hearts, drained & chopped
10 oz frozen, chopped spinach, thawed, drained & squeezed dry
28 oz meatless pasta sauce
3 cups mozzarella cheese, shredded
4 oz feta cheese, crumbled
Dash of olive oil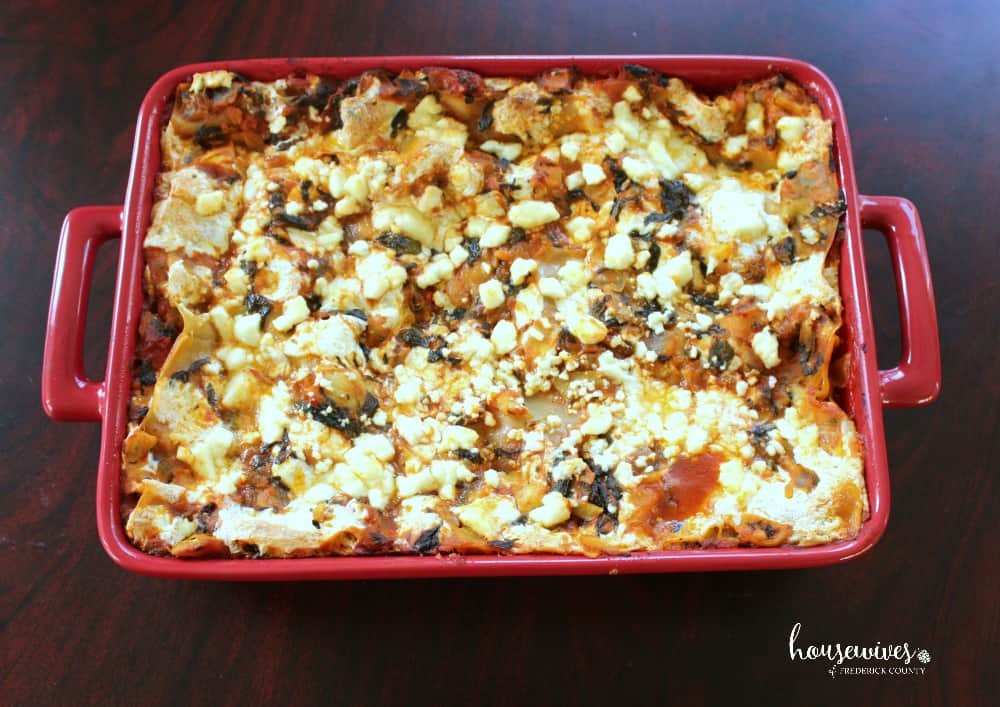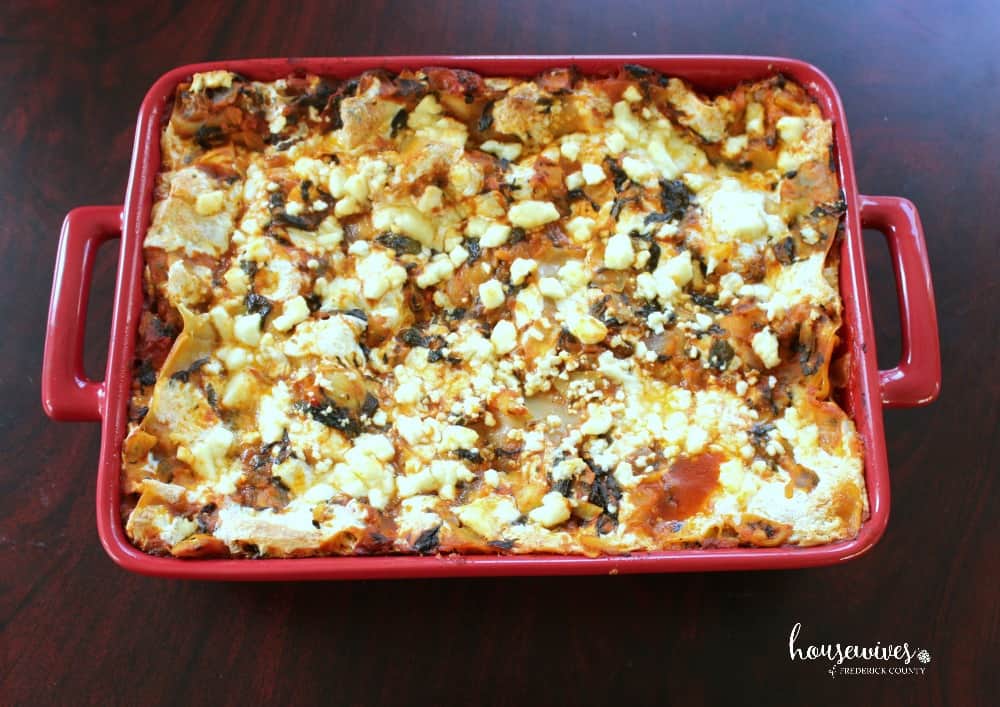 Recipe:
Preheat oven to 350 degrees.
Grease lasagna dish with olive oil.
Spray large skillet with cooking spray and heat on medium high.
Saute onion and garlic for 3 minutes until onion is tender crisp.
Stir broth and rosemary and bring to a boil.
Stir in artichoke hearts and spinach.
Reduce heat, cover and simmer for 5 minutes.
Stir in pasta sauce.
Spread 1/4 of the artichoke mixture in the bottom of the prepared baking dish.
Then top with 5 no-boil lasagna noodles.
Sprinkle 3/4 cup mozzarella cheese over noodles.
Repeat layers 2 more times, ending with artichoke mixture and mozzarella cheese.
Sprinkle crumbled feta on top.
Bake, covered for 40 minutes.
Uncover and bake an additional 15 minutes, or until hot and bubbly.
Let stand 10 minutes before cutting.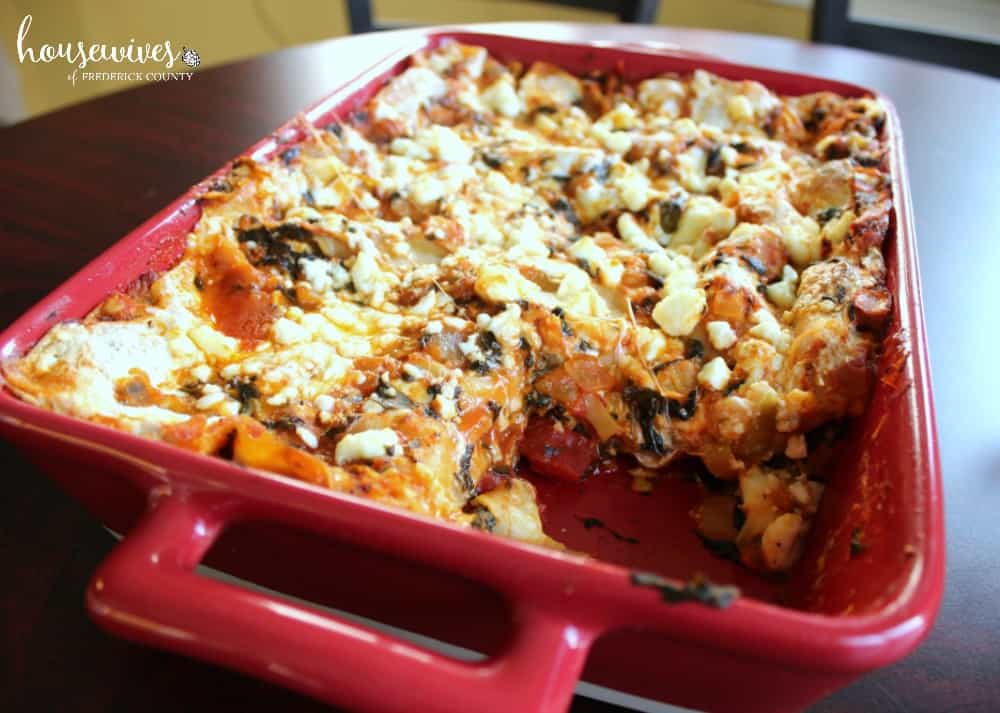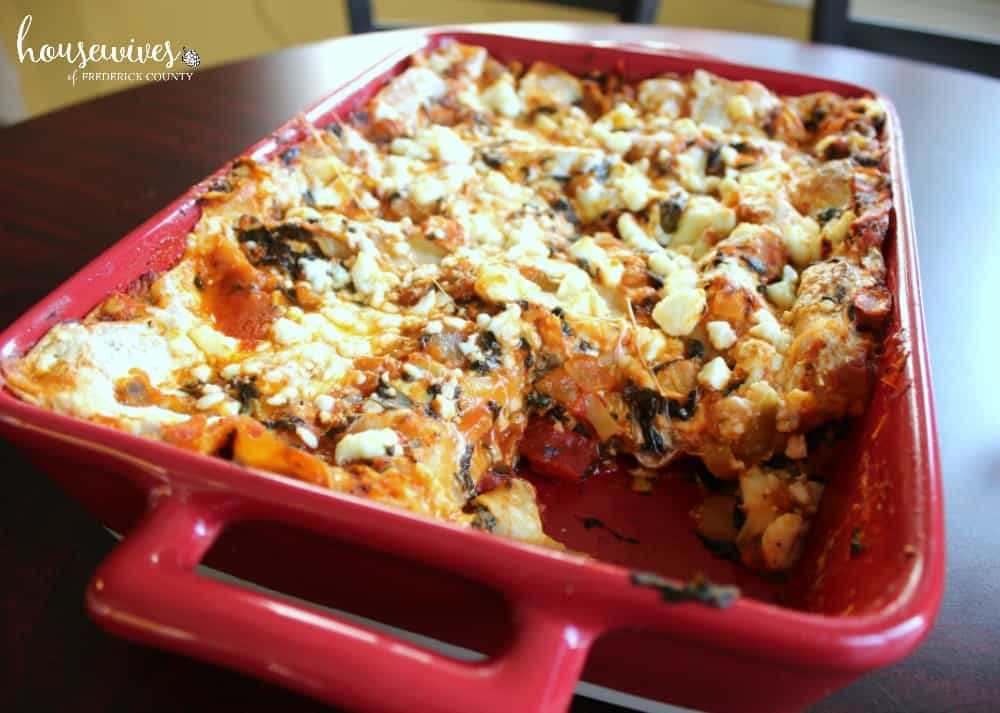 This recipe serves 6 people.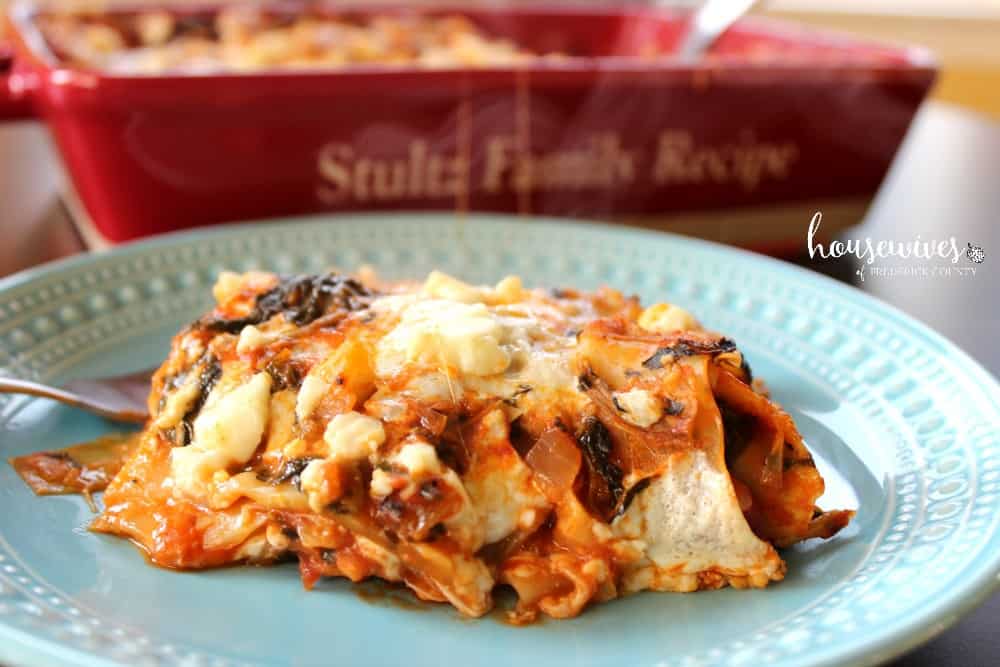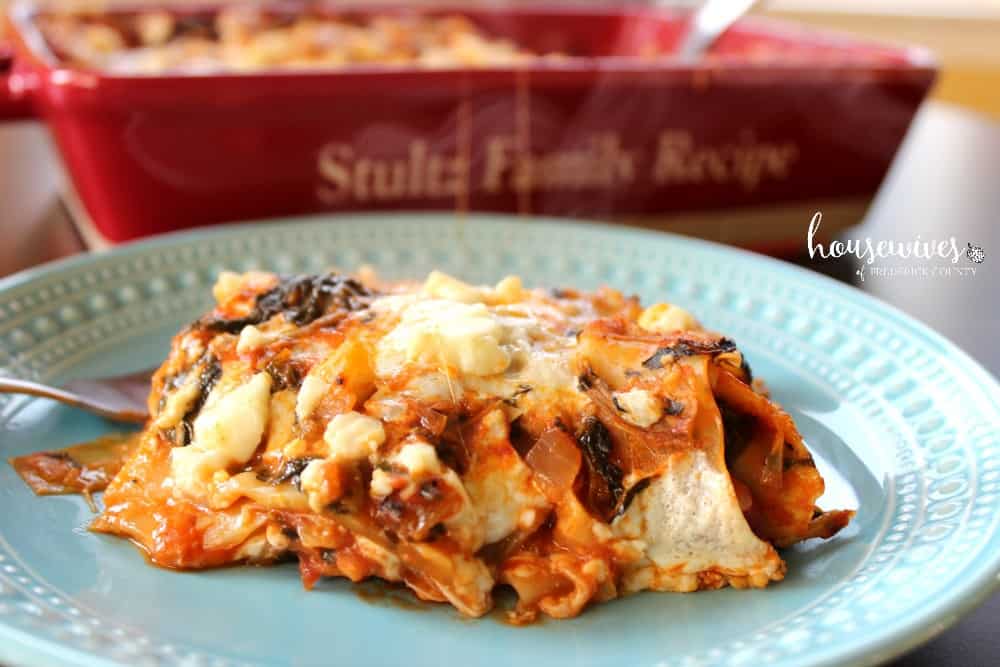 I was a little apprehensive to serve this spinach artichoke lasagna to my hubby for the first time.
He is more of a 'meat-and-potatoes' kind of guy.
Plus, this spinach artichoke lasagna doesn't look exactly like the kind mom made back in the day.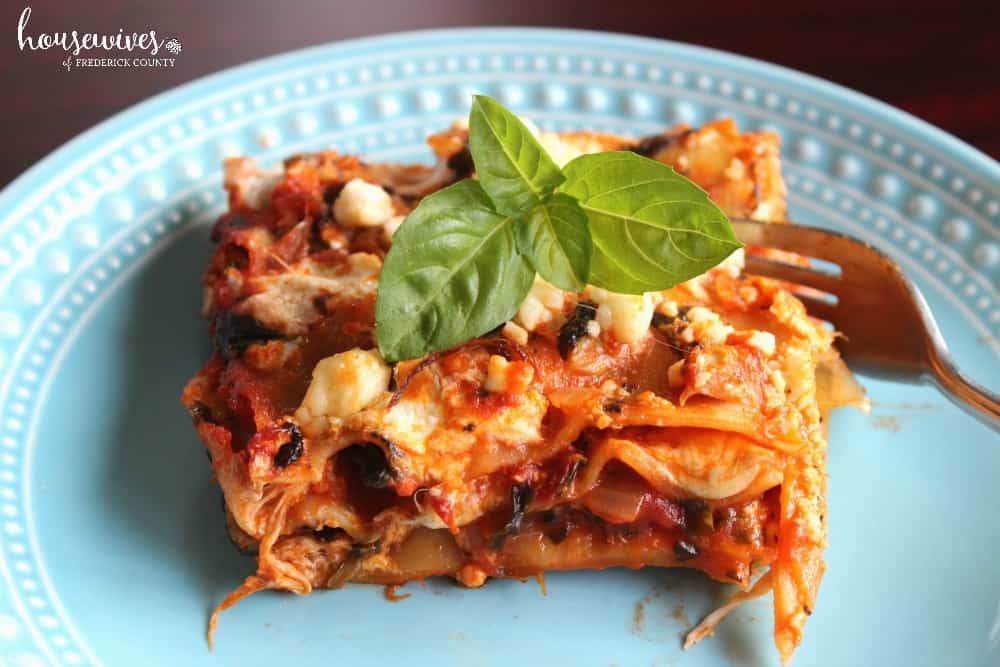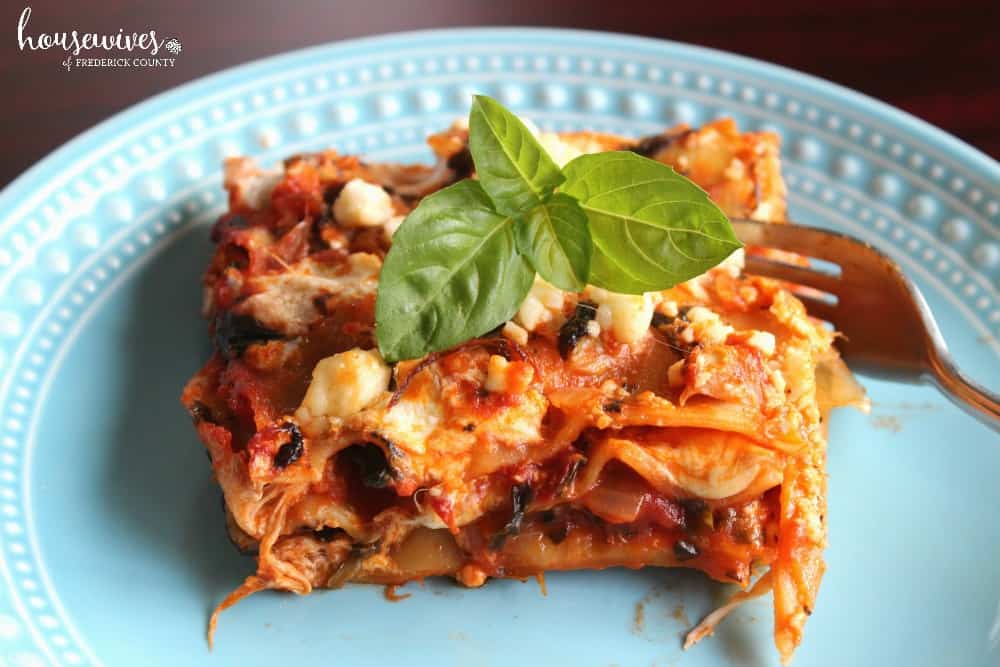 BUT, thankfully he loved it!
It was seriously delicious.
I didn't miss the meat one bit.
I highly recommend this vegetarian recipe as a change from the every day lasagna.
And it was that much more special being served out of my new, personalized lasagna dish.
Do you have a tried and true, favorite lasagna recipe in your recipe box?

Pam is married and has 1 son – a middle-schooler in his teen years. She followed Terri to Frederick in 1999. She absolutely loves going to yard sales and estate sales and finding hidden treasures.
read more...