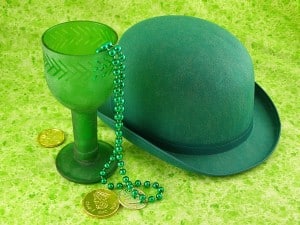 Well, it's that time of year again!  Spring is just around the corner, the days are getting longer, birds are chirping as we wake up, and it's almost St. Patrick's Day!  I love this time of year!  It kind of feels like a time to start fresh, remove the layers of Winter and come out of hibernation.  So, what better excuse to go out than St. Patrick's Day 2013!
It doesn't seem like that long ago for me that St. Patrick's Day meant going out and drinking green beer and celebrating with friends!  Oh, who am I kidding, I still love to do that!  But, as I get older, I also enjoy exploring what my community has to offer and partake in family fun activities.
Here in Frederick, MD there are many opportunities to celebrate St. Patrick's Day! If you love downtown Frederick (which I do!), check out the  Downtown Frederick Pub Crawl – it promises "food, drinks, prizes and revelry" – what more could you ask for?    At Bushwaller's, there will be a whole weekend of fun – a Flying Dog Lucky SOB release party, the annual Kegs 'n Eggs event, live music and their traditional St. Patrick's Day festivities!
If you're looking for something a little more sophisticated and/or family-friendly, the library in downtown Frederick is offering Irish music for St. Patrick's Day!  This will take place from 2:30pm to 3pm and you will enjoy Irish and other classical tunes from the Frederick Harp Ensemble of the Frederick String Initiative.  You can also check out Music at the Weinberg – Jazz vocalist Jane Monheit will be joined by special guest, Grammy award winner, Mark O'Connor!  Click on the link above for information and tickets.  Beans in the Belfry, in Brunswick, is a place I have always wanted to go to, but have never had the pleasure to – they are having live music Saturday (3/16) from 7pm to 9:30pm, and then on Sunday they are having a St. Patrick's Day concert from 7pm to 9pm.
If you are in the mood for wine, check out Sugarloaf Mountain Vineyard in Dickerson.  They will be having a St. Patrick's Day Celebration with 50% off glasses of wine from their tasting menu, and will be offering a special Irish Platter to purchase.   The Perfect Truffle is the perfect place to buy some decadent truffles and are offering special St. Patrick's Day truffles!
Two dining destinations in Frederick that I would recommend would be Magoo's which  is an authentic Irish Pub – my husband and I ate there about a year or so ago and really enjoyed it.  And, of course, ya can't forget The Shamrock –  Irish food all year-round and they will be having  Irish music all weekend!
So, there ya have it!  Some great ideas for things to do here in good ole Frederick, MD for St. Patrick's Day!  I will leave you with a picture of one of my favorite people, Cristi!  She is a great friend of mine and Pam's, and this is her birthday month!  Happy Birthday girlie, oh and Happy Birthday to Pam's hubby who just so happens to celebrate his birthday on St. Patrick's Day itself!  If you have a fun St. Patrick's Day picture you'd like to share, please do!  We'd love to see it!  Have fun and….
"May your blessings outnumber
The shamrocks that grow,
And may trouble avoid you
Wherever you go."
~Irish Blessing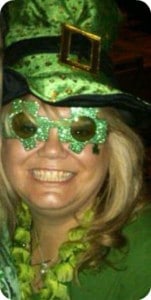 Wanna see more posts like this?  Subscribe to our blog!  You will get about one post a day sent right to your email!  Thank you for reading 🙂

Pam is married and has 1 son – a middle-schooler in his teen years. She followed Terri to Frederick in 1999. She absolutely loves going to yard sales and estate sales and finding hidden treasures.
read more...