I just love me some summer salads!
Especially when I can use some of my very own homegrown veggies and herbs.
SO satisfying knowing that you grew some of the ingredients AND the fact that they're just plain tastier and fresher that way.
Add to that, an olive oil & balsamic vinegar mix sold locally, and you're got yourself an amazing summer salad.
Orzo Salad
Here is the printable version of this recipe: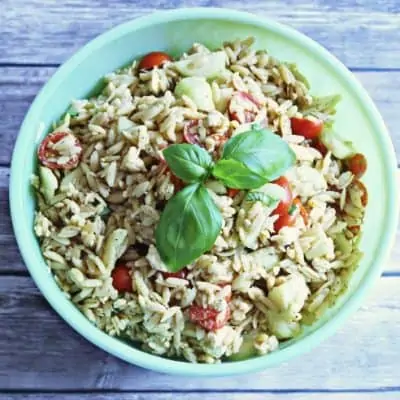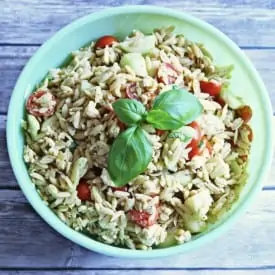 Summer Fresh Orzo Salad
Ingredients
- 1 box Orzo pasta

- 1 cup of tomatoes

,

chopped, cherry, or grape

- 1 to 2 chopped cucumbers

- 1 container of crumbled feta cheese

- fresh basil

- salt & pepper

- Italian dressing OR any flavored oil & vinegar mixture
Instructions
Boil the orzo pasta according to package directions & drain.

Add chopped cucumbers, chopped tomatoes, & feta cheese to orzo.

Mix in dressing or oil/vinegar mixture.

Add salt & pepper to taste.

Top with fresh basil.

Chill before serving.
Disclosure: the pictures below are tomatoes and cucumbers I bought from the store (gasp!), but that was only because my homegrown 'maters and cucumbers weren't ready yet.
I could make this salad now with my homegrown veggies and it would taste EVEN better.
I used grape tomatoes for this recipe.
Next time I'll use larger tomatoes that I can chop.
Personally I prefer more of the inside of the tomato versus the skin.
Cucumbers are one of my favorite summer veggies.
Probably not much nutritional value to them, but I gotta have that crunch in my salads.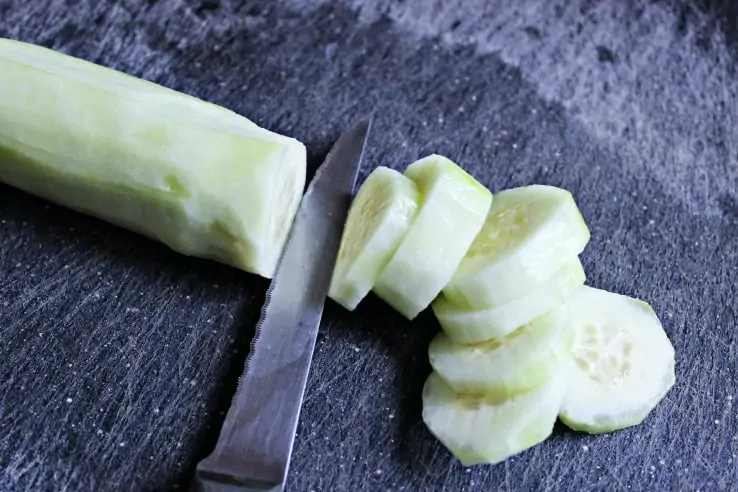 This is my first summer growing a windowsill herb garden.
My basil plant was thriving when I made this recipe.
There's just something special about being able to snip your own homegrown herbs as opposed to buying them from the grocery store.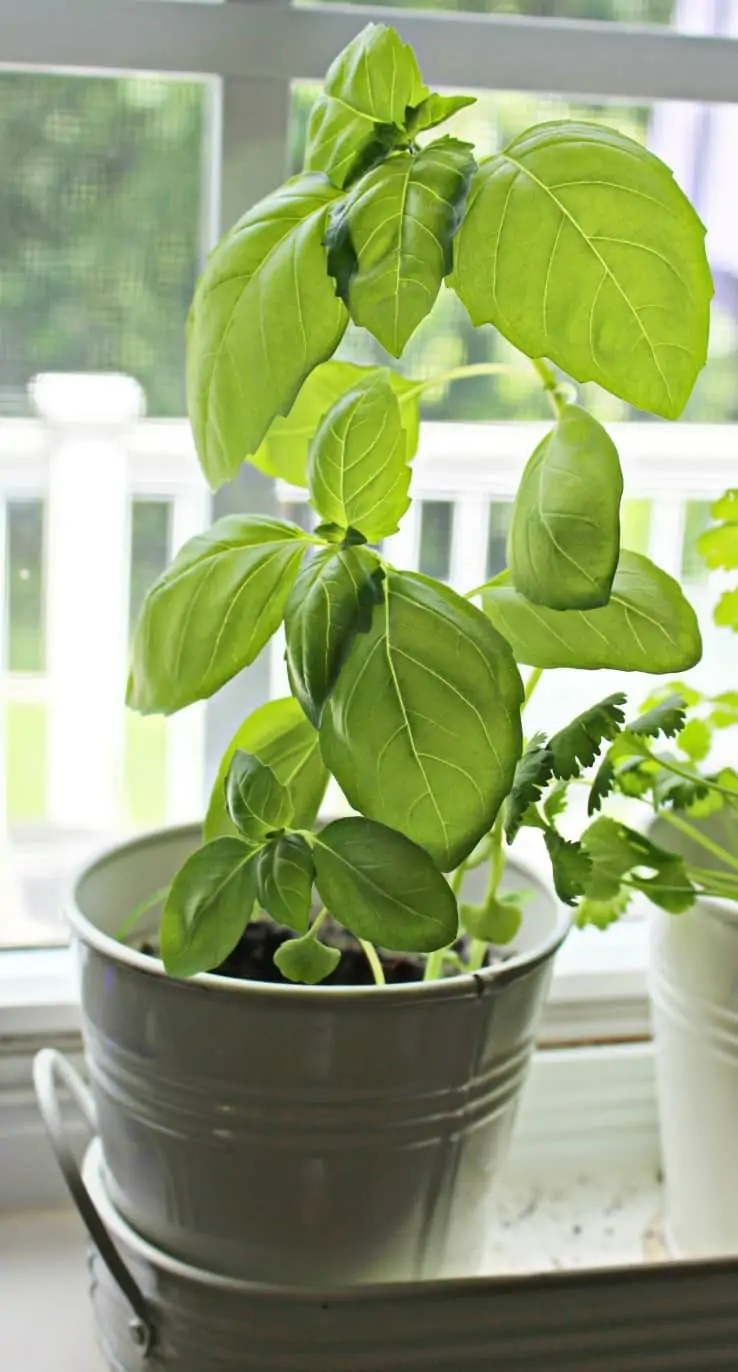 Something that initially motivated me to make a summer salad was the fact that I was given a bottle of Summer Dressing from Lebherz Oil & Vinegar Emporium located in Downtown Frederick.
If you haven't visited their shop, you MUST!
It is the largest variety of oils and vinegars I've ever seen in my life.
And they are amazing!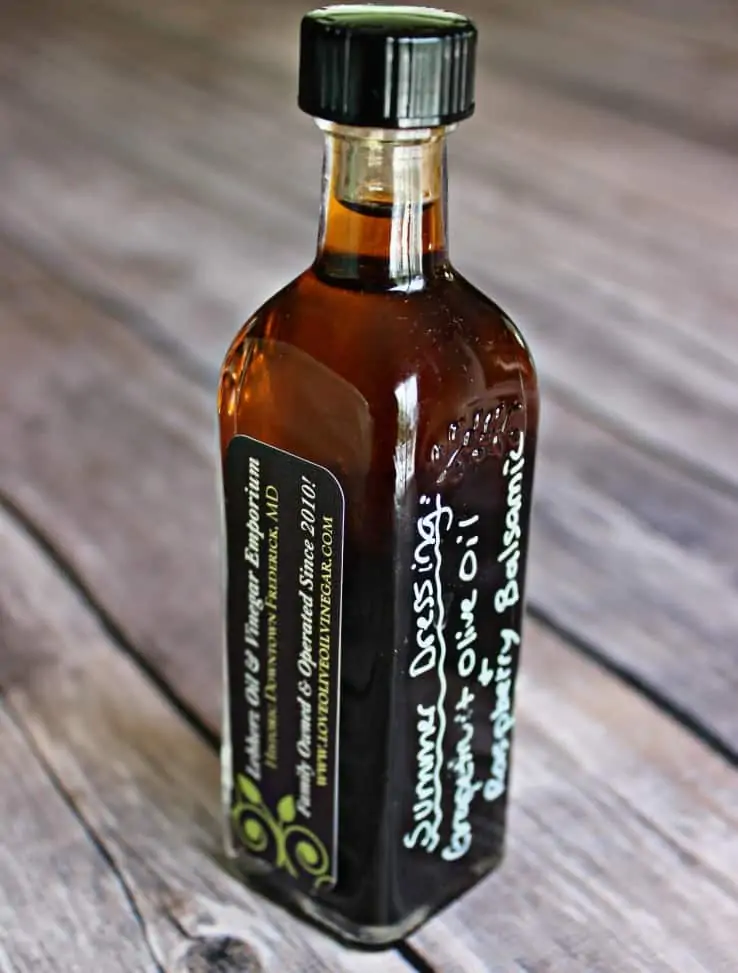 This summer fresh orzo salad turned out just as delectable as I expected.
The beauty of this type of salad is that you can add any extra ingredients you like.
Black olives, spring onions, green peppers, different color tomatoes.
The possibilities and colors are endless.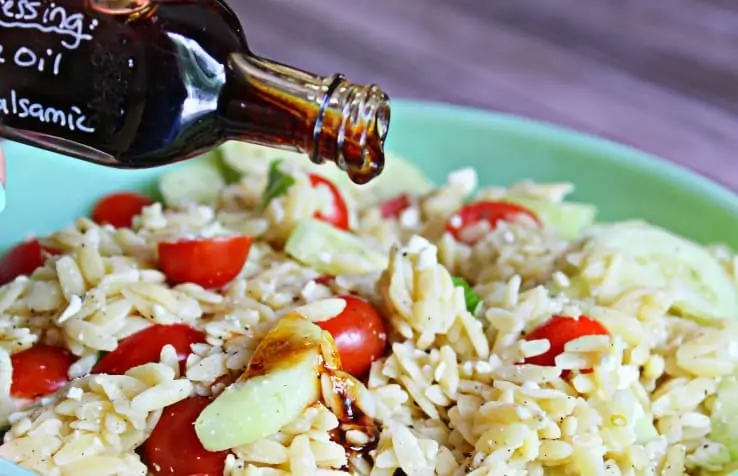 And if you've never tried orzo, I highly recommend it. I guarantee you will like it. It's kind of like rice on steroids.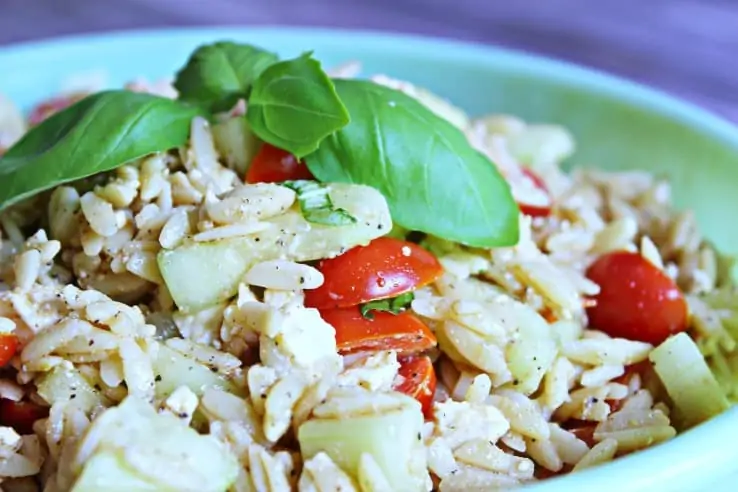 This salad keeps for 3 to 5 days as long as it remains chilled in the refrigerator.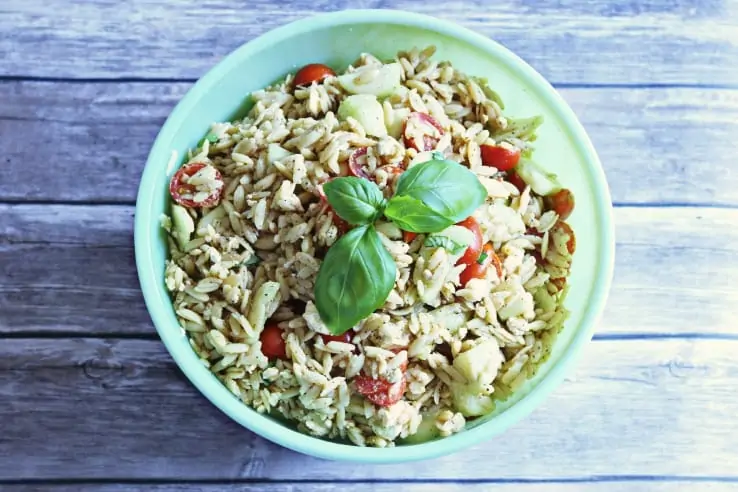 This is a great macaroni salad alternative to bring to picnics, reunions, pool parties, or just dinners on the deck.
What types of salads do you enjoy most during the summer months?
Let us know in the comments.
Bon Appetit!