My Mom used to make the BEST old fashioned Thanksgiving dressing recipe for the holidays every single year.
It's always been the perfect side dish besides mashed potatoes that I look forward to eating the most.
Needless to say, I'm so thankful that I got this recipe from her when she was still with us because now I can make it for future generations and continue the family tradition.
Thanksgiving Dressing Recipe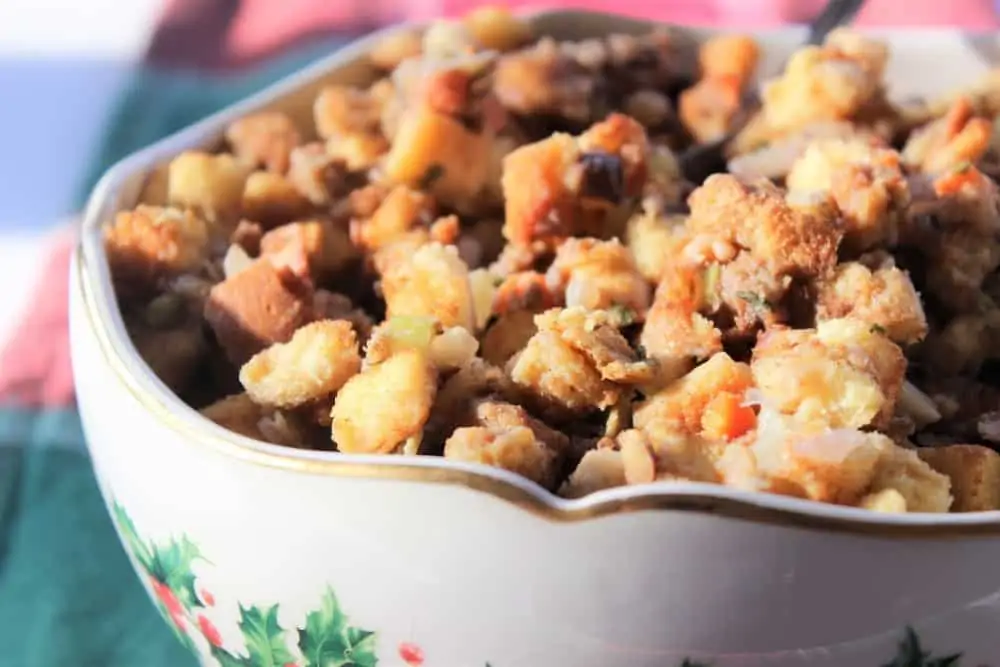 I eat dressing – or as some call it, traditional stuffing – MAYBE 3 to 4 times a year.
The two main times are with our holiday meal on Thanksgiving Day and also on Christmas Day.
Actually, just to name a few, there are several other varieties of dressing recipes:
Cornbread dressing
Sausage dressing
Cranberry dressing
Chestnut dressing
However, the BEST dressing recipe in the whole wide world is my Momma's dressing.
My Mom's Bread Dressing Recipe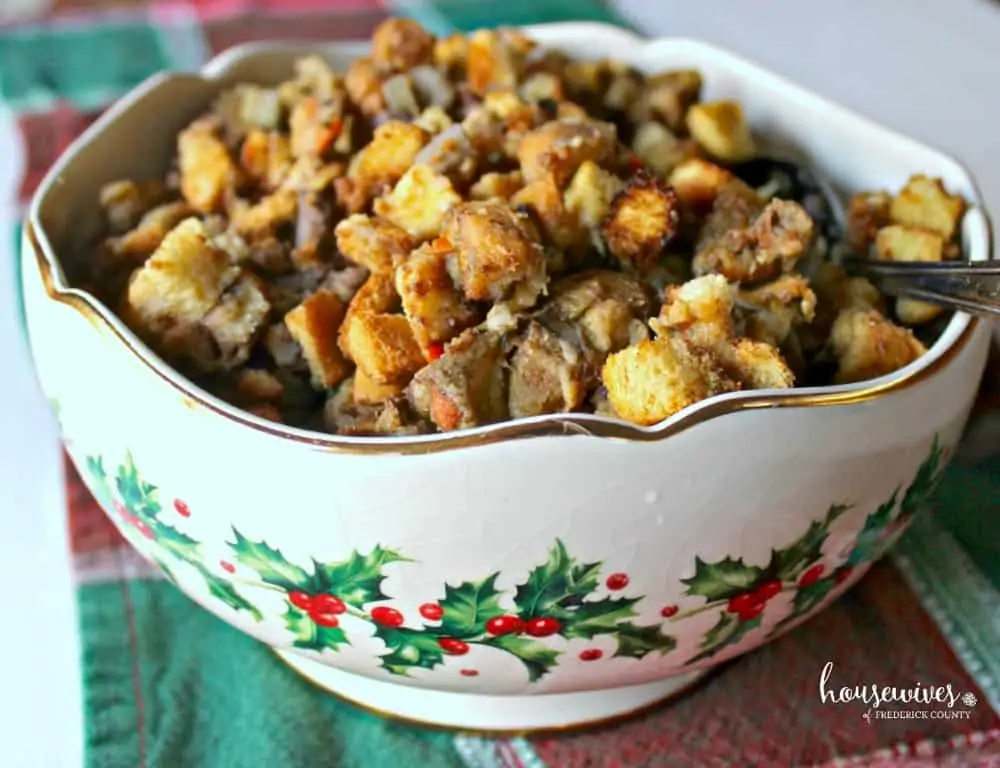 Yes, I may be a tad bit biased, but out of all of the bread dressings I've ever tried in my life, my Momma's is hands-down THE BEST.
Why I Love This Bread Dressing Recipe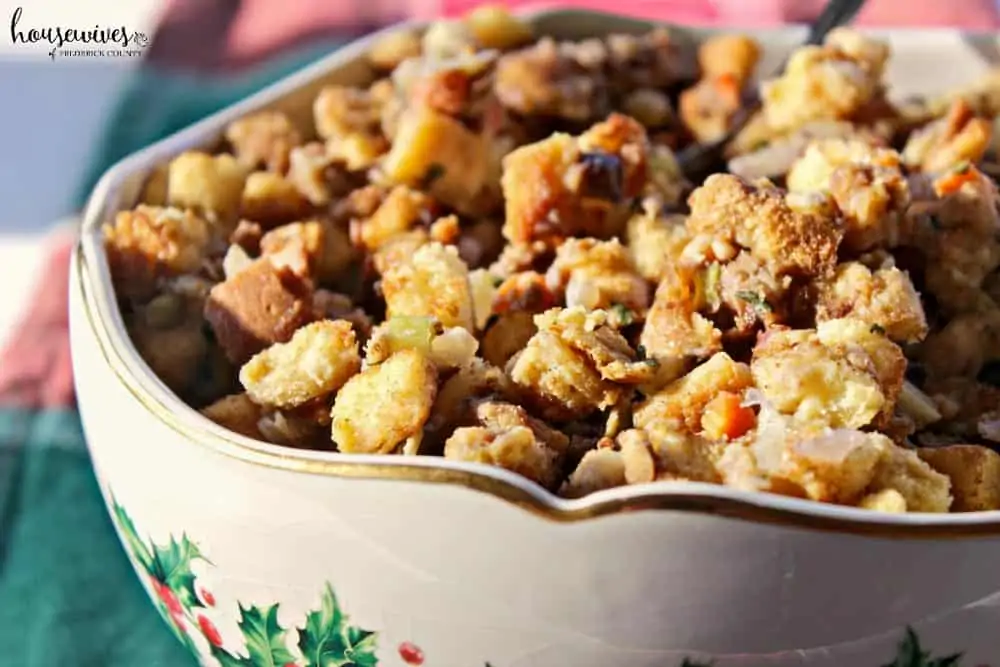 There's really nothing fancy about it.
And maybe that's why I love it so much.
There are so many flavors and textures in it that it just makes my taste buds so happy.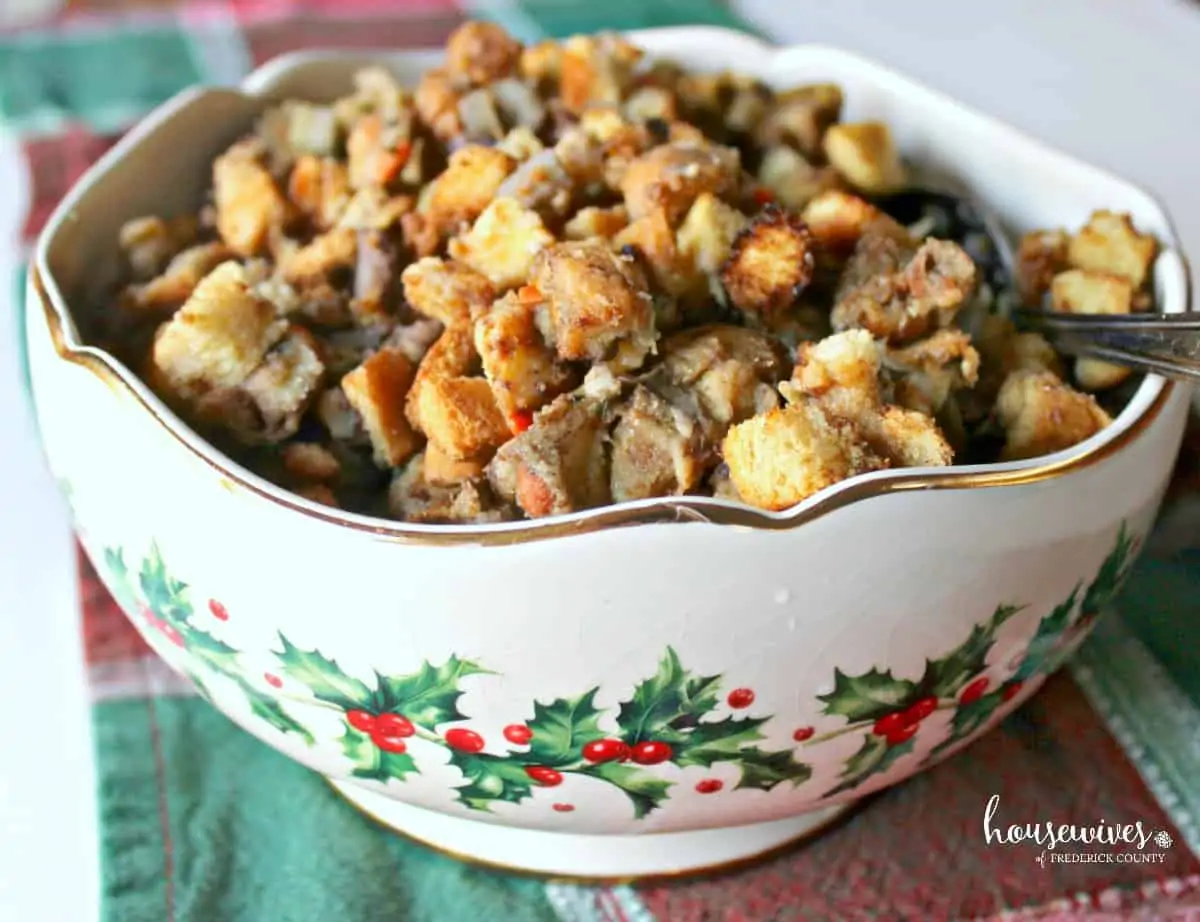 And it's not a dry stuffing, all stuck together in a ball like a lot of bread dressings can tend to get.
This recipe is flaky, buttery, crispy, crunchy, holiday goodness in every single bite.
Combine it with some roast turkey, mashed potatoes and gravy and I am in heaven!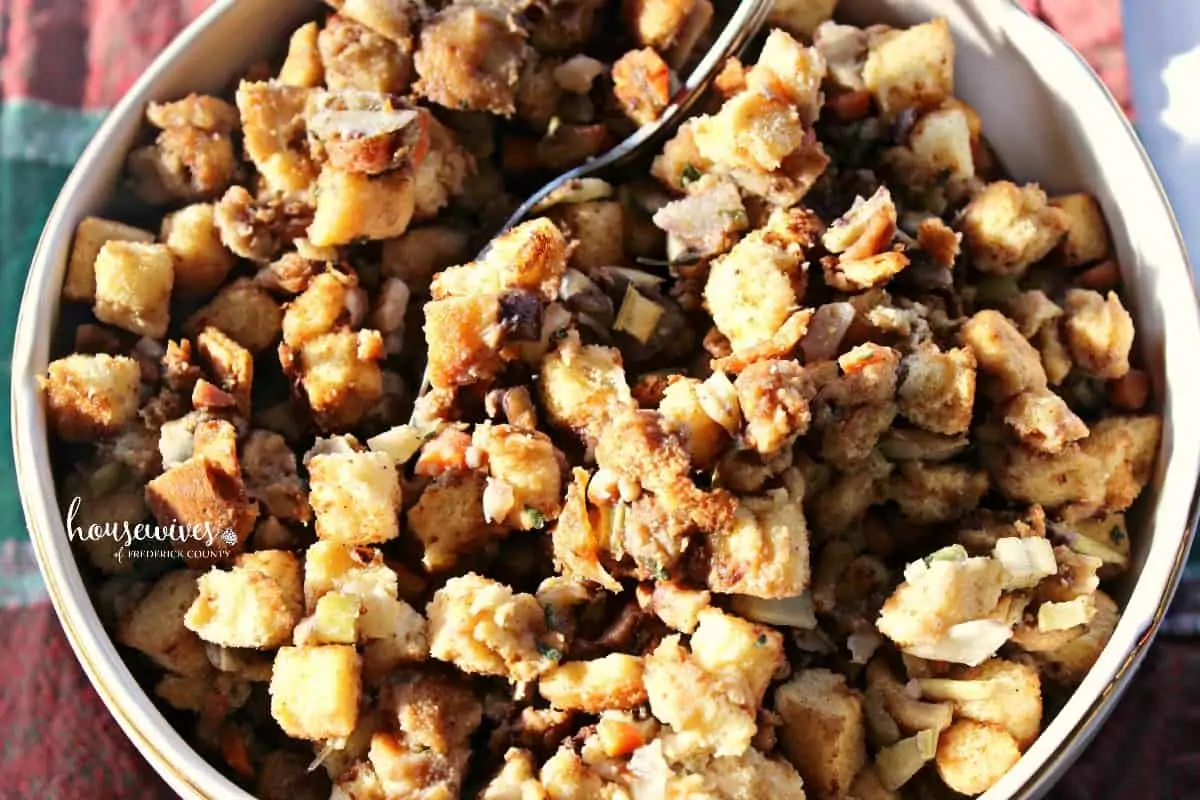 My Guarantee
Try it for yourself.
I guarantee you, once you make this bread dressing, you'll never go back to any other dressing recipes.
Unless of course you grew up with a tried and true recipe that YOUR Momma made.
Then I can understand your bias.
Bread Dressing Ingredients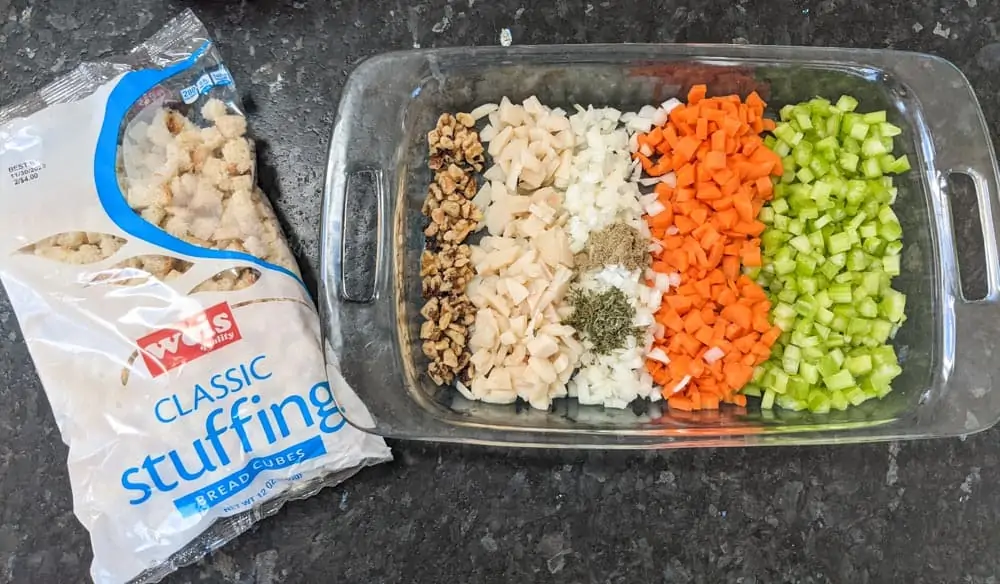 The bread dressing ingredients are very basic, but the combination of all of these crunchy flavors make for an amazingly delicious end result!
You'll need these simple ingredients:
White Bread Stuffing (soft) Cubes (can buy pre-cubed at the grocery store) or sandwich bread pulled apart into small pieces – 12 ounces to a bag equals approximately 4 cups of bread cubes
Water Chestnuts
Celery
Carrots
Onion
Chopped Nuts
Butter
Fresh Herbs – Sage, Parsley
Broth (from turkey giblets or store-bought turkey broth, chicken broth or chicken stock)
What Are Giblets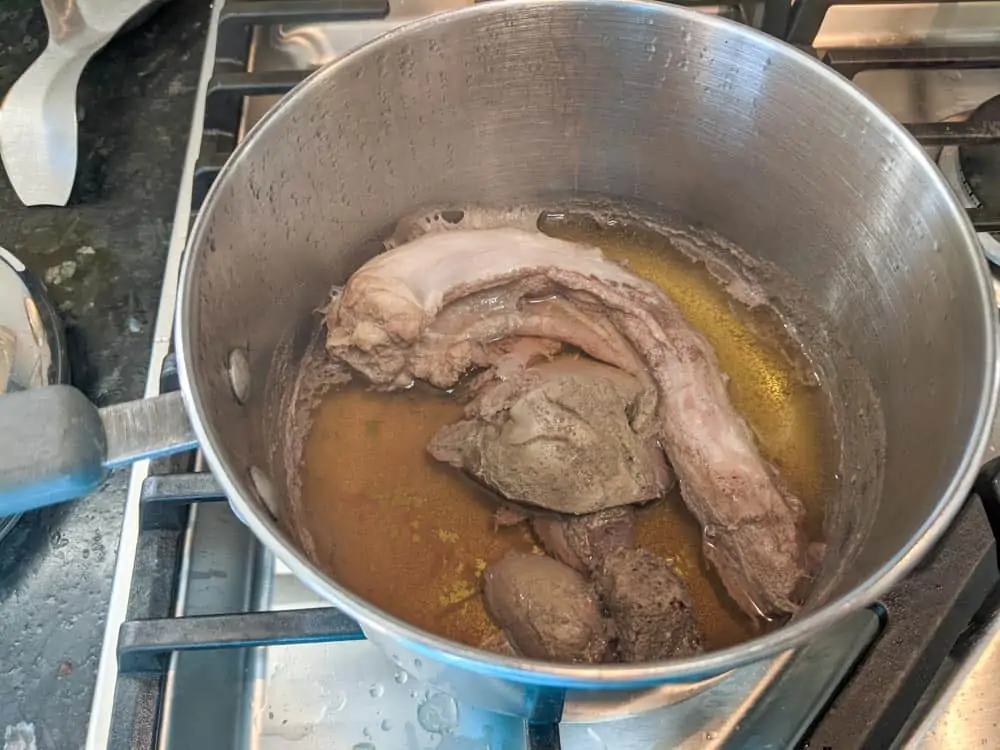 You know when you're rinsing off your turkey or chicken and there's a little bag of 'organs' inside the cavity of the bird?
Those are called giblets.
They consist of the bird's heart, liver, neck, & gizzards.
I know, it sounds really gross, but if you simmer them in water, they make a really good broth to use in this old fashioned Thanksgiving dressing recipe!
How Do You Make Thanksgiving Dressing From Scratch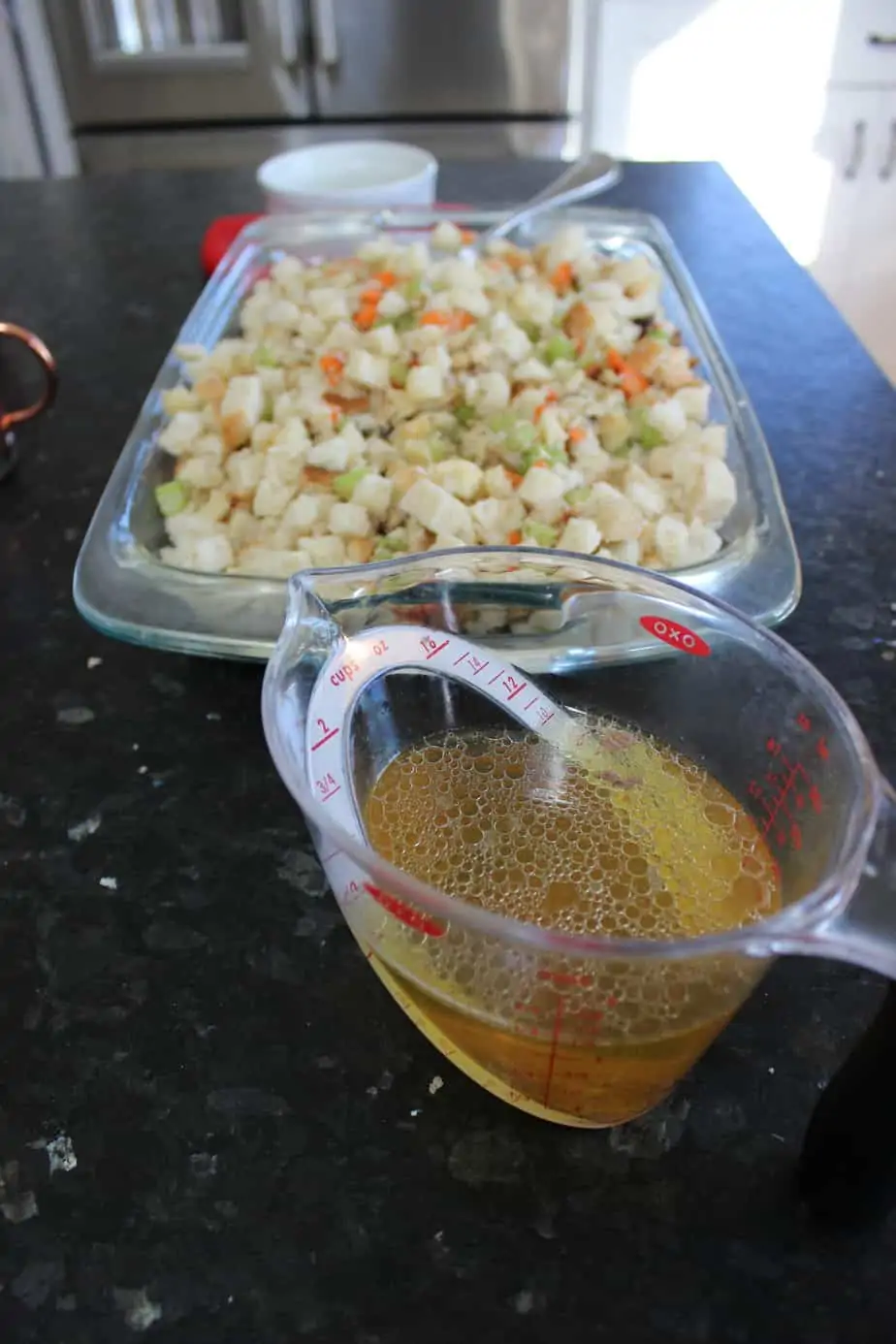 It's seriously so easy to make bread dressing from scratch!
In addition, it's way better than the box stuff!
Using fresh veggies, nuts, water chestnuts, spices, bread cubes, butter, & giblet broth, you're going to have a flavorful, moist, delicious dressing that may just out-do the star of the show, the turkey!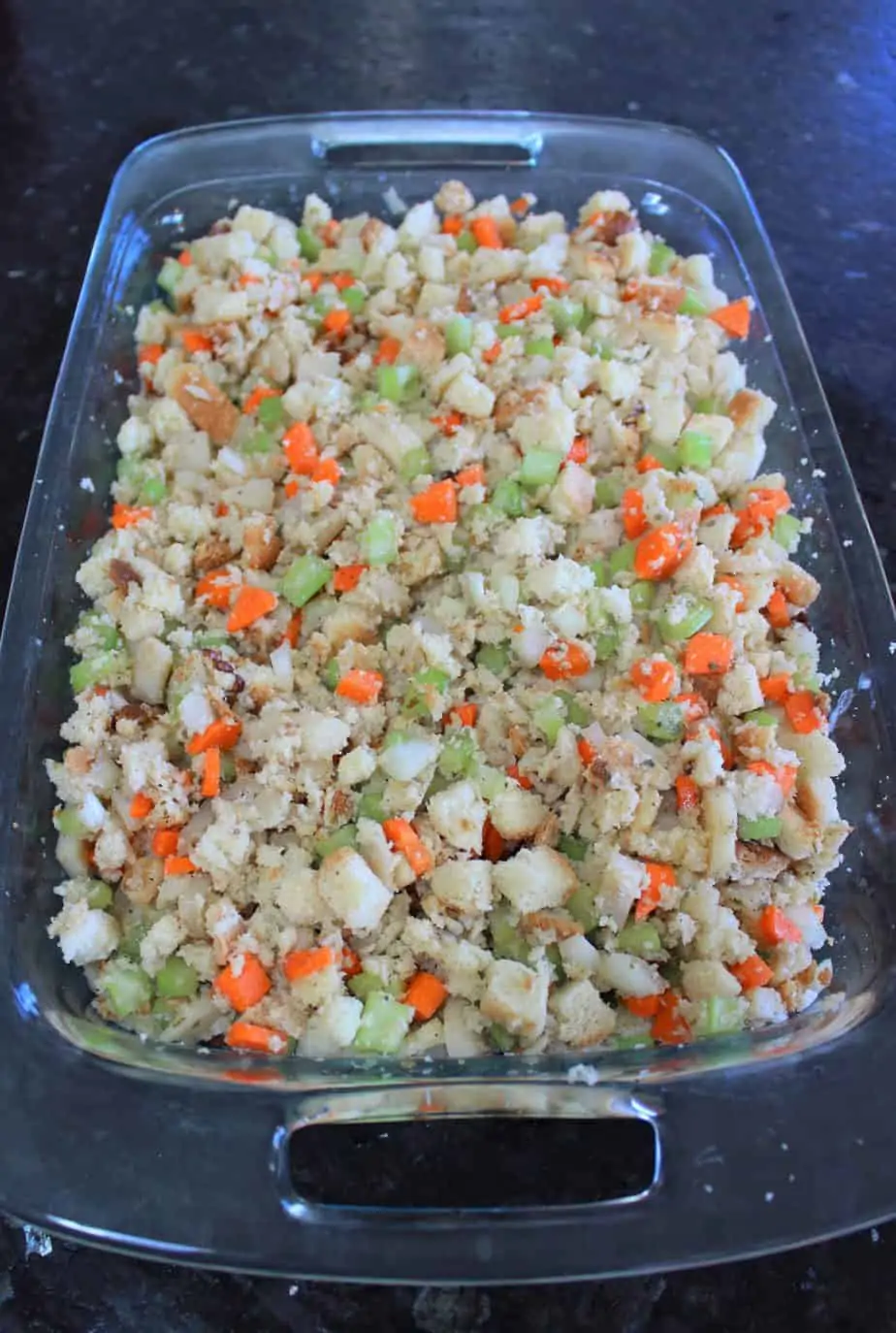 Step-By-Step Instructions
Step 1: Cook Turkey Giblets
I know, most people don't like to handle turkey giblets, or any giblets for that matter!
Actually, my great-grandmother loved them!
Anyway, remove the giblets from the the turkey.
They're usually encased in a bag inside the turkey cavity.
Rinse them and place them in a saucepan with 1 1/2 cups of water (or turkey broth).
Step 2: Melt Butter
Then, in a separate small saucepan, melt your butter.
Step 3: Combine Remaining Ingredients in a Large Bowl
Place bread cubes in a large mixing bowl and mix together with vegetable mixture (water chestnuts, celery, carrot, onion, (optional) mushrooms), nuts, sage, parsley, salt & pepper.
Mix well until thoroughly combined.
Step 4: Add Melted Butter to Bread Cube Mixture
Now, pour your melted 1/2 cup butter into your bread cube mixture and mix well with a large spoon.
Step 5: Add Broth to Dressing Mix
Start with a small amount of broth and stir well.
According to my Momma, this is the key step:
"Gently squeeze a small amount of dressing in your hands (wash them first) to see if it slightly sticks together."
Pour more broth in the stuffing until the stuffing is in the beginning stage of sticking together.
But, don't add too much liquid to make it too wet or sticky (I ended up using the entire 1 1/2 cups).
Step 6: Bake at 350 Degrees Fahrenheit
Place dressing in a casserole dish or baking dish with aluminum foil on top of the dressing AND the casserole lid on top of the foil.
Then bake at 350 degrees F for 15 to 20 minutes and then remove the tin foil and casserole lid.
Lastly, bake uncovered for another 5 to 10 minutes until a nice golden brown color.
Substitutions
Although I prefer not to mess with my Mom's original recipe, you may want to branch out and try different ingredient substitutions such as:
Use homemade cornbread instead of white bread cubes to create a cornbread stuffing.
Change the type of bread based on your preference. For example, swap wheat bread or even french bread in place of white bread.
Add fresh parsley to the top of this dish to give it more visual appeal.
Storing Leftover Thanksgiving Dressing
If you have any leftover Thanksgiving dressing (there's a strong possibility you won't!) allow it to cool to room temperature.
Then, place your leftovers into an airtight container with a tight lid and place into the refrigerator.
In the refrigerator, it will last for 3 to 4 more days.
If you decide to freeze it, it will last for approximately 1 month.
Old Fashioned Thanksgiving Dressing Recipe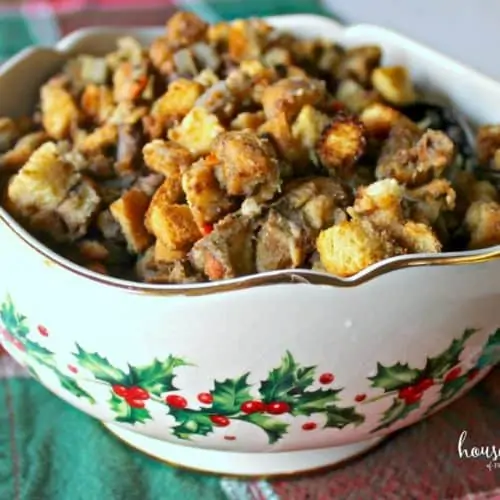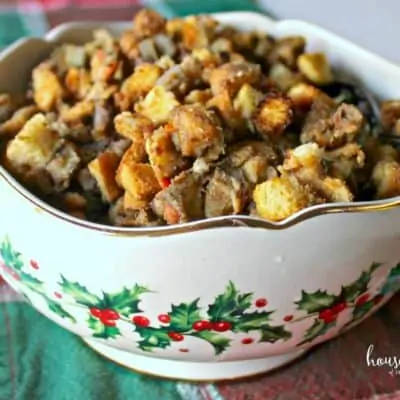 Old Fashioned Thanksgiving Dressing Recipe
Out of all the Thanksgiving dressings I've ever eaten in my life, my Mom's recipe is always the best! This recipe will stay in your recipe binder for generations to enjoy.
Ingredients
1

pkg

Bread Cubes

,

plain

1

can

Water Chestnuts

,

diced

4

Celery Stalks

,

diced

1

Carrot, large

,

diced or grated

½

Sweet Onion, medium

,

diced

Chopped Nuts

,

whichever nut your prefer – I use walnuts

Chopped Mushrooms

,

Optional – I do not use mushroom

1

tsp

Sage

1

tsp

Parsley

Salt & Pepper to taste

1

stick

Butter

1½

cups

Broth from Cooked Turkey Giblets

,

or turkey broth
Instructions
Cook giblets from turkey in about 1 1/2 cups of water (or you can use turkey broth).

Melt butter in separate pan.

Add water chestnuts, celery, carrot, onion, nuts, mushrooms (optional), sage, parsley, and salt & pepper to the bread cubes and mix well.

Pour melted butter evenly over mixture and mix with a large spoon until well mixed.

Pour a small amount of broth into bread mixture.

Stir well and gently squeeze a small amount of stuffing in your hands to see if it slightly sticks together.

Pour more broth in the dressing until it is in the beginning stage of sticking together. Don't get it too wet or sticky (I ended up using the entire 1 1/2 cups).

Bake at 350 degrees in a covered casserole dish with tin foil on top of the dressing for about 15 to 20 minutes.

Then, remove tin foil and lid and bake another 5 to 10 minutes until browned.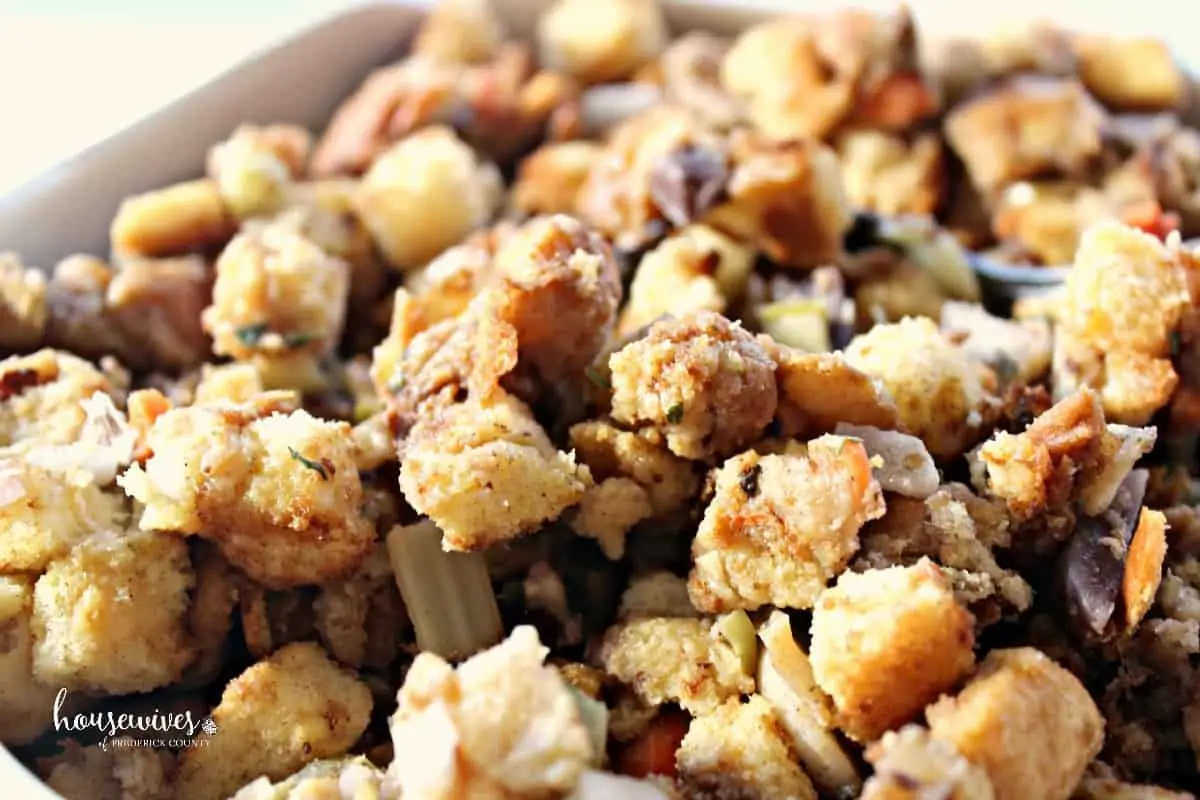 Try It For Yourself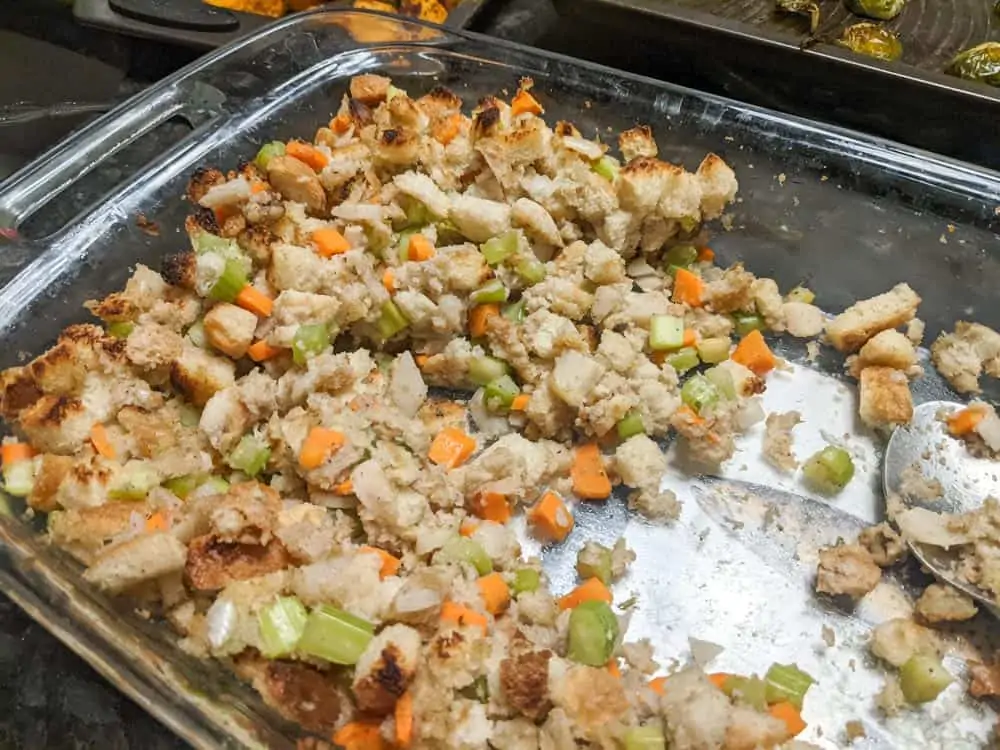 First of all, I apologize for the above picture.
I had full intentions of taking a beautiful photo of the dressing as I pulled it out of the oven, but there were people and spoons everywhere!
By the time I got a chance to take a picture, this is what was left of it.
As usual, everybody loved it!
Let me know if you try it out for yourself and what you think.
I don't make 'BEST' claims every day.
So when I say BEST, I mean it's seriously good!
It's so good that it deserves a beautiful presentation in a special serving bowl, like this Pfaltzgraff Plymouth Handled Bowl (Amazon).
Finally, for other delicious Thanksgiving and holiday dishes, click on over to:
34 Easy Cranberry Salad Recipes for Thanksgiving
Butter Pecan Mashed Sweet Potatoes Recipe
Pan Fried Brussels Sprouts with Chestnuts
10 Best Thanksgiving Desserts You Can Be Thankful For!
Happy Thanksgiving!