Living in Frederick County, when you hear the words Liberty Road Seafood, your mouth starts watering for some hot, steaming, Old Bay spiced hard shell crabs!
And because this restaurant had been closed for 2 long years and then reopened, it made it that much more special to come back to and enjoy Liberty Road Seafood once again!
Liberty Road Seafood & Steak Restaurant
Being a native Marylander, I cut my teeth eating crabs.
Because, as you know, 'Maryland is for Crabs'.
There's nothing like seeing a big tray full of big, hot crabs set down in front of you with a side of melted butter and a mallet ready to conquer the shell and pull out it's tasty, meaty goodness.
Crab feasts to me are synonymous with good times, family and friends.
Finding good steamed crabs
However, it's getting tougher and tougher to find good crabs these days that won't cost you an arm and a leg, or in this case, a claw.
So when I do find them, it makes me giddy with joy.
One such place is Liberty Road Seafood & Steak Restaurant.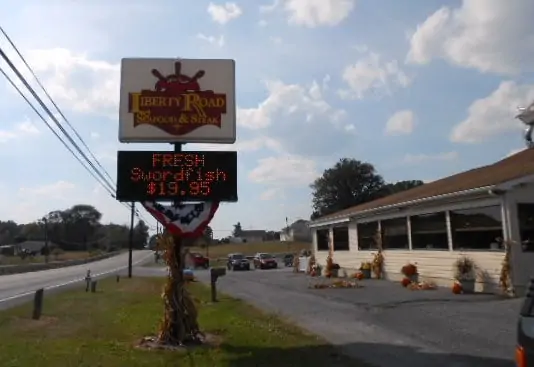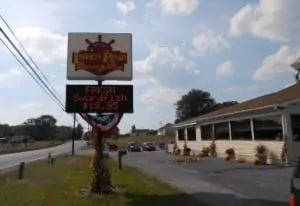 Liberty Road Seafood & Steak Restaurant
Our family and friends have visited this establishment many times through the years and enjoyed many a crab.
However, they closed in 2011 due to economic problems.
The Frederick community was saddened to hear of the closing of a well-known landmark.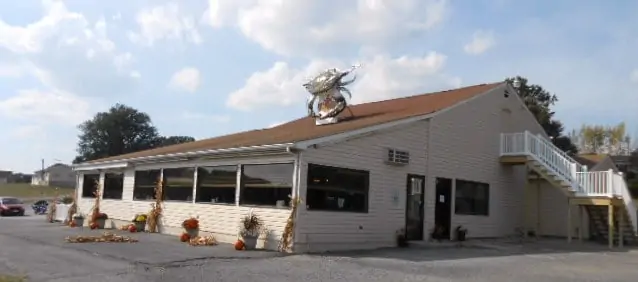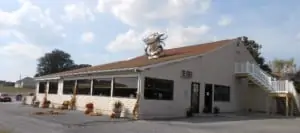 So I was so happy to hear earlier this year, July of 2013 to be exact, that they're back!!
After 2 years of this building just sitting vacant, a new owner has brought it back to life.
The owner brought the previous owner back to act as Manager.
They were even able to get most of the original staff back here to work.
See the Frederick News Post's article on Liberty Road's re-opening HERE.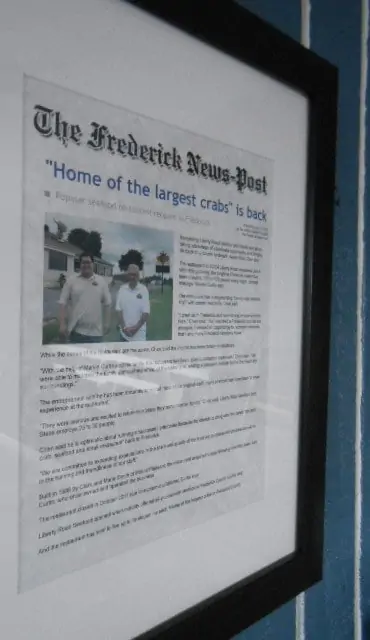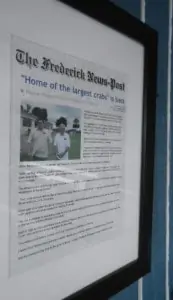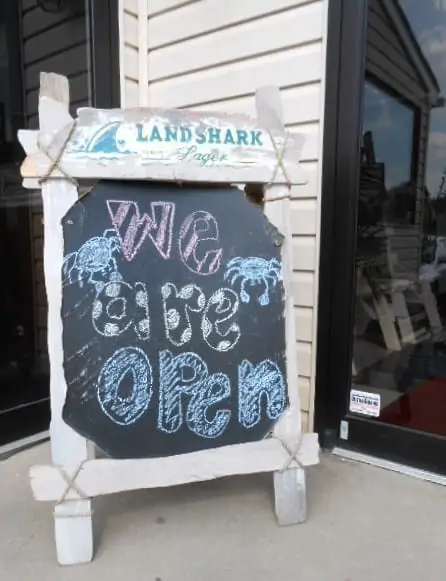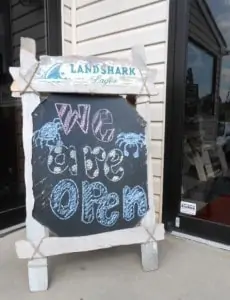 A Well-Known Family Establishment
My sister-in-law, who is originally from Maryland and is a veteran crab-picker herself, was visiting us for the weekend from Cape Cod, Massachusetts.
As most people know, Cape Cod is a mecca for seafood – swordfish, lobster, clams, and oysters are abundant in Cape Cod.
Whenever we go up to Cape Cod to visit, our diet consists of seafood-only.
BUT, they don't specialize in crabs up there.
So when my sister-in-law comes down to Maryland to visit, she has made it a rule to eat crab cakes, crab soup, crabs, or a combination of the three at least once during her stay.
This particular weekend was no different for her.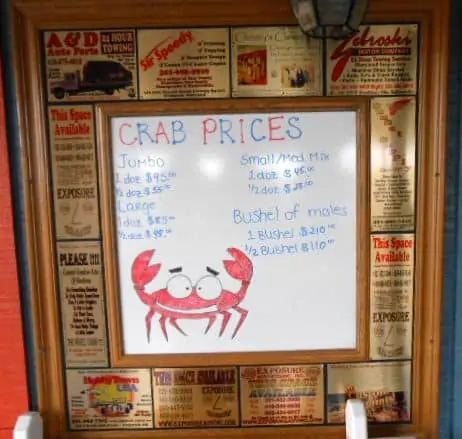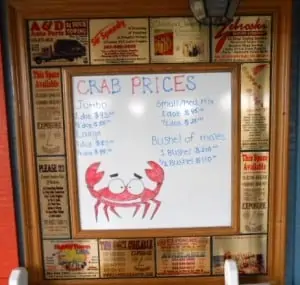 Liberty Road Seafood & Steak Restaurant, or Liberty Road, as most people call it, was the obvious choice for us.
We wanted to check out the new digs and of course the crabs.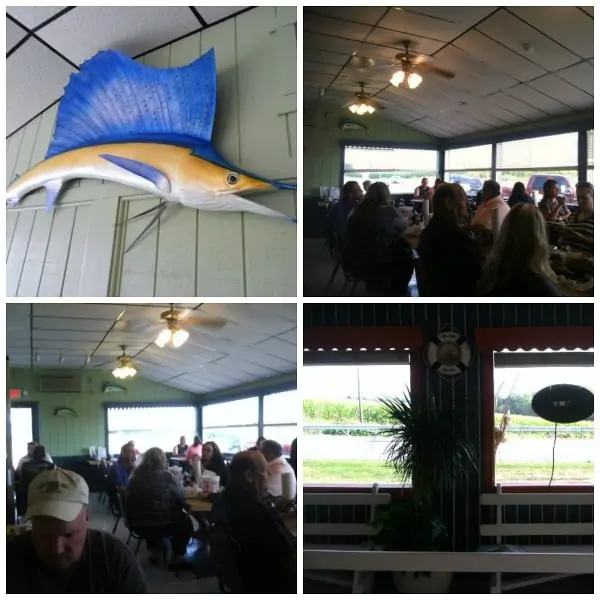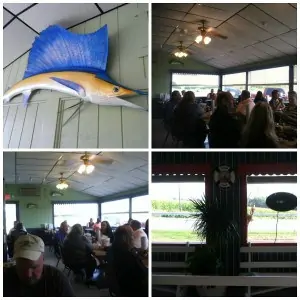 Liberty Road Seafood is just as good if not better!
The outside of the restaurant was festively adorned with fall decorations.
It was also obvious that the inside of the building had been totally renovated with new paint, big screen TV's with football playing, and a nice clean atmosphere.
But the layout was exactly the same, which is what I preferred – down-home, casual, and a lot of room to spread out and get down to the business at hand – picking some crabs.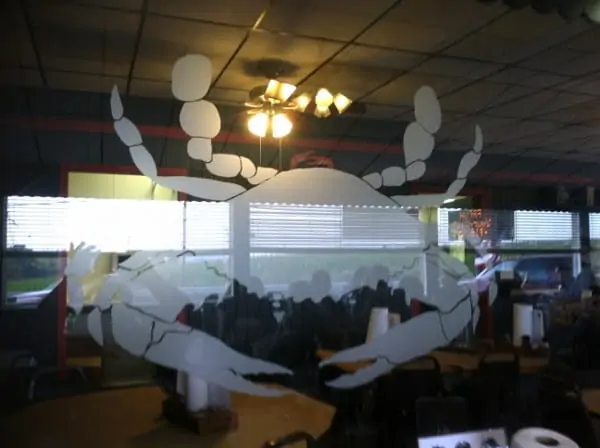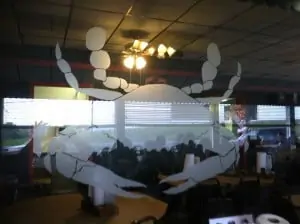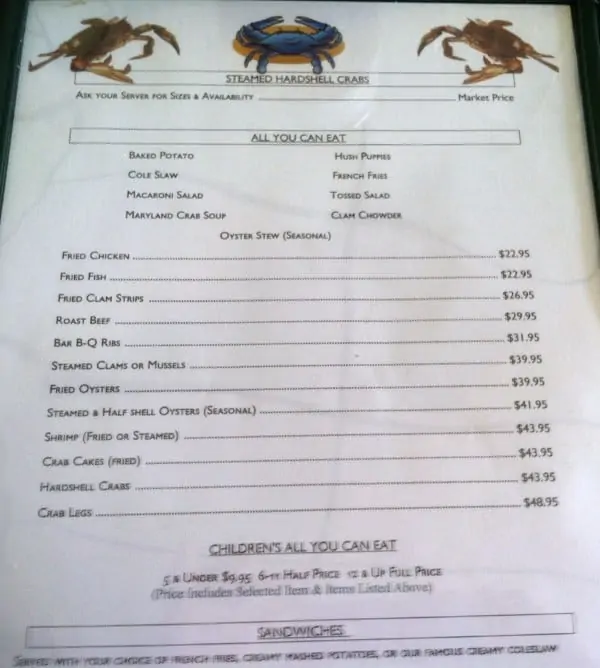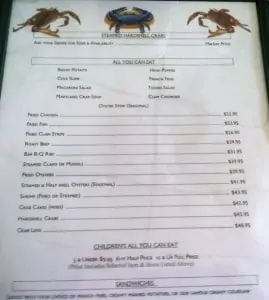 All-You-Can-Eat Crabs and Seafood
The beauty of the all-you-can-eat meals at Liberty Road is that whatever you pick as your main meal, you can also get whatever equals that price or is lower than that price on the all-you-can-eat menu.
So if you choose all-you-can-eat crabs, you can also eat as much as you want of the shrimp, chicken, fish, clams, roast beef, ribs, oysters, and crab cakes.
The only thing more expensive than the crabs are the crab legs.
As you can see from the picture of the all-you-can-eat menu above, it is not cheap.
This is a 'special occasion' type of thing.
One good thing though is that they offer their all-you-can-eat crabs Tuesday through Thursday (for a limited time) for $29.95.
Keep in mind this doesn't include all of the other all-you-can-eat items, but you do get all of the regular all-you-can-eat side items: hush puppies, french fries, cole slaw, and Maryland crab soup.
This is a great deal for the quality of the crabs you'll get here.
Check out Liberty Road's Facebook page HERE for the latest specials going on.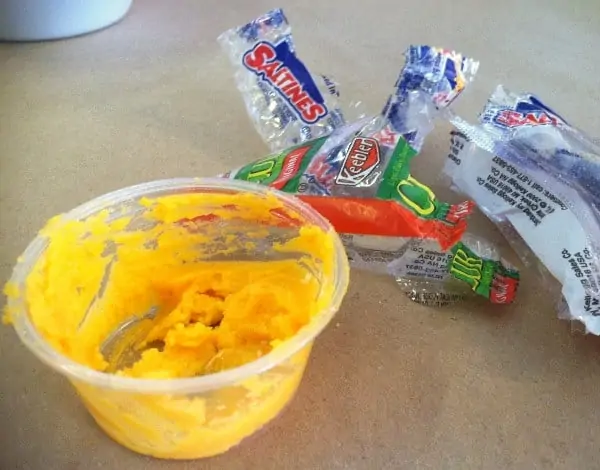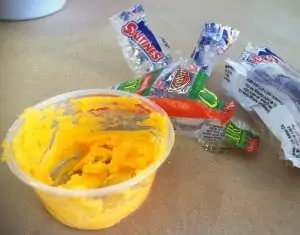 Side items
They give you a little cup of cheese and some crackers to snack on before your meal arrives.
Sorry, I didn't have time to take a picture of it before it was devoured.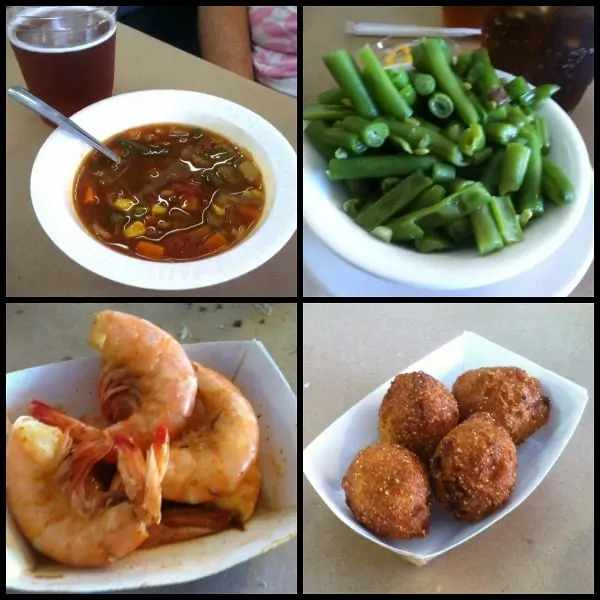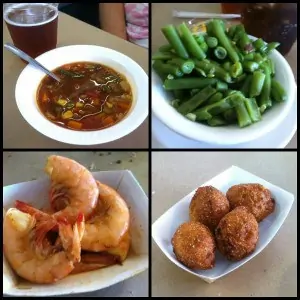 Some of the sides and all-you-can eat items.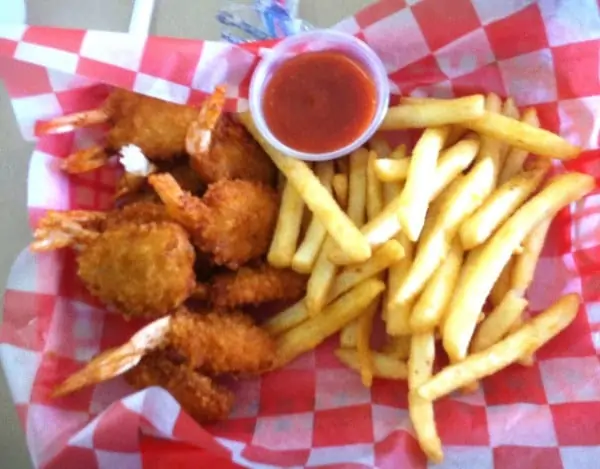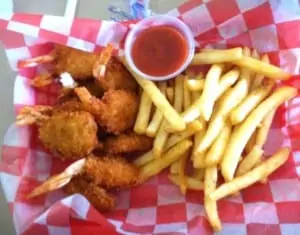 Childrens Meals
My son got the fried shrimp children's meal for $5.95.
It was big enough for an adult.
Well worth the price.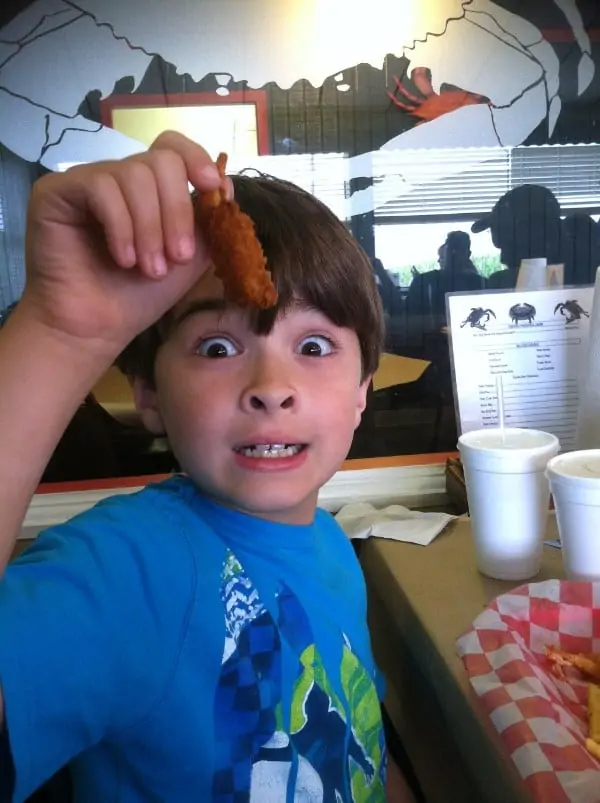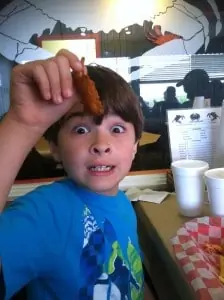 Can you tell he was hungry?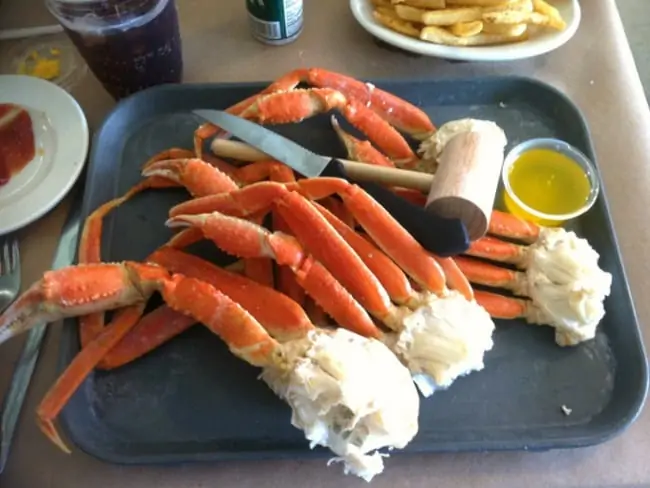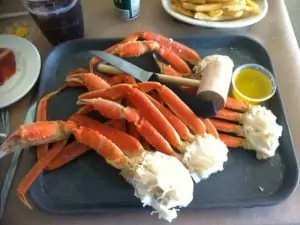 I chose to not get all-you-can-eat because I knew I could help my son out with his meal.
So I opted for 1 pound of crab legs for $15.95.
The sides and drink were extra.
It was just the right amount.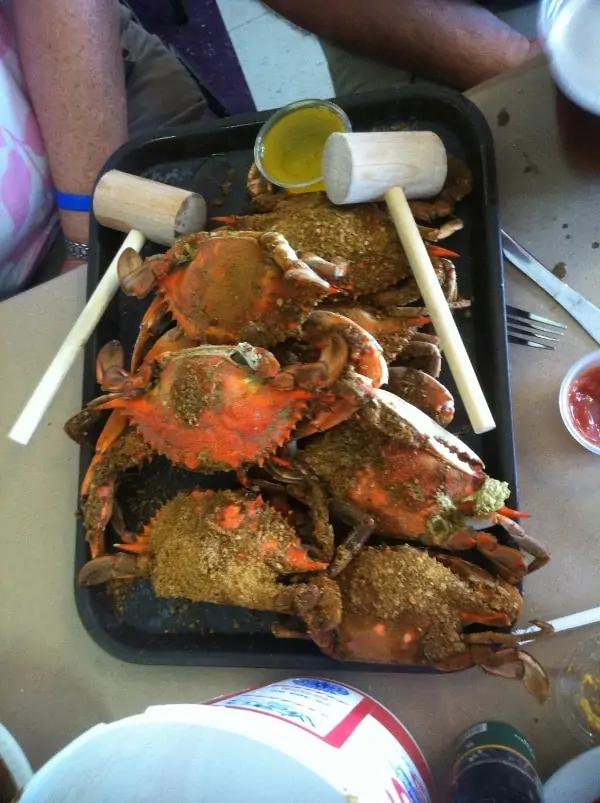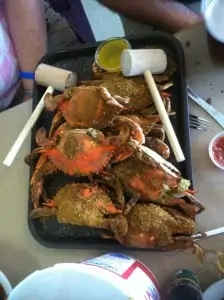 Here is my husband's and sister-in-law's first tray of steaming hot crabs.
Cue the heavens opening and the angels singing!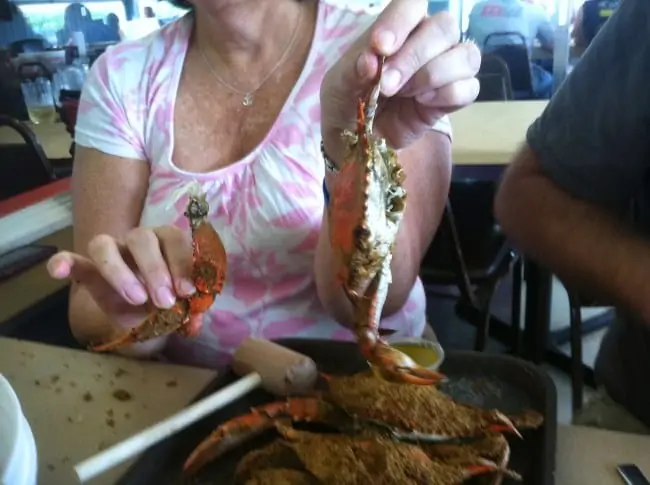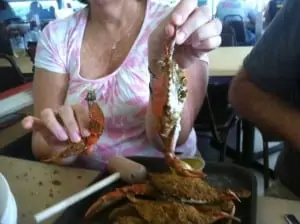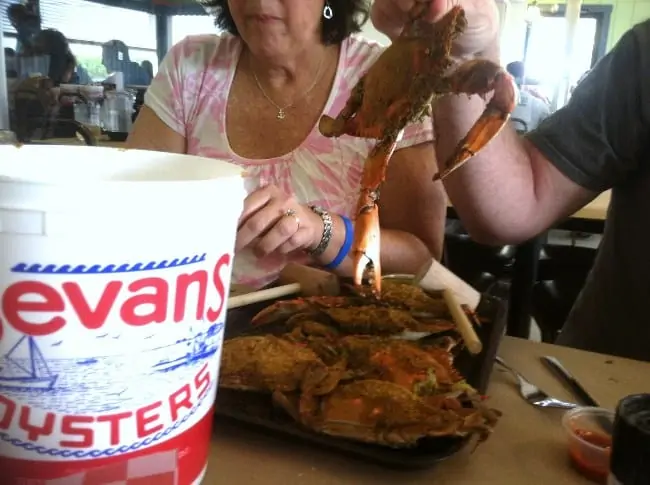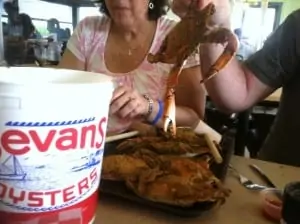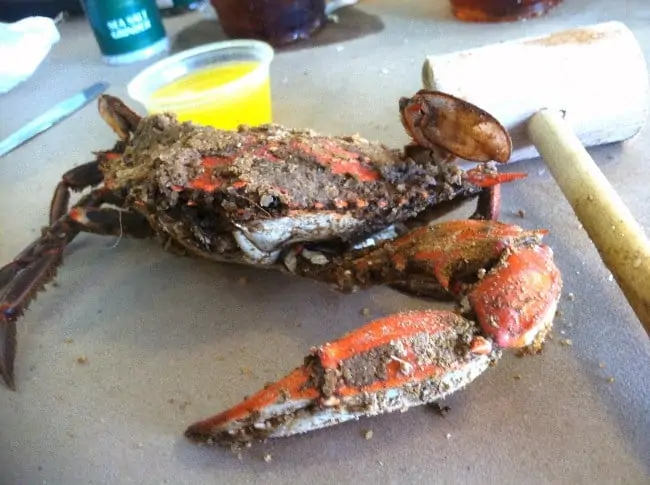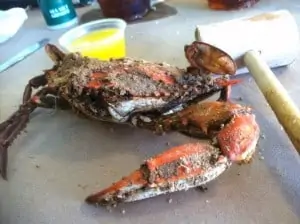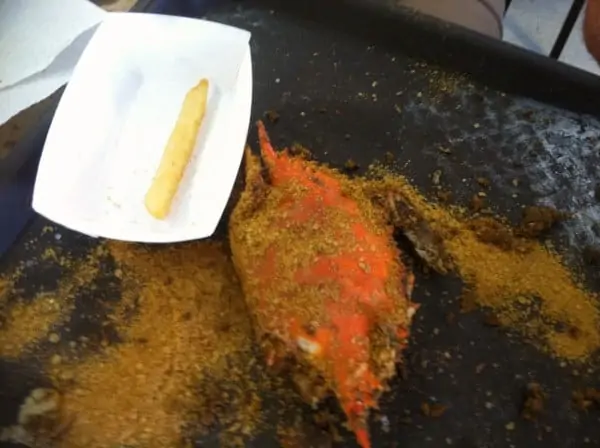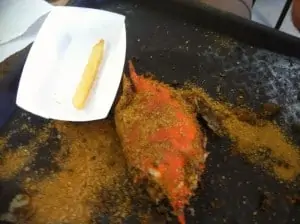 This is what was left when the eating frenzy was over.
This is how we all felt before leaving the restaurant; but it was a good full.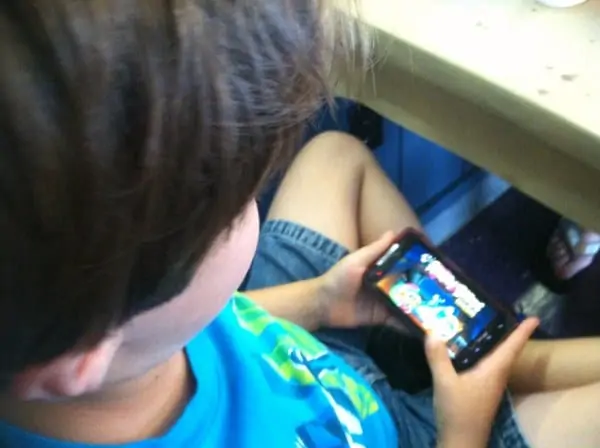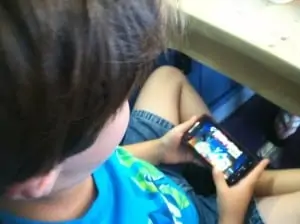 Always helps to bring your phone with Angry Birds so that the little ones can play while the adults continue with the crab eating marathon.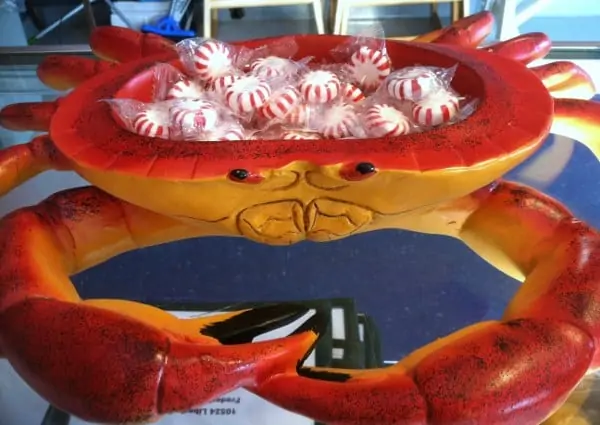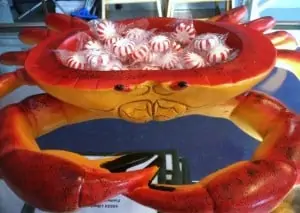 A mint to go.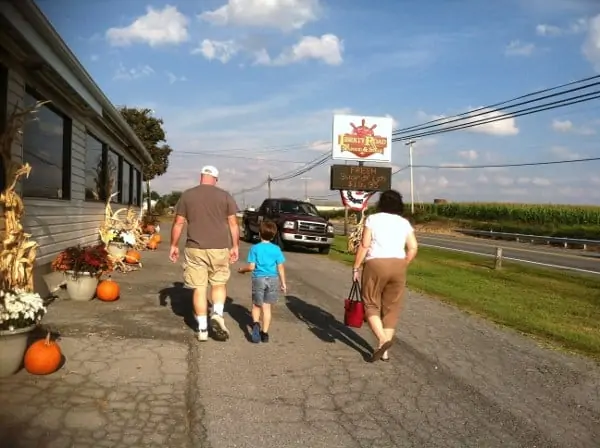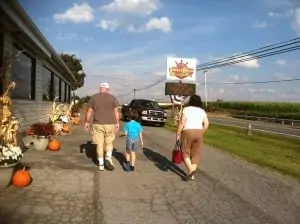 And our job here is done – until next time!
For more great Frederick County restaurant recommendations, click on over to:
Best Steamed Crabs in Frederick, Md
Top 19 Brunch Spots in Frederick, Md: The Best of the Best
Best Pizza in Frederick Md: 25 of the Top Favorites