This frozen margarita recipe isn't your every day frozen concoction!
If you're looking for something different in the frozen margarita department, try our Watermelon Jalapeno recipe!
Frozen Margarita Recipe
We are coming up on a 3 day weekend – Labor Day weekend to be exact! AND, in my family, we have several birthdays to celebrate!
So, we will be having some family gatherings – and with family gatherings there is great food and drink. I've been thinking about what I can contribute to the festivities, and I thought how much I'd love to include something seasonal!
Summer is coming to an end, but that doesn't mean that fresh fruits and veggies can't still be on the menu! Maryland's Department of Agriculture has a site with a great chart that details which months each fruit and vegetable are in season!
I always thought that watermelon was strictly a summer fruit but, to my surprise, watermelon is in season from July to October! I love it!
So, I happened upon a frozen Margarita recipe on a cool site called Spicy Southern Kitchen – Jalapeno Watermelon Margarita!
BUT, I "made it my own" and created it as a frozen margarita recipe.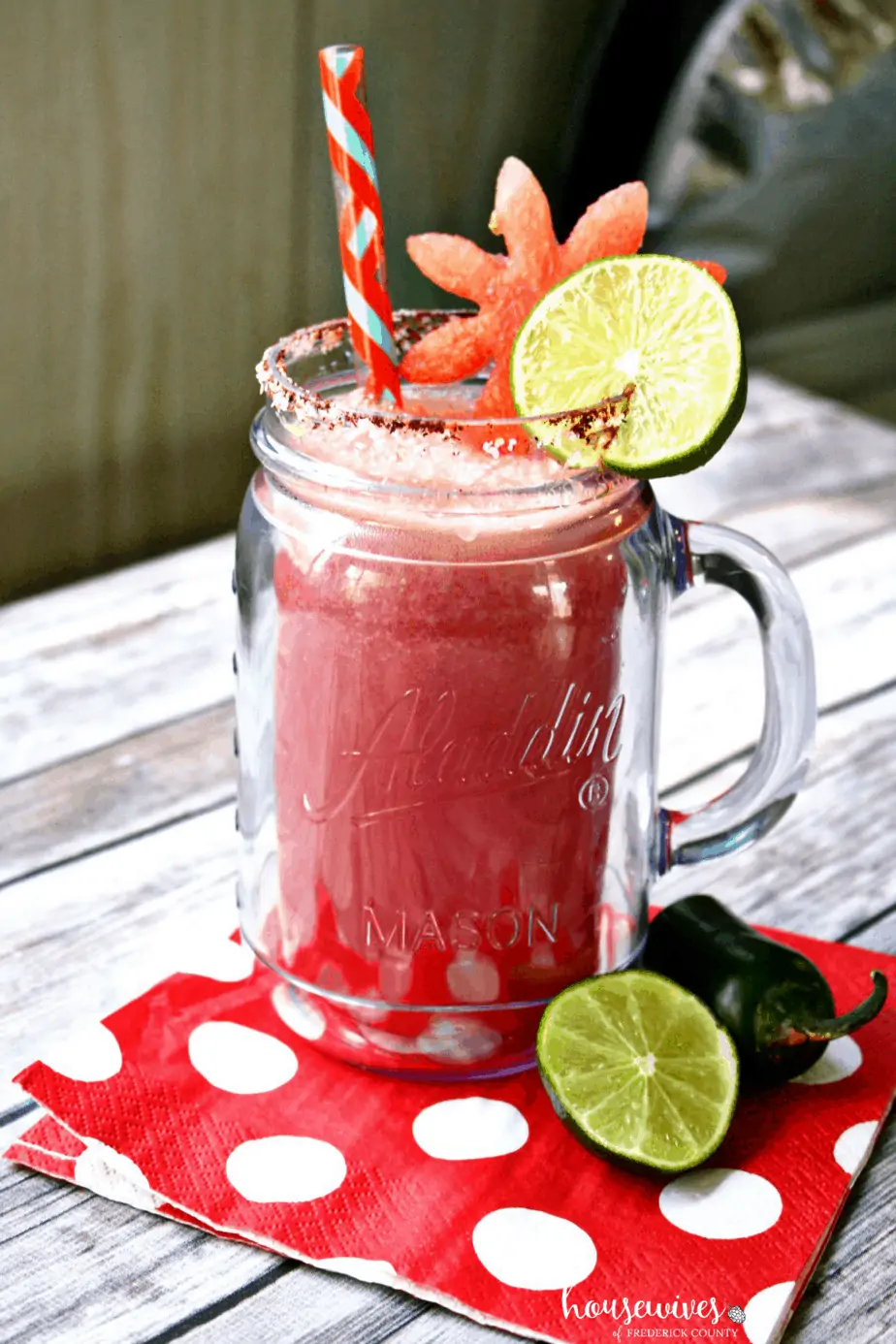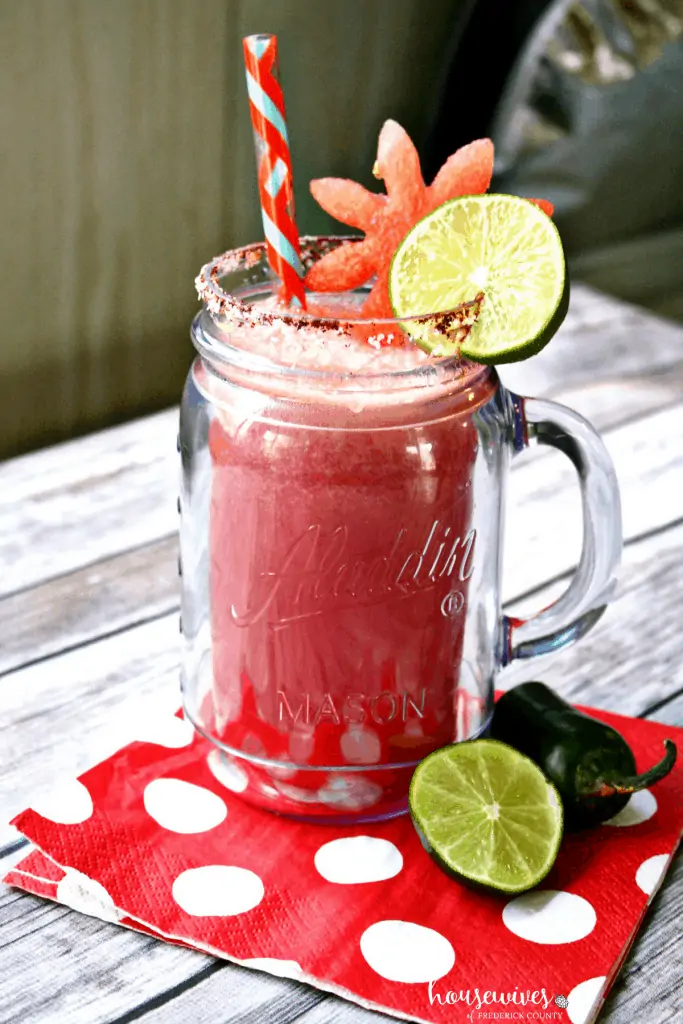 Frozen Margarita Recipe From Scratch
Cocktails with fresh herbs (think Mojito) and other funky things in them are so en vogue! So, I just HAD to try this!
Plus, it doesn't involve a pre-made frozen margarita mix.
I honestly prefer homemade over a pre-made mix any day of the week!
Watermelon Jalapeno Frozen Margarita Recipe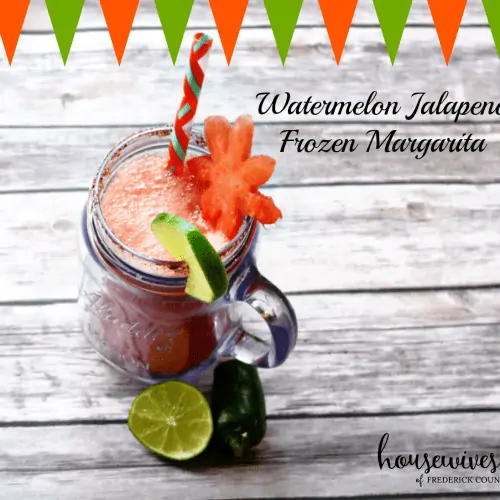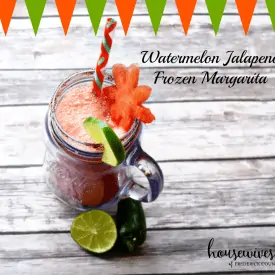 Watermelon Jalapeno Frozen Margarita!
Delicious and refreshing watermelon frozen margarita recipe with a jalapeno kick!
Ingredients
1

Jalapeno

,

thinly sliced

¾

cup

White Tequila

,

I used Cabo Wabo

8-10

cups

Watermelon chunks

,

a large dice

½

cup

Fresh Lime Juice

⅓

cup

Triple Sec

¼

cup

Simple Syrup

,

see instructions below

Salt

,

Chili Powder, and Lime Juice for salting rims of glasses
Instructions
Place tequila and about 4 slices of jalapeno in a glass measuring cup and place in the refrigerator for 1 to 4 hours depending on how spicy your jalapenos are and how spicy you want the tequila to be. Take a taste after 1 hour and decide whether it is spicy enough. If so, remove jalapenos.

Place watermelon (you may need to do it in batches) in a blender and blend until liquefied.

Pour watermelon through a fine-meshed strainer, pressing on it with the back of a spoon to get all the liquid through. Measure out 3 cups of watermelon juice.

In the empty blender, combine the 3 cups watermelon juice, tequila, lime juice, Triple Sec, and simple syrup. Add ice to achieve desired texture of your frozen drink. Blend well.

Place salt with a little chili powder mixed in on a plate. Coat rims of 4 glasses with lime juice and dip in salt mixture.

Pour blended cocktail into glasses. Garnish with lime slices and jalapeno slices if desired.

**To make the simple syrup** Combine equal parts sugar in water in a small saucepan and heat over medium heat, stirring frequently until sugar is dissolved. Remove from heat and cool. Can be stored in refrigerator for future use.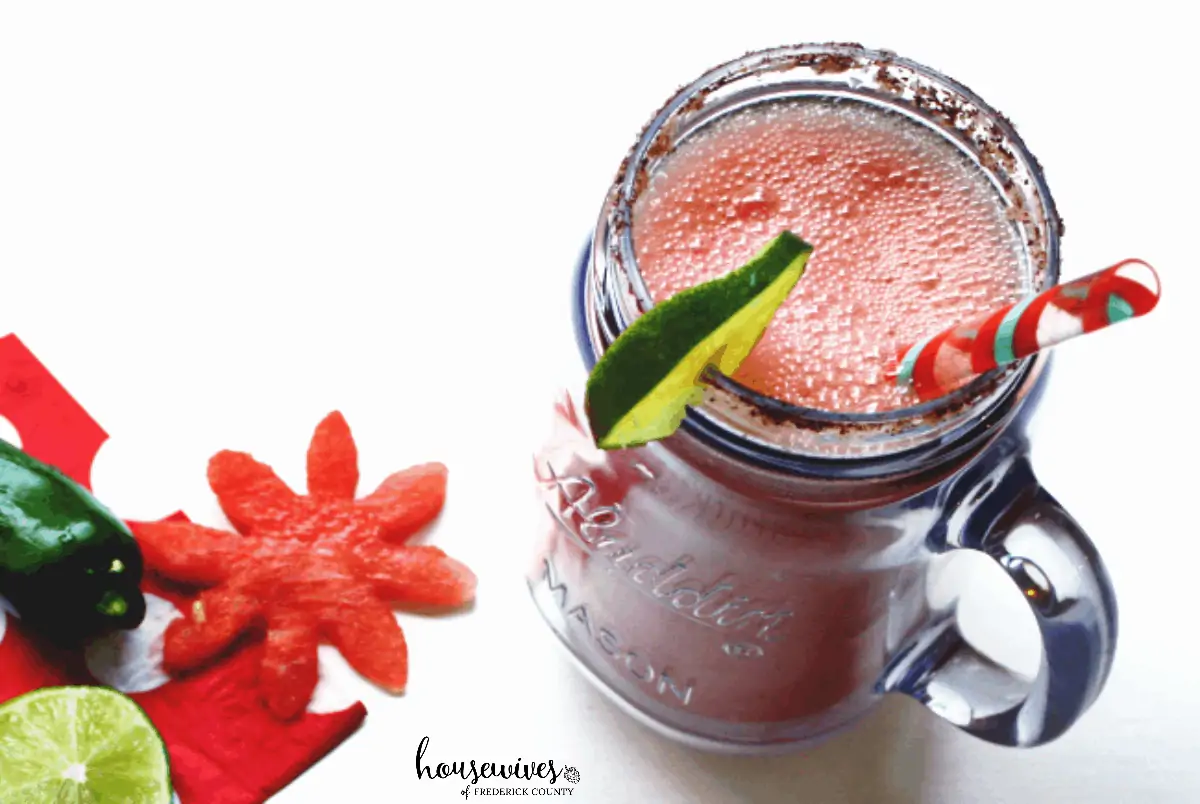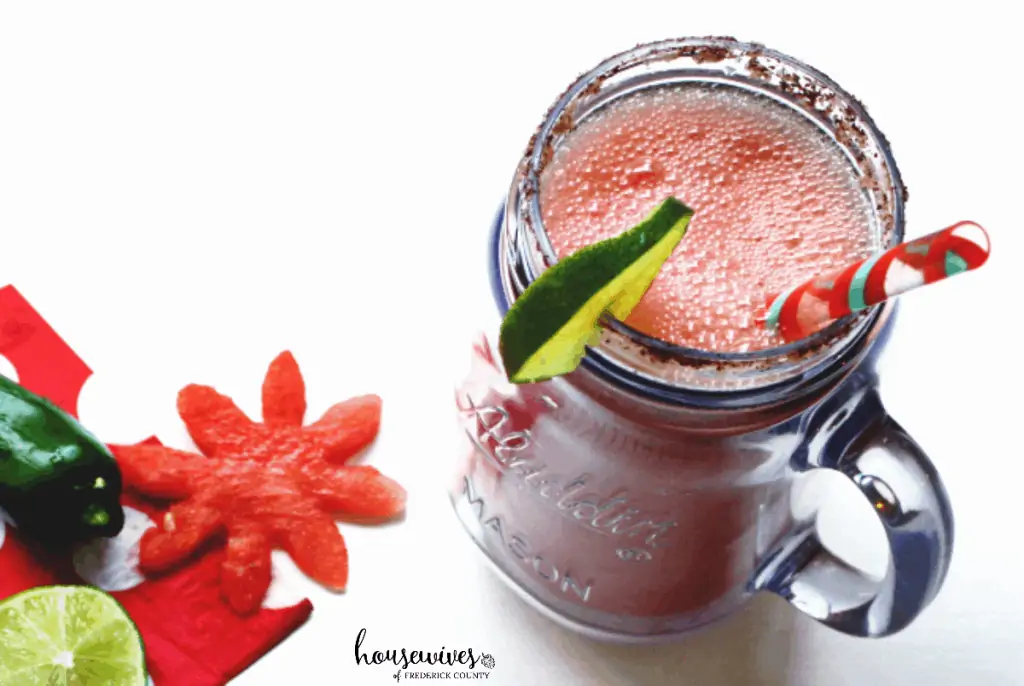 Great Summer Signature Cocktail
My verdict? Definitely a refreshing change from the run-of-the-mill cocktail! Wow! There is no need to guess the ingredients in this drink – each one of the ingredients jumps out at you with every sip!
This would be a great summer signature cocktail for your next gathering.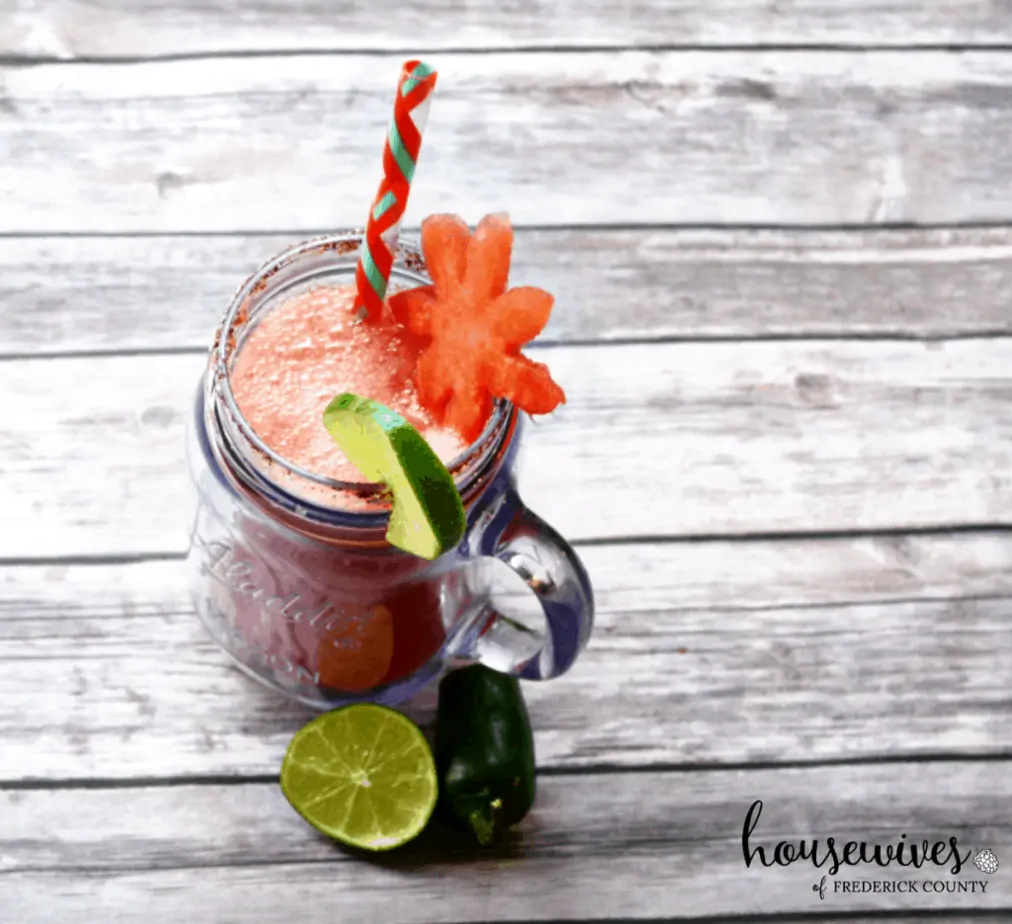 Would I try anything different when I make this cocktail again? I think I'd like to try vodka instead of Tequila – although it wouldn't really be a margarita, traditionally.
Either way – I absolutely LOVE trying new things! So this did not disappoint.
What seasonal fruits and veggies do you like to take advantage of this time of year? Whatever you do, though, please drink responsibly, and have a fun, long weekend!
In the meantime, click on over to our other drink recipes here:
Gin Cocktail Recipe: The Thirsty Forager
Hurricane Drink Recipe: The Housewives Hurricane