What are the ingredients in a Hurricane Cocktail Recipe?
In this post we're going to answer that question for you as well as give you directions for how to make it yourself!
Hurricane cocktail Recipe
We'll tell you the traditional ingredients in a Hurricane Cocktail Recipe, but we're also going to give you our version: The Housewives Hurricane.
But first we have to answer the question of, what is a Hurricane cocktail?
What is a Hurricane cocktail?
A Hurricane cocktail is a delicious, sweet alcoholic beverage made with rum, sweet juices, and grenadine syrup to make it red in color.
According to Wikipedia, Pat O'brien, the original owner of the famous Pat O'briens in New Orleans, invented the Hurricane in the 1940s.
Due to the bar having an over supply of rum at the time, Pat O'brien invented this sweet concoction.
In order to make the Hurricane Cocktail as appealing as possible so that he could use up all the rum, he served it in a hurricane lamp shaped glass.
New Orleans Hurricane Cocktail
Needless to say, it's been a super popular drink down in N'awlins ever since!
As a matter of fact, the Hurricane Cocktail is so popular, it's in a famous song!
"Pour me something tall and strong, make it a Hurricane, before I go insane. Its only half past twelve, but I don't care. It's 5 o'clock somewhere."
The words of Alan Jackson's country song (joined by Jimmy Buffett) come to mind every time I make this Hurricane Drink Recipe.
This Hurricane Cocktail REcipe is reminiscent of Mardi Gras
Why did I include the Mardi Gras beads and sunglasses in my photos?
Because New Orleans is the very first place that I ever drank a Hurricane cocktail in the late '90's during Mardi Gras.
Believe me, I caught more beads than this, but not how you might think!
In the surrounding towns of New Orleans, Mardi Gras is a whole family experience.
Everybody, including little kids, participates in this huge Carnival celebration.
Floats full of people take part in multiple parades in the area.
Not only are lots of beaded necklaces thrown, but also coins (doubloons) plastic cups, toys, and moon pies!
It's truly so much fun for the entire family!
The only place it can get pretty wild and risque is in the French Quarter, so be prepared if you plan to go there for Mardi Gras.
After my trip, I saved my Pat O'Brien's Hurricane glass, my beaded necklaces and sunglasses to keep as souvenirs.
Little did I know several years later, I'd be breaking them back out again to make my very own Hurricane Cocktail Recipe.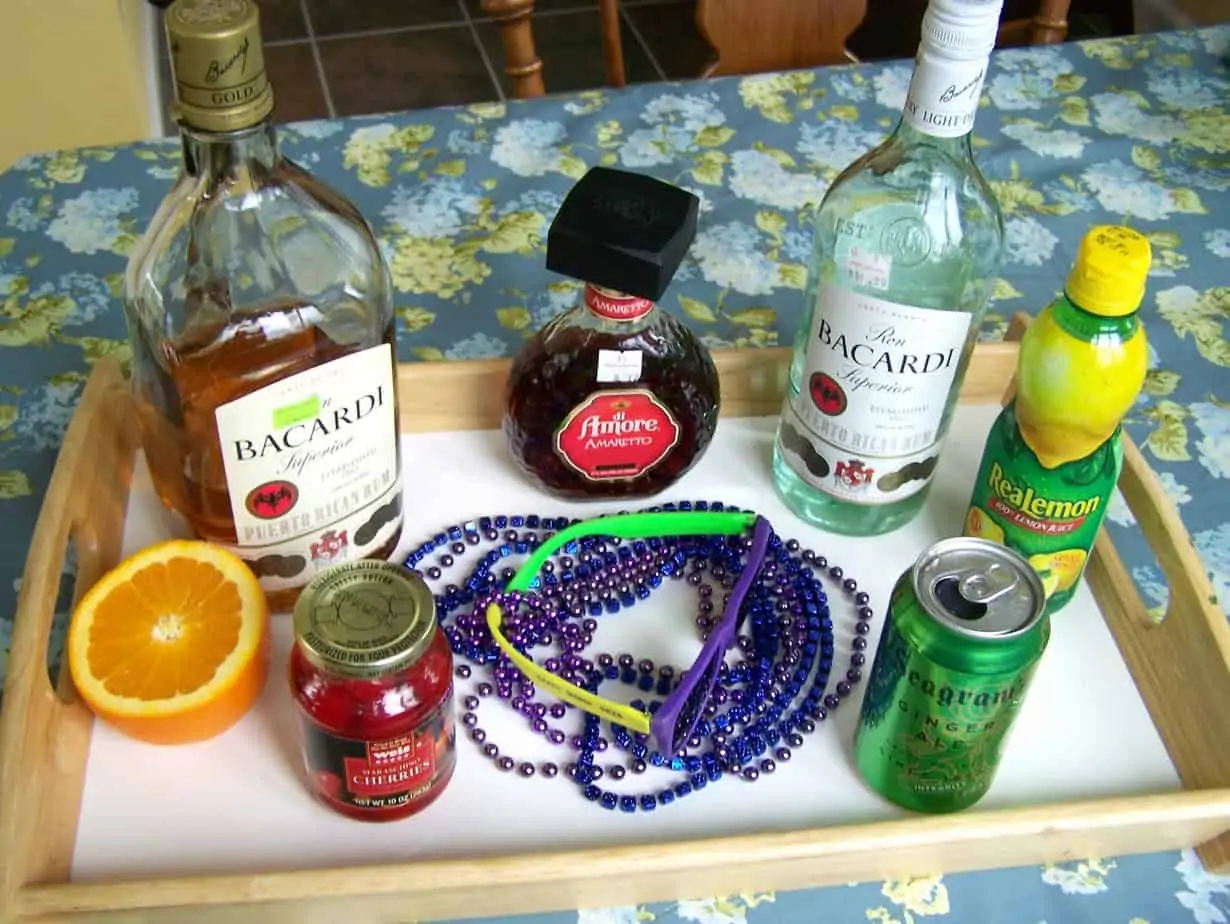 Hurricane Cocktail Recipe: The Housewives Hurricane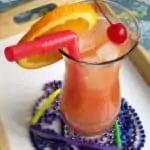 Print Recipe
Hurricane Cocktail Recipe: The Housewives Hurricane
This Hurricane Cocktail Recipe, the Housewives Hurricane, is a deliciously sweet concoction with a secret ingredient that'll have you ready for Mardi Gras!
Ingredients
1 ½

ounces

Amaretto Liquor

I used Di Amore

1

ounce

Light Rum

I used Bacardi

1

ounce

Dark Rum

I used Bacardi

6

ounces

Fresh Squeezed Orange Juice

6

ounces

Pineapple Juice

1

tsp

Lemon Juice

1

dash

Grenadine

½

cup

Seagram's Gingerale

This is our secret ingredient

1

slice

Fresh Orange

1

Maraschino Cherry
Instructions
Combine all ingredients, except for the orange slice and maraschino cherry, into a cocktail shaker filled with ice.

Strain cocktail into a hurricane glass.

Garnish with slice of orange and maraschino cherry.
Our Housewives Hurricane Cocktail ingredients are a little bit different from the traditional Pat O'Brien's recipe.
Their recipe has more alcohol and less juice.
So if you're looking for a stronger drink, just add more rum or amaretto and less fruit juice.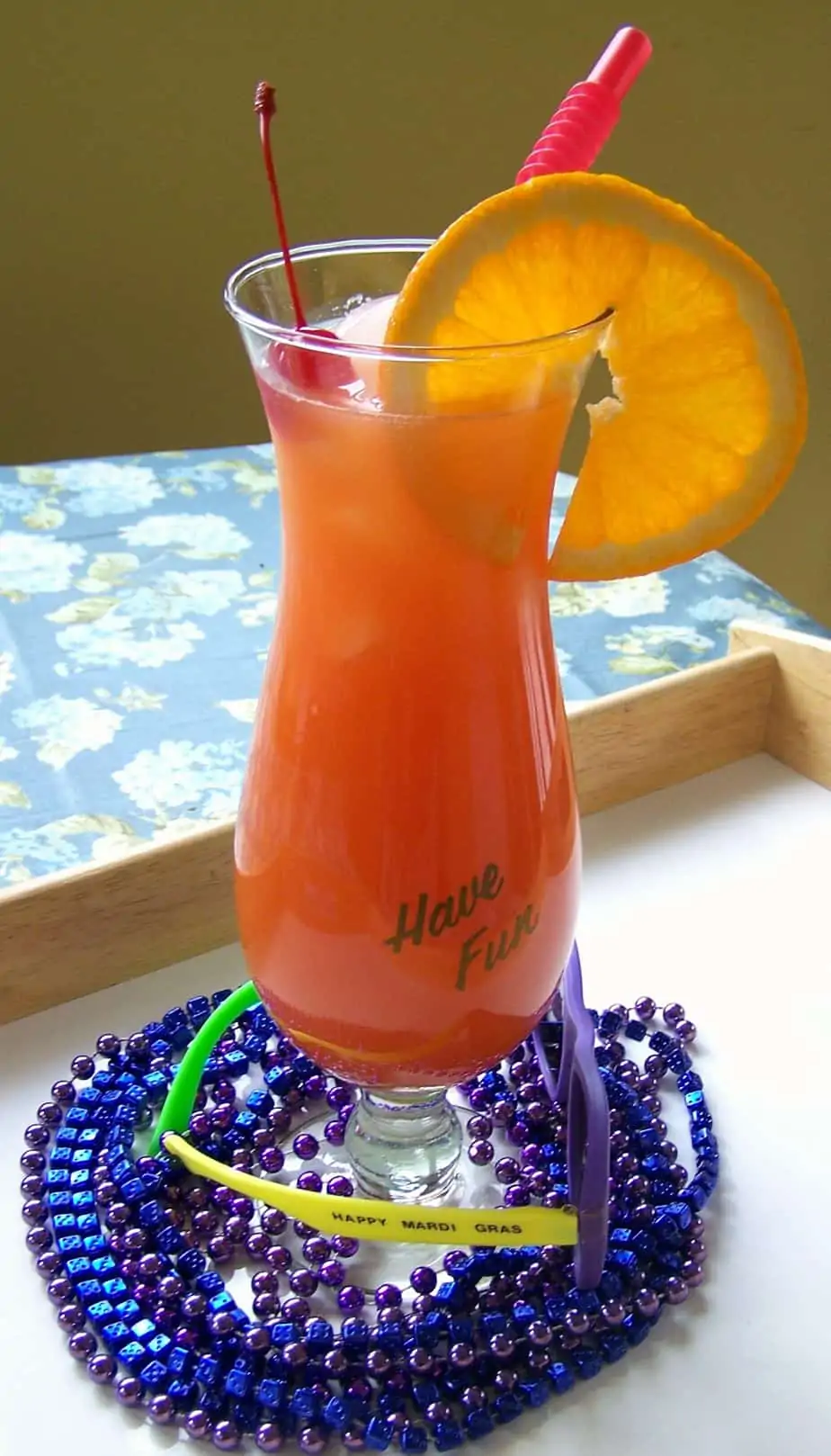 As promised, for the traditional ingredients in a Hurricane Cocktail recipe, check out New Orleans website.
How Does The Housewives Hurricane Taste?
Oh my goodness gracious it's good!
The only way I can describe it is that it tastes like another!
It's very similar to a Rum Punch or a Bahama Mama.
Most importantly, it brings back the fun memories of being on Bourbon Street during Mardi Gras and having a great time!
Drink Responsibly
Please only make this drink if you are 21 or older.
In addition, don't drink and drive and use a designated driver.
BUT if you're enjoying this Hurricane drink at home – Hey!! It's 5 o'clock somewhere!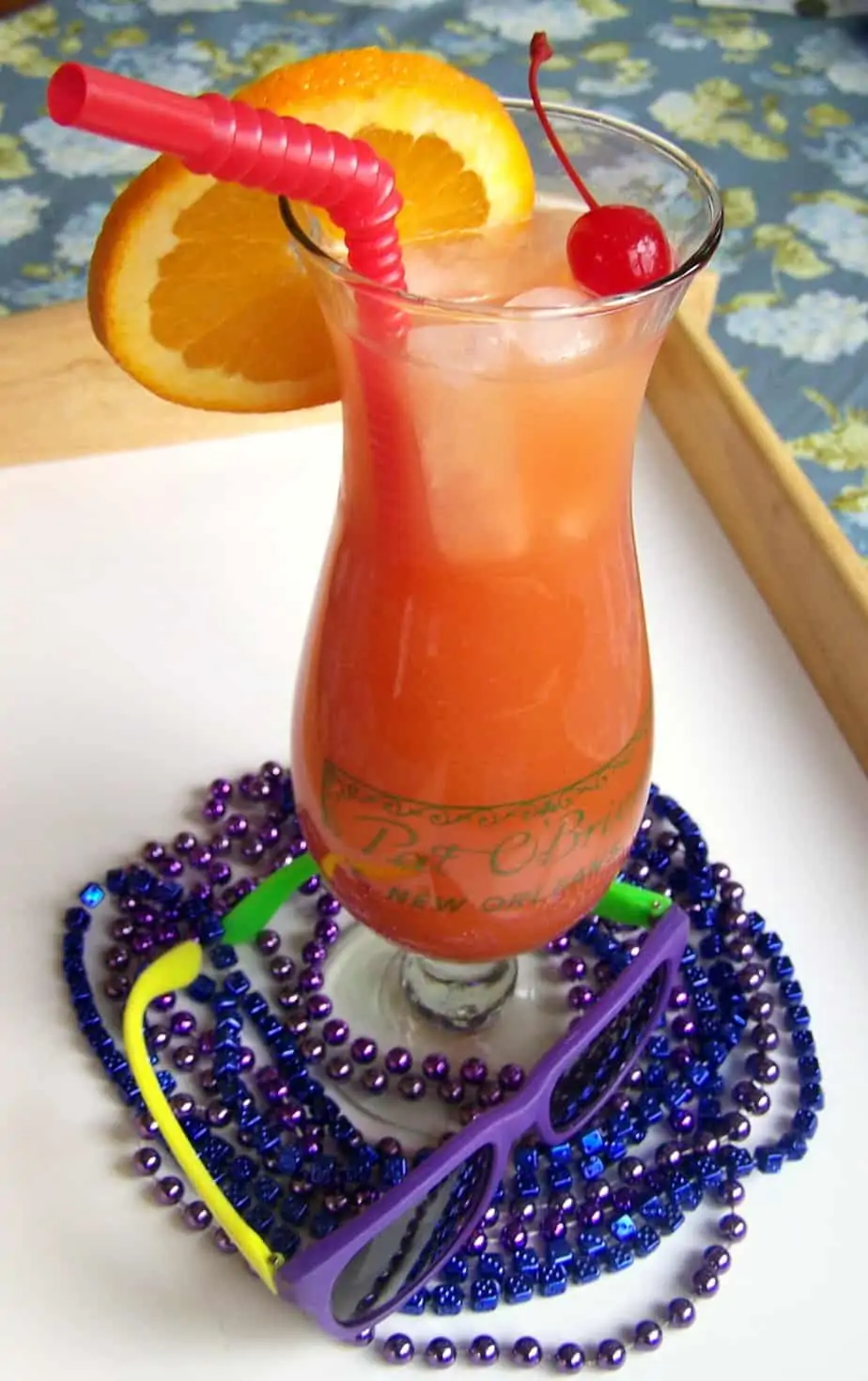 For more delicious cocktail recipes, go to our posts on:
Gin Cocktail Recipe: The Thirsty Forager
Cranberry Orange Gin Fizz with Thyme
Watermelon Jalapeno Frozen Margarita