Looking for some game day menu inspiration? I've got your covered with amazing recipes from dips, finger foods, appetizers, bowl recipes, breads, main dishes, desserts & more!
Back in the day, as early as I can remember, my entire family would gather around the TV every Sunday for a football party.
Naturally, it was my favorite time of the week where we all cheered on the same team, hung out together, laughed, got mad at the refs, and had an excuse to eat for 3 hours straight.
As always, game day was always full of fun!
Game Day Menu Recipes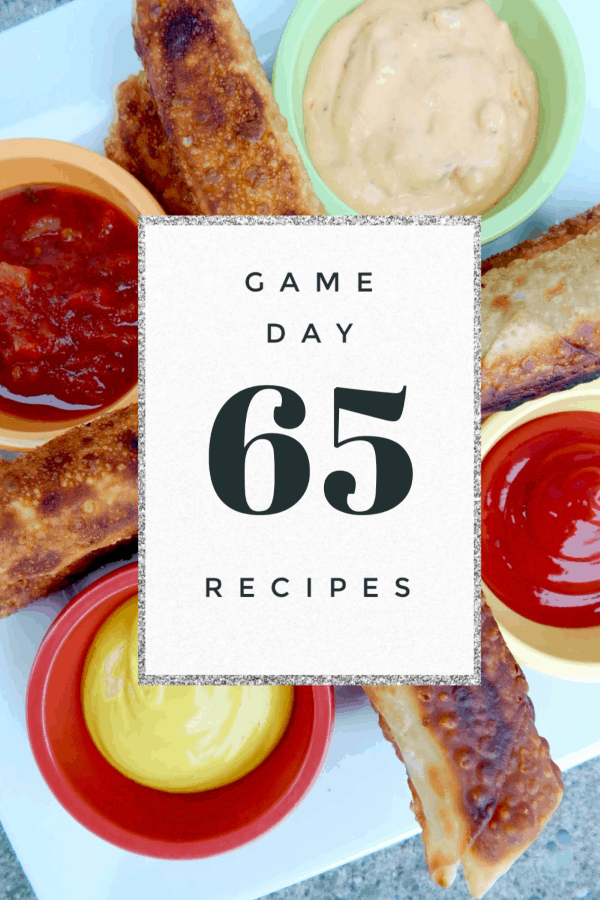 There's always a big game, whether it's the NFL playoffs, the Super Bowl, the World Series, the Olympics, NASCAR, the World Cup, the NBA Finals, The Masters, Wimbledon….
And it doesn't even have to be the biggest game day of the year.
Really, all you need is a game, family, and friends, and you have yourself an excuse to pull out your game day menu recipe arsenal and serve up some tasty fare.
Why are game days so important?
Here's a great article on Why Sports Fans Are Sports Fans, "Sports bonds you to other people".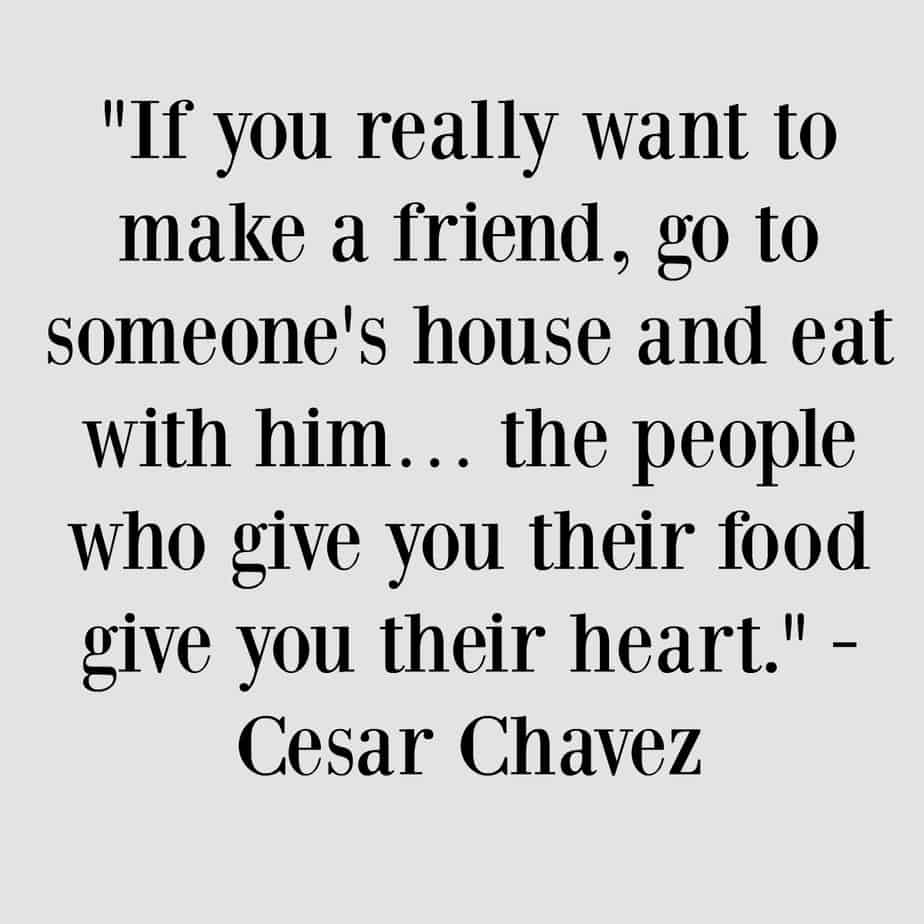 So I decided to hit up my blogger friends, who are the best of the best when it comes to recipes, and put together a smorgasbord of game day menu options.
What Is Game Day Food?
Game Day food is food for a crowd that you can make a lot of and that people can easily eat sitting while around the TV.
In this case, I received such a tremendous response that I divided it into food categories.
Because I couldn't fit all of the pictures into collages for some of the categories, make sure to read each item on each list of recipes.
The pictured recipes are listed first and then the recipes I couldn't fit in collages are listed after.
In addition, I've included the links to each recipe so you can just click and print!
Party Dips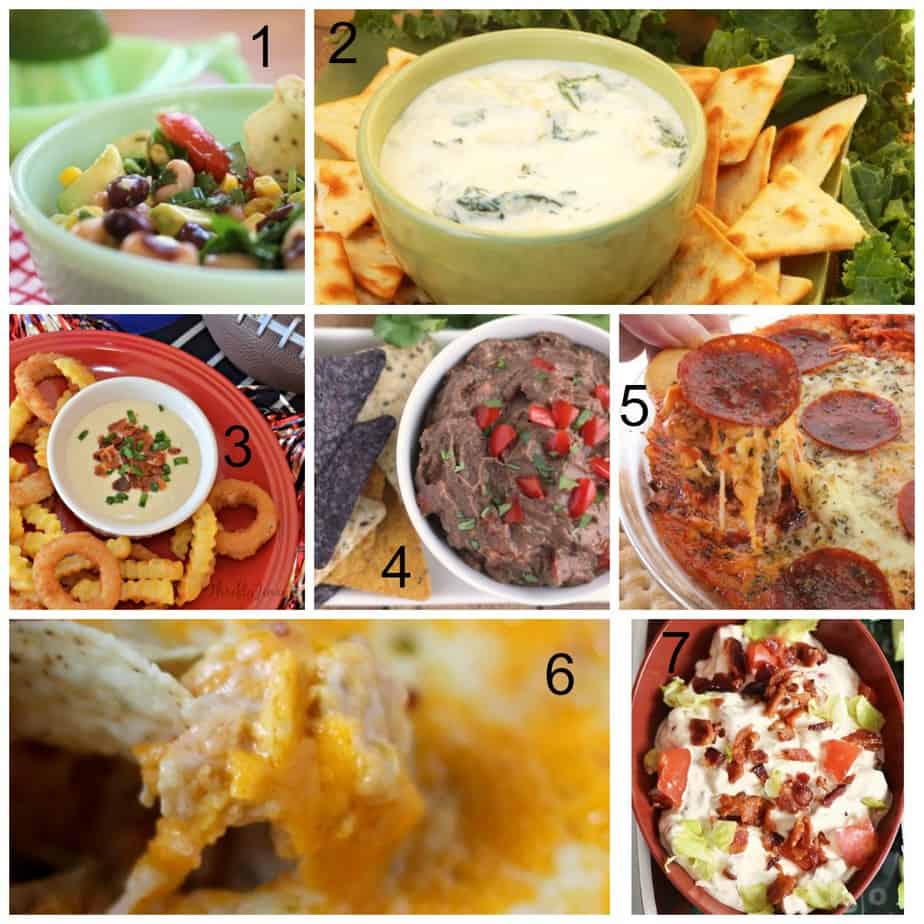 Cowboy Caviar: Housewives of Frederick County
Cheesy Kale & Artichoke Dip: Ann's Entitled Life
Warm Blue Cheese Dip: Thrifty Jinxy
Mexican Fiesta Black Bean Hummus: Two Healthy Kitchens
Easy Cheesy Pizza Dip: Cincy Shopper
Kickin' Corn Off the Cob Dip: Ann's Entitled Life
Creamy Bacon Dip: Savvy Saving Couple
Bacon, Cheese, & Mushroom Chick-Fil-A Chicken Nuggets: Housewives of Frederick County
Copycat Fritos Bean Dip: Thrifty Jinxy
Cheesy Hot Bean Dip: Thrifty Jinxy
Cheesy Jalapeno Dip: Andrea's Notebook
Beefy Taco Dip: Mom vs The Boys
Easy Chile Relleno Dip: Farm Fresh Feasts
Baked Artichoke & Arugula Dip: Farm Fresh Feasts
Bacon Cheeseburger Tomato Jam Dip: Farm Fresh Feasts
Buffalo Butternut Squash Hummus: Farm Fresh Feasts
Cincinnati Skyline Chili Dip: My Heavenly Recipes
Chunky Lime Salsa: My Heavenly Recipes
The Only Guacamole Recipe You'll Ever Need: My Heavenly Recipes
Sausage Dip Packed with Veggies: My Heavenly Recipes
Eggplant Spinach & White Bean Dip with Homemade Cheddar Crackers: Caroline's Cooking
Cowboy Caviar: Spicy Black Bean, Corn, & Fresh Tomato Salsa: The Jenny Evolution
Game Day Menu: Finger Foods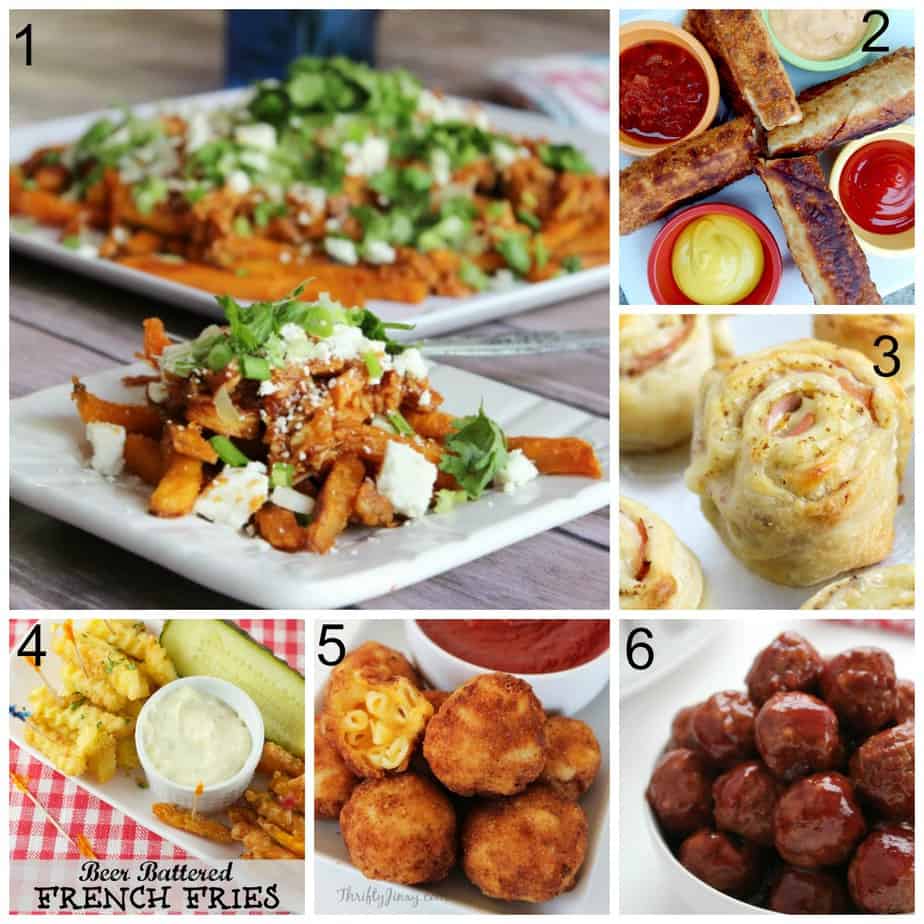 Bowl Recipes For a Crowd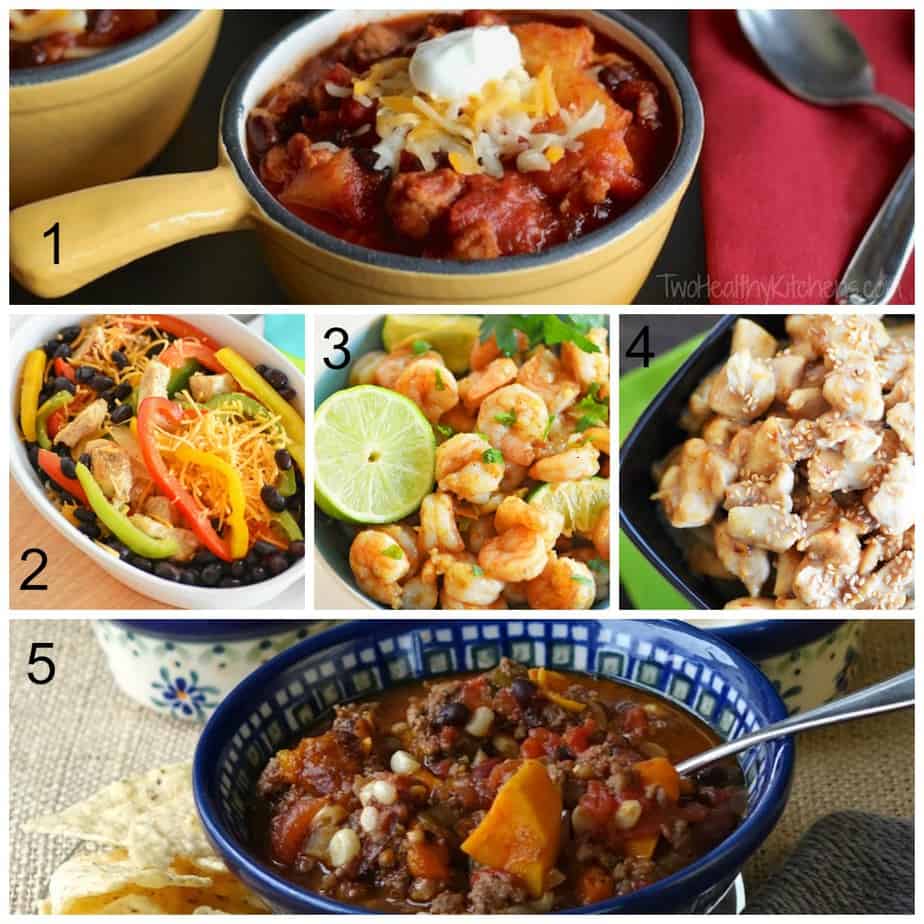 Delicious Bread Appetizer Recipes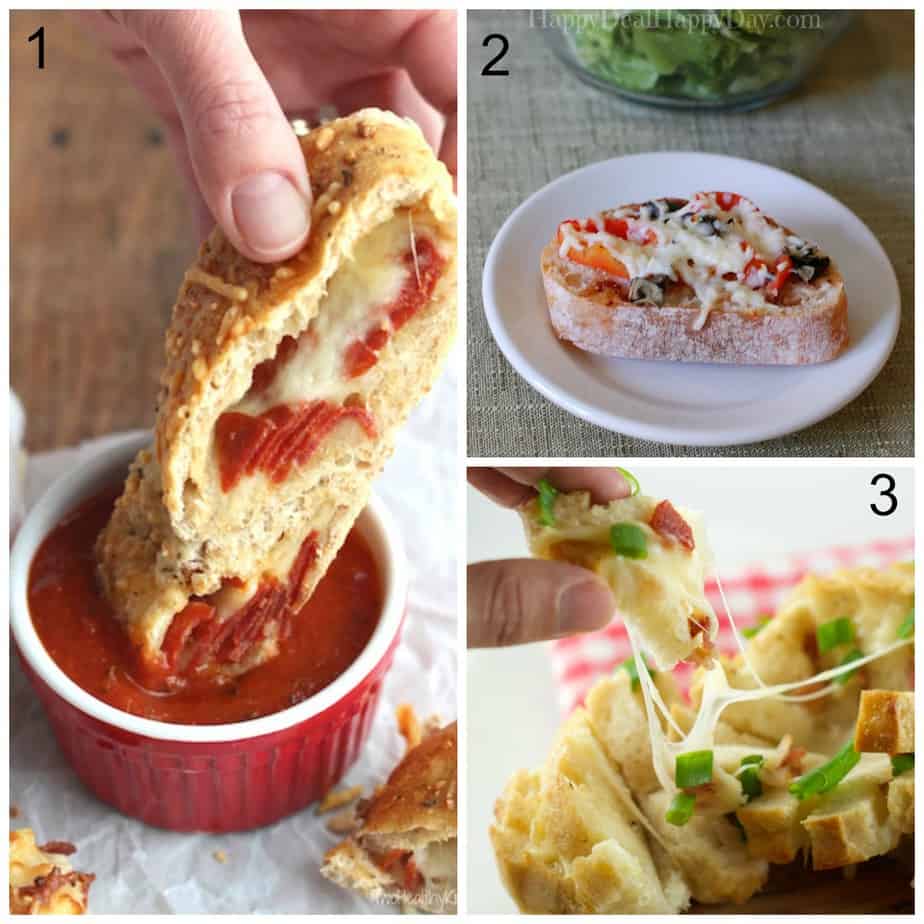 Easy Pepperoni Bread: Two Healthy Kitchens
Roasted Red Pepper Bruschetta: Happy Deal Happy Day
Cheesy Bacon Pull Apart Bread: Living Sweet Moments
Game Day Menu: Main Dishes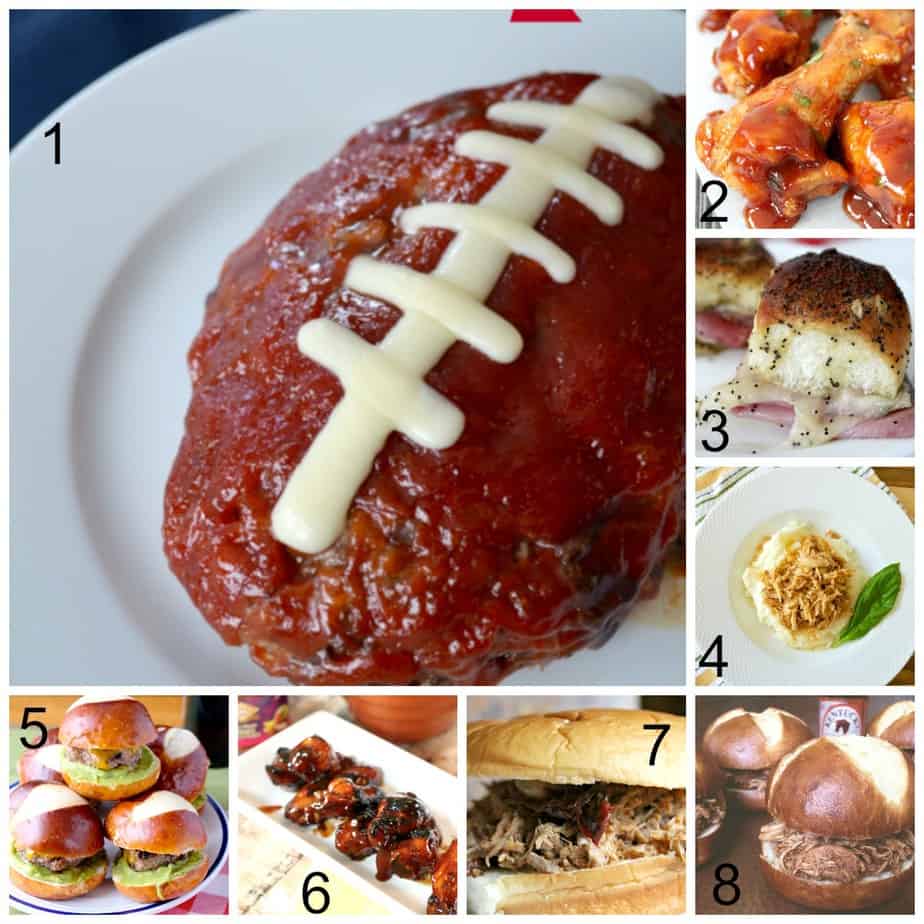 Football Shaped Meatloaf: Thrifty Jinxy
Honey Chipotle Wings: Cincy Shopper
Ham & Swiss Sliders: Cincy Shopper
Easy Crockpot BBQ Pulled Chicken: The Jenny Evolution
Pretzel Roll Sliders: Farm Fresh Feasts
Sweet Mango Barbecue Chicken Wings: Mom vs The Boys
Adobo Pulled Pork Sandwiches: My Heavenly Recipes
Slow Cooker Beer & Brown Sugar Chicken Sliders: Lilacs & Lace
Game Day Menu: Nachos & Tacos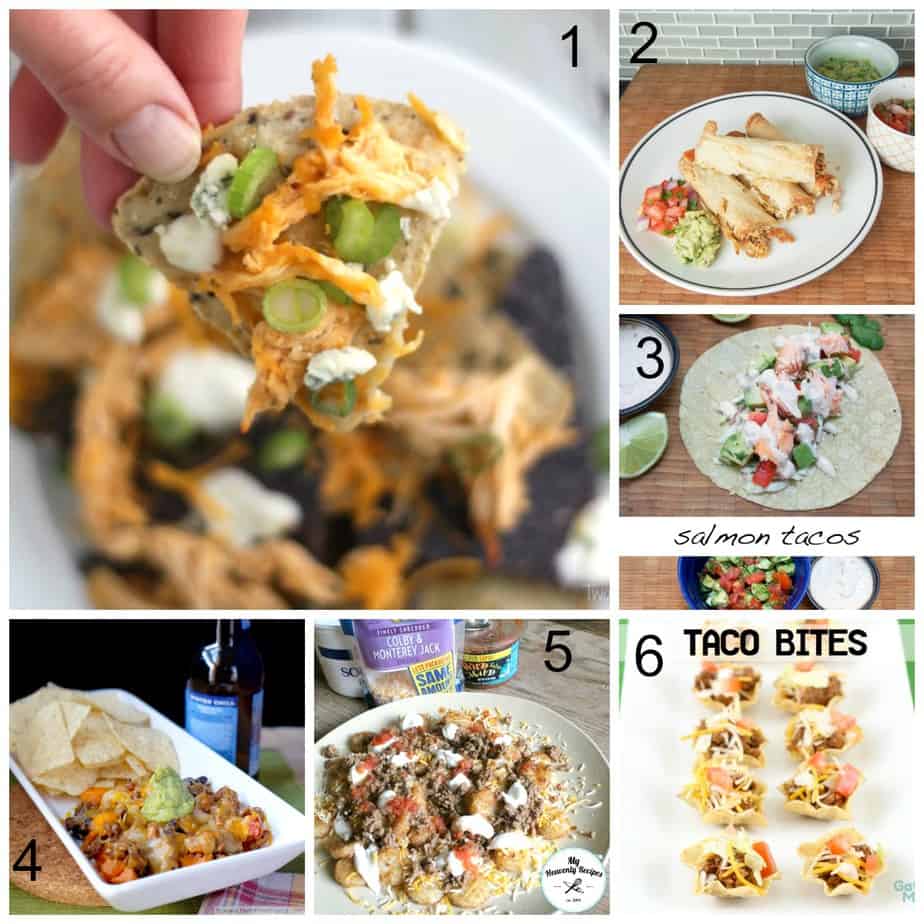 Baked Buffalo Chicken Nachos: Two Healthy Kitchens
Slow Cooker Cilantro Lime Chicken for Tacos & Taquitos: Caroline's Cooking
Salmon Tacos: Caroline's Cooking
Roasted Sweet Potato Nachos: Farm Fresh Feasts
Tater Tot Nachos: My Heavenly Recipes
Taco Bites: Gator Mommy Reviews
Make Your Own Layered Taco Dip Bar: Farm Fresh Feasts
Game Day Desserts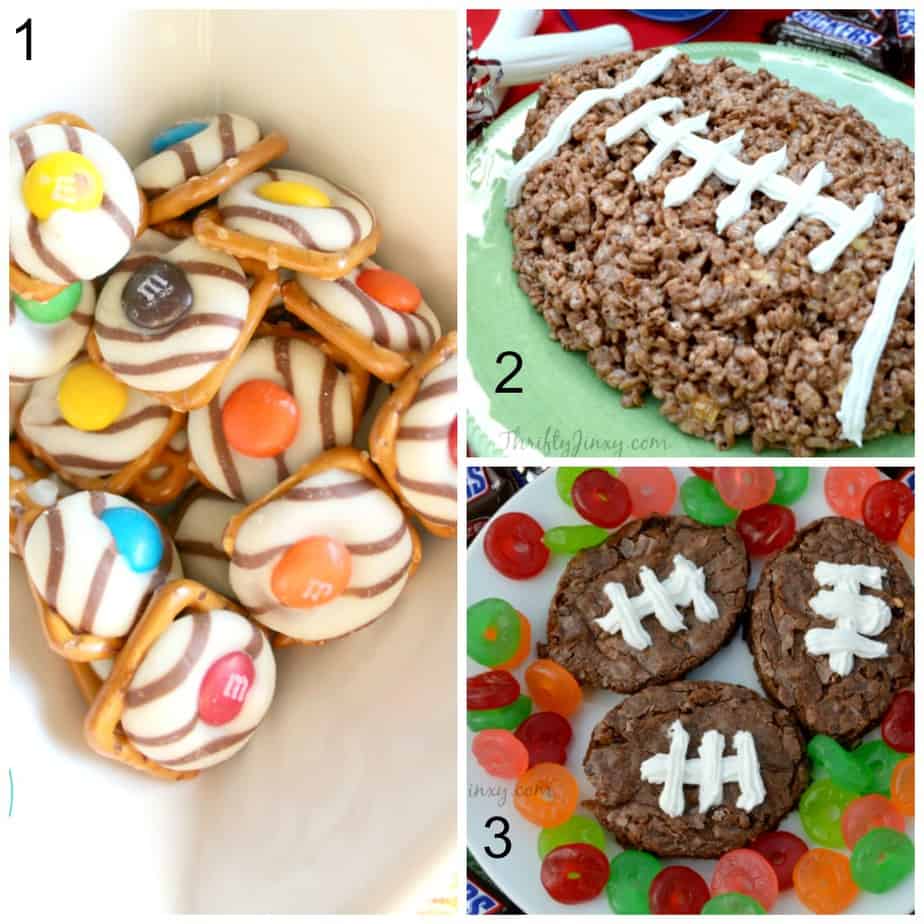 Hershey Kiss Pretzels: My Heavenly Recipes
Snickers Rice Krispy Treat Football: Thrifty Jinxy
Football Snickers Brownies: Thrifty Jinxy
And last but not least, JELLO SHOTS! Just use jello in the colors of your favorite sports team!
Ours is the Washington Football Team!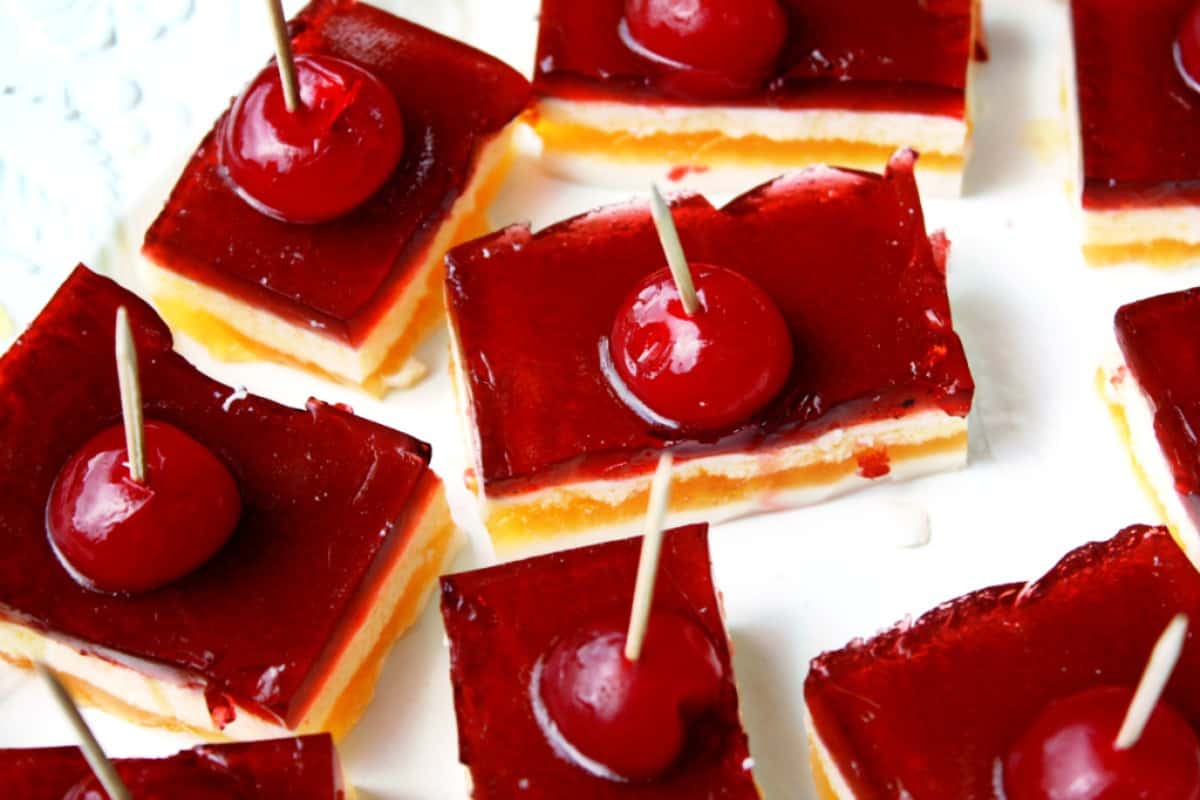 This list of game day menu recipes is really all you need to have yourself an enjoyable, and filling, game day with your friends and family!
Do you have any trusty game day recipes that are a must-have for your gathering?
If so, please let us know in the comments!
Because you can't have too many good recipes!
GO TEAM!
For more appetizer recipe posts, click over to: