If you're looking for an incredibly delicious and healthy crab cake recipe, you've come to the right place!
After making these low carb crab cakes, using fresh crab meat, you'll ask yourself why you've never made them until now!
With only 5.5 net carbs and 14 grams of protein per crab cake, this will be one of your new favorite recipes!
I mean, who says you can't thoroughly enjoy your food while still eating healthy?
Healthy Crab Cake Recipe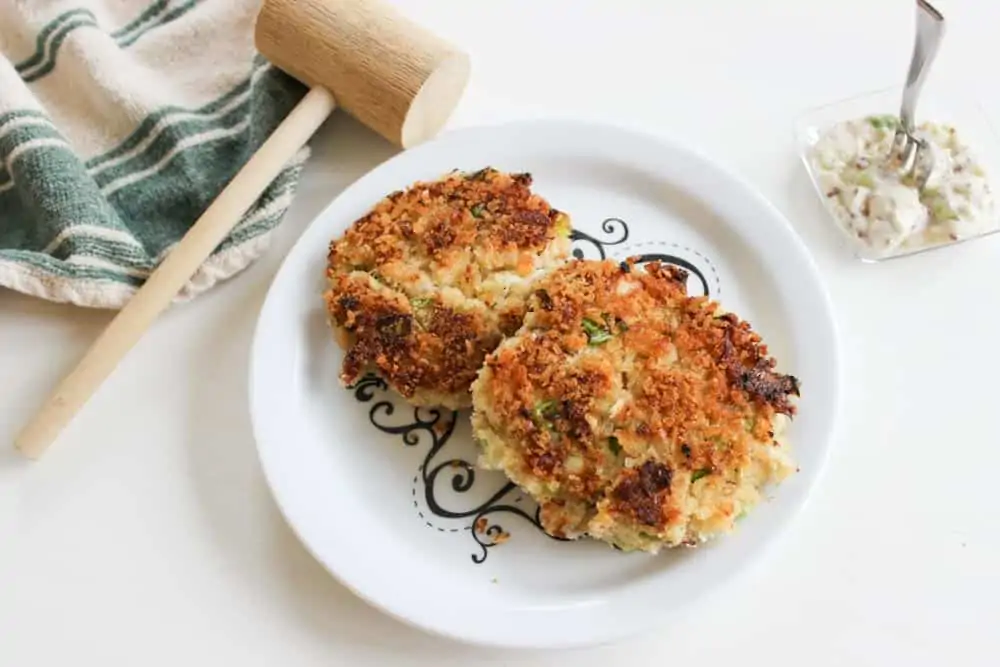 If you're like me, making a healthy crab cake recipe has always been on that ever-growing bucket list.
But, like me, you're too afraid you'll mess it up.
You see, I grew up in Maryland, where, as most people know 'Maryland is for Crabs'.
Clearly, there's nothing better than sitting at a table with family and friends, staring at a huge pile of steaming crabs in front of you, ready to pick for hours.
Needless to say, my family LOVES anything involving seafood!.
In addition, my hubby's family is from Cape Cod and my son, who is very particular with what he will and will not eat, will put away any type of fish or shellfish.
Therefore, I thought it was high time that I try out a crab cake recipe.
And if I'm going to make crab cakes, they better be the best crab cakes, right?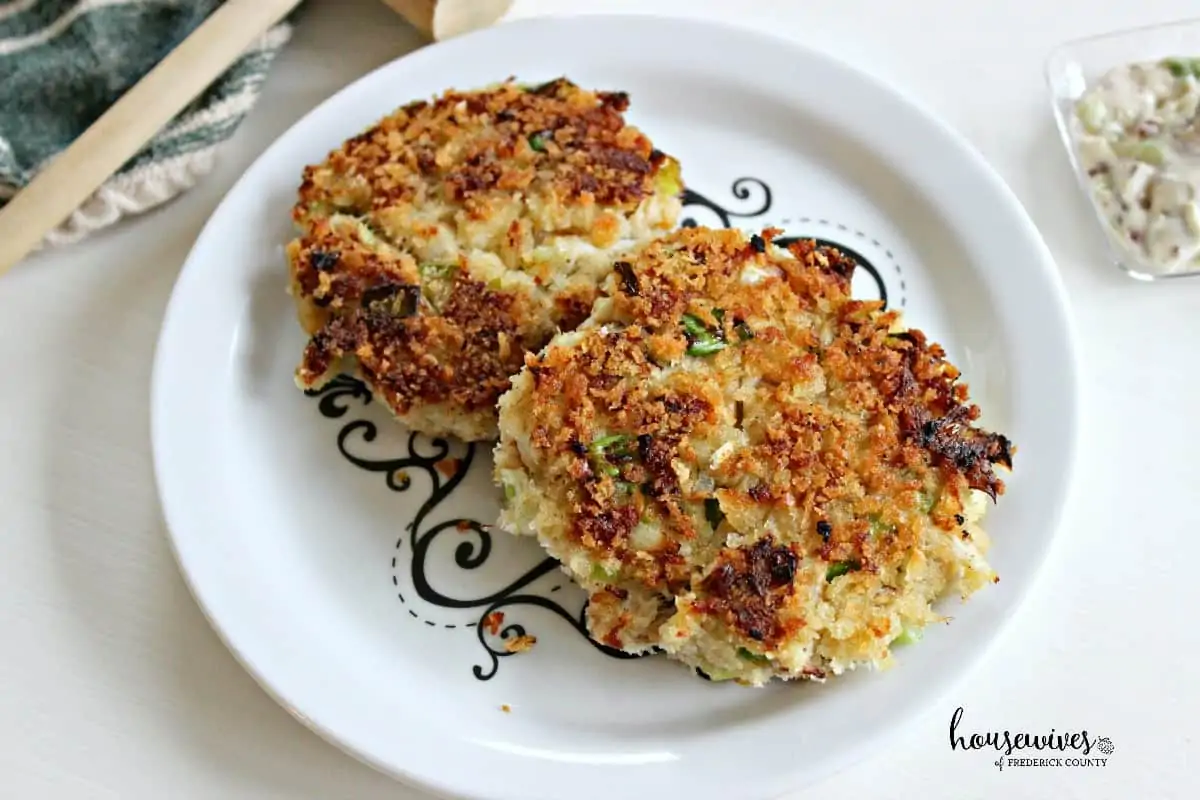 How To Make A Healthy Crab Cake Recipe From Scratch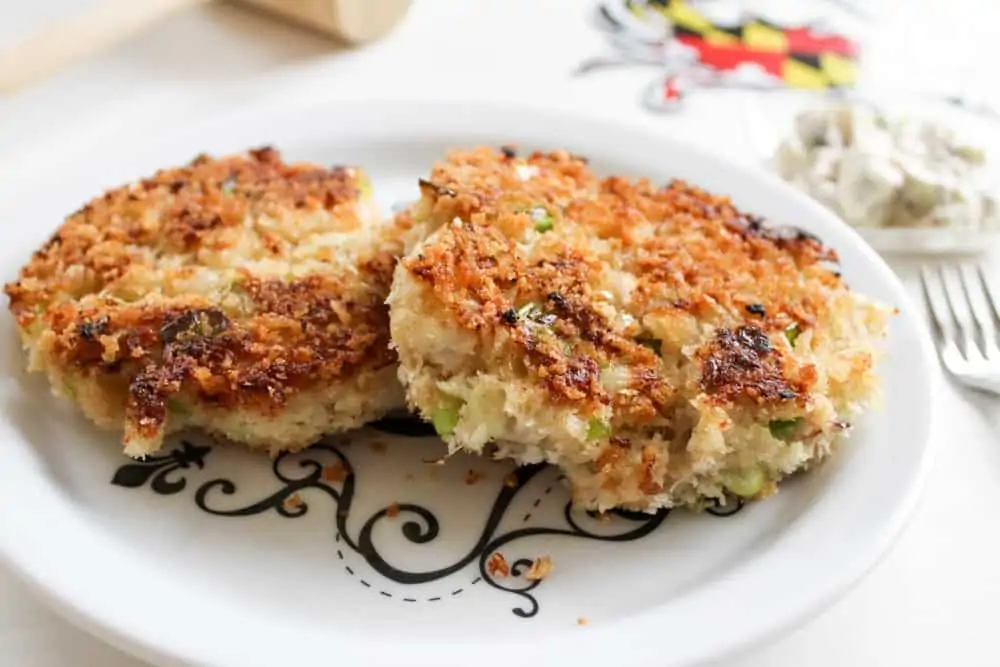 The big question is: Are these true Maryland Crab Cakes?
Well, based on the fact that I have one of the most popular Maryland crab cookbooks ever written, The Crab Cookbook by Whitey Schmidt (Amazon), the answer is: Of course!
To clarify, this Maryland crab cookbook has 8 different recipes of Maryland crab cakes, each with their own variations.
While some of these recipes have Worcestershire sauce, others include horseradish, cayenne pepper and use bacon fat for frying.
Although there are several variations to the traditional Maryland crab cake recipe, they all have one common ingredient: Crab Meat, sourced from Maryland blue crabs on the Eastern Shore.
There's just something about the distinct, slightly sweet, delectable taste of this crab meat that you can't find anywhere else but Maryland!
However, you don't have to grab a crab net and travel to the shore to get Maryland crab meat. That is, unless you really want to!
On the contrary, you can find it at the seafood counter in your local grocery store.
In addition to this, the best crab cakes are those with a light crunchy coating on the outside and a LOT of crab meat on the inside, with very little filler.
Surprisingly, making crab cakes from scratch is a lot easier than I ever imagined.
But, be prepared with the knowledge that making them can be somewhat labor intensive.
In other words, you can't sit down in between cooking time.
Instead, it's a hands-on cooking experience, similar to making pancakes.
You really need to stand by the stove during the entire cooking time to ensure that you have the right amount of heat on the crab cakes.
For example, if the heat gets too high, your crab cakes can easily burn.
On the other hand, if it's too low then they're not cooked through enough.
Also, if you don't use enough oil, you'll smoke up the house and cause the smoke detector to go off. (Been there, done that!)
Ingredients for Healthy Crab Cakes
Here's what you'll need to make these delicious, healthy crab cakes and the homemade remoulade sauce that goes with them:
Jumbo Lump Crab Meat
Green Bell Pepper
Canola Mayonnaise
Ground Black Pepper
Green Onions
Egg
Panko
Canola Oil
Fresh Tarragon
Shallots
Fresh Parsley
Dijon Mustard
Capers
Ground Red Pepper
Step By Step Instructions
Here are the basic steps for making this healthy crab cake recipe.
Step 1: Drain Crab Meat
First, drain your crab meat to get out as much moisture as possible.
A great method is to stack 2 to 3 paper towels on top of each other.
Then place the crab meat on top of the paper towels, and use another paper towel to gently press the moisture out of the crab meat.
Step 2: Combine Crab Meat With Next 6 Ingredients
In a large bowl, combine crab meat with chopped green pepper, canola mayonnaise, black pepper, chopped green onions, 1 lightly beaten egg and 1/4 cup of panko bread crumbs.
Thoroughly mix your crab mixture, but gently so as not to break up the crab meat.
Step 3: Form Crab Cakes & Coat with Panko Bread Crumbs
Now, form your crab cakes into 8 equally portioned (approximately 3/4 inch thick) patties.
Spread out 3/4 cup of panko bread crumbs into a shallow dish or onto a baking sheet.
Then, liberally coat both sides of each crab cake with panko.
Step 4: Pan Fry Crab Cakes
Heat a large, non-stick skillet over medium heat (up to medium-high heat) and add 1 tablespoon of oil.
Then add your crab cakes to the skillet and cook for approximately 3 minutes on each side or until they are a golden brown color.
Remove crab cakes from the skillet and place them on a plate until all of your crab cakes are cooked.
Step 5: Prepare Remoulade Sauce
In a medium bowl, combine all of the Remoulade sauce ingredients together.
Then transfer your sauce to a small serving bowl and serve as a condiment for your crab cakes.
Sauce For Crab Cakes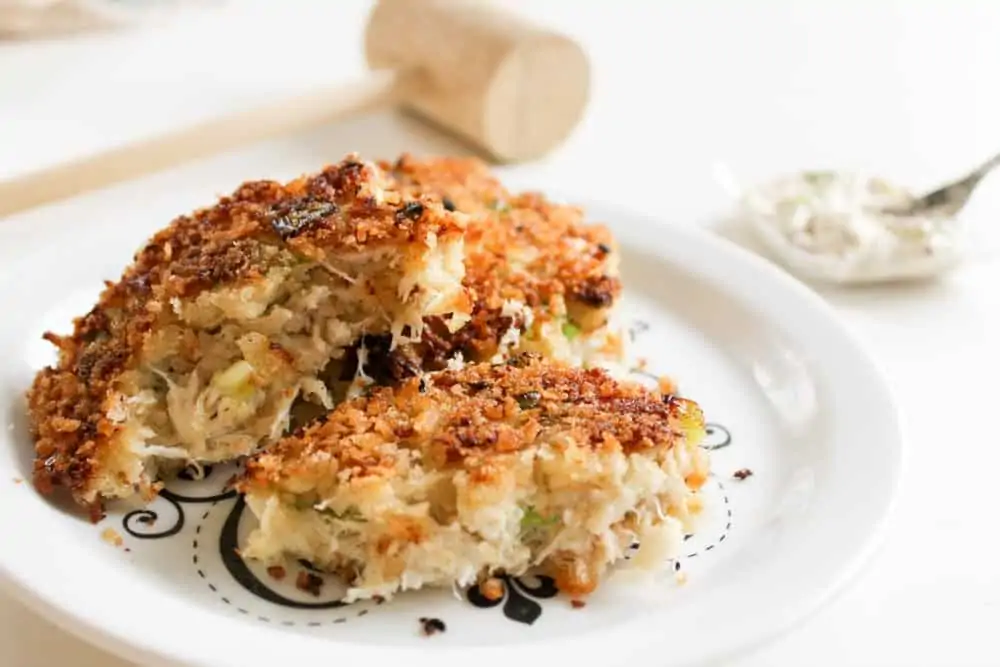 Sure, you can go out and buy some processed tartar sauce!
But, oh my goodness, this remoulade sauce for crab cakes is super easy to make and way better than store-bought!
I can honestly say that out of all the crab cake sauces I've tried, this homemade remoulade sauce recipe is the best I've ever had!
And by the way, if you don't know what remoulade sauce is (I didn't either), it is a mayonnaise based condiment similar to tartar sauce but WAY better.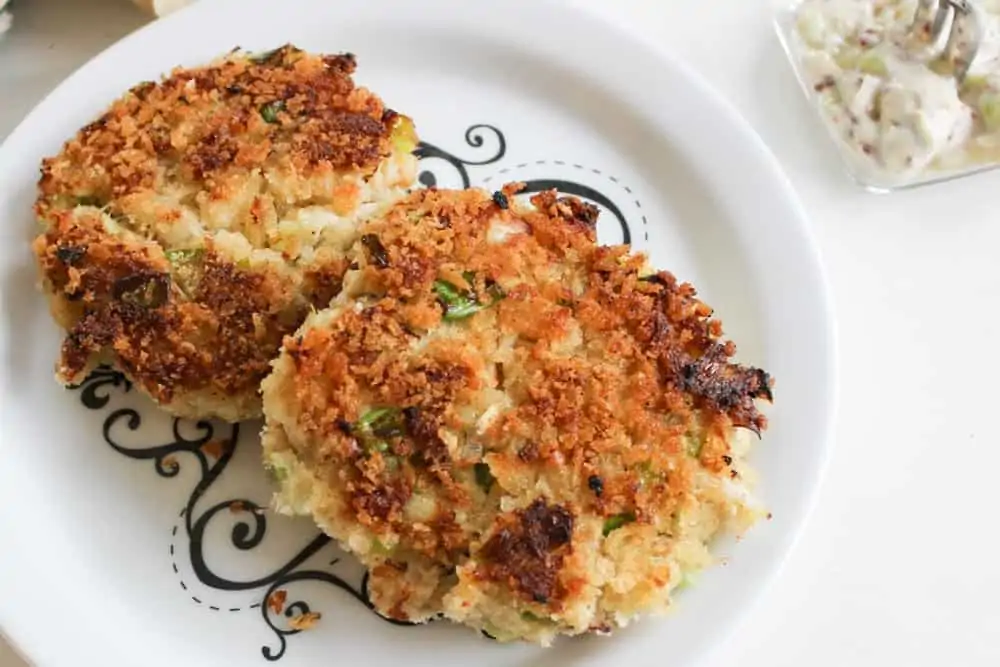 Healthy Crab Cake Recipe Tips & Substitutions
Here are some tips and substitutions for this recipe:
Keep lemon wedges on hand for people to squeeze on top of their crab cakes.
If you know, you know – Have Old Bay Seasoning at the ready for those who want to spice it up a little bit more.
Hot sauce is another condiment that's good to have on hand for those who want to kick it up a notch.
If you don't have panko bread crumbs, you can use cracker crumbs or chopped white bread.
How To Store Leftover Cooked Crab Cakes
If you plan to eat your leftover cooked crab cakes within the same week, place them in an airtight container with a lid and store them in the refrigerator for 3 to 5 days.
However, if you think you'll need more time before you eat the leftovers, you can absolutely freeze them.
To freeze them, wrap each one in plastic wrap or tin foil.
Then place your wrapped crab cakes into a freezer bag or an airtight container.
For either method, allow the crab cakes to reach room temperature before you store them.
How To Reheat Cooked Crab Cakes
With all that work you put in preparing these amazing crab cakes, you want to make sure that you reheat any leftovers properly.
To reheat them, preheat your oven to 325 degrees Fahrenheit and place your crab cakes onto a baking sheet that has been liberally sprayed with cooking spray.
Then, bake your crab cakes for approximately 10 to 15 minutes.
Finally, I'm SO glad I tried out this recipe.
It helped me to step out of my comfort zone and make something that I had been too intimidated to make for so many years.
AND after my husband ate 4 crab cakes in one sitting, it encouraged me to make them again!
Yum!
Lastly, if you're looking for the best restaurant crab cakes in Maryland, check out this article on what makes a crab cake delicious & where to find the best ones!
Healthy Crab Cake Recipe with Remoulade Sauce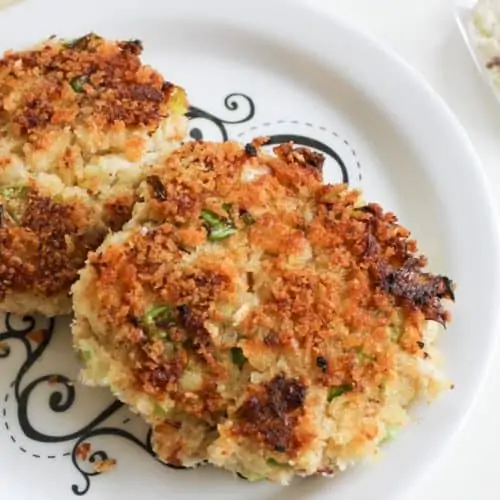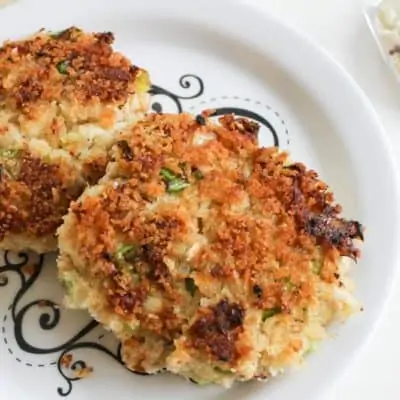 Healthy Crab Cake Recipe with Remoulade Sauce
An incredibly delicious & healthy crab cake recipe with homemade remoulade sauce! And only 5.5 net carbs and 14 grams of protein per crab cake. Low carb and high protein!
Ingredients
Crab Cakes
1

lb

Jumbo Lump Crabmeat, shell pieces removed

2

tbsp

Green Bell Pepper, finely chopped

1 ½

tbsp

Canola Mayonnaise

¼

tsp

Black Pepper

2

Green Onions, finely chopped

1

Egg, large, lightly beaten

1

cup

Panko, divided

2

tbsp

Canola Oil, divided
Remoulade Sauce
¼

cup

Canola Mayonnaise

2

tsp

Shallots, minced

1

tsp

Fresh Tarragon, chopped

1

tsp

Fresh Parsley, chopped

1 ½

tsp

Dijon Mustard

¾

tsp

Capers, chopped

¼

tsp

Ground Red Pepper

,

optional
Instructions
To prepare crab cakes, drain crabmeat on several layers of paper towels. Combine crabmeat, bell pepper, and the next 4 ingredients (through egg), tossing gently. Stir in 1/4 cup panko. Place remaining 3/4 cup panko in a shallow dish.

Divide crab mixture into 8 equal portions. Shape 4 portions into 3/4 inch-thick patties; dredge in panko. Heat a large nonstick skillet over medium-high heat. Add 1 tablespoon oil. Add dredged patties; cook 3 minutes on each side or until golden. Remove from pan. Repeat procedure with the remaining crab mixture, panko, and oil.

To prepare remoulade, combine 1/4 cup mayonnaise and remaining ingredients; serve with crab cakes.
Notes
Serving Size: 2 Crab Cakes
Nutrition info:
Calories 320 
Fat 17g 
Satfat 1.2g 
Monofat 8.7g 
Polyfat 5g 
Protein 26.8g 
Carbohydrate 11.7g  (5.5 net carbs per crab cake)
Fiber 0.9g 
Cholesterol 166mg 
Iron 1.5mg 
Sodium 555mg 
Calcium 133mg
For more favorite recipes using crab meat, click on over to:
Easy Old Bay Crab Dip Guaranteed To Amaze Your Guests 4 Weight Watchers SmartPoints
Cream of Crab Soup: Maryland's Grand Prize Recipe
28 Crab Meat Recipes You Don't Have To Be A Marylander To Love!