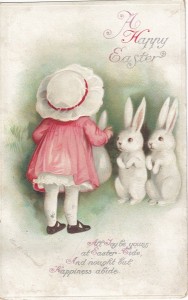 Well, you'd never know it with this crazy weather we're having, but Easter is right around the corner! So, we wanted to put together a post with some of our favorite finds, on one of our FAVORITE sites – Pinterest! Isn't the image above SO vintage-y and sweet? It just reminds me of being a little girl at Easter, and the excitement of Spring!
One post that I found, that really caught my eye, was this one – 14 Easter Traditions at www.b-inspiredmama.com – it's fun to read through some of the traditions for some new ideas!
If you're looking for some great printables, and lots of them, click on this link of 23 Easter Printables at www.thediydreamer.com! I honestly don't know how some people come up with these things – but I'm SO glad that they do!
Here's a great, simple centerpiece idea from a site called www.sweetlittlesmoothie.blogspot.com. Make sure to go to the site for directions because there are a few little tricks to making it look perfect. I think it would be fun to have this on the table for Easter dinner, and then put everybody's names in a hat, and pick a winner of the centerpiece at the end of your gathering.
I love this decoration idea (below) from www.catchmyparty.com! So simple, but I've never thought to do this! I'm tellin' ya – geniuses these people are who think of these things!
Are you tired of the same ole, same ole when it comes to dying Easter eggs? Well visit www.momtastic.com for several ideas – the kids in your life will be amazed!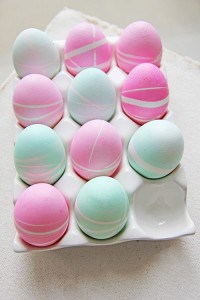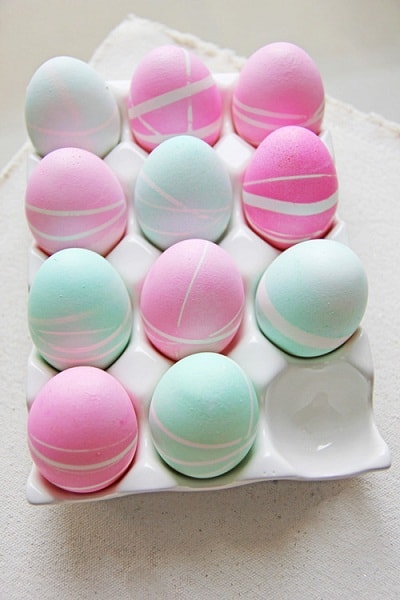 More Easter egg decorating ideas can be found here from www.papernstitchblog.com, and, even more decorating ideas on this amazing site!
These cupcakes look so good and are so Easter-festive! They were found on a site called www.fantasticcleaners.com (I know- doesn't seem like a site you'd find cupcakes on, but hey – ya never know!)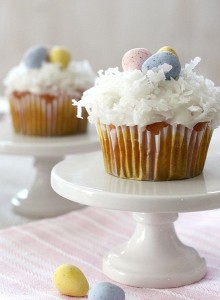 How cute are these Easter strawberries that are "dressed up" as carrots? We found these on a site called www.handmadecharlotte.com.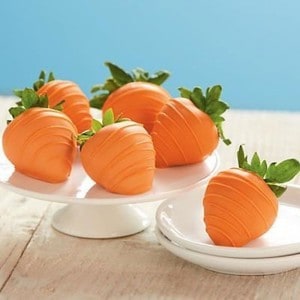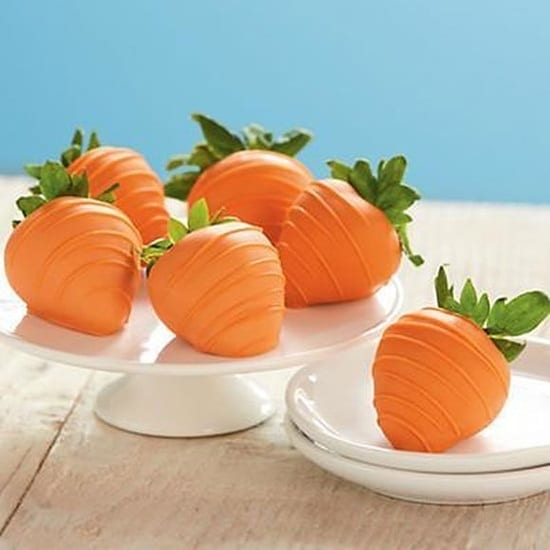 And, last, but definitely not least, these Easter nest cookies from one of our all-time FAVORITE sites www.tipjunkie.com! These cookies have a special place in my and Pam's hearts – our mom used to make this type of cookie for us, as kids, and we still ask her to make them to this day 🙂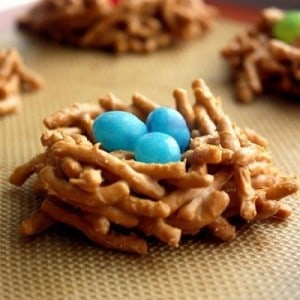 So, I hope this has given you a little variety of ideas to make this Easter even more special. My hopes are that my family will keep it simple, remember the meaning of Easter, spend good quality time with each other, and make some memories 🙂 Have a Happy Easter everybody!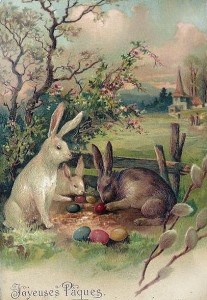 (The image above was found on a BEAUTIFUL site called www.vintagedragonfly.blogspot.com)
Terri is married and has 2 sons – both high schoolers! She has lived in Frederick since 1994 and absolutely loves exploring and discovering new parts of our town.
read more...