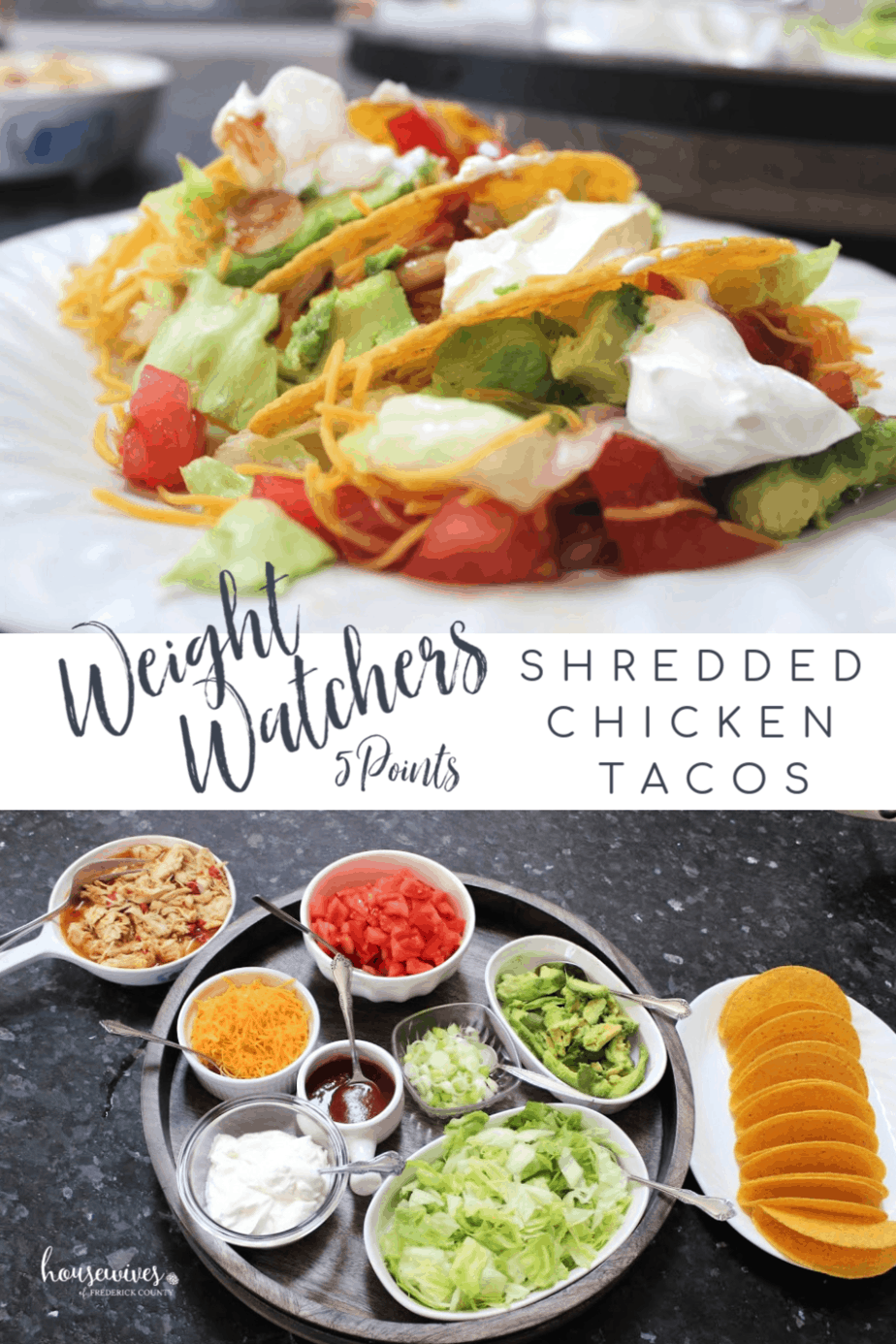 In this post I'm going to give you an easy peasy, delicious recipe for Weight Watchers Shredded Chicken Tacos.
I used the Instant Pot to make this recipe because it is a great way to quickly and conveniently cook tender and flavorful, shredded chicken.
As a matter of fact, you're going to love these Shredded Chicken Tacos so much that Taco Tuesday will become Taco Friday and maybe even Taco Sunday too!
Shredded Chicken Tacos
Admittedly, I have never ever used the Instant Pot until now.
This site contains affiliate links. I may receive a commission for purchases made through these links. As an Amazon Associate I earn from qualifying purchases.
[View our Disclosure Policy Here]
Yes, I know, it's been around since 2010 and I'm just now trying it out!
I guess I didn't feel the need to use an Instant Pot because I preferred to either cook a meal in my slow cooker or just cook it on the stove.
Obviously, you can still do that for this particular recipe if that is your cooking method of choice.
What are the benefits of cooking with an Instant Pot?
So what are the benefits of an Instant Pot that a slow cooker or stove top cooking don't offer?
Notably, the Instant Pot is a one-stop-shop as it can perform multiple functions such as:
Slow Cooking
Pressure Cooking
Steaming
Sauteeing/Browning
Warming
Yogurt Making
Egg Making
Cake Making (cake making? I need to investigate this further!)
Baking Potatoes
Defrosting
Entire Meal Cooking
Nutrient Retention
Crazy right?
I had no idea!
Needless to say, these Shredded Chicken Tacos will not be my last recipe I create using the Instant Pot!
How to use the Instant Pot
I wanted to include this information for those of you who have not used an instant pot before now.
Being that I was a little bit intimidated to use the Instant Pot before making this recipe, there's a chance you might be too.
There are several parts to it and you have to make sure you're using them correctly.
I found this great YouTube video explaining all of the pieces of the Instant Pot and how they work:
After watching this video I felt way more confident and was ready to start making my recipe.
Weight Watchers Shredded Chicken Tacos Recipe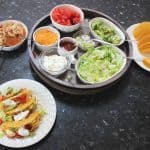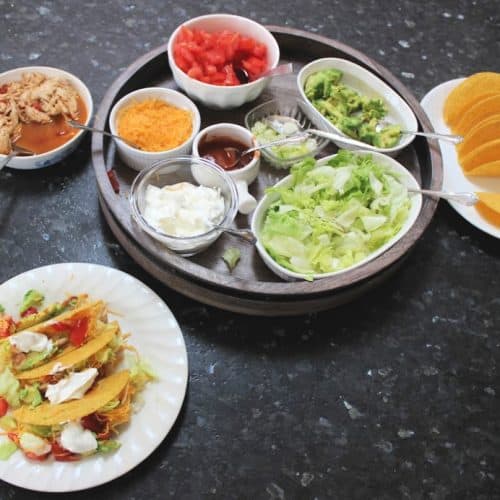 Print Recipe
Weight Watchers Shredded Chicken Tacos
Cooked, seasoned & shredded skinless, boneless chicken breasts are healthy and so delicious for your next taco night!
Ingredients
3 to 4

Medium to Large Skinless, Boneless Chicken Breasts

1

cup

Chicken Broth or Water

1

packet

Taco Seasoning

1

15 ounce

Can of diced tomatoes

24

Taco Shells or Tortillas

1

cup

Sliced Avocado

1

cup

Chopped tomatoes

1

cup

Diced Spring Onions

1

cup

Fat Free Sour Cream

1

cup

Taco Sauce

2

cups

Fat Free Shredded Cheese

3

cups

Shredded Lettuce
Instructions
Add chicken breasts, broth or water, and taco seasoning to Instant Pot.

Cover and set to Pressure Cook or Manual for 20 minutes (30 minutes if using frozen chicken breasts).

While chicken is cooking, cut up all of your toppings and place in serving bowls or on a serving platter.

When cooking is done, turn vent knob to the Vent position and de-pressurize until the float valve drops down. Then uncover the Instant Pot and shred the chicken using a large fork.

Place shredded chicken into your taco shells or tortillas and add your toppings.
Notes
5 Weight Watchers SmartPoints for 2 tacos.
Before cooked: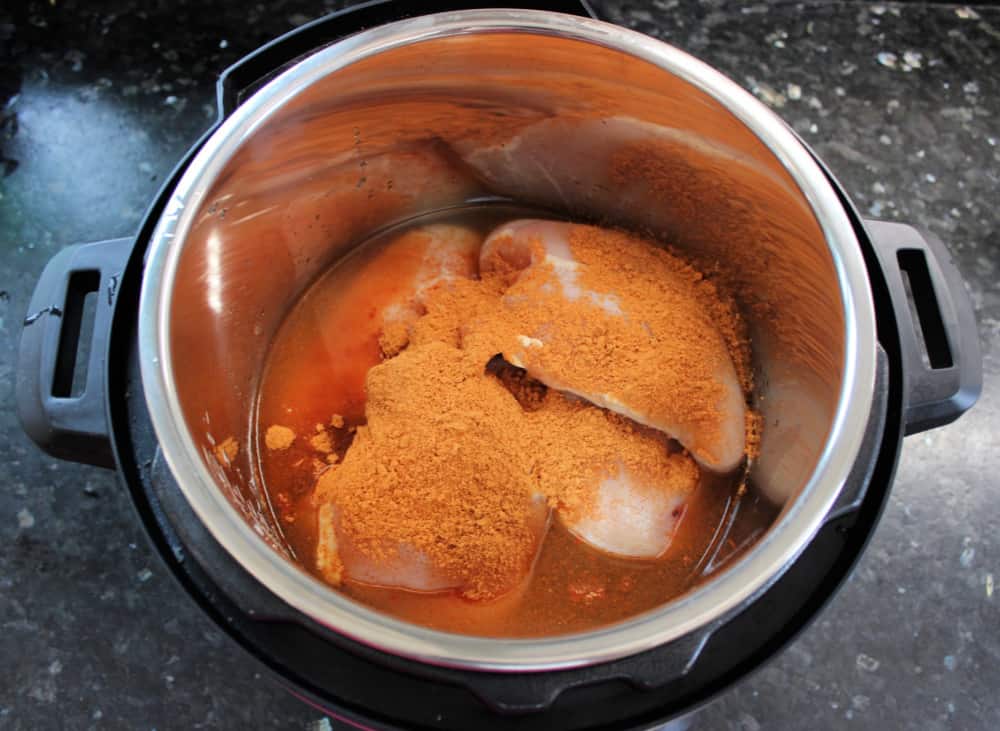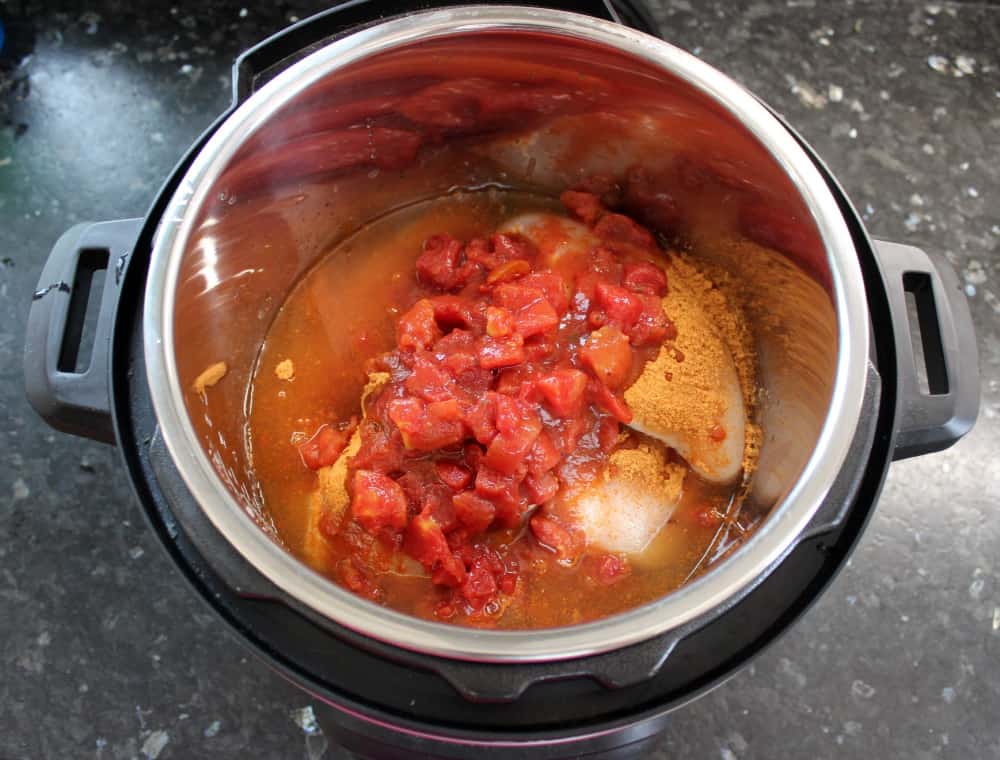 After cooked and shredded: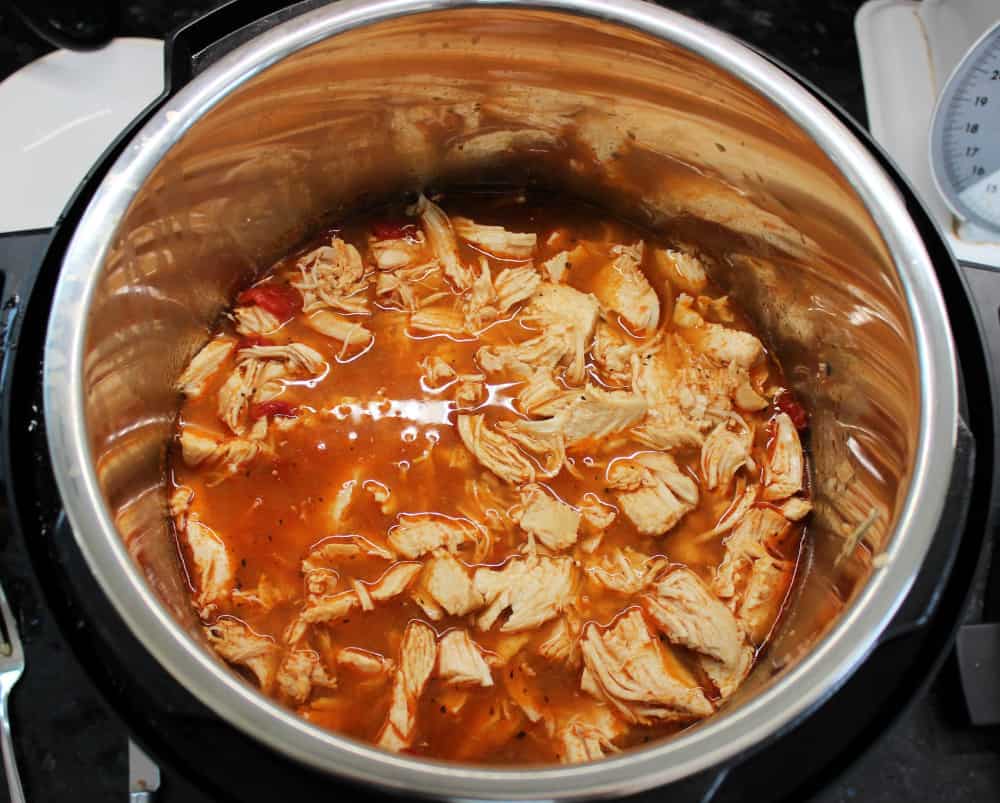 Although the chicken was so tender, it was easy to shred with a fork, I did use a knife to speed up the shredding process.
Or you can use long wood handle meat shredding claws like these on Amazon.
How to Serve your instant pot shredded chicken tacos
You can either use a large platter to space out your taco toppings, or you can put each topping in it's own bowl like I did.
This set of eight 4 ounce porcelain ramekins (Amazon) is perfect for placing all of your toppings.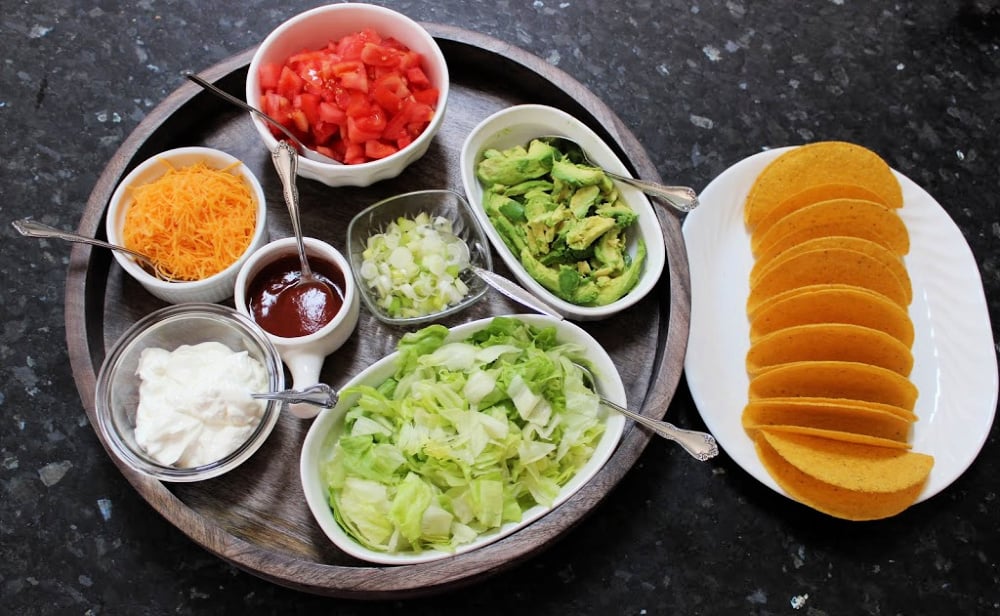 It keeps it cleaner that way and the toppings don't get all mixed together.
I placed all of the bowls with spoons in each bowl onto a rustic large lazy susan (Amazon) on our kitchen island for easy access from either side.
The taco shells were placed on a platter.
You can also use these clever stainless steel taco shell stands (Amazon).
Each stand holds 3 taco shells.
Just fill your shells up and you're ready to roll!
No fuss, no muss!
Lastly, the shredded chicken was put in a separate, larger bowl.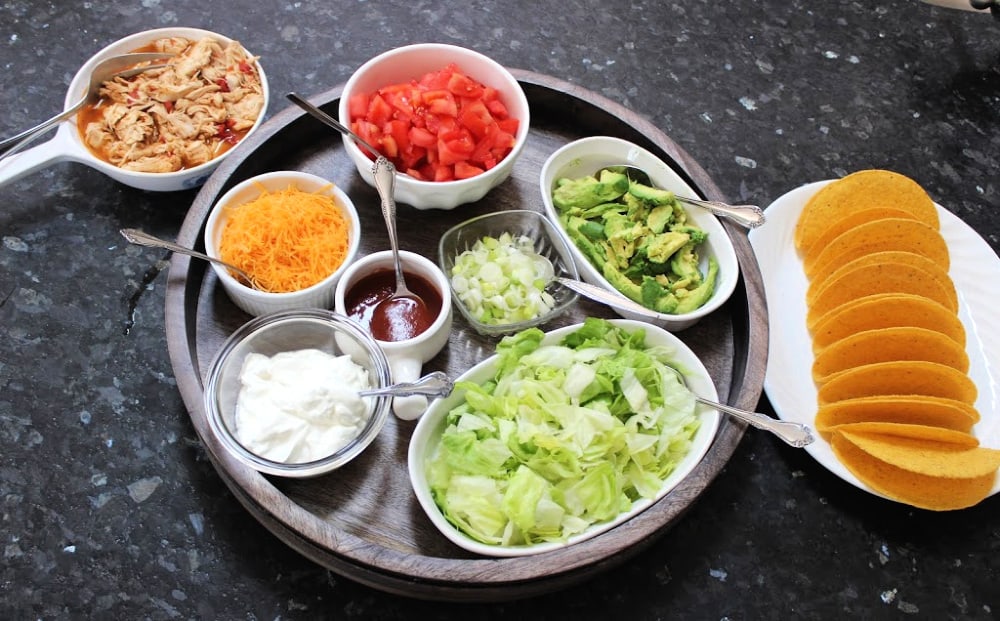 How it turned out
Oh my goodness, the shredded chicken was delicious!
It was so tender and full of flavor.
One thing I didn't do was put enough spices in with the chicken while it was cooking.
I had decided to double the recipe since we were having Terri's family over for dinner.
However, I only added 1 packet of the taco seasoning.
Therefore, my husband added a 2nd packet after it was cooked.
As a result, it definitely enhanced the flavor!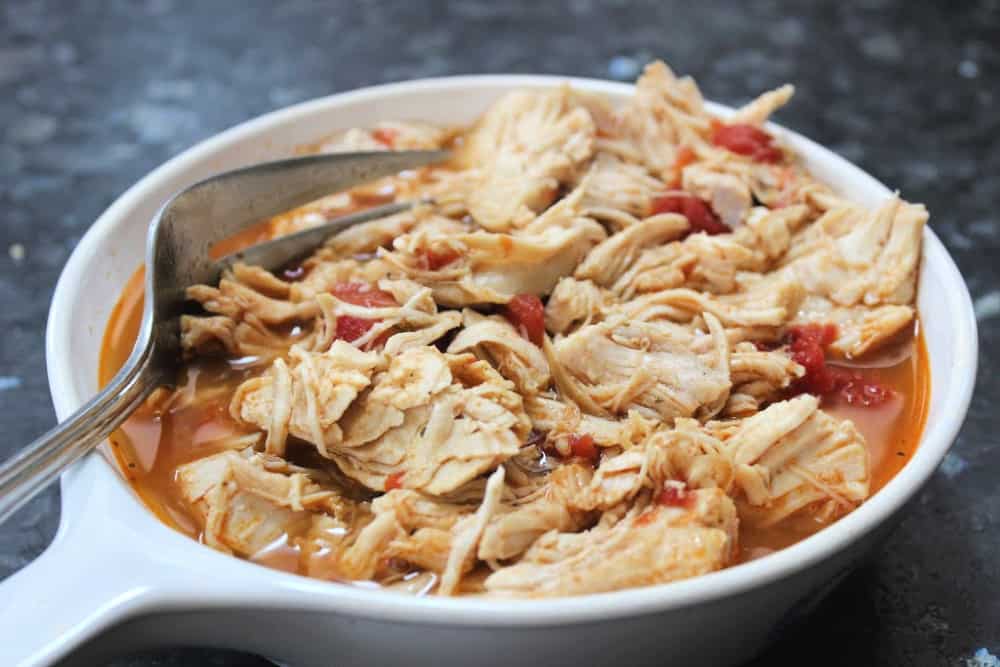 The tacos were amazing!
As a matter of fact, my new meat of choice for tacos is shredded chicken.
You don't get that greasy, bottom of the shell effect like you do with ground beef.
AND you save a lot of fat and calories too!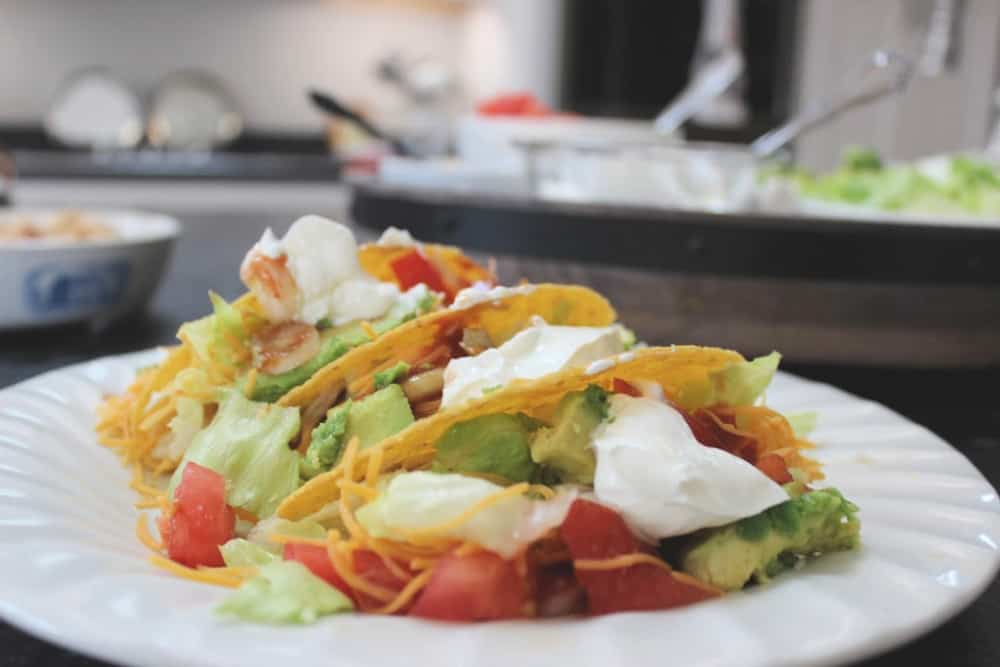 Another benefit is that we have a lot of shredded chicken leftover, which means we can use it for other meals throughout the week!
So if you've hesitated to try out the Instant Pot like I did, just jump right in and try it for yourself!
I actually borrowed Terri's Instant Pot before deciding if I should buy one for myself.
I now know that I need to get me one!
To buy your own go to this page on Amazon, which lists a slew of different Instant Pot models and even colors!
The prices have gone down since Instant Pot first came out.
It's a lot more affordable for a product that will get a LOT of use in your kitchen!
For more great recipes, click over to our posts on:
Asian Chicken Lettuce Wraps: You Can't Eat Just One!
Easy Chicken Enchilada Casserole: A New Twist To An Old Favorite
Simple Chicken & Dumplings – 9 Weight Watchers Points Plus Value