This super easy Crab Salad Recipe with Old Bay Seasoning is a delicious and healthy recipe that will totally satisfy your love of crab meat!
Being born and raised in Maryland, crabs and anything crab related have been a staple in my diet all my life.
Because, as most people know, Maryland is for Crabs!
There's absolutely nothing better than having a big platter of Old Bay spiced steamed crabs placed in front of you, alongside a bowl of hot melted butter.
However, crabs aren't always in season, and even when they are, sometimes I just don't feel like picking them to get that wonderfully delectable crab meat inside!
So, I decided I needed to make a healthy Crab Salad Recipe to contribute to my lifelong crab addiction.
Crab Salad Recipe with Old Bay Seasoning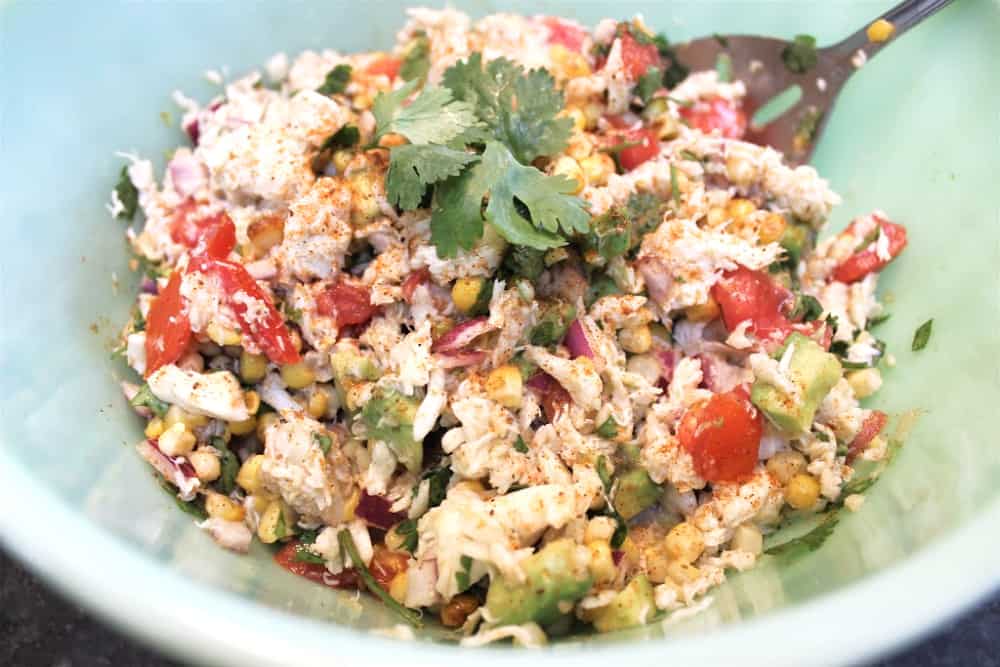 Seriously Healthy Crab Salad
First of all, it's extremely healthy!
As a matter of fact, it's got very little carbs and lots of protein and good fats!
In addition, if you happen to be following the Weight Watchers plan, this recipe comes out to about 4 Smart Points per serving.
Not bad!
Easy to Make
Secondly, this healthy Crab Salad recipe is super easy to make!
It only requires a little bit of chopping, juicing and some pan frying to prepare this wonderful dip!
Check out my 17 second video below showing the easy steps for making this Crab Salad recipe.
Pan Roast Your Corn
One important step, that I'm glad I didn't skip, is to pan roast your corn!
First, boil the corn until it's cooked through.
Then put some olive oil and salt in a cast iron pan, turn it up on high and roast the corn on each side until it's a golden brown.
The roasting process adds that smokiness to the corn, which really enhances the flavors in the Crab Salad.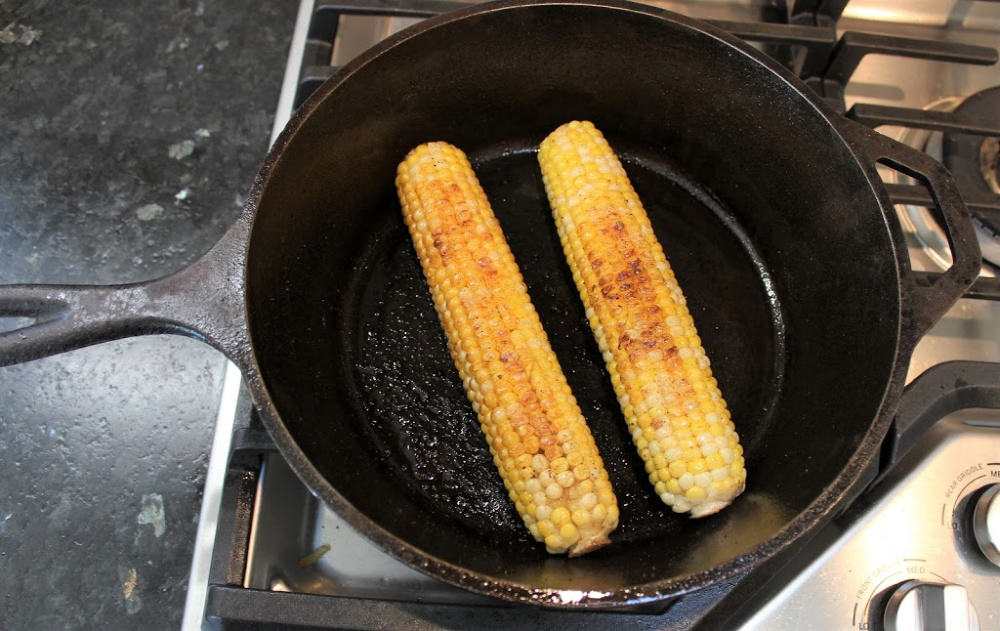 How Did It Turn Out?
At first, I was going to be stingy and save it for just my little family to eat.
But it was so darn good, I just had to invite over my neighbors, who happen to be my sister's family, to partake in this crab meat goodness!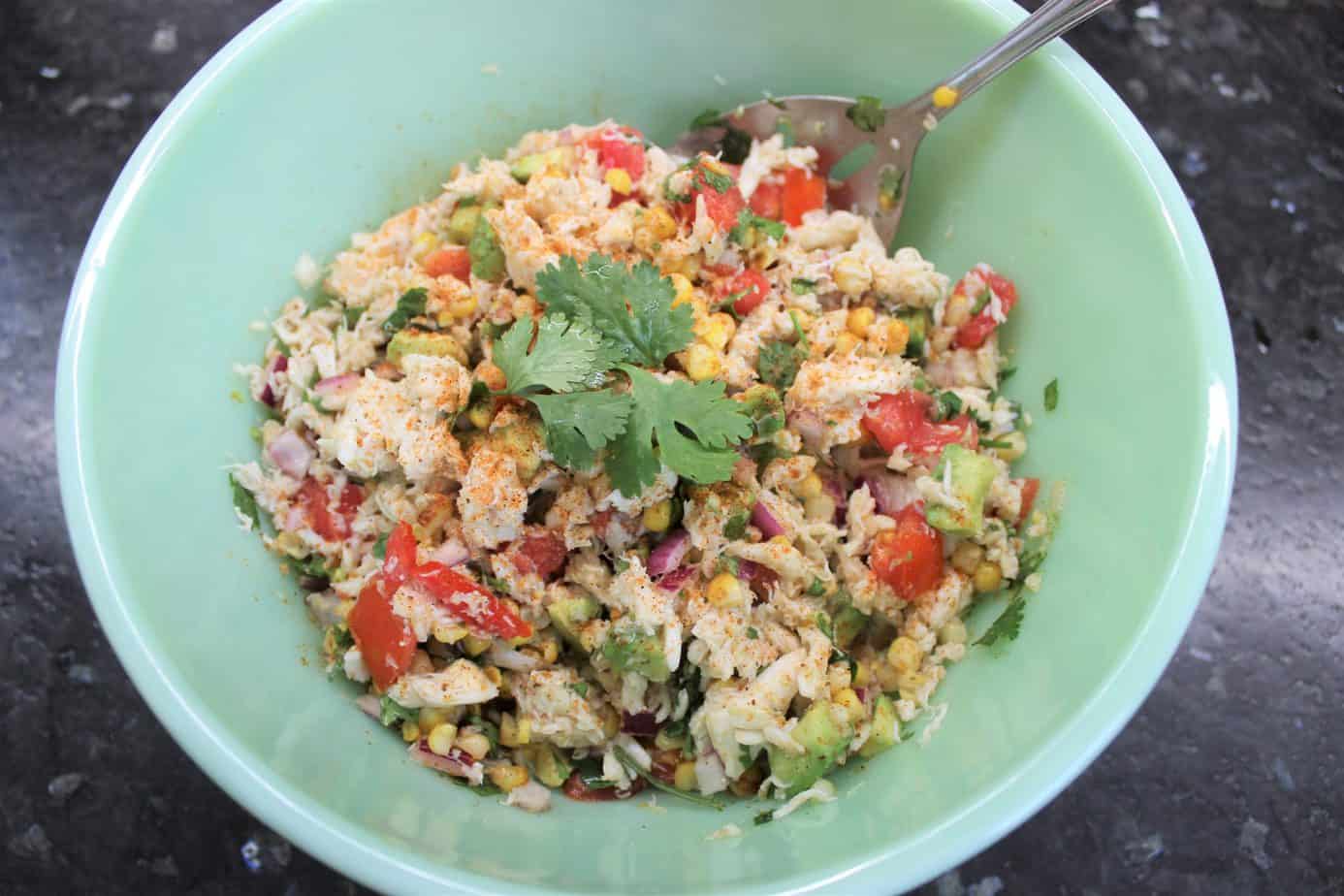 Everybody loved it and went back for seconds and thirds.
What Do You Eat With Crab Salad?
We ate the Crab Salad on tortilla chips as an appetizer and it was delicious!
OR, if you want to get a little fancier, serve it on crackers.
To make it more of a meal, you can put a nice size scoop of crab salad on a sandwich roll and eat it that way.
This crab salad keeps well in the refrigerator for a day or two.
Today was Day 2 and I decided to get the leftovers out and eat it for lunch!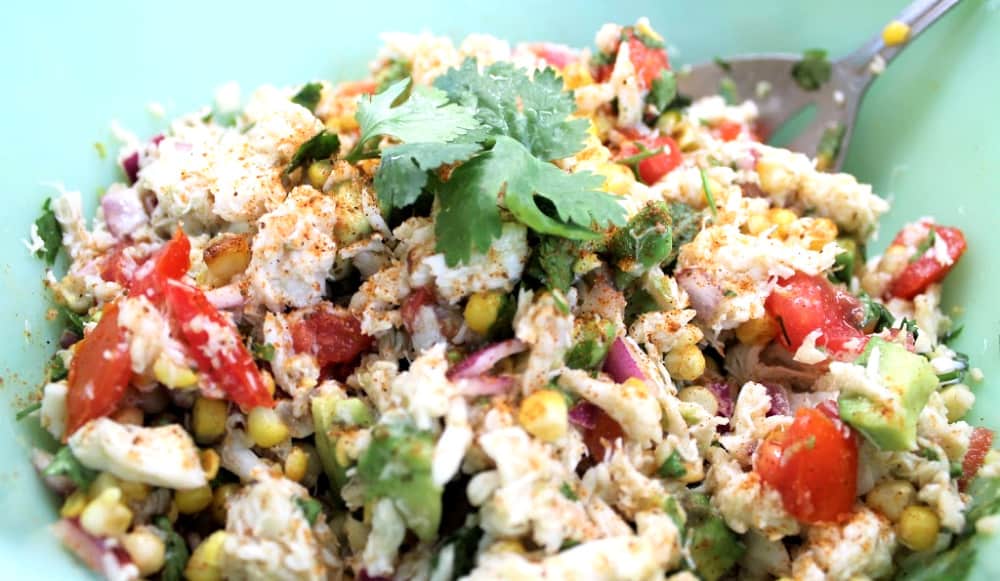 Old Bay Seasoning
Obviously, another key to making this Crab Salad recipe is the Old Bay Seasoning.
It's a Maryland made seasoning (did I mention I'm a proud Marylander?) and it spices the crab meat just the right amount without taking away from the taste of the crab.
For this crab salad, the more Old Bay Seasoning, the better!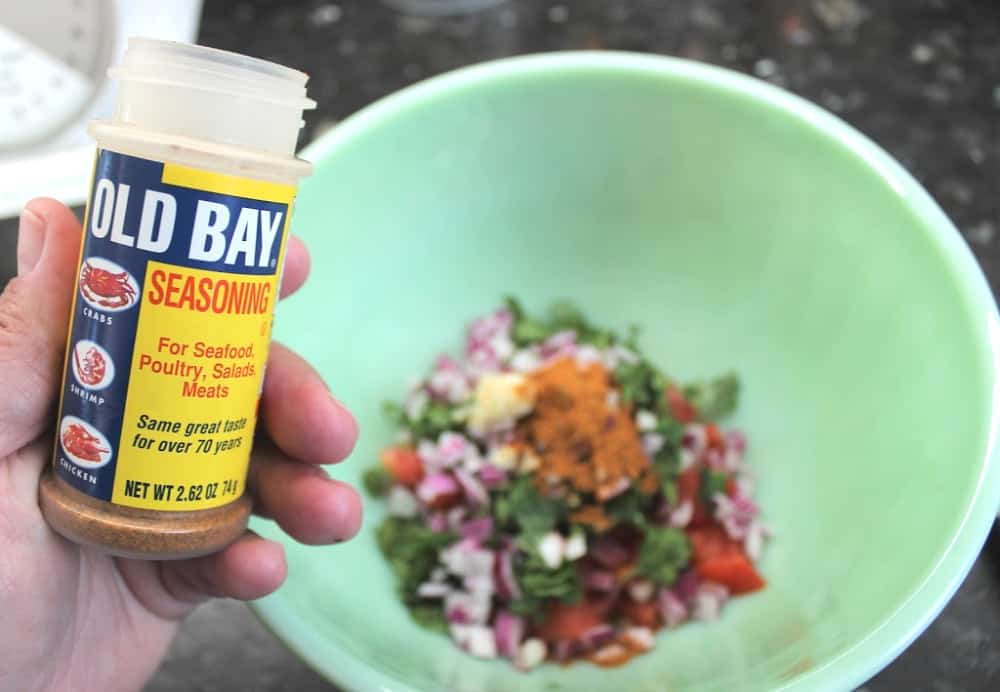 Can You Buy Lump Crab Meat?
Thank goodness, yes!
I found the lump crab meat at the fish counter in my local grocery store.
Most grocery stores carry lump crab meat.
In addition, you can find it at any local seafood market.
Want to learn more about lump crab meat?
Check out this article from Southern Living: This Is What You Need To Know About Lump Crab.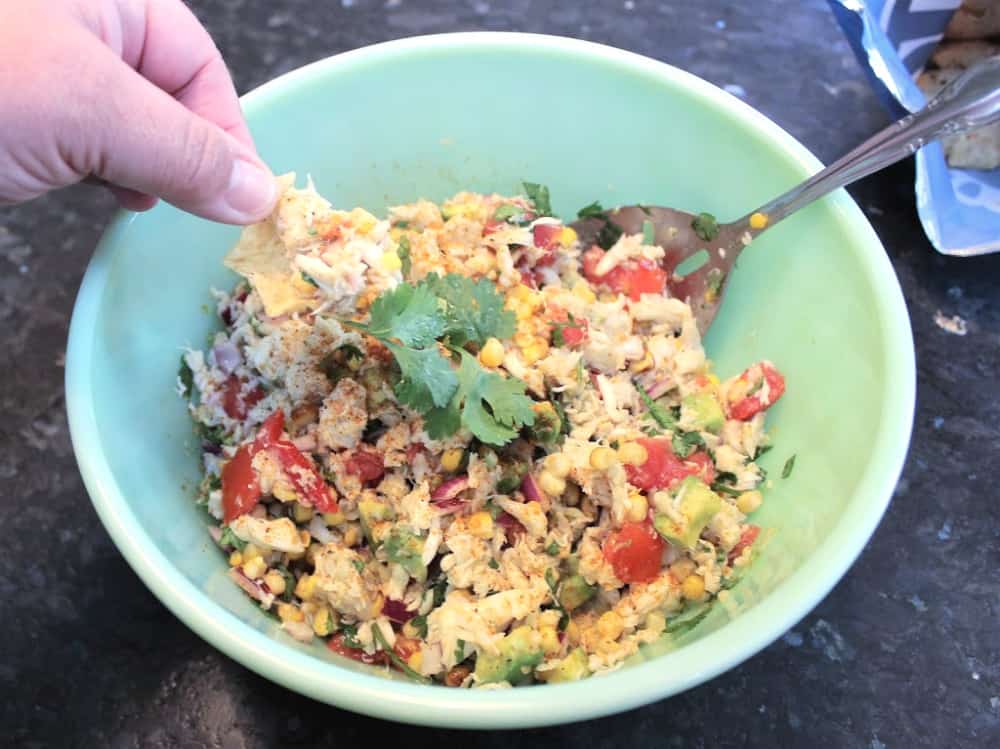 Crab Salad Recipe with Old Bay Seasoning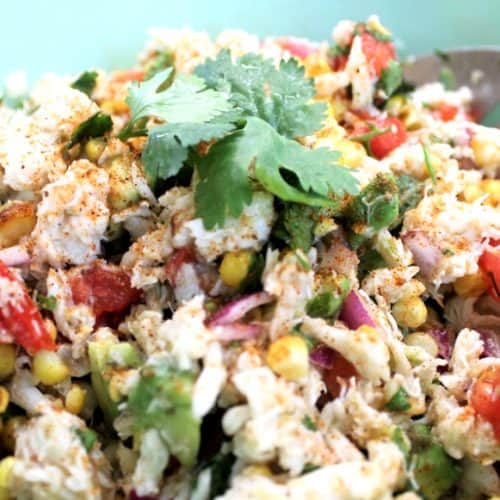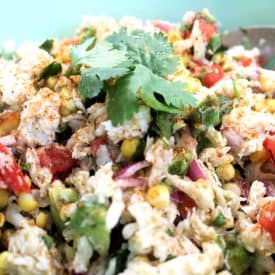 Crab Salad Recipe with Old Bay Seasoning
A combo of lump crab meat, red onions, roasted corn, fresh avocado, tomato, cilantro, Old Bay seasoning & fresh squeezed lime juice make for an amazing dip!
Ingredients
½

cup

tomato, diced

⅓

cup

cilantro, coarsely chopped

¼

cup

red onion, finely chopped

½

tsp

minced garlic

2

tsp

Old Bay Seasoning

2

ears

corn, roasted & cut off the cob

1

large

avocado, diced

1

medium

lime, juiced

½

tsp

sea salt

8

oz

lump crab meat
Instructions
Boil your 2 ears of corn until the corn is cooked through.

Add cooked corn on the cob to a preheated (with some olive oil & salt) cast iron frying pan and cook on high. Turn ears of corn periodically until all sides are browned.

While your corn is roasting, chop your tomato, cilantro, & red onion and add to a large bowl.

Allow corn to cool and then cut the corn off the cob and add to your salad mixture.

Juice your lime and set aside.

Chop your avocado and add to the top of your salad mixture.

Add lime juice directly over top of the avocado, as this will prevent the avocado from browning.

Add Old Bay Seasoning, salt, minced garlic and mix with a large spoon.

Finally, add the lump crab meat and mix thoroughly until all ingredients are blended.

Add a couple sprigs of cilantro and some shakes of Old Bay Seasoning to the top of your salad.

Dip with crackers, tortilla chips, or eat as a salad or on a sandwich.
Notes
Weight Watchers 4 SmartPoints
Lastly, here are a few more crabby posts from us:
Maryland Deviled Eggs with Crab and Old Bay Seasoning
Crab Cakes with Remoulade Sauce
Cream of Crab Soup: Maryland's Grand Prize Recipe