This cranberry gin cocktail is the perfect fizzy & festive drink for the holidays!
Clearly, finding a good recipe for your holiday gatherings is easy around this time of year.
However, this recipe is a little bit different and that's why we like it so much!
With cranberry juice and orange juice as the main ingredients, it screams 'The Holidays are here!'
Cranberry Gin Cocktail
Do you tend to choose the same drink when you go to a party, or out to dinner? I know I do.
But, it's funny how that drink tends to change depending on the season, or even on the place and situation you're in.
Like, if my husband and I go out for a nice dinner, then a glass of wine is what I'm in the mood for.
But, if we go to our neighborhood pub to sing karaoke, then beer is usually the drink of choice.
What is Your Favorite Cocktail Recipe?
Honestly, I don't have one favorite cocktail recipe, but this particular cranberry gin cocktail recipe happens to be at the top of my list!
As a matter of fact, in my opinion, it's the PERFECT holiday cocktail!
OneSweetMess.com is the great site I found it on!
Nevertheless, I did change it up just a bit – I used plain ginger ale instead of cranberry flavored Sprite because I didn't want it to be too sweet.
Of course, if you like it a little sweeter then use Cranberry Sprite!
Cranberry Gin Cocktail with Ginger Ale Recipe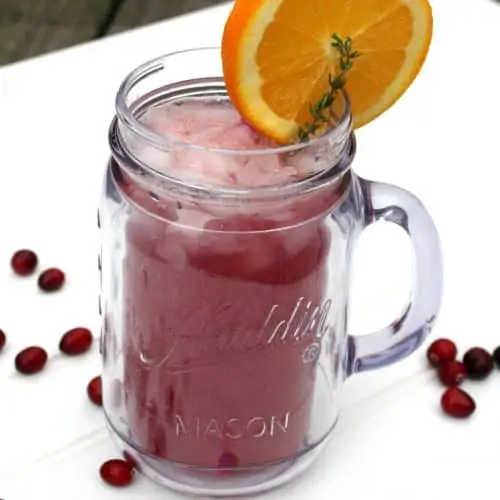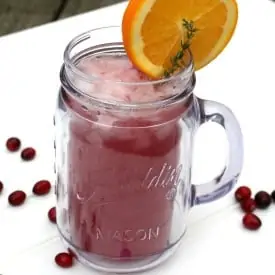 Cranberry Gin Cocktail with Ginger Ale
A delicious holiday cocktail made with cranberry juice, orange juice, gingerale, gin, triple sec, & thyme. Mmmm! Happy Holidays and Cheers!
Ingredients
1

ounce

Gin

½

ounce

Triple Sec

2

sprigs

Thyme, fresh

2

ounces

Cranberry juice

1

tablespoon

Orange juice, freshly squeezed

Ginger Ale

Ice, crushed
Instructions
Add gin, Triple Sec, and thyme to a cocktail shaker. Muddle the thyme to release the essential oils.

Add cranberry juice, orange juice, and a handful of crushed ice to the cocktail shaker. Give the mixture a few good shakes.

Pour into preferred glass and top with Ginger Ale.
Notes
This recipe brought to you by Housewives of Frederick County!
https://www.housewivesoffrederickcounty.com
Muddle the Thyme
Muddling the thyme sounds like I'm wasting my time. Ha ha!
But in all seriousness, this is a crucial step to adding in that extra flavor to your holiday cocktail.
To clarify, when it says to "muddle the thyme" it means you need to press it and crush it so you can bring out the flavor of it.
Pam actually made a little video about muddling mint.
The same technique applies for muddling thyme.
Just don't put a ton of sugar in the glass because the sweetness from the juices will be plenty of sugar already.
In addition, there are official bar tools that are made specifically for muddling, called a muddling tool or cocktail muddler.
Needless to say, they're very inexpensive and can be found on Amazon!
Here's a great Professional Drink Muddler that will do the trick for muddling any herb for cocktails.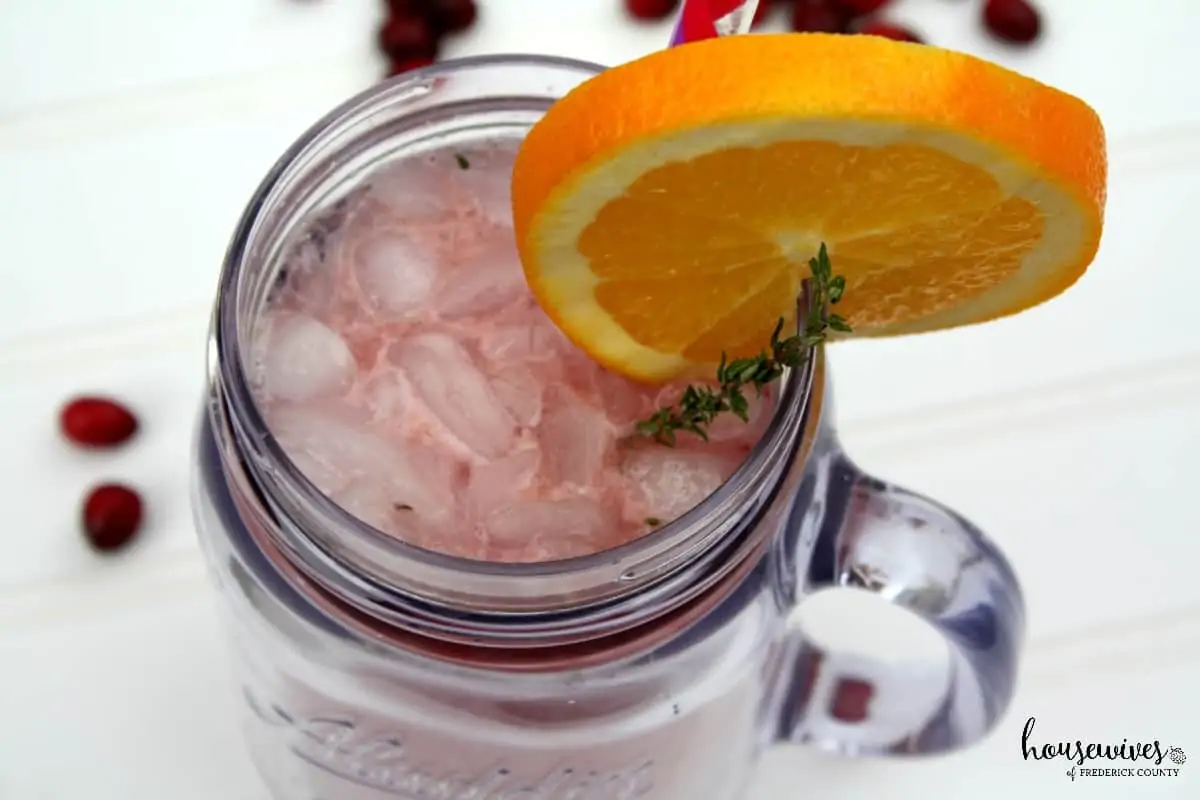 How Gin Fizz Cocktail Tastes
This cranberry orange gin fizzy drink with thyme is really delicious!
It's light, and has such a great combination of flavors.
To me, a gin fizz is the ideal cocktail of choice for the upcoming holidays!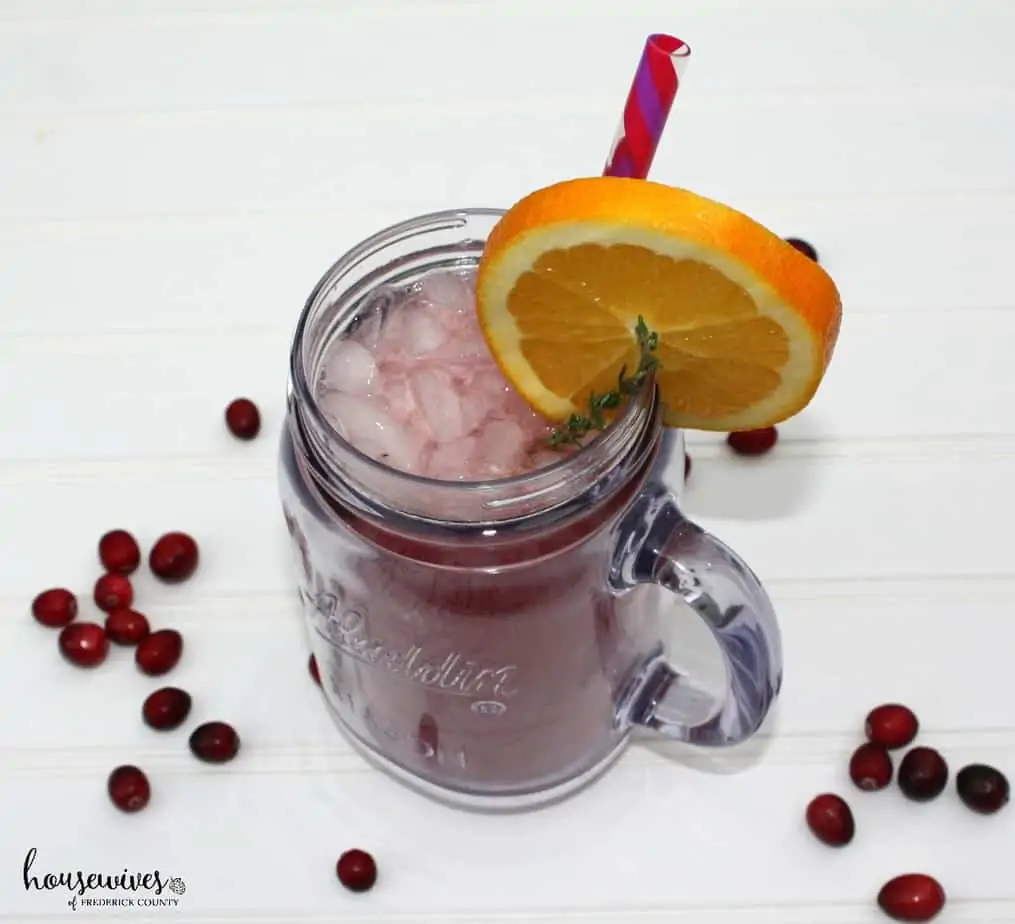 It goes without saying (but I'm going to say it anyway), please drink responsibly!
And, enjoy your families and friends this holiday season!
For more cocktail recipes, click on over to:
Gin Cocktail Recipe: The Thirsty Forager
The Candy Cane – The Perfect Holiday Drink!
Ingredients in a Hurricane Cocktail: Housewives Hurricane