Lazy keto meals make life so much easier to stick to a good-for-you diet while still being able to eat some darn good food!
Scroll down to find tons of delicious recipes covering breakfast, lunch and dinner to keep you from asking yourself, what can I eat today?
Lazy Keto Meals
To get my hands on this amazing list of lazy keto meals, I reached out to my blogging community on Facebook.
Clearly, these food bloggers never cease to amaze me with their cooking skills, keto creativity, and simple recipes that'll have your taste buds singing!
In addition, because my keto journey has led me to eat lazy keto, I consider this list a treasure trove of ideas in order to keep my life happy and fulfilled!
Difference Between Keto and Lazy Keto
First, what is the difference between keto (ketogenic diet) and the lazy keto type of diet?
Traditional Keto Diet (also called Clean Keto):

Strict tracking of macronutrients (calories, carbs, healthy fats and protein)

Lazy Keto Diet (also called Dirty Keto or Dirty Lazy Keto):

You only have to track your net carbs.
However, for both keto AND lazy keto diets, your net carbohydrate intake (Total Carbs – Fiber – Sugar Alcohols) is the same.
Simply stated, the recommended net carb intake per day is between 5 to 10% of your total daily calories OR between 15 and 30 net carbs per day.
Obviously, the pros of eating lazy keto are that you can eat processed keto foods and you don't have to count your other macros!
Needless to say, it's a good compromise and makes my life much easier!
In short, it's the easiest form of keto and takes the stress out of what I can and cannot eat.
In general, I follow a low carb diet and know to stay away from the obvious starchy carbs like:
Rice
Potatoes
Starchy vegetables
Sugars
Pasta
Breads
What Can I Eat On A Lazy Keto Diet?
The possibilities are so many that I can't list them all here, but here is a small sampling of specific ingredients to include on a lazy keto diet with so many different ways you can eat them:
Cream Cheese
Olive Oil
Sour Cream
Coconut Oil
Almond Flour
Whole Foods
Lean Meats
Ground Beef
Leafy Greens
Fresh Vegetables
Pork Rinds
Cauliflower (Cauliflower Mac 'n Cheese is delicious)
Bacon Bits
Most of these ingredients are very easy to find at your local grocery store – even almond flour!
Health Benefits of Eating Keto
Besides the positive benefit of losing weight, here are some other health benefits of eating keto:
Appetite Reduction
Quicker Weight Loss
Reduced Risk of Heart Disease
Lower Risk of Type 2 Diabetes
Lower Blood Pressure
Protects Brain Function
Reduces Inflammation
How Do I Create A Lazy Keto Diet?
For me, creating a lazy keto diet is as simple as eliminating high carb foods.
To be honest, that's basically it! Lazy meals are where it's at!
Coupled with eating as much protein and vegetables first before grabbing any carbs, it's a great way to achieve successful weight loss and improve your overall health.
I've organized this list by lazy keto breakfast ideas, lunches and dinners.
The best part is that these are ALL easy keto recipes and quick meals.
Believe me when I tell you I'm all for quick and easy recipes!
Also, under each picture (just click on the picture to take you to included recipes) is a quick summary of the easy lazy keto meals by the blog author.
With all of these choices, you won't have any problem putting together a great shopping list to create your very own lazy keto meal plan.
Breakfast Meals
1. Keto Waffles
You can make these Keto waffles in 8 minutes flat.
With simple ingredients like cream cheese, eggs, and almond flour, you can't get an easier recipe than this.
Just blend all the ingredients in the blender and cook the batter in a waffle iron.
2. Chaffle Breakfast Sandwich
Craving a breakfast sandwich, but not the carbs?
Then, make this quick and easy chaffle breakfast sandwich.
It replaces bread and cooks up in 3 minutes in a waffle iron.
3. Ham, Egg, & Cheese Breakfast Casserole
This keto-friendly, low-carb Ham Egg and Cheese Casserole has all the flavors of the classic bagel sandwich.
Layer the ingredients and bake in no time at all for a delicious meal!
4. Vegetable Frittata
Prep a cast iron vegetable frittata and enjoy all week long!
This keto frittata recipe includes an easy 4-ingredient formula for how to make a frittata, with any vegetables you like.
5. Zucchini Frittata
This Zucchini Frittata Recipe makes a delicious breakfast, brunch or lunch.
Light, flavorful, gluten-free, low-carb and keto-friendly!
6. Almond Flour Banana Bread
If you love banana bread as much as my family does, but want to stick to lazy keto, then you have to try this almond flour banana bread recipe!
It will totally satisfy your hankerin' for something sweet and bready with a slab of melted butter. Mmmm!
Lunch Meals
7. Miso Soup
This authentic Miso Soup is naturally gluten free and keto.
It's filled with yummy vegetables!
8. Creamy Taco Soup
Delicious, creamy taco soup is made with just ten simple ingredients.
You'll only need one pot and 30 minutes to whip it up.
Without a doubt, this is the perfect, quick and easy dinner for a busy weeknight.
And just 7.5 net carbs per serving!
9. Tuna Melt Zucchini Boats
Tuna Melt Zucchini Boats are great for a quick lunch and an easy keto version of a sandwich classic.
Made with canned tuna, green pepper, celery and parsley, they are topped with melted cheddar cheese and perfect for a no-fuss lunch, snack or dinner.
Keto Dinner Recipes
For the dinner category, here are 25 keto main dishes that are sure to please any palate!
10. Keto Chicken Parmesan
An easy keto recipe that is very low in carbs and very filling.
This Keto Chicken Parmesan is a scrumptious lazy keto meal to stay keto without having to track your carbs.
11. Chicken Fajita Casserole
Tender seasoned chicken, onions, peppers, and loads of melty cheese.
Everything you love about fajitas in a simple-to-make casserole that you can prepare in advance and toss in the oven for a quick and delicious dinner tonight.
12. Chicken Fajita Foil Packets
These 5 ingredient Chicken Fajita Foil Packets are a pantry staple, minimal prep lunch or weeknight dinner that can be made on the grill or in the oven.
Clearly, the whole family will love these for your next lazy keto meal.
13. Big Mac Salad
Are you on a lazy keto diet but really miss going through the fast food line?
Then, this lazy keto Big Mac Salad will totally satisfy your craving and have you wondering why you've never made this before!
14. Baked Buffalo Chicken
This Buffalo Chicken Recipe is a fun and delicious anytime dinner made with just a handful of simple ingredients including juicy chicken breasts, hot sauce, honey, garlic, and butter.
Ready in under 30 minutes, enjoy this low-carb and gluten-free baked buffalo chicken with all your favorite side recipes.
15. Crack Chicken
This seriously delicious Crack Chicken is loaded with creamy, cheesy goodness and topped with bacon.
Not to mention, it's a super easy recipe that's equally great in the crockpot or instant pot.
15. Keto Reuben in a Bowl
This quick and easy to make Keto Reuben in a Bowl has all the flavors of a Reuben without all the carbs!
16. Tuna Thai Red Curry
A stunning Tuna Thai Red Curry made in just a few minutes for a light, easy meal.
Keto, gluten-free and paleo, this Tuna Thai Red Curry is lightened up and served over simple coconut cauliflower rice to bring it all together in minutes!
17. Keto Pizza Rollups
You won't believe how easy these keto pizza roll ups are to make.
Not only are they incredibly tasty, but they are good for you too!
18. Keto Green Beans with Sausage
This Keto Green Beans With Sausage Skillet Meal is seasoned with garlic and butter and makes a very filling lunch or dinner.
It's the perfect thing for meal prep too!
19. Sheet Pan Sausage and Veggies
This sheet pan sausage and veggies is one of my favorite lazy keto meals!
Because it's so versatile, I can make it every week for the entire family using whatever veggies we have on hand.
The roasted veggies, onions, and sausages roast in the oven until they're nice and lightly browned making for a delicious dinner!
Not only is this a family favorite, but you just gotta love a good one-pan meal!
20. Kielbasa and Cabbage Skillet
This Kielbasa and Cabbage skillet is not only a crazy easy Keto meal, it is also budget-friendly!
21. Crockpot Cabbage Roll Soup
I love making this crockpot cabbage roll soup on a cold winter day.
It's so flavorful and hearty and the perfect lazy keto meal.
22. Mexican Chicken Casserole
This easy, low-carb Keto Mexican Casserole is the perfect main dish to enjoy in a low carb tortilla, in crisp lettuce wraps, in cheese taco shells, or on a bed of cauliflower rice.
23. Egg Roll Casserole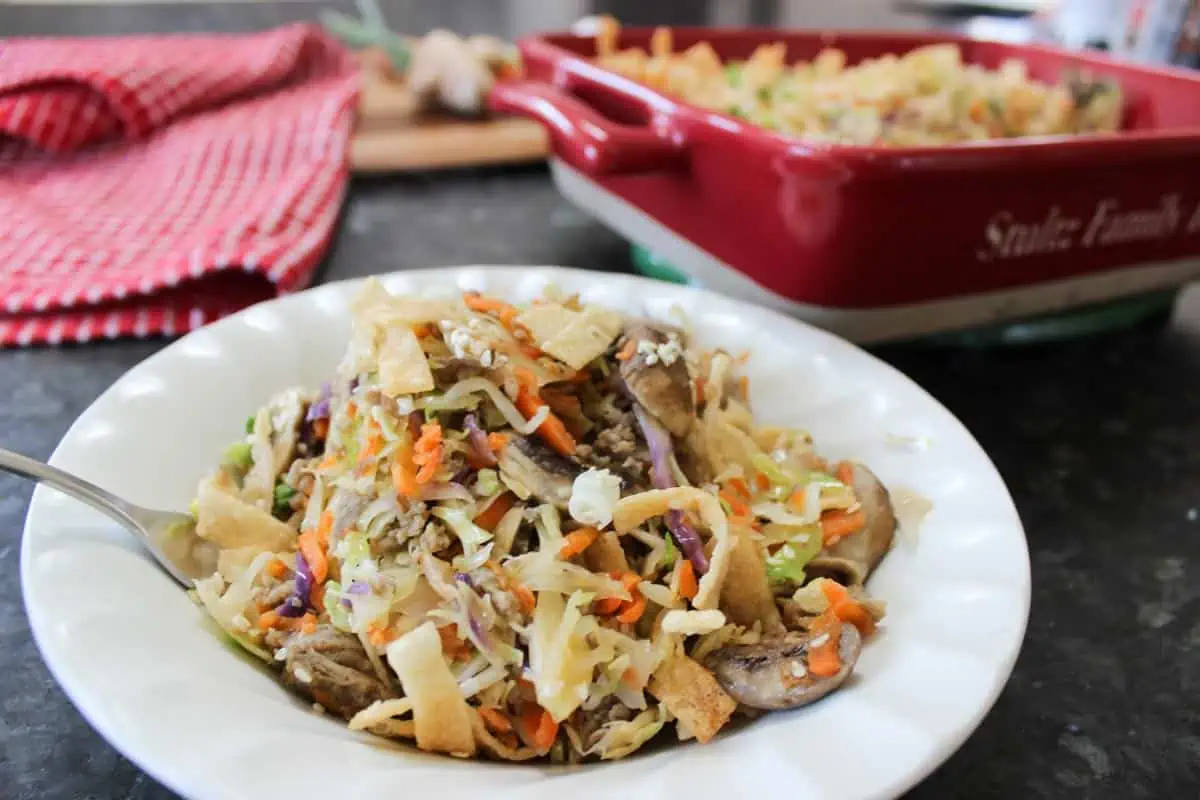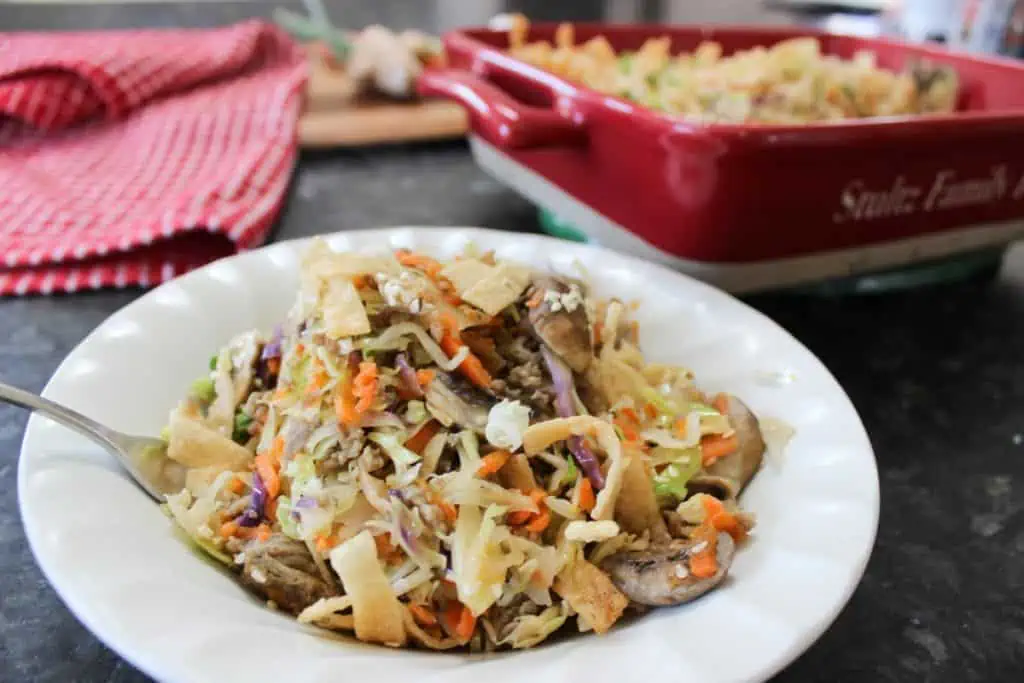 You guys! I am in love with this Egg Roll Casserole Recipe!
So much so, that I make it once a week now.
This recipe uses ground pork sausage, onion, ginger, garlic, soy sauce, carrots, mushrooms, sesame oil, sesame seeds and cabbage slaw.
Top it with a few crispy wonton strips (to keep it low carb) and you have yourself a savory and satisfying meal.
With traditional egg roll flavors, this recipe is convenient & easy-to-make!
Perfect for weeknight dinner or a crowd!
24. Egg Roll in a Bowl
This keto Egg Roll in a Bowl is a super quick and easy weeknight dinner that's a true crowd pleaser.
It is made with ground meat of your choice, shredded vegetables and cauliflower rice, and topped with spicy and refreshing mayo-sriracha sauce.
25. Air Fryer Wings
Chicken wings are the OG of lazy keto!
These easy-to-make Air Fryer Chicken Wings are crispy outside, juicy inside, and super flavorful tossed in a quick two-ingredient Buffalo wing sauce!
26. Zucchini Pizza Bake
This 15-Minute Low Carb Zucchini Pizza Casserole is a delicious and healthy way to satisfy a pizza craving!
It's easier to make than most pizza casserole recipes, and you can easily adjust it up to feed however many people you want.
27. Spicy Chicken Shirataki Ramen Noodles
If you're looking for a healthier and low carb option to traditional ramen noodles, the Skinny Shirataki Ramen Noodles only have 9 net grams of carbs per an entire package.
Which compared to the dollar packets which have 52 grams of carbs per pack is a big difference.
You can enjoy a bowl of ramen guilt free!
28. Cheesy Meatball Casserole
Slow cooker cheesy meatball casserole is a decadent but easy dinner idea.
Meatballs cooked together with tons of cheese, sauce and, fresh kale. A perfect keto meal!
29. Slow Cooker Brisket
This slow cooker brisket is beef simmered with vegetables and seasonings in the crockpot until it is fall-apart tender.
30. Sheet Pan Chicken Thighs
Easy one-pan weeknight meal that's so convenient, family-friendly, and delicious!
This sheet pan chicken thighs with brussels sprouts never disappoints.
It's definitely a breeze to throw together, and it's bursting with flavors!
31. Air Fryer Whole Chicken
This Keto Whole Chicken is easy, simple, and fuss-free to make using your trendy Air Fryer.
Simply season the chicken and pop in your Air Fryer for a hearty meal the whole family will enjoy.
32. Shrimp Alfredo with Tofu Shirataki Noodles
Who says you can't have Shrimp Alfredo when eating lazy keto?
This recipe uses tofu shirataki noodles instead of regular pasta, which saves a TON of carbs but you still get to enjoy the shrimp-with-pasta experience!
33. Asian Chicken Lettuce Wraps
These Asian Chicken Lettuce Wraps have so much flavor!
Perfect with a side salad and hearts of palm rice!
34. Butter Chicken
This easy keto butter chicken recipe features a simple, quick marinade and rich butter chicken sauce!
Learn how to make butter chicken for an Indian feast at home.
Finally, be sure to pin this post so that you can refer back to it any time you need some inspiration for some amazing lazy keto meals.
Lastly, if you're on a low-carb diet, here are a few amazing lazy keto desserts.
Just click the links below for each dessert's full recipe:
Orange Creamsicle Jello Mousse (Keto)