One gorgeous January afternoon, accompanied by my photographer nephew, we took a little field trip to find some great murals in Frederick Md.
Needless to say, it's not hard at all to find numerous murals all throughout Frederick County!
So, we decided to narrow down our search and specifically chose to visit the outdoor wall murals in Frederick Md.
Outdoor wall murals alone will keep you and your photographer busy for days!
As a matter of fact, we weren't able to get to all of them before the sun went down.
Murals in Frederick Md
First and foremost, before we set out on our little journey, I contacted Melissa Muntz with Visit Frederick.
Not only did she point me in the right direction for wall murals in Frederick Md, but also for ALL of the public art in Frederick.
Thank you so much Melissa!
Naturally, our first stop was to Downtown Frederick, the public art mecca of Frederick County.
Without a doubt, I love any excuse to go to Downtown Frederick.
Indeed, it has a life of its own with so many things to see, shop for, eat, drink, & enjoy!
As well as that, it was a great reason to get out and take a nice walk on a beautiful day.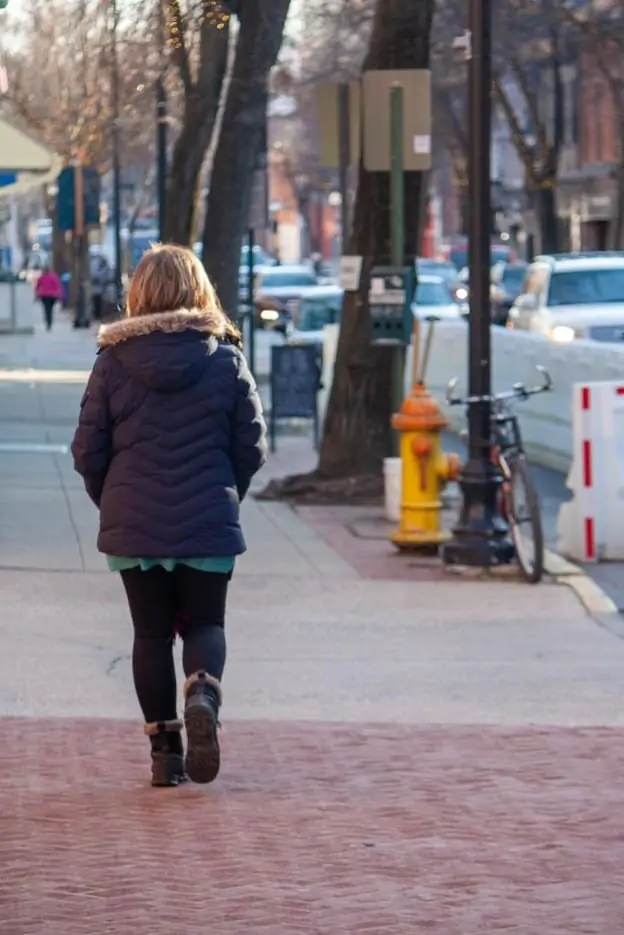 1. Dinosaur Mural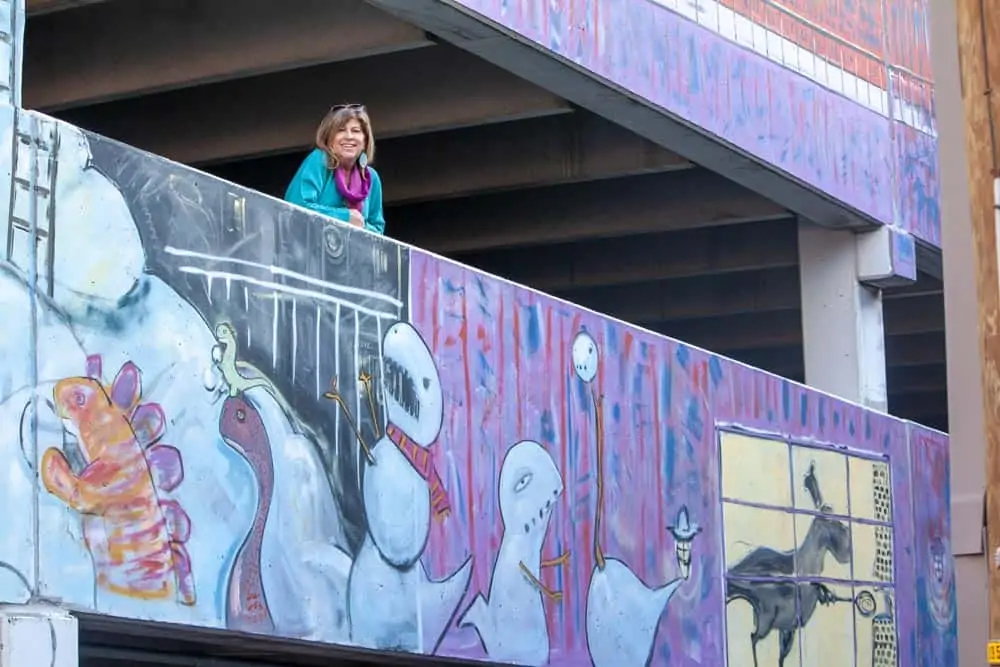 First, we stopped at the Dinosaur Mural, located at 124 N. Market St. on the Church Street Garage parking deck right behind Brewer's Alley.
Painted by local artist, Goodloe Byron, this mural measures 30′ x 150′ and depicts fun, colorful images of the Astrodon Johnstoni, which just happens to be the Maryland state dinosaur.
Who knew Maryland had a state dinosaur?!
Moreover, how fun that it's painted on the garage and all the way down the alley?
Undoubtedly, it makes for some really cool pictures!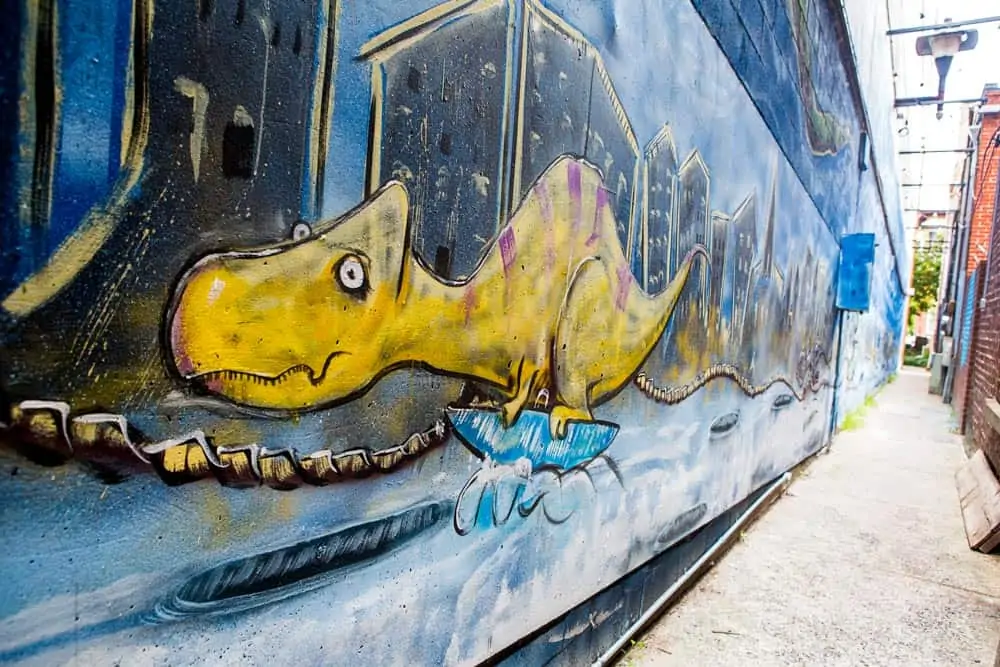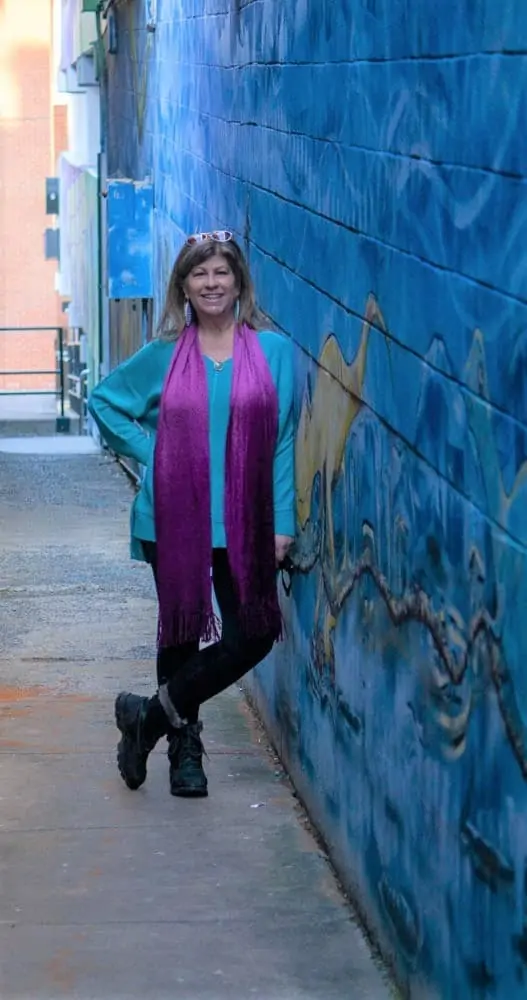 Clearly, I had way too much fun with this mural!
2. The Edge of Gravity Mural
Our next stop: Probably the most photographed mural in Downtown Frederick, The Edge of Gravity Mural.
Located at 43 S. Market St. on the south side wall right next to Hootch & Banter, this is a painting of a youth from the year 1745, which was the year that Frederick was founded.
This mural was painted by William Cochran in 1991 as a 3 part series titled "Angels in the Architecture".
Pro tip: Don't throw your head too far back when posing next to this painting. That wall is hard! Ouch!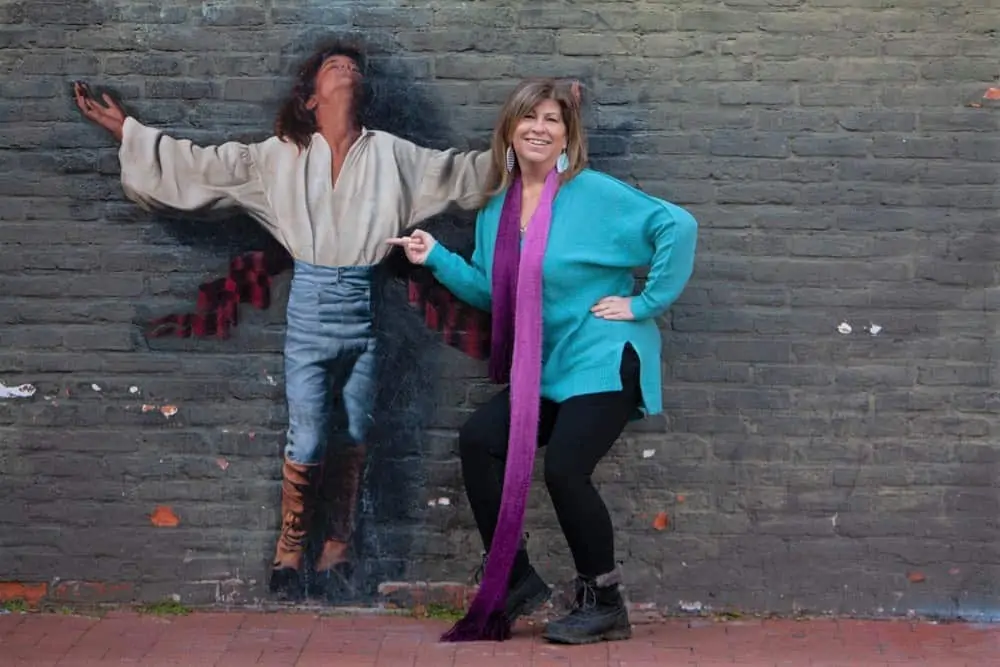 3. Lester Bowie Mural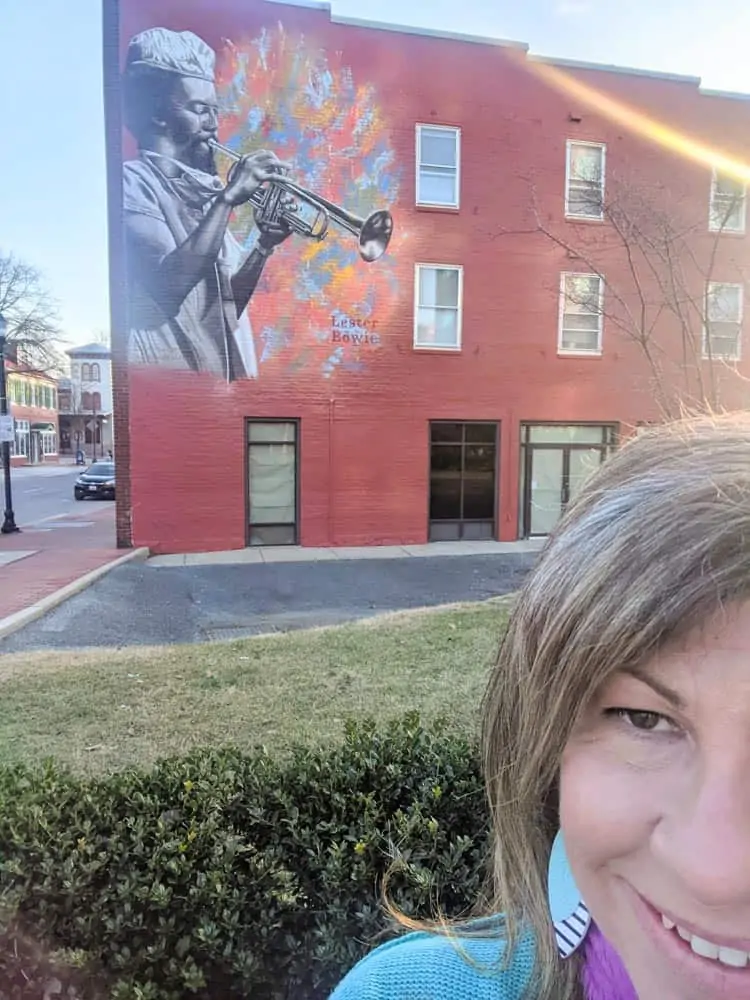 Located about a block or two away, on the same side of Market Street as the Edge of Gravity Mural and next to Carroll Creek is the Lester Bowie Mural.
The exact address is 69 S. Market Street.
Painted by Rafael Blanco, this mural features jazz great & Frederick native, Lester Bowie.
Additionally, Lester Bowie was famous for performing with his trumpet in a white lab coat, because he was a "researcher of jazz and the stage was his laboratory".
I like that!
4. Mural of Hope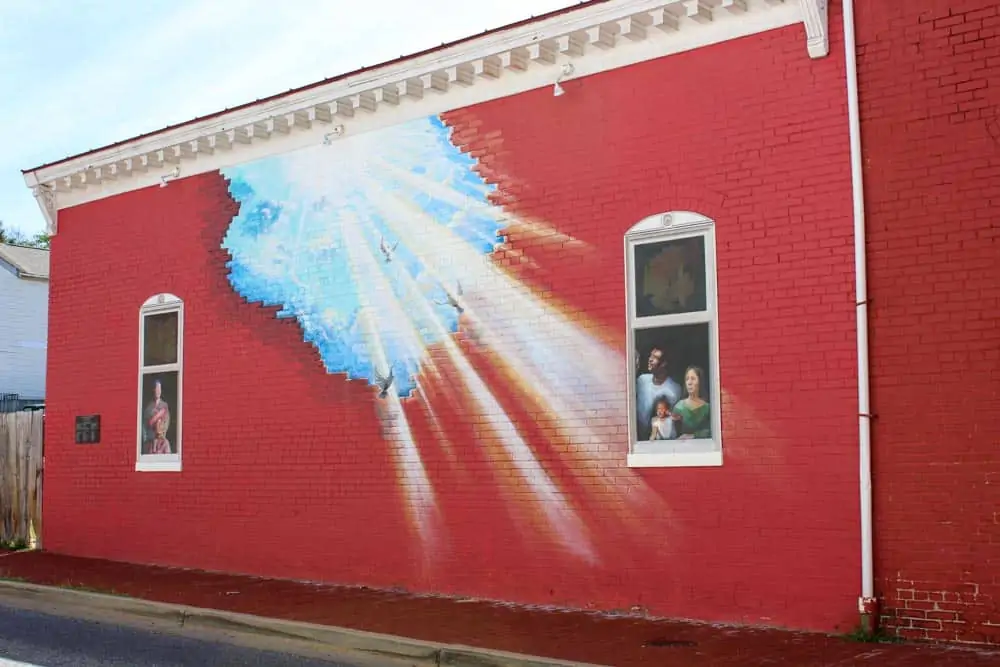 Walk down about a block and you'll find the Mural of Hope.
This mural is painted on the brick wall belonging to Asbury United Methodist Church, located at 100 W. All Saints Street.
"Designed to inspire hope and anticipation", this mural welcomes those who can use some encouragement before they enter the Community Clothes Closet & Food Pantry.
Painted by local artist (and a friend of Housewives), the late Carl Butler, this mural was seen as an opportunity to relay an encouraging message to passersby.
5. Splash of Color Mural at South & Market
Next, walk down another block or two and you'll come up on one of the newest murals in Downtown Frederick, The Splash of Color Mural, located at the corner of S. Market St. & E. South St.
Gera Lozana painted this 40 foot high mural, expressing her love of Mother Earth depicting a gorgeous bouquet of flowers along with these symbols of Maryland:
Black-Eyed Susans
Blue Herons
Baltimore Oriole
6. Community Bridge Mural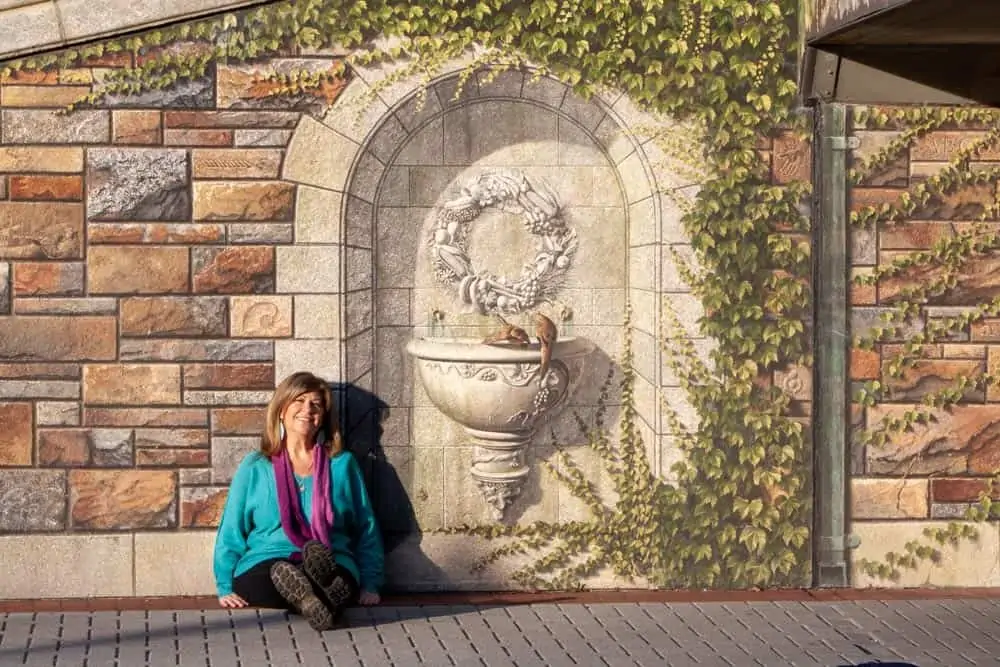 After the Splash of Color Mural, we turned back around and walked back down Market Street to Carroll Creek Park.
This is where you'll find the Community Bridge Mural, which is a trompe l'oeil mural, "an art technique that uses realistic imagery to create the optical illusion that the depicted objects exist in three dimensions".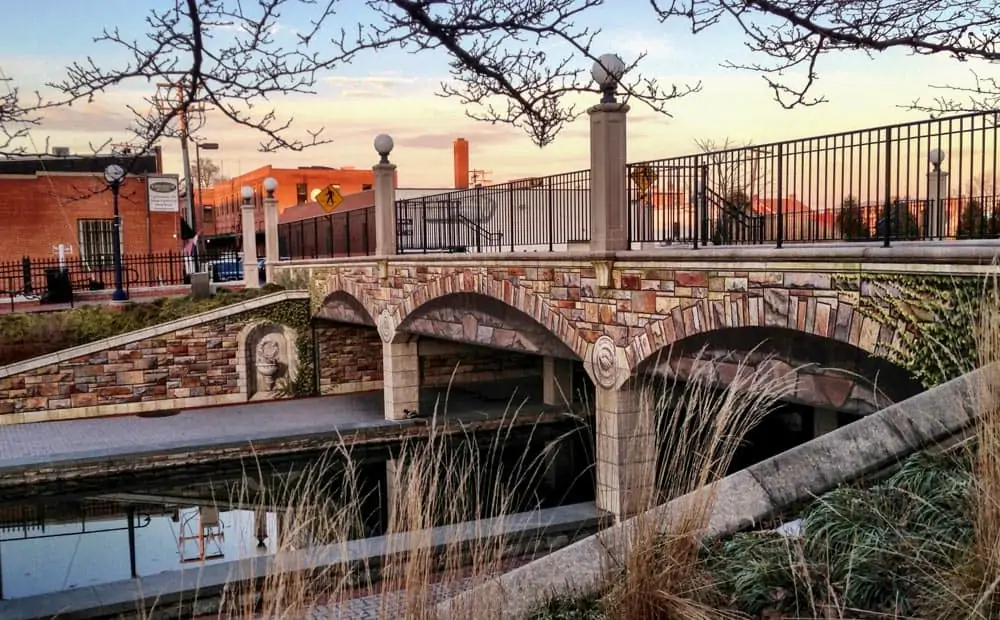 Conceived by local Frederick artist, William Cochran in 1993, it took 5 years to complete the entire painting, which includes symbols representing the spirit of community.
Clearly, it's an absolutely beautiful painting!
In addition, while we were there we got to see all of the really cool sailboats in Carroll Creek for the annual 'Sailing Through The Winter Solstice' floating light installation.
7. The Dreaming Mural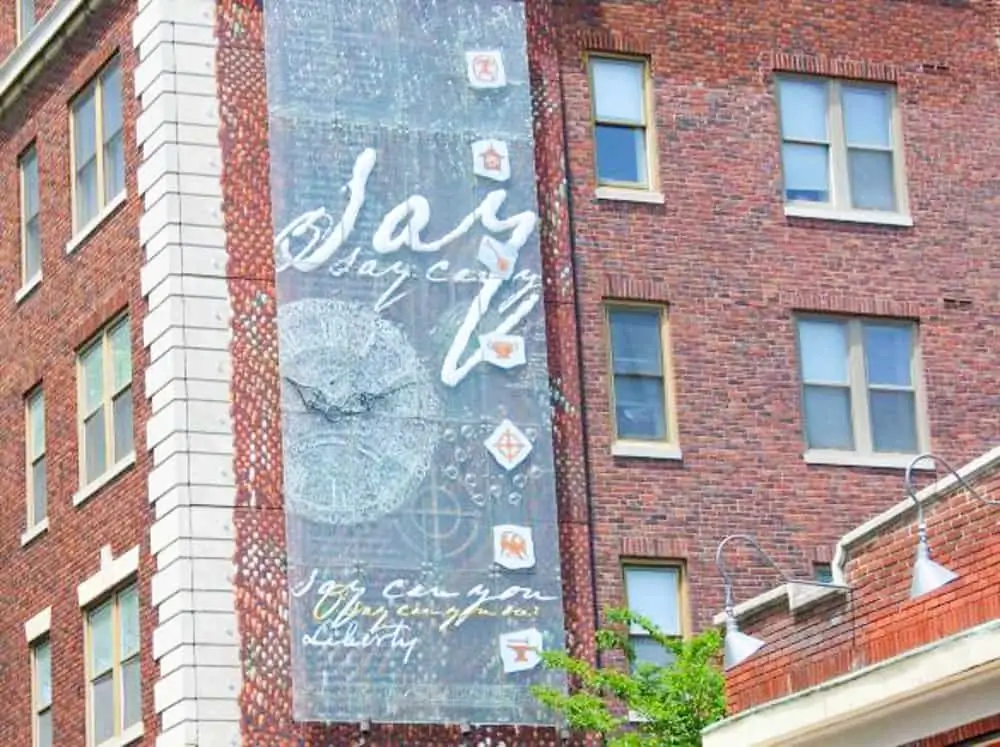 Once you're finished at Carroll Creek Park walk down Market Street to W. Patrick St. and turn left.
That's where you'll find this next outdoor photoshoot location in Frederick.
Residing at 31 West Patrick Street across the street from the Weinberg Center, this is a 5 story layered piece of art with art glass, weaving, painting, and engraved stone.
It was created, again by the super talented local artist William Cochran.
This piece of art includes over 100 local "dreaming conversations".
8. Earthbound Mural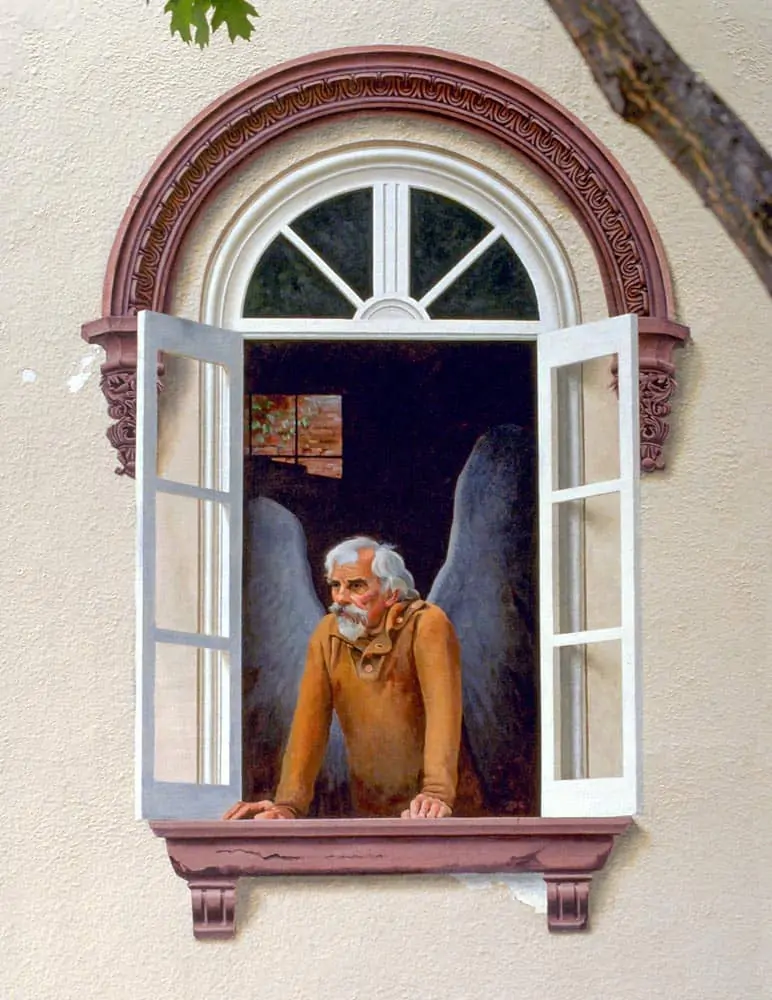 After you're finished admiring The Dreaming Mural, walk back to Market Street & turn left to walk about a block toward Church Street.
Here you'll find another amazing piece designed by William Cochran, called Earthbound.
Without a doubt, this is one of my favorite murals as it is so lifelike that you feel like you can reach out and touch the open window and the angel inside.
This gorgeous painting is located at 45 N. Market Street in Downtown Frederick.
9. Egress Mural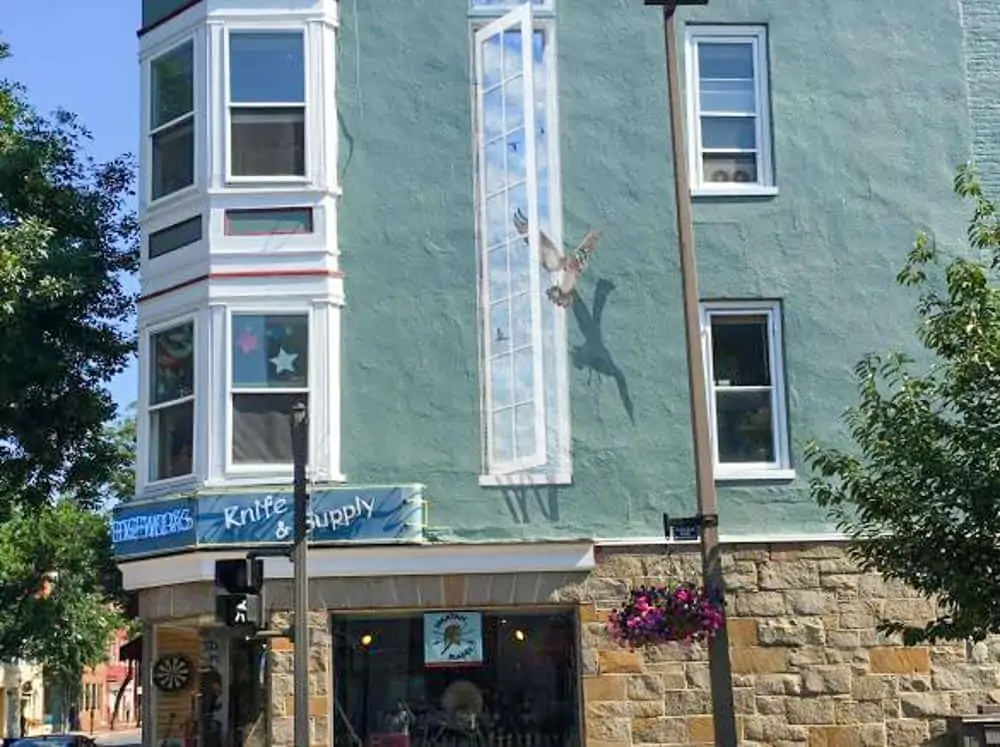 About a block and a half down Market Street from the Earthbound Mural is the Egress Mural.
This mural is actually the first of the 3 mural series "Angels in the Architecture" painted by William Cochran.
He painted this in 1988 and it was the first contemporary work of public art in Frederick's historic district.
The image is of a wood duck entering the streetscape from a sky inside the building.
This one is located at 200 N. Market Street in Downtown Frederick, across the street from Bushwallers.
10. North of Fourth Mural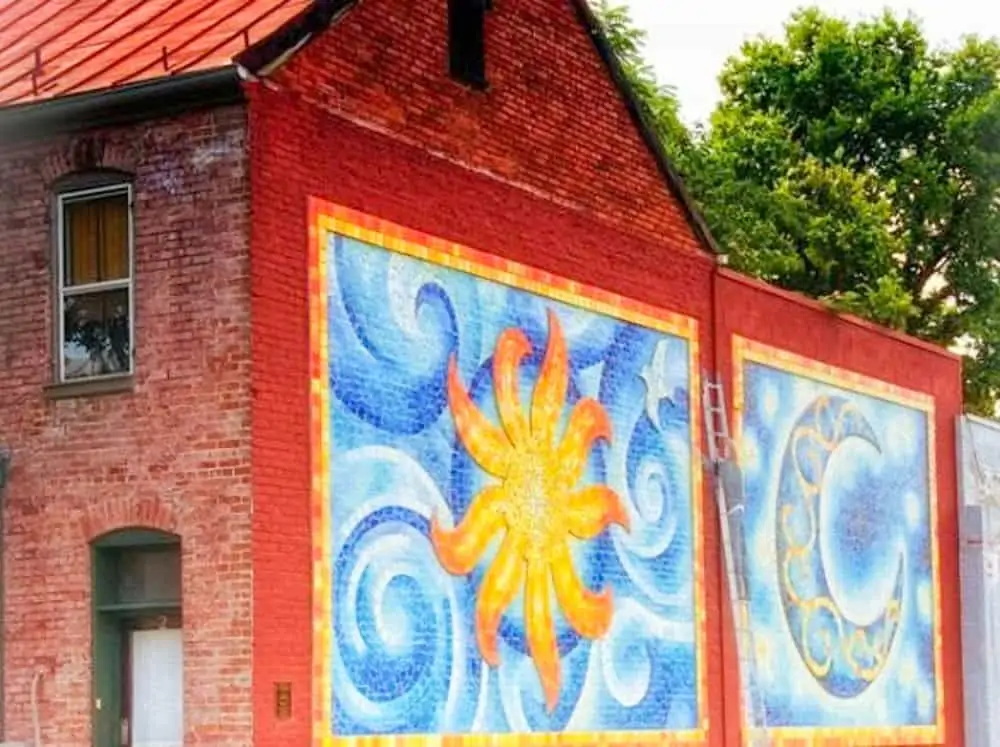 Down Market Street a few blocks from the Egress Mural is this gorgeous 20′ x 60′ piece of art.
This piece was created in 2011 using a combination of mosaic tile and trompe l'oeil painting.
Created by local artists Anthony Owens and Jack Pabis, they included an image of Jack Pabis on a ladder 'still working on it'.
11. Lord Nickens Mural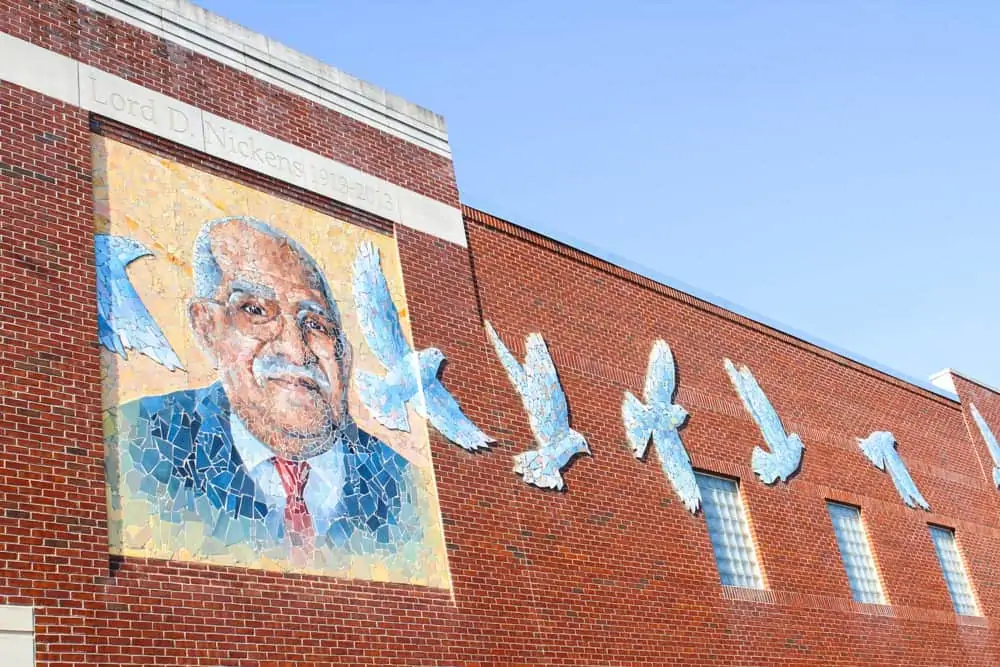 After visiting the North of Fourth Mural, walk down N. Market Street about another block and you'll find the Lord Nickens Mural at 629 N. Market Street.
Located on the side of the Bernard W. Brown Community Center is a gorgeous work of art depicting local Civil Rights leader, Lord Nickens.
There are 7 beautiful birds and a quote from Lord Nickens.
It should be noted that the next two murals in Frederick County are not within walking distance of the Downtown Frederick murals.
Therefore, you'll need to get in your car and drive to Brunswick.
12. Brunswick History Mural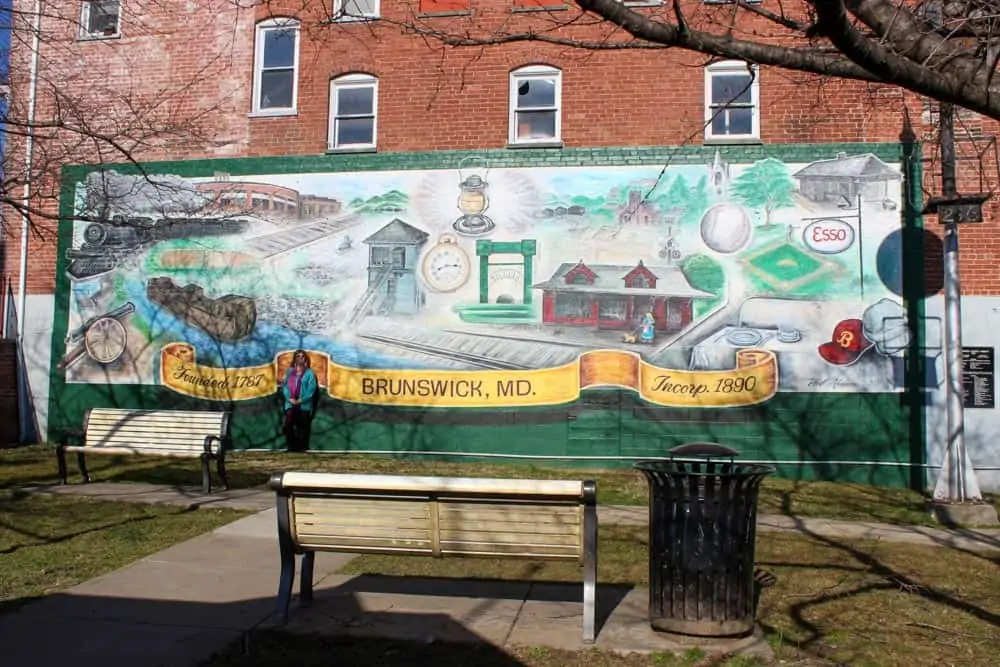 This beautiful 16′ x 40′ mural, painted by local artist, Philip Aldinger, is located at Brunswick's Square Corner Park at the corner of Maple Avenue & Potomac Street.
This mural is a collage of symbols representing Brunswick's rich history, dating back to 1890, including trains, depots, a roundhouse, the canal, hills, churches, schools, and baseball.
13. Brunswick River Mural Project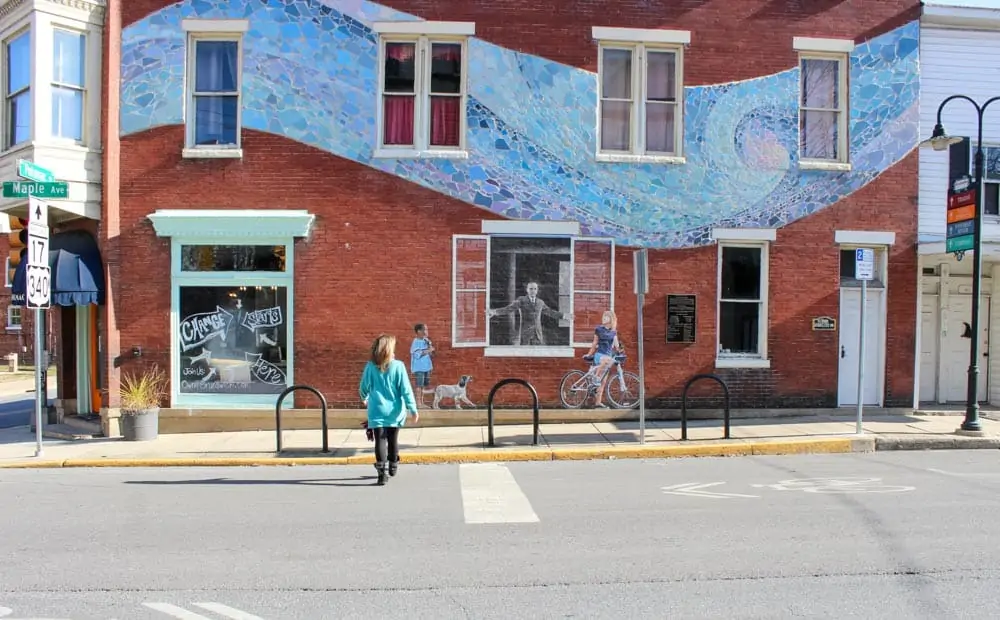 Just walk across the street and you'll find the Brunswick River Mural Project.
This is a 45′ x 10′ mosaic depicting the beautiful Potomac River as well as Dr. Arlington Horine who was, at one time, the Mayor of Brunswick and the original building owner of Horine's Drug Store and Soda Fountain Shop.
Created by Anthony Owens & Jack Pabis, the river is made from thousands of hammer-cracked floor tiles.
And while you're in Brunswick, be sure to visit Beans in the Belfry for a cup of coffee or a snack.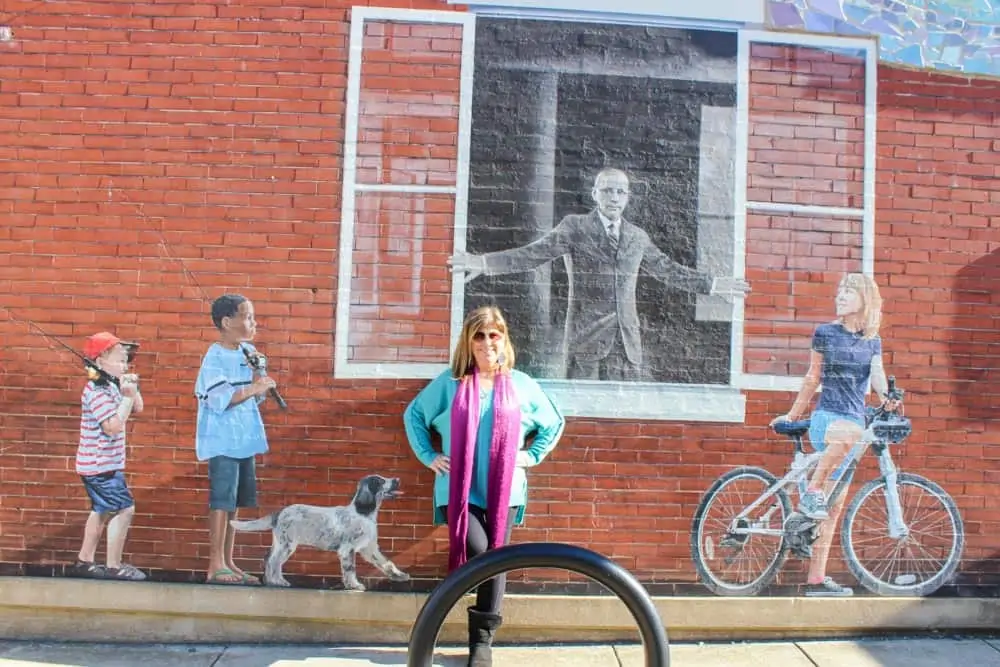 14. Thurmont Rail History 124 E. Main St. Frederick, MD 21701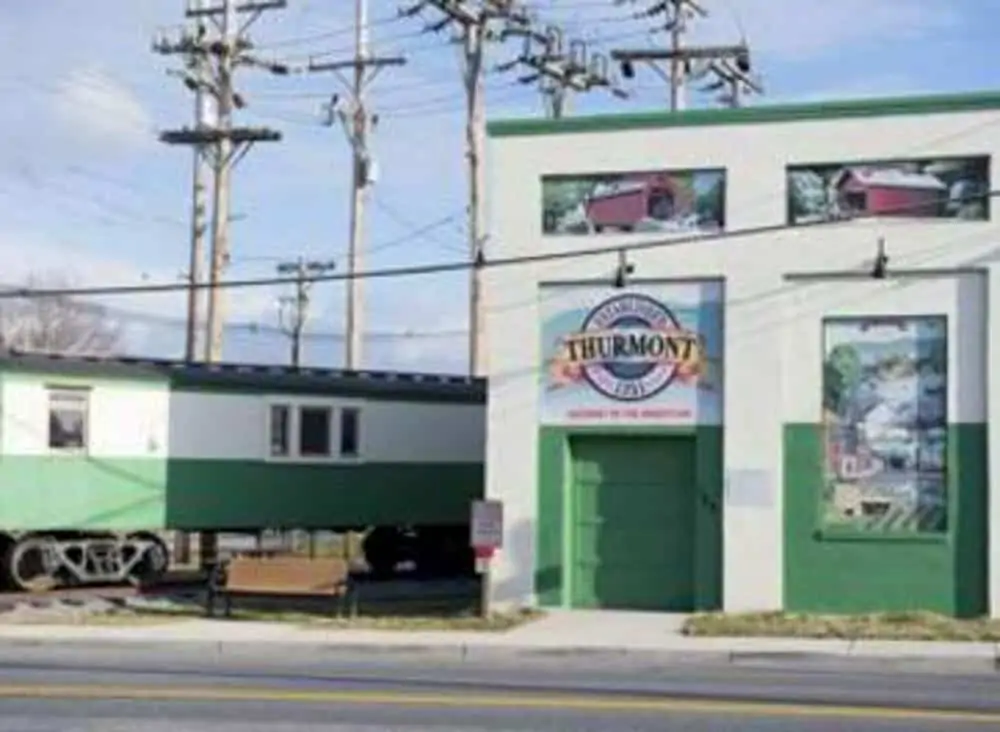 Last but not least, is the Thurmont Rail History mural painted by our talented friend, Yemi Fagbohunis.
Again, you'll need to jump in your car to get to this one, as it's definitely not within walking distance of Downtown Frederick or Brunswick.
This gorgeous mural captures Thurmont's legacy & history that include the trollies that used to run through the town of Thurmont.
Where are your favorite murals in Frederick Md?
Tell us in the comments!
In the meantime, while you're outside in Frederick click on over to these posts to keep the fun going:
Covered Bridges in Frederick Md
Visiting Gathland State Park & National War Correspondents Memorial Arch