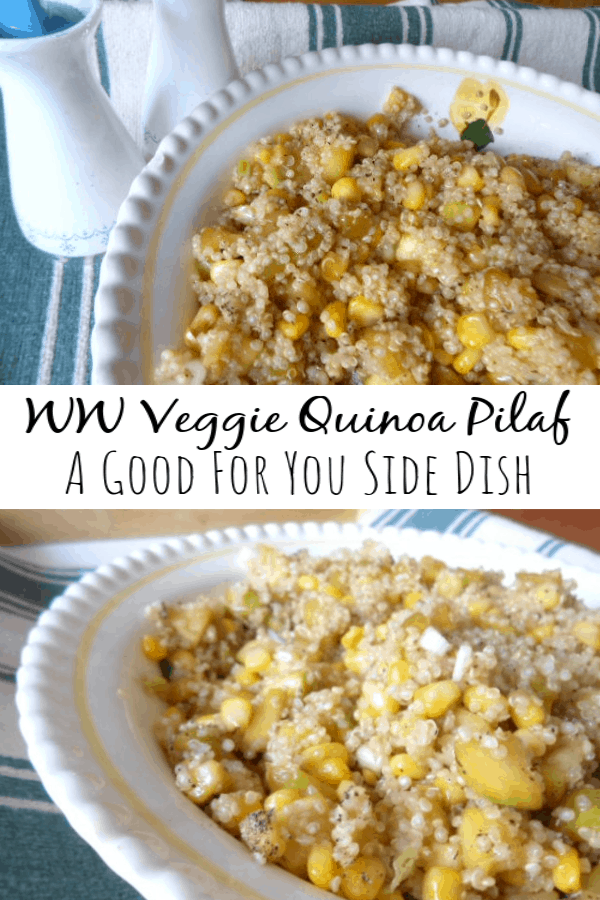 WW Veggie Quinoa Pilaf
This Weight Watchers Veggie Quinoa Pilaf is made with diced zucchini, corn kernels and a deliciously tasty, fresh honey lemon butter!
And with only 3 Weight Watchers Points Plus Value per serving, you're doing yourself a disservice by not trying it!
What Does Quinoa Taste Like?
First of all, what does quinoa taste like?
Quinoa tastes very similar to rice, which is why I love it so much!
I could eat rice every day, but I try to limit it because most varieties have levels of arsenic in them.
To me, quinoa tastes like a nuttier, crunchier version of brown rice. Mmmm!
And the bonus is that it's more filling than rice.
Rice vs Quinoa Nutritional Information
In a comparison of one cup of rice vs. one cup of quinoa:
Calories: Quinoa = 222, Rice = 193
Total Fat: Quinoa = 4g, Rice = 1g
Sodium: Quinoa = 13mg, Rice = 7mg
Carbs: Quinoa = 39g, Rice = 44g
Fiber: Quinoa = 5g, Rice = 1g
Protein: Quinoa = 8g, Rice = 4g
As you can see, quinoa has 29 more calories, 3 more grams of fat, & 6 more mg of sodium.
BUT it also has 4 more grams of fiber and twice as much protein as rice!
Fiber and protein are 2 important ingredients for digestion and muscle building.
According to this Healthline article, quinoa is a complete protein, high in fiber, and high in minerals, such as iron, magnesium, phosporus, manganese, & zinc.
Unlike rice, quinoa is not a grain.
Although, it is eaten in recipes as a substitute for grains, quinoa is a seed derived from the chenopodium quinoa plant, a relative to spinach and chard.
Who knew?
Veggie Quinoa Pilaf Recipe
So, with this quick little lesson on quinoa, here is our recipe for Veggie Quinoa Pilaf.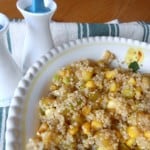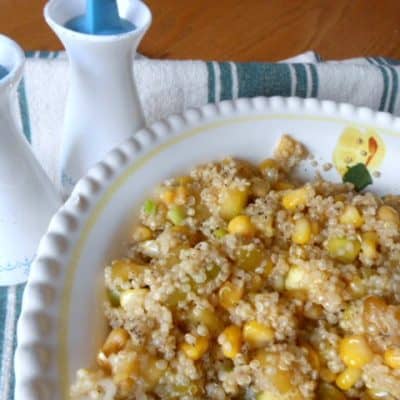 Print Recipe
Quinoa, Zucchini and Corn in Lemon Butter Recipe – 3 Weight Watchers Points Plus
Veggie Quinoa Pilaf: This is Way Better For You Than Rice. A buttery, lemony, slightly sweet side dish. A great alternative to rice!
Ingredients
- 1/2 cup uncooked quinoa

- 2 medium zucchini

diced

- 4 scallions

diced (I used more because I love scallions)

- 2 garlic cloves

minced

- 1 cup corn

canned or frozen (defrosted if frozen/drained if canned)

- 2 T lemon juice

- 2 T butter

- 1 T honey

- salt & pepper to taste
Instructions
Cook quinoa according to package directions. Once quinoa has been cooked, place in a large bowl and set aside.

Place a medium sized skillet over medium high heat, melt butter in it, and then add in zucchini and garlic. Cook until zucchini is tender, about 3 to 5 minutes. Then add in corn and honey and cook until heated through.

Add the corn and zucchini to the quinoa, along with the scallions and lemon juice and toss to combine.

Season with salt & pepper.

Serve warm or at room temperature.
Notes
3 Weight Watchers Points Plus Value per serving.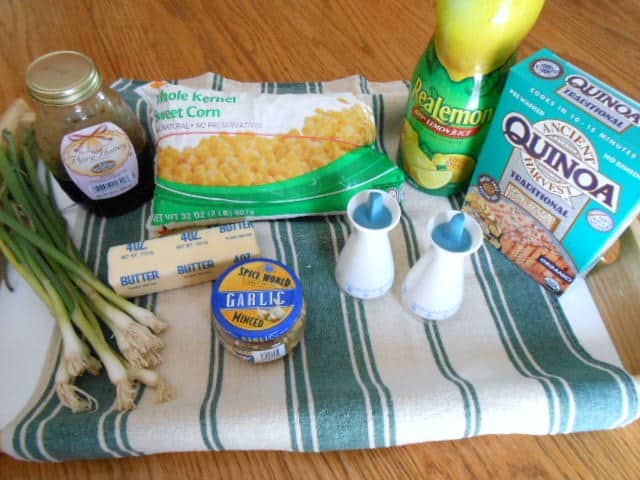 The above picture of the Weight Watchers Veggie Quinoa Pilaf is the entire recipe.
Obviously, this recipe is used as a side dish.
I happened to make it during the day for blogging purposes and ate it as a main dish for my lunch.
Although I probably could have eaten the entire bowl in one sitting, I restrained.
It is absolutely delicious and so tasty!
The zucchini actually almost tastes fruity because of the lemon and honey.
And the garlic and scallions add to the hearty component of this delicious side dish.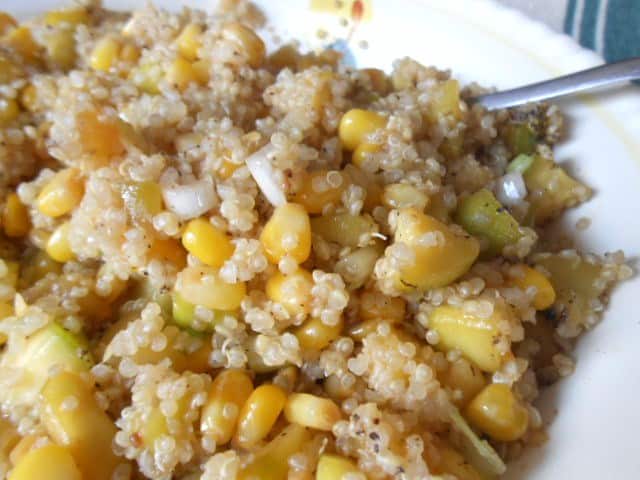 I just can't get enough of quinoa these days.
This WW Veggie Quinoa Pilaf recipe, is a great choice as a side dish, to add to a salad, or just to eat all by itself, like I did.
I can't wait to go to the kitchen and heat me up some leftovers!
That's the best part about posting these recipes.
I get to eat them too.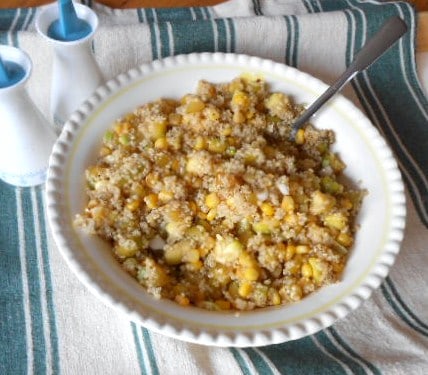 So, if you haven't tried quinoa yet, I really encourage you to try it.
For more delicious side dish recipes, go to our posts on:
Weight Watchers Mashed Cauliflower – Deliciously Healthy
Roasted Oregano Lemon Baby Potatoes – 3 Weight Watchers Points Plus Value
Butter Pecan Mashed Sweet Potatoes – 5 Weight Watchers Points Plus Value

Pam is married and has 1 son – a middle-schooler in his teen years. She followed Terri to Frederick in 1999. She absolutely loves going to yard sales and estate sales and finding hidden treasures.
read more...