As promised, I bring to you another recipe with the wonderful quinoa as one of the main ingredients.  If you didn't get a chance to read one of my prior posts about quinoa, check out how good it is for you HERE.
I found this recipe for Quinoa, Zucchini and Corn in Lemon Butter from a site I've mentioned before called LaaLoosh.  LOVE this site because all of her recipes come with the nutritional information, as well as the Weight Watchers Points Plus Values.  If you're looking for easy, healthy recipes, her site is one of the best in my opinion.
Here is the recipe: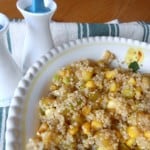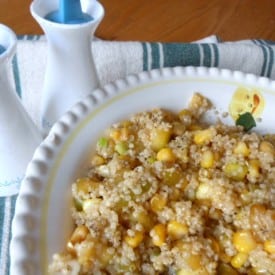 Print Recipe
Quinoa, Zucchini and Corn in Lemon Butter Recipe – 3 Weight Watchers Points Plus
Ingredients
- 1/2 cup uncooked quinoa

- 2 medium zucchini

diced

- 4 scallions

diced (I used more because I love scallions)

- 2 garlic cloves

minced

- 1 cup corn

canned or frozen (defrosted if frozen/drained if canned)

- 2 T lemon juice

- 2 T butter

- 1 T honey

- salt & pepper to taste
Instructions
Cook quinoa according to package directions. Once quinoa has been cooked, place in a large bowl and set aside.

Place a medium sized skillet over medium high heat, melt butter in it, and then add in zucchini and garlic. Cook until zucchini is tender, about 3 to 5 minutes. Then add in corn and honey and cook until heated through.

Add the corn and zucchini to the quinoa, along with the scallions and lemon juice and toss to combine.

Season with salt & pepper.

Serve warm or at room temperature.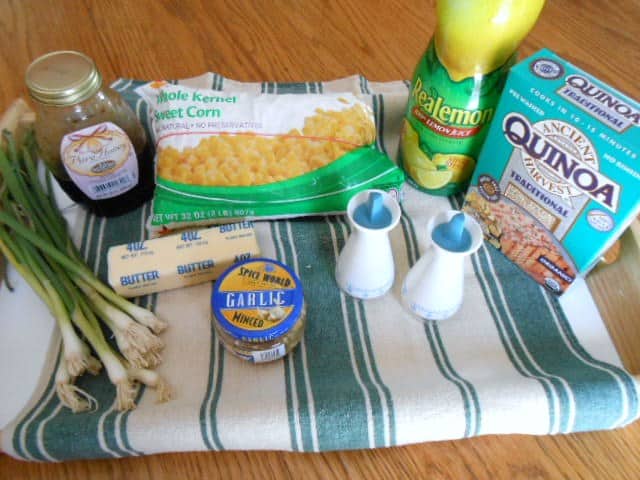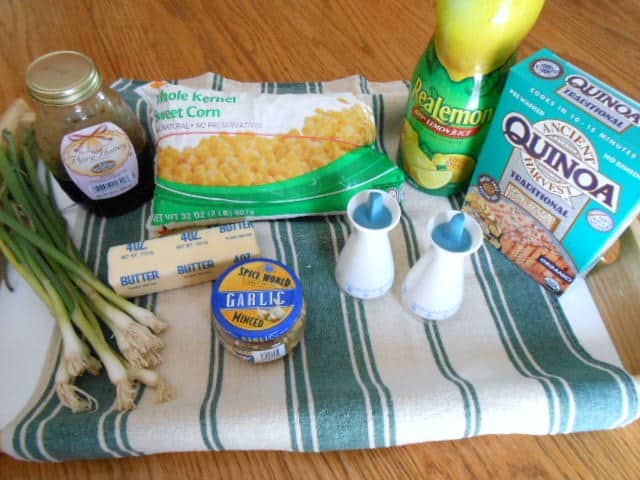 Quinoa, Zucchini and Corn in Lemon Butter Recipe – 3 Weight Watchers Points Plus
The above picture is the entire recipe.  That doesn't mean I ate it all in one sitting, but I probably could have!  It was so tasty!  The zucchini actually almost tastes fruity because of the lemon and honey.  The garlic and scallions add in that hearty component.
I just can't get enough of quinoa these days.  This recipe, per serving has 3 grams of protein and 3 grams of fiber and only 20 grams of carbs.  A great choice as a side dish, to add to a salad, or just to eat all by itself, like I did.  
Can't wait to go upstairs and heat me up some leftovers!  That's the best part about posting these recipes.  I get to eat them too.
So if you haven't tried quinoa yet, now I have provided you with 2 recipes that have quinoa as an ingredient.  What'cha waitin' for?!  Go get you some and try it for yourself.  Don't be shy.  Just jump right onto the quinoa bandwagon!
Happy Cooking!
Wanna see more posts like this delivered straight to your Inbox?  Go to the Subscribe box at the top of our blog and enter your email address!  Also, share this post on Facebook, Twitter, and Pinterest.  We really appreciate it!

Pam is married and has 1 son – a middle-schooler in his teen years. She followed Terri to Frederick in 1999. She absolutely loves going to yard sales and estate sales and finding hidden treasures.
read more...