Sausage and Chard Soup – 8 Weight Watchers Points Plus Value
I found this wonderful recipe in the September 2013 issue of All You Magazine.  It does not specify that it is a Weight Watchers friendly recipe, but I calculated it on my handy dandy Weight Watchers calculator and it comes out to be only a 8 Weight Watchers Points Plus Value per serving.  And the servings are very generous.  Gotta always love that!
I can't say I've ever eaten swiss chard before, but have always been intrigued by it. Chard is in the same family as the beet.  However, chard is used for it's leaves, as beets are used for it's roots.  Chard is high in vitamins A, K, and C and is rich in minerals, dietary fiber, and protein.  According to Wikipedia, "Chard is considered to be one of the healthiest vegetables available, and is a valuable addition to a healthy diet, like other green leafy vegetables."
Here is the recipe: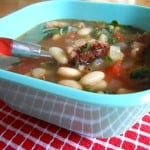 Print Recipe
Sausage and Chard Soup – 8 Weight Watchers Points Plus Value
8 Weight Watchers Points Plus Value
Ingredients
- 2 T. olive oil

- 1 lb. Italian sausage

cut into 1 inch slices

- 1 large onion

thinly sliced

- 2 ribs celery

chopped

- 2 cloves garlic

minced

- Pinch of crushed red pepper

- 6 cups low-sodium chicken broth

- 1 14.5-oz can diced tomatoes

- 2 15-oz cans cannellini beans

drained and rinsed

- Salt & Pepper

- 1 small bunch Swiss chard

stems removed, leaves chopped

- 2 T. chopped fresh parsley

- Grated Parmesan

optional
Instructions
Warm oil in a pot over medium heat. Saute sausage until browned, about 10 minutes; transfer to plate. Add onion and celery; saute until beginning to brown, about 10 minutes. Add garlic and red pepper. Saute 1 minute.

Pour in broth, raise heat to high and bring just to a boil, scraping up brown bits. Return sausage to pot; stir in tomatoes and beans. Bring back to a boil. Reduce heat to low, then simmer for 15 minutes.

Season soup with salt and pepper. Stir in chard; cook until wilted, about 1 minute. Stir in parsley and top with Parmesan, if desired.
Notes
To Freeze: Do not add chard or parsley. Let soup cool. Transfer to a freezer-safe container (leave 1/2-inch space at the top) and freeze.
To Serve: Thaw in fridge overnight. Reheat over medium-low heat, stirring, for 35 minutes. Stir in chard and parsley; cook for 1 minute.
There were several ingredients to this recipe and a lot of coordination involved to make this soup.  So it wasn't the most simple recipe to make, but absolutely worth it. The aroma that was in the house was perfect for a crisp football Sunday afternoon!  My husband couldn't wait to try it.
It's a great soup and very filling.  The combination of the cannellini beans, sausage, and chard, is incredibly tasty.
My Mom happened to be visiting and shared the soup with us.  She gave it an A+!  A big compliment coming from the matriarch of our family.
We had also made some bread in our breadmaker machine.  It was perfect for dipping in the soup. Mmmmm!  Mmmmm!  Mmmmm!
Adding the parmesan cheese on the top made this soup simply delectable!
This recipe will definitely be on my rotation of fall and winter recipes to warm up my home.
Enjoy!

Pam is married and has 1 son – a middle-schooler in his teen years. She followed Terri to Frederick in 1999. She absolutely loves going to yard sales and estate sales and finding hidden treasures.
read more...