The best Maryland Crab Soup recipe is one that you make at home using fresh Maryland crab meat!
Once you get your hands on Maryland's delectable crab meat with it's rich flavor, you're going to knock it out of the park with this wonderful recipe.
Not that I'm biased or anything, being a born and raised Marylander, but Maryland crab meat is by far the best tasting crab meat you will ever eat.
Best Maryland Crab Soup Recipe
I do realize that not everybody has easy access to this delicious crustacean caught straight out of Maryland's Chesapeake Bay.
As a matter of fact, even though I've lived in Maryland my entire life, it still takes me 3 hours to drive to the Eastern Shore.
However, I'm extremely lucky because there are many a bushel of blue crabs shipped over to these parts of Maryland on the regular.
So, I can still enjoy making crab recipes at home, crackin' crabs at a crab feast and attending crab festivals in my area anytime!
For example, at Whole Foods the other day, I happened upon some fresh crab meat straight out of Cambridge, Maryland.
That was my sign that it was time to make this best soup recipe!
And while you're at it, if you find some good crab meat, you might as well stock up and make some other amazing crab recipes like these: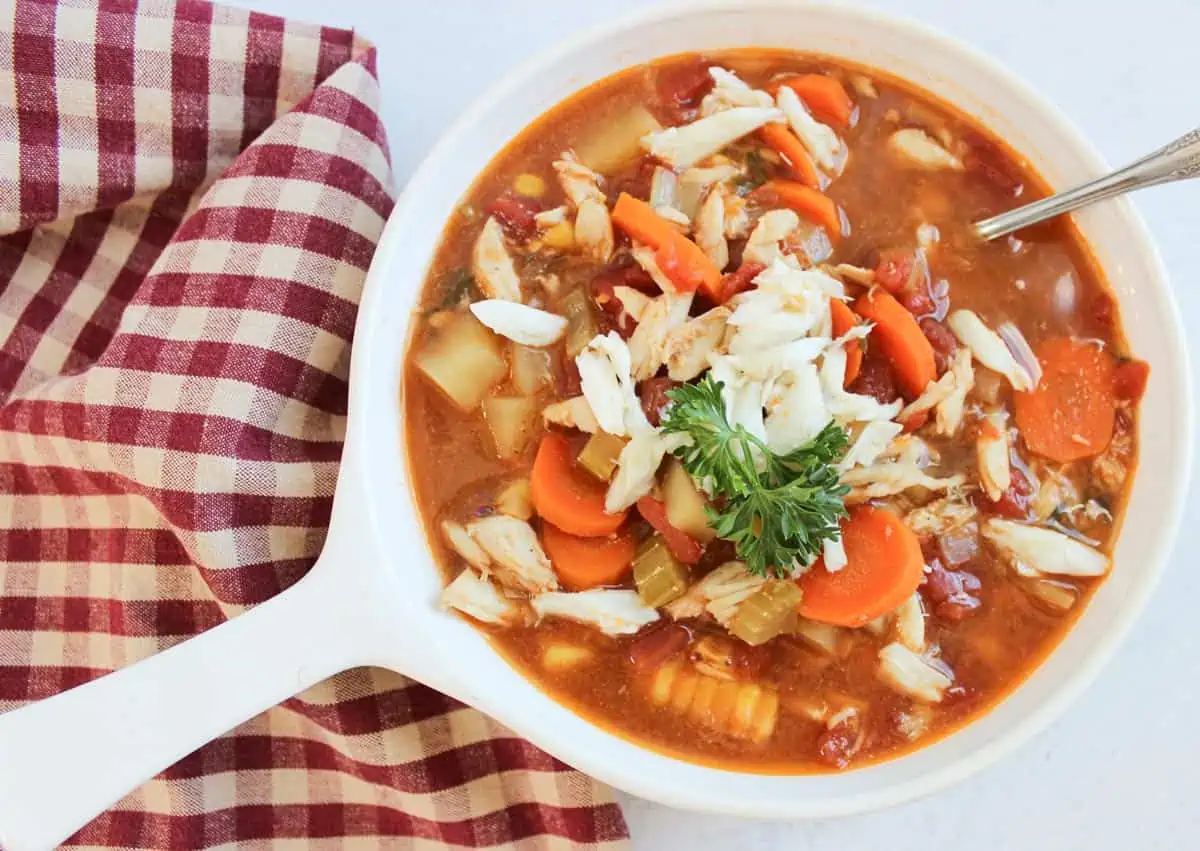 Maryland Crab Soup Ingredients
Here are the ingredients you will need to make this Pride of Maryland crab recipe:
Chicken Stock (or chicken broth)
Beef Stock (or beef broth)
2 Large Carrots
Medium Onion
2 Stalks Celery
Corn (fresh corn off the cob – about 2 ears cooked, or about 1 cup canned corn or frozen corn)
Butter
Dry Mustard
Old Bay Seasoning – or one of these amazing Maryland made seasoning substitutes
Worcestershire Sauce
White or Yellow Potatoes
Canned Tomatoes
Fresh Parsley
Flour
Jumbo Lump Crab Meat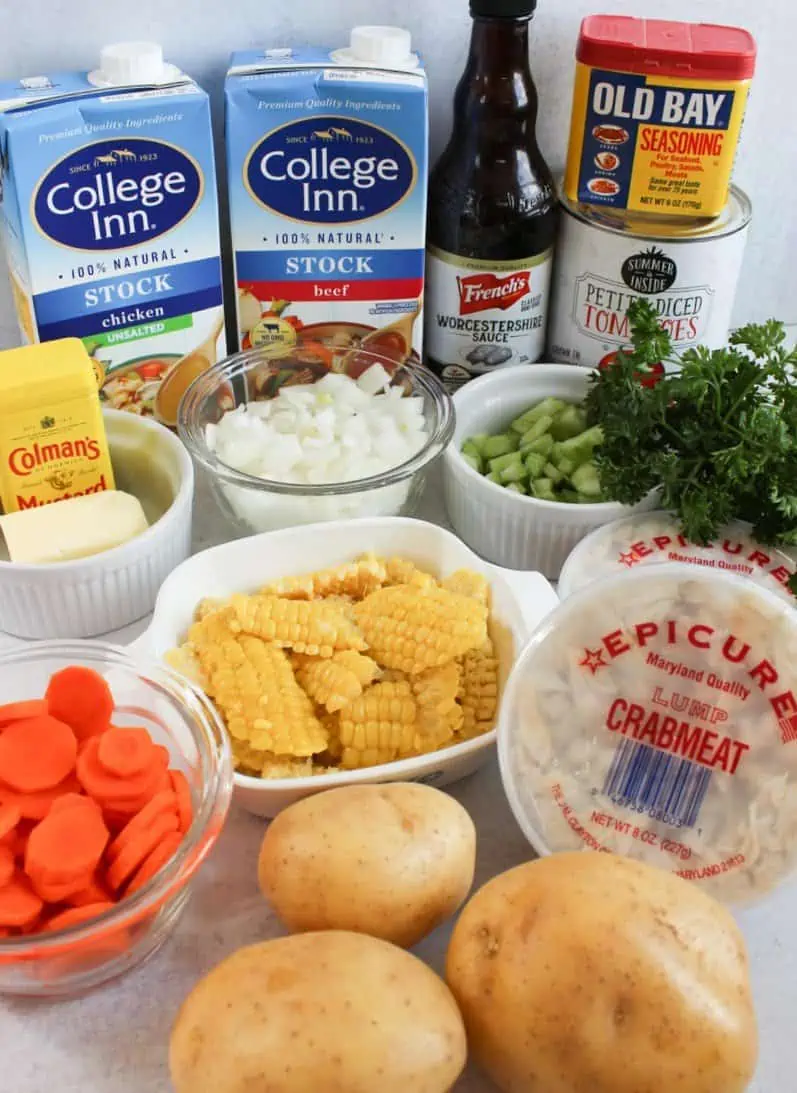 Step-By-Step Instructions
Once you have gathered all of the ingredients and chopped and diced them, the rest is very easy!
Step 1: Bring Chicken & Beef Stock to a Boil
So, some people just use water as the base for this soup.
However, I like to use a combination of chicken and beef stock to give it more flavor.
Add 3 cups each of the chicken and beef stock to a large soup pot or dutch oven (Amazon) and bring to a boil.
Step 2: Add Remaining Ingredients Except Crab Meat & Flour Mixture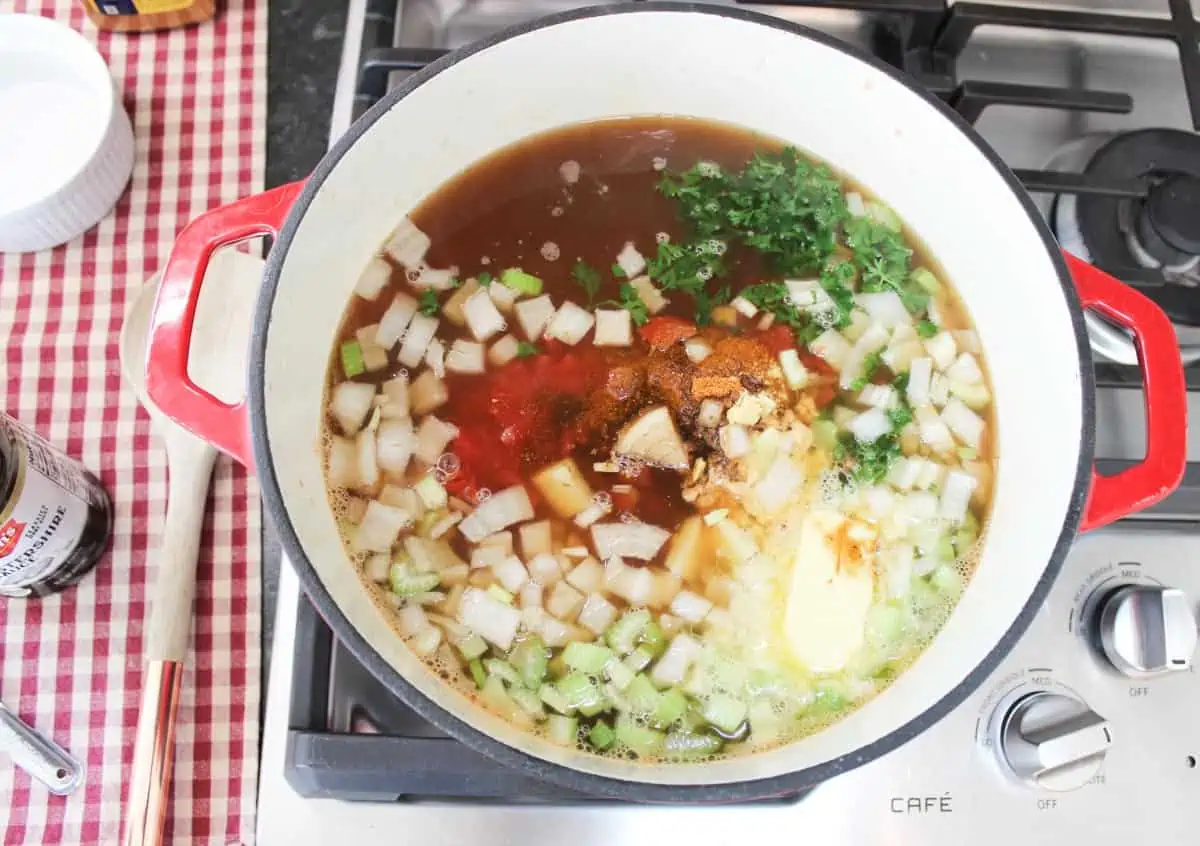 Now, add all of the remaining ingredients to your boiling stock and mix with a large, sturdy spoon (Amazon).
Then, bring to a boil again over medium heat to medium-high heat until it is simmering.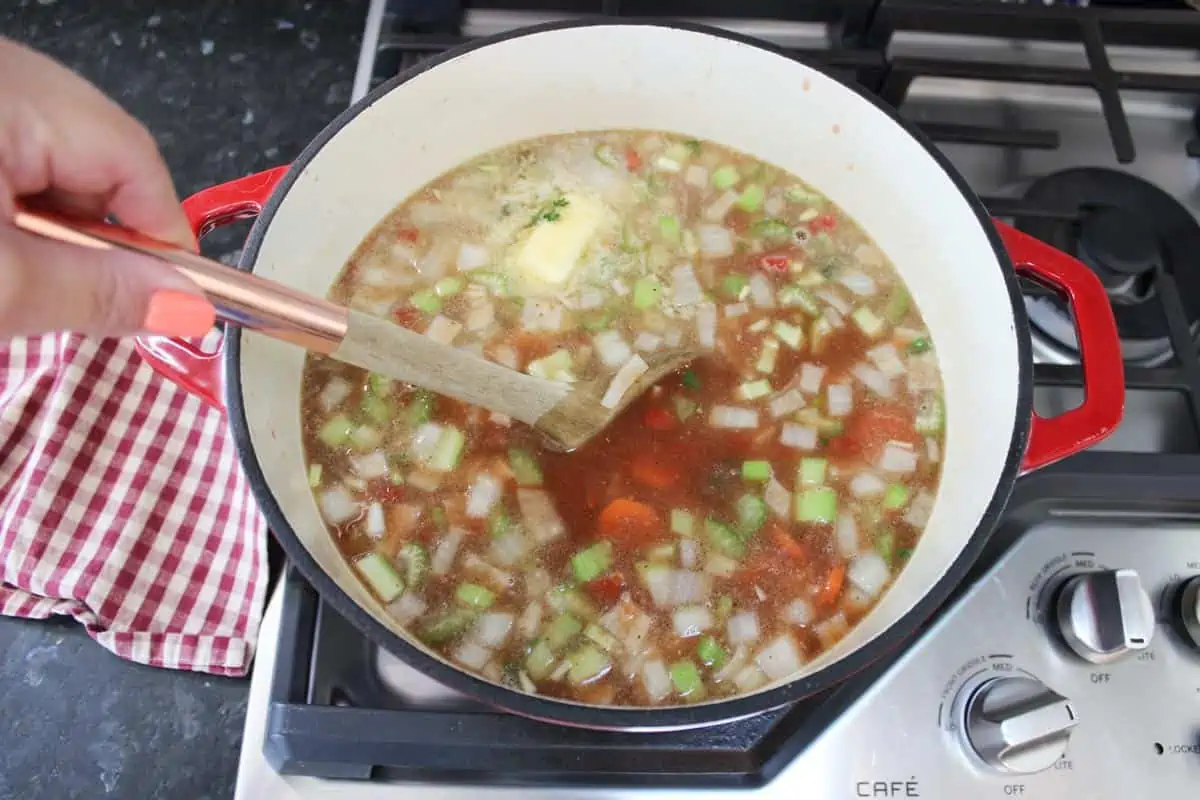 Step 3: Simmer Soup for 45 Minutes
At this point, just keep an eye on your soup to ensure that it is at a consistent simmer.
The approximate simmer time will be 45 minutes to an hour.
This will ensure that your potatoes, carrots, onion, and celery are cooked through.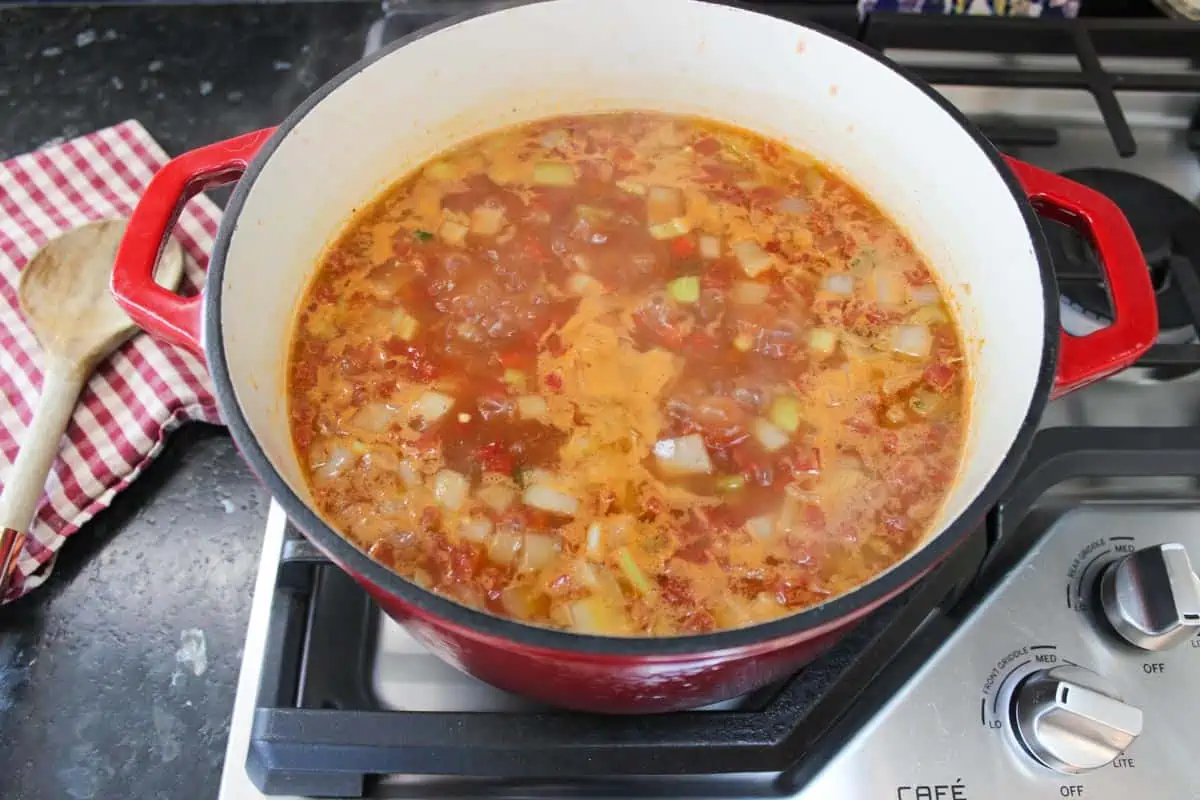 Step 4: Add Crab Meat & Flour Mixture
Now, it's time to add your crab meat (I always rinse it in a strainer or colander (Amazon) with very small holes because you don't want to lose any of that precious meat!) and flour mixture to your soup.
Then, mix it well with your large spoon and then bring it back to a simmer for an additional 15 to 20 minutes.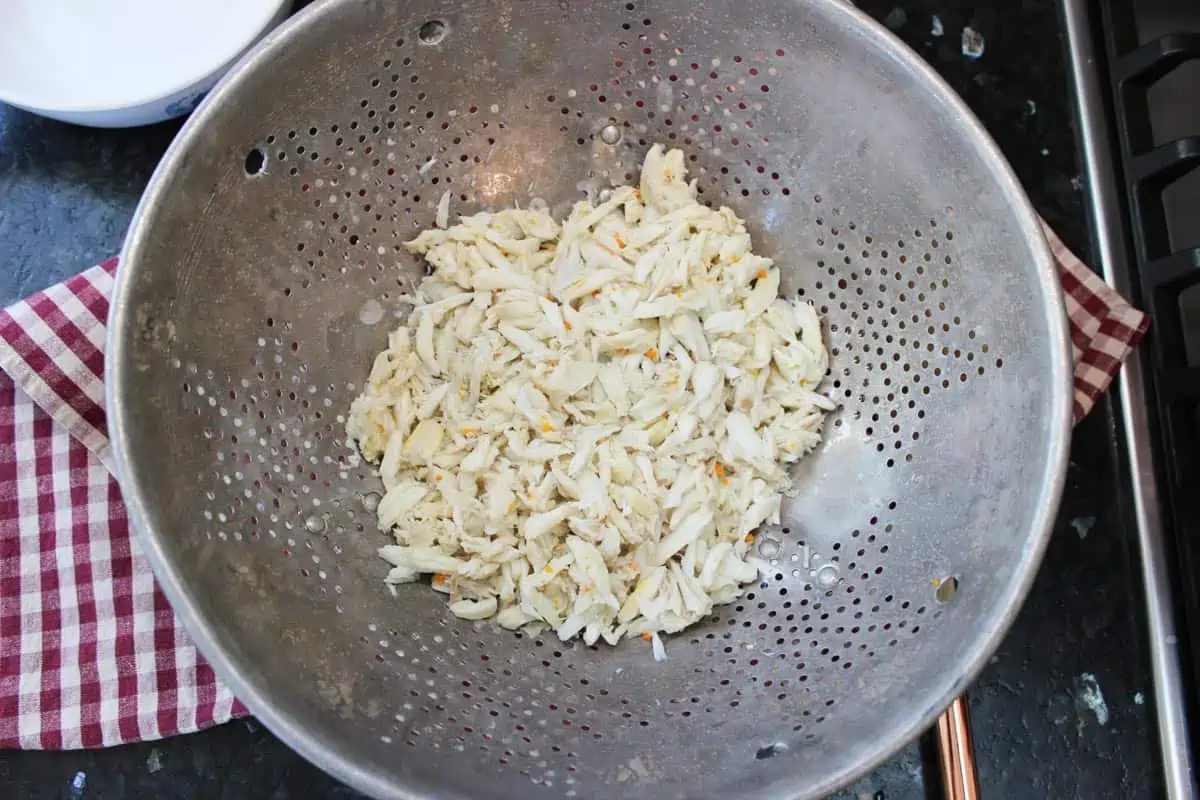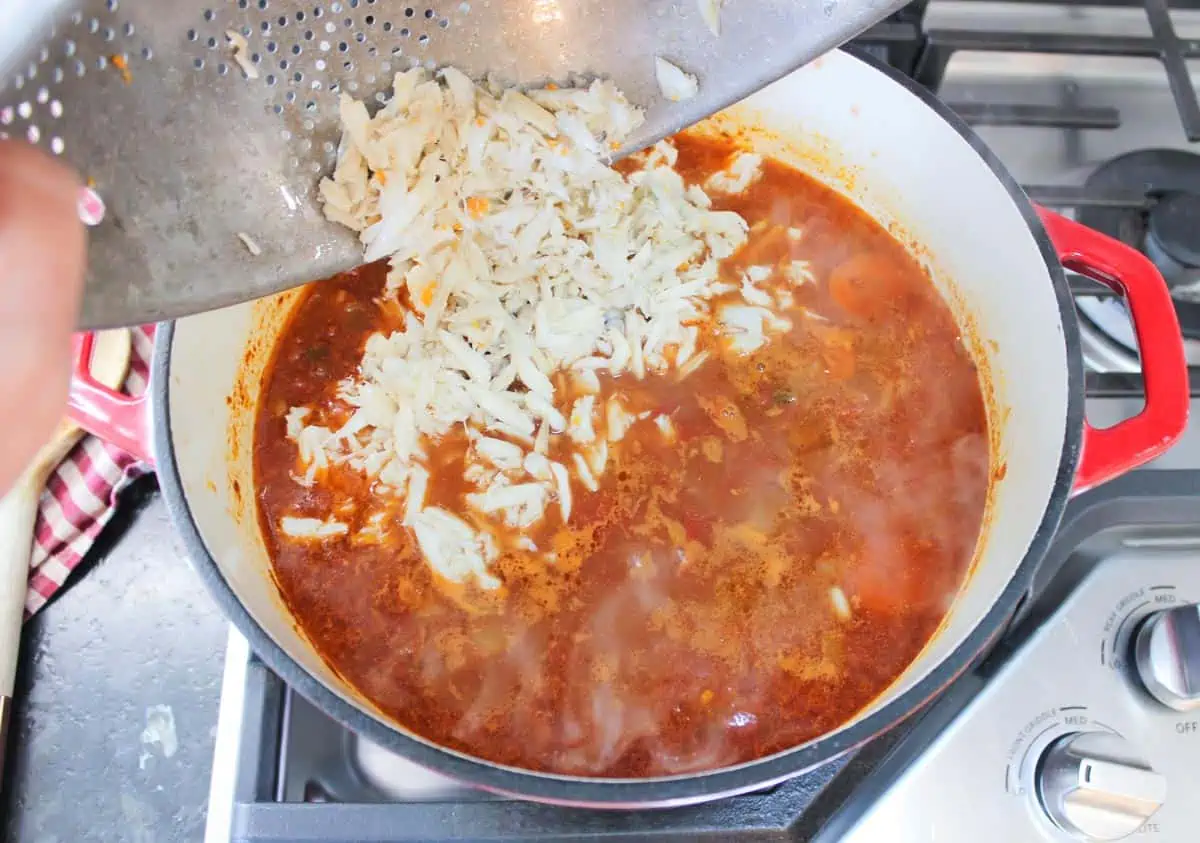 Finally, use a good soup ladle (Amazon) to spoon out your servings into soup bowls.
Now, it's time to enjoy your bowl of soup (or bowls)!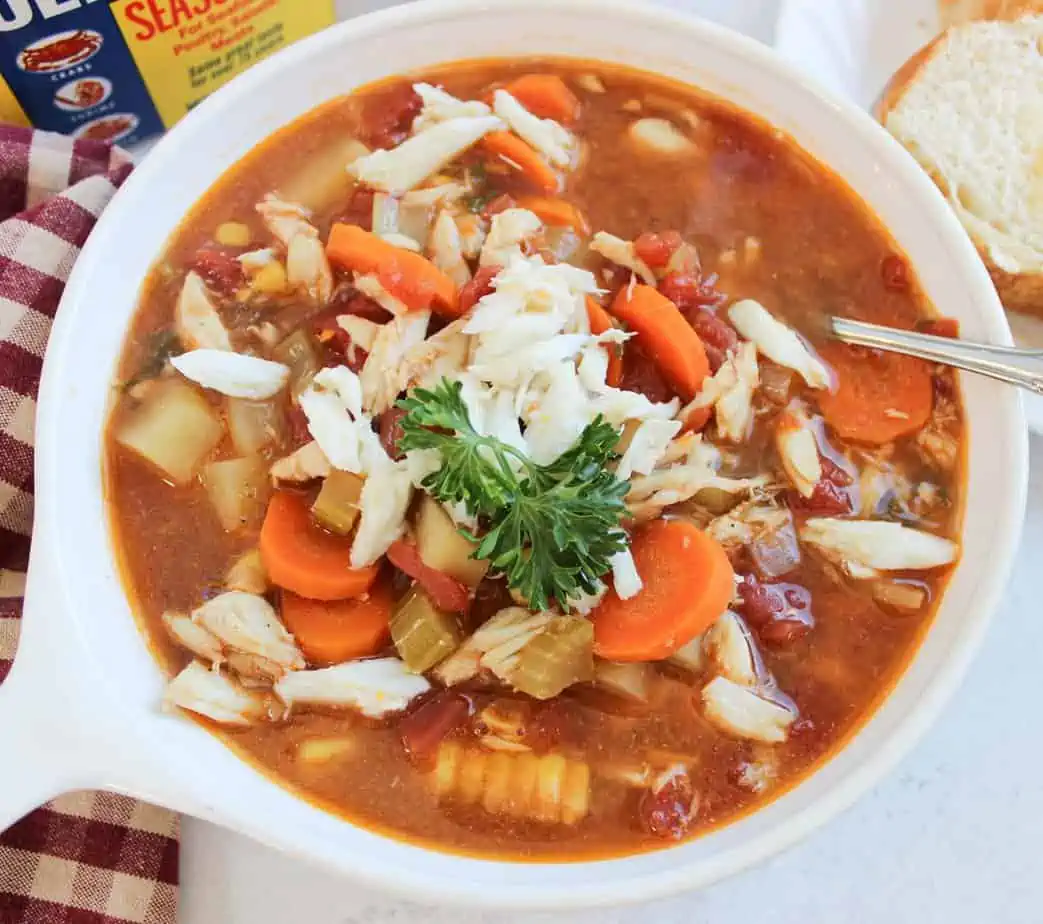 How Do You Thicken Crab Soup?
So, Maryland Crab Soup tends to be on the thinner side because it is a tomato-based soup.
Though, if you want a yummy, thick, creamy crab soup, you're going to love my Cream of Crab Soup Recipe!
However, you can thicken up this Maryland Crab Soup by adding in more of the flour & cold water mixture and heating through while stirring your soup.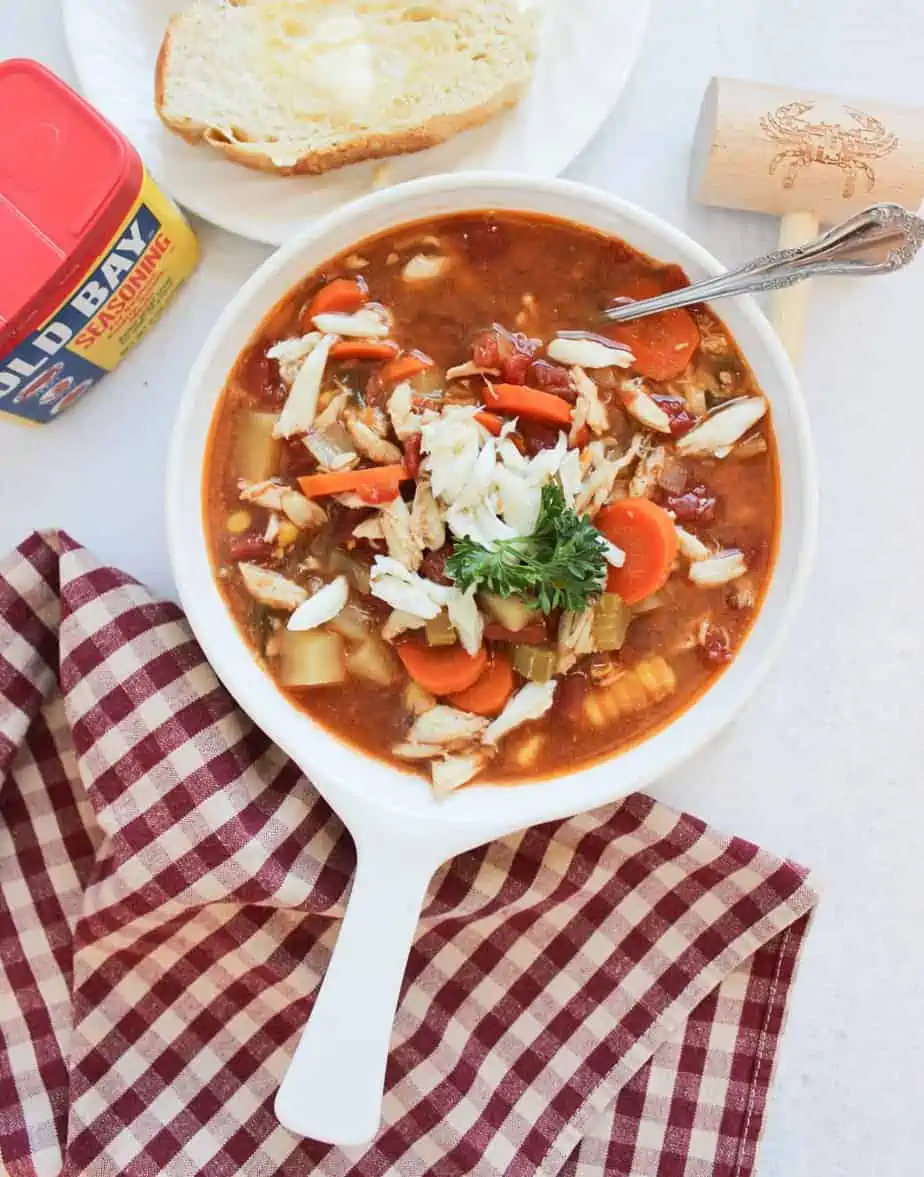 Can You Freeze Maryland Crab Soup?
You absolutely can freeze this soup.
That is, if you have any leftovers.
In our case, we always have leftovers, but we enjoy eating them for lunch for the next few days as opposed to freezing the soup to eat in the future.
However, if you do want to freeze it, just make sure that it has completely cooled to room temperature before you add the soup to freezer safe containers.
Specifically, Maryland Crab Soup can be frozen for up to 3 months.
Be sure to label the container identifying what is in it and the date that you placed it in the freezer.
Also, adding an 'eat by' date will remind you to eat it before it's past the 3 month timeframe.
What To Serve with Maryland Crab Soup
Here are some great options for what to serve with your soup:
Oyster Crackers
Ritz Crackers
Saltine Crackers
Hot, crusty bread (Italian, French, Foccacia)
Salad
Corn on the Cob (if you don't include corn in the soup)
Other Ingredients to Add to Maryland Crab Soup
So, my husband specifically instructed me not to include lima beans, green beans, or peas to this soup.
However, these are 3 very common ingredients in Maryland Crab Soup.
Therefore, I decided to let you know all the possible ingredients you can add to your soup, based on your family's preferences:
Lima Beans
Green Beans (fresh green beans, canned green beans or frozen green beans)
Spring Onions
Peas
Red Pepper Flakes
J.O. Crab Seasoning (instead of Old Bay Seafood Seasoning)
Claw Crab Meat & Backfin Crab Meat in addition to Lump Crab Meat
Bay Leaf
Cabbage
Frozen Mixed Vegetables
Black Pepper
Celery Salt
Hot Sauce
Seafood Stock (as a substitute for the chicken and beef stock)
Lemon Juice
Red Potatoes (as a substitute for white or yellow potatoes)
Best Maryland Crab Soup Recipe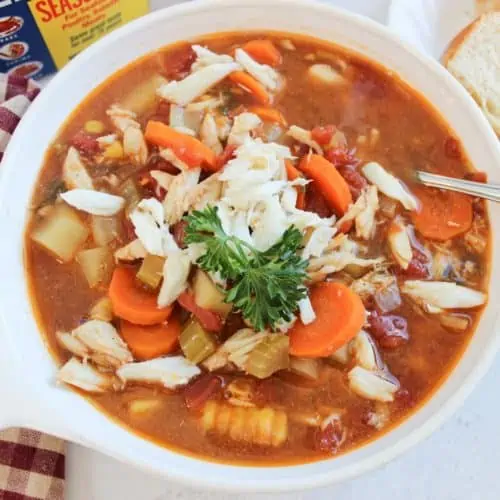 Best Maryland Crab Soup Recipe
Maryland is for crabs! Delicious, easy to make and authentic, this is the best Maryland Crab Soup recipe to make at home!
Ingredients
3

cups

Chicken Stock

3

cups

Beef Stock

2

Carrots, Large

,

peeled & diced

1

cup

Onion, diced

¾

cup

Celery, sliced

1

cup

Corn (cooked, cut off the cob or canned or frozen)

¼

cup

Butter

2

tbsp

Old Bay Seasoning

1

tbsp

Dry Mustard

2

tbsp

Worcestershire Sauce

1 ½

cups

Potatoes

,

peeled & diced

1

lb

Tomatoes, chopped or crushed

,

canned

2

tbsp

Parsley, fresh

,

chopped

1

lb

Lump Crab Meat

,

preferably from Maryland
Instructions
Add chicken & beef broth to large pot or dutch oven and bring to a boil.

Then, add all remaining ingredients (except crab meat and flour mixture).

Bring back to a boil and then turn heat down to a simmer.

Mix flour and water well and add to the soup along with the crab meat.

Mix well and simmer for an additional 15 to 20 minutes.
Lastly, for more incredible soup recipes, click on over to: