These air fryer crab cakes are super easy to make and absolutely delicious!
Because this recipe uses the air fryer vs. pan-fried crab cakes, you'll save a ton of fat without losing the delicious taste of lump crab meat!
AND you'll make less mess while still getting perfect crispy-on-the-outside and moist-on-the-inside, homemade crab cakes!
Air Fryer Crab Cakes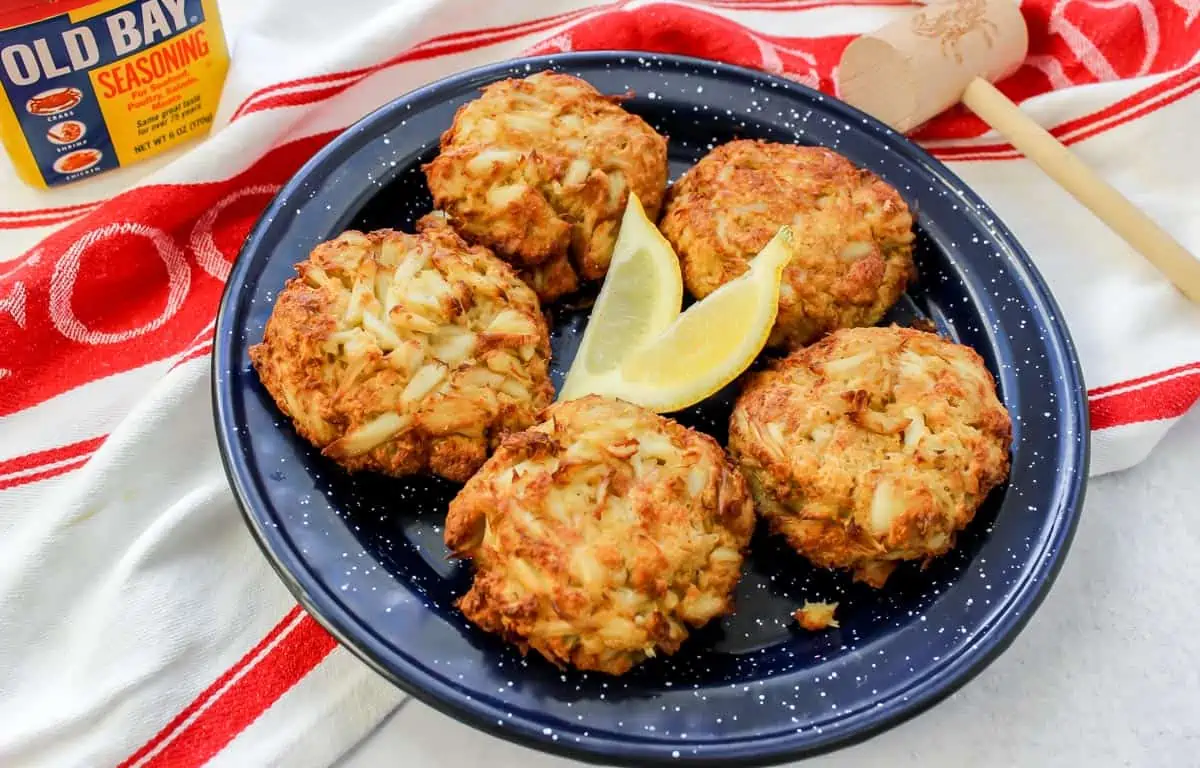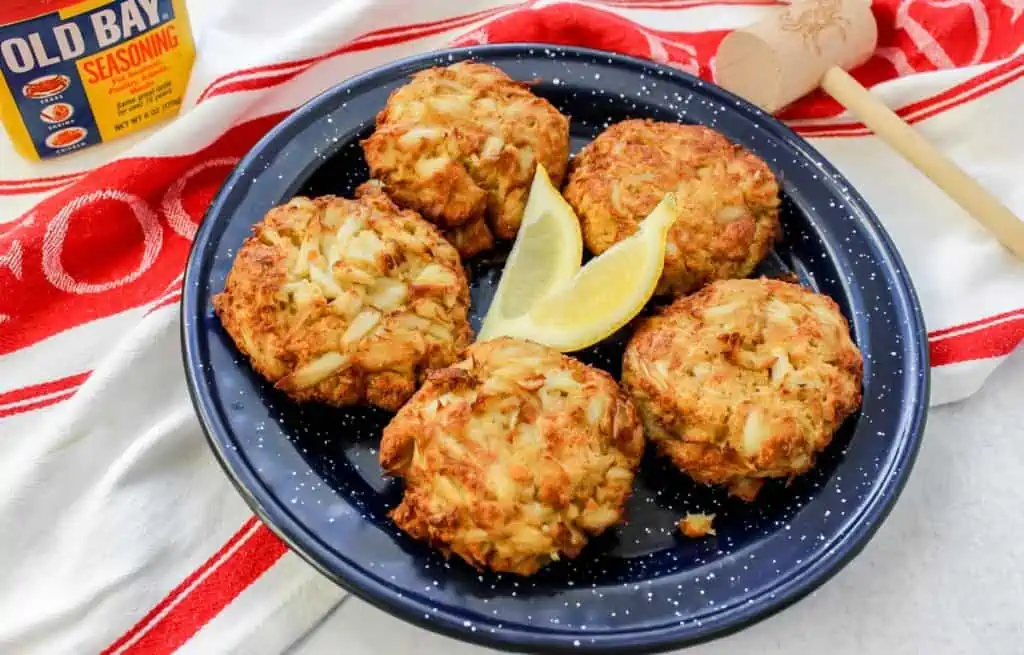 If you've been a regular reader of my blog, you've undoubtedly noticed that I make a LOT of crab recipes.
Needless to say, it's because I'm from Maryland and Maryland is for Crabs!
For instance, these crab soup recipes are my favorites: Maryland Crab Soup and Cream of Crab Soup.
Also, if you're looking for the perfect crowd pleaser, these crab appetizers will get eaten up in no time: Crab Stuffed Cucumber Cups, Maryland Crab Deviled Eggs, and my super popular Hot Crab Dip.
In addition, these entrée crab recipes never disappoint: Crab Melts, Crab Pizza, and Crab Imperial.
Benefits of Using An Air Fryer
Based on this WebMD article, air fryers have some great health benefits.
Compared to frying with oil, using an air fryer will cut your calories by 70% to 80% and significantly reduce the fat.
I'd say that's a great reason for using an air fryer, at least for some of your food options.
With so many different brands of air fryers, it can get overwhelming when you're looking to buy one.
However, this Instant Vortex Air Fryer (Amazon) is one of the best air fryers on Amazon as it gets a 5 star rating and great reviews!
It also has a 6 quart capacity, which is nice when you're cooking for more than 2 people.
Ingredients for Air Fryer Crab Cakes
By the way, I have to thank Kelly Powers for this Maryland style crab cakes recipe!
She's my sister-in-law's best friend's sister, hailing from Bowie, Maryland!
Ingredients
Here's what you'll need to make this amazing air fryer crab cake recipe:
High Quality Crab Meat – I use Maryland lump crab meat from my local grocery store – jumbo lump crab meat is the best because it has big chunks of crab meat
Eggs
Worcestershire Sauce
Mayonnaise
Yellow Mustard
Panko Plain Bread Crumbs
Old Bay Seasoning
Butter
Air Fryer Crab Cakes Directions
Step 1: Combine All Ingredients Except Crab Meat and Butter
In a large bowl, beat your eggs and then add your Worcestershire Sauce, mayonnaise, mustard, bread crumbs and Old Bay Seasoning.
Then, with a large spoon, mix until thoroughly combined.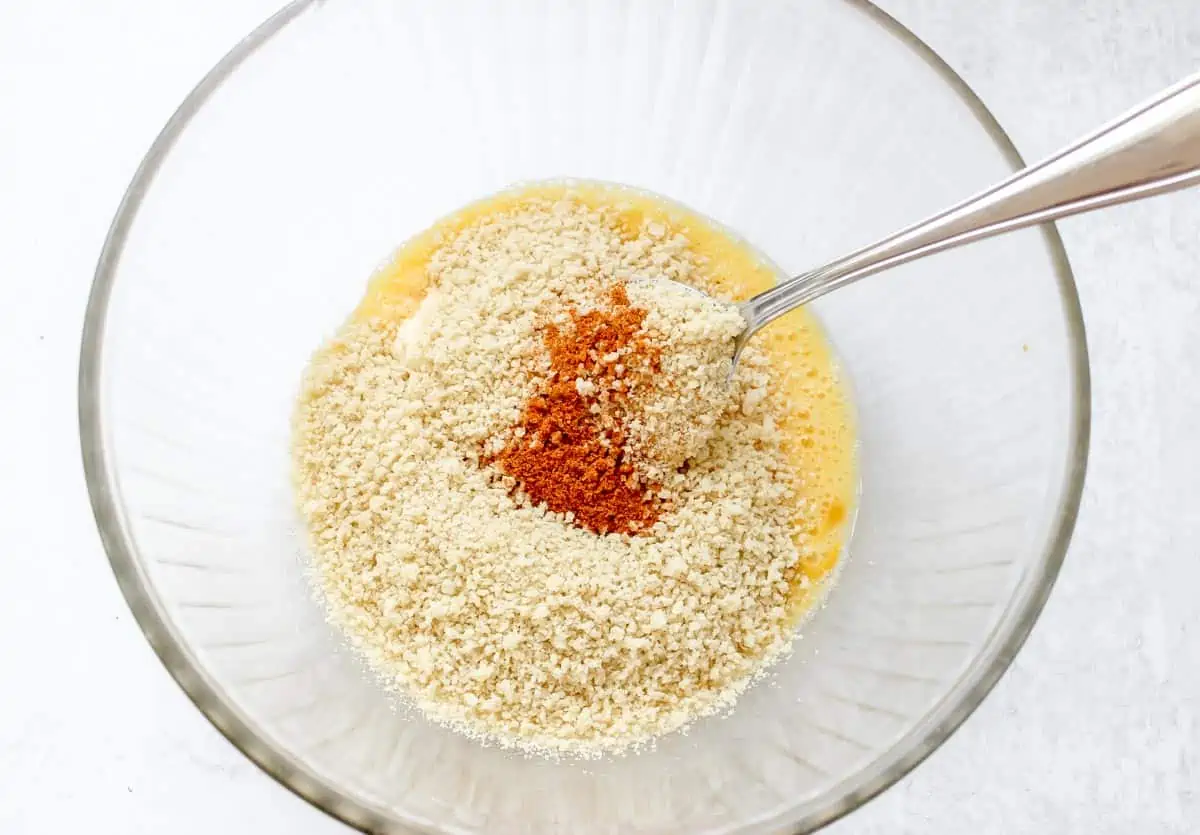 Step 2: Add Crab Meat and Mix Well
Add 1 pound of lump crab meat (preferably from Maryland) to your mix.
Then, mix well using care as to not break up the delicate lump crab meat.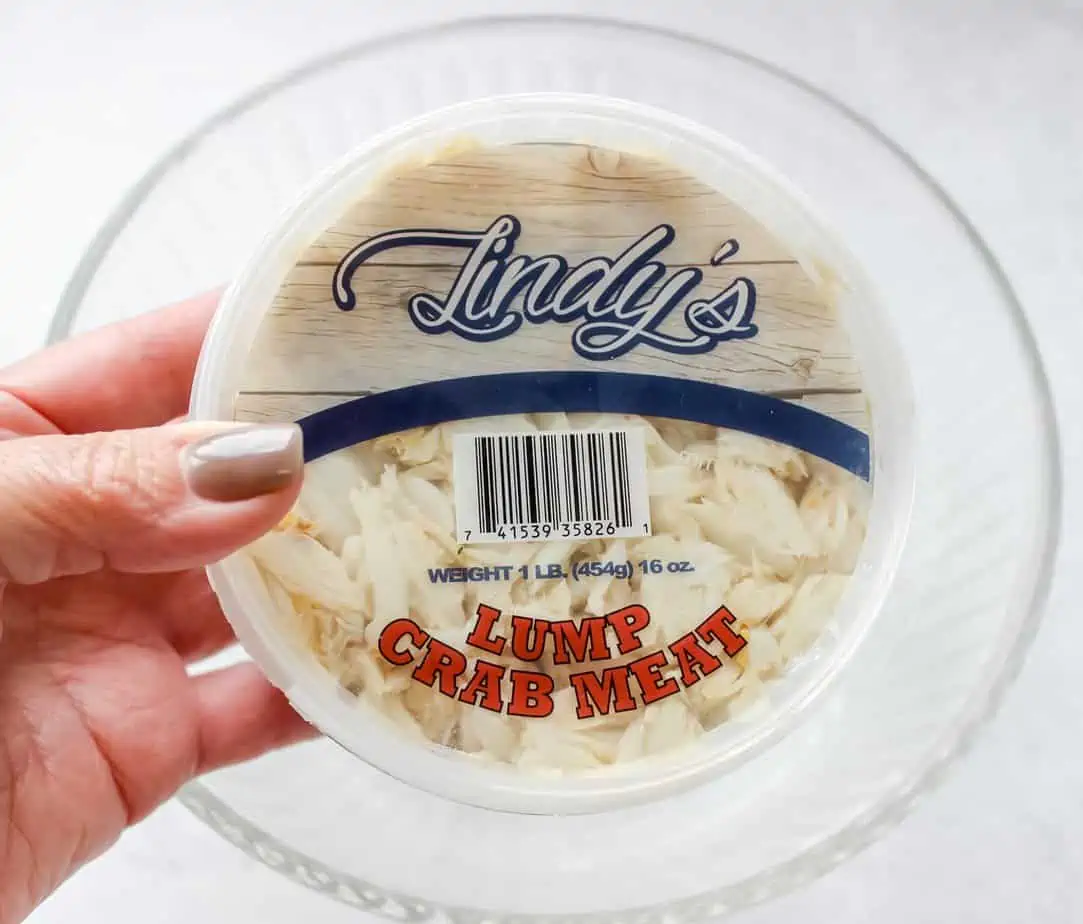 Step 3: Refrigerate Crab Mixture
Place your bowl of crab mixture into the refrigerator for at least 1 hour.
This will seal in the flavors and help the mixture to shape easier into patty form.
Step 4: Form Mixture into 5 Patties & Brush With Melted Butter
With your hands, form your crab cake mixture into 5 equal portions of crab patties – similar to making hamburger patties.
Then, using a silicone brush, brush the tops of each crab cake with melted butter.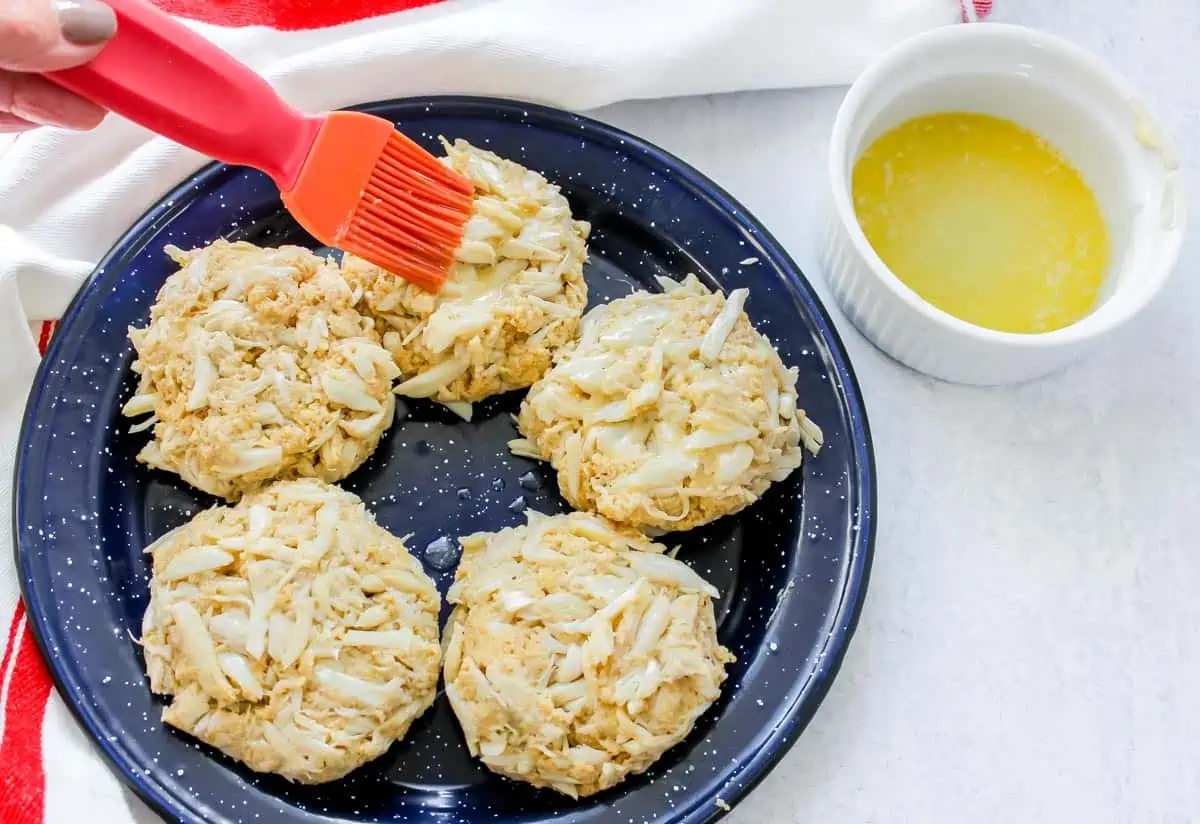 Step 5: Place Crab Cakes in Air Fryer & Bake
First, be sure to use either a parchment paper liner (Amazon) or tin foil to cover your air fryer grate and generously spray with nonstick cooking spray.
If you miss this step, your crab cakes may begin to fall through the grates (Ask me how I know this).
Then, gently place your crab cakes in a single layer into the air fryer basket (don't overcrowd them).
If you have to, air fry them in 2 batches.
Air Fry crab cakes at 370 degrees F for 8 to 10 minutes, or until a nice golden brown.
It's okay to peek inside to see if they've reached the golden brown stage before the 8 to 10 minutes.
Then, gently flip crab cakes over with a small spatula and air fry for an additional 4 minutes.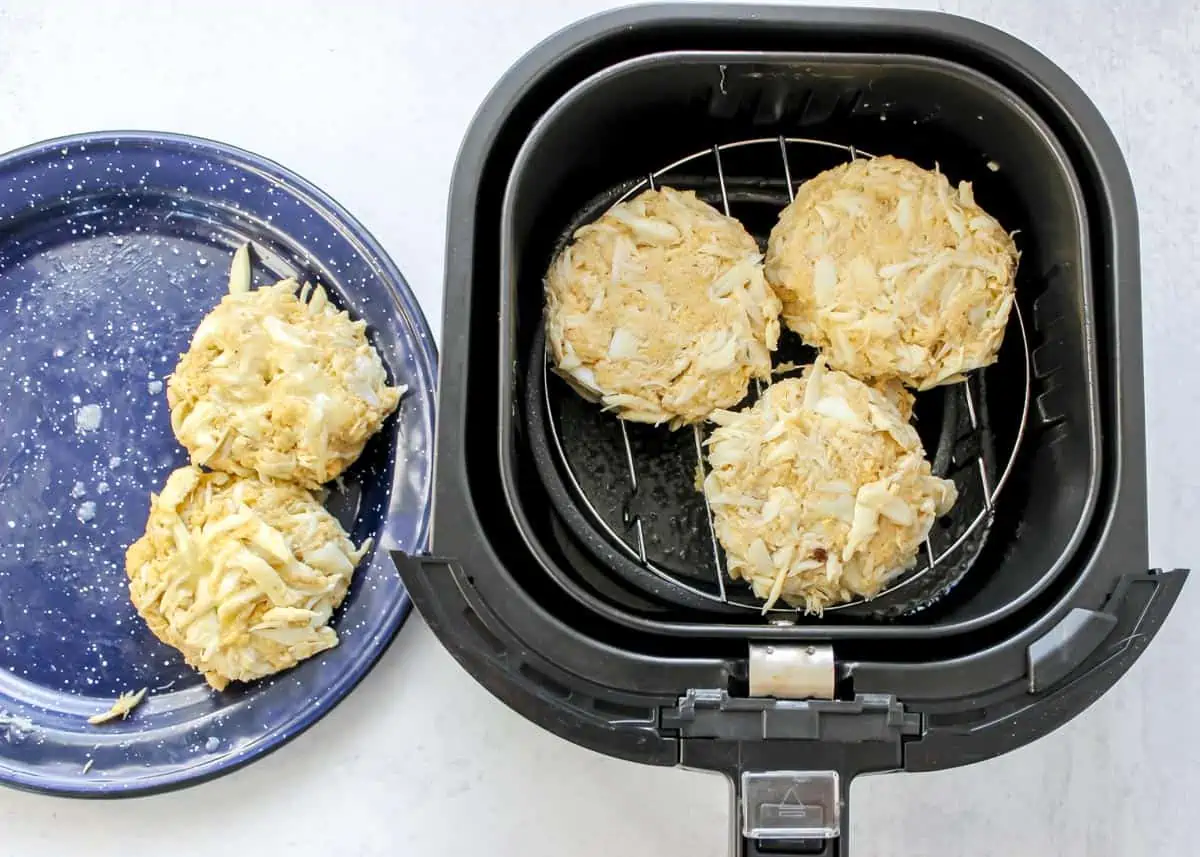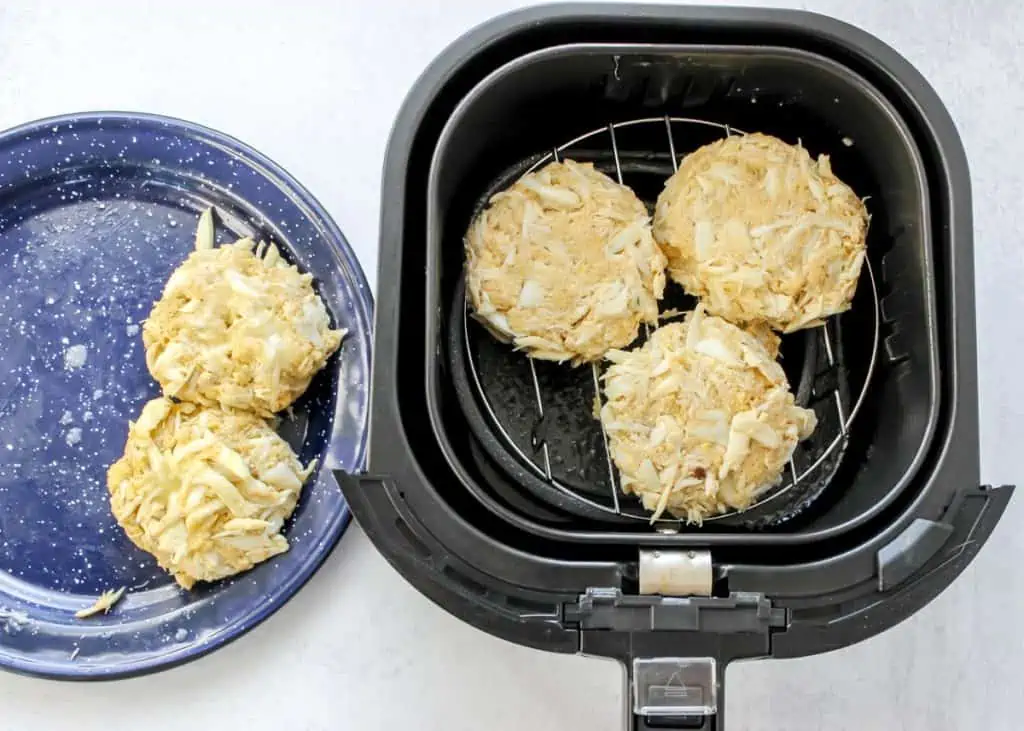 Step 6: Remove Crab Cakes from Air Fryer
Now, you can remove your crispy crab cakes from the air fryer and enjoy!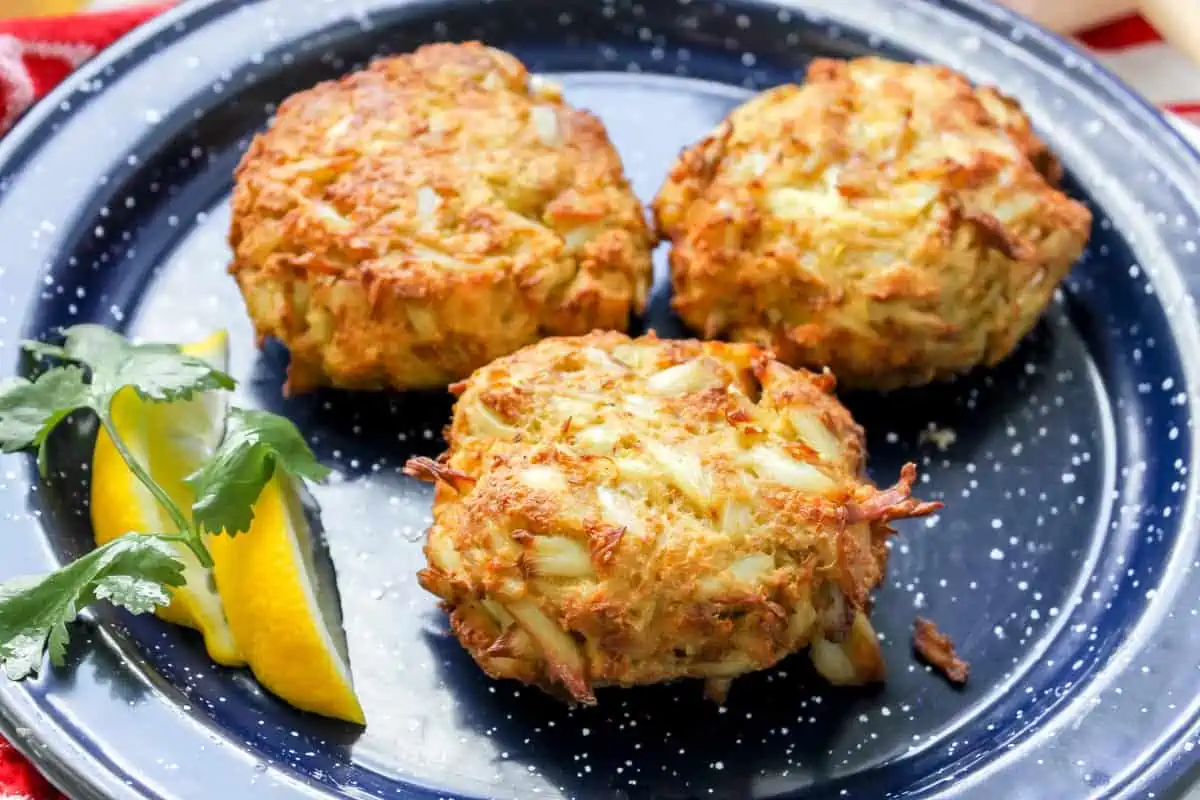 What To Serve With Crab Cakes
Here are some great accompaniments for your air fryer crab cakes:
Lemon wedge to squeeze the juice on top of your crab cakes.
Old Bay Seasoning – Some people like more than others so keep it available.
Hot Sauce
Dipping Sauce: Tartar Sauce or this incredible homemade Remoulade Sauce
Rice
Potatoes
Green Beans
Asparagus
Broccoli
Pasta
Eat it as a crab cake sandwich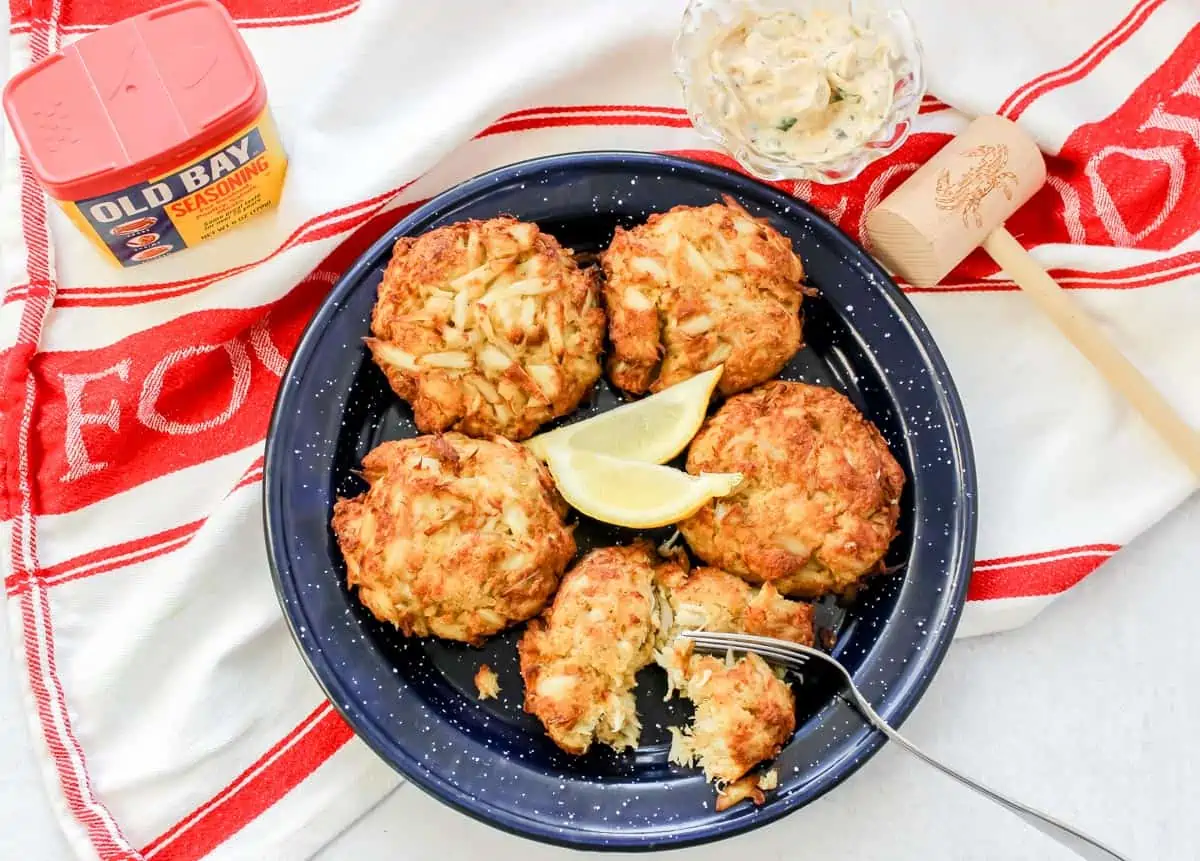 The key is, don't serve anything extra rich or spicy to go with your crab cakes because you want this main dish to be the star of the meal!
Additions & Substitutions
If you're like my husband and me, you prefer that your crab cakes have very little filler so as not to mask the amazing crab flavor.
However, some people prefer additional ingredients in their crab cakes.
One advantage to this is that it will make more!
Here are some great ingredient options:
Chopped Onion, Green Onion, or Spring Onions
Lemon Juice
Red Bell Pepper, chopped
Green Pepper, chopped
Substitute Dijon mustard for yellow mustard
Instead of Old Bay Seasoning use J.O. Seasoning or another seafood seasoning
Substitute crushed up saltine crackers for bread crumbs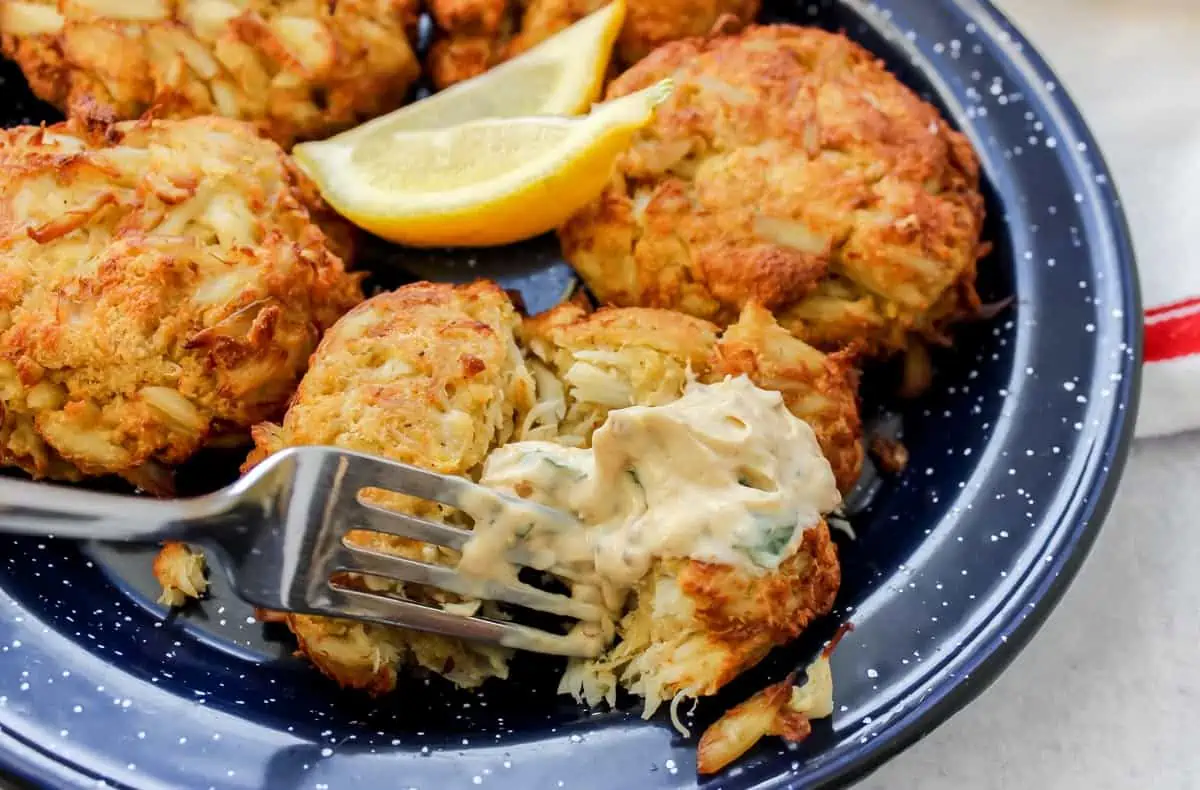 How To Store Crab Cakes
To store your leftover crab cakes (if you have any!), just place them into an airtight container and place them in the refrigerator.
They should last a good 5 days in the refrigerator.
Reheating Crab Cakes
To reheat your leftovers, turn your oven on 350 degrees F and place crab cakes onto a baking sheet.
Bake for approximately 10 minutes or until heated through.
You can also use the air fryer again and heat them up that way at 370 degrees F for 4 minutes.
Lastly, I'd love to know your favorite air fryer recipes that you make for your family!
Let me know in the comments!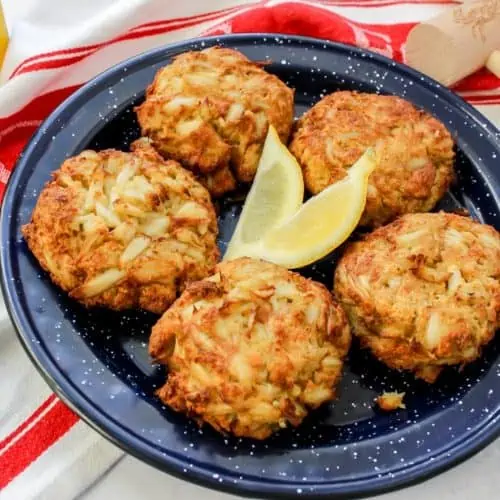 Air Fryer Crab Cakes
Easy, quick, & delicious crab cakes made in the air fryer. Crispy on the outside and moist on the inside! Less calories and fat than pan frying.
Ingredients
1

lb

Lump Crab Meat

,

Preferably Maryland Crab Meat

2

Eggs, beaten

1

tsp

Worcestershire Sauce

2

tbsp

Mayonnaise

1

tsp

Yellow Mustard

¾

cup

Panko Bread Crumbs (unseasoned)

2

tsp

Old Bay Seasoning

1

tbsp

Butter, melted
Instructions
In a large bowl mix together the beaten eggs, Worcestershire Sauce, mayonnaise, mustard, bread crumbs, and Old Bay Seasoning.

Then add your crab meat to the mixture and blend well with a large spoon without breaking up the crab meat.

Refrigerate crab mixture for at least 1 hour.

Then, remove mixture from refrigerator and form into patties or cakes. Should make 5 cakes.

Brush melted butter on the tops of each crab cake.

Cover interior air fryer grate with parchment paper or tin foil and spray liberally with oil spray.

Place crab cakes onto air fryer grate without overcrowding (make in 2 batches if needed).

Air fry at 370 degrees F for 8 to 10 minutes or whenever crab cakes are a golden brown color.

Flip crab cakes over and air fry for an additional 4 minutes.

Serve with lemon wedges and tartar sauce or remoulade sauce.