This super easy Greek Tzatziki Bowl with Meatballs & Couscous will totally satisfy your craving for a good gyro!
I've always been so intimidated at the thought of making my own tzatziki sauce.
I don't even know why because it really is extremely easy to make.
For some reason I thought you had to do something weird with straining the yogurt with cheese cloth?
Who knows. But it's not true.
I've always loved Greek food!
Maybe it's that 1% Greek I discovered I have in my DNA.
Whatever the reason, Greek food is just plain good!
Here's an article on 25 Iconic Greek Foods You Have to Try At Least Once.
Of course, tzatziki is on the list!
After making this Greek Tzatziki Bowl with Meatballs & Couscous, you'll, like me, wonder why you haven't made this more often!
Easy Greek Tzatziki Bowl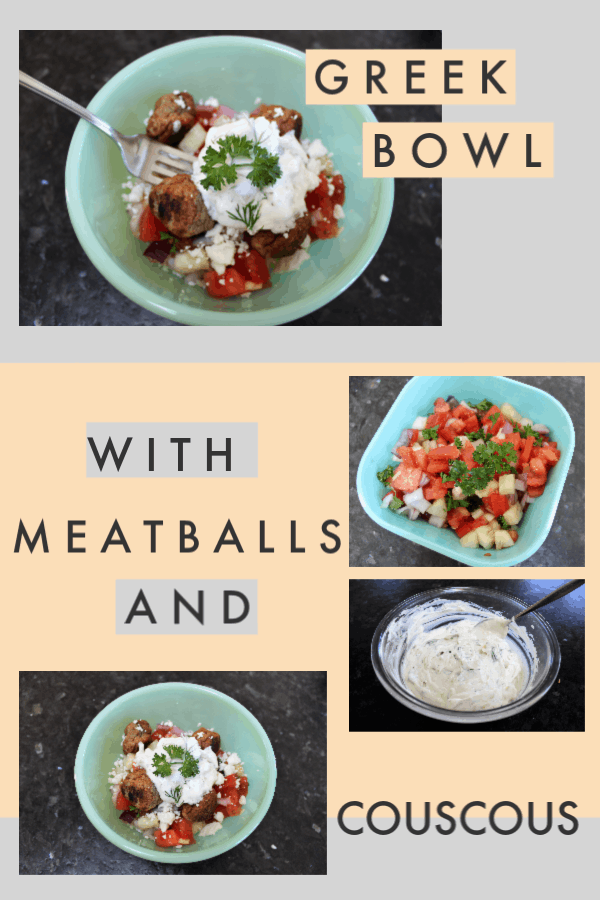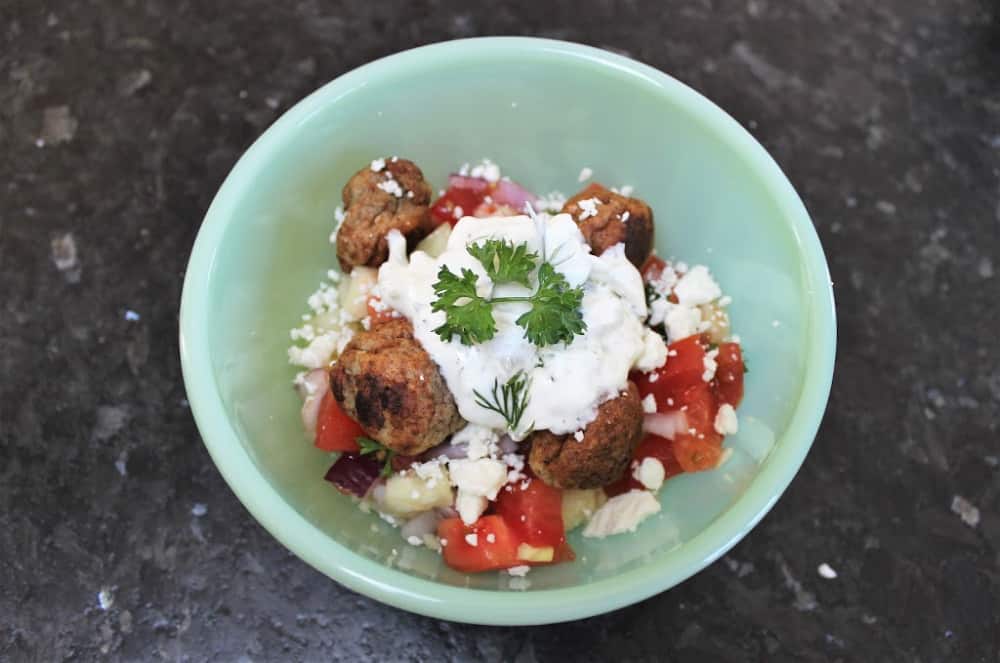 This recipe is so good, you might not be able to resist eating more than one serving.
I know I couldn't resist.
Make the Tzatziki Sauce
The first step is to make the tzatziki sauce.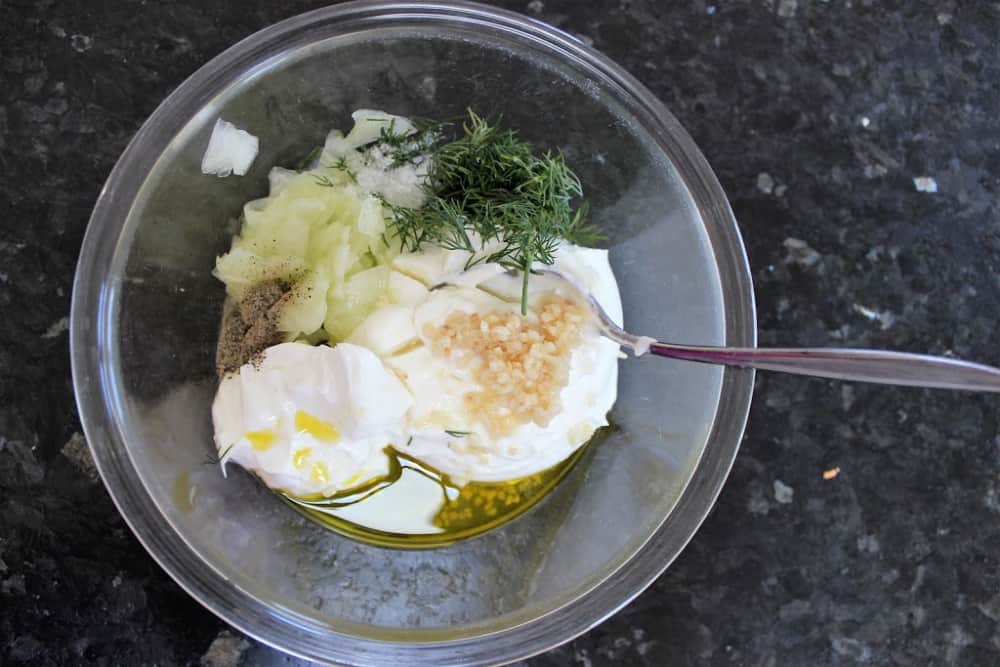 Blend all the ingredients well and then cover it and put it in the refrigerator to chill while you're preparing the rest of the recipe.
Cut up Your Veggie Ingredients
The next step is to cut up the tomatoes, red onions, cucumbers, and parsley.
And by the way, be careful with the quantity of red onions.
I tend to throw in more than what the recipe calls for, but in this case, stick to the 1/2 cup.
While eating my Greek Tzatziki Bowl, I had to pick out a lot of the red onions because they were overpowering the other ingredients.
I love a hint of red onion, but no more than that.
On the other hand, be generous with the parsley.
It really adds a nice flavor to the dish!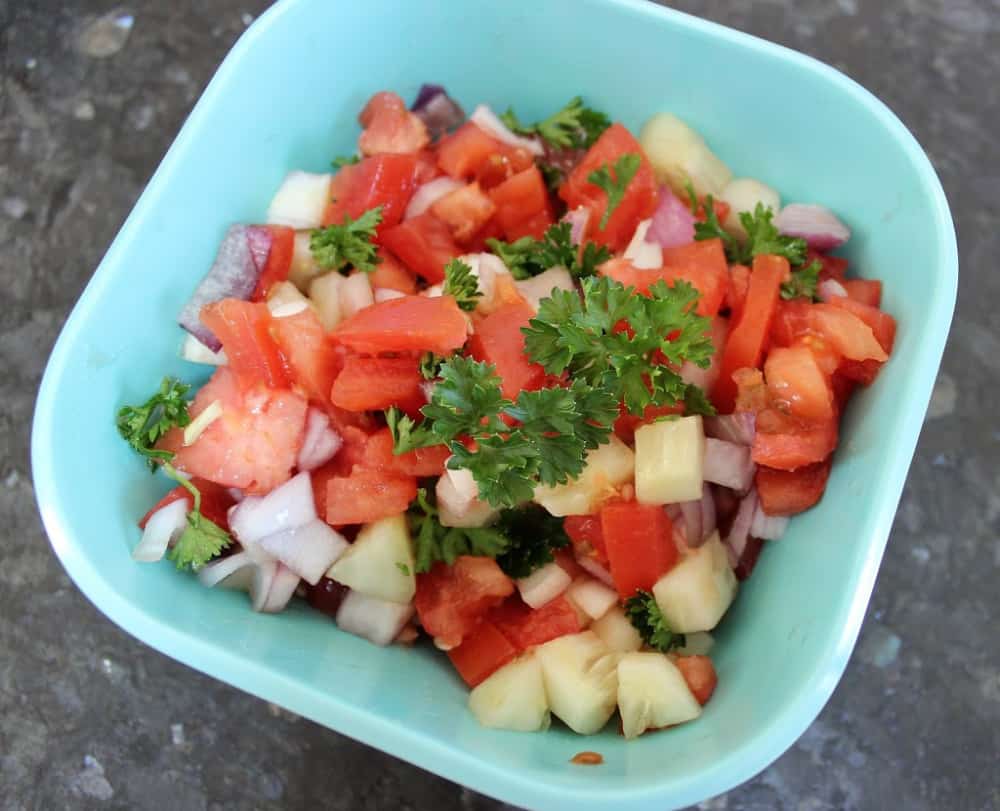 Prepare the Meatballs
Now, for the meatballs.
I just buy my favorite frozen meatballs and throw them in the oven.
You could make homemade meatballs, as I'm sure that would be tastier.
But when you're short on time and just want something easy but still delicious, frozen meatballs are your friend!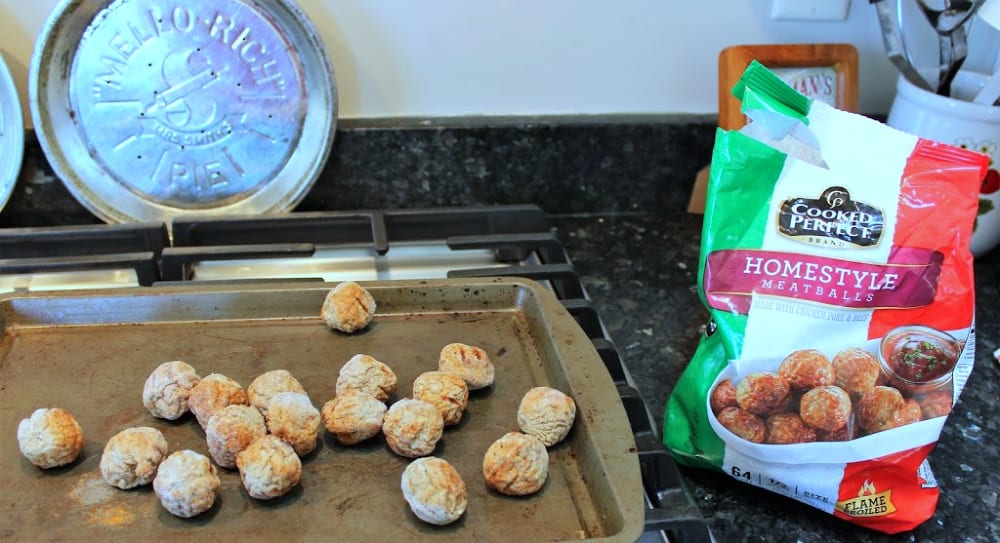 Cook the Couscous
Then while the meatballs are cooking in the oven, prepare the couscous.
Love me some couscous!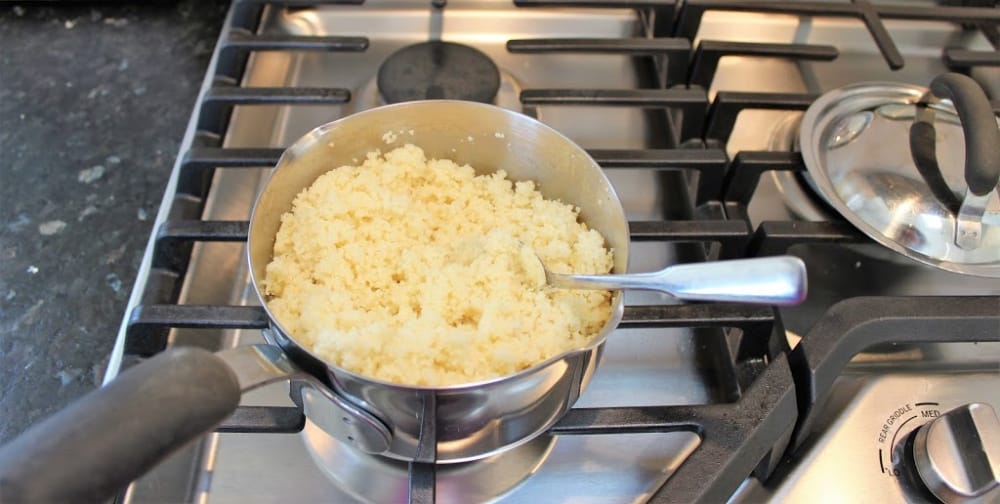 Assemble Your Greek Tzatziki Bowl
And now it's time to assemble your Greek Tzatziki Bowl!
This is where you throw on some crumbled feta cheese.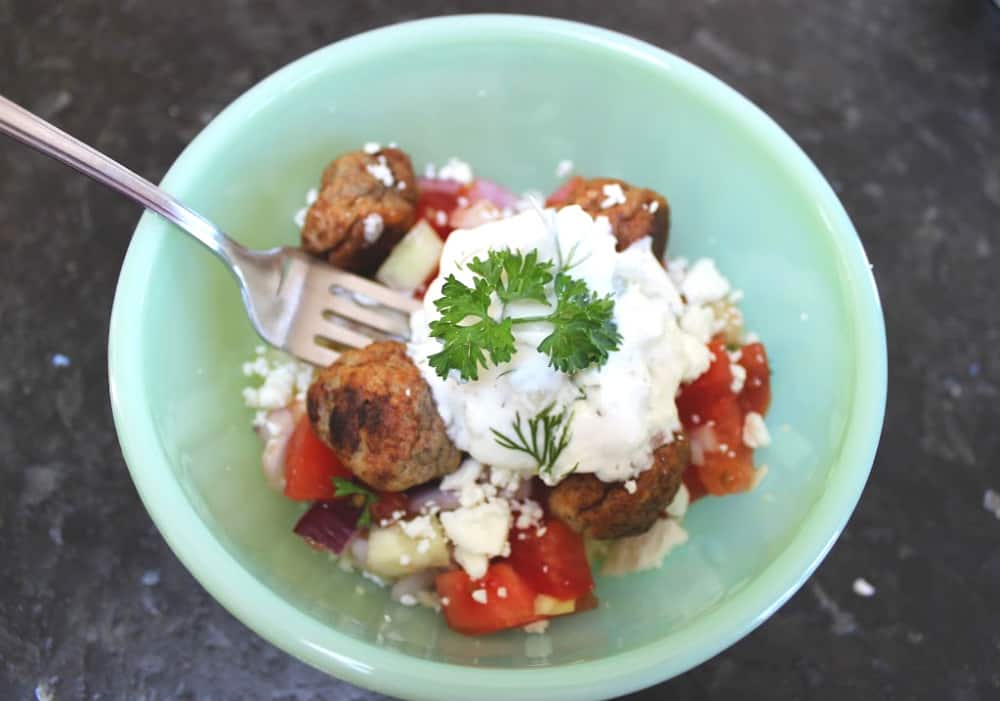 Easy Greek Tzatziki Bowl with Meatballs & Couscous Recipe: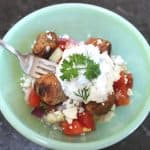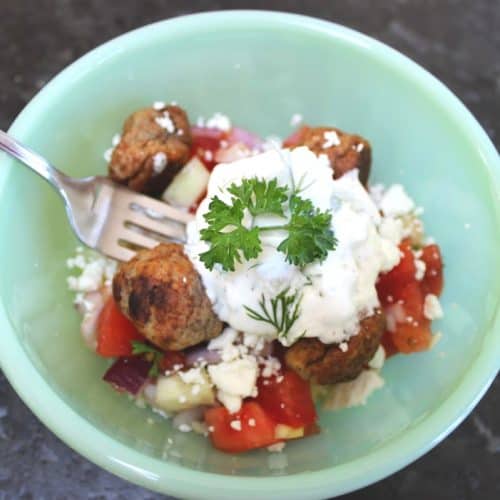 Print Recipe
Easy Greek Tzatziki Bowl with Meatballs & Couscous
Super easy Greek Tzatziki Bowl recipe that will totally satisfy your gyro craving!
Ingredients
1

cup

greek yogurt

1/4

cup

grated cucumber

1

tsp

minced garlic

1

tsp

olive oil

1

tbsp

fresh dill

1/4

tsp

kosher or sea salt

1/4

tsp

black pepper

1

tbsp

fresh lemon juice

20

frozen meatballs

I use homestyle

1

cup

cucumber, finely diced

1

cup

tomato, finely diced

1/2

cup

red onion, finely diced

1

tbsp

fresh parsley

salt & pepper to taste

4

servings

cooked couscous

1/2

cup

feta cheese
Instructions
Combine yogurt with grated cucumber, minced garlic, olive oil, fresh dill, salt, pepper and fresh lemon juice.

Mix well. Cover and refrigerate until ready to serve.

In a separate bowl, combine diced cucumbers, tomatoes, red onion, parsley, salt & pepper.

Then, place frozen meatballs in oven and cook according to directions on the package.

While meatballs are cooking, prepare couscous according to box directions.

Once meatballs and couscous are ready, assemble your bowl.

First add couscous, then add veggie mixture, then top with 5 meatballs. Top with tzatziki sauce and feta cheese. Then garnish with parsley.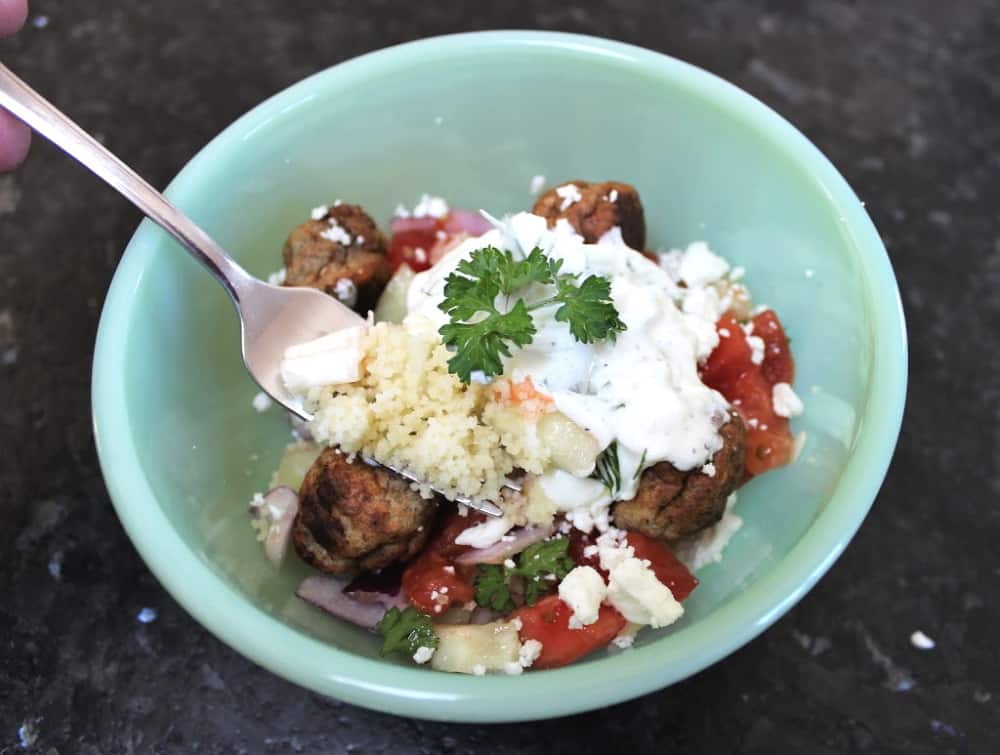 This recipe was so good, I know I'll be making it a lot!
What are your favorite greek dishes?
Let us know in the comments!
In the meantime, here are some other bowl recipes you'll enjoy: Chickpea Salad, Hoppin John, Brussels Sprouts Salad, Chicken Cabbage Salad, Asian Chicken Salad.

Pam is married and has 1 son – a middle-schooler in his teen years. She followed Terri to Frederick in 1999. She absolutely loves going to yard sales and estate sales and finding hidden treasures.
read more...