A wonderful alternative to the craziness of Black Friday is a day called Shop Small Saturday!
Shop Small Saturday always falls on the Saturday after Thanksgiving and Black Friday.
This year, that day falls on Saturday, November 30th.
When you Shop Small, not only will you support local businesses, but also you will find more unique products and services.
Shop Small Saturday
Due to the fact that Black Friday evokes fear and anxiety deep within my soul, it's just not a day I want to do my holiday shopping.
As a matter of fact, I personally stay as FAR away from the chain stores as humanly possible.
Please know that I'm not judging those who enjoy Black Friday shopping, but it's just not for me.
Alternatives to the Black Friday Madness: Shop Small Saturday
So, what ARE the alternatives to the Black Friday Madness?
Well, I'm loving the idea of doing my holiday shopping at small, privately-owned businesses.
You never know what you're going to find in these businesses and that's what I love about it!
The 'shop small' idea has sparked so much interest, that a few years ago, the Maryland Office of Tourism decided to make holiday shopping at local businesses a real 'thing'!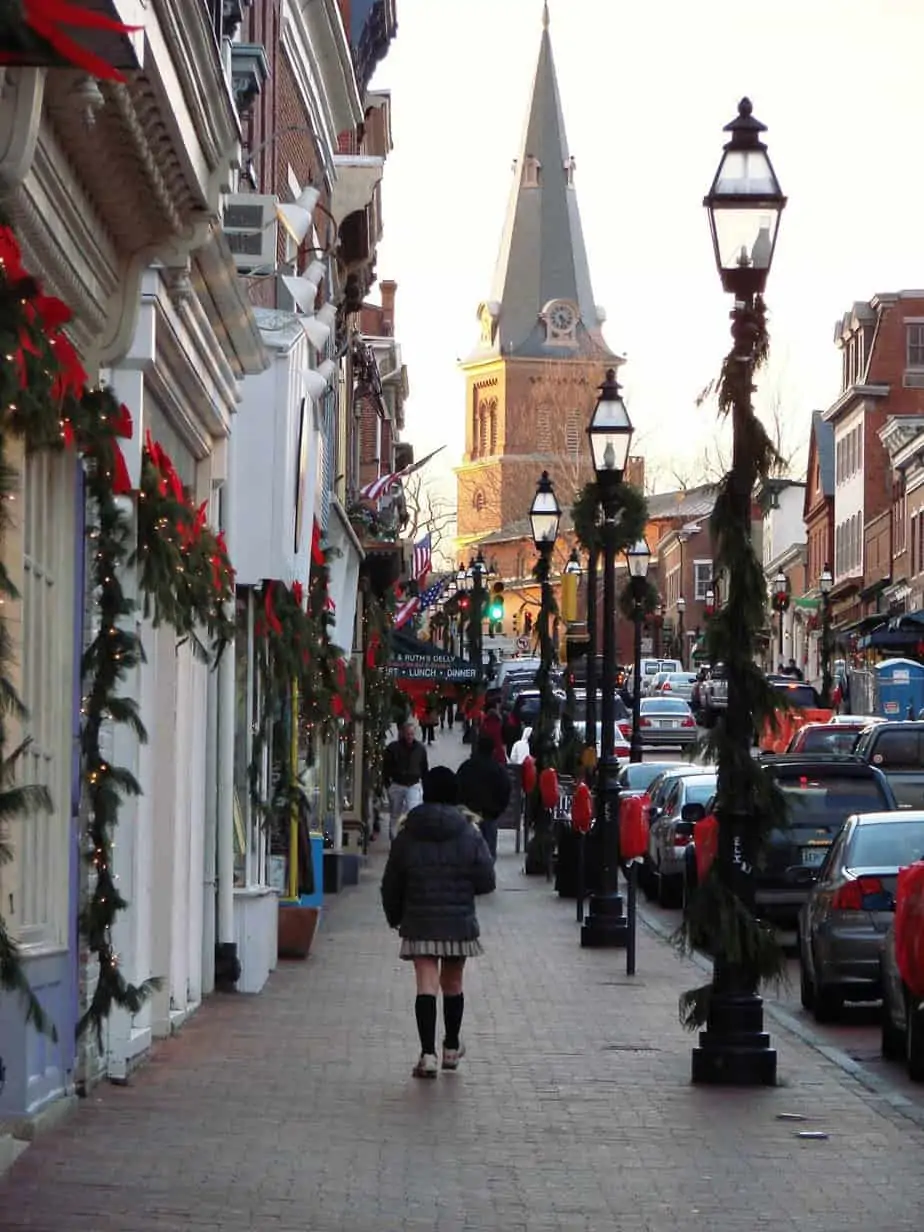 In the state of Maryland, there are two programs that make it easy to shop small.
The first Maryland shop small program is the Arts & Entertainment District program.
1. Arts & Entertainment Districts
What better way to discover the culture and creativity of Maryland's small businesses than to visit the several Arts & Entertainment Districts.
These districts offer amazing restaurants, art galleries, performances and so much more.
Click here for a map of the 24 Maryland A&E Districts.
It's no surprise to us that Downtown Frederick is one of the 24 A&E Districts in Maryland.
Nevertheless, this list is a great excuse to explore all of Maryland's interesting A&E Districts over the holiday season!
The second Maryland shop small program is the Main Streets program.
2. Main Streets in Maryland
Maryland has 30 designated Main Streets who will be offering Small Business Saturday holiday deals.
Frederick County is home to several designated Main Streets.
Clearly, we are SO spoiled here in Frederick County to have both an A&E District AND 6 Main Street towns!
The designated Main Streets in Frederick County include:
Featuring locally-owned boutique shops, you can find unique gifts for friends and family.
Additionally, enjoy historic architecture, the arts, unique events, and amazing restaurants!
Downtown Frederick Holiday Shopping
Of course we're just a tad bit biased and hope that you choose Downtown Frederick, along with our Main Street towns to do your holiday shopping!
And if you're looking for more information as to what Frederick has to offer in terms of shopping, Downtown Frederick Partnership is a tremendous holiday resource.
Small Business Saturday and Frosty Friday are just two of the many shopping events that Frederick has to offer this holiday season.
For more detailed information on Downtown Frederick's Small Business Saturday, go to their Facebook event page.
Here, you'll find details on how you can snag their exclusive Downtown Doorbuster Deal Bag!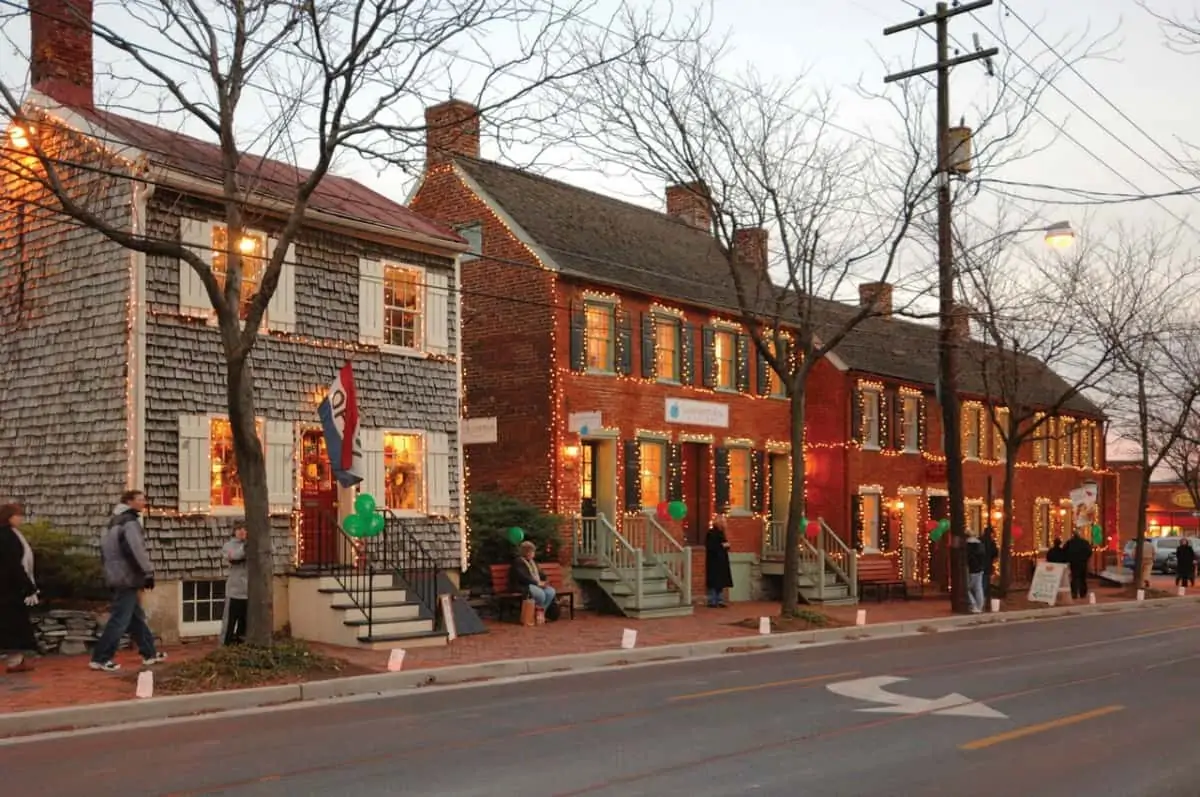 Why We Love Shop Small Saturday
I wrote a post a few years ago, Everedy Square & Shab Row Frederick, Md: Holiday Events.
After reading this post, you'll realize how magical the holidays in Frederick can be!
Besides that, here are a few other reasons we love to shop small:
Personal, attentive service.
Quaint, holiday atmosphere.
Dining opportunities at one of the many great, unique nearby restaurants/
The satisfaction of knowing that your money is going back into your community by supporting local business owners.

In closing, as I'm writing this post, there are 30 days until Christmas – yikes!!
Therefore, it's time for me to sign off because I need to write a list of gift ideas to have handy for my shopping excursions.
I can't wait to find some local, unique & meaningful gifts, all while supporting small town businesses!
Happy Holidays and Merry Christmas!
For more great Holiday resources, click on over to:
Free Christmas Events in Frederick, Md: Tis the Season!
Everedy Square & Shab Row Frederick Md: Holiday Events
Top 10 DIY Christmas Ornaments: Easy & Inexpensive!