These yummy potatoes are called Roasted Baby Potatoes with Oregano & Lemon.
They're seasoned and crispy on the outside and warm and moist on the inside.
A perfect accompaniment to my recipe for Blackened Tilapia with Radish & Cucumber Salsa.
Roasted Baby Potatoes
Remember when I promised that my next post would be the recipe for the potato side dish to go with my amazing tilapia recipe?
Yeah, that was like 6 weeks ago.
Jeesh!
What happened to the time?
Life got crazy.
Anyway, I'm finally giving you the recipe.
And believe me, it'll be worth the wait!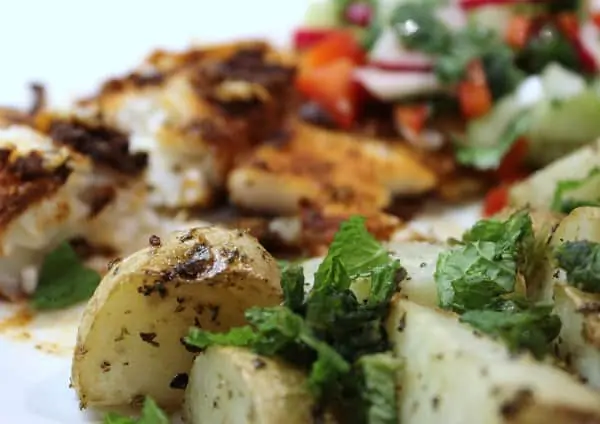 I found this recipe in my Weight Watchers Weekly that I got from a Weight Watchers meeting.
I love their recipes because they're not boring.
They're actually really delicious and good for you too!
The lemon juice with oregano and other seasonings on these baby potatoes really wake up your taste buds!
And with a sprinkling of fresh mint, this side dish might just steal the show from your entree!
Roasted Baby Potatoes with Oregano & Lemon Recipe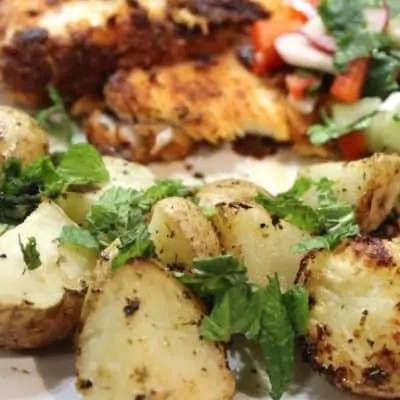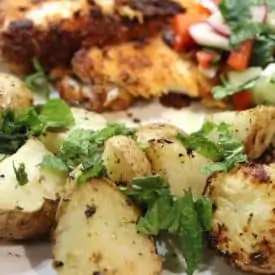 Roasted Baby Potatoes with Oregano & Lemon – 3 Weight Watchers Points Plus Value
You'll never go back to regular potatoes after making this recipe. With a lemon, oregano, & olive oil seasoning, they crisp up in the oven to create an amazing side dish for your meal.
Ingredients
- 1 1/2 lbs new potatoes

,

halved or quartered if large

- 1 Tbsp plus 1 tsp extra-virgin olive oil

,

divided

- 1 1/2 Tbsp fresh lemon juice

- 2 tsp dried oregano

- 3/4 tsp sea salt or kosher salt

,

or to taste

- 1 tsp minced garlic

- 1/4 tsp freshly ground black pepper

- 1 tsp lemon zest

,

or to taste

- 1 lemon

,

cut into 6 wedges

- 1 Tbsp mint leaves

,

for garnish
Instructions
Preheat oven to 375 degrees.

In a 13x9 inch baking pan, toss potatoes with 1 tablespoon oil until coated.

Sprinkle wih lemon juice, oregano, salt, garlic, and pepper; toss to coat.

Roast 30 minutes; remove from oven and stir.

Roast until light golden in spots and tender, about 15 minutes more.

Transfer potatoes to a serving bowl and toss with lemon zest and remaining 1 teaspoon oil; serve with lemon wedges and garnish with mint, if desired.
Notes
3 Weight Watchers Points Plus Value
Tips About the Lemon Juice
I'm not a huge lemon fan, so I didn't include the wedges of lemon when I made these potatoes.
But if you like lemons, go for it.
And because I didn't have lemons, I also didn't use the lemon zest.
However, I did use the lemon juice, which is very important in this recipe.
This is what helps with the browning of the potatoes.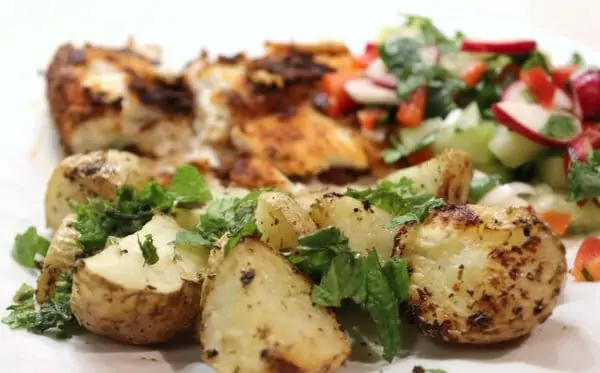 How Did They Turn Out?
These potatoes turned out really good!
They were nice and crispy on the outside and very moist on the inside.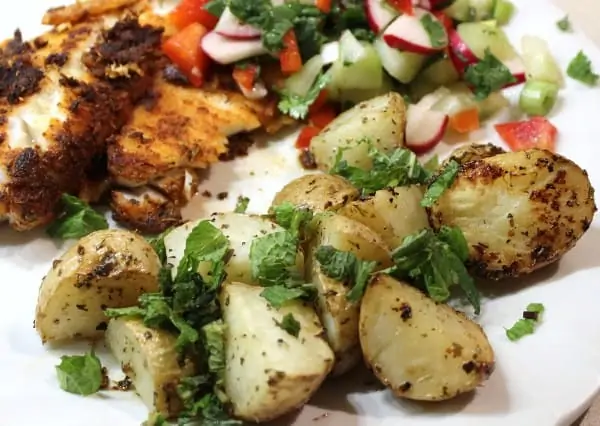 The sprinkling of the fresh mint on top gave these potatoes a little bit of an ethnic flair to them.
Along with the blackened tilapia and the radish & cucumber salsa, it was delectable.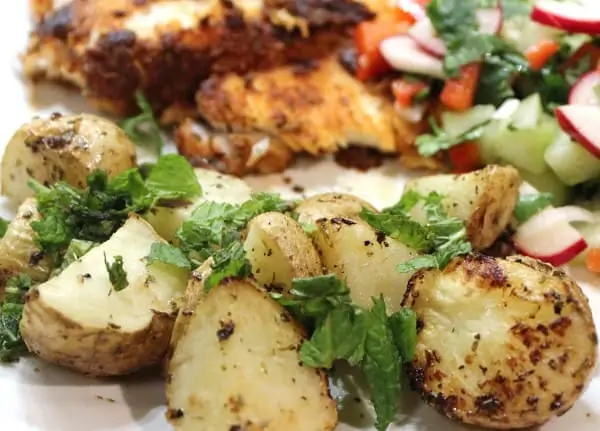 Besides being delicious and very Weight Watchers friendly, only 3 Points Plus Value per serving, the best part about this recipe is how darn easy it is to make.
So before you head out to the grocery store, print out this recipe.
Go ahead and print out my recipe for the blackened tilapia with radish & cucumber relish too.
You won't be disappointed.
It's a very fresh and satisfying meal for the whole family.
For more delicious side dish recipes, click on over to:
Weight Watchers Mashed Cauliflower – Deliciously Healthy
Pan Fried Brussels Sprouts with Chestnuts – 4 Weight Watchers Points
Butter Pecan Mashed Sweet Potatoes – 5 Weight Watchers Points