Being that it's wintertime, especially when we're snowed in with not much to do, I really start to get cabin fever.
I also begin to think about warmer temperatures and fitting back into my summer clothes. Yikes!
Winter is the perfect time to ramp up an exercise routine because, really, what else is there to do?
Going to the gym is great!
But sometimes, with all that winter brings, including snow, icy roads and your kids' school delays, getting to the gym isn't always a choice.
Exercising outside is the perfect alternative.
It costs nothing. It's convenient. It's takes less time. And the entire family can do it together.
BUT being motivated to get out in that cold air can be a challenge.
AND it can be just plain dangerous!
Safe Winter Workout Clothes
If you don't wear the proper clothing while exercising outside, you can easily and quickly get hypothermia.
From the Mayo Clinic: "Hypothermia is a medical emergency that occurs when your body loses heat faster than it can produce heat, causing a dangerously low body temperature. When your body temperature drops, your heart, nervous system and other organs can't work normally. Left untreated, hypothermia can eventually lead to complete failure of your heart and respiratory system and to death."
Yes, it's that serious.
That's why I did some research to figure out exactly what and how much to wear in order to stay safe when exercising outside during the cold winter months.
In addition to what you're wearing, what you're drinking is super important.
Make sure you stay hydrated by drinking plenty of water. It may not feel like you need as much water in colder temperatures, but you do.
LAYERS
Layers are crucial.
They keep you warmer and you can start unpeeling the layers if you become overheated.
Keep in mind, because you'll be wearing so many layers, try to choose thin layers containing the proper materials listed below:
FIRST LAYER
Non-cotton underwear.
Non-cotton sport bra
Choose moisture-wicking polyester or polypropylene materials.
Why non-cotton? Because cotton holds in sweat, which can turn into cold sweat and contribute to lowering your body temperature.
SECOND LAYER
If weather is lower than 30 degrees:
Wear a pair of silk or polypropylene tights, such as Under Armour.
THIRD LAYER (BASE LAYER)
Long sleeve shirt made of a sweat-wicking material such as polyester.
Long pants made of a sweat-wicking material such as polyester.
FOURTH LAYER (INSULATING LAYER)
Long sleeve shirt made of microfleece or wool.
Long pants made of microfleece or wool.
FIFTH LAYER (OUTER LAYER)
Long sleeve jacket, preferably with a hood and zippered pockets, that is windproof and water resistant.
Long pants that are windproof and water resistant.
FOR YOUR HEAD, EARS, AND NECK
Choose from the following: hat, earband, balaclava, neck gaiter/buff, or scarf.
FOR YOUR HANDS & FINGERS
Mittens do the best job of keeping your hands warm.
FOR YOUR FEET
I know, this sounds like a LOT of information to remember when going outside for some exercise.
So I put together two graphics to make it so much easier for you!
One is 'For Her' and one is 'For Him'.
Each graphic shows examples of exactly what you'll need.
All of the items can be found on Amazon.com and have great reviews!
Check your closet first to see if you have any of these items before you spend your money.
The cost can add up, but it's so worth it to invest in yourself to encourage safe outdoor cold weather exercise.
Note: This post contains affiliate links. That means if you click on a link and make a purchase we may receive a small commission. Thank you!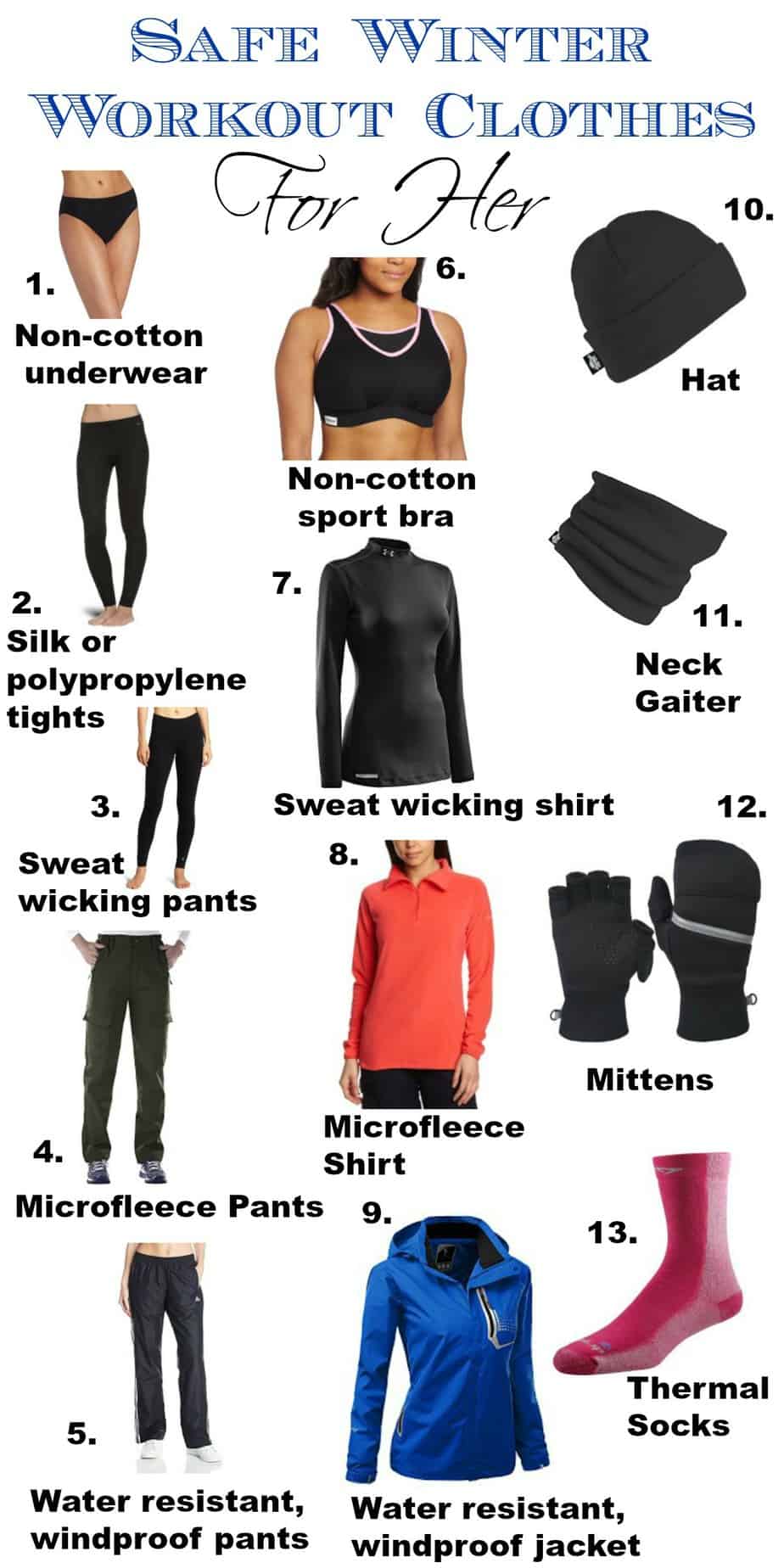 Here are the links to the above items for her: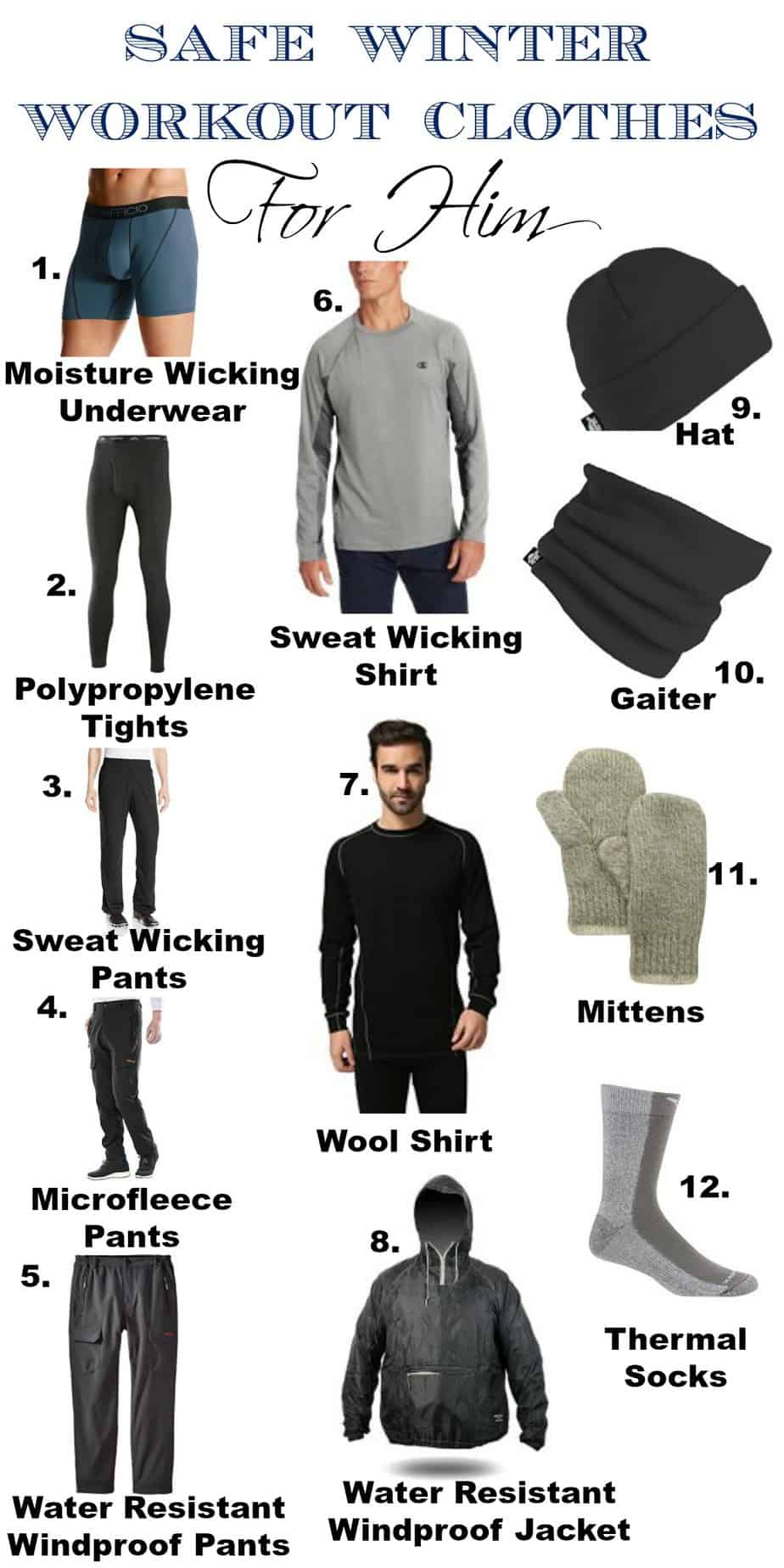 And here are the links to the above items for him:
Once you've got your arsenal of proper clothing, you can be free to exercise outdoors to your heart's content!
Oh! And if you can find a buddy to accompany you, all the better!
What types of outdoor exercise do you do in the winter?
Let us know in the comments.

Pam is married and has 1 son – a middle-schooler in his teen years. She followed Terri to Frederick in 1999. She absolutely loves going to yard sales and estate sales and finding hidden treasures.
read more...